Some Trendy & Convenient Paper Decoration Ideas for Your D-day Venue
Here are some dreamy images showing some fab paper decorations chosen exclusively for the creative décor of your wedding venue. Excited?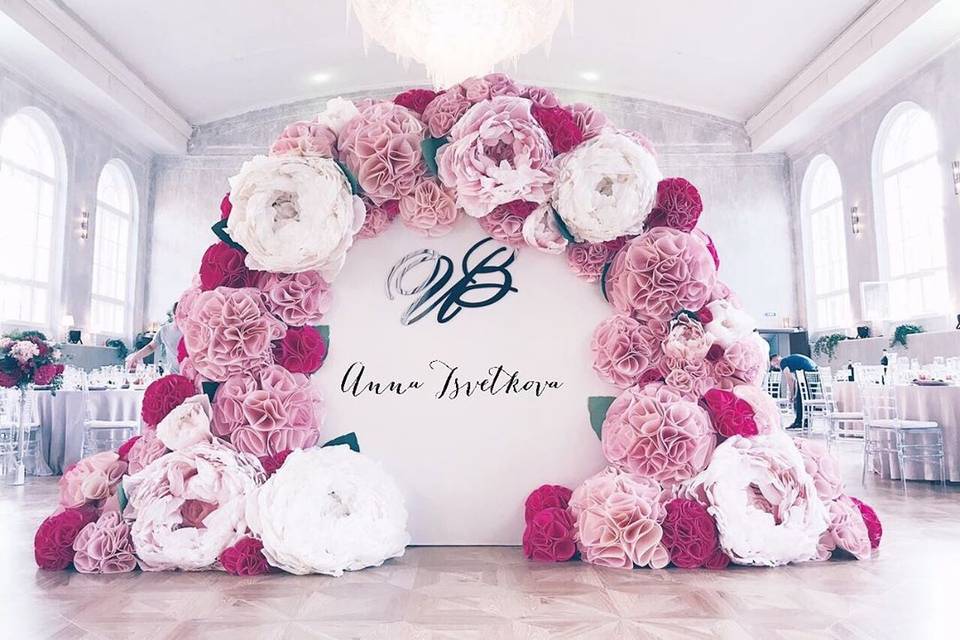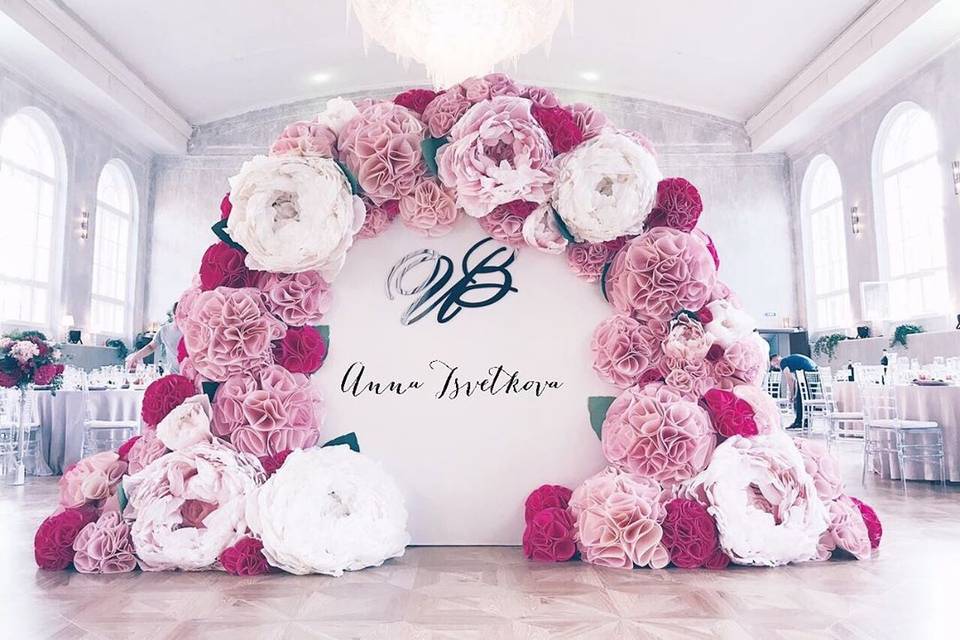 Image Courtesy: WowFlowers
As the wedding date comes closer, you see yourself worrying about things you never thought you would. We are talking about the venue decor. Here are some kickass paper decorations captured in wonderful clear images to give a little direction to what you wish to see at your wedding.
The choice of stage background décor, corners or entrance of the wedding venue is really a tough and significant one. That is another part altogether that we don't realise it up until it is our own wedding. So let's get you through the surprise.
Things to be kept in mind
When we talk about paper decorations, you must keep a few things handy. Get a room big enough to get all the props arranged without getting stuffed or hampered. Ask your maid to stay out with her broom and geela pocha till the wedding date.
Get scissors, Fevicol, papers, pencils, sketches, scales, thick double-sided stick-ons and YouTube. Once your team is ready, decide the types of flowers or decor elements you wish to create.
Get a list of paper types and quantity required and hunt for the wholesale stash at best prices. Ask artists for the same like the Itsy Bitsy store, Nai Sarak in Delhi or any local store across the country. You can place the order on call as well and get it delivered for extra charges. Let's begin!
For the Guest Tables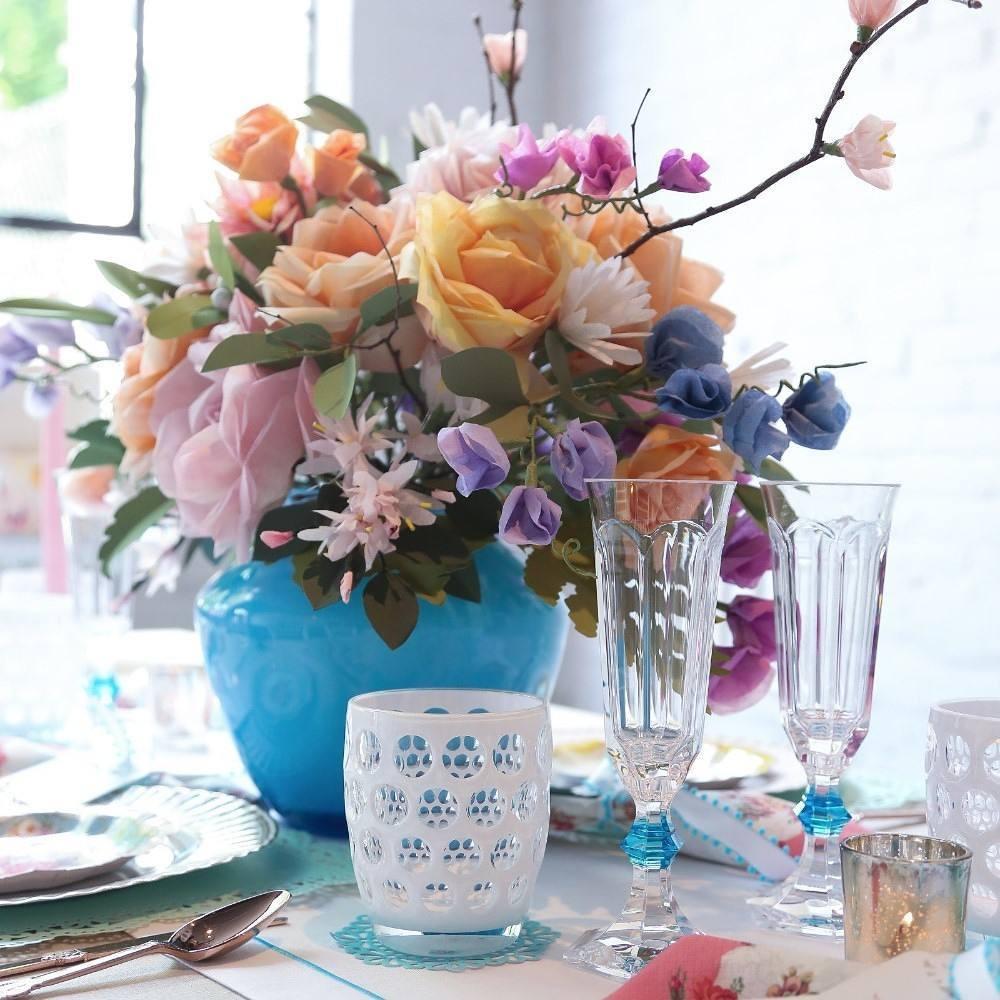 Image Courtesy: JMI Branding Forward
When talking about paper decorations, one of the most popular choices of decoration using paper is flowers arranged in a realistic bunch decorated in a vase. The bunch with paper flowers and leaves can be kept for decorated right in the centre of the table.
Isn't that a fantastic way to decorate the venue? You can choose from a variety of flowers and leaves, either go with a mix of leaves and flowers in different shades of green and pastels or go with complete botanicals in multiple shades of green and yellow. I am sure it will be quite a different yet classy take on paper decorations. Are you excited?
How to beautify the table around this paper decor?
The first thing that you must keep in mind while decorating the guest tables with such paper florals is that you must consciously choose the colours of the paper and set its contrast against the elegant table cloth.
If you are going for lavender or pastel blue flowers then go for an ivory cotton table cloth. Ruffles are really in these days so you can choose round table clothes with ruffles around. Ah! It looks like an absolute dream in my head, how does it look to in yours?
Go for the similar ivory chair covers with a pastel ribbon tied at the back (right in the middle of the chair back). What a fab way of playing with paper decorations.
For the Stage Background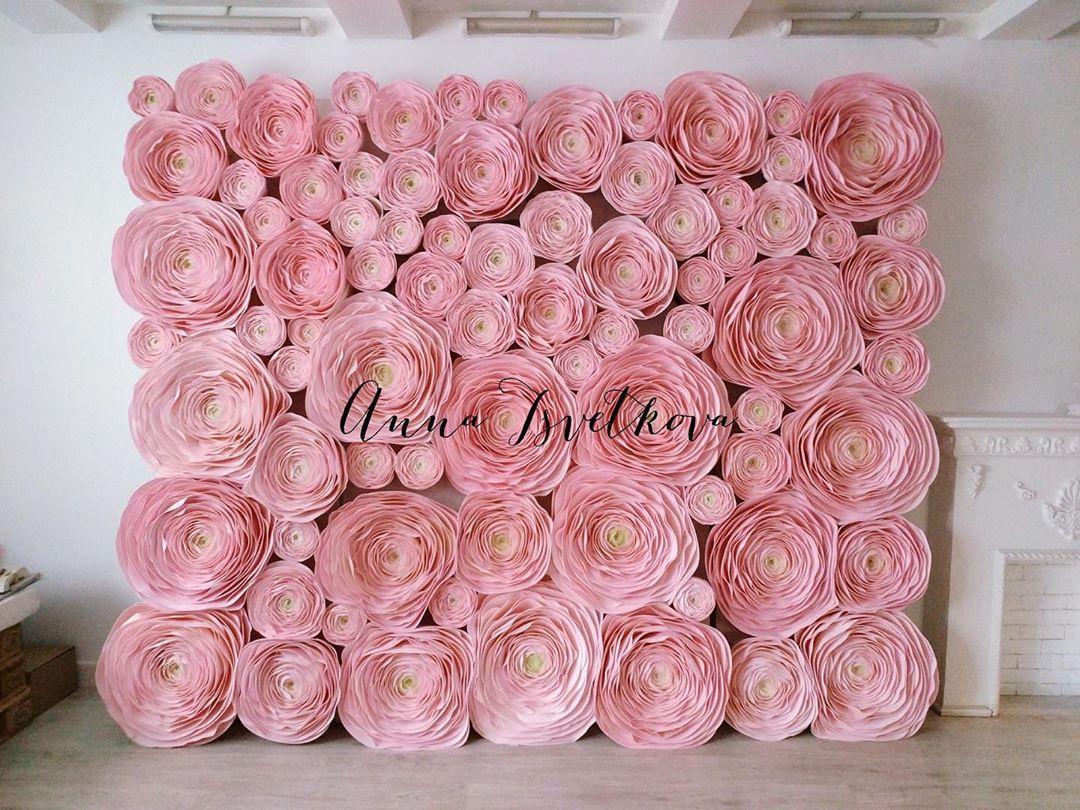 Image Courtesy: WowFlowers
Ah! What an aesthetically pleasing paper decor this is! What if I say that you can get such mesmerising decorations done for your wedding venue? Wouldn't that be absolutely fantastic? This pretty wall full of multi-sized paper flowers would look like a dream in your wedding pictures.
Just imagine, both of you sitting right in front in ivory or contrasting matching dresses with these lovely pastel flowers right at the back. I wouldn't be exaggerating if I say that this is going to be a heavenly marriage decor!
How to go about it?
In order to execute fab decorations like these for your marriage, all you have to do is get through some paper flower tutorials with your friends or the event management team you have hired. It doesn't matter if you have a professional team or not, it is the idea that matters.
I would suggest being clean and tidy in whatever you make and keep a synchronization in the entire outlook. Try making smaller paper flowers and then head for the bigger one. Paste all the multi-sized paper flowers on a massive cardboard sheet. Voila! What? Yes! It is done already, that simple!
Some Paper Decorations for the Corner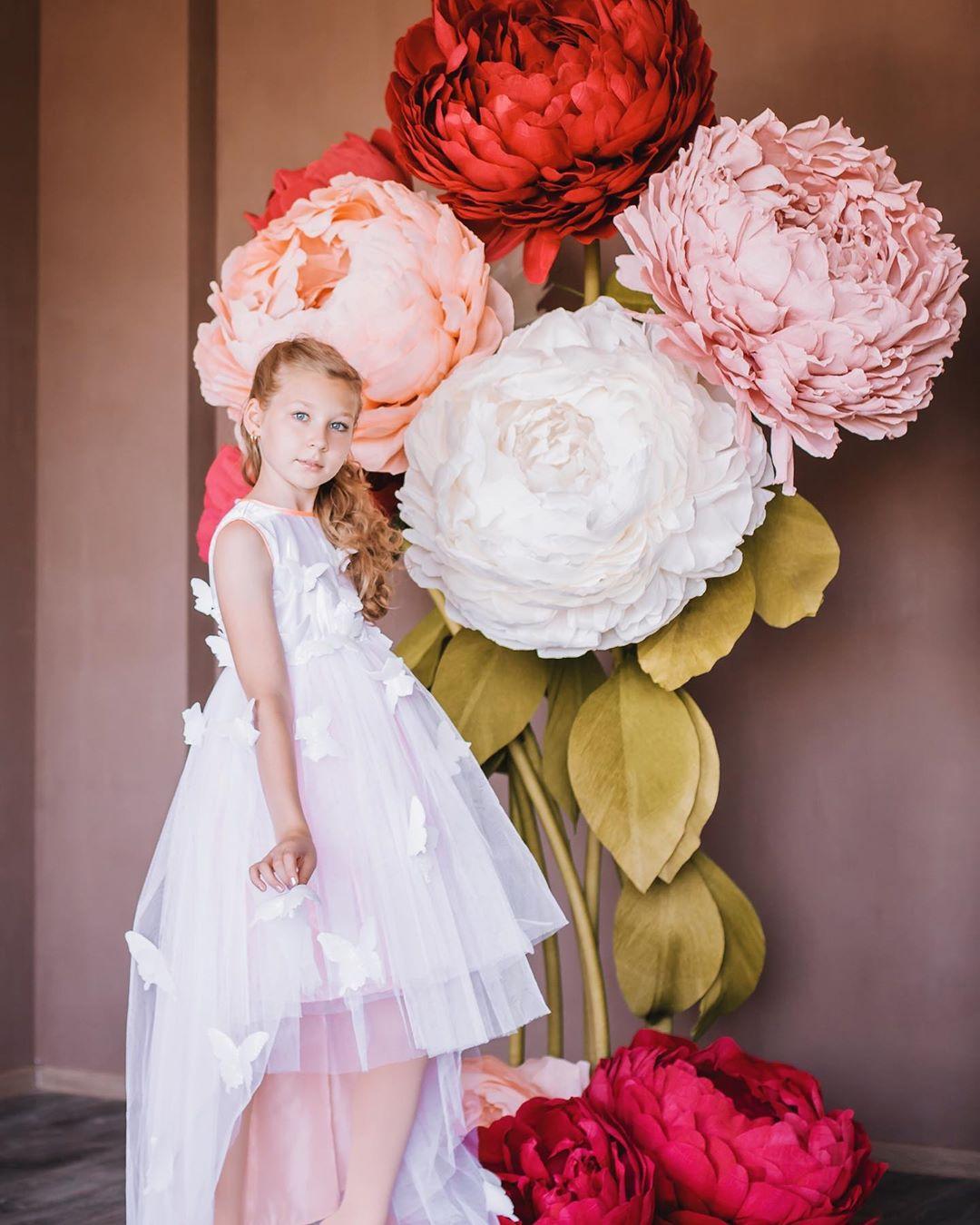 Image Courtesy: WowFlowers
When we are considering our options of venue decorations, often the little corners of the venue go unnoticed. With choosing floral paper decorations as your option, you can enhance every little corner of the lavish venue.
Use such big flowers in the classy big vase-like holders which can be easily made with wire frameworks and covering cloth or velvets. The good thing is that it will look professional matching the decoration style of the background (if point number 2 is chosen in combination). Trust me, you are not going to regret this choice.
How to execute it?
Mostly, when we are dealing with paper decorations we tend to make use of sturdy metal wires of sorts in order to give flowers a basic structure which is to be given volume using layers and layers (tonnes of layers) of papers of various structures and sizes.
Choose the colours wisely as per the combination of the venue decor or the clothes of the lovely couple getting married. Just don't go for too flashy colours if the rest of the decor is subtle and vice-versa. Let it go with the flow and not overdo things. If the wedding theme allows bright colours then go for it but with a strict balance.
Another One for the Background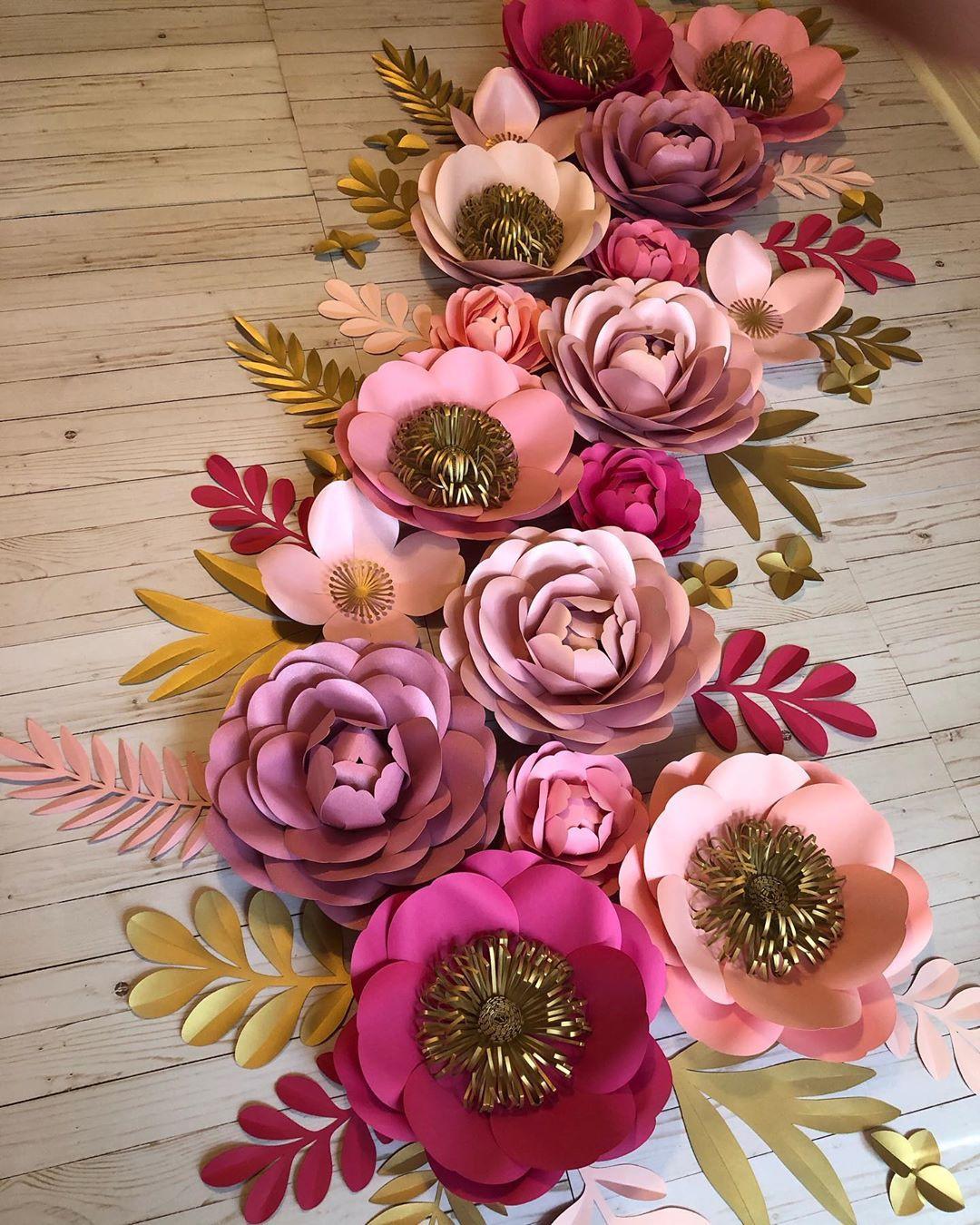 Image Courtesy: Blooms by Desing
This is another very classic style for the stage background. In fact, a great advantage of choosing decorations of this sort is that it can be used at the back of either the cake table or even the food section. Every wall/background deserves some decor, doesn't it?
However, you must keep in mind that things must not be overdone. Soothing colours which are on the lighter or brighter side must be chosen for the same. Refrain from choosing such dark colours in order to retain that simplicity of the paper decorations being done. Sounds good?
What is the basic trick behind it?
Talking on a very basic level, all you need to do is get a base design ready for the chosen wall. You can go for waves, curves, Indian patterns or just let the flowers form a shape of their own. For the last one, you would need oval cardboard. For the rest, you would need a big shape neatly cut.
Keep in mind, the size of the wall and the proportion required for the design to make an impact (or to even get noticed). Once you are done just keep arranging different sizes of paper flowers curated and pasted in coordination with the overall paper decoration.
Some Statement Flowers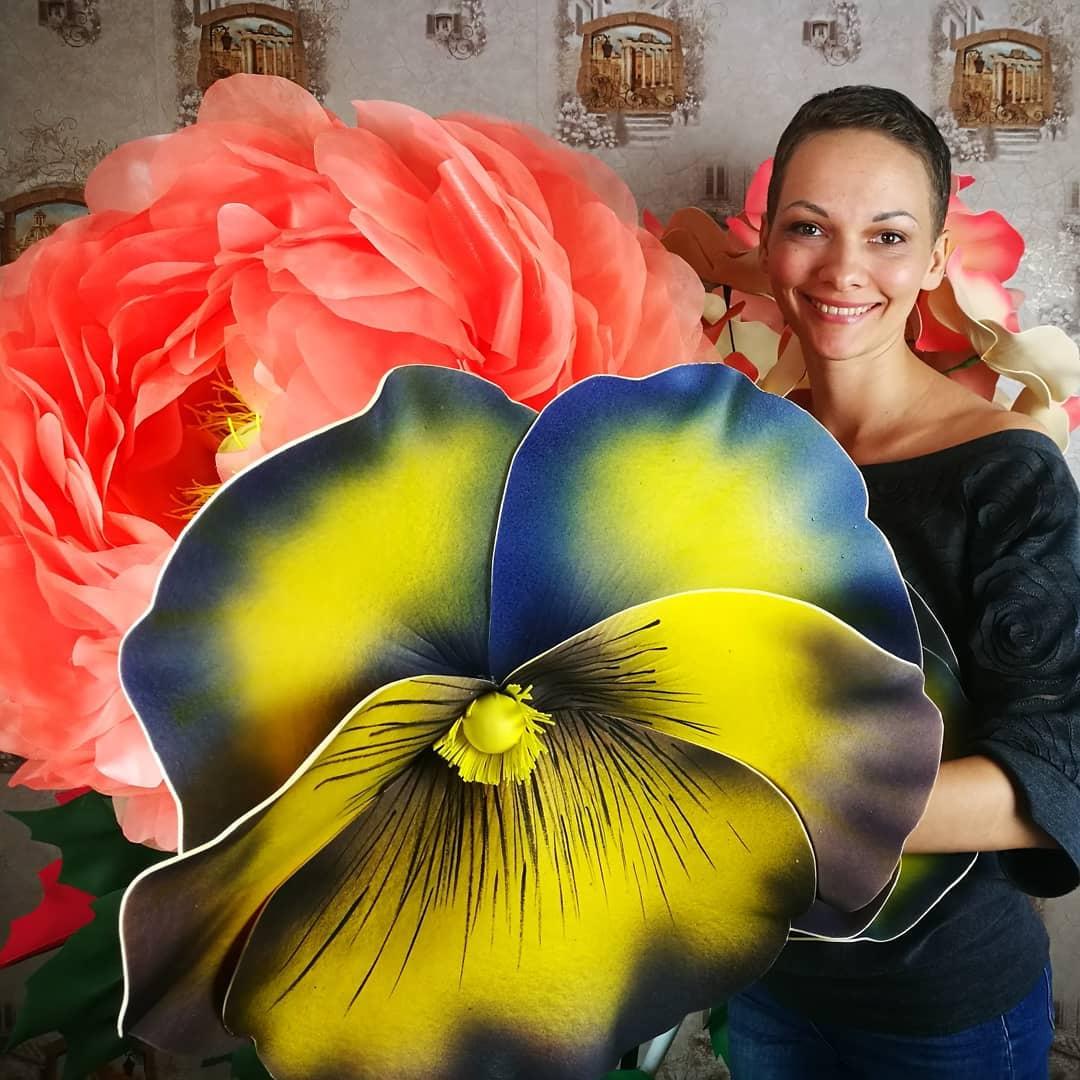 Image Courtesy: Millen Flores
Another fantastic (and super easy) idea of using paper decorations which is a really quick one is of using these gigantic paper flowers at the wedding venue. If you are looking for ideas of decorations which can be done jhatpat then this is a lifesaver. No kidding.
Just use sturdy mouldable papers if possible and create a few big flowers. Use whichever material that is easily available and just give depth to retain that realistic factor and then arrange them together whether in a bunch or in a linear format. Go for extreme contrasts if you want to keep it quirky.
How can you create it?
Do not mistake these to be basic paper-cut flowers. Don't waste your time cutting flowers from chart papers or hand made sheets and pasting them as it is. There are a few ways of going about this.
Either get a mouldable material of sorts or make use of plaster of Paris to give the flowers a unique but realistic texture and depth. It has to have dimensions, sturdiness and thickness in order to have that professional feel to itself. Trust me, if you keep an eye on the detailings then it is definitely going to be a hit décor! Ready?
For the Photo Wall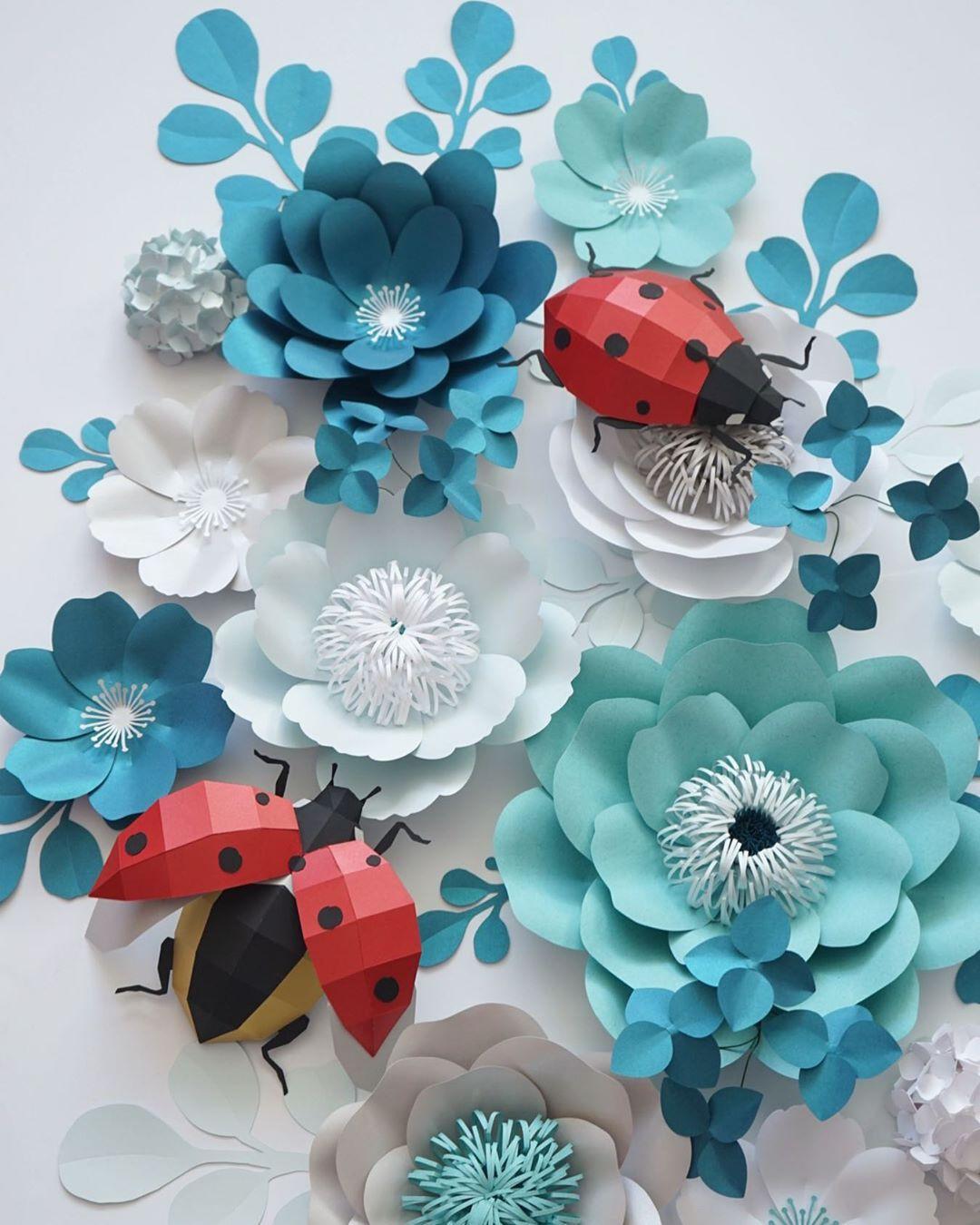 Image Courtesy: PaperMint Paper Art Studio
Photo wall or selfie wall is this latest addition to the awesome sauce list of trending wedding ingredients. There has to be a photo wall at every wedding venue in order to get the dulha dulhan ka wedding hashtag trending.
Paper decorations give you a lot of room for being experimental and creative with the wedding decor. Isn't that great? The best part is that you have endless options of colours to play with, isn't that fun? Just look the colours in this image demonstrating paper decorations, can anything be any prettier and quirkier at the same time?
What makes it different?
The fact that such paper decorations choose colour contrasts so consciously and wisely makes these paper decorations so wonderfully and effortlessly professional. Choose such quirky designs for decorating just like the bee looks fantastic in this image.
You can choose chappals or sea waves if it is a wedding in Goa or a tractor if is the wedding of a 'Kanedda-return' dulha. Just do your research of colours before buying the material, you can simply Google colour combinations with green or yellow or any colour on this earth you want (of which you can find the paper sheets) and Google Baba with come flying to your rescue.
With this buttery decoration, our quirky and classy list of ideas for playing with paper decorations at your wedding comes to an end for now. Choose the best style that you think suits the rest of the venue setting and details and start working around it.
You can be as creative as you can when it comes to paper decorations, look for multiple YouTube videos on paper flowers, origami or simple sheet decorations and use all of it combined with your creativity in the venue decor. Any questions?
Drop your thoughts in the comments below and if you want one of these on your own big day, then do not hesitate to contact the decor vendors and event management teams with us.