7 Reception Stage Decoration Ideas You Must Consider Before Calling Your Wedding Decorator
Prepare to be amazed by some spectacular reception stage decoration ideas that are trending this year. Browse and choose from our special list of stage decoration inspirations.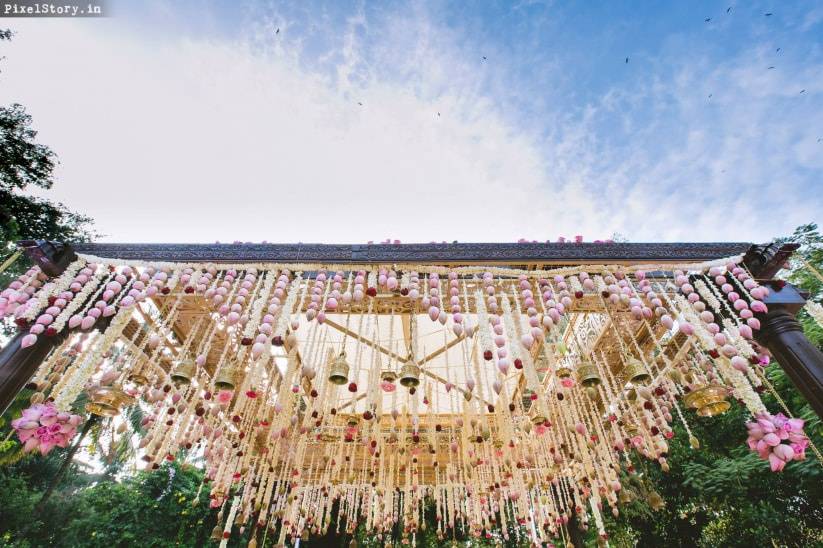 Every wedding has a unique personality, an exclusive theme. And just like every other detail of your wedding, you want that exclusiveness to reflect on your reception stage decorations too. Did you have a royal themed wedding or an eco-friendly wedding? Was it a classic fairytale wedding with grandeur and elegance or a simplistic one? You can choose your reception stage designs just in perfect sync with your wedding theme. There are myriad of possibilities to take inspirations from to give your marriage reception stage décor that extra edge. There are a few essential aspects to tend to while choosing your own reception stage decoration designs:
Wedding Theme
Stick to your chosen theme. Whatever design or wedding reception stage inspirations you opt for, they should complement the entire wedding theme. For example, if it's a green wedding, it's advisable to go for cloth drapes instead of plastic flowers for stage decorations.
On-Stage Arrangement
While selecting a reception stage decoration, it's important to ensure there is enough clear space for the couple. The chairs/couch for the bride and the groom should be comfortable. Don't keep more than just an extra chair or two on the stage to avoid unnecessary crowding. The stage should be designed on an elevated platform.
Colour Scheme
It's extremely important to choose the reception stage decoration colour which agrees well with a few essential things around. Like the flowers used in stage decorations, the colour of the bridal and grooms wear and of course, the entire colour scheme of the wedding reception. Any little disharmony in colour may pose a threat to your wedding reception photographs.
Perfect Lightings
Keep in mind the colour of the stage designs before selecting a particular kind of stage lights. Take help from your Wedding Decorator and Wedding planner and also talk to your Wedding photographer for a clear understanding of the lights. For example, if you're choosing cyan or light turquoise shades for your reception stage decorations, bright amber lights may spoil the overall colour scheme.
Now, are you eager to know which latest reception stage decoration ideas are trending this year? Take a peek:
1. Vintage always is a winner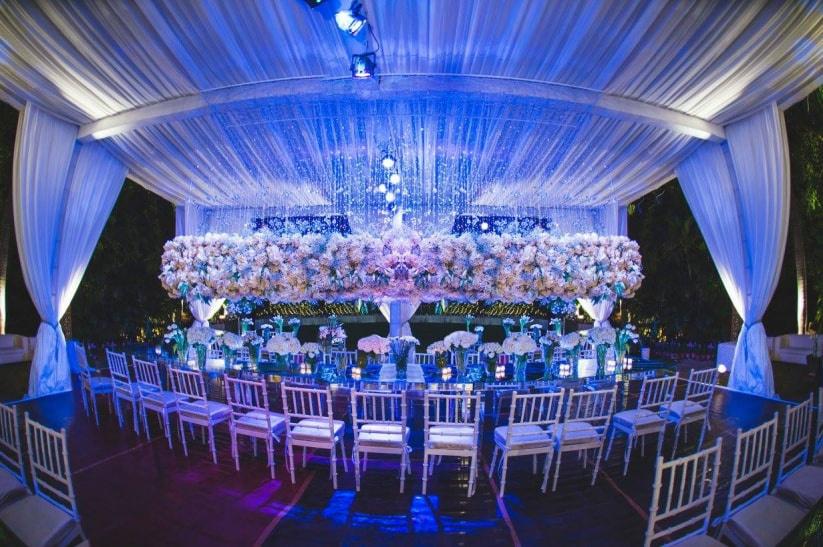 Glorious chandeliers, pillars wrapped in glimmering lights, spiral staircases and flowers on the carpet. Give your wedding reception a dash of flamboyance. You can go Vintage with white and gold colour scheme for your reception stage decorations. Use a white or beige coloured elegant couch for the couple and satin drapes with sparkly bulbs at the backdrop.
2. Get Royal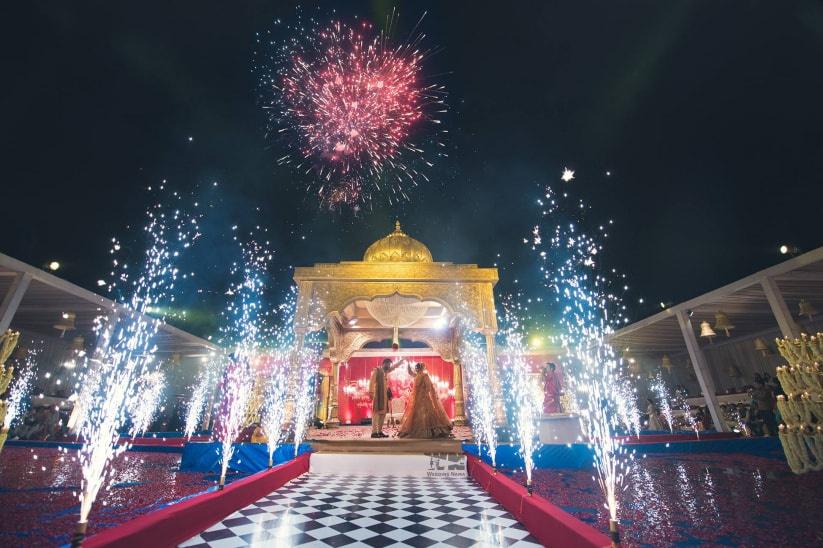 Getting married at a grand palace in Rajasthan? Take that grandeur theme forward to have a wedding reception in royal style. Use bright colours like red, black, golden or yellow in your outfits, flowers and lights with regal thrones as chairs for the couple. Use colour contrasts for more impact. Take your reception stage decoration designs up a notch to give yourselves and the guests a royal treatment.
3. Flowers and Ferns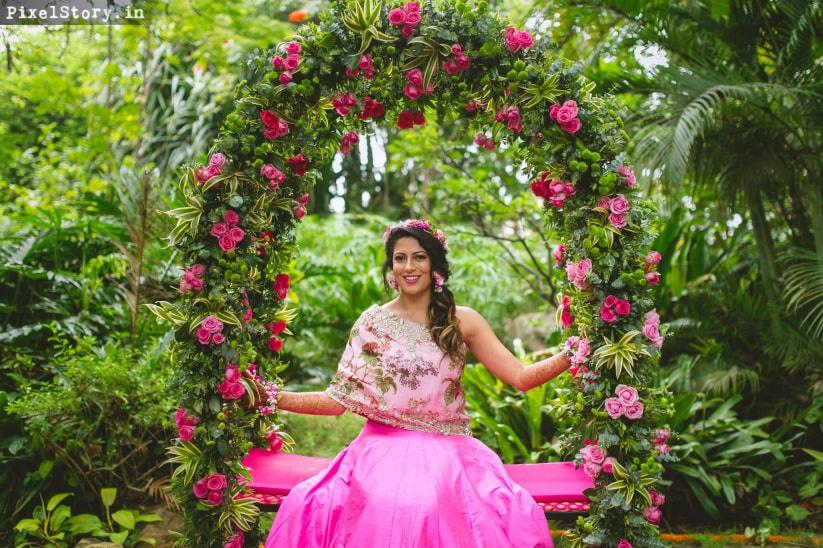 Using flowers and ferns for your reception stage decorations are very hip this wedding season. You can choose a single colour and use different shades of flowers for the couple's chair. Floral and botanical swings, floral hangings at backdrops and flower accessories for stage designs are some of the popular choices. Instead of wedding lights, go for colourful fern streamers and danglers. Make sure you have the right colour of flowers for your reception stage decoration by coordinating with your Wedding decorator and florist.
4. Cute and Contemporary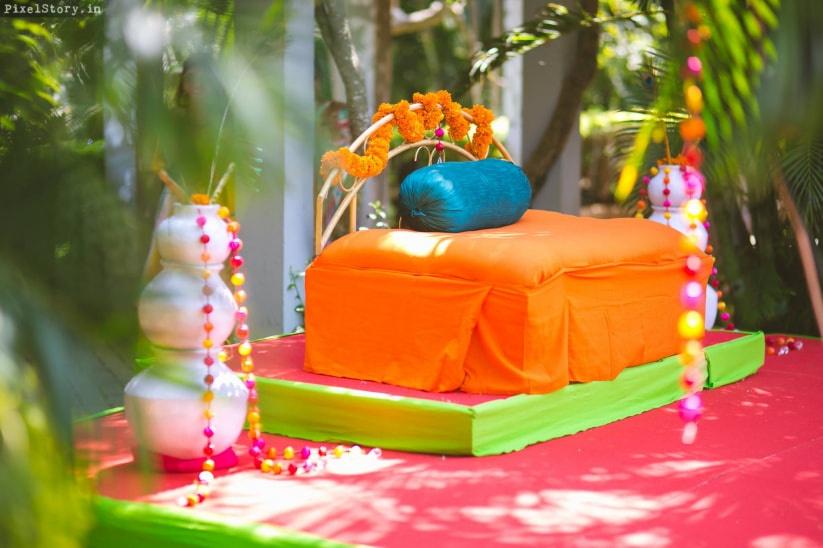 Be it a destination wedding by the beach or a Bohemian themed wedding-there is countless choices for contemporary stage decoration inspirations. Go for cute wooden chairs with fun colour pops or low floor seating with bolsters for the couple for an informal vibe. If it's a day event by the beach, ditch the lights for flowers and bells or vibrant coloured drapes. Be mindful of the time of the celebration and then prepare a list of things you want to use as decor options to amp up your function's decoration.
5. Minimalistic and Chic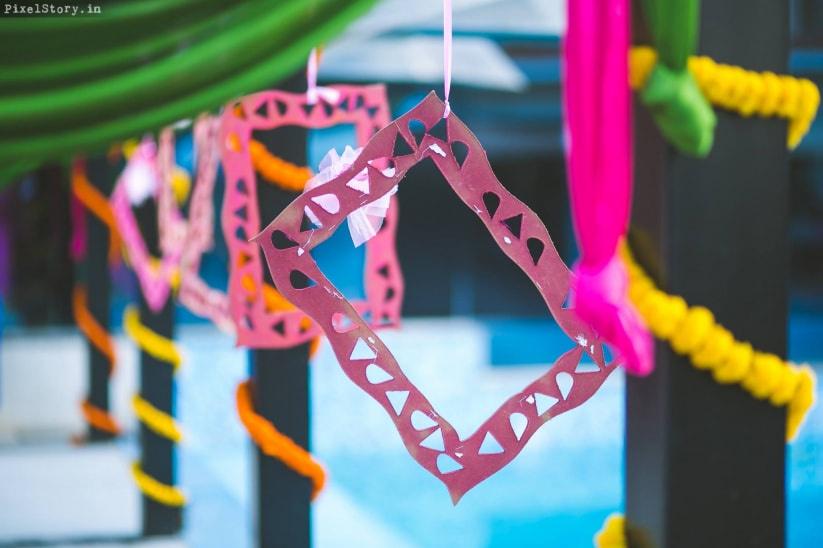 Simplistic stage decorations are just ideal for couples who believe in 'less is more'. If you're having a green wedding, opt for subtle stage designs using paper lanterns, candles, earthen lamps or paper hangings. Go for Rangoli or natural colours for your reception stage decoration designs.
6. Glorius Illuminati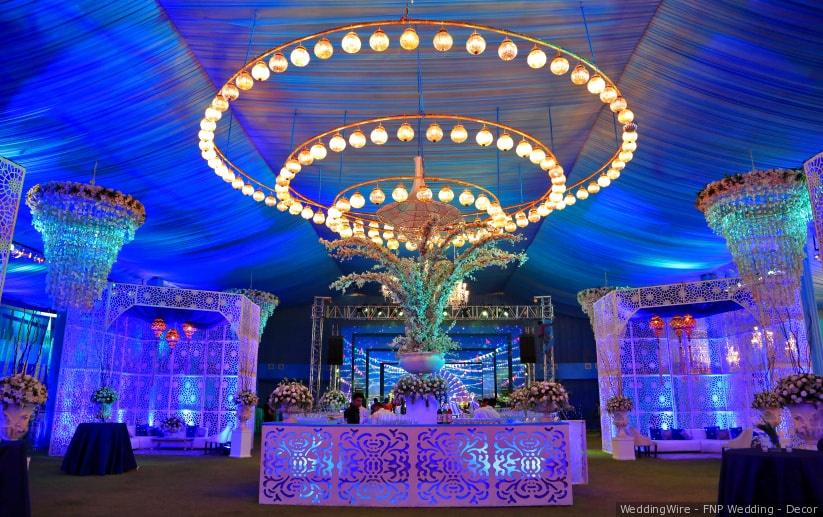 Don't we all want a big fat Indian wedding? We sure as hell do! Then a Shahi Shamiyana and a chandelier that gives regal vibes are definitely yours for the taking. A wedding decor such as this is ideal for a couple who believe in going all out. If you're having an extravagant wedding such as this one then opt for oversized chandeliers, big floral centrepieces, a handful of suspended floral chandeliers and you're good to go. You can use all of these to add splendour and glamour to up you reception stage decoration.
7. We Believe in a theme based celebration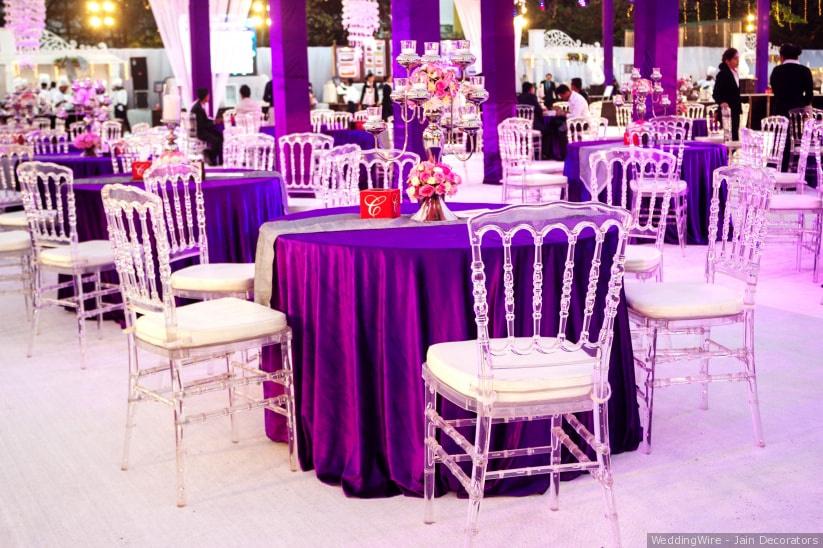 If you have a wedding theme to follow then perhaps this decoration is yours for the taking. Doesn't this purple decoration look dreamy? And, we cannot stop gushing over these crystal look-alike chairs. If you also have a colour scheme to follow then try a combination of opposites; a light colour and a darker shade. Exactly like the one shown above. Once chosen you can decide what colour scheme to follow for the cutlery, tables, floral arrangements amongst other things.
Select your reception stage decoration in accordance with your style and preferences. Once you have decided which wedding theme or genre you want to follow, communicate with your wedding planner or decorator for best deals. Royal, contemporary, simplistic or class, whichever reception stage decoration style you choose for yourself, it should be in smooth fusion with your personal style and personalities. Yours will be a beautiful and unique wedding, just like your love story!
Tell us what inspiration did you choose for your reception stage decoration in the comments below.