Return Gifts for Bridesmaids and Groomsmen Who Do All the Hard Work BTS!
You of all people know how much work your close friends and cousins have put in to make your wedding a success. The best way to thank them is by giving them some thoughtful return gifts to make the bridesmaids and the groomsmen feel special!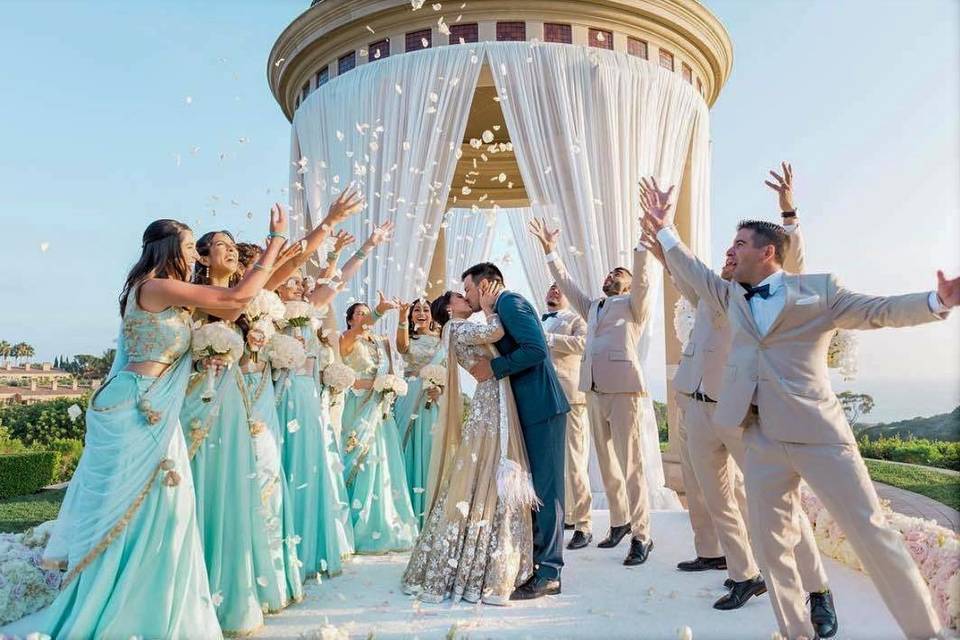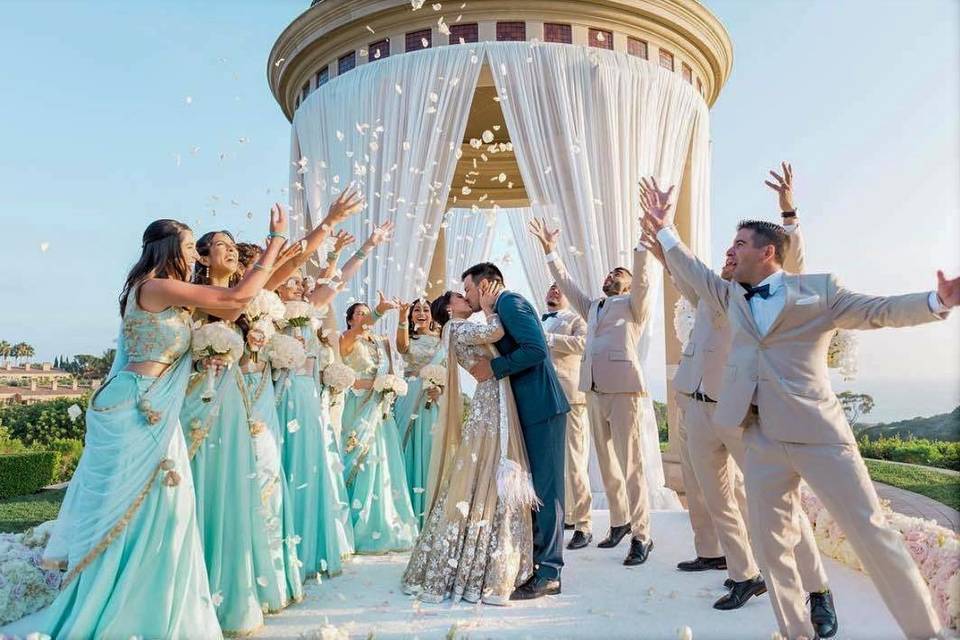 Image Courtesy: Love & You Studios
No wedding is complete without the help of your best friends and cousins, who put in a lot of effort to make it a grand and successful wedding. While some help with the wedding décor, some help in selecting your wedding outfit and some in your jewellery. The amount of assistance they put in cannot be expressed in words. Therefore, it is only fitting if you give those wonderful bridesmaids and groomsmen a gift they deserve.
It is one of the ways to show your gratitude towards them for all the effort they have put in. You must carefully think of the return gifts you want to give them. It could be anything as simple as a kit bag with multiple goodies or some personalised items or even something extravagant, which they might not even have thought about.
The following are a few options for return gifts for bridesmaids and groomsmen respectively.
A) For Bridesmaids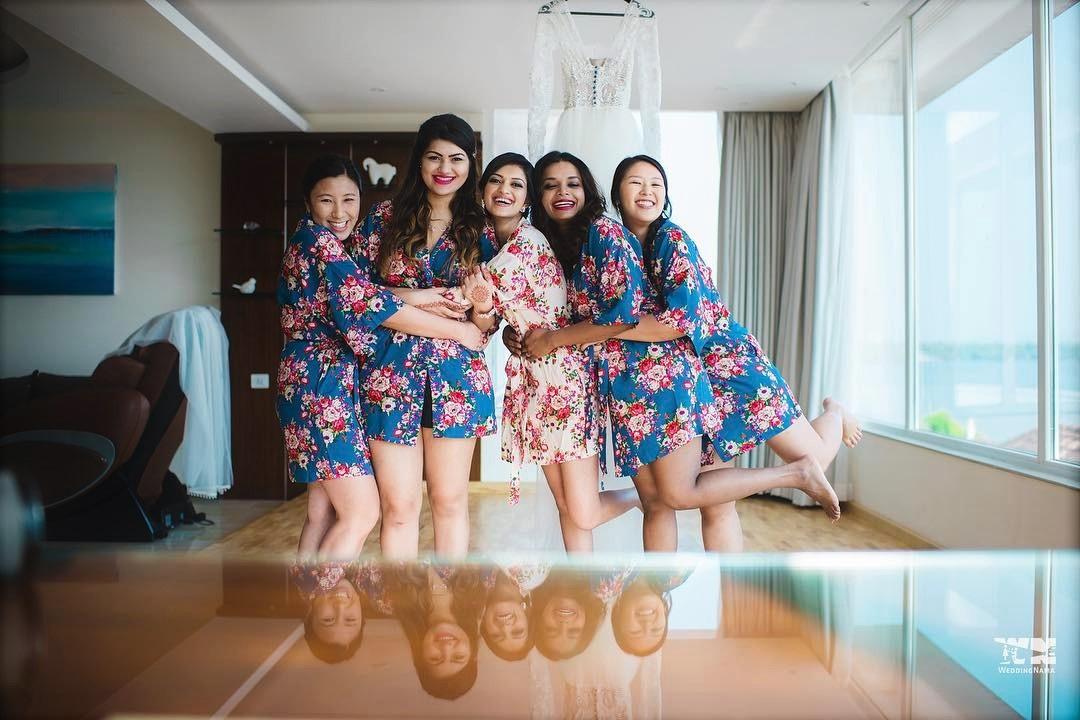 1. A bridesmaid kit box
Now here is a gift idea which is totally fit for one girl to give to another! It's a box in which you can gift all the makeup and lifestyle essentials to help your favourite girls look charming and beautiful. You can gift them the best beauty face mask or a bath bomb or a soothing shampoo. Give a thank you note as well to complete one of the best return gifts for the bridesmaids.
2. Customised gifts
Giving customised return gifts is always a thoughtful way to thank your friends. You can give them a weekend bag with the initials of their names on it. Another cool idea is to gift them a phone cover with their initials, name or even their picture on it. Such small gestures show that you have gone out of your way to thank them.
3. A scent set
Who doesn't like to smell good! Gift your beautiful girlfriends a bag of incredible scents that smells absolutely fantastic. You can order some imported ones as well to make them extra special. Furthermore, you can add a few more essentials like a shower gel or body milk, all that will help them get that superb aroma.
4. A Monogram Enamel Necklace
A monogrammed enamel necklace is again something along the lines of customisation but in this case, the design of the necklace may be the same in most cases. You can give them a stunning necklace with the pendant made of the first letter of their name. Due to their cool antique look, the enamel necklaces look even better.
B) For Groomsmen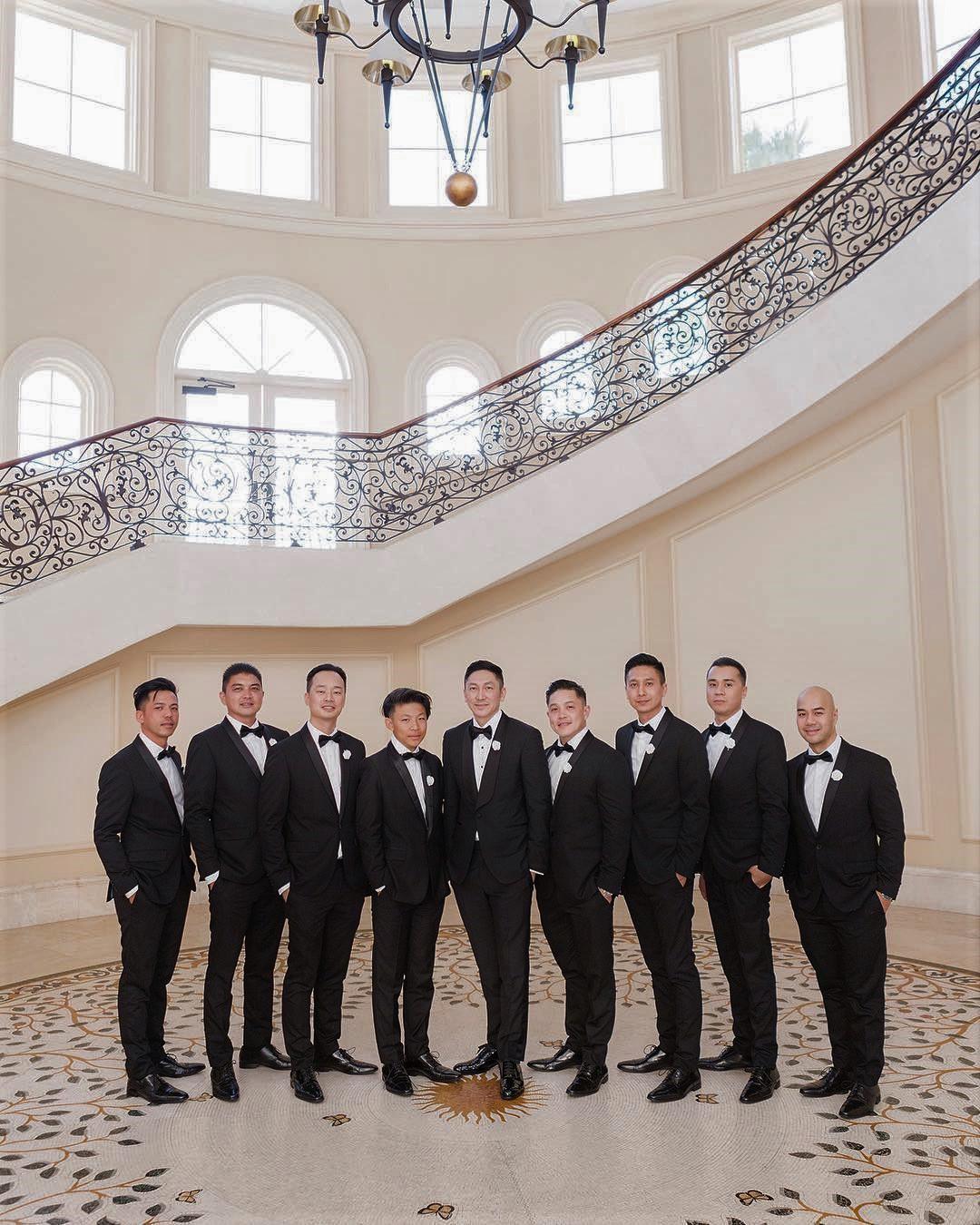 Image Courtesy: Love & You Studios
5. A box of ties
When you gift something to men, its practicality is the one criterion you need to keep in mind. What better gift than giving a box of ties to your handsome dudes? A box usually has three ties and that is enough for guys to go around for a few months. Go for premium quality products while gifting such things.
6. Gift an experience
One of the best return gifts is when you gift your friend's experience. How about some coupons for go-karting, bike rallying or some other adventure sports that all your friends can enjoy. It need not necessarily be a group activity, it can be something that everyone can do on their own in their respective hometowns. Whatever you think, your boys will surely like it.
7. A grooming kit
One of the most popular return gifts for men is the grooming kit. A grooming kit usually involves a great moisturising cream, a face wash, beard oil and moustache wax, shower gel, a beer shampoo and men's bathing soap. All these products are extremely helpful for most men. It is absolutely practical and almost every guy will like this gift.
8. Some appealing beer mugs
A great beer mug is something that every man likes to flaunt. So, you may go ahead and gift your best pals a few beer mugs that look so appealing that they would always drink from it from then on. You can make it even more special by printing each groomsman's name on the mug to give it a personalised touch.
With so many ideas, you must now have a clear idea about what to gift your friends and cousins to thank them for the efforts they put in and the gifts they gave on your wedding. Giving return gifts is not about returning the favour but acknowledging someone's love and respecting them for what they did for you. So, don't think of this as a chore that needs to be dealt with ASAP! Instead, take your time to find the right presents for your friends! The effort you put in will certainly show!
Get in touch with our gifting vendors who can help you pick the perfect items!