11 DIY Garden Decor Hacks You Can Expertly Pull Off Under ₹500
Get your DIY garden decor dreams to work with this selection of epic ideas from the latest, big-ticket weddings.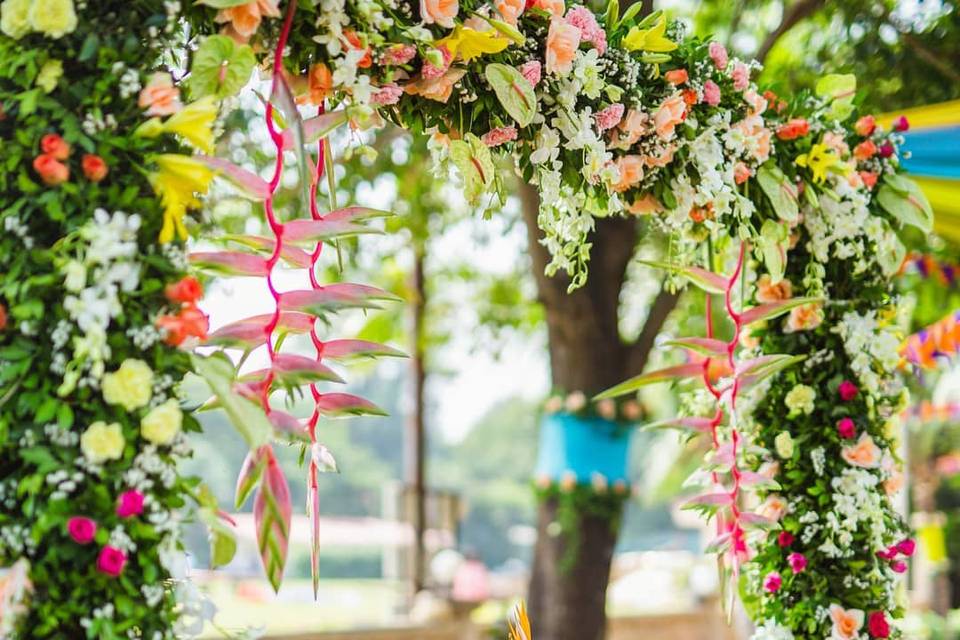 'Baaghon mein Bahaar hai, Kaliyon mein Nikhaar hai...'
Thinking of a classic garden wedding for your own nuptials? Or want to get a heady smell of blossoms and a stilted sunny day into your pre-wedding functions. Gardens are all the rage when it comes to a sunny, Shaadi experience and what's more, you can transform into your beatific paradise at minimum cost. We've collected some garden decor ideas which work and work well!
11 EPIC DIY Garden Decor Ideas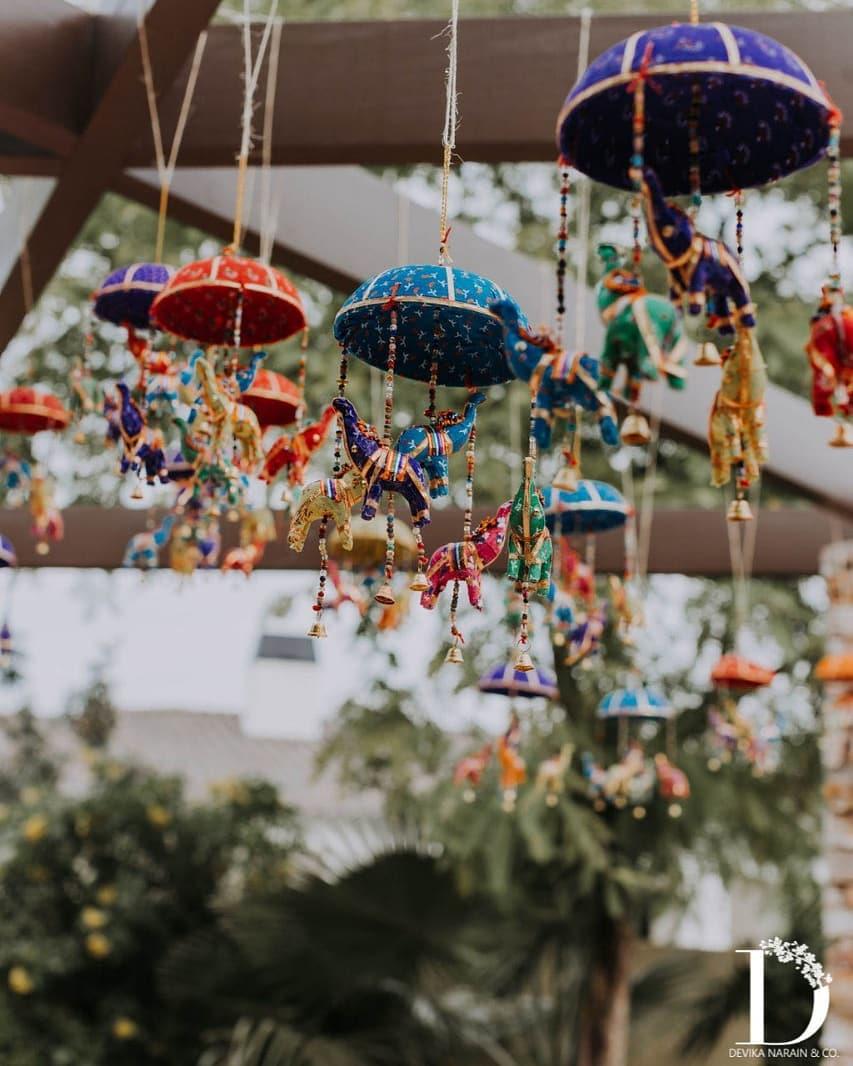 Cut down on your decor costs by adding these concepts from some of the best wedding decor and wedding planning names for your own set of special days. Pens, papers (or smartphones) please!
For the entry - Cane lanterns
Gain some rustic inspiration and vintage touch for your garden festivities by adding cane lanterns and shades along the entryway (or even on a few trees). This minimum effort DIY decor hack transforms an untouched piece of your venue immediately. And if you're planning an evening out in the garden, simply add fairy light strings to the mix.
This is minimum fuss at its best.
Cost: ₹250- ₹350 per lantern (bulk purchases would mean heavy discounts)
For the entry signboard - Lime and Daisy rack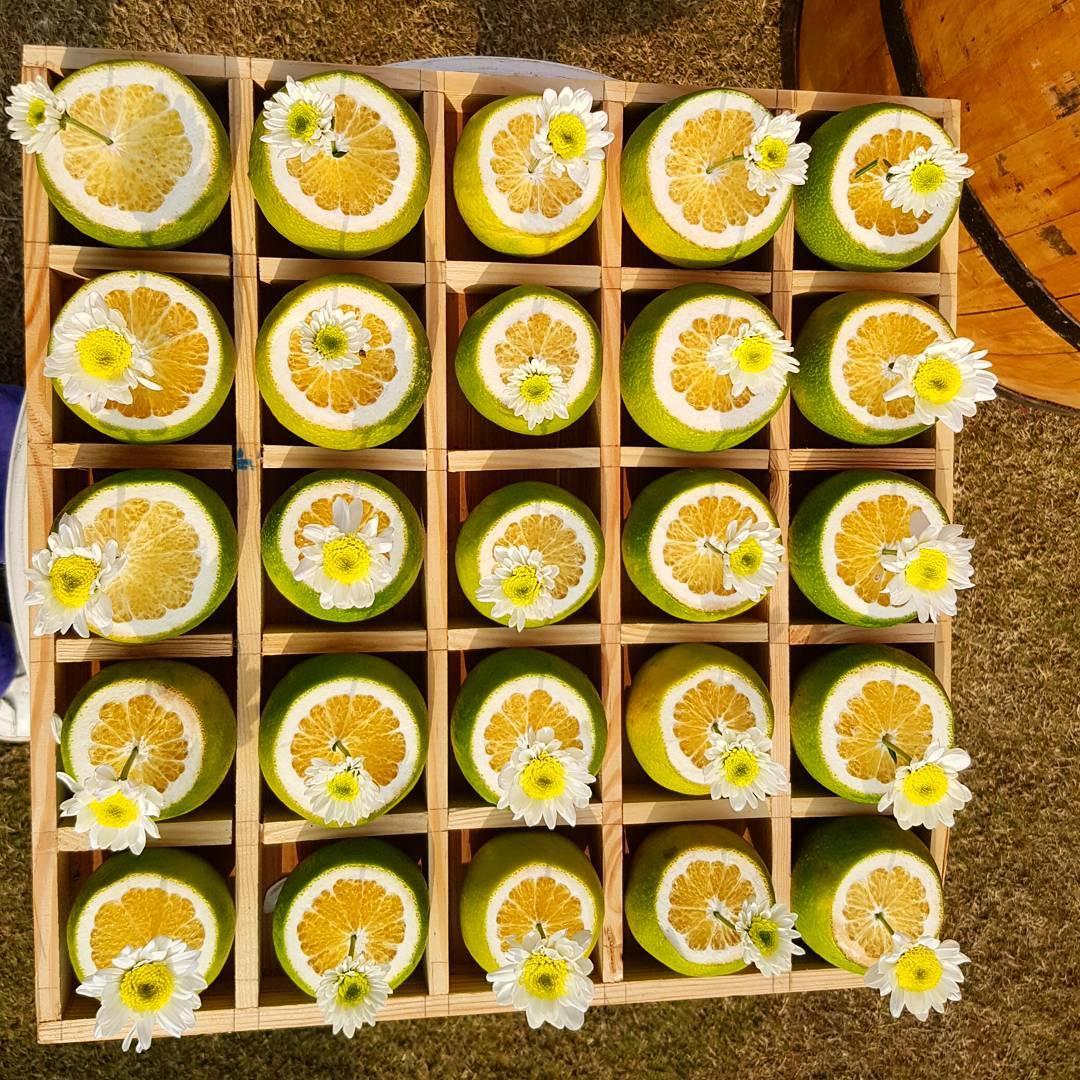 This one's for a fruity, zesty summer vibe to your function. And this DIY garden decor hack is extremely doable - all you need is a rack (check for an old wooden crate or bottle rack), two dozen sweet limes and a bunch of daisies (you can substitute these with any simple garden bloom too).
Simply slice your limes at the top and perch the summer blooms in the mid, before perching your display up, preferably near the gate. Add a signpost near your masterpiece, announcing the way to the festivities and you're done!
₹200 - For the limes, blooms and whatever you need to pay to secure the crate.
Lining the path - Ghungroo Matkas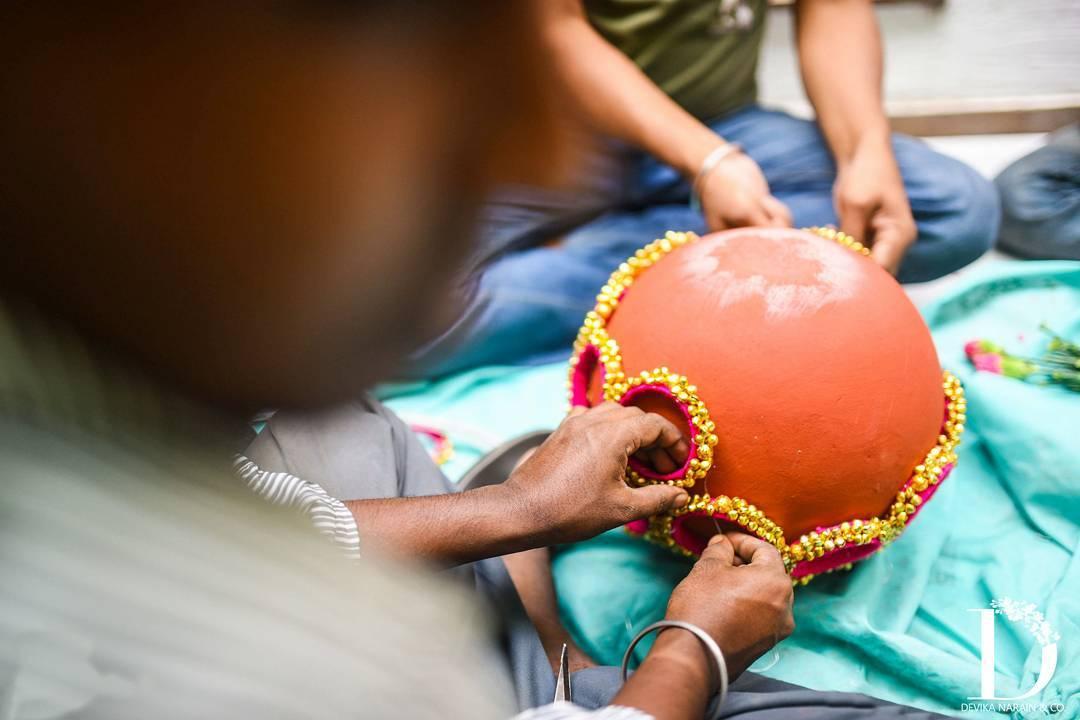 Elevate your DIY garden decor approach by adding earthen pots along the entryway, festooned with a quirky addition that would draw a lot of wows and praise for your attention to detail.
We're talking about repurposing the excess silk thread bangles you might have ordered as wedding favours, by simply glueing them on top of the pots. Double brownie points, if you're able to invert these pots atop wooden sticks so that the Junta can simply lay a hand and let them tinkle, a la prayer wheels at a Tibetan temple.
We loved how the planner here choose Ghungroo-laden silk thread jewellery to add that tinkle in the wind.
Cost: ₹250-₹300 for a set of 8-10 bangles, ₹50 per pot (Score heavy discounts when you buy in bulk.
For focal hangings - Feathery delights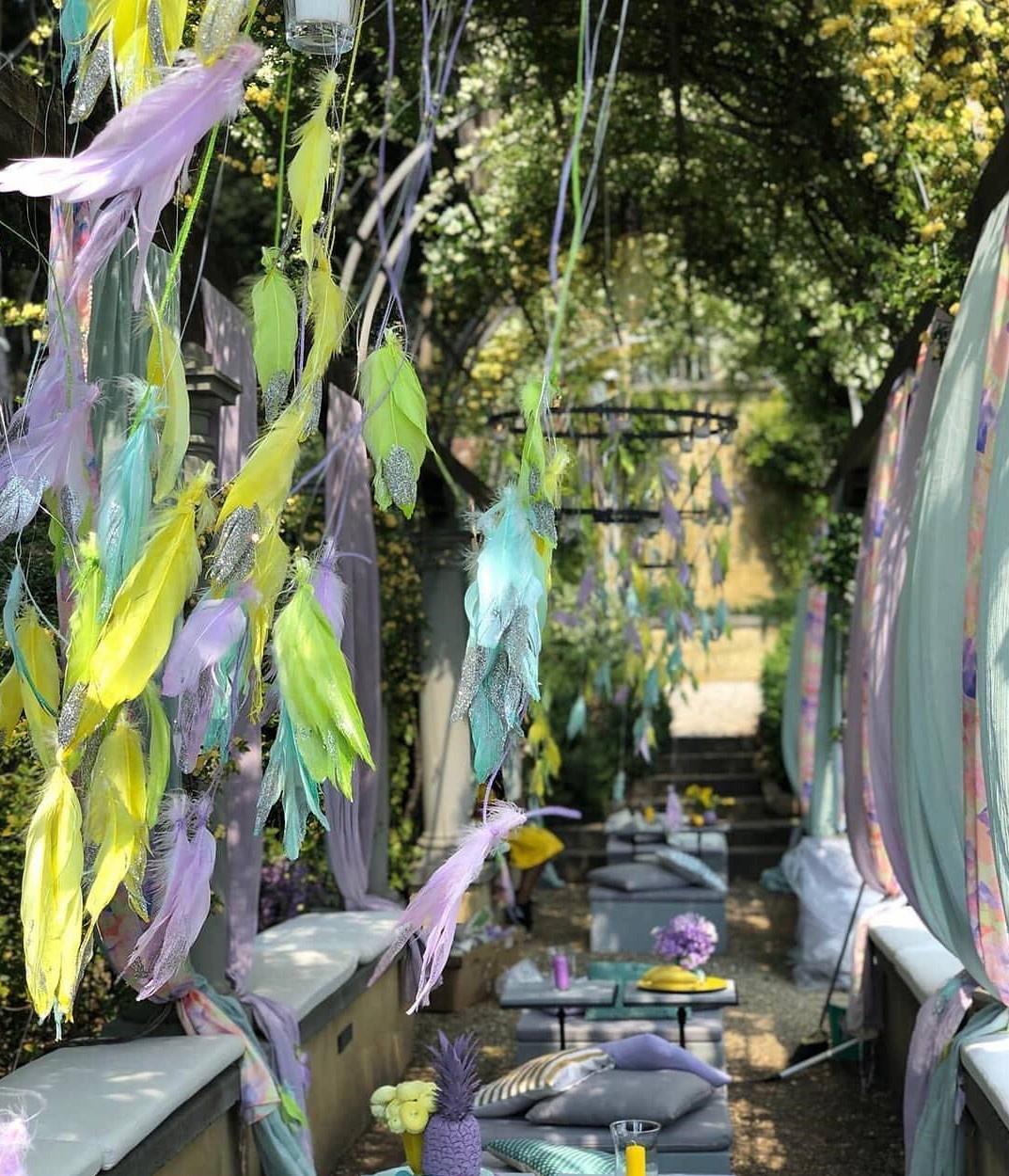 Add a little whimsy with this DIY garden decor hack that requires an open, artistic mind, rather than a big-enough dent on the wallet. Get a set of feathers in different sizes and tie them up with strings for a makeshift hanging for the trees around your venue.
Now, unleash your inner artist by delving into colours that match your theme (contrast or neon would work too) and shower glitter over the mix. This is not Da-Vinci level work and can be done by a four-year-old too (in fact, keep the kids at the wedding busy with this assignment).
Cost: ₹500 for the paints, glitter and threads - you can arrange for the feathers by simply picking them up from the around the garden wedding venue.
For tree displays - Tyre swings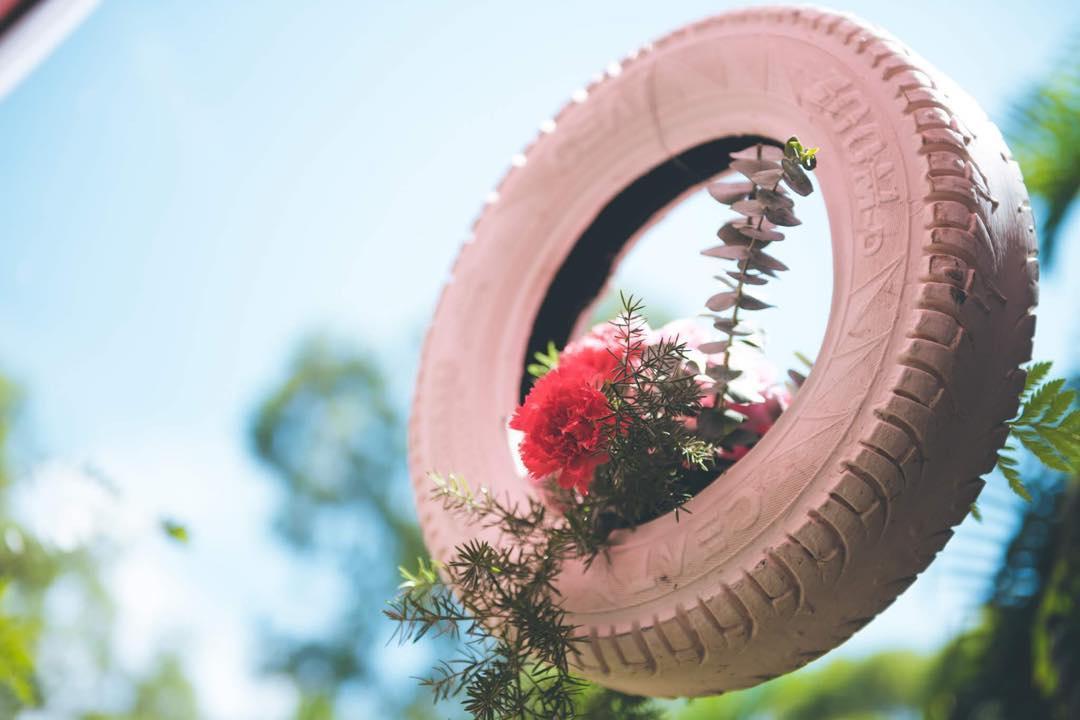 Now, this DIY garden decor hack is as timeless as they come! Score some old tyres from a junkyard, spray paint them in art deco white, pastels or your theme colours and hang them around the outdoor venue.
You can simply let them be swings for your younger guests (or those still young-at-heart) or pop a few blooms within them to make quirky vases around the venue.
Cost: Can be free if you find a junkyard that's just giving them away.
Hanging, streamers and festoons - Clutches of Gota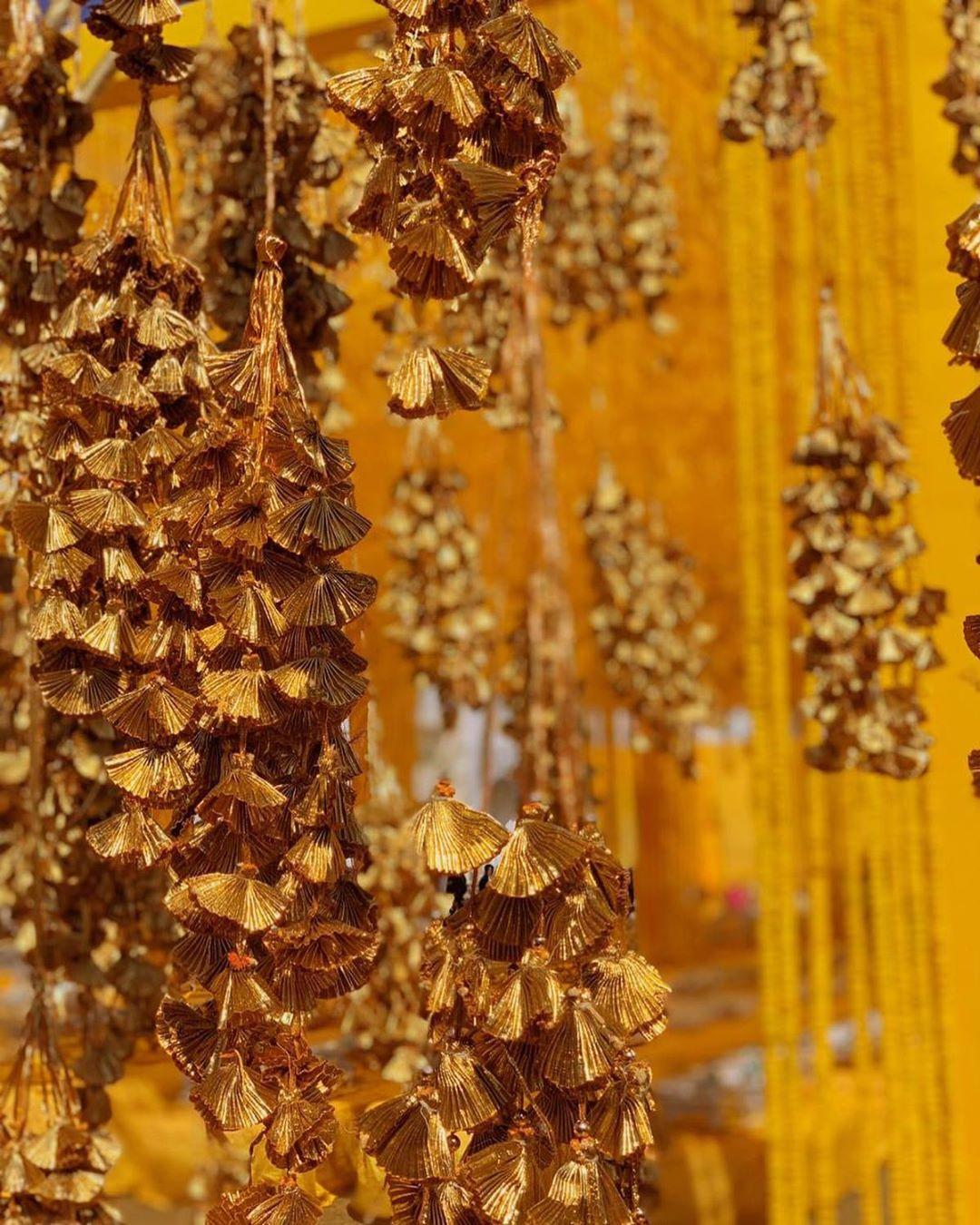 Put the leftover Gota from your whimsical stitched outfits to good use by adding it around the garden venue as hangings, streamers and festoon garlands. In fact, even if you need to make a Kinari Bazaar-like Chandni Chowk shopping expedition, it's well worth the effort for this DIY garden decor piece.
You can also bedeck Gota Kinari in sharpener-like spherical strands from trees and bushes. And if you're able to find the same tumeric backdrop like the experts at Rani Pink, nothing better than that to really make the golden pieces pop!
Cost: You can source a set of 100 cut Gota flower pieces for ₹50-₹75. Lace by the metre would be cheaper.
Hanging around the venue - Paper cranes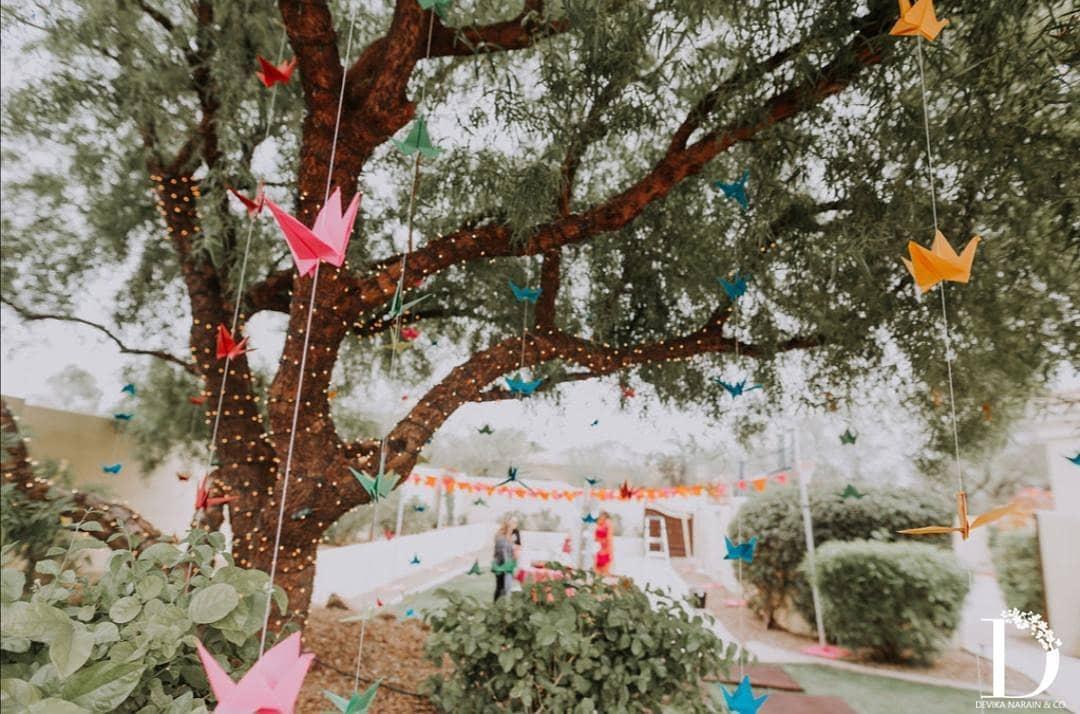 Remember your Origami whenever school turned boring indeed? Now's the time to bring that knowledge to good news. Create varied shapes from a multitude of coloured sheets - from paper cranes to boats, aeroplanes and paper wheels. And then thread these through to form hangings for multiple spots around the venue.
Use this super-easy DIY garden decor hack to add intrigue and nostalgia, with minimum effort and at bare minimum cost. You can even turn it into a competition and keep your younger guests occupied in the effort.
Cost: ₹150-₹200 for the coloured sheets, glue and thread combined.
The bridal seat - Marigold wrappings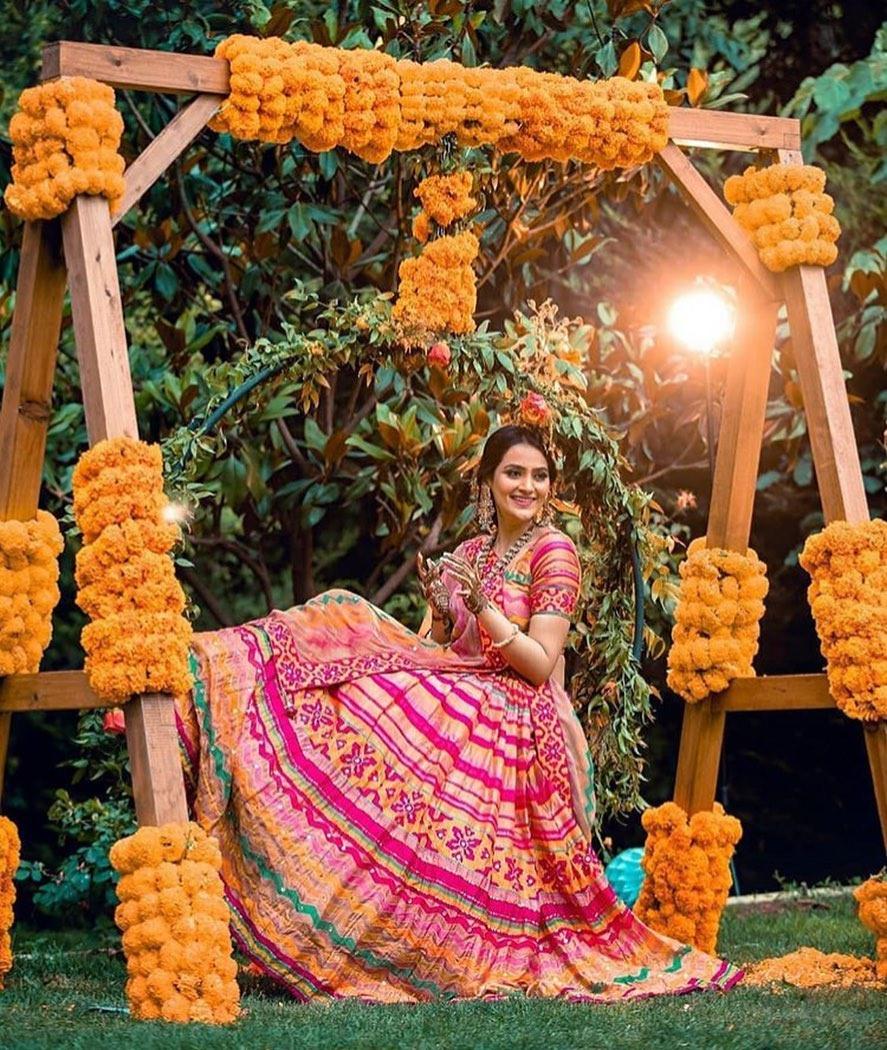 Image Courtesy: Vintage Films Photography
As easy and timeless as the Gainda Phool at weddings, this DIY garden decor hack requires simple surfaces around which you can wrap strands of this essential wedding decor.
This could be the bridal seat or Jhoola, trees and bushes or even pillars in the verandah. The sheer, bright colour of the marigold flower is enough to make the venue pop.
We'd also recommend these stellar Jhula decoration ideas for your bridal seat.
Cost: ₹15-₹20 per strand if you shop from a wholesale flower Mandi. Bargain to your heart for better deals.
The bridal seat - Pom pom cushions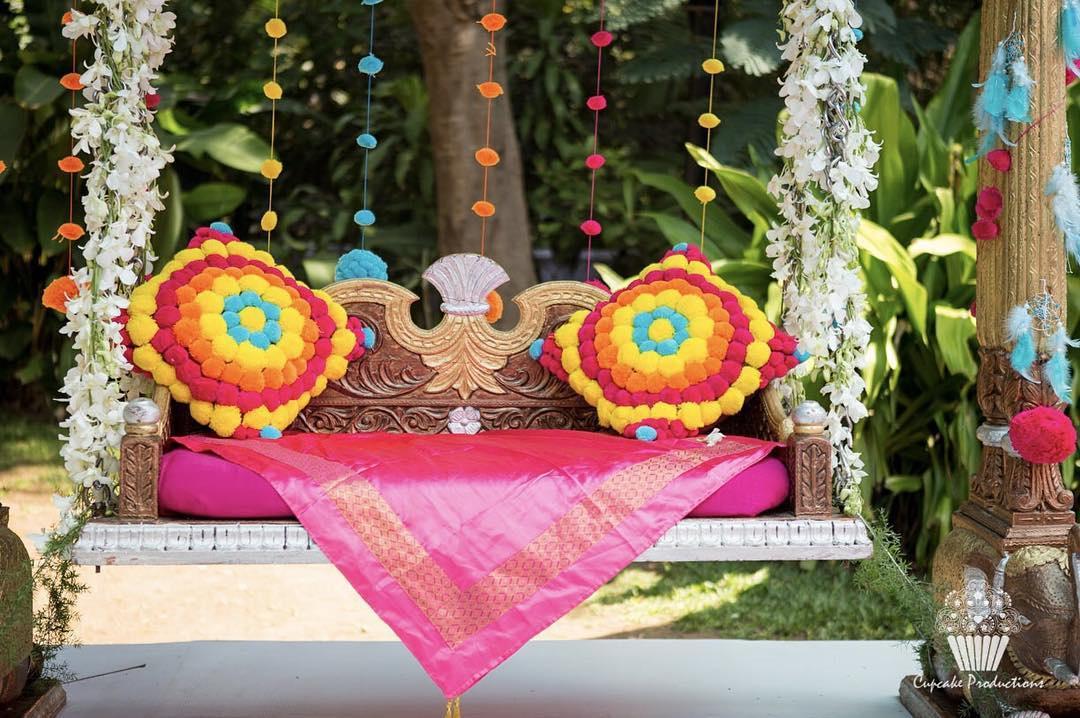 Fancy a little slice of squishy, home-packed goodness for your pedestal of power. Then invest in a roll of multi-colour woollen thread or readymade pom-poms to add to the cushions for your bridal seat.
Seriously, this DIY garden decor hack is meant to be done yourself, if only for the therapeutic sense of throwing away your pre-wedding jitters or getting some alone time. However, if you don't fancy yourself for such a 'Gharelu' task, then delegate to a family member or the tailor. Trust us, you will love the end result.
Cost: ₹150-₹200 for woollen skeins. Readymade pom-poms are available at ₹125 for 100gms. Basic round cushion covers are available at ₹150-₹200.
For your function favours - A bangle display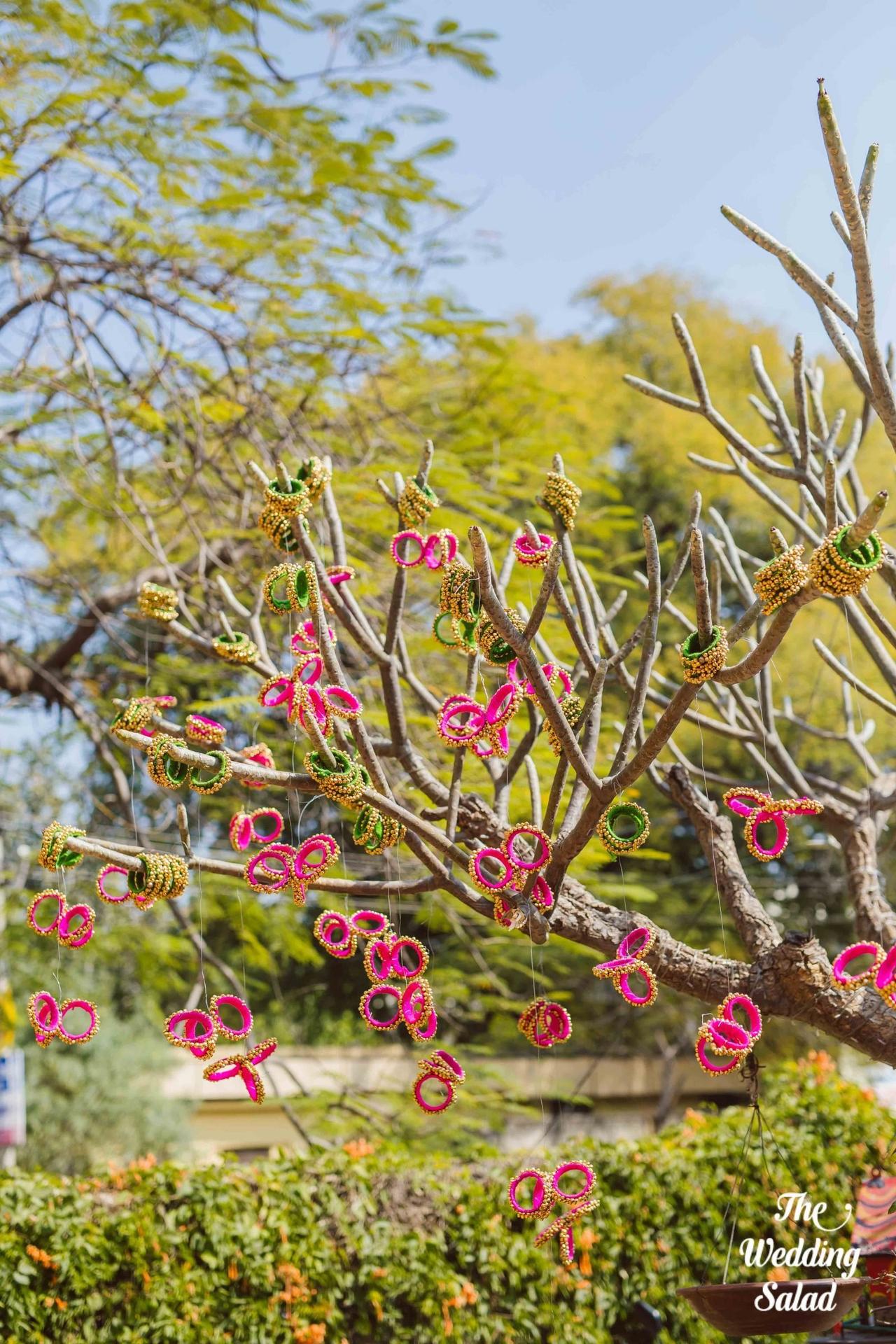 This is as simple as you can imagine! Simply put the silk thread bangles you've ordered in bulk on the many branches of a short-enough bush or tree and tell your guests to pick as many as they want on their way out.
Be a little smart and label the different nodes by sizes though - this little detail will make this quick DIY garden decor hack in full attention.
Cost: ₹250-₹300 for a set of 8-10 bangles, though you can bargain on bulk orders.
Expert touch: Add some brassware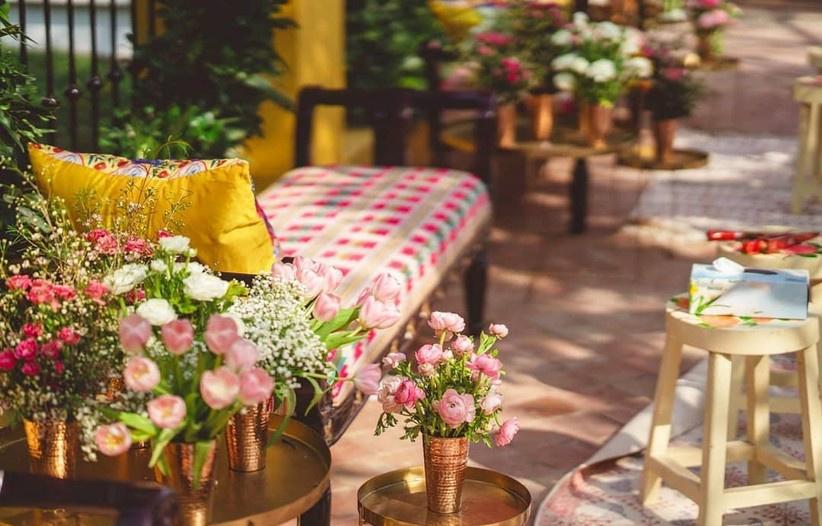 What makes the biggest names in wedding planning and wedding decor such a force to reckon with. It is the little quirks they add to an event, an eye honed towards attention to detail.
Try this, for instance, as part of your DIY garden decor. Bring in old, polished brassware and prop it around the venue - glasses as vases, plates as holders for mehndi cones and favours or even focal elements around the venue.
This rustic touch adds a vintage sheen to your wedding festivities at barely any cost.
Cost: Free if you've inherited the brassware. Otherwise, discuss with your caterer and rent a set from them.
Loved this set of absolutely eye-catching wedding decoration ideas? We sure appreciated the way the looked in all of these images. If you have a few which should also make the cut, then add your DIY garden decor hacks to the comments section below.
Don't forget to click your own and share them with us on our social feeds!