Add Personal Touch to Your Wedding with These DIY Decor Ideas
Whether it is decorating the corridor with wreaths of flowers or dragging others into the dancing gang, weddings, in India, are an extensive affair where everyone takes part. Take a hint from these DIY decor ideas to amp up your decor.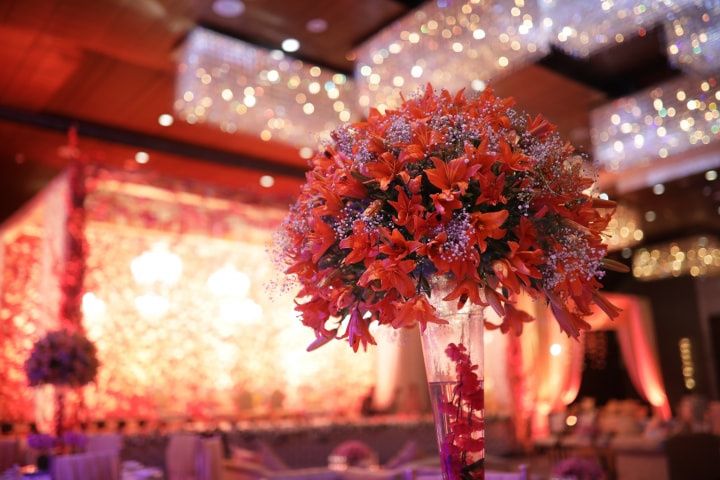 Now, the question arises, what should the bride and groom take care of considering it's the celebration of their union and they need to embark a new journey. A simple answer to this question is adding a personal touch to décor at the wedding. This personalisation can be in any form - the mandap decoration, floral theme, unique wedding centrepieces, designer garland and so forth.
To make it all easy for you, we have compiled a list of various DIY décor ideas for your wedding that will ensure that you both take vows amidst the scene that exhibits your personality, style. Take a guide to these essential DIY decor ideas and tips and make your wedding a beautiful gateway to your even more beautiful future. Read on!
Hanging Décor Ideas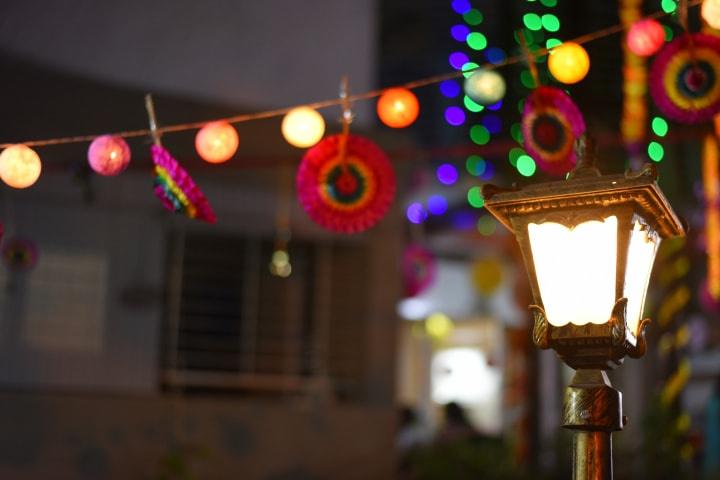 More often than not in weddings, every nook and corner of your wedding venue is precisely taken care of while the ceiling is neglected. Make sure each view of your wedding venue is picturesque and breath-taking. These simple DIY décor ideas are sure to uplift the mood of the ambience:
1. Ceiling Drapes
It is impressive to see how much a simple piece of fabric can do to your wedding décor. You can also experiment with colours to add your personal touch. Choose satin, silk, velvet and more to bring out a royal effect at your wedding.
2. Temple Bells
If you are looking forward to traditional décor, you can add temple bells and even bridal Kalire to the ceiling. Choose golden or copper colour for these temple bells and add radiance to your wedding.
3. Pinwheels
Another simple item that you can add to your wedding is the pinwheel. You can choose different sizes, patterns, colours of pinwheels and add a pop of fun to your wedding decor. Other options include pompoms and buntings. Alternatively, you can also pin up traditional cloth umbrellas to your ceiling, and enjoy a breezy and summery décor style.
4. Flowers Atop
No wedding is complete without flowers. They can be incorporated everywhere, including the roof. You can hang pots with colourful flowers, or flower garlands to weave an ethereal beauty into your wedding decor. Tacking up wreaths of marigolds and mango leaves around the walls will not only add to the overall décor but will also invite auspiciousness to your life.
5. The Role Of Lighting
Home decor ideas for Indian wedding can never miss a generous amount of lighting which makes a perfect combination of function and style. Use string lights or series of bulbs and votives, to accent your ceilings beautifully. You can also use paper lanterns and terrariums for that sophisticated glow.
Wedding Décor Ideas For The Corner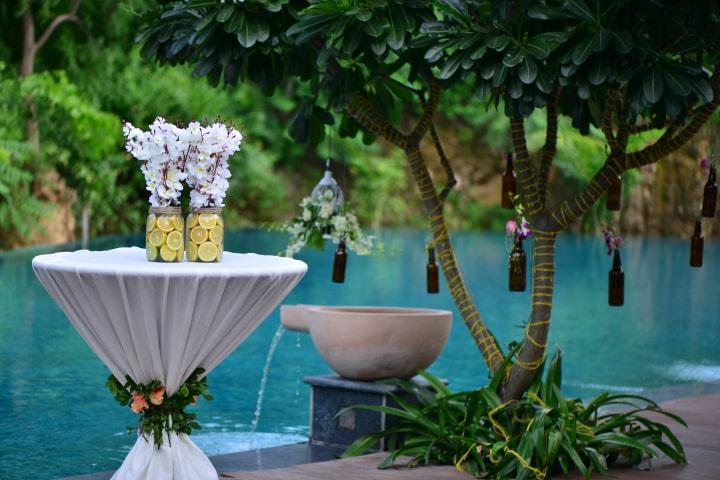 Not just the ceilings, but every corner of your wedding venue should look beautiful. You can use your creativity to add a personal touch. Enlisted are some DIY décor ideas for decking up the corner that will add versatility to your regular decor:
1. Photobooths
Photobooths have become the latest rage in all parties and occasions. You can add a corner photobooth to your wedding. Personalise the theme and add a few outlandish props for those fun photographic moments.
2. Engraved Photo Frames
You can choose your best couple photographs and create a wedding wall in your wedding hall. You can also hang the photos at different corners to add that personal touch. Combining the best family photos is also a great option that will elevate the charm of the decor.
3. Coloured Glassware
Coloured glassware can add a happy tinge your wedding table. Similar experiments can be done for wine glasses, highballs and other glassware and cutlery at the wedding.
4. Table Lamps
Choose different designs, sizes and patterns of table lamps to fulfil light and décor ideas & necessities. You can also place mason jars with lights or candles. Contrast them with rustic wooden chairs, barn tables to add country charm to the decoration.
5. Chalkboard Signage
You can also place a chalkboard in one corner of the wedding venue. Place some colourful chalks and spray paints. Your guests can complete the rest of the decoration. You can ask your guests to quote their best memories with you. Ask them to be creative and, in return, have some amazing moments that you can cherish forever.
Wedding Floral Decoration Ideas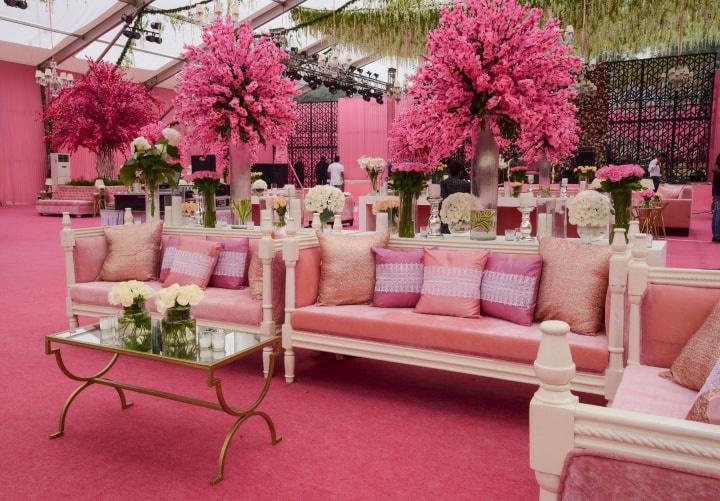 Flowers are one of the most charming things that do the trick, no matter in what form they are used. These small and colourful beauties are not only scintillating but also auspicious. This is why flowers form an essential part of every Indian wedding. They give you room for a lot of experimentation and personalisation. You can attempt creative decorations with flowers, and all they will do will be to beautify any nook you desire without fail. Choose from a few ideas mentioned below and add that personalisation that you seek in your wedding.
1. Floral Chandeliers
Mixing flowers with crystals and fabrics is highly in vogue in weddings, nowadays. Different flowers like roses, orchids, marigolds and more can be used to create chandeliers and palanquins for your wedding. You can also experiment with different shapes using flowers, say, make flower balls as hanging or corner decoration prop.
2. Floral Rangoli
Rangoli has been a tradition in Indian culture since time immemorial, and when designed in weddings, it is believed to attract auspiciousness and happiness in the life of the couple. Marigold, jasmine and rose petals will make some of the best choices for the floral rangoli. You can also include your family and friends for an extra dose of fun and creativity. Create a flower petal wedding aisle for the magical and grand feel.
3. Brass Pots With Marigold flowers
Marigolds are an integral part of every religious ritual in India, and weddings are no exception. Adding marigold flowers to the brass pots will not only make for an amazing décor piece but also keep the Indian tradition alive. Imagine the brass colour blended with the amazing orange colour of the marigold. You can also include mango leaves to add auspiciousness to the complete wedding décor idea.
4. Floral Centrepieces
Centrepieces not only are convenient wedding décor idea but also happen to be economical. You can use DIY methods to create various floral centrepieces and add a personal flair to the wedding. Take inspiration and be creative, and create centrepieces which reflect your happiness. You can also gift these centrepieces to the guests as a return gift.
Wedding Décor Ideas For Focal Areas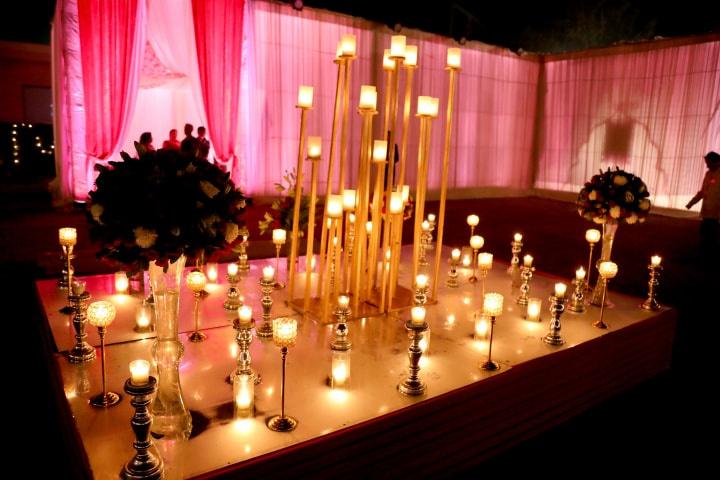 In a wedding, the Mandap or the seating of the couple is the most highlighted area and should definitely be the showstopper in terms of decoration. Here are certain Ideas which you can incorporate in your mandap décor.
1. Flower Walls
No one can forget the fantastic backdrop of the Mandap at Virushka's wedding. You can achieve similar mandap by adding flowers to the décor. Add flowers to the bed or even to the whole mandap. You can adorn walls with different flowers like rose and marigold that will offer colour to your wedding mandap or focus area. Experiment with colours and feel like a royal couple that you already are.
2. Colourful Drapes
Not only the flower wall, but coloured fabric can also be used to create the walls of the mandap. Silk, satin, velvet… the options are unlimited. All it takes is a bit of creativity and a nook for perfection. Experiment with different fabrics and colours to add a charm. Choose traditional materials like Gota to bring elegance and royalty to your mandap. Of late, Gota decoration is new and upcoming trend for the wedding.
3. Statement Chairs
Gone are the days when the couple used to sit on cushions during the Phera ceremony. With an array of statement chairs available including vintage peacock seats, canary yellow seats, Macramé net seats, designing your wedding chair would be, altogether, a great idea. Sit with the wedding decorator and work on the chairs where you will promise your better half an eternity.
4. Colour Based Mandaps
Another way to decorate your mandap is following a colour based theme. Have a quick chat with your wedding planner and decorate your mandap coordinated with your wedding outfits or any special occasion of your life.
5. Chandelier Charm
Give a magical, yet elegant touch to your forever moment by using charismatic chandeliers. They are sophisticated and will definitely add a dreamy feel to the shimmering grandeur to the entire decoration.
So, what are you waiting for? Making your wedding memorable is really easy. All you need is time, commitment, interest and creativity. Add personation to your wedding in one form or the other and ensure that your guests are going to witness a wedding that will be an inspiration for your generations to come.
Let us know which one do you plan to have as your wedding décor idea in the comments below!