Gorgeous Garland Images That Will Inspire You to Frame Your Perfect Jaimala Moments From the D-day
Jaimalas are a symbol of being a couple and marks the beginning of a lifelong commitment. Click on to for some stunning garland images to inspire you.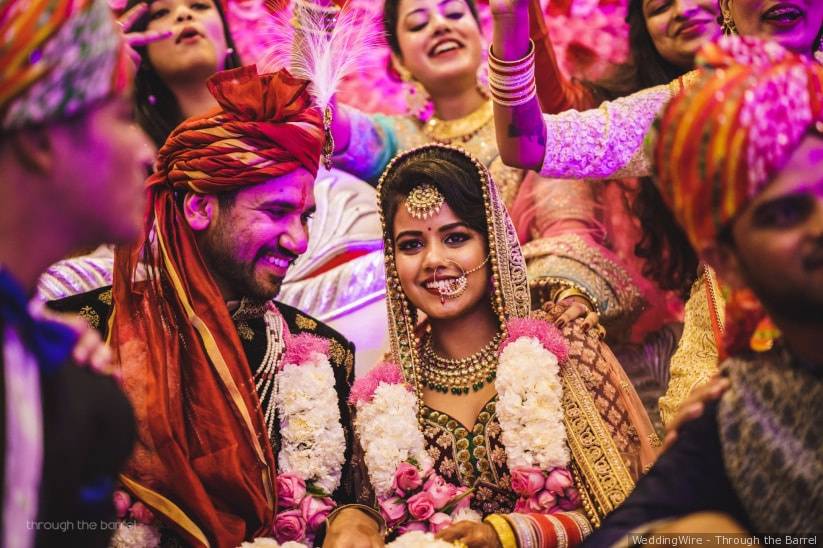 With all the rage of big fat Indian weddings these days, every detail had to be on fleek from pin to plane. But in all the hustle and bustle of the wedding madness somethings are bound to be jinxed. The first on the list is losing the engagement ring (which always lands up in the wrong place) and the second place goes to the Jaimalas.
Jaimalas are of great importance in all regions and religions of a Desi wedding. It is a symbol of being a couple and marks the beginning of a lifelong commitment. But there are many things that might skip from your mind when it comes to the beautiful floral garlands and these are the key ones:
Forgotten, most of the times by the one relative who was given the responsibility to fetch them
If it somehow makes it to the wedding venue at the last moment, the flowers are not fresh
The colour of the Jaimals is in total contrast with the outfits and not the way that pleases the eyes
Let's go through some of these curiously curated garland images to give you a glimpse of how creative and well planned this tradition can actually be if the goof ups can be looked after and planned perfectly.
1. Mixed hues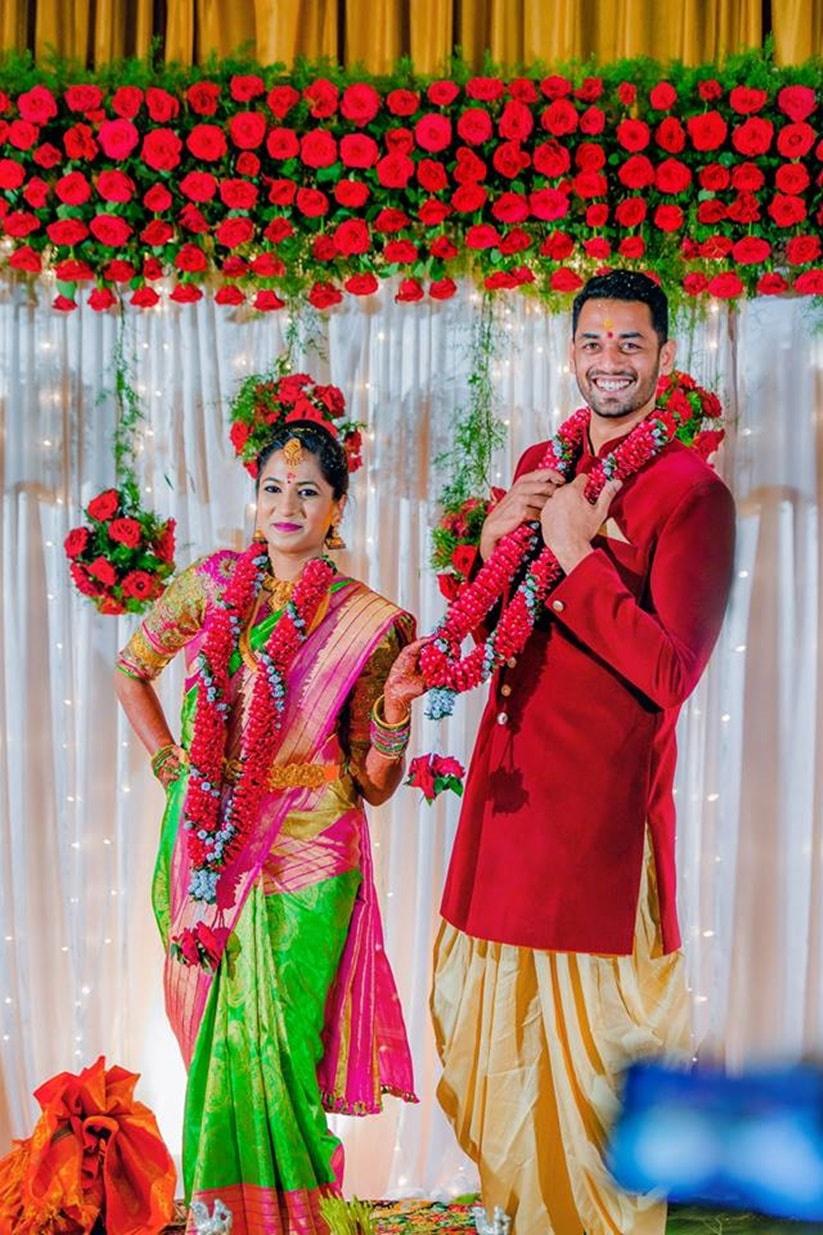 Fresh flowers are just simply refreshing with their bright colours, sweet fragrance and freshness. If planned in advance, garlands can come in mixed hues(as seen in some of the garland images here). Combine romantic roses and swirl around some small turquoise artificial flower lace to give it a truly unique look. You can even get the colours customised as per the hues of your outfit. If you have a particular colour theme in mind for your wedding decorations then you can also coordinate the Jaimala according to that theme and be homogeneously aesthetic.
2. Orchids and Roses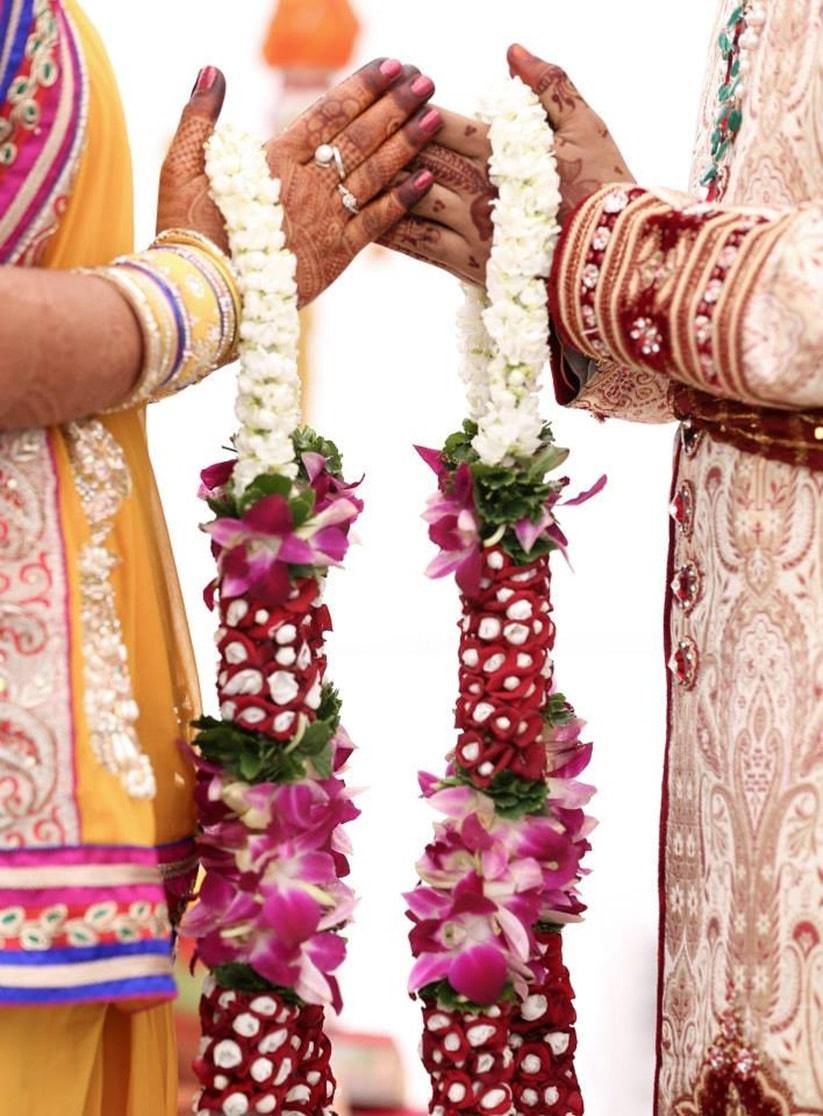 Jasmine with rose is a match made in heaven and there is nothing that can go wrong with this combination. But there is always a little space to add some sparkle, here a beautiful blend of roses, orchids, jasmines along with green leaves is simply out of the box idea. The concoction is beautiful and looks totally glam. This style as shown in the garland images should be on top of your 'want' list. The bright colours and the soothing fragrance is a must for the big day and for the love birds to remember forever.
3. Layered Beauty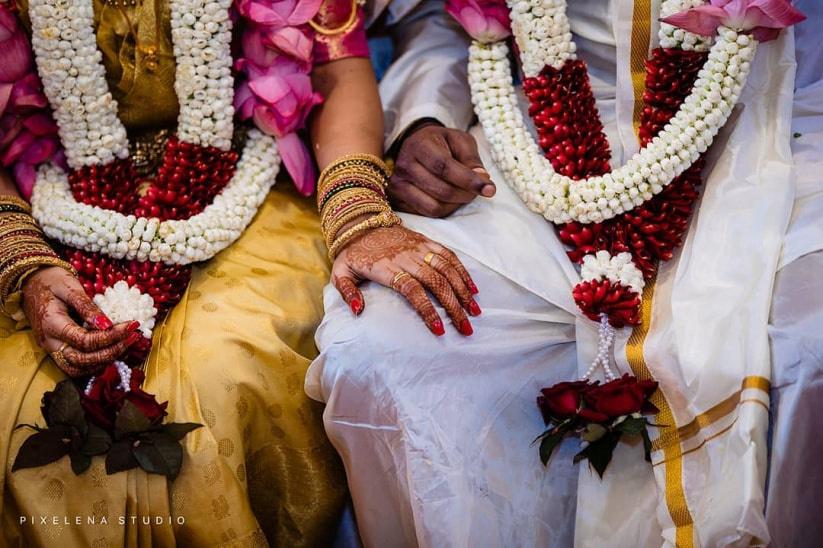 The layering of garlands is an option to consider for a completely unique look for the most mesmerising garland images on your big day. But here you have to be really careful, so as to not go overboard with the layers. A pair of densely threaded gorgeous flowers entwined together reflecting the deep bond of the bride and the groom. So, call your wedding photographer and strike a dozen poses to get that perfect snapshot.
4. Leafy Affair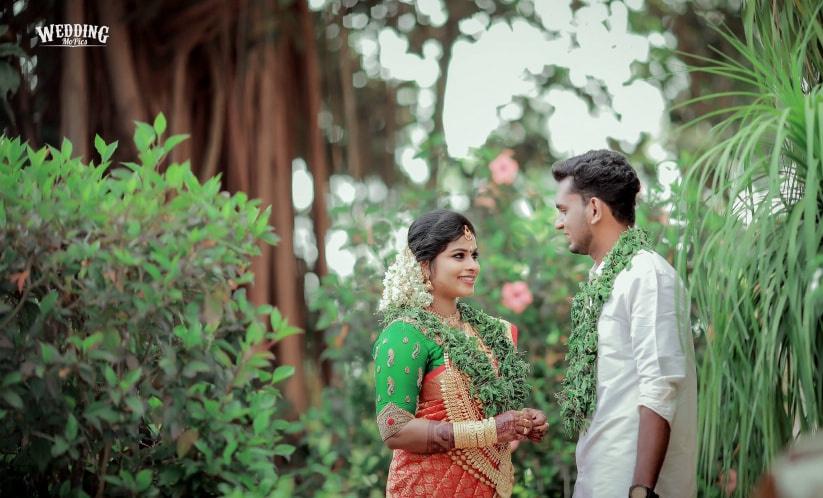 Some garlands are created according to the community or religious sentiments. South Indian weddings are simple and yet the beauty of it resonates for a long while, like the many leafy garland images we came across. Traditionally, neem leaves are used for making garlands to ward off evil eye from the newlywed couple, but going for artificial leaf garland is a good idea as fresh leaves withers quickly. To keep the look more elegant, try and go for a contrast colour outfit. The green leaves deserve a light yet bright coloured background to be adorned in and you have it right with this garland image.
5. Mixed Fresh Flowers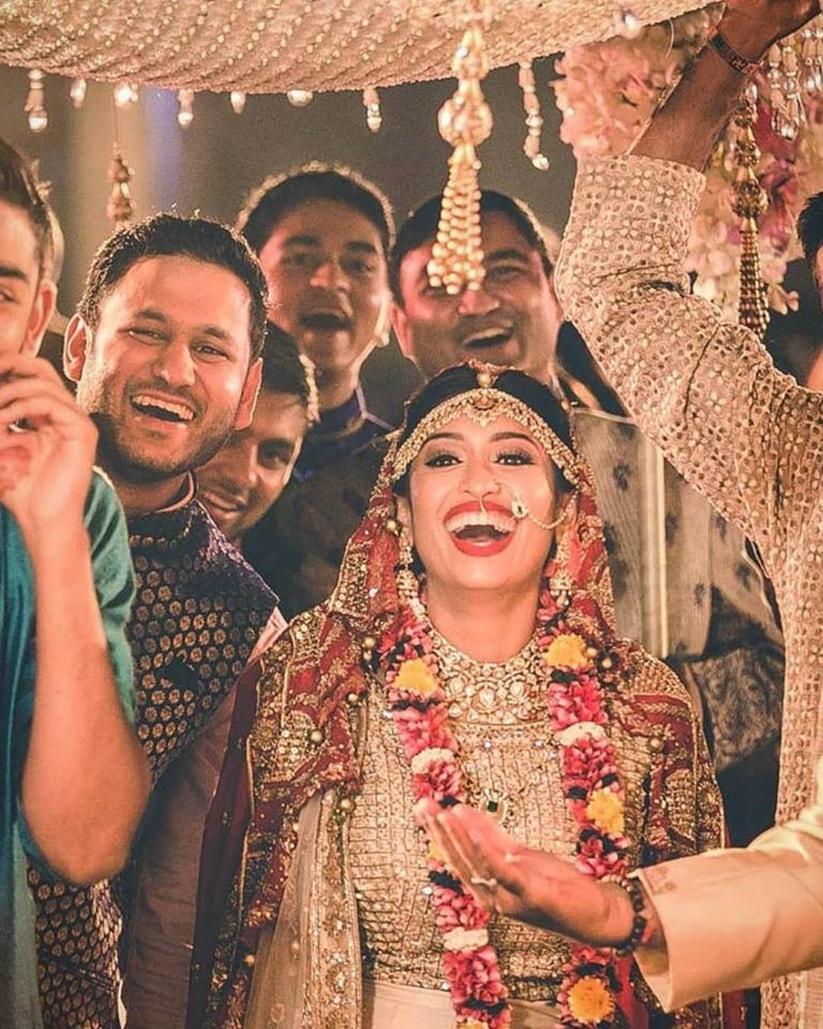 All red rose or all white jasmine garlands are evergreens, look great and also are easily available. But if you have done detailed wedding planning then why not spend a few minutes planning the Jaimala too. After all, all the after-wedding ceremony pictures will be clicked with the Jaimala as the main accessory. So, let's go all innovative and create an artistic garland full of colours, by stringing different flowers together like carnations, magnolias and all the gorgeous ones out there.
6. Remix Roulette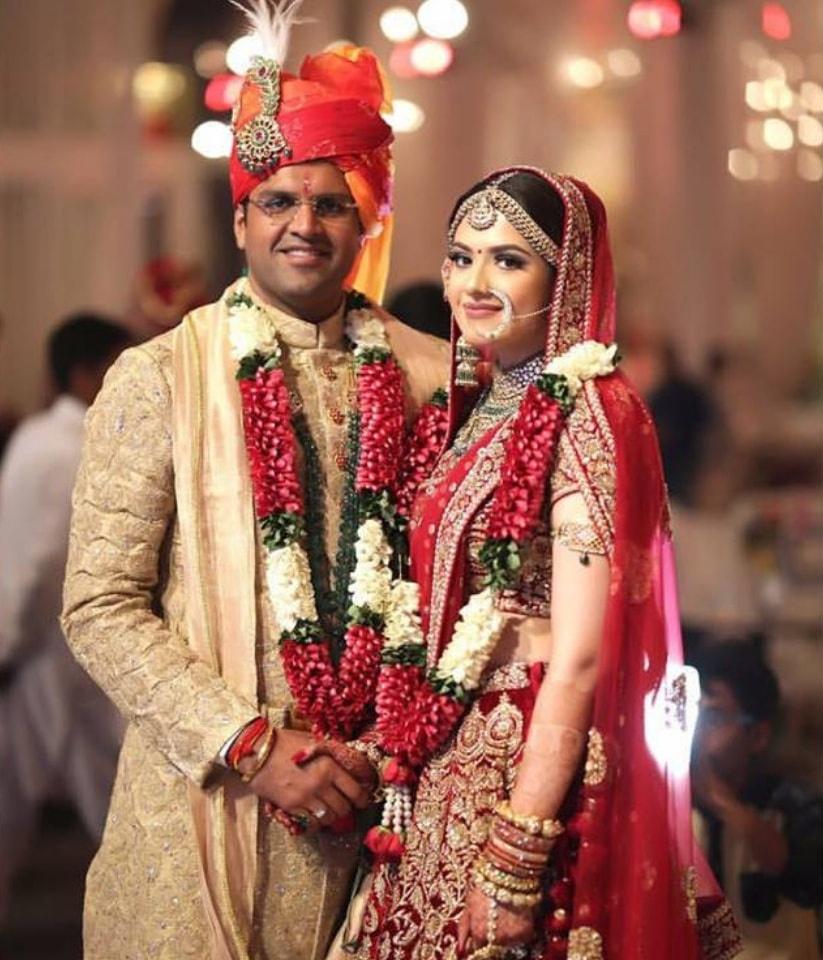 Remixes are not always bad, especially when it's a remix of real flowers with artificial ones. The freshness of the flowers on Jaimalas depends a lot on the weather. In summers, no matter how fresh you get them by the end of the function the flowers look more tired than the guests at the wedding. So, after a lot of research we came across many garland images with a fine mix of both and along with some accessories like a pearl string, golden flowers, dry painted leaves etc. the garlands look amazing.
7. Orchid's look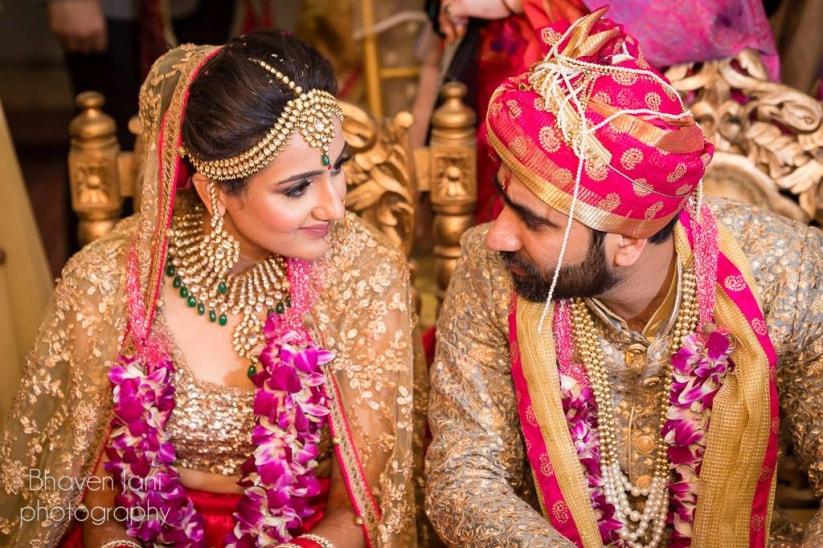 All pink orchids garland images are creating quite a buzz these days. Adorned with all golden or pastel shades outfits, this Jaimala looks ravishing. Be sure to get a good supplier for these as fresh Orchids are available only in winters and have limited availability. Besides, all orchids garland you can also go for all lilies look for a fuller wreath. The colours are to die for!
To sum it up we can now say there are a plethora of options available on the ground but to choose the best one just keep in mind a few things:
Colour coordination with the outfit is very important.
Go for flowers which are readily available according to the season (rose and marigold are evergreens).
Avoid bloomed flower garland as it's bulky and will hide the outfit.
Don't overdo it. A fine mix of artificial and real flowers is a good idea.
Pearls are the best and elegant accessory to add on.
So, go rock your wedding with the best of everything along with a beautiful Garland. Signing off and looking forward to your wedding day garland images. Perhaps, look at a few Jaimala designs until you find the one. You can also find some inspiration to decorate your Jaimala wedding stage.
Which one of these garland images did you like the most? Let us know in the comments below!