Sneak a Peek at the 13 Wedding Accessories for Bride and Groom That Is the Hot Talk of the Town
Wedding accessories add to the glitz and glamour of one's carefully picked out wedding outfit. They can even make or break your overall look. Wondering what these must-have accessories are? Here's a checklist for you.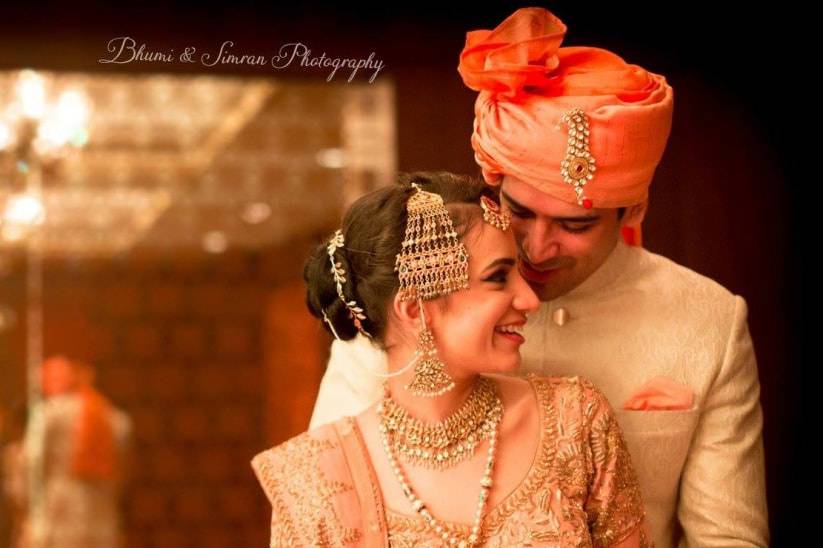 Have you started picking out your wedding accessories yet? The wedding attire, by itself, does not complete the wedding look. From head to toe, stunning pieces of wedding accessories add to the opulence, beauty and intensity of the overall look - making it complete.
From simple accessories like bangles for the bride and a brooch for the groom to over-the-top wedding accessories like Haath Phool for the bride to an heirloom sword for the groom; the list of wedding accessories goes on and on. While some of the accessories you add to your wedding attire may be a part of your personal style statement or tradition, there are some that are quintessential to completing a wedding look.
Here is a checklist and a treat for the eyes, to get all your must-have wedding accessories ready before the big day:
Wedding Accessories for the Bride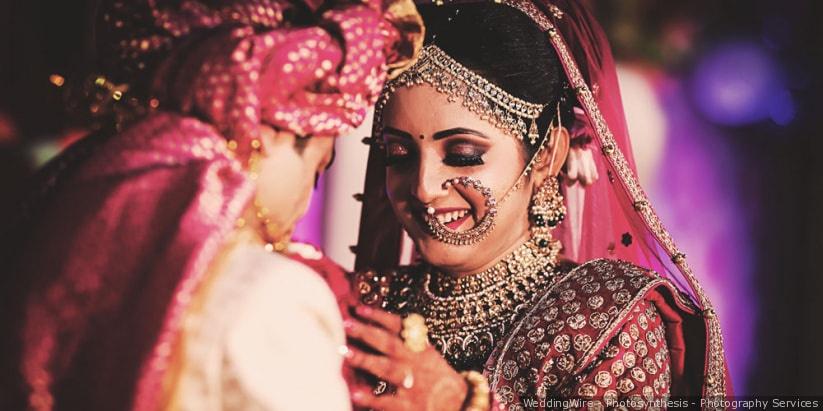 The essential bridal accessories shopping drill is supposed to be simple? Jewellery, bag, shoes and we're done. It's only when we break it up and spread it out, that we see the sheer number of items involved and that no, we're not even nearly done.
1. Gold Wedding Jewellery Set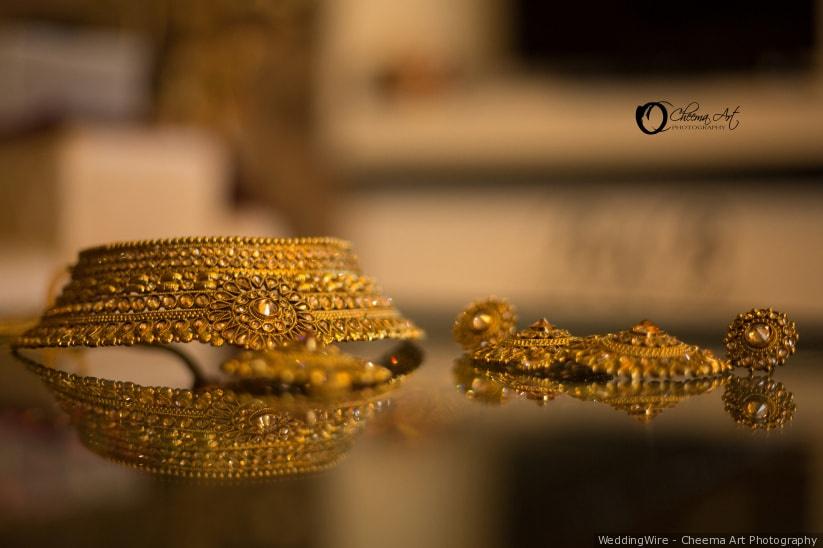 A gold wedding jewellery set is probably the first thing you want to pick up. It's going to be one of those accessories that you will cherish for life and leave as an heirloom for your next generation.
2. Matha Patti/Maang Tikka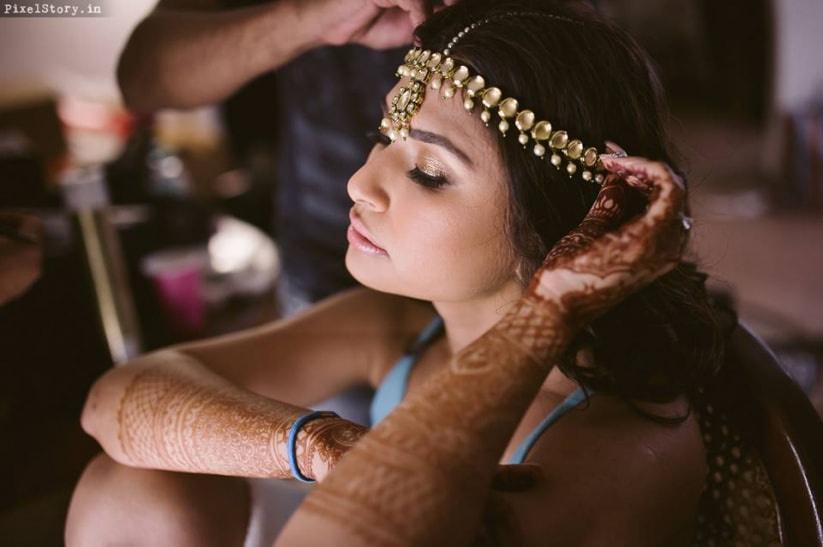 Be it a Matha Patti that beautifully frames your face or a Maang Tikka, this is one wedding accessory that every bride MUST add to her wedding look. You can play around with different styles of jewellery for this piece of accessory - be it simple bridal jewellery in gold, Kundan, Polki or Jadau jewellery.
3. Bangles and Haath Phool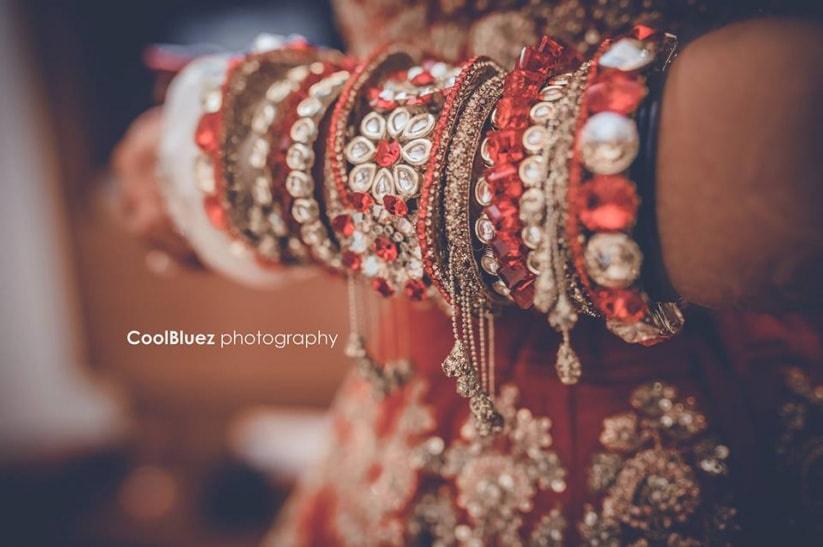 Colourful glass or metal bangles, matching your wedding attire with or without gold Kadas is a definite must. Add a Haath Phool and it goes from simple to simply stunning.
4. Anklets and Toe Rings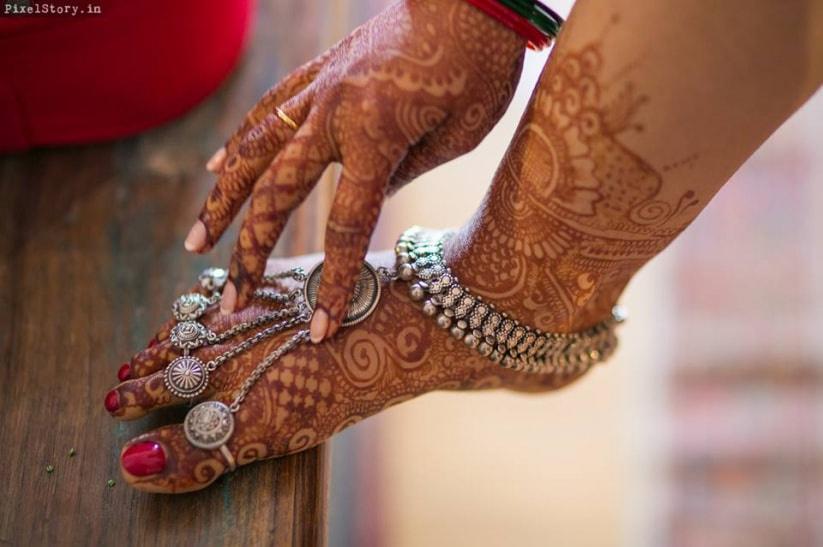 Simple bridal anklets or elaborate ones along with toe rings, add to the beauty of a bride's Henna decorated feet. Whether or not it's a traditional piece of wedding accessory, do add this to your list of accessories to be dolled up from head to toe.
5. Nose Ring/Nath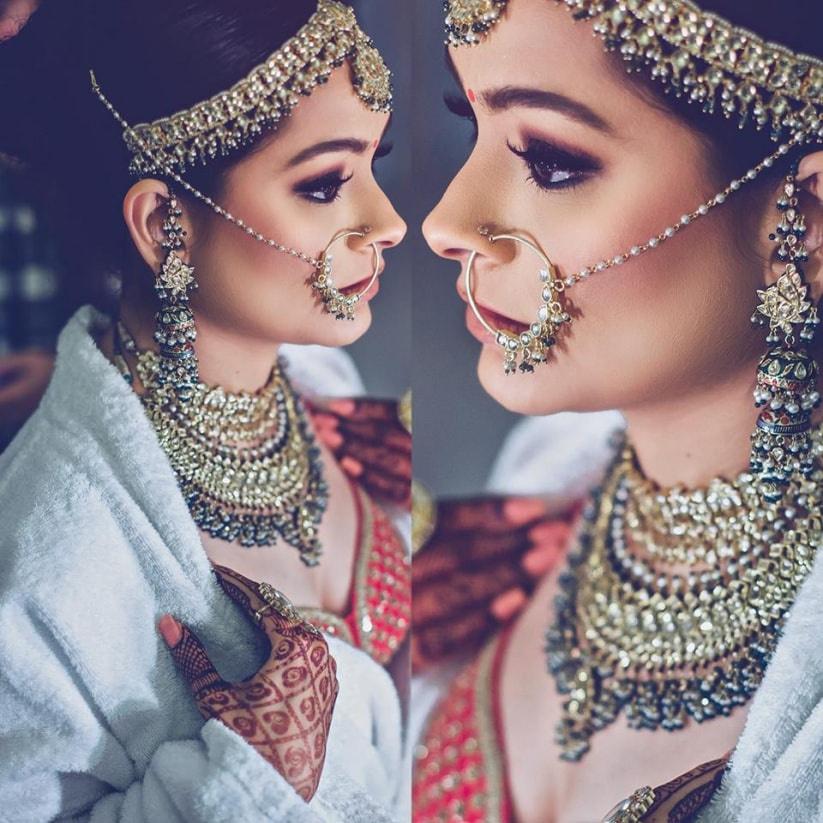 A nath or bridal nose ring is one of the most beautiful wedding accessories on an Indian bride. No matter how elaborate and intricate or simple it is, a nose ring is a very bridal thing and you don't want to miss the grace it adds to the look.
6. Bindi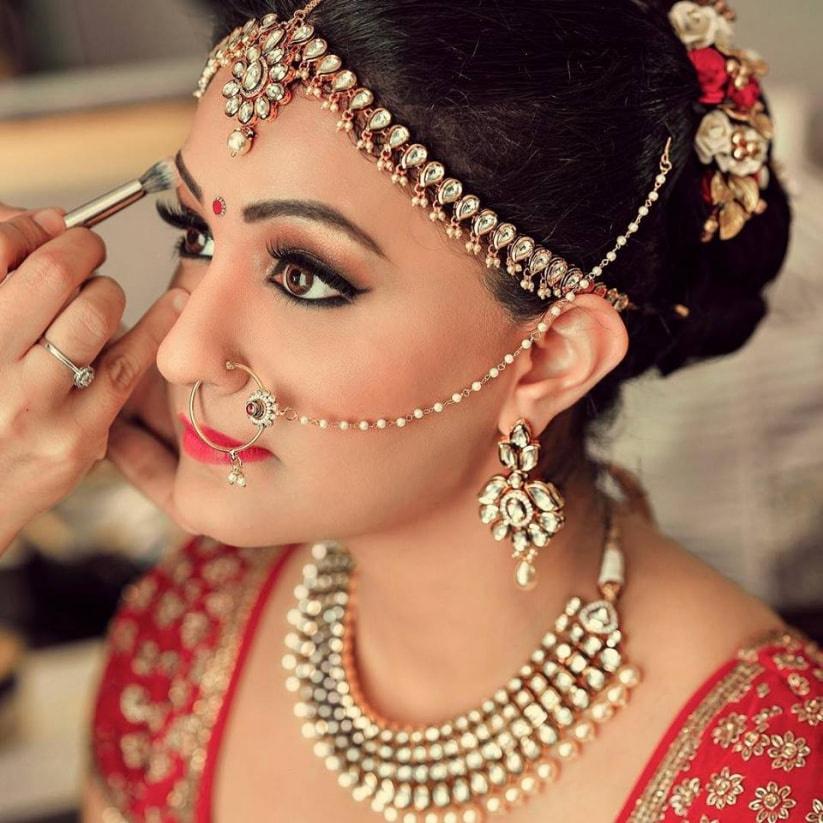 Like the nose ring, a Bindi is another traditional accessory to an Indian bridal look. Whether you choose one single Bindi or create a design across the forehead with crystal Bindis- it's an absolute must. If you look at the traditional designs which complete Bengali bridal makeup or Marathi makeup.
7. Gajra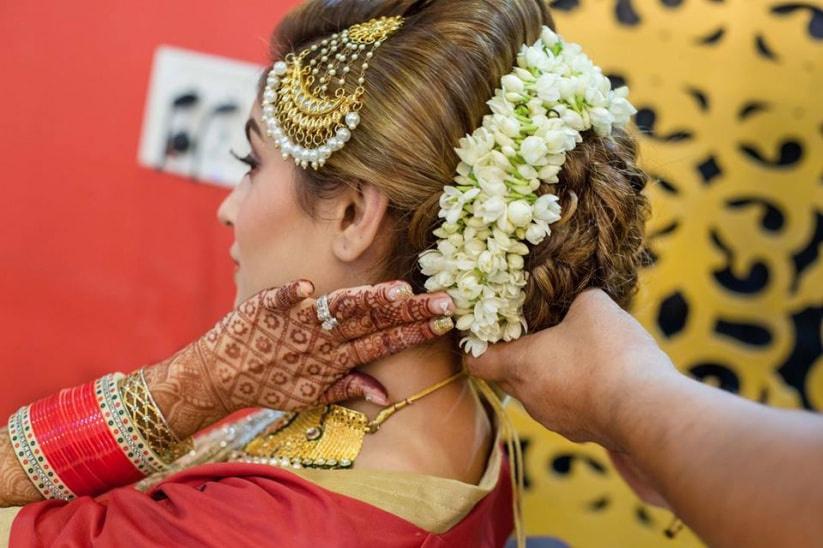 Gajra, or flowers in the hair, is another accessory you definitely want to add to your wedding look. You can play around with the look by adding simple wreaths to braided Indian bridal hairstyles, the classic jasmine flower bun or red roses tucked to the side for a retro look.
8. Kalire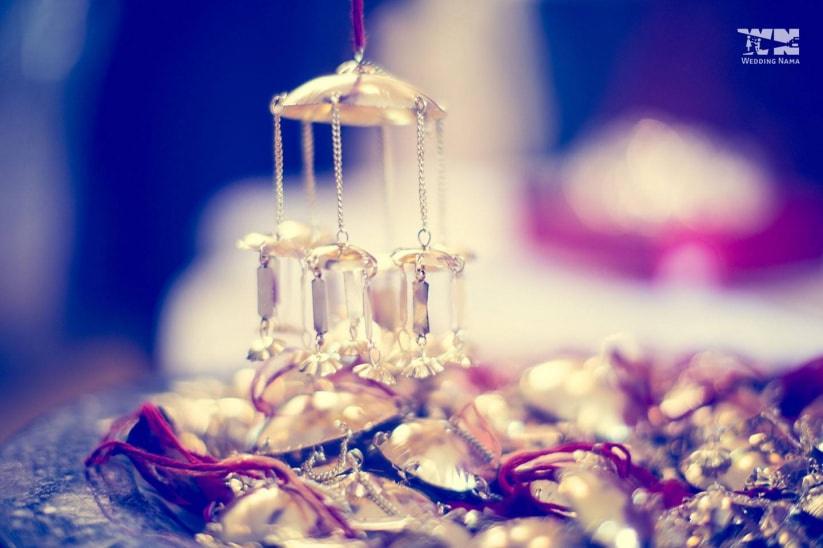 For some, bridal Kalire are a part of wedding traditions but for some, it's an optional wedding accessory. Whether or not you have to wear it, you absolutely must consider adding this beautiful wedding accessory to your bridal look. If not the elaborate and long bridal Kalire, you can opt for delicate ones or bangles that have Kalire-like hangings.
A bride also needs to give some piece of her mind to the following wedding accessories, some of which are even overlooked:
Bridal shoes - If not the conventional, golden heels that every bride flaunts on her D-day, quirky shoes are the new IT factor. The millennial brides have even adorned their lehngas with basic sneakers to be goofily comfortable.
Bridal clutch - Be it a potli or an envelope clutch or maybe even one of the edgy box clutches can be a good addition to your wedding lehenga and in fact, you can end up putting your lipstick and other things for the last minute touchup whenever needed.
Bridal Kamarband on Lehenga - The curves are to be flaunted! a gorgeous kamarband for your D-day to wrap up the awesomeness is a small addition to make an amazing difference to your overall look.
Metal Hair Accessories - The good old bobby pin, the tic-tacs or snap clips and the classic bun requirement - the claw clip, are all now available to us in different colours and metals. The quirky designs in them along with the elegant traditional ones will work wonders as a head accessory.
Nail Art/Extensions - The speed at which nail art has developed only makes one believe in the difference nails can make to a look. If not the natural whites, you can go for stone studded designs on nail extensions to make it look stellar and your hands will look graceful too.
Wedding Accessories For the Groom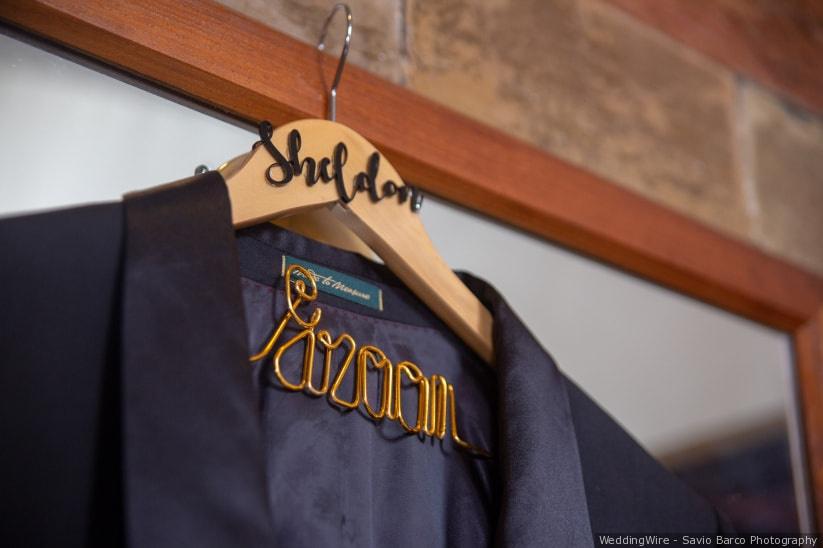 Like a bride, a groom also needs a few items up his sleeve to complete his dapper look. Here is a long list for the same:
9. Brooch/Lapel Pin or Flowers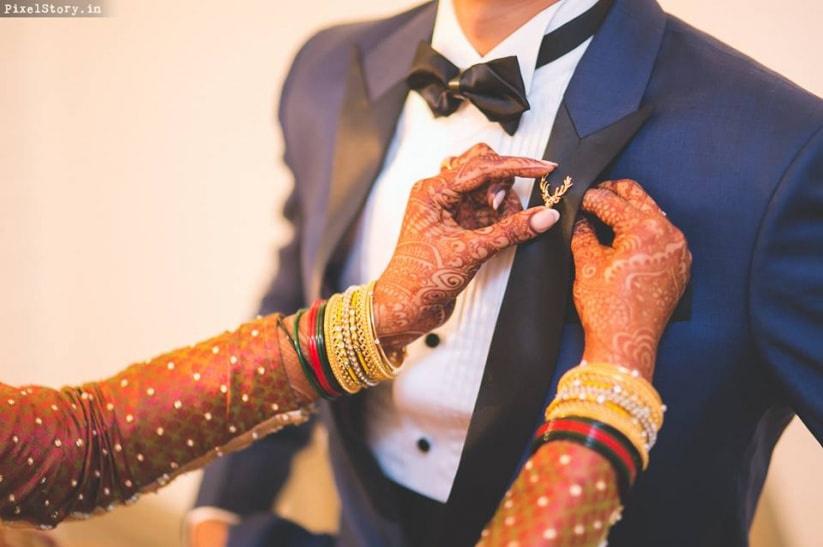 If you are wearing a formal suit or tuxedo, dress it up with a smart brooch, lapel pin, flower or an ethnic beaded chain that runs all the way to the breast pocket.
10. Watch/Bracelet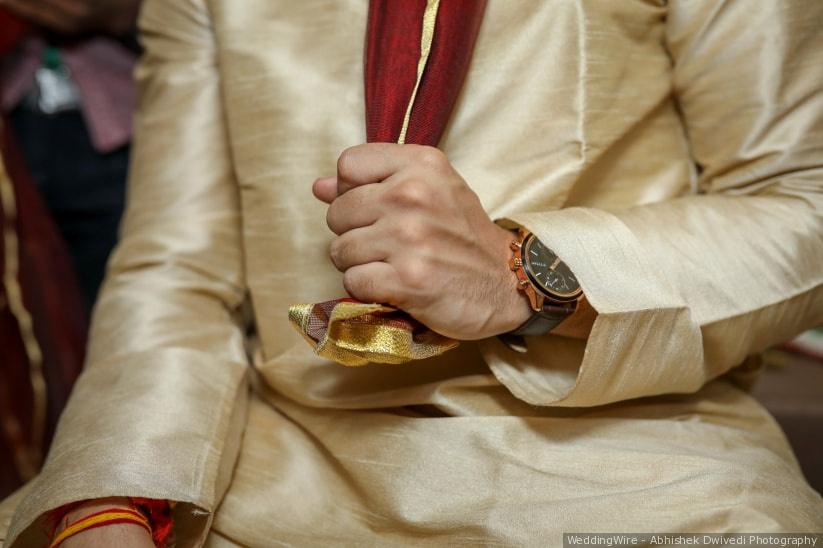 Wear your favourite watch or add a bracelet to complete your wedding look. You are probably already wearing that wedding ring, why not add to your accessories?
11. Necklace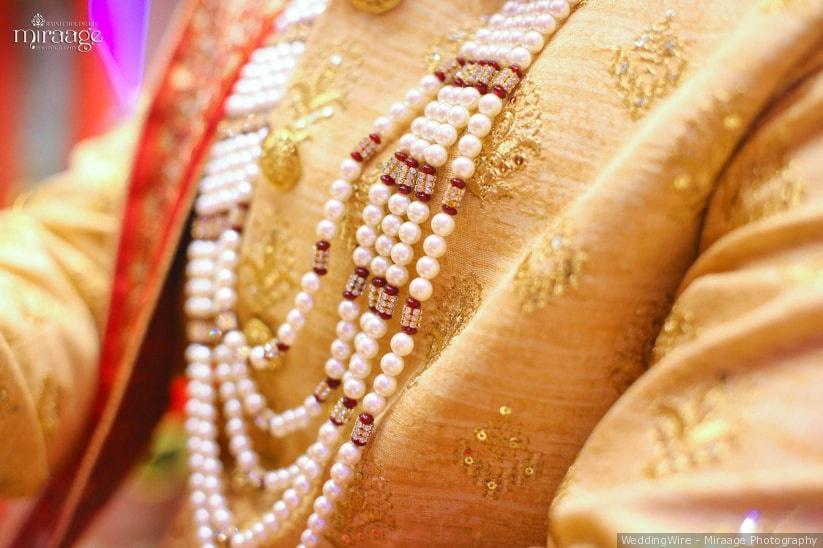 A layered beaded necklace (like the Satlada necklace) or a thick single gold chain; add a little sparkle to your wedding day outfit. A necklace in a traditional attire like a sherwani adds to the royal touch.
12. Sword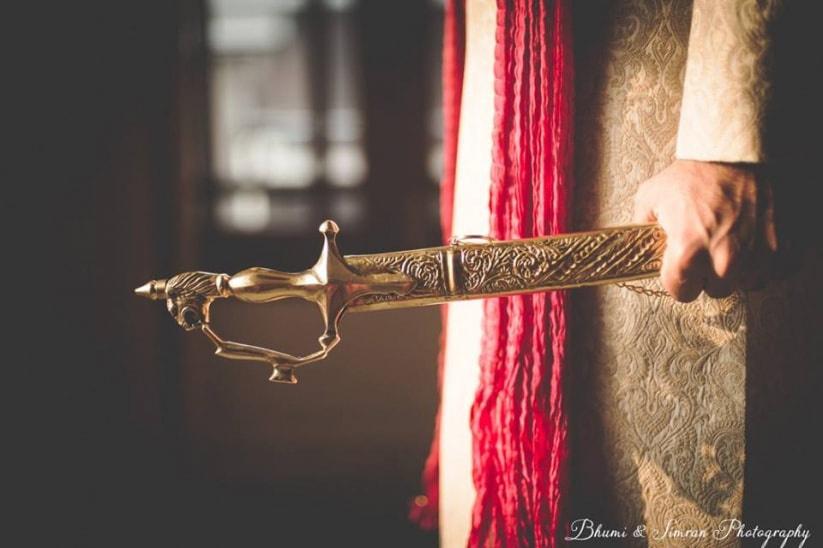 Carrying a sword is a traditional wedding accessory for some but even if it's not, add it for a royal warrior-like touch to your wedding look. A traditional wedding accessory like a sword adds to the drama and the royal groom appearance.
13. Turban and Sehra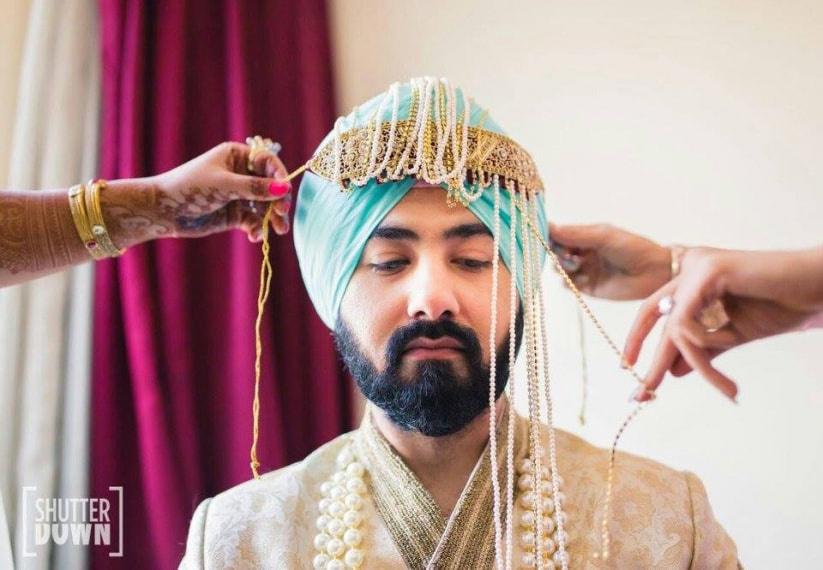 A well-tied turban is an absolute must to complete your wedding look. Add a jewelled and feather brooch on the top and a delicate Sehra or veil of beads/flowers and you are all set to face the biggest day of your life.
Other wedding accessories for the groom you need to start considering:
Shoes - A pair of the right kind of shoes for each of those designer wears you have bought for yourself, will make you go places. It enhances the whole regal look.
Kamarbandh - It might not be a compulsion, but there is no harm in going over the top for one of the most significant occasions in your life that will be your once-in-a-lifetime event for you.
Pocket Squares and Ties - The easy and yet elegant way to accessorise the top-wear you choose is a pocket square and classic would be a single or solid colour in silk, the new trend is of quirky designs on the piece of cloth that will contrast the basic shades.
Cuff Links/Tie Pins - These are very minimal fashion accessories to make a statement that you can rely on to enhance your look and you will feel the difference that this metal makes on your attire.
Ready to dazzle and create your own wedding look? Make sure you carefully consider, match and handpick each wedding accessory to create your dream wedding look.
Which of these wedding accessories would you want as part of your wedding day look?