The Rundown on Bridal Kalire: 5 Breathtaking Bridal Kalire Designs and Why a Bride Must Wear Them
Uncertain about the idea of umbrella strands dangling off your wrists? Here's why you should still rock your bridal kalire designs. Plus, here are the different kinds which you can shop for.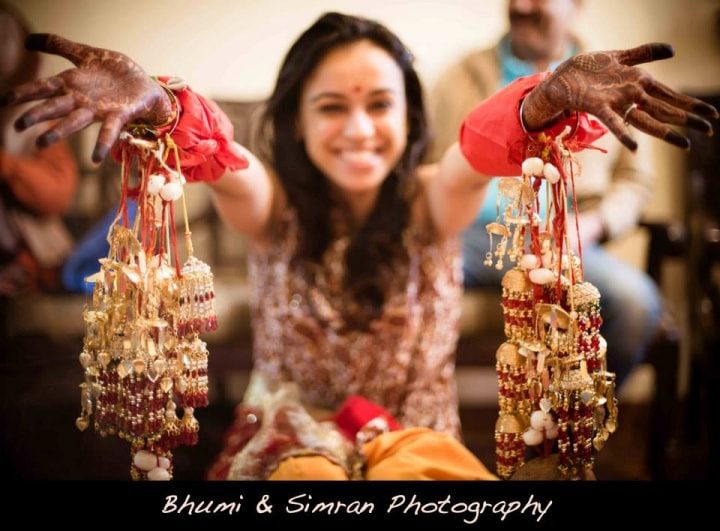 Often a small detail amid the finery that a bride dons on her big day, these dangling strings seem just like one more thing for most Punjabi brides. However, there is more to the humble kalire than meets the eye. And that's why you still find these exquisite kalire designs everywhere - from the original Coconut halves and Makhana strands to the new-age beaded beauties, studded with rhinestones; even those with pearls! Read on for their story, plus the different types of kalire designs you can opt for. Deep dive into the world of kalire designs and find for yourself a pair that was curated only for you.
When Banno goes to Sasural, what is the one thing she takes with her which will forever remind her of her maternal home? Her bridal kalire! For any bride-to-be, her set of bridal kalire is a token of love and memory that she takes with her to her new home as she bids her final adieu to her maternal side of the family. Seen as a token of gratitude and blessing from her Mama's side - bridal kalire is the single most emotional piece of jewellery that is sure to bring a pool of tears into any bride's eyes! Read our detailed rundown on bridal kalire, their origin, the reason why a bride indulges in wearing a set of bridal kalire and the various designs that are available for brides to adorn.
1. Kalire - The Origin Story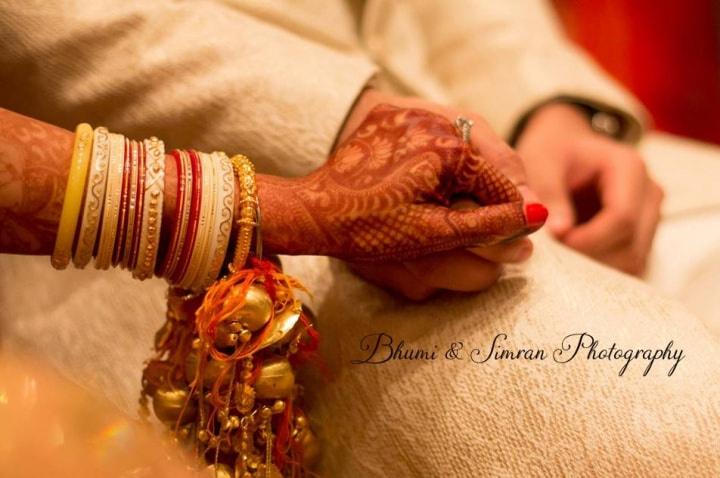 Kalire is an integral and traditional part of a Punjabi bride's attire and the kalire designs today range from extravagant to minimalist. The kalire hold a very special place in a Punjabi wedding, but don't mistake these as a Punjabi-only tradition. Himachali brides also sport them and so do others, though in more DIY, homemade ways.
Traditionally, kalire were made with coconut or Makhanas, with nuts and other dry fruits. This gradually evolved to golden, metallic kalire. And today, kalire designs range from strings of pearls to colourful beads and thread balls. However, their essence has remained the same - as talismans for good luck. a symbol of love, care and goodwill that the maternal side of the bride's family showers her with, the kalire is seen as a token of wishes for hope that her new life is full of prosperity.
2. Why Brides Wear Kalire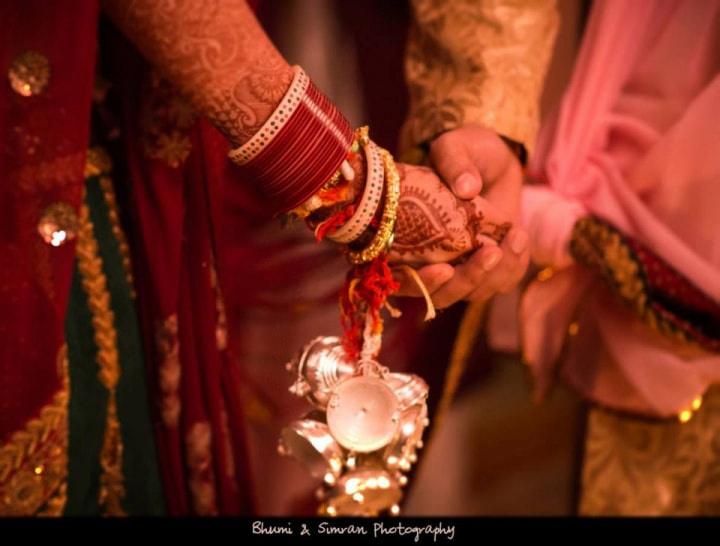 Kalires are believed to bring wealth and prosperity to the bride and her new phase of life. The maternal uncles and aunts bring the kalires and tie them to the bride's wrists in a special Chura ceremony. These strands signify goodwill, blessings and luck, which the proverbial 'Lakshmi' would carry into her new household. They are nostalgic tokens from the loved ones who put them on the bride - her uncles, aunts, brothers, sisters and cousins.
Second, the material also has a significant meaning too. Coconut, Makhanas and dry fruits are a proverbial cornucopia - they signify that your maternal well-wishers hope that her home would never run out of food. The shiny, golden metal kalire are wishes of wealth and prosperity.
3. When Do You Don Your Kalire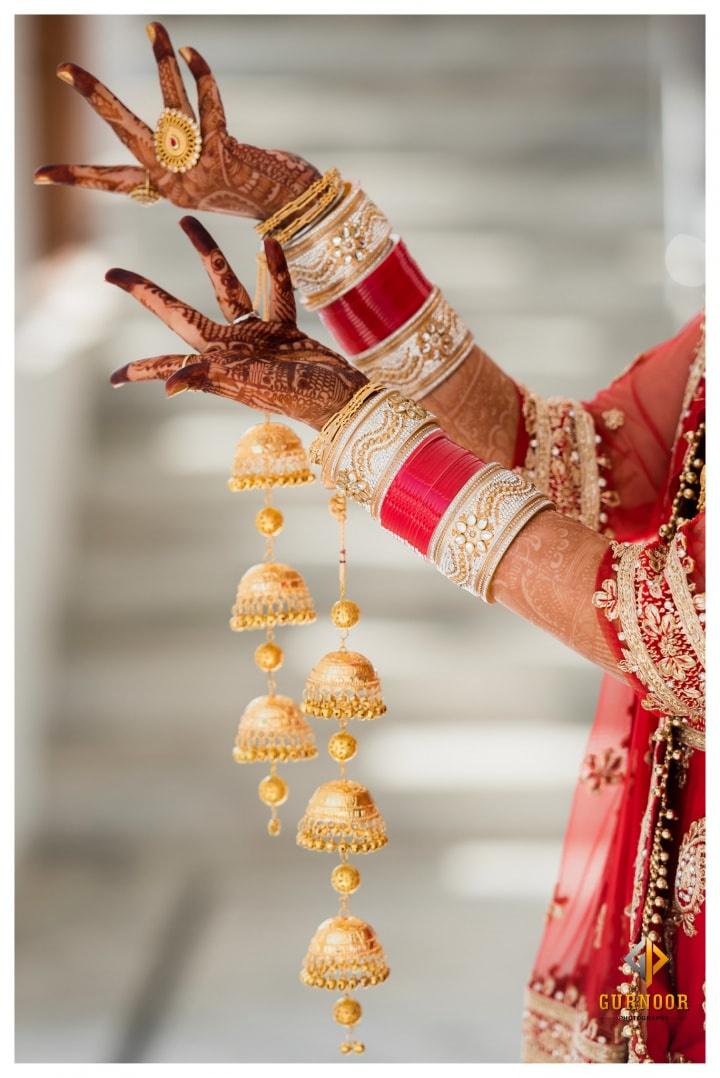 On the day of the wedding, often in tandem with the Haldi ceremony, is a tear-stained Chura ceremony. It becomes an emotional realisation, that the adorable child has grown up and would be moving on to her new home, that very day. And the extended family acknowledge this with the donning of the Chura and kalire.
There's also a fun element attached to the event - like the tossing of the bouquet, the kalire can rain wedding bells on the bride's unmarried bridesmaids, siblings and friends. The bride shakes off the kalire on her unmarried bridesmaids and friends. It is believed if a piece of the kalire falls on the head of an unmarried girl, she will be blessed and be the next bride.
4. Different Types of Kalire Designs for Your Punjabi Wedding
Here are some trendy kalire designs that are changing the wedding fashion statements:
1. Umbrella Design with Red Beads: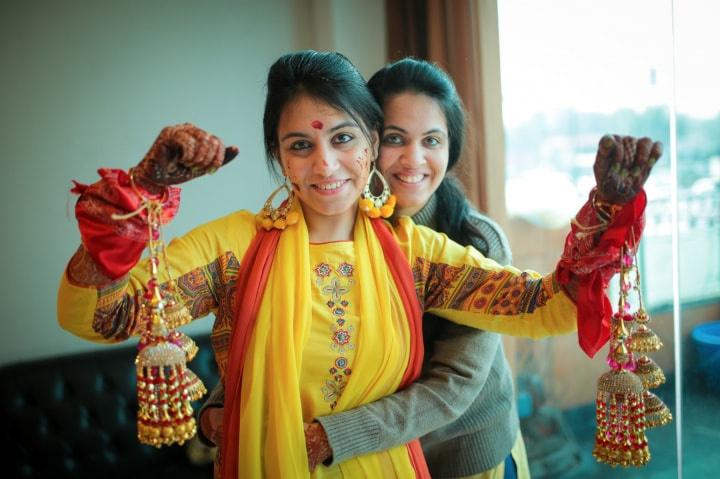 Most Indian brides wear a beautiful red bridal lehenga and this is one of the perfect kalire designs for them. You could choose one with just red beads or even a mix of red beads with diamond-like stones to add to the glitter. Umbrella design kalire give a great 'mess free' look and are easier to manage too. This kalire design will go perfectly well with your bridal outfit, no matter what colour combination it follows since its vibrancy is spectacular.
2. String Of Pearls: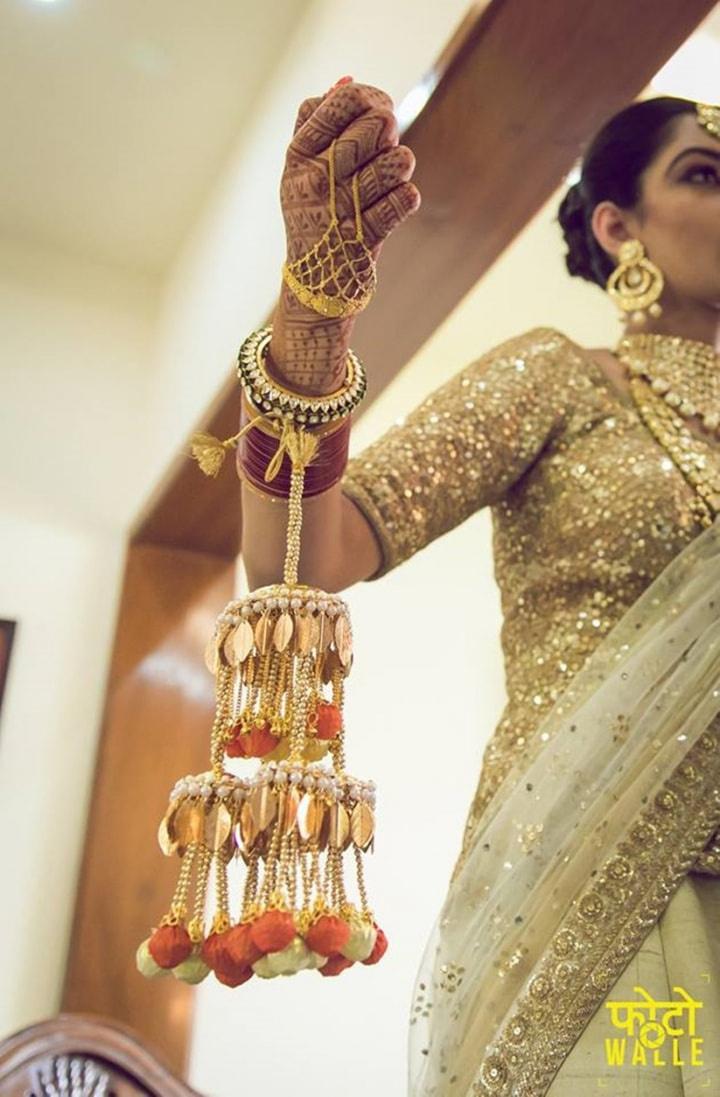 This is probably one of the most elegant and chic of all kalire designs. If you don't want your kalire to be 'too much' but don't want to give them up altogether, opt for something minimalistic like this. White pearls are a classic statement and beautifully compliment all colours and styles of wedding attire. This is something that you could actually keep and wear with many outfits even post your wedding day. This kalire design is chic and boho at the same time, the hanging pompoms give it a more modern look whereas the golden leaves give it the traditional touch that it needed to beginwith.
3. Ghungroo Kalire Designs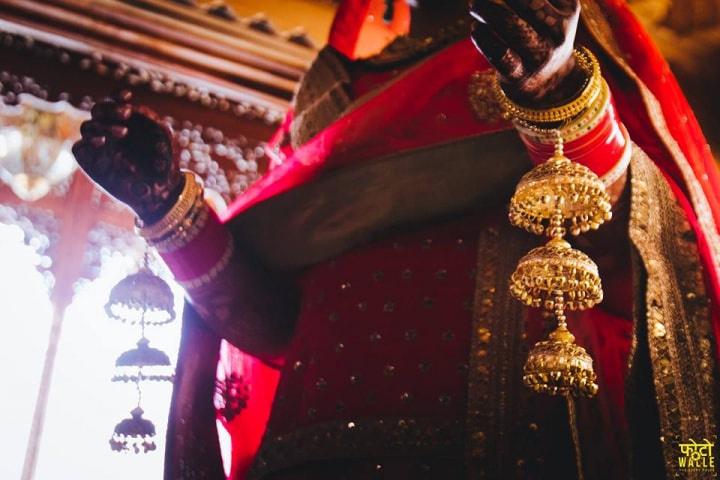 Ghungroo kalire designs is another popular choice for the delicate grace they add to the wedding attire. You can choose very long or even shorter ones, depending on your choice. Even a single umbrella styled hanging with lots of Ghungroos can look great, minimal and yet traditional. Many brides today opt for a mix of golden and silver metal kalires for a trendy metallic look. If your wedding lehenga is not a very traditional colour, you could add more style with a contemporary take on kalire designs.
4. Thread/fabric Embellishments: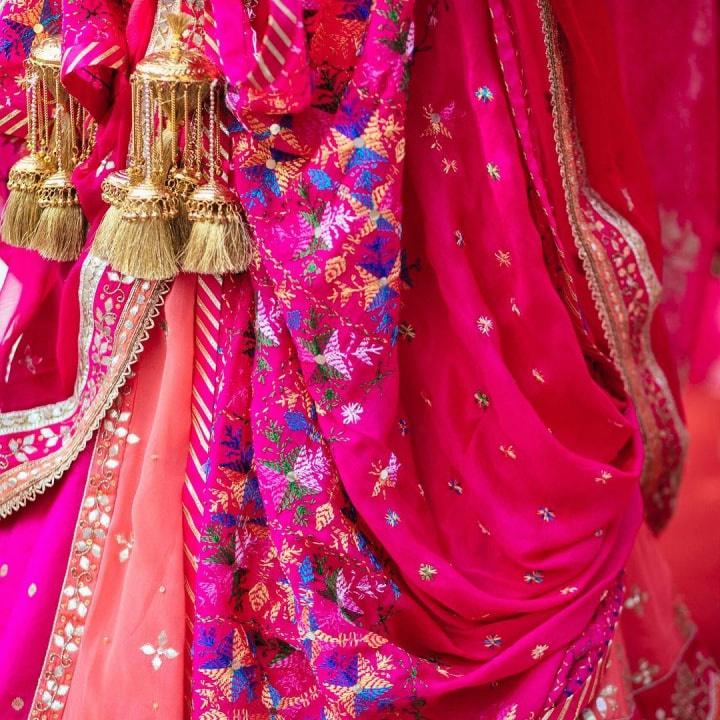 Modern-day kalire designs are very versatile and allow you to compliment your wedding attire through and through. The thread/ fabric coloured embellishments on some of the kalire designs found today can add a pop of colour to a neutral wedding attire or further compliment the colours of your wedding outfit. You can buy these with single colour embellishments or even chose a multicolour one for a more fun and festive look.
5. Cluster Designs: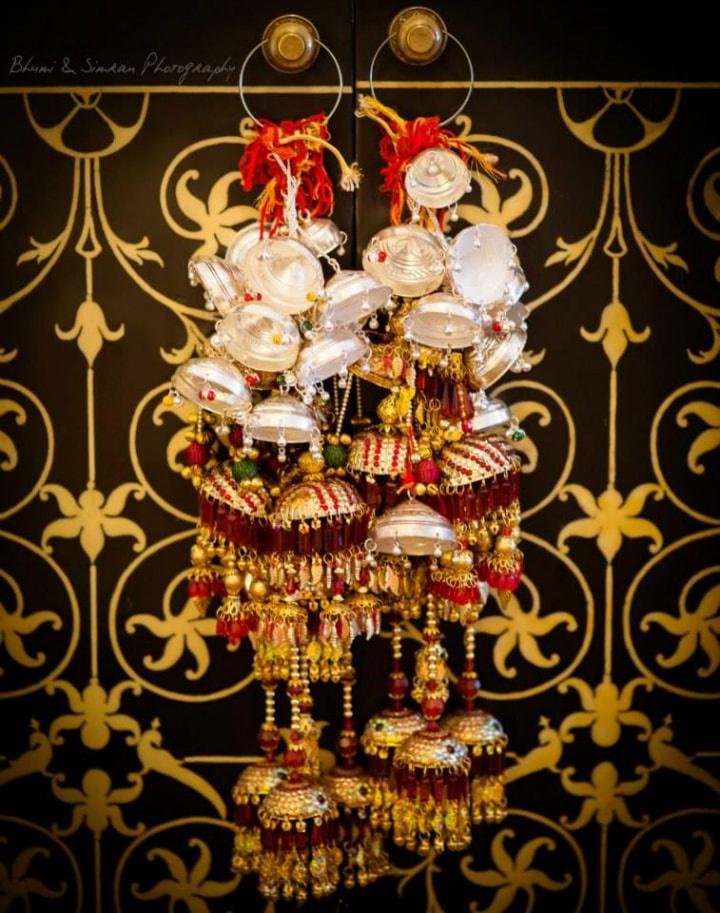 As the name suggests, this kind of kalire designs incorporate a cluster of embellishments and include everything from beads to pearls and stones. You could choose multiple single kalire and cluster them together to create this look or buy a pre-made cluster design (available with bridal jewellery vendors) depending on how long, short and heavy you want it to be.
So, did we inspire you to go on your shopping journey for kalire designs? Or even think about what kind of danglers would suit your wedding outfit? We hope you found our take on bridal kalire designs inspiring and gave you an idea or two to make your kalire more personalised than ever. For more, have a look at the various kinds of kalire that are making rounds in the streets of Delhi and find one that truly reflects your personality. so, now that you have understood the significance of wearing bridal kalire and have wowed your eyes with some stunning bridal kalire designs - get ready for your very own bridal kalire ceremony!
Thinking of modern bridal kalire designs? Or stick to the traditional ones? Remember, often a classic bridal kalire design can also help you in making a statement. Let us know - in the comments section below!