Didn't Find the Sherwani Yet? Here's the Only Rundown of Men's Wedding Wear That the Millennial Groom Needs to See
Confused about what to wear on your big day? Find out everything you need to know about men's wedding wear right here, right now. While the world is busy tending to the needs of the bride, we are here to inspire you.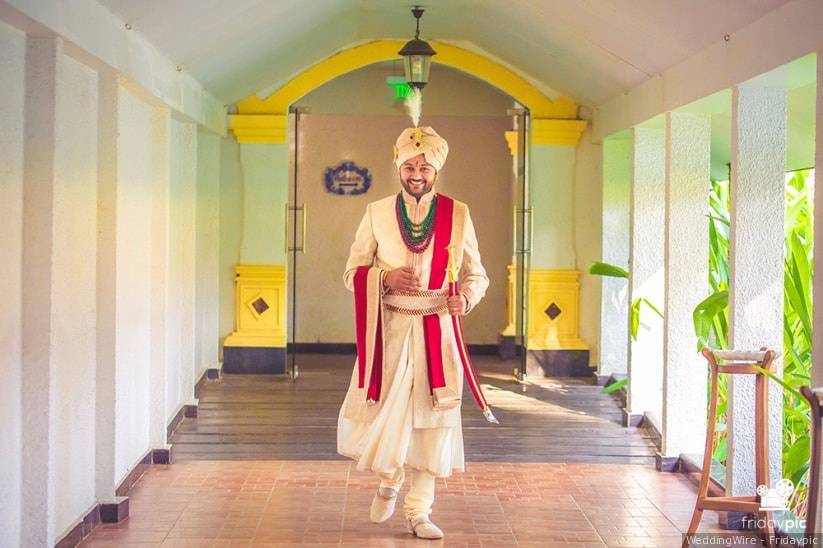 If you are a guy who is getting married soon and preparing for the wedding, but doesn't know what to wear on his big day, don't worry, we've got you covered. It is expected for you to be confused because each design is better than the other and the sea of options floating in front of you is huge given their availability even on your fingertips through various online commercial sites and markets. Big Bs of the B-town like Ranveer Singh, Virat Kohli, Shahid Kapoor and Anand Ahuja have set the benchmark for the grooms in their exuberant Bollywood wedding that will never be forgotten in history.
From the conventional cream coloured sherwanis to the newer trends like the printed sherwanis and Nehru jackets or pastel coloured suits for the day, the groom is no more bound to look at monotonous designs. The variety will make for confusion and you will need opinions to decide.
Let's take a look at the A to Z of men's wedding wear and help you pick out the perfect outfits. We are sure by the time you're done reading, you will have a clear picture of what will suit your style aesthetics the best. We have curated a function-wise guide for you to pick the outfit, one that'll serve some serious wedding looks.
How To Choose The Right Men's Wedding Wear
1. Haldi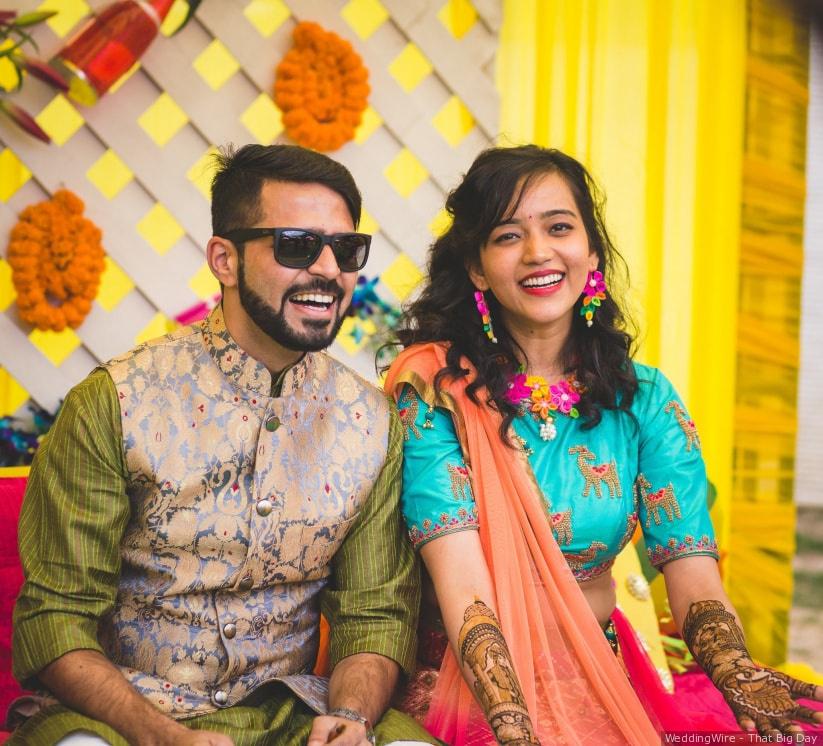 Haldi ceremony is a day function and hence, you can pick a light coloured outfit for yourself. Keep it simple and minimalistic. A cotton kurta pyjama or a shirt and Dhoti is the ideal choice for this function. Stick to wearing a traditional or a semi-traditional outfit for this ceremony. Also, don't forget to complete your look with Kolhapuri chappals to get that edge.
2. Sangeet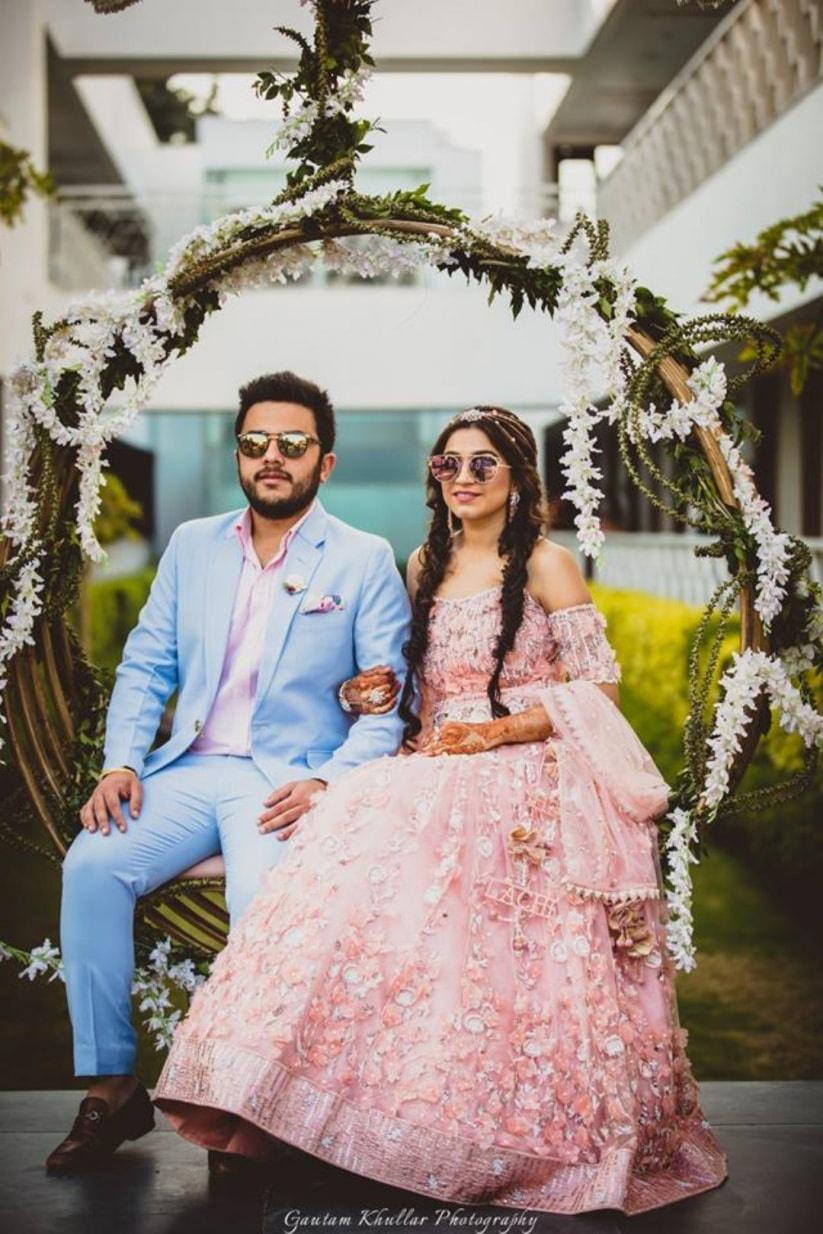 Sangeet is an evening event and because you'll be dancing a lot, you must opt for a comfortable outfit. Go for a dark coloured tuxedo with silk or satin shirt to bring out your stellar personality for this function. This fabric enhances the sheen and glam when the ceremonies happen after sunset with all the lights focused on you and flickering to make you look dashing. Make sure the fabric you choose allows your skin to breathe properly. Wear a pair of brogue shoes similar to the colour of your tuxedo.
3. Wedding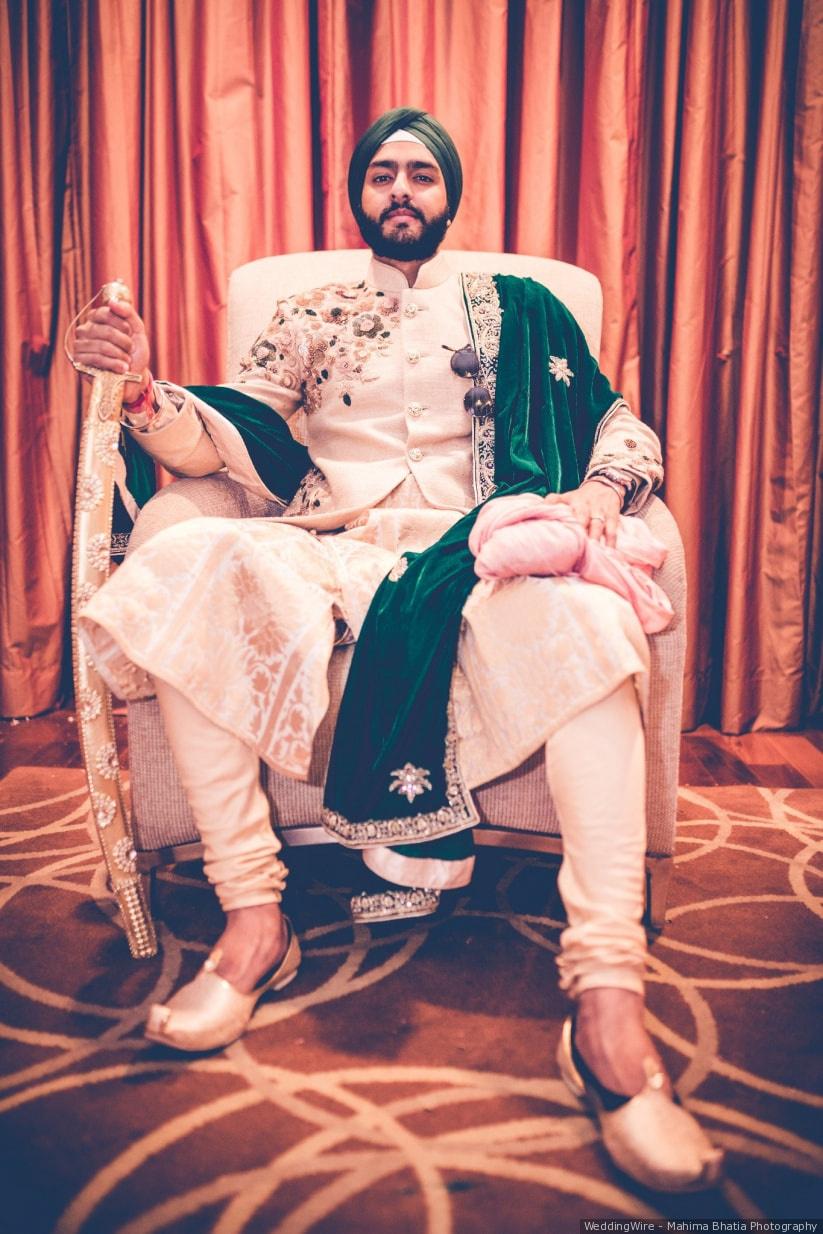 Sherwani for groom is a traditional wedding attire and you should wear it for your big day because believe us, nothing looks better than a groom in Sherwani. Your outfit needs to complement the bride's ensemble too, and if you pick a Sherwani matching to her dress, you both will look great together. Pick a Jutti, a stole and a Sehra-bandh to completely nail this look.
4. Reception/Cocktail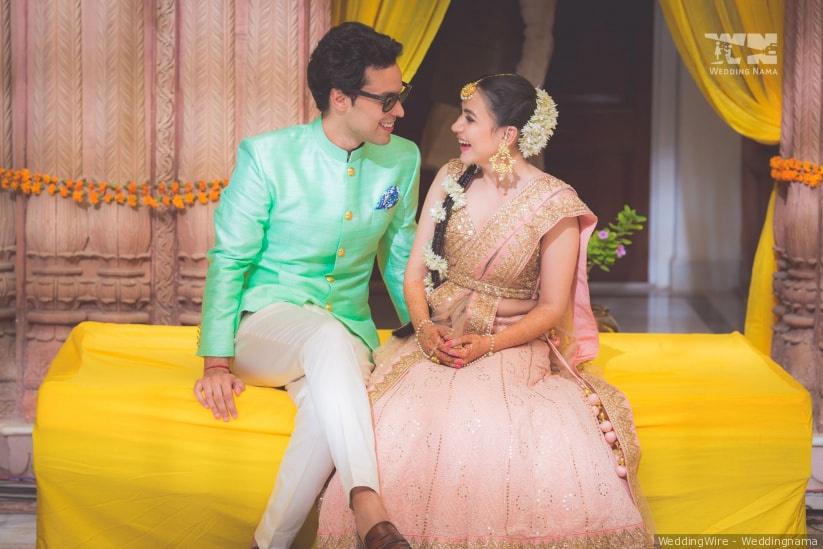 When it comes to men's wedding wear for a reception or a cocktail ceremony, you can go for a mandarin collared suit or a three-piece suit, whichever you prefer more. You can maybe even experiment with a colour different from the usual palette of black and blue. Make sure you team your outfit with cap toe shoes and a classy watch to get the desired effect.
Following The Theme Of Your Function
1. Colour-Based Theme
If your wedding functions have colour-based themes, make sure you have at least one theme-based element in your outfit. For example: If the theme is gold with western formals, maybe pick out a pale gold silk shirt to go with a blazer. If the theme is pink with Indian outfits, wear a kurta with a pink stole to complete your look. Remember you don't have to stress about themes and just include it in your overall look.
2. Location-Based Theme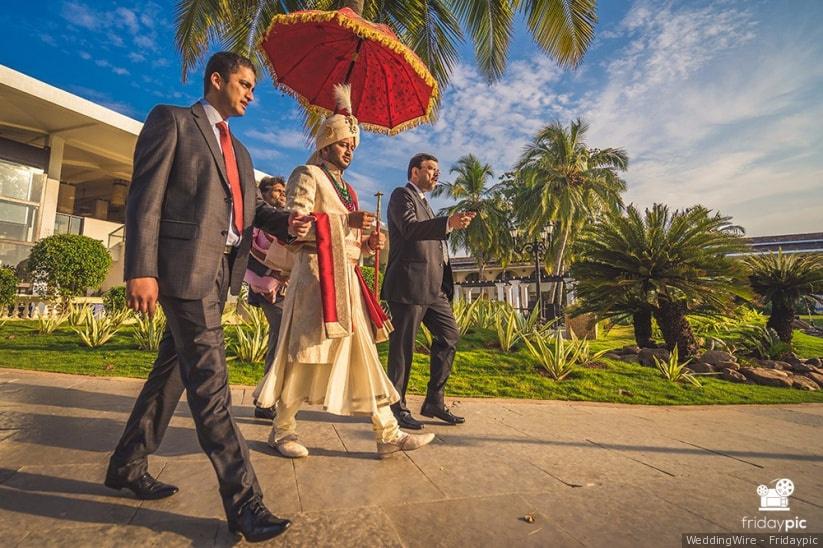 It becomes extremely important to follow a location-based theme when it comes to men's wedding wear. If it's a beach wedding and you're hosting a pool party, you need to pick out light coloured, floral print outfits for yourself. The new rage of pastel coloured blazers and suits is a good pick for your daytime ceremonies by the beach or in a farmhouse. It could be a pair of shorts and a Hawaiian shirt. Though, if it's a wedding at a Rajasthan fort, wear a Bandhgala kurta pyjama or a Sherwani to match the theme.
3. Era-Based Theme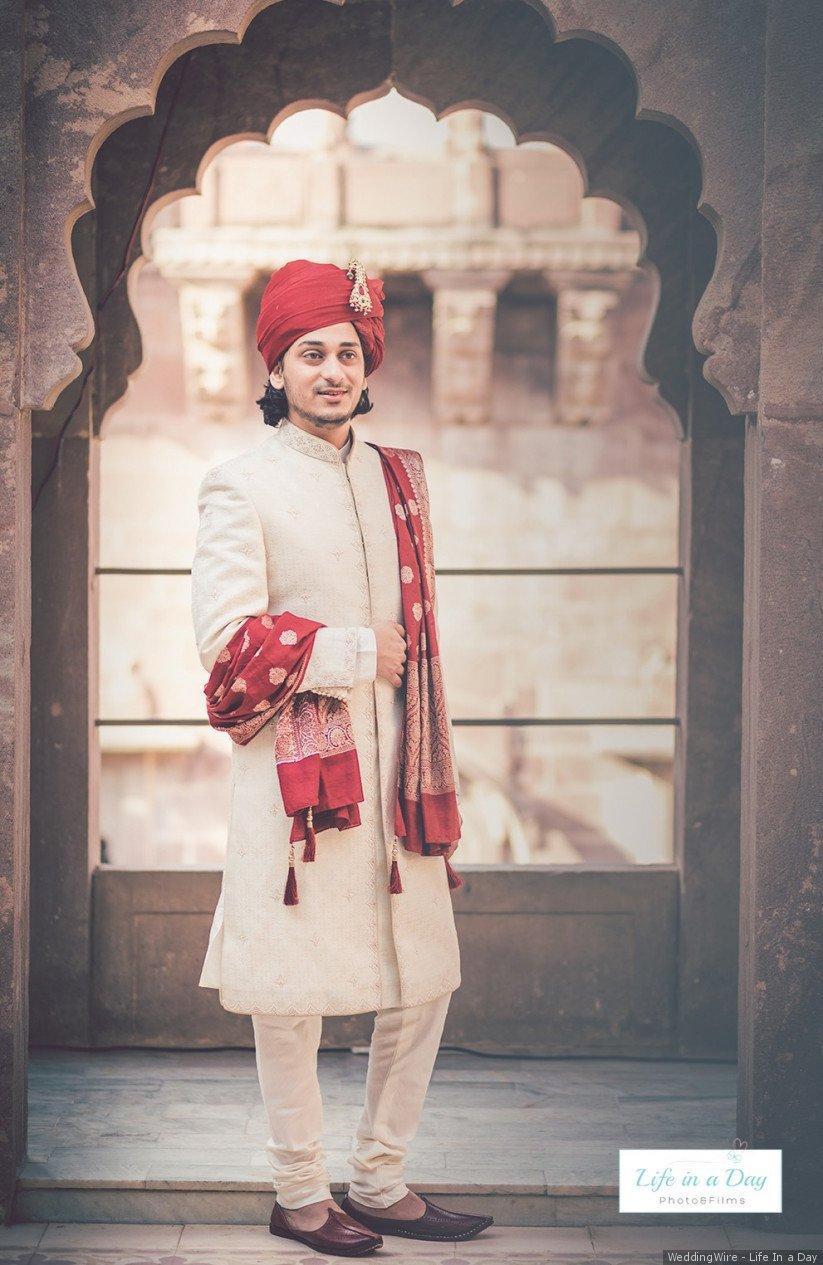 If your wedding functions have an era-based theme like vintage or 90's, you need to do your research about men's wedding wear and check out the outfits males wore during that time. Try to replicate and add at least one element of the theme to your outfit. You can explore the styles of wearing pants, bow-ties, necklines etc.
4. Character-Based Theme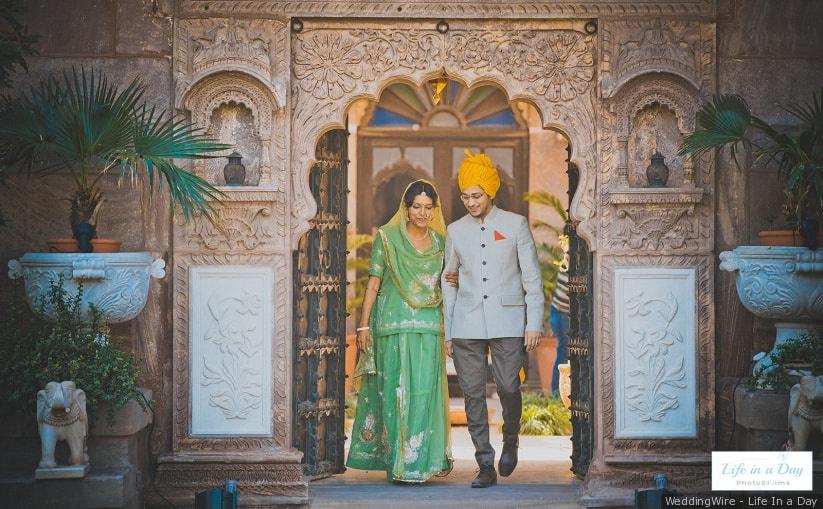 A lot of weddings have a Bollywood theme these days and if yours does too, you need to follow through. Pick a character and study its dressing style. Try to incorporate it into your outfit by either choosing one of the things from the character or replicating the entire ensemble. Again, don't try too hard and keep it simple. The elegance of a simple outfit is unmatched however accessorise it right to bring out the right amount of bling to add to it.
Wear Matching Outfits With Your Partner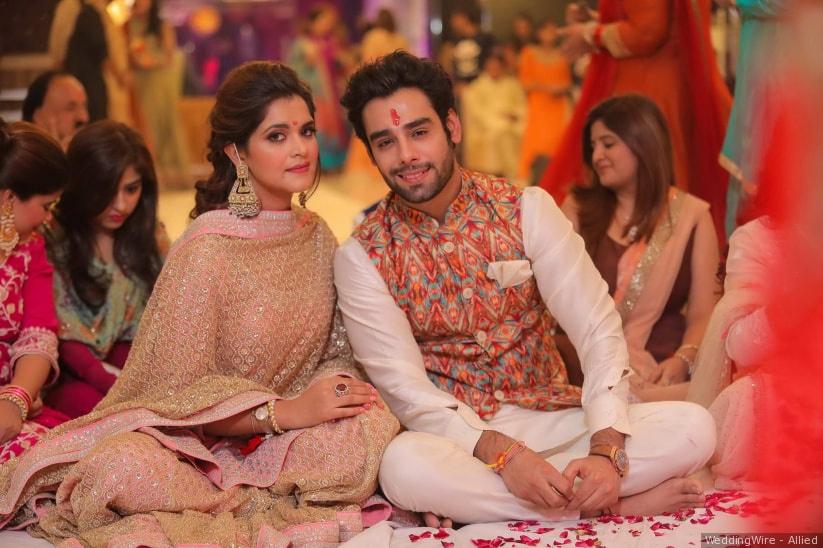 The one unsaid rule of every wedding is that the men's wedding wear has to match with his partner. Now, chances are that your bride-to-be will get the first pick and you'll have to pair your outfit according to hers. Be patient and find something you actually like. You don't have to copy the entire colour combination your bride-to-be will wear. Maybe pick one colour from her outfit and build your style around it?
Traditional Wear vs Western Wear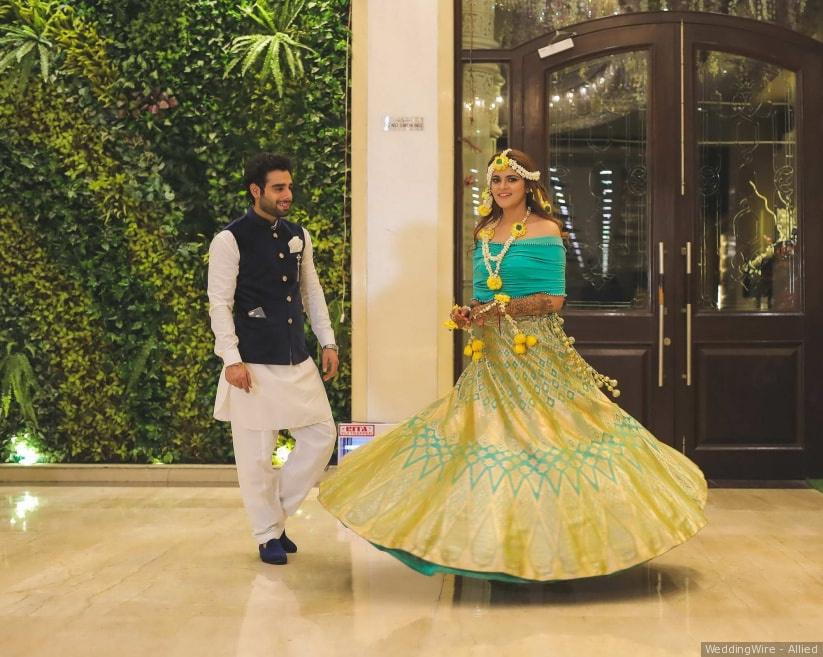 There's always a fight between traditional wear and western wear under the men's wedding wear category. First of all, it all depends on what you personally like and feel most comfortable in. There are no set rules that you have to dress up a certain way.
Traditional men's wedding wear includes Sherwani, kurta and pyjama with a stole, Sehra-bandh and Jutti. It definitely compliments the bride's outfit if she's wearing a lehenga or a saree.
Western men's wedding wear includes a suit or a tuxedo with a crisp, ironed shirt, a stellar pair of shoes and a stylish wristwatch.
An Indian groom mostly has to wear a Sehra-bandh and since it has a traditional look, if you ask us, we feel it best looks with traditional wear.
Shoes are very important guys. If you aren't looking dapper from head to toe then what's the point really? Once you purchase your designer sherwani for groom, carry it to the footwear shoe and match it with the footwear you have your eyes on. Two things to take care of, firstly if you want to sport a cohesive look, then you match the colour of your footwear with that of your men's wedding wear
Apart from this, if you were to follow the current trend, then groom's spend just as much time to find accessories to pair alongside their men's wedding wear. A Satlada necklace or a brooch or a pocket square are some of the many accessories that a groom could use to elevate his overall look and look even more dapper
Now that you know everything about men's wedding wear, we hope you'll choose dashing outfits for wedding functions. So our suggestion to you is that you embark on your shopping spree right away and don't settle for anything that is less than exemplary. Gather your buddies and hit the markets, now!
Until then, browse through some of the best places you can shop your apparel.