Sherwani Designs for Grooms to Inspire Your D-day Trousseau
Take inspiration from the variety of sherwani designs trending this year. Ranging from heavily embellished designs to pastel colours, every groom is sure to find something to their liking.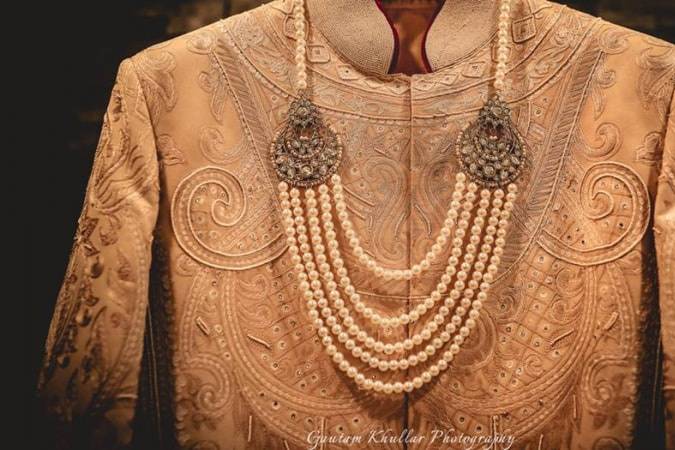 We've all heard how hard it is for the brides to find the perfect bridal lehenga or the right jewellery. Well, grooms have it tough, too! Sherwani for grooms has such endless variety these days that you could easily get confused or change your mind about what you had initially planned. There's no saying how many designs, colours and fabrics are involved in sherwanis nowadays. If you are the picky groom and have actually spent some time in curating the final look you wish to flaunt on your D-day, then visiting the various options online and offline to make sure it is exactly the way you wanted it to be is a time consuming, confusing yet fun thing to do.
All of the shop hopping for the grooms who want to explore their options before deciding what they want, is also worth the trouble because it is this one day in your life when all of the guests have come over from different parts of the world to bless you and grace your big day and with all the eyes glued to you, you will have to make it a look that is worth the stares.
Keeping in mind that this is an integral part of the wedding and any faux pas will be disastrous, we would want you to take a look at some sherwanis in vogue for the man of the hour so you can choose wisely and make a dashing style statement. So, here's a list of some of the trendy sherwanis to help you pick yours.
1. Royal Ivory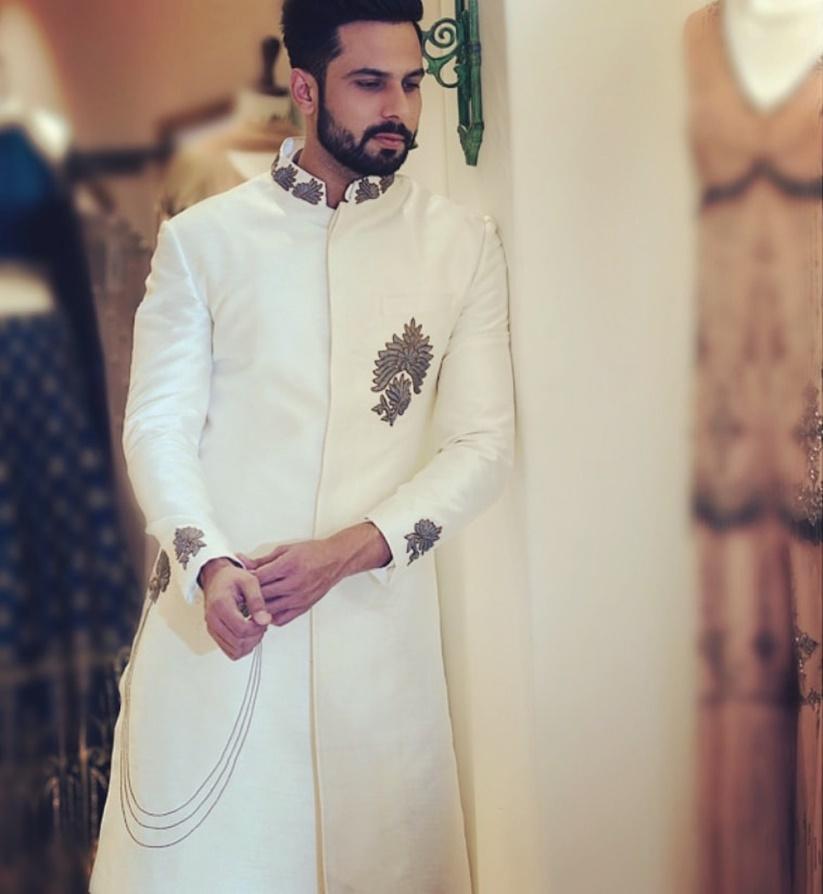 A simple ivory sherwani in raw silk is a classic look. This sherwani can be teamed up with big muted gold buttons and a brooch made with diamonds and stones. This look is timeless and looks very elegant. It is simple and very minimalistic but it looks like a million bucks. Wear it with classic juttis and a safa that has some embroidery and you'll surely make heads turn.
The bandhgala neck designs have embroidery and the border of the sleeves too with a minimalistic multilayered chain design on one side. There is very little work on the whole piece in the photo above, yet it is a view to embrace. They are great for engagement or sangeet ceremonies.
2. Beige and Gold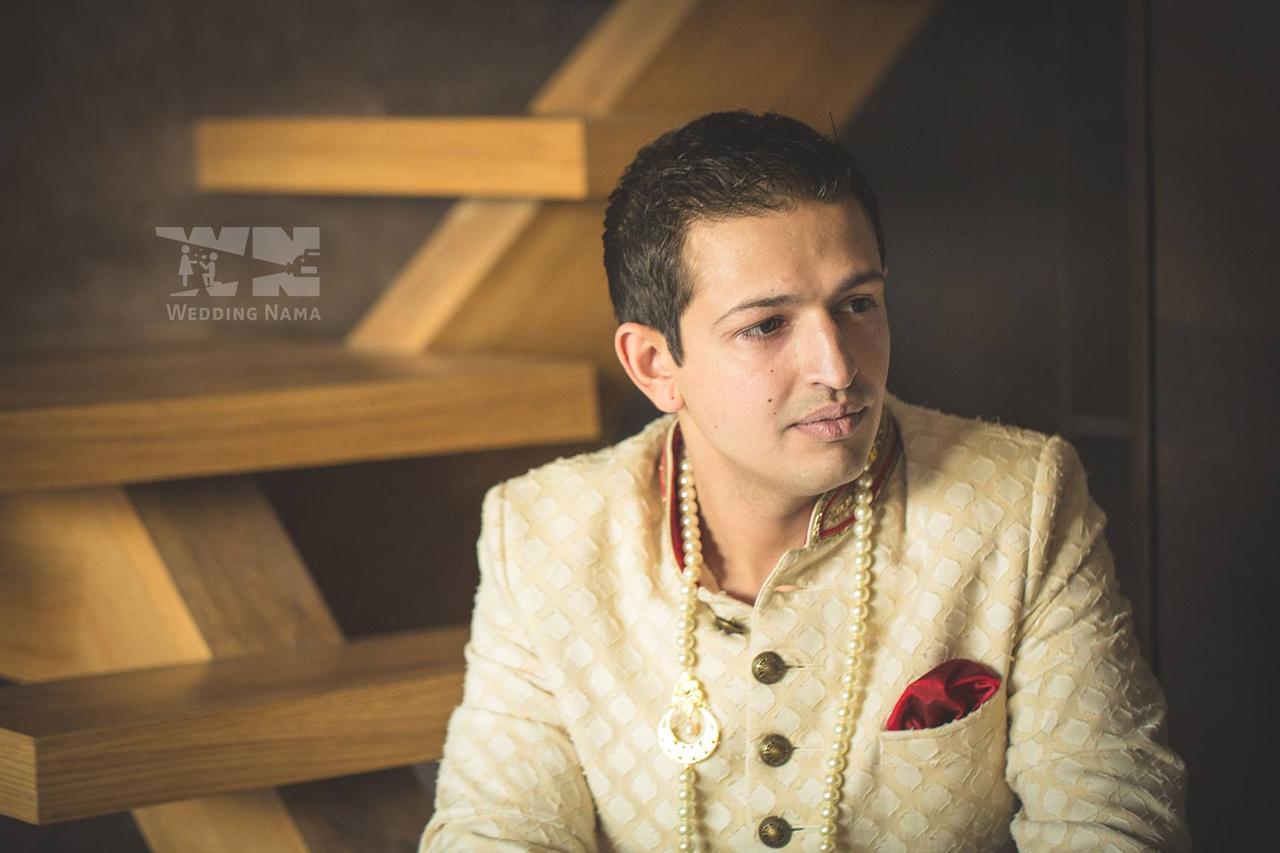 An understated yet masculine choice is the beige sherwani with gold embroidery. Not many grooms opt for a sherwani that has bling but this one is sure to dazzle. Team it with an emerald green dupatta with a gold border and similar juttis. If you're feeling particularly dapper you could also throw on a pair of your favourite shades. You will find similar colours in the classic designs of indo-western for men.
The beige and gold used in the sherwani need not be particularly the ones with a sheen on it, it can also be a matte one like the groom above is wearing. The work of gold can be minimal with embroidered designs in placement print and a bright pop-up coloured pocket square will be the right accessory to add on some colour on the gold and beige. They make for good daytime ceremonial outfits.
3. Royal Gold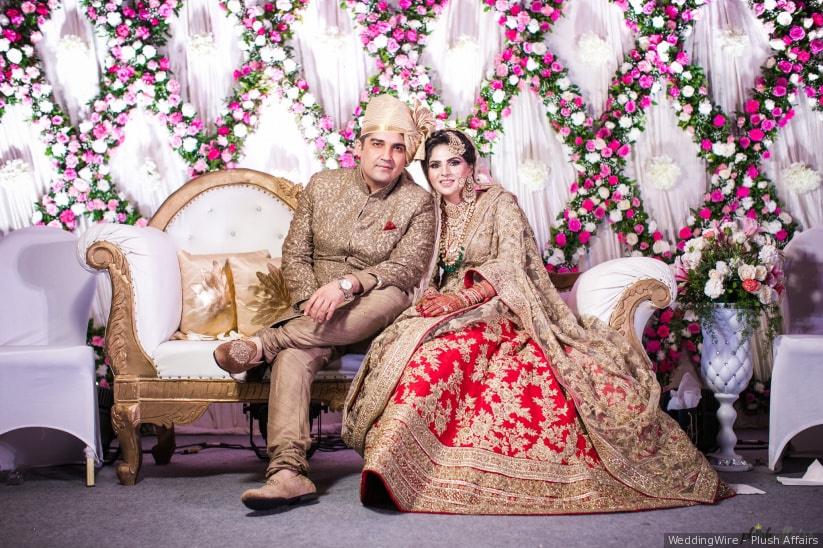 If you really want to make a statement, a royal gold sherwani is a way to do it. Gold brocade on beige teamed up with a deep maroon safa and a nice pair of gold juttis will give you a stylish look. This sherwani will also beautifully complement your bride's lehenga and will create some magical wedding pictures. You could add embellished buttons or an emerald necklace to it to add a little pop of colour.
Gold sherwani is in itself a royal touch to the whole look. If the piece has a lot of bling, avoid accessorising it with necklaces and go ahead with a watch and a pocket square maybe. The safa of the same colour never caused any harm to the overall look here.
4. Traditional Red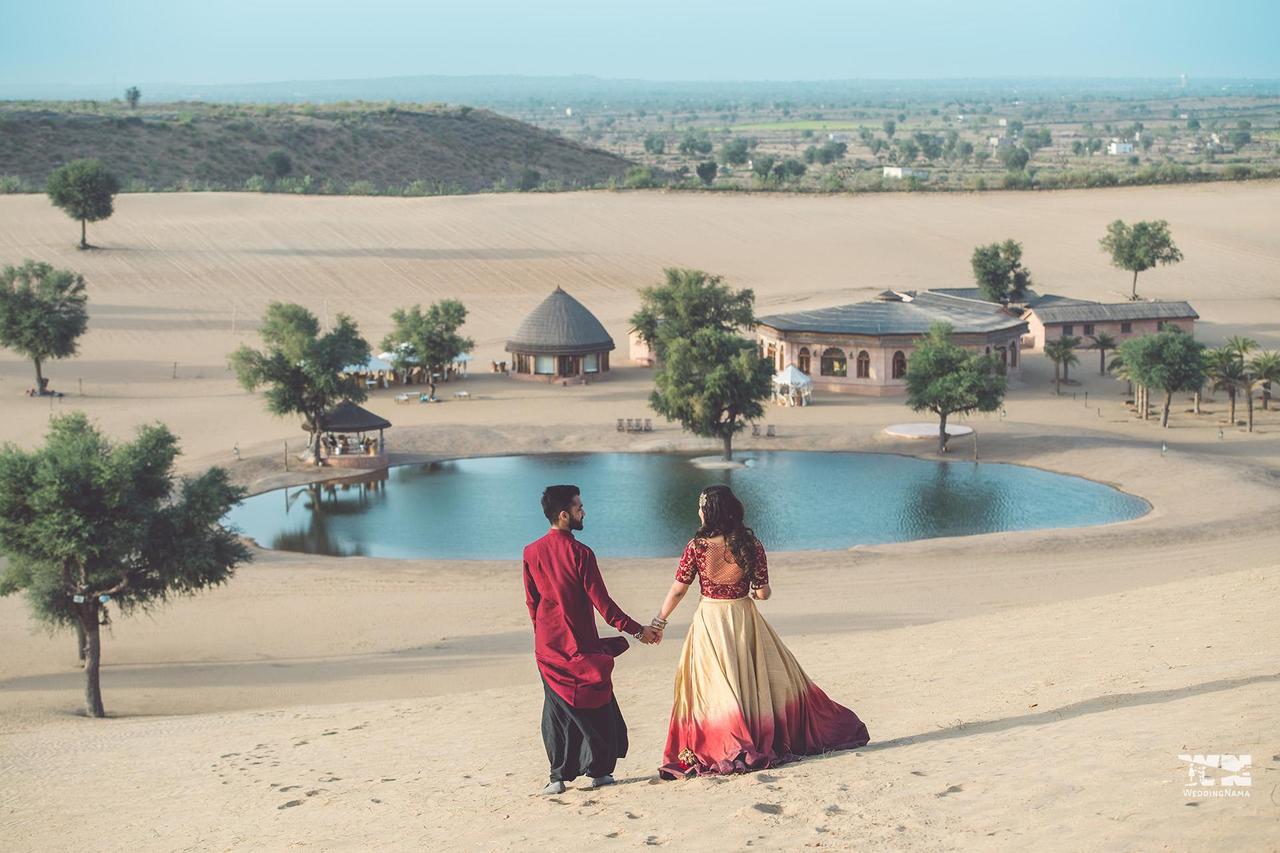 The traditional red sherwani is evergreen and a classic. This is always a winner and can be jazzed up with some nice accessories like a broach or a contrast pocket square. Wear it with a beige silk safa with golden embroidery and golden juttis. You could also add an emerald necklace if you want to add a dash of boldness.
Not many grooms want to sport the red sherwani in recent times, however, it is still one of the best classic looks that you can flaunt with black pyjamas and this fits perfectly to be worn for the engagement ceremony and so on especially during the night time celebrations.
5. Floral Hues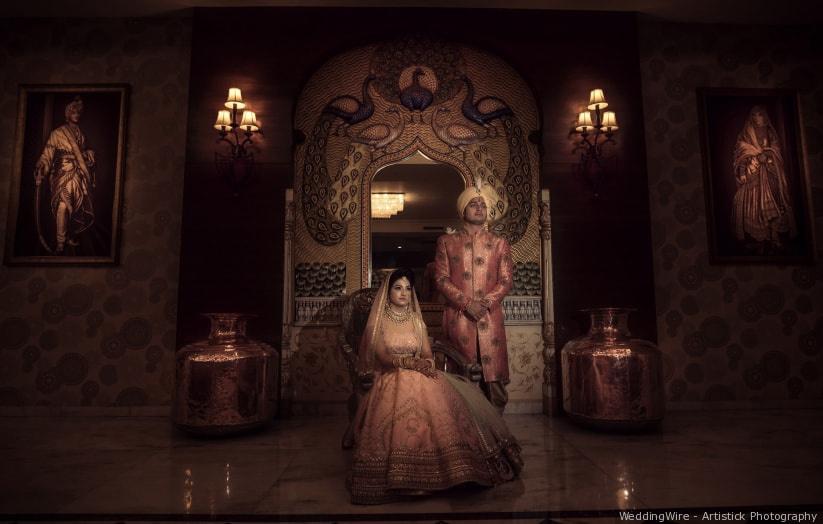 If you're feeling a little ambitious, try a sherwani in silk with a floral print in pastel shades. These sherwanis can be customised to the colour and prints you want. You could try an offbeat colour like light green and a light pink or go with the more risk-free colours of beige or maroon. This is your day to take a chance and make it work, so go all out!
Floral has suddenly become the rage of the grooms even and who could have thought that the men could flaunt flowers and look dapper on their D-day too. It need not necessarily be printed flowers, it can also be embroidered ones and the sizes may differ from tiny minuscule ones to large placement ones.
6. Velvet and Gold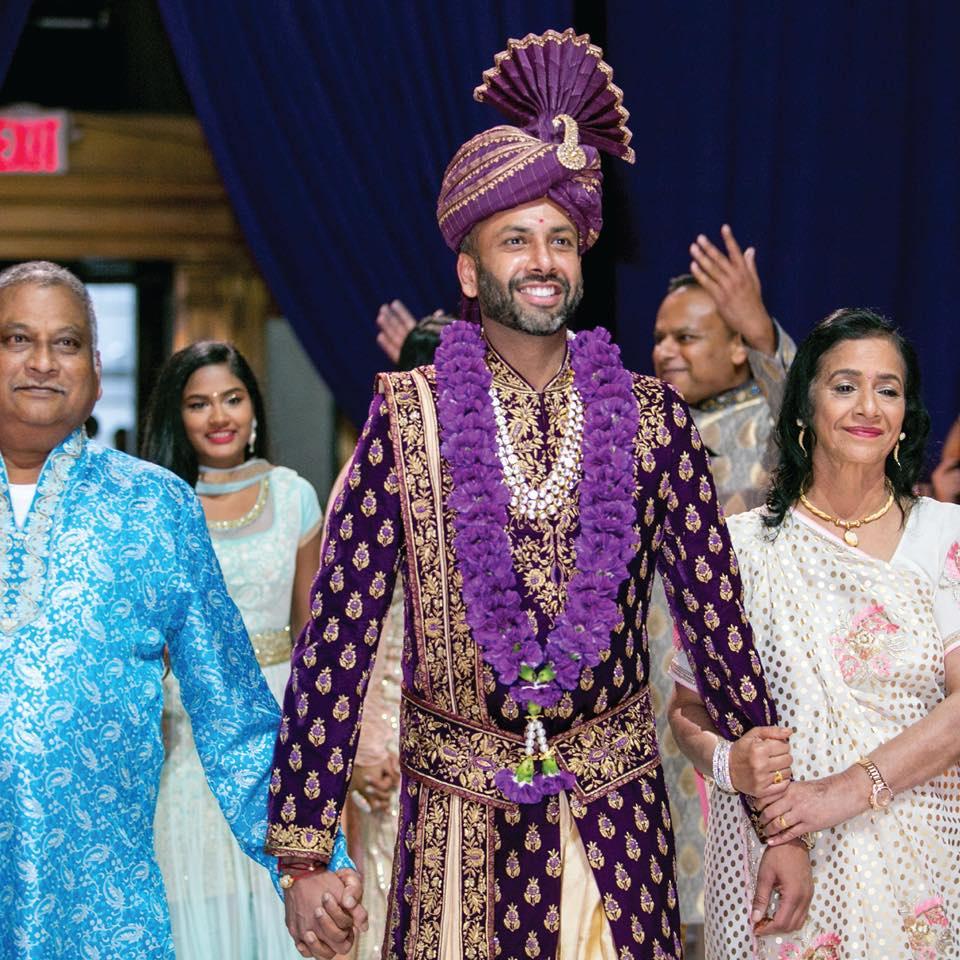 This is a new trend and has some truly elegant combinations. Sherwani for men in gold brocade teamed up with a deep blue velvet dupatta that has a similar gold border is refreshing and dazzling. You can also add multiple strings of pearls to your look to make it regal and interesting. Add small booties to the dupatta and make it pop a little. All of these small additions really bring the look together and make it special for the big day.
With these inspirations, the perfect sherwani won't take months to find. You simply have to put together the right accessories so that you can strike picture-perfect poses for your wedding photographer. Get a look that is sync with your bride's. Go a step further and make it a little more personal, get a custom-made motif that you could use on your wedding invitations or wedding decorations and also on the embroidery of your outfits. With so many outfits that are surfacing the fashion industry these days, it is very difficult to choose just one for yourself. Don't worry guys we understand what you are going through. Designer sherwani for grooms is a legit pool of outfits from high low to pastel shades to a full-blown embroidered outfit to just plan sherwani for grooms - the choice is yours.
No matter which one you pick for yourself - remember to jazz it up by throwing in some accessories that will add the right amount of pop to your look. A head-turning Satlada necklace with pearls and rubies like Anand Ahuja wore at his wedding or a Sarpech as Virat Kohli - throw one of these with your spectacular sherwani for grooms and you will give your lady love some serious competition. And, there is nothing a woman loves more on a man than confidence to own whatever he may be wearing. So, break some rules and find for yourself the trendiest sherwani there is.
Which one of these gorgeous set of designer sherwani for grooms would you pick for yourself? Tell us through the comments!