5 Sherwani for Men That Are Serious #GroomGoals
Check out these regal sherwanis for men to perfectly complement your partner's lehenga.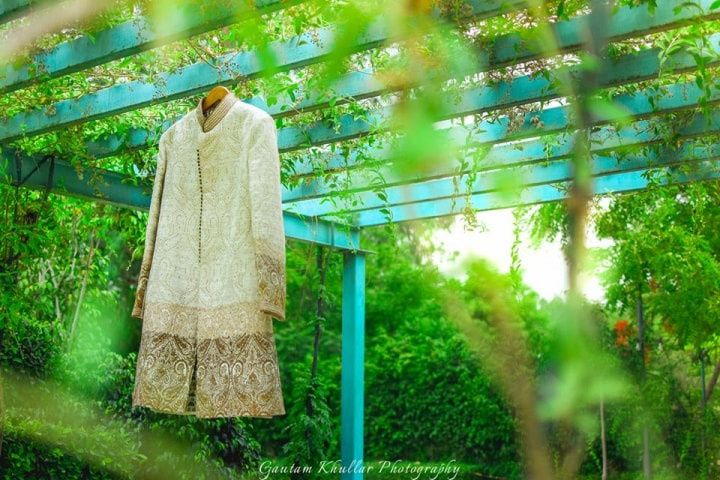 While the world is busy talking about the bridal lehengas, we are here to help our handsome grooms. Wedding attire options for grooms may seem easy, but new designers and new fashion trends have made the world of groom fashion extremely dynamic and vibrant. Today, sherwani for men is available in a wide array of colours, different kinds of styles, beautiful patterns and a range of rich fabrics. Choosing a sherwani design is all about understanding your own sense of style and most importantly, being comfortable. There's a wide world of sherwani collection out there, let's take a sneak peek through our selection:
1. A Rustic Affair
A raw silk or textured cotton fabric in an unconventional tone with a rustic print is understated yet very stylish. Choose a fabric that has a sheen to it and is able to stand out without any embellishments or opulent work on it. If you are someone who wants to keep it simple, yet stand out, skip the beads and the stonework and go in for a fabric that has its own character. You can include a stole to add to the royal look. You will also find many Jodhpuri suits in similar designs emanating regality combined with the rustic charm.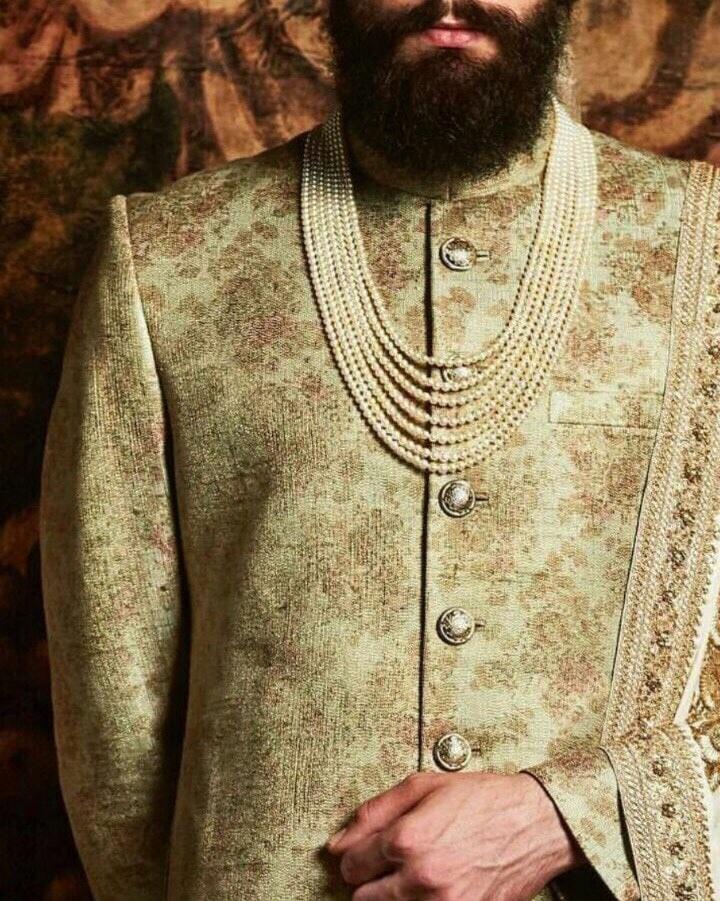 2. Keep It Simple... Keep it Classy
If the thought of wearing a sherwani is daunting and you have no clue what to buy, keep it simple! All sherwani collections always have a great range of plain white/cream/off-white sherwanis that have a self-pattern. It won't be too bright and will make a very classy look. You can team it up with a maroon, deep green or blue stole on one side to add a pop of colour and enhance the overall look. You can accessorize with a beaded necklace. A lot of grooms wear smart self-work sherwanis with a stole and find that it matches a lot of latest bridal lehengas' colours.
3. Silver/Gold Thread Work
Instead of going for deep traditional shades, you can pick a neutral colour like beige, white, cream or even a solid black sherwani with silver or gold thread work all over it. You can choose something with subtle motifs embroidered sparingly or something that has embroidered patterns running all over. Wearing a neutral tone or a black sherwani with silver/gold thread work also makes you look great with your partner's bridal gown or lehenga saree bridal wear. The colours won't clash and both of you can make an individual statement, yet complement each other.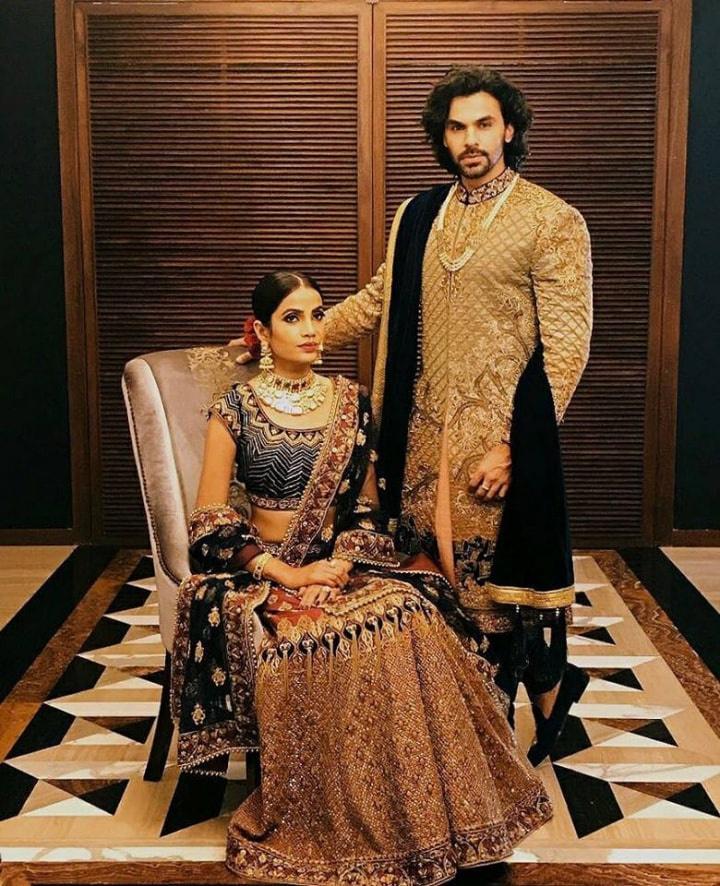 4. The Urban Man
The Urban Man does not shy away from pinks and florals, and that's exactly why there are endless options in floral sherwani collection for men. It could be a complete floral pattern or one that has a few floral motifs, printed or embroidered. It's truly a beautiful sherwani for the groom that stands out and looks amazing.
5. Pastel Tones
If you have a daytime wedding, sherwani for men in pastel tones is the perfect pick. Pastel pinks, blues, peaches and greens - all look equally divine and dashing. A pastel colour Jodhpuri sherwani can look absolutely royal. Nowadays, you will also find a lot of Indo western mens suits based in pastel shades.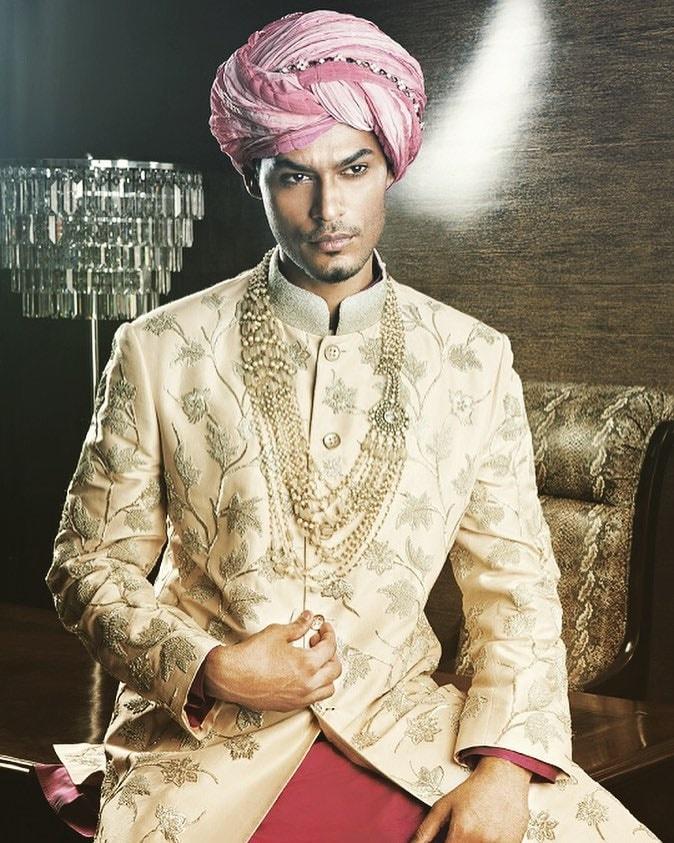 Choosing a sherwani for men is all about understanding the options and choosing something that highlights your personality and looks great on your specific body type. Pick your style and look your handsome best while posing with a million dollar smile for your wedding photographer. You can even have a picture of your sherwani and your partner's lehenga to personalize your wedding invitation cards.