Get These Latest Bridal Lehengas If You Are Getting Married Soon
Lehengas are go-to outfits for any wedding ceremony. Make a flamboyant statement with these latest bridal lehengas to look like a swagger bride who is dressed to impress.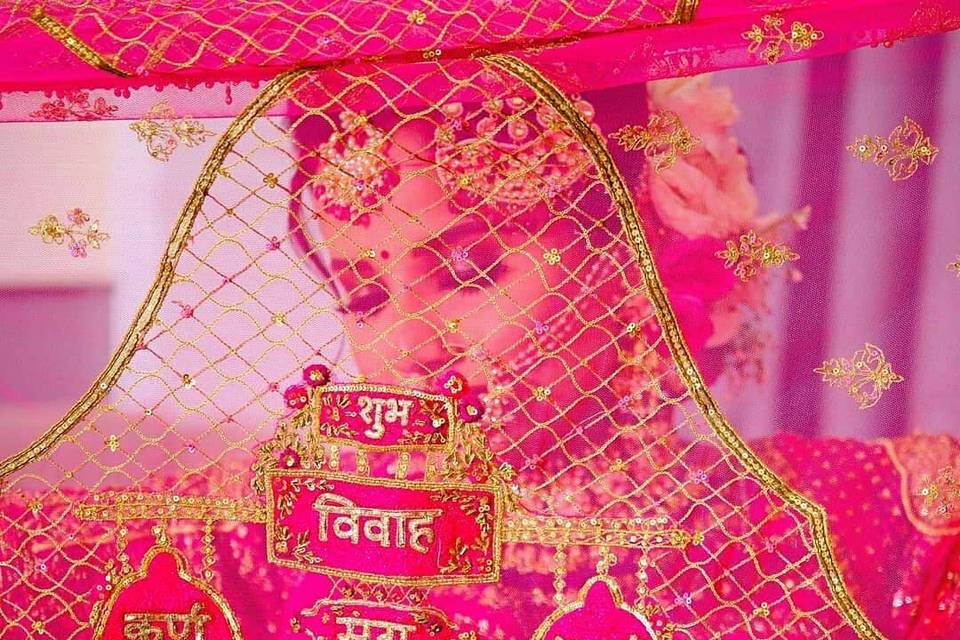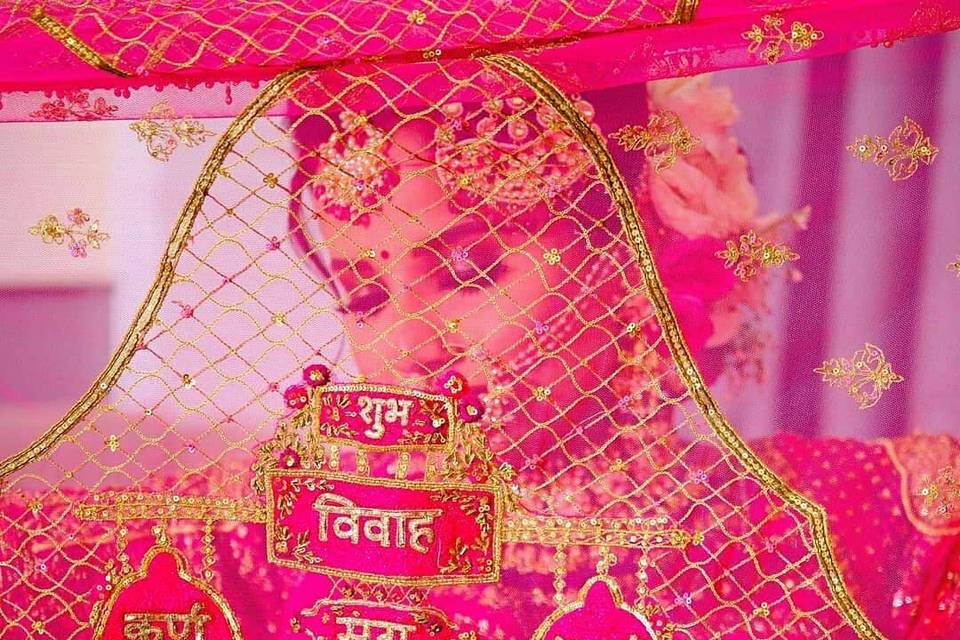 Image courtesy: AS Photography Studios
These are some latest bridal lehengas that are raging this wedding season. Lehengas are known for their elegance, beauty and the manner in which they elevate the beauty of a woman. When it comes to choosing your dream wedding lehenga, one has to be mindful about what's trending, in-fashion and a hot seller. From heavily embellished bridal lehengas to monotones with minimalistic embroidery the choices are many.
Find a lehenga from these latest bridal lehengas and pair them up with some ornate jewellery pieces, thoughtful makeup and some accessories to get the desired overall look.
What's Trending This Season Amid Latest Bridal Lehengas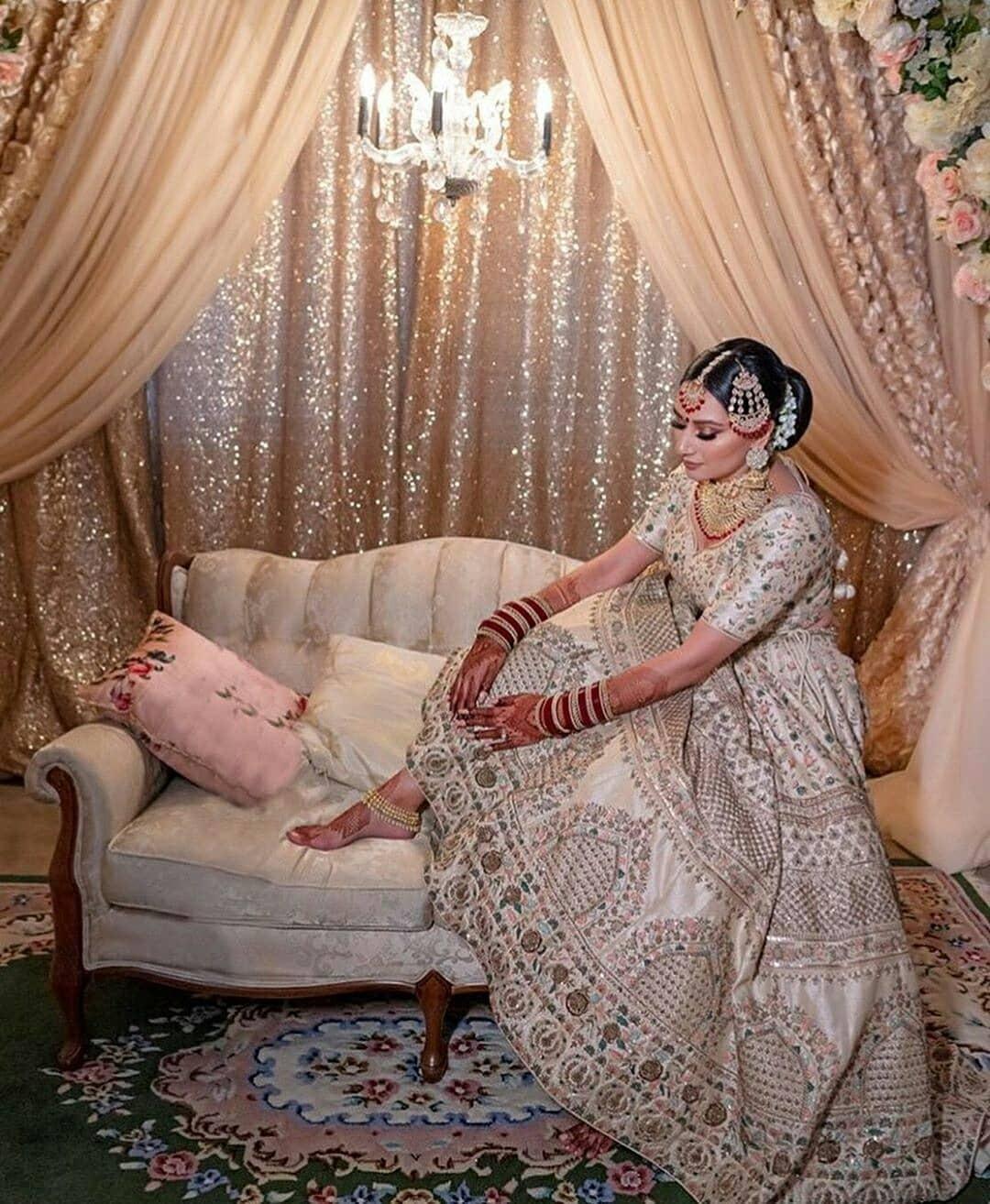 Image courtesy: Wedding Documentary
The latest bridal lehengas are all about embracing the bride's true personality. The young and carefree brides today want to accentuate their quirky and eccentric selves through every element, be it with their lehengas or the wedding decor While there are some who adore the true blue traditional wedding trends, some brides love to take risks to create waves with their fashion choices.
The latest bridal lehengas have one thing in common, they are bold and bashful, with a hint of beautiful!
1. A Mix of Traditional with Trendy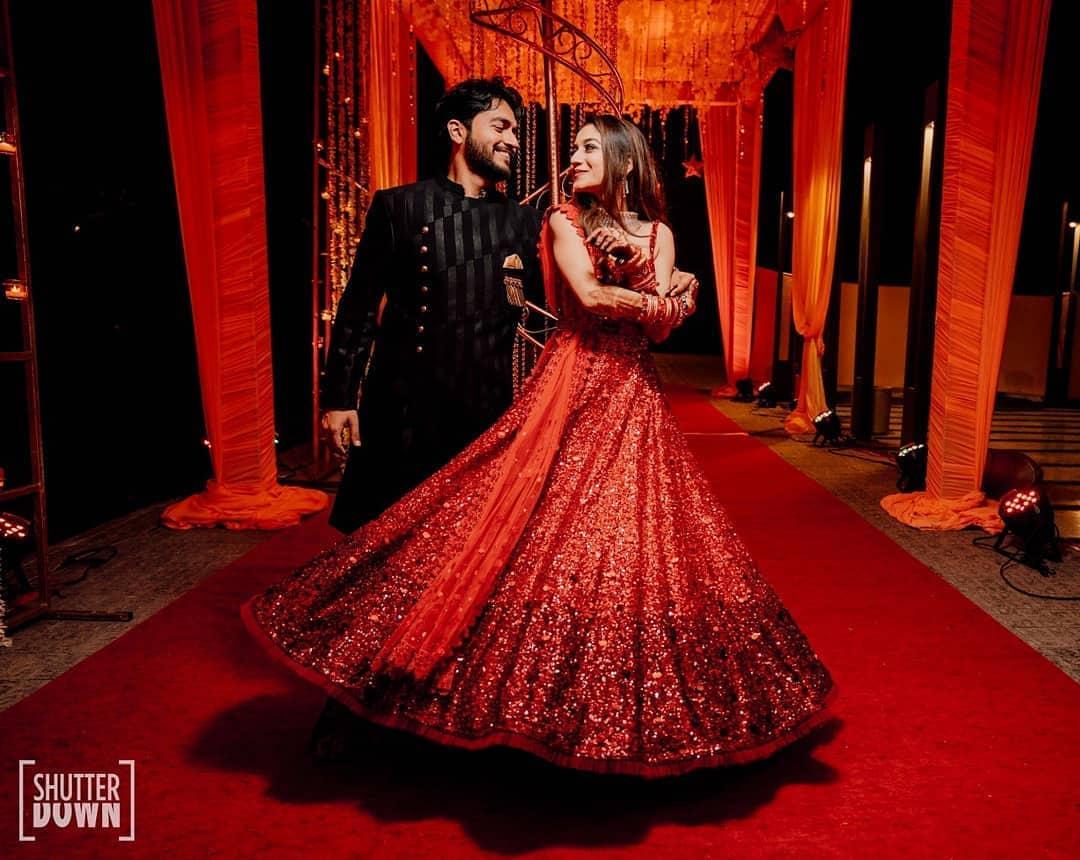 The latest bridal lehengas are all about balancing traditional and trendy. The brightest hues and colours mixed with elegant thread work and just a dash of embellishments is all you need to make a sparkling statement.
Instead of opting for the traditional red and pink, choose more warm but earthy shades. Ditch the bright gold and stonework and choose intricate thread work. If you are modern in approach yet rooted in traditions, this is the perfect latest bridal lehenga trend to take inspiration from.
2. Colour Pop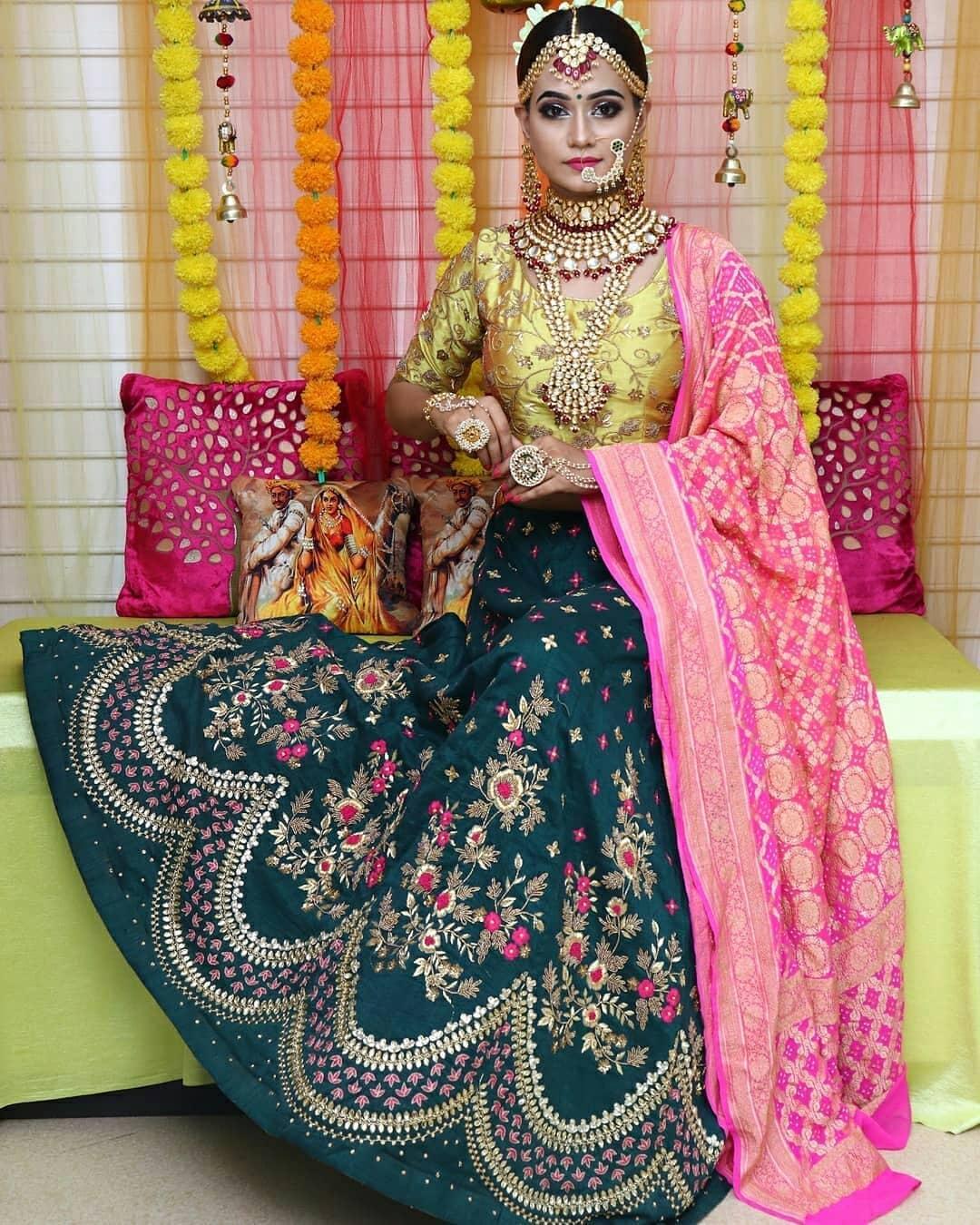 Image courtesy: SD Designer Studio
Colour pop is all about a subtle base colour, combined with a brighter and more vibrant, contrasting shade. Pink, yellow and green are by far the most popular colour pop combination but other combinations of orange and yellow, blue and green, beige and orange are similarly gorgeous.
This trend focuses on accentuating attire through dynamic colours instead of opulent gold work or accessories. The colour along with the bridal lehenga design makes it a statement piece, with or without the accessories. Intricate thread work on the base of the skirt and small embroidered motifs on the blouse is all you need to strike a picture-perfect pose for the wedding.
3. Pretty in Pastels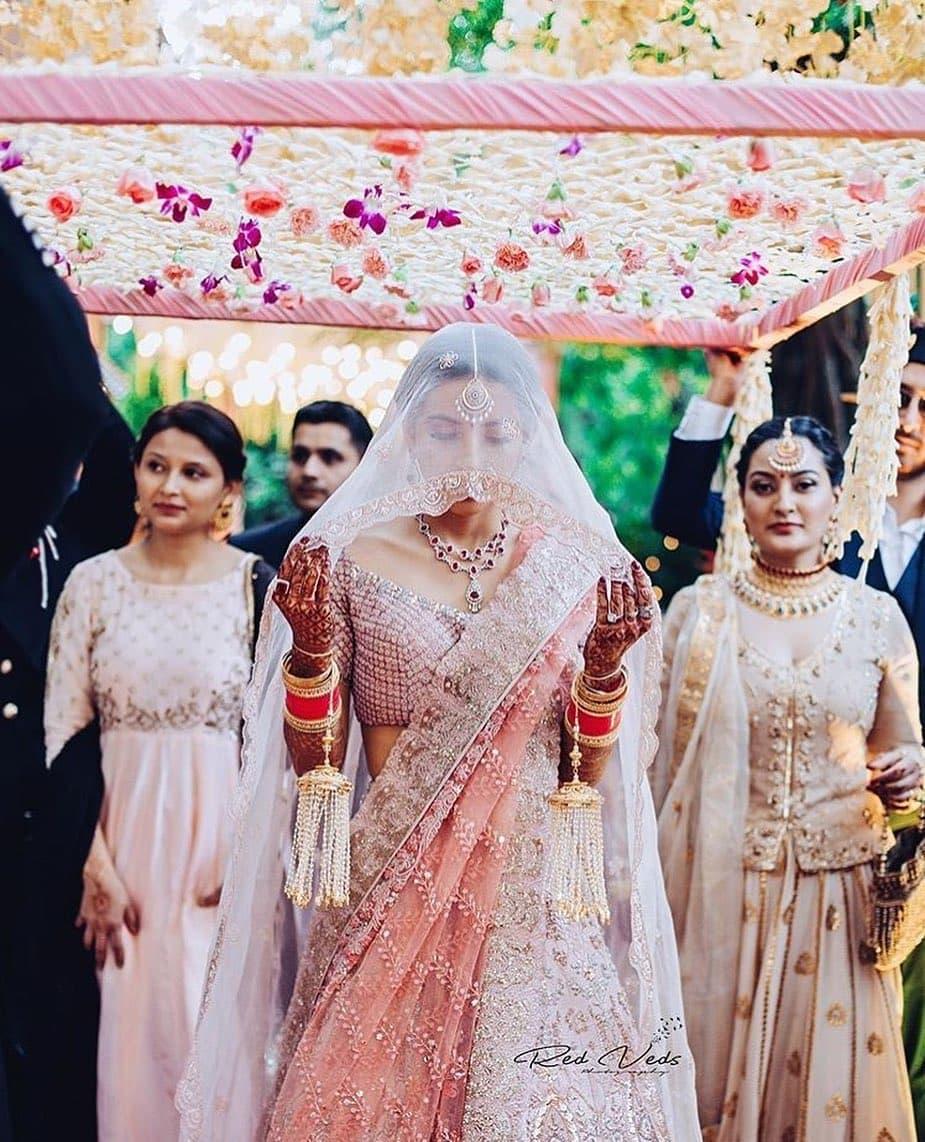 Pastels were initially thought of as dull colours but modern-day brides know how to make pastels the trending bridal lehenga shades. The glitter and glimmer work all over, in subtle gold, silver, bronze or even a mix of metallic shades, makes this piece amid pastel lehengas a sparkling attire that is just perfect for wedding glory! Whether it's a day or night time wedding, pastel shades bring out the elegance and grace.
You can team it up with more traditional jewellery for an ethereal bridal look. The pastel bridal lehenga trend is all about a single pastel colour or even a combination of two complimentary pastel colours. Pastel lehengas with a mix of floral patterns is another very popular and beautiful choice not just for wedding lehengas but all Indian wedding dresses.
4. Bold Colours, Bolder Details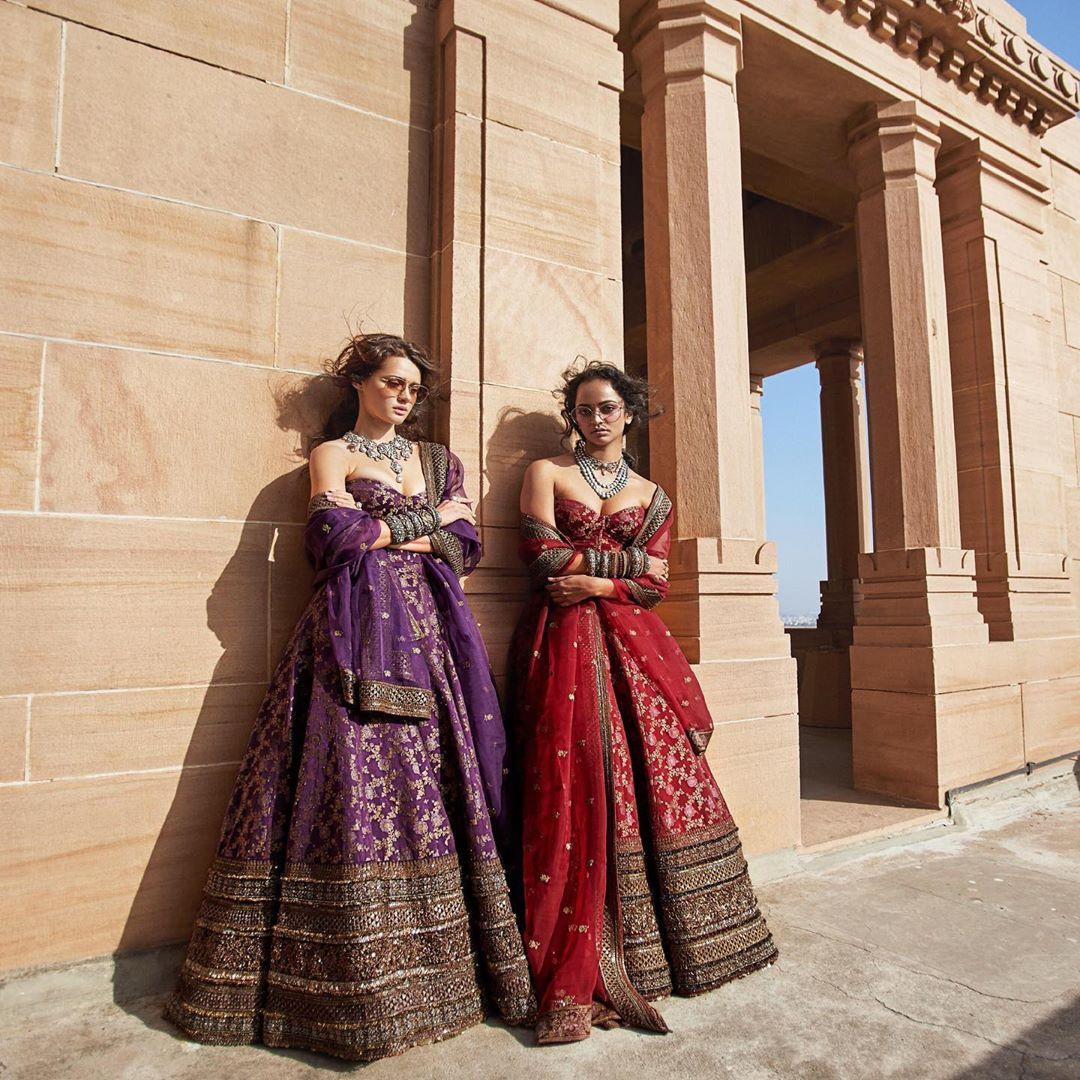 Image courtesy: Sabyasachi on Instagram
Another striking and spectacular bridal lehenga trend is to combine bold colours with bolder details. A bold and deep shade of wine, burgundy, green or even mustard with bold motifs of thread work or embellishments makes a great bridal lehenga.
The idea is to make the skirt look detailed and attractive, and combine it with a subtle blouse. The blouse can be absolutely plain or a glittering blouse. Keep the dupatta sheer and light too.
These latest bridal lehengas from Sabyasachi's 2019 Fiza collection go a step further by adding bodice-like, figure-hugging corsets as a stand-in for the conventional blouses.
5. Sunshine Girl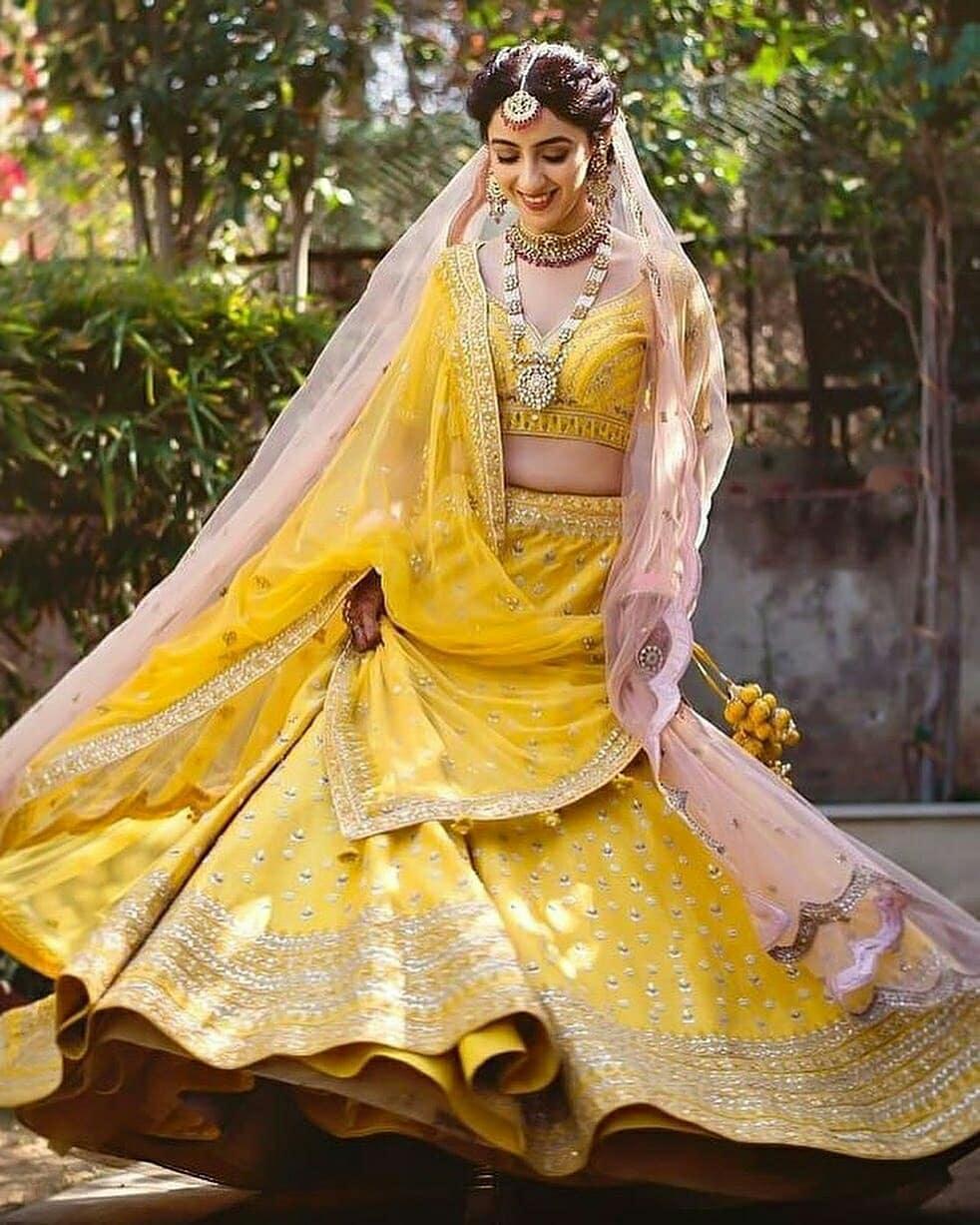 One of the best latest bridal lehenga trends is the use of rich fabrics in all shades of sunshine! Bright yellows, deep mustards with just dash of a bright colour like a magenta or red makes it pop up and pretty! It makes the bride and the lehenga look mess-free and beautiful. It's the perfect trend for day and night bridal elegance.
Choose your yellow lehenga and retain it not just for a funko-pop Mehndi and Haldi, but also your big day.
6. Pristine beige and ivory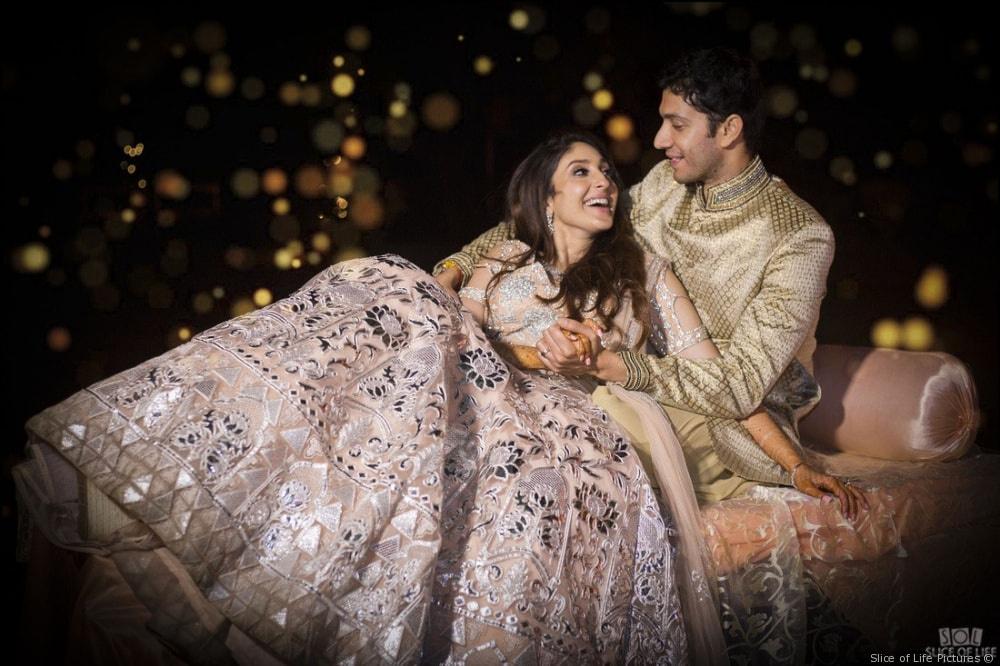 Lehengas will forever be a girl's best friend especially when it comes to wedding festivities. There is a lot you can do while adorning this outfit. From traditional to modern-chic you can blend this outfit however you like and wear them at whichever occasion you please.
In this case, for instance, details like shimmer, shine on a nude palette all come to the forefront. The miror-work lehenga works among latest bridal lehengas because of the stark contrast it maintains with its base colour.
With the right attitude, you'll look like a vision who is ready to serve some wedding goal looks.
7. Pink princess dreams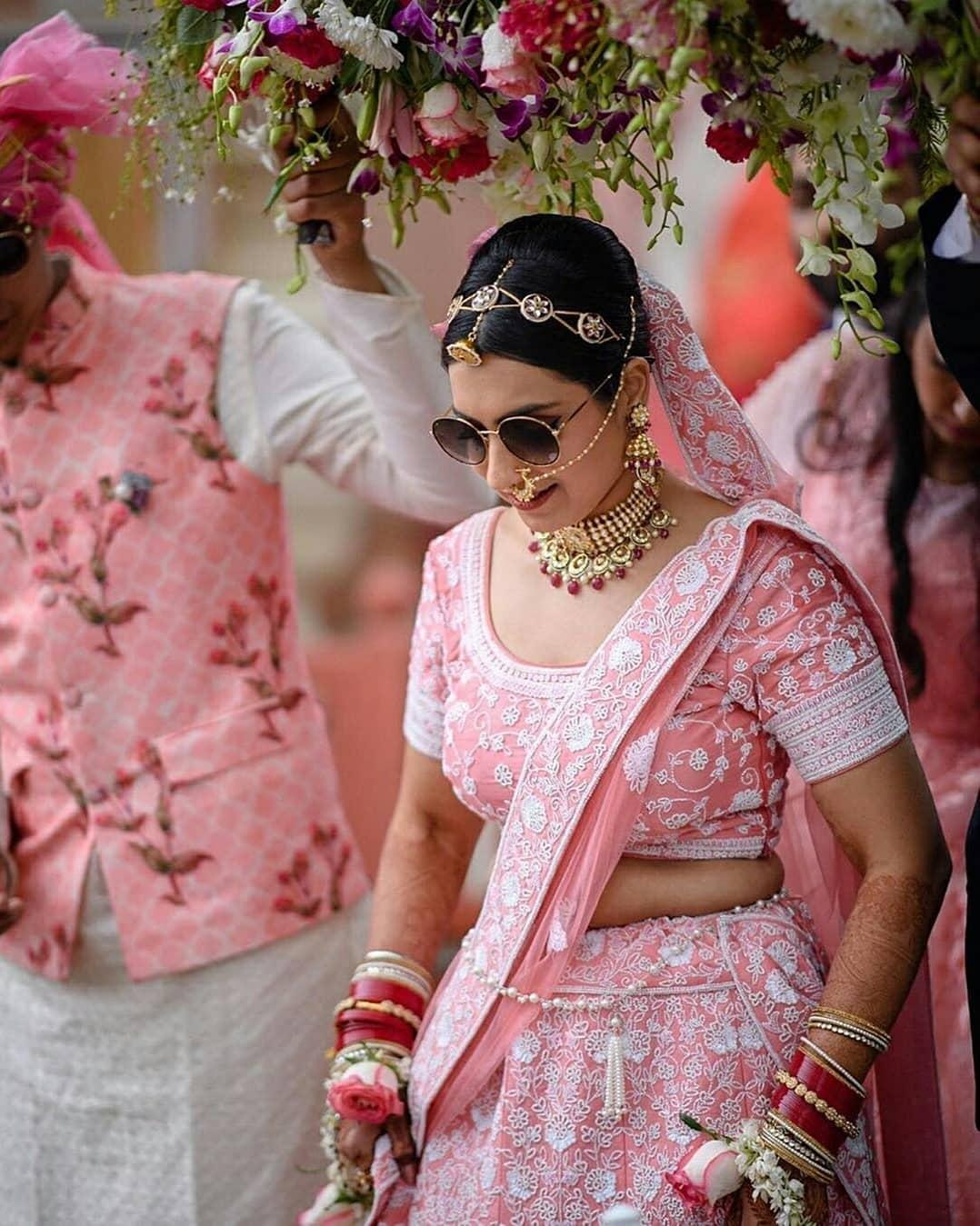 Image courtesy: My Wedding Saga
Wearing a pink lehenga is as old and timeless as you can think of, the world is now moving towards lighter shades of the fabric. There are baby pinks, champagne and blush notes that the bride can pick up and instead of blinging them up, toning them down with classic hand embroidery is also a very good idea.
In contrast, you can choose a pink lehenga choli in a deeper pink and then highlight that with a subtle set of prints, embroidery or even embellishments.
8. Let's go blue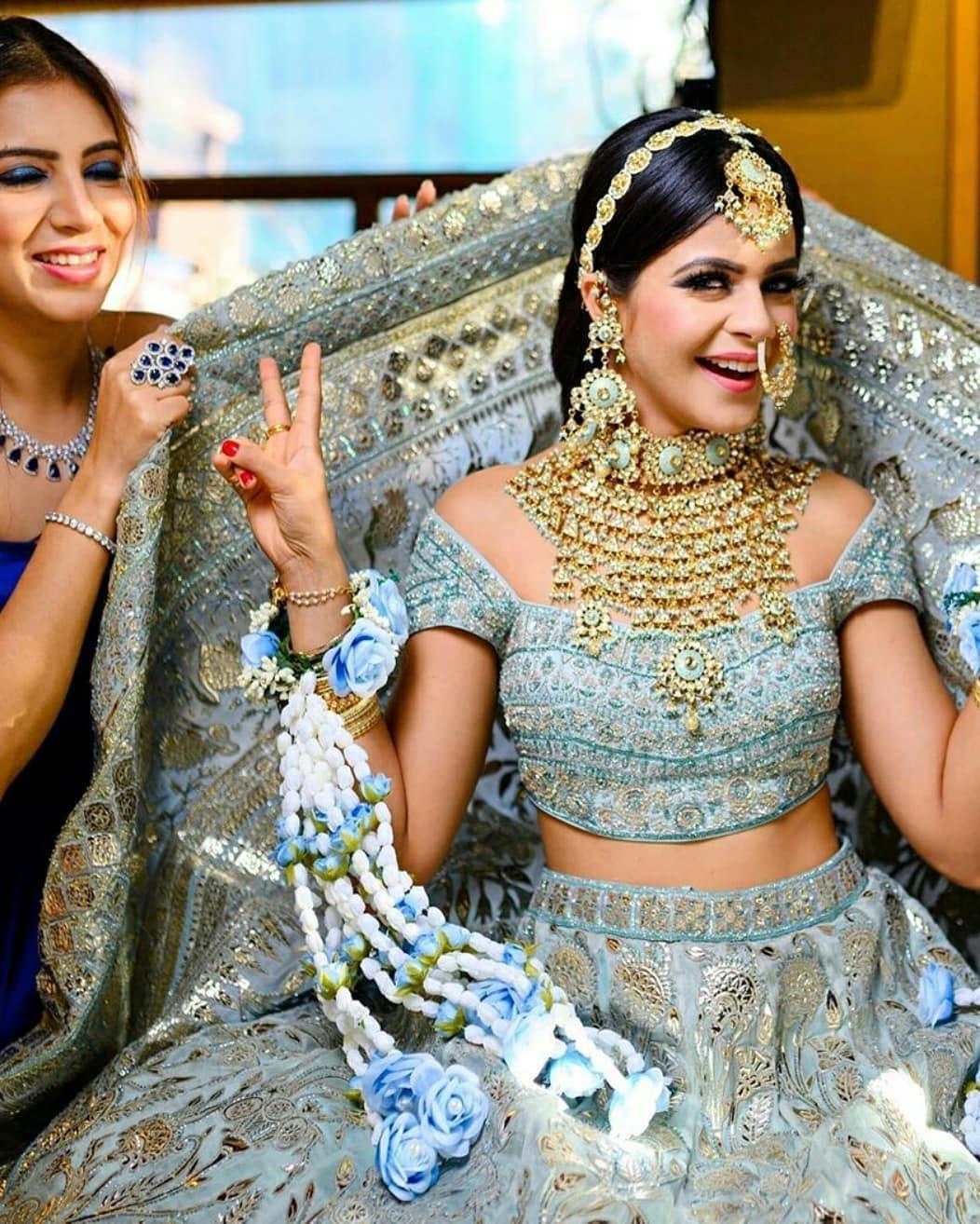 Gain a contrast, boho appeal by choosing to pick up a blue lehenga as your de-facto choice amid latest bridal lehengas. Remember, baby blue and pastel variants work, when accentuated with deeper jewellery colours. In contrast, deeper blues can be highlighted with just the right amount of bling for your big day.
These inspirations must have given you an idea of what suits you best. Try to blend in the bridal hairstyle and makeup to give you that awe-inspiring look.
Some Tips to Ensure That You Look Amazing Are Mentioned Below:
We have curated for you a few extra tips so that you can look classy and literally like an angel in these latest bridal lehengas. Read on and get inspired to curate your very own collection of latest bridal lehengas!
1. The greatest tip that we can give you is that don't believe the catalogue! Try on a few pair before you finalise the one. You might be surprised. Feeling a bit overwhelmed is also a possibility, so begin your wedding shopping way ahead of time and spend a good amount of time selecting the outfit
2. Sometimes it takes more than just one pair of eyes to know what looks good and what looks great. So, go for your wedding shopping with a few people, whose choices you really trust. If they say it looks good and you feel so too, then go ahead and buy some stunning and latest bridal lehengas
3. Accessories and add ones are very crucial to add that wow factor to your overall look
Keep these tips in mind when you finalise some latest bridal lehengas and you will definitely look like a million bucks on your big day!
Make sure you bookmark the ones you like and do suggest us some of the phenomenal ones in the comments below.