8 Indo-Western for Men Outfits For Every Dapper Groom Checklist
Steal the limelight on your wedding day in these Indo-western for men outfits. The sheer variety of fusion outfits for men these days is astonishing.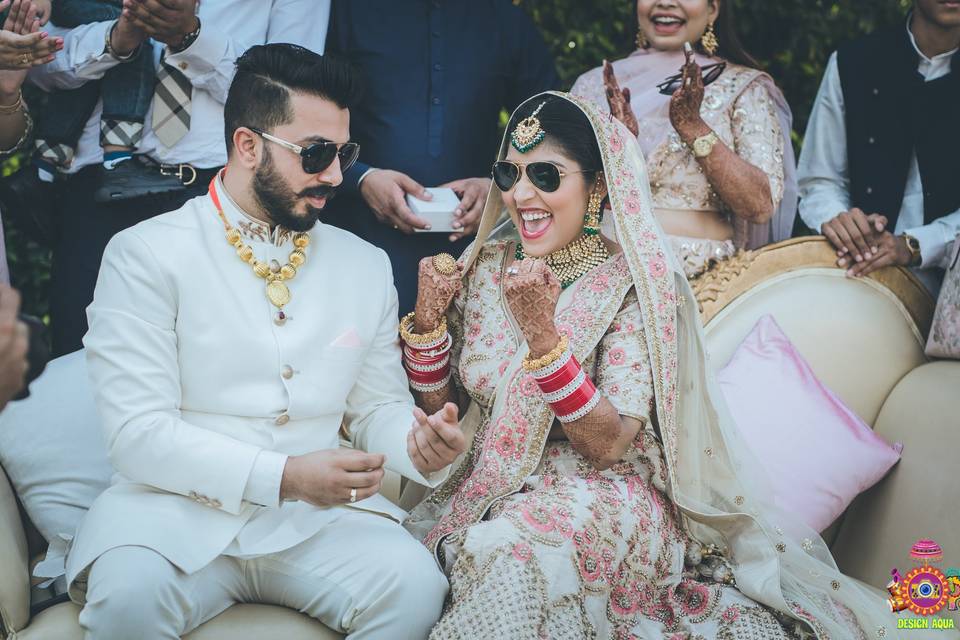 When it comes to Indian weddings, the brides have always been the centre of attraction with their bridal lehengas, jewellery and what not! Why not give them some serious competition by donning a spectacular Indo-western for men outfits for your wedding?
In fact, special wedding collections for the groom have been on a steep rise since the last decade, with the increasing demand for something that is comfortable and yet has the flair of western wear. Hence, the fusion between ethnic and western is becoming a popular choice to create a unique style statement.
Let's see how to go about pairing the right outfit with matching accessories that will help you ace the fashion game. Take a look at some of these indo-western for men outfits and then contemplate which one among them would suit your look the best!
1. Bandhgala suits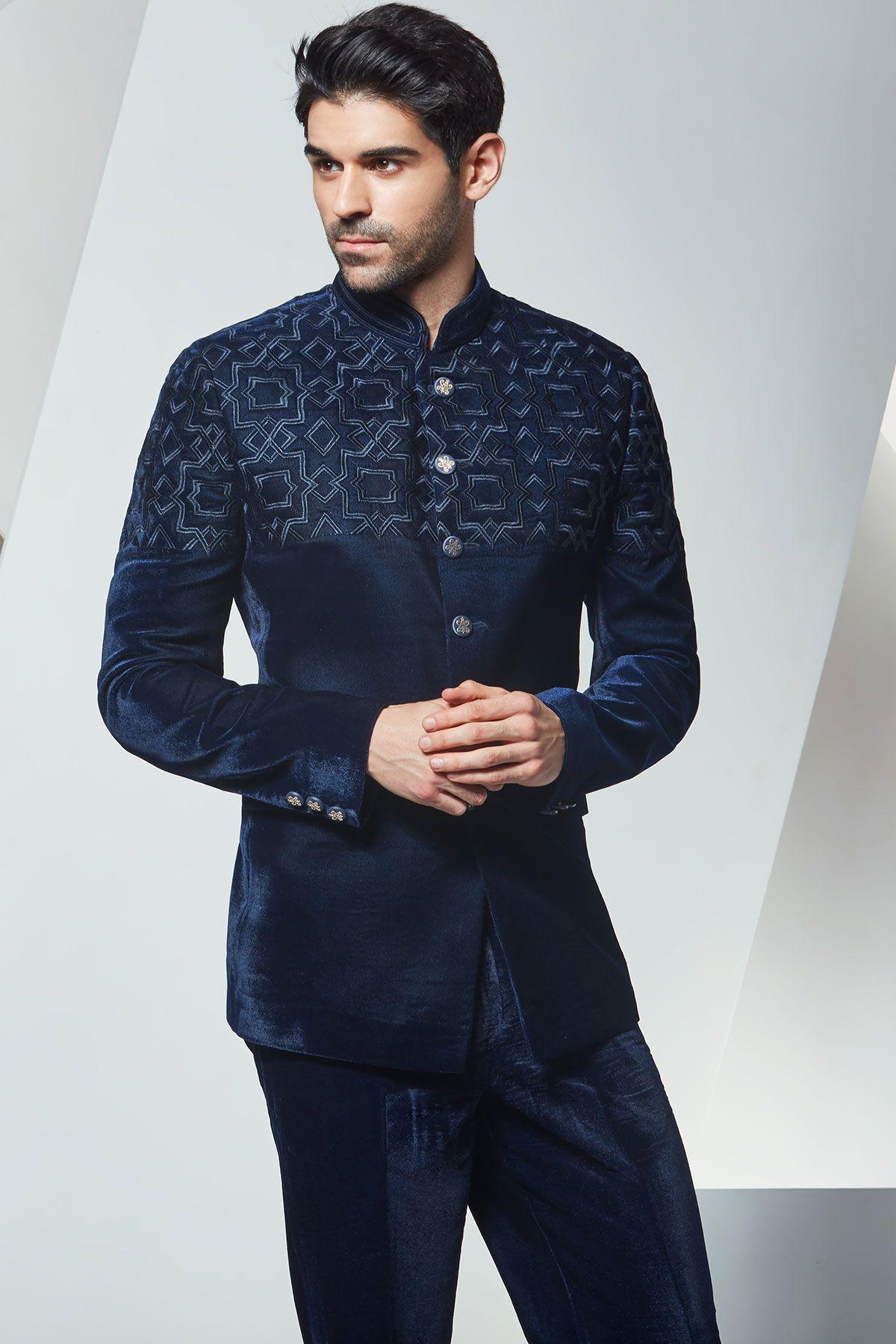 The Bandhgala suit, a carry-forward from the old Jodhpurs of our colonial past, is a modified version of the original Jodhpuri coat pants. These have some merges with the Indian Angrakha. The more modern versions of this outfit experiment with neck styles, fits and length to form an indo-western for men outfit that's absolutely about you.
You can opt for this variant for a smaller function, like the Sangeet ceremony or a simple getogether like drinks and Mehndi (not the Cocktail though).
2. Jodhpuri coat pants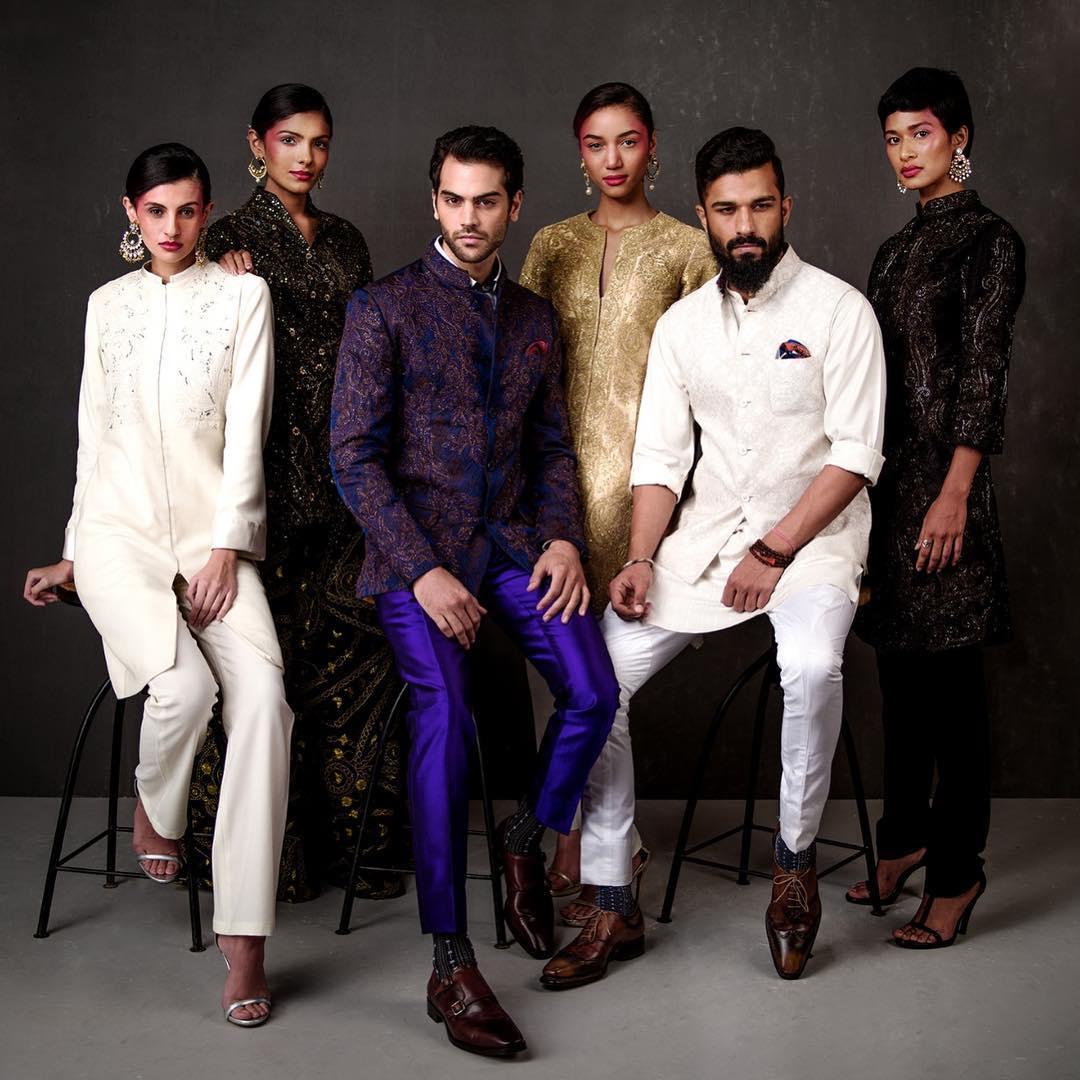 Image courtesy: Raghavendra Rathore
While these and Bandhagala suits are normally treated as synonyms, there are slight variations here. The Jodhpur ethos is maintained with the coat, while the pants or trousers are not the wide thigh versions that are seen with the outfit. They have slim, smart silhouettes. Add this indo-western for men outfit to your repository for a formal and yet, Indian look.
You can work this look splendidly at the Cocktail, engagement or reception alike, depending on how sharp your outfit appears to be.
3. Indo-western Sherwani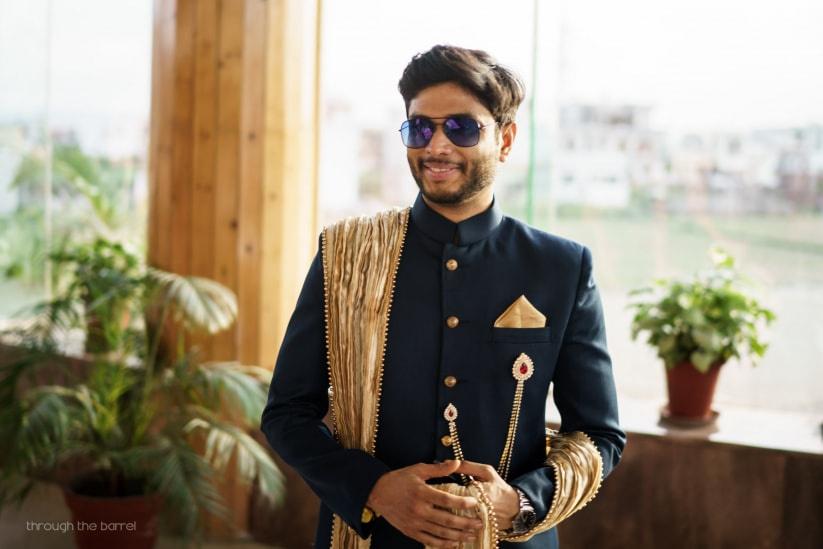 This is a classic attire as you can never go wrong with any kind of sherwani for the groom. For an Indo-western sherwani, you can pair up your kurta with churidar salwar or you can choose to go with cigarette pants that are narrow at the bottom but don't have ruffles. If you're going for cigarette pants, an asymmetric kurta or one with slits would look different and make you stand out.
If you are a South Indian groom and are looking to wear a Mundu at your wedding, simply buy a designer sherwani kurta and pair it up with matching Mundu to enhance its charm. Remember, this indo-western for men outfit will always be a welcome stunner for your cause.
4. The Angrakha-jacket combo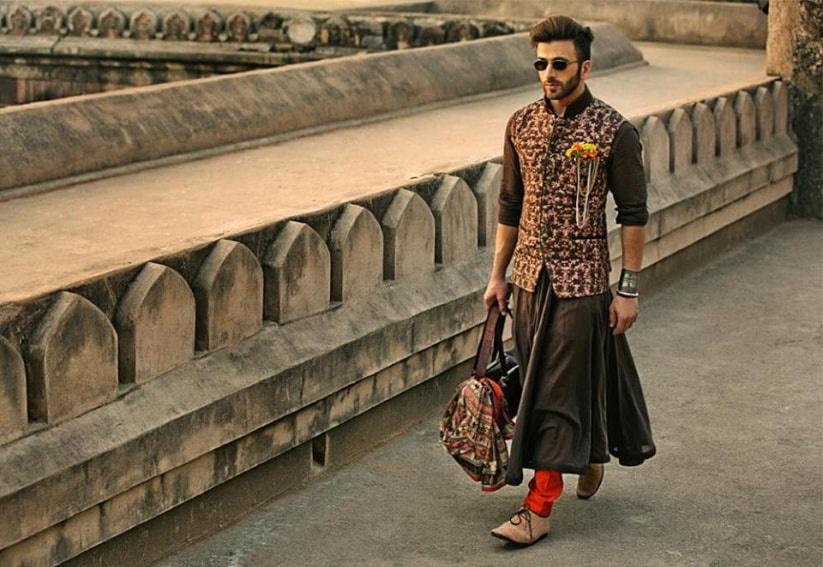 Jodhpuri suits look a lot like a western suit. With its narrow sleeves, mandarin collar and detailing over the shirt, it has quickly become another go-to attire for the grooms. Get a tailor-fit Jodhpuri Indo-western suits to have narrow full-length sleeves and contrasting narrow-bottom pants.
A lot of grooms prefer them over traditional or Indo-western sherwani as they are easy to match with a variety of elegant bridal lehenga designs. The grooms who are not much into traditional clothing will enjoy the comfort it offers. This is one of the most stunning Indo-western for menswear.
5. Nehru Jacket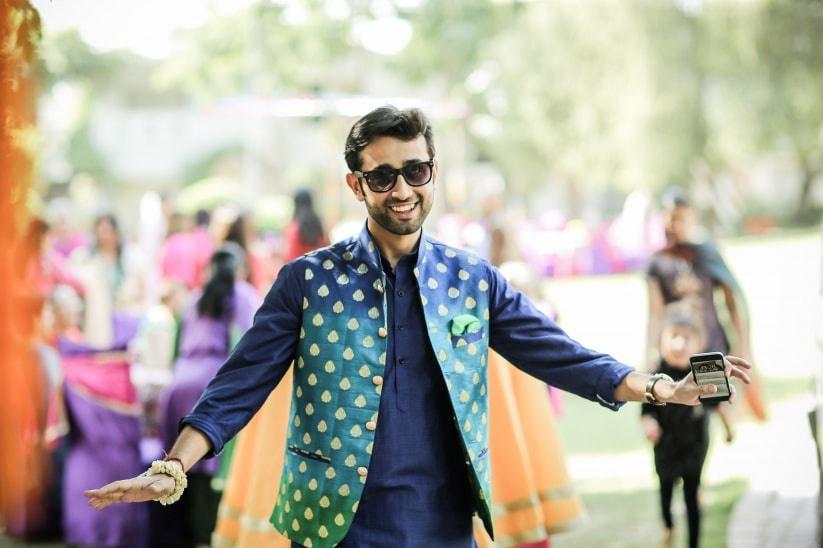 With the arrival of period drama films in the Bollywood, the style statement for Indian men has also changed. Wearing a long kurta over Patiala salwar is traditional wear for all the Punjabi grooms but wearing a fancy jacket over the same gives it a royal touch.
This can be a perfect Indo-western for men attire for a Haldi or Sangeet ceremony.
6. Royal Sherwani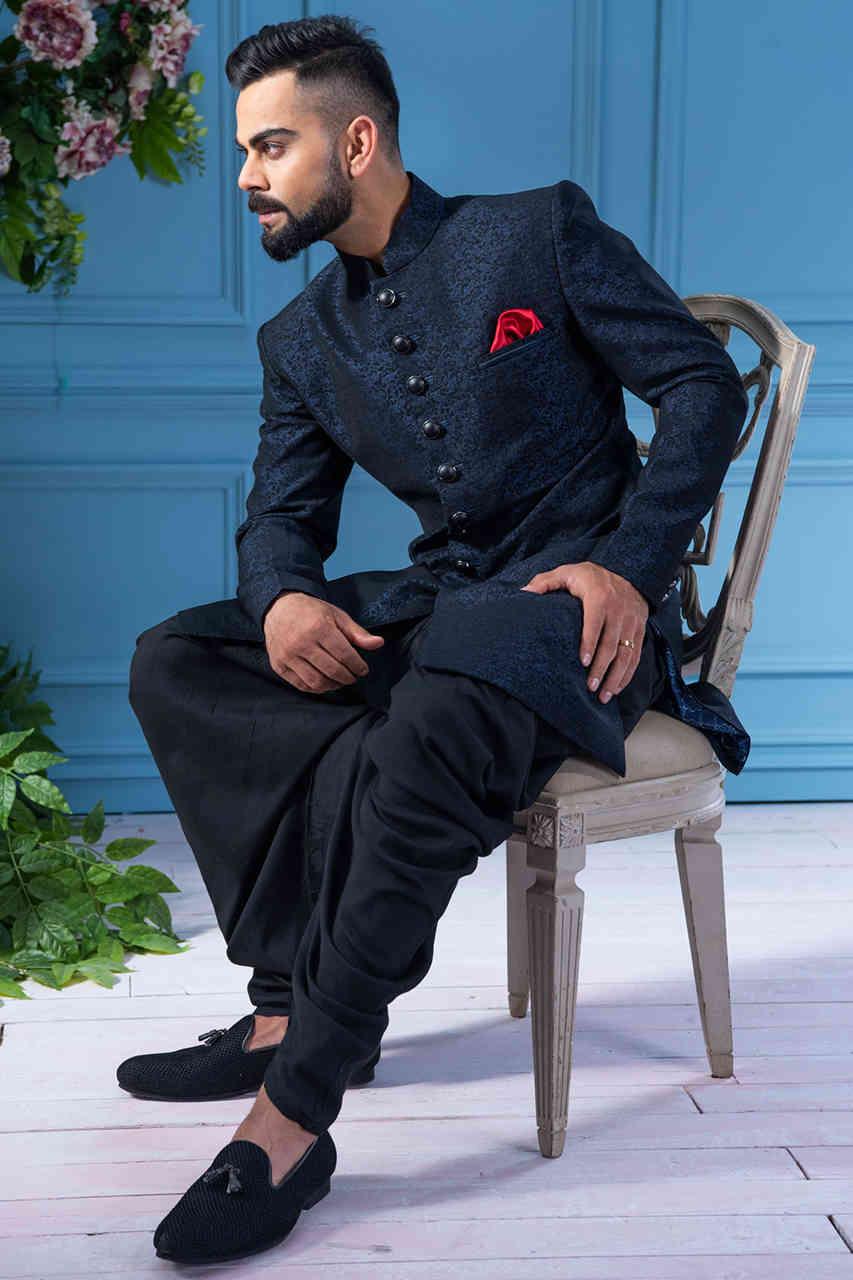 Indian weddings are famous for glitter, glimmer and royalty. A wedding is a one-time event when the bride and groom are made to feel like a king and a queen. So to bring that picture to life, the groom can go for a royal sherwani. It has churidar salwar, a kurta or Angarkha with heavy embroidery and a heavy dupatta matching the colour of bottoms.
This Indo-western for men's attire looks perfect on every groom. You too can take some inspiration from this Indo-western menswear and curate your own piece of clothing.
7. Sherwani with embroidered Trousers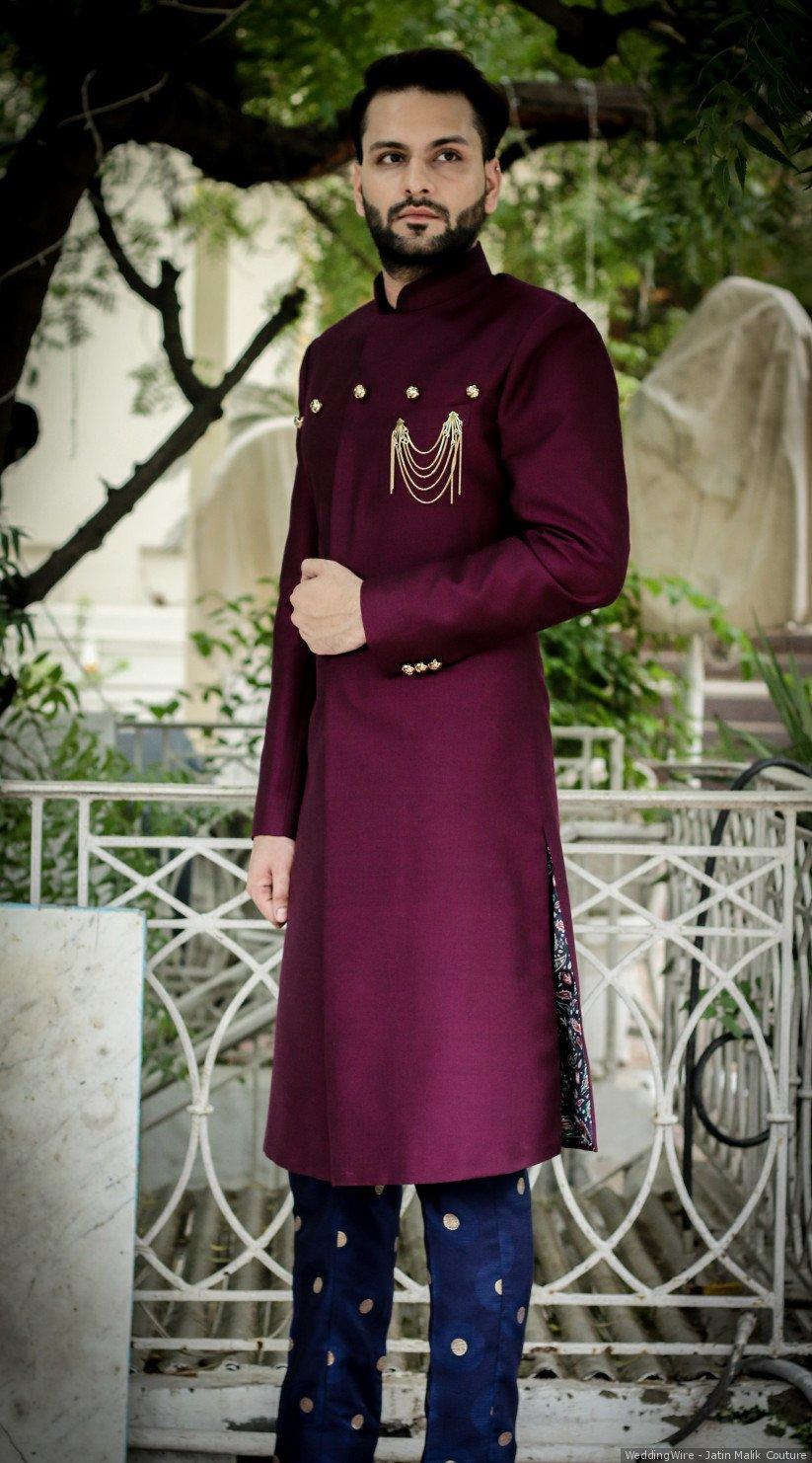 Have you ever thought of pairing a sherwani with trousers? This dapper attire can be pulled off with ease by any groom. To match the grace of the sherwani, the trousers with it are embroidered but not in an attention-mongering fashion. They just subtly enhance the look of the whole ensemble.
Addition of accessories has also been quite strategic so that it adds a certain amount of bling in a classic and understated manner. You can go for a similar look in Indo-western for men outfits when heading out for wedding shopping.
8. Asymmetrical Angrakha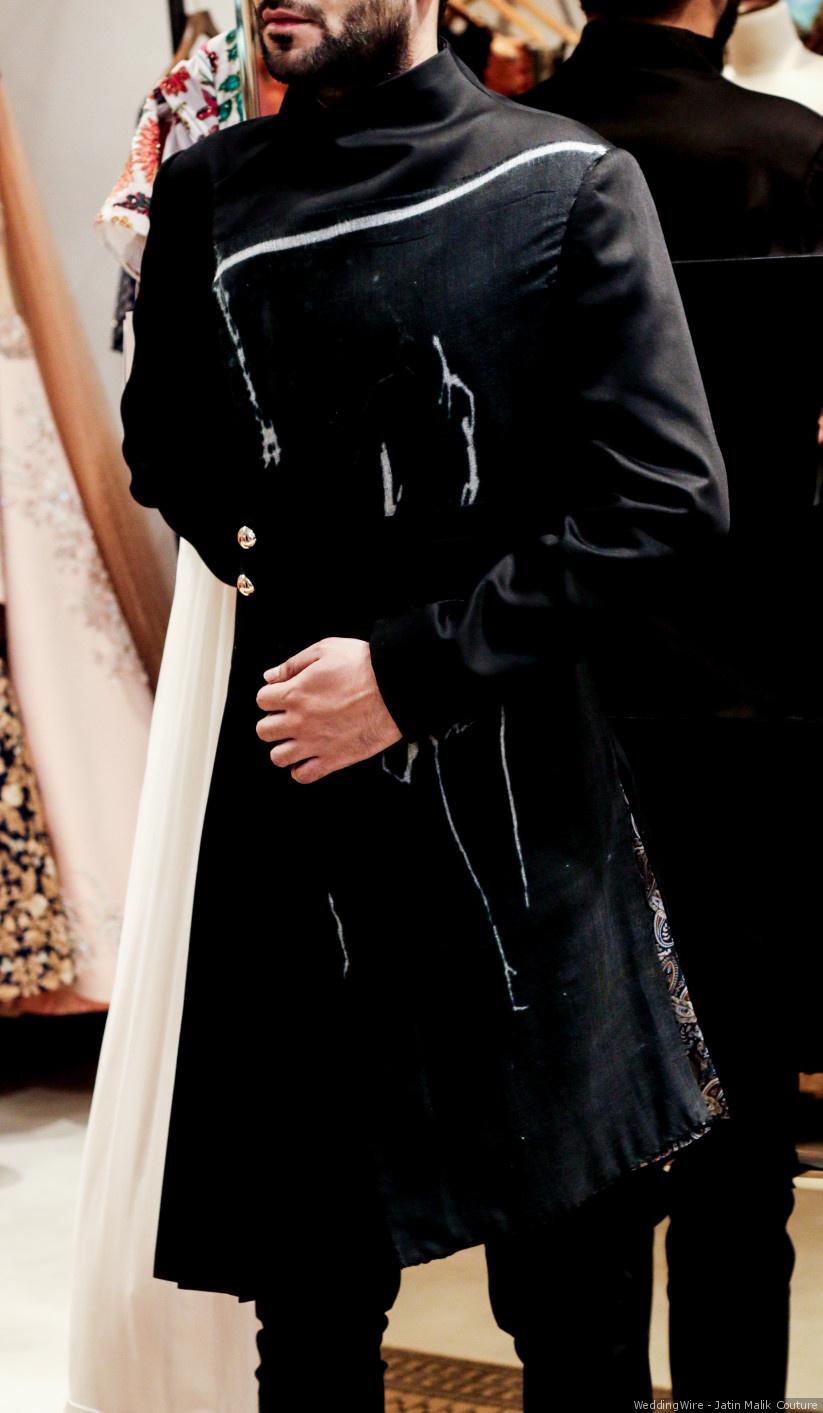 From Jodha Akbar to Padmavat, we've seen an Angrakha on the screen a number of times. But giving it a new spin by reducing the flare and styling it with an asymmetrical cut gives it an Indo-western for men outfits appeal. Flaunt this on your Sangeet night or for the reception. Any groom in this smart attire is bound to look handsome.
The marble-looking detailing gives it an edgy look that will suit your bride's Indo-western outfit choice. You won't need to carry a Dupatta with this one as it does not require one.
Top it off with Accessories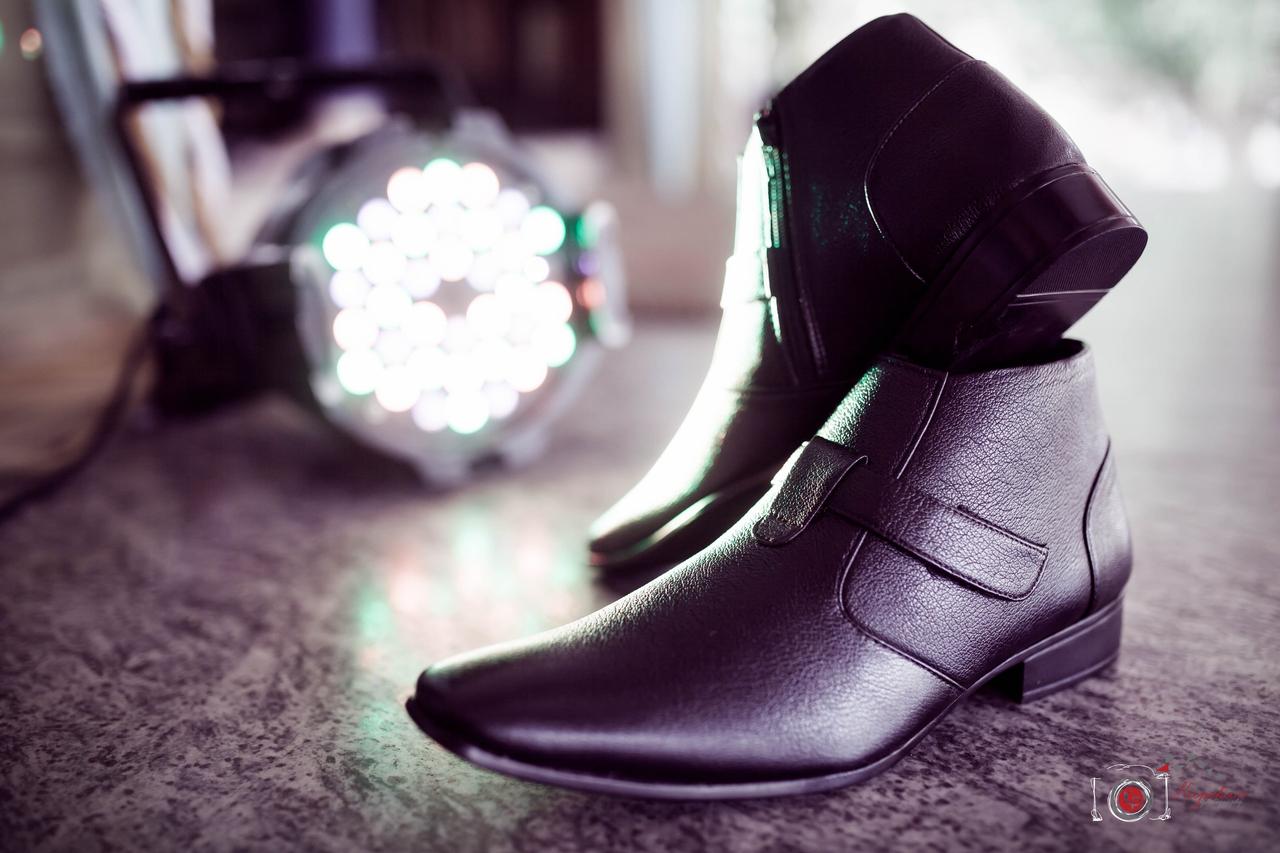 Image courtesy: Kapchur Photography
Indian grooms tend to neglect the accessories when it comes to dressing for their wedding. With Indo-western for men's outfits, you have plenty of options that can enhance your looks. You can wear a brooch over a plain kurta, the men's Juttis called Mojadi, with Patiala and a jacket, and a fancy headgear, Pagdi or Safa, that matches your Indo-western sherwani.
You too can take inspiration from this Indo-western for men collection and accessorise it to amp your own look. Remember to blend in elements that bring about the whole ensemble's elegance and make you look as handsome as ever.
We hope now you have a broader sense of what all you can do to amp up your wedding avatar and look like the groom of the twenty-first century who is a trendsetter groom. The idea is that you surf your options way prior to your wedding day and opt for styles that you are most comfortable sporting. The idea is to be comfortable in your own skin. And, ensure when you go shopping to find some stunning and statement-worthy accessories to add glamour to your groom avatar, you take your wedding outfit with you. A little mismatch and the whole look will fall apart! Keep in mind these pointers and also this dapper Indo-western mens collection before you hit those designer stores to curate your wedding wardrobe that will give everyone else a run for their money.
Take a new approach to your wedding attire with Indo-western men's wear. Pair your Indo-western sherwani with the right accessories and look royal on the biggest day of your life. Even your bride will appreciate if you match your Indo-western suit with her wedding sarees which will give you some spectacular wedding photographs.
What kind of an outfit did you wear? Tell us through the comments!