19+ Latest Wedding Safa Trends for Dapper Grooms
Wedding Safa trends for grooms are popular, making waves with modern-age grooms embracing them in beautiful colours, patterns and designs. Check out our list of amazing wedding safas you can choose for your festivities!
Your wedding is the day when you wish to look the best. It's not only the brides who are trying to make inspirational fashion statements; millennial grooms are also not far behind. They make great wedding trends by not shying away from experimenting with popular fashion ideas, colourful patterns and eye-catching designs. An important part of the groom's attire is the wedding safa that is wrapped around the head, symbolising respect. But who said you couldn't make your wedding look a notch higher by choosing head-turning wedding safa designs?
The wedding industry isn't booming for brides alone. Groom fashion has upgraded the style quotient with stellar accessories, couture and footwear options. The wedding safa has garnered the much-needed attention of our dapper grooms, who have unflinchingly sported the Pagri with élan and confidence. Safas are definitely one of the most important elements of a family's wedding tradition but you can now complement them with your overall wedding look. Whether you're tying the knot this year or your BFF is, here are some inspiration-worthy safa designs for millennial grooms that will lure you into wearing one.
Irrespective of your sherwani, you can play cool with contrasting hues, metallic silhouettes, or Kalgi embellished Safas for grooms that are absolutely worth drooling for. The latest trend of stunning wedding safas designs is extremely popular amongst Indian grooms, and here are some popular trends to unleash the dapper groom in you.
Monotone Safa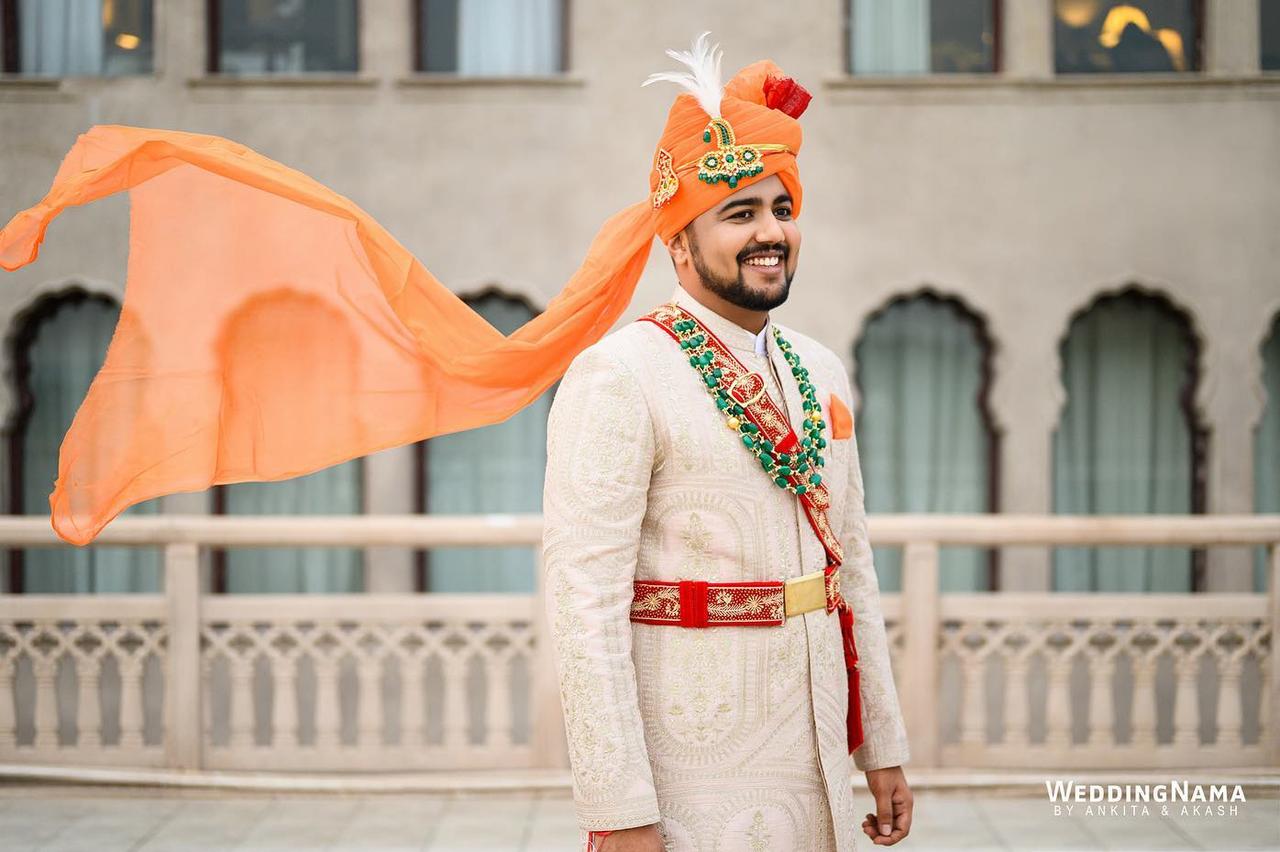 You can never go wrong with the solid colours that look brilliant when paired in contrast with your embroidered or printed wedding sherwani, especially white sherwani styles. Choose a gorgeous feathered sarpech for your wedding safa in bold colours and accessories to ensure you resemble nothing less than royalty. Monotone wedding safas look classy in all shades while a little bling can make the whole outfit more appealing.
Twisted Cotton Safa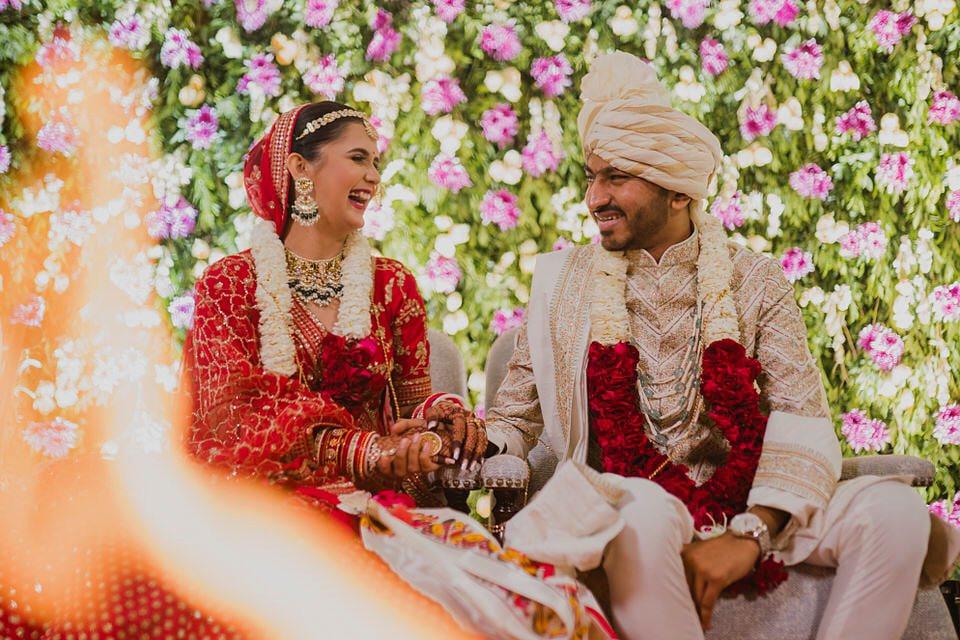 Whether you are choosing a plain colour for your wedding safa or a dual-tone beauty, a twisted cotton design will give it an edge. This dapper wedding safa design complements all wedding sherwani patterns and colours. So you can choose it without any doubt.
Plain Pastel Wedding Safa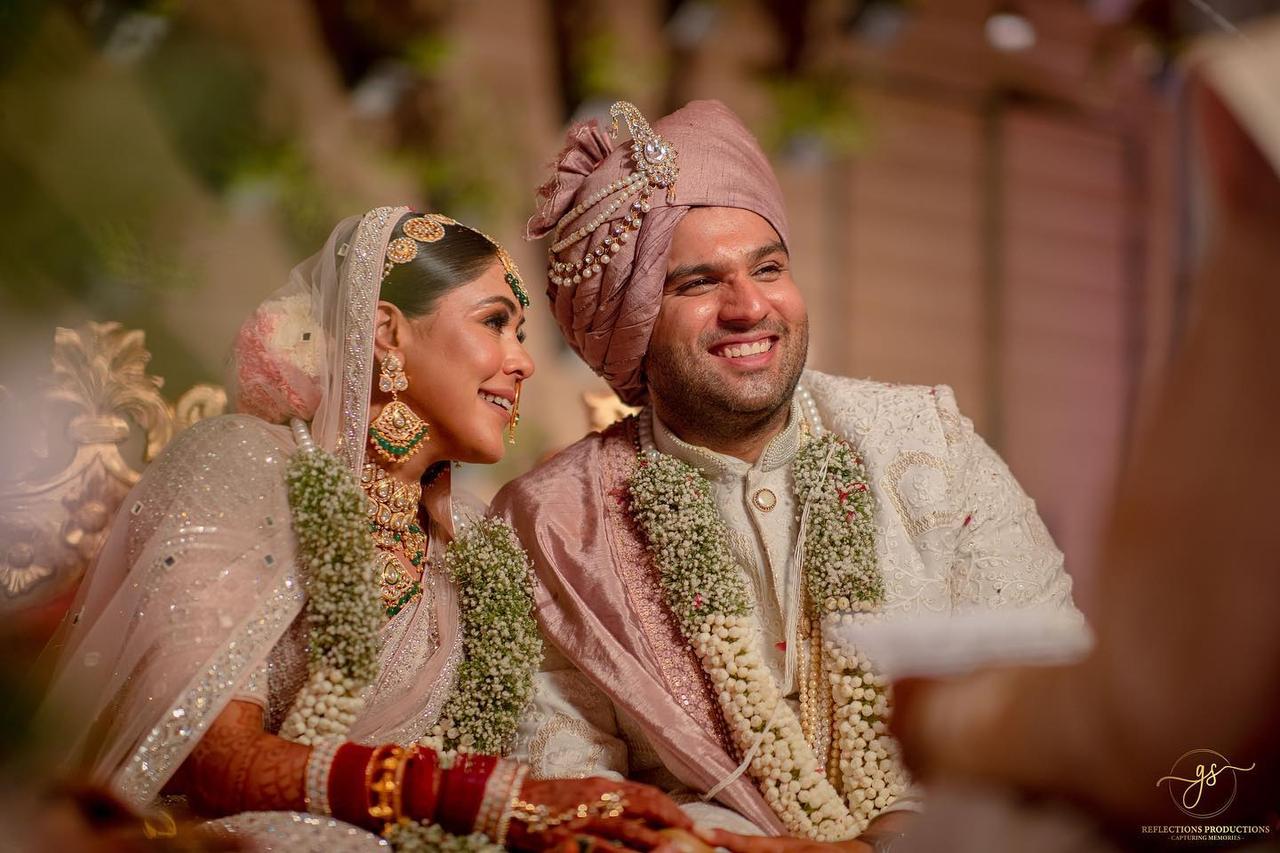 Want to look your suave self in trending pastel shades for your wedding day? Choose your wedding safa in beautiful, eye-pleasing light pastel shades, and be assured that it will create a lasting impression on your bride and all the guests. Whether you are looking for shades of blue sherwani or a powder pink to sync with your bride, a pastel wedding safa for the millennial groom can never go wrong.
Leheriya Wedding Safa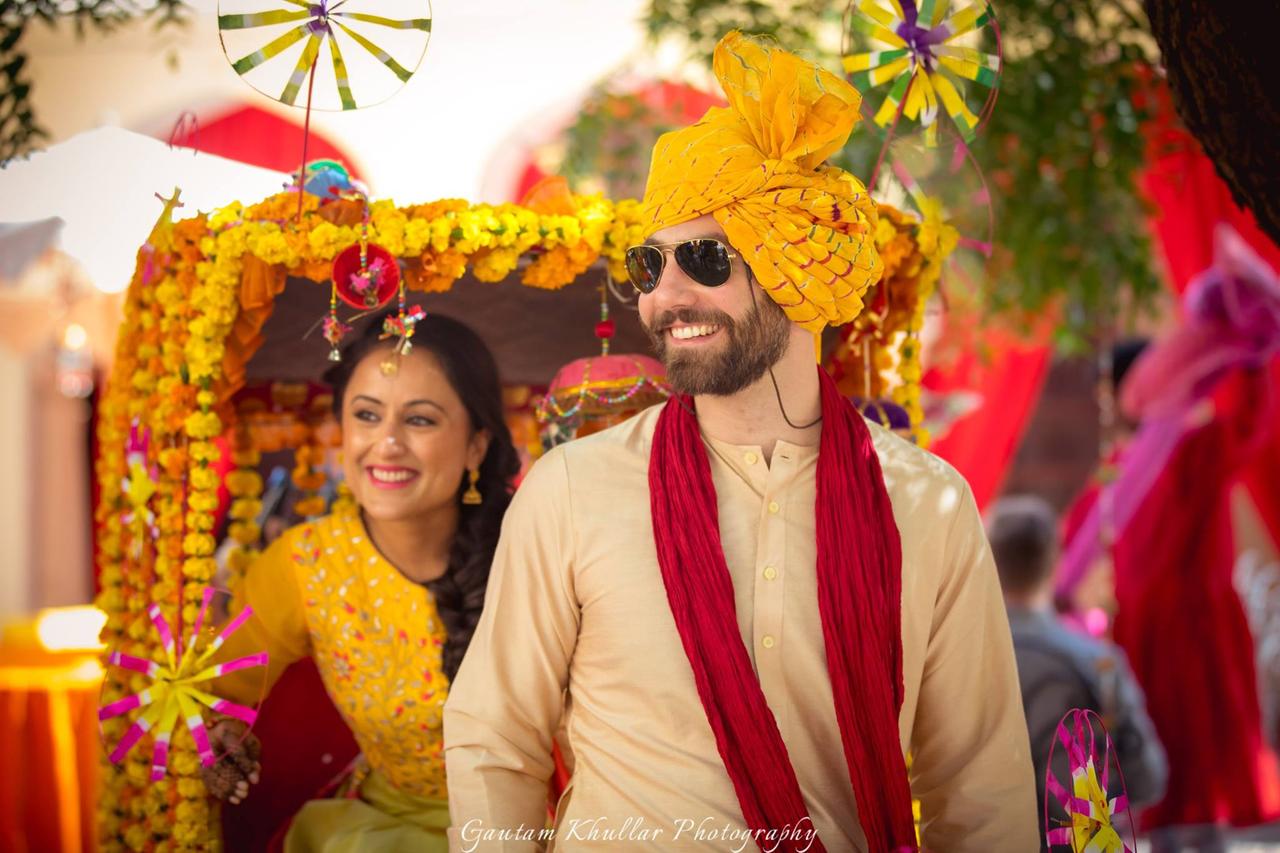 Imbibe happy and bright colours to your wedding ceremonies by choosing a wedding safa in stunning Leheriya print. Perfect for grooms who like to experiment with their looks, the Leheriya wedding safa will instantly add a pop of colour to any dull or plain outfit. They are very much in trend and look absolutely fashionable for wedding festivities.
Batik Print Wedding Safa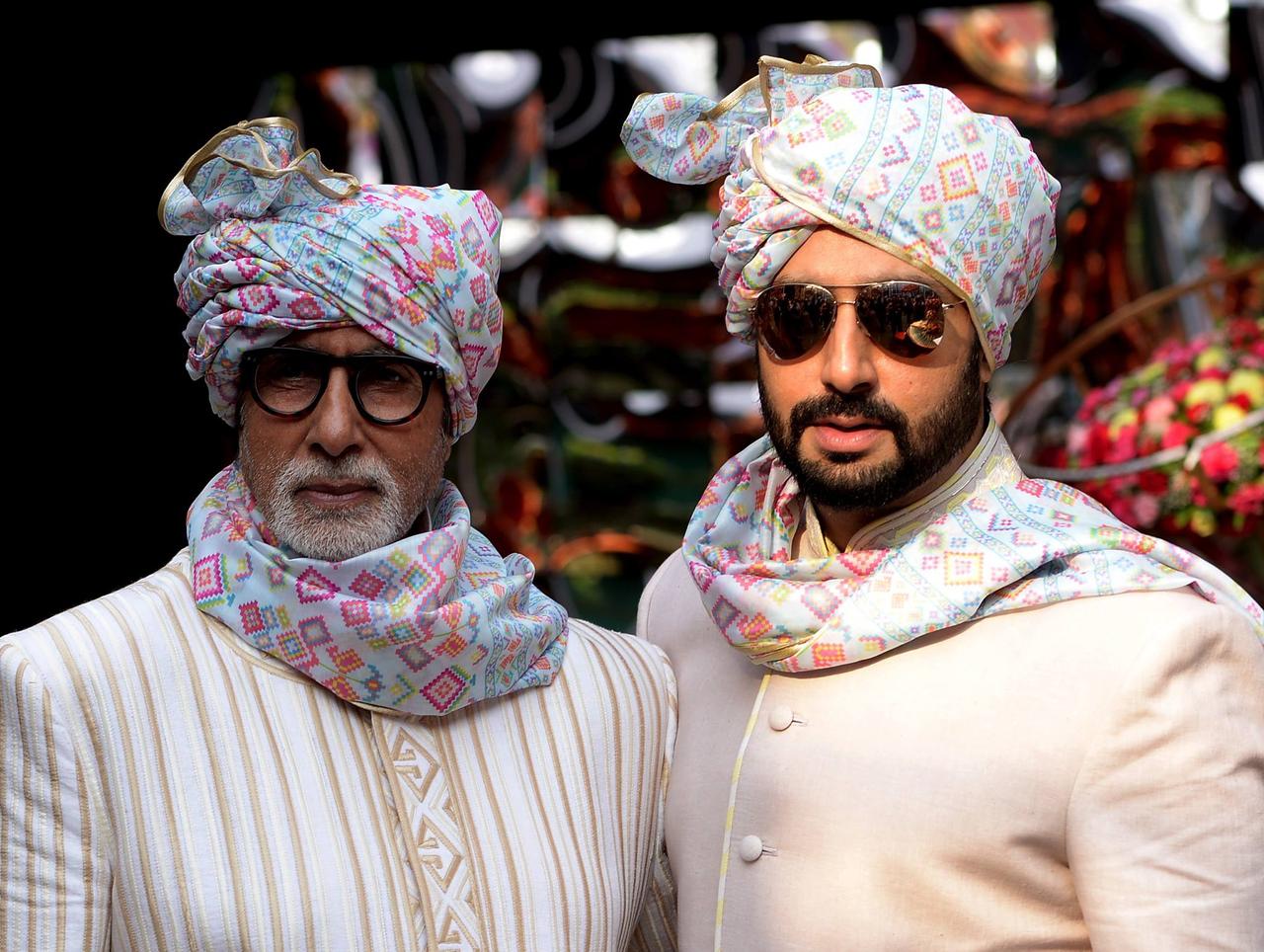 Image Courtesy - Quirkbox
A groom's attire is incomplete without the wedding safa, and if you want something quirky and out-of-the-box to add to your wedding sherwani, one store that you should definitely add to your wedding shopping list is the Quirkbox. They provide you with amazing and trendy wedding safa designs that stray away from the mundane groom sehras. Just like the Bacchans wore these Gujarati Patola-inspired wedding safas to a wedding by the Quirkbox, all of their designs are eccentric and beautiful.
Floral Kota Safa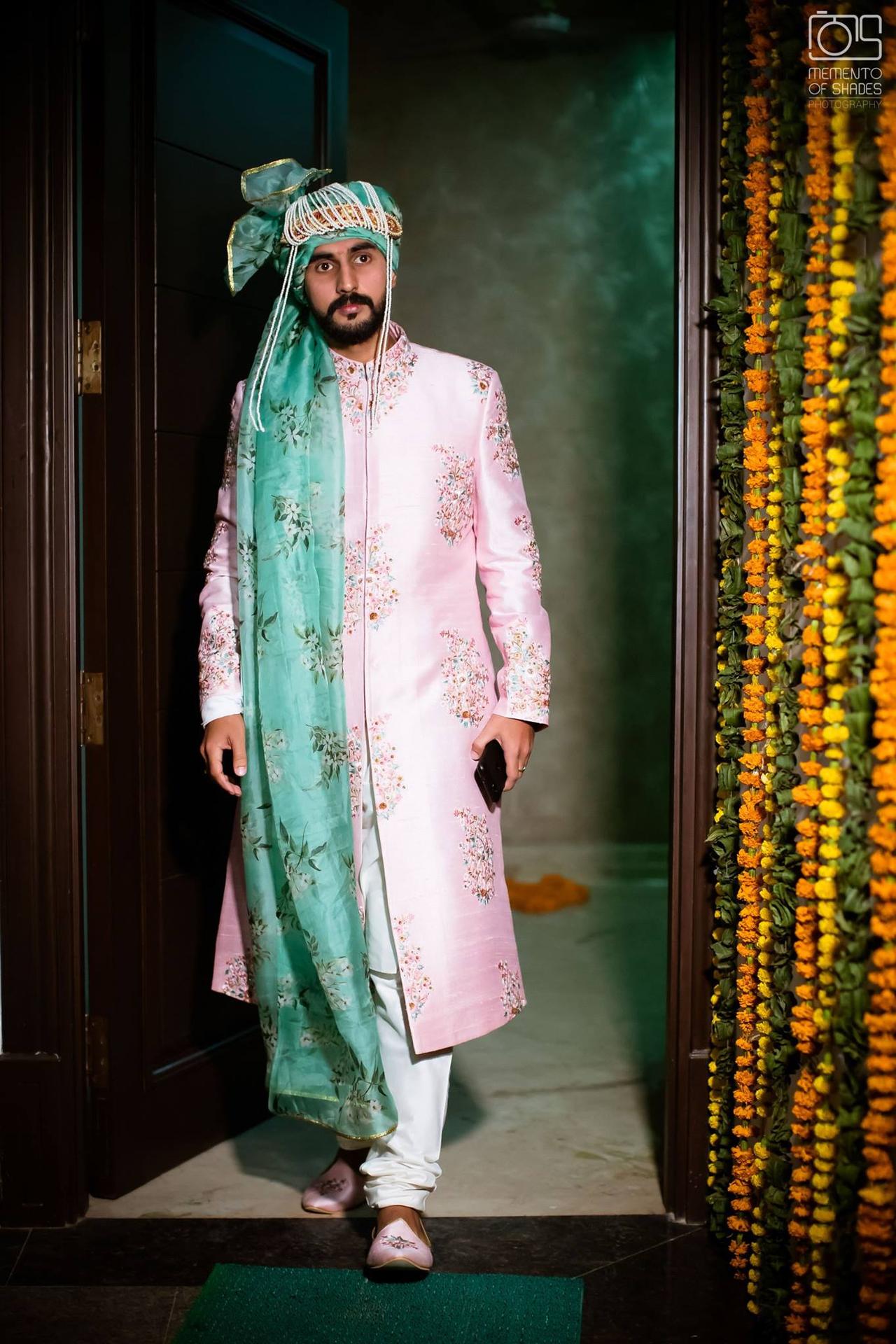 Image Courtesy - Moments of Shades Photography
Whether it's classy floral jackets for the groom or a beautiful floral wedding safa, the pattern is all the rage for millennial couples. Not only do they look dreamy, but are a popular choice for the new-age groom and brides alike. Perfect for your summer wedding, a floral wedding safa in contrast with your sherwani will look absolutely breathtaking.
Multicoloured Wedding Safa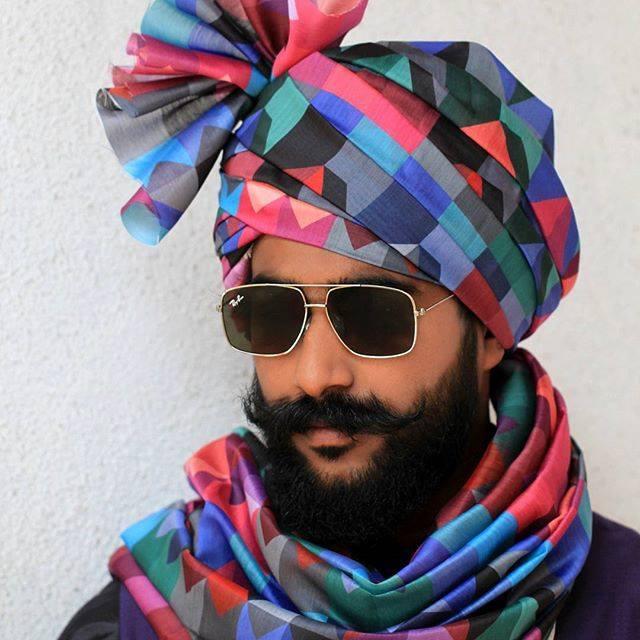 Image Courtesy - Quirkbox
Are you not able to choose a single shade for your wedding safa? Why not choose all of them? For the millennial grooms who want something different for their wedding day or any of its related ceremonies, you can definitely try a multicoloured wedding safa paired with a solid sherwani or an indo-western attire. Not only you will be creating a chic fashion statement but also leaving everyone around you in awe.
Elegant White Safa for Groom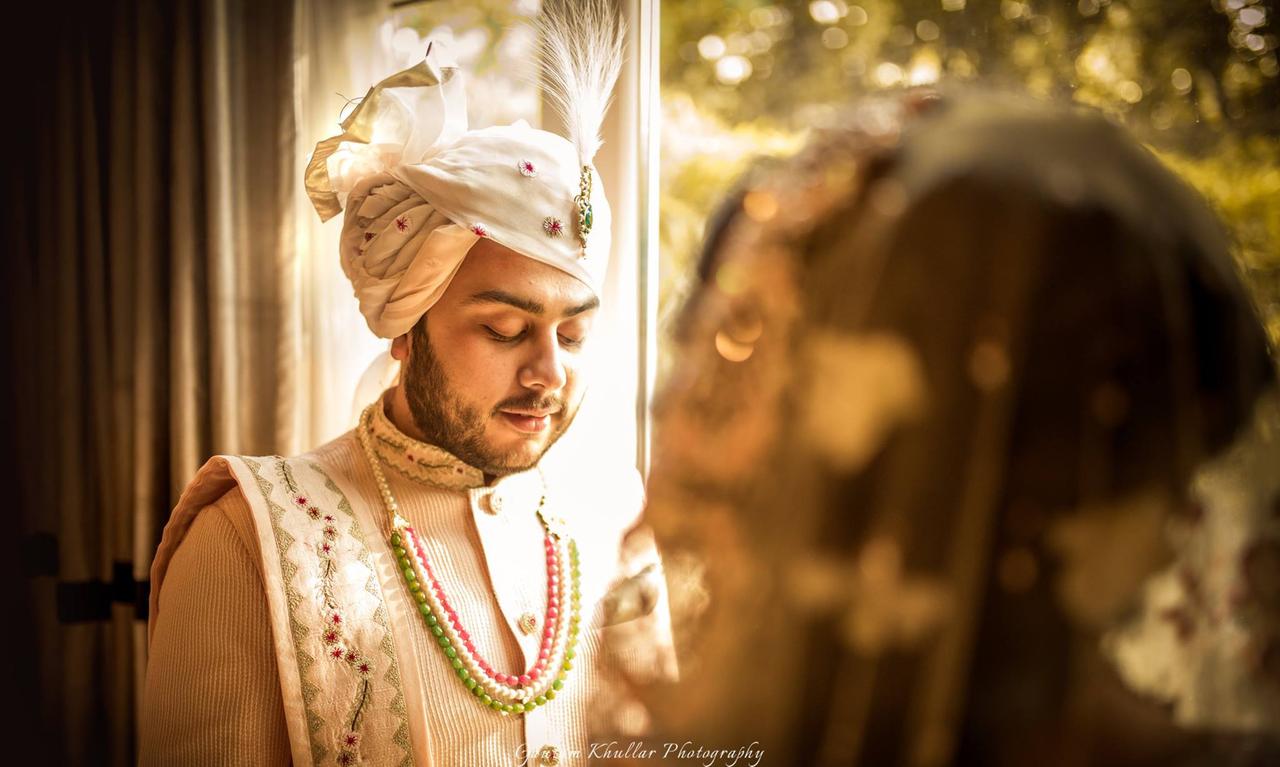 If you are the groom who wants to look classy and elegant for your big day ceremonies, why not choose a beautiful and stylish white wedding safa? It's a classic choice that looks evergreen and perfect for your daytime weddings. You can choose a similar shade of sherwani and accessorise in contrasting colours to complete your wedding look.
Brocade Wedding Safa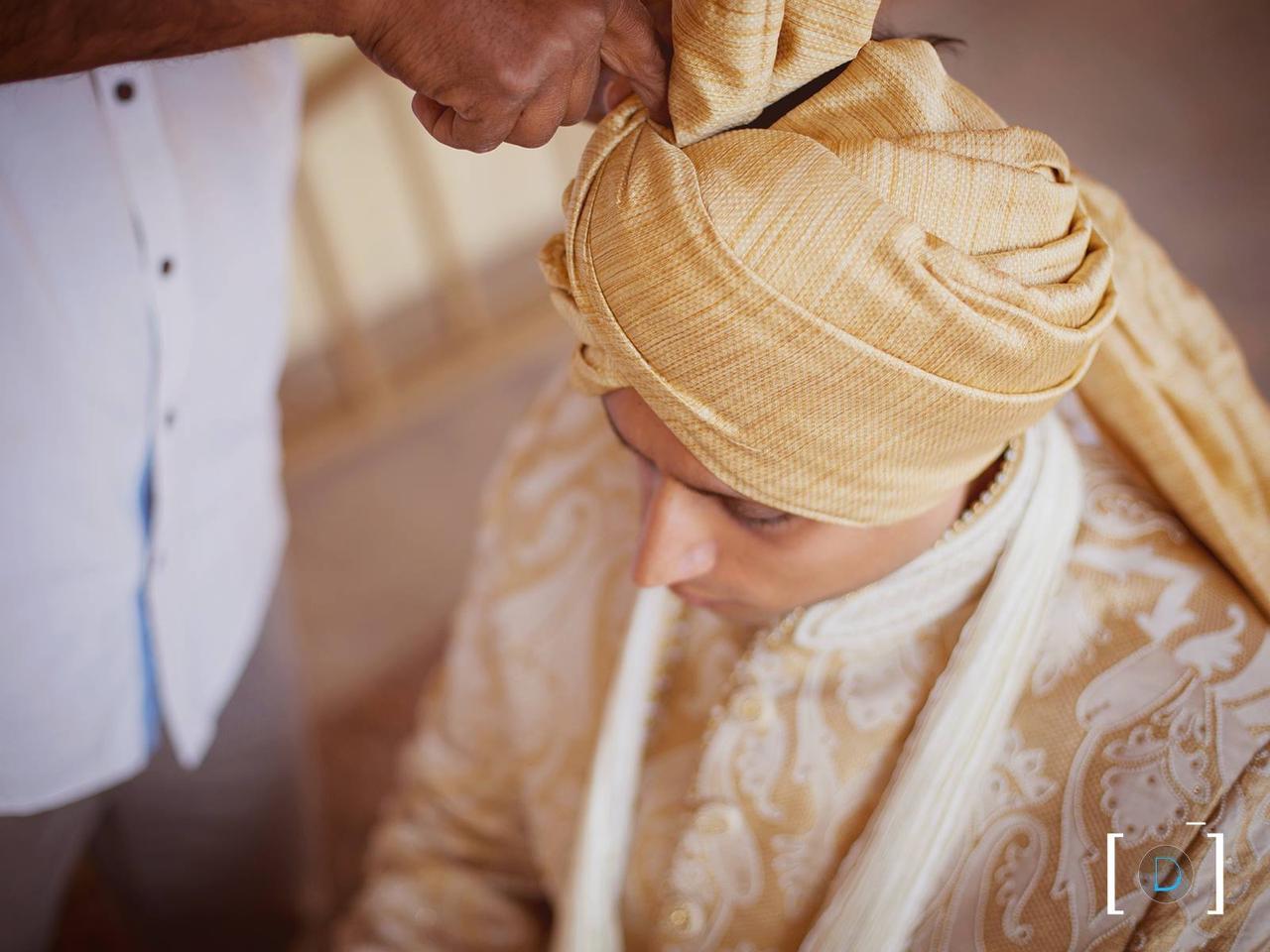 If you wish to exude a royal aura for your wedding, the perfect choice of wedding safa for you has to be brocade or zari one. This quintessential design bears the symbol of prosperity and looks stunning for a wedding celebration.
Metallic Safa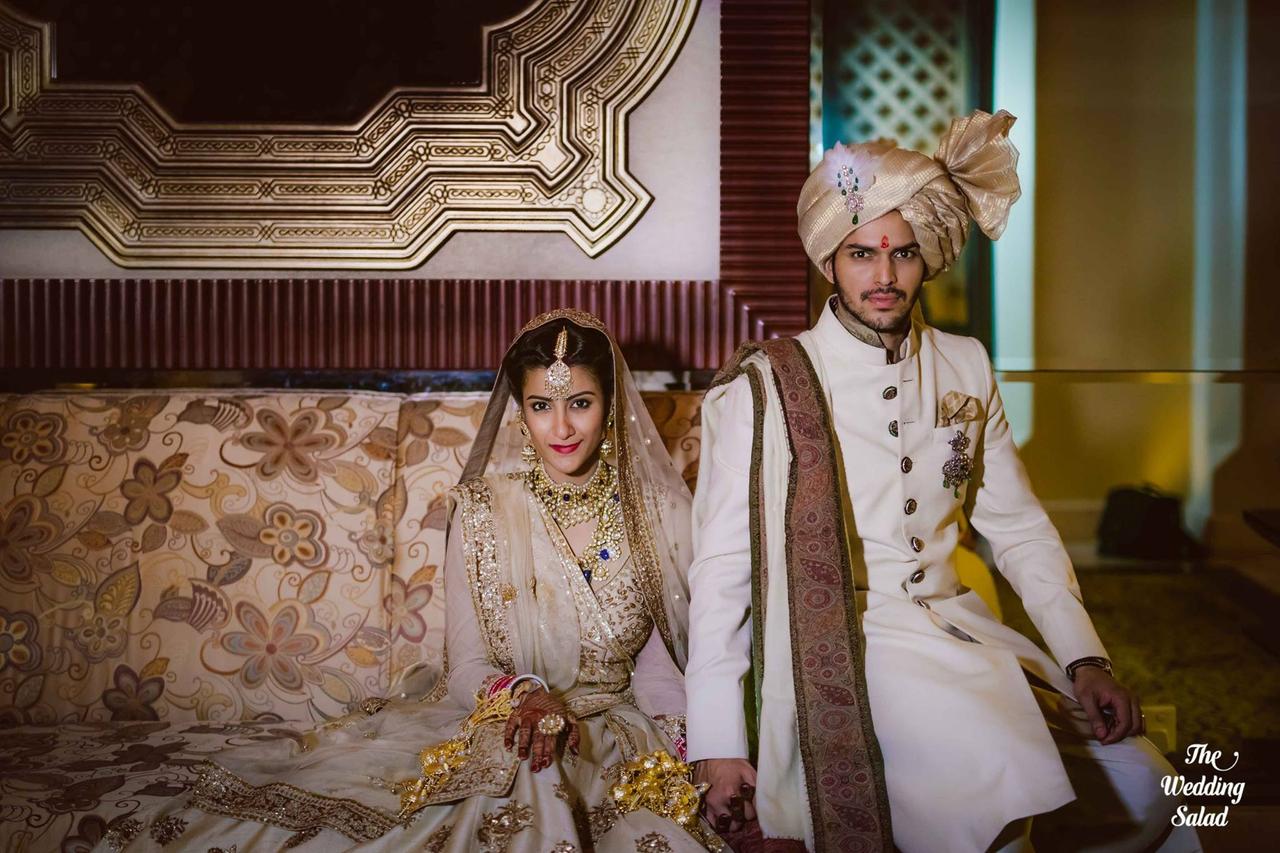 Be an epitome of elegance by choosing your wedding safa in metallic shades and look your most dapper self. Strike a balance with your plain or solid coloured sherwani with a gorgeous wedding safa and sarpech and be the talk of the town.
Safa in Deeper Shades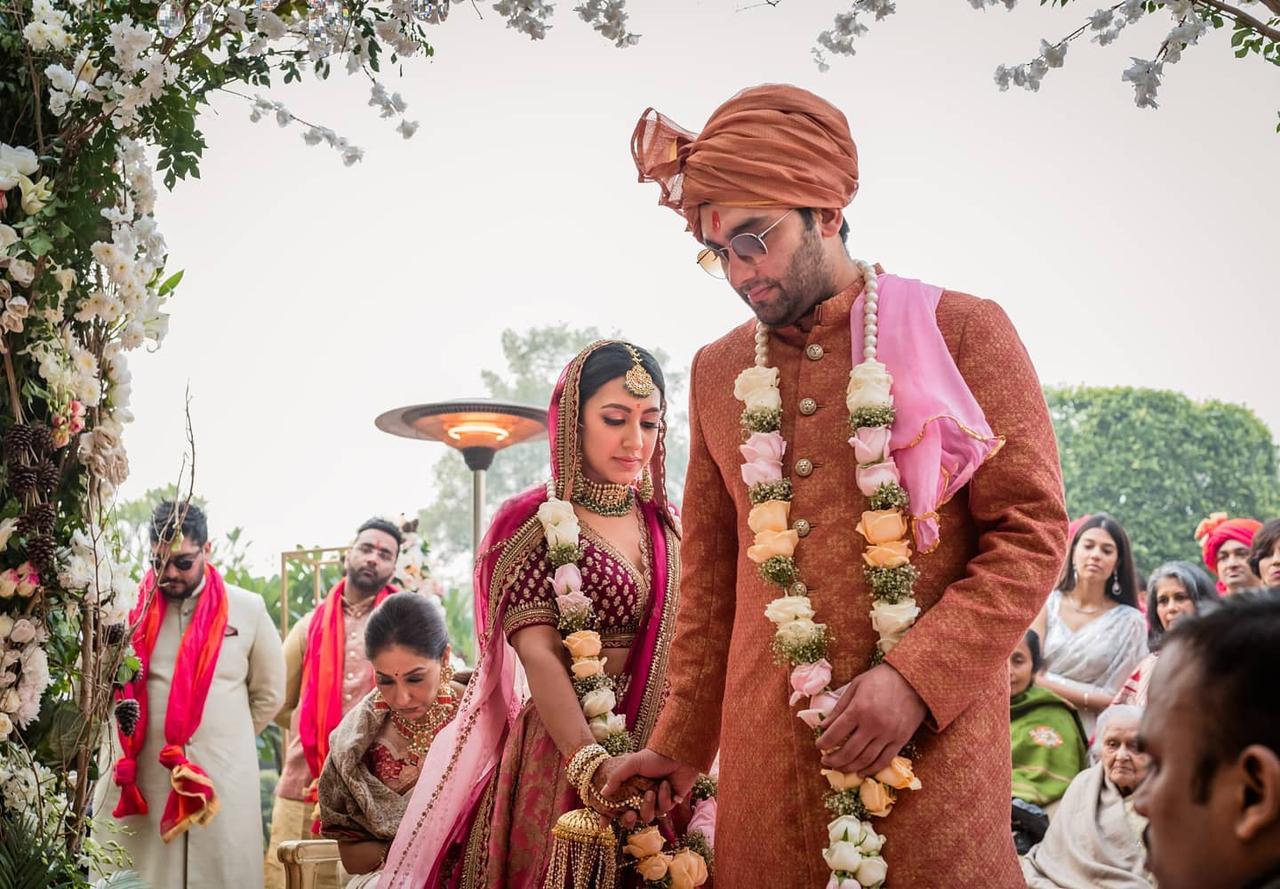 Image Courtesy - Memento of Shades Photography
Want a wedding safa design that is trendy and non-conventional for your wedding festivities? How about choosing deeper shades to look perfect in sync with your wedding sherwani? Be it an eye-catching forest green or a burnt saffron, wedding safas come in a multitude of colours and designs that you can choose for your big day.
Fine Print Floral Wedding Safa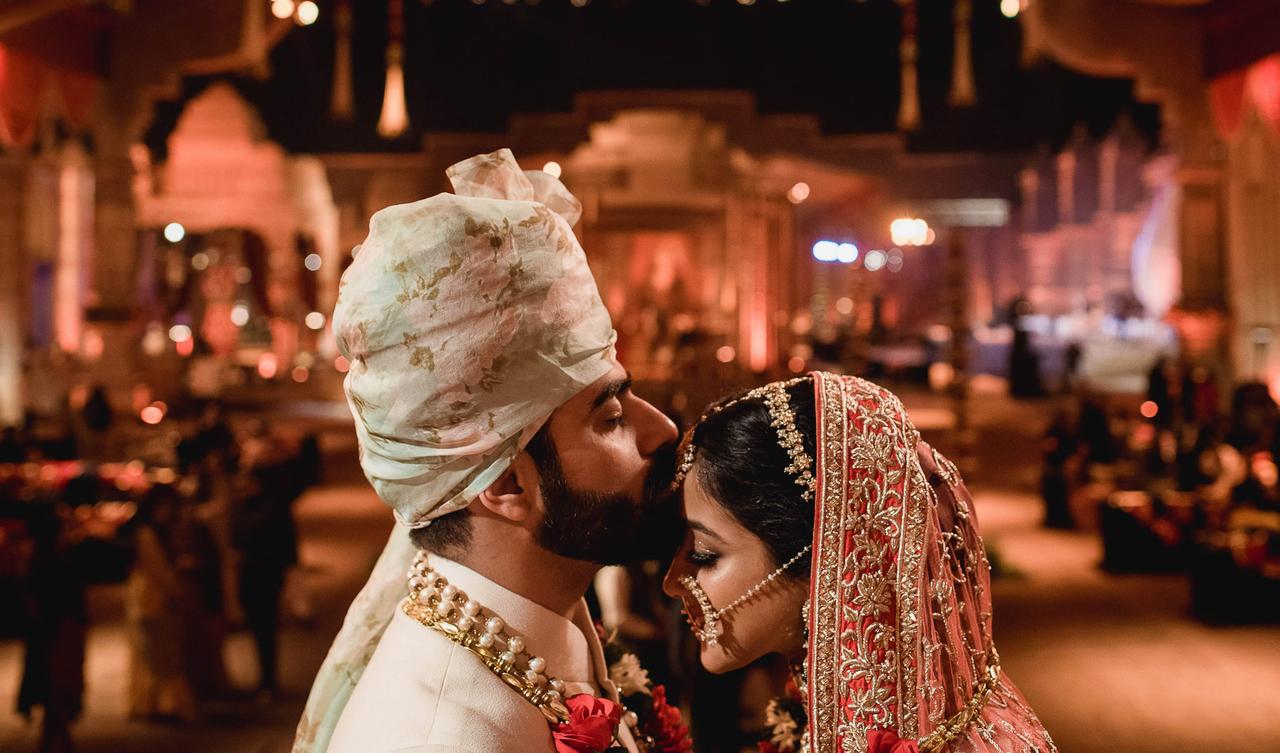 Image Courtesy: Stories by Joseph Radhik
Safe to say, floral safas which were introduced by the heartthrob designer Sabyasachi in 2016, are here to stay. Floral wedding safas are having a major moment, ever since the grooms and their wingmen sported the floral look with effortless suave and poise. Quirky florals or Chanderi embossed floral print, however sassy you want to go, make sure your wedding safa complements your personality and traits. Elevate your look further in a floral wedding sherwani and floral wedding safa to add a smooth spin to your traditional Indian groom's look.
Bandhani Safa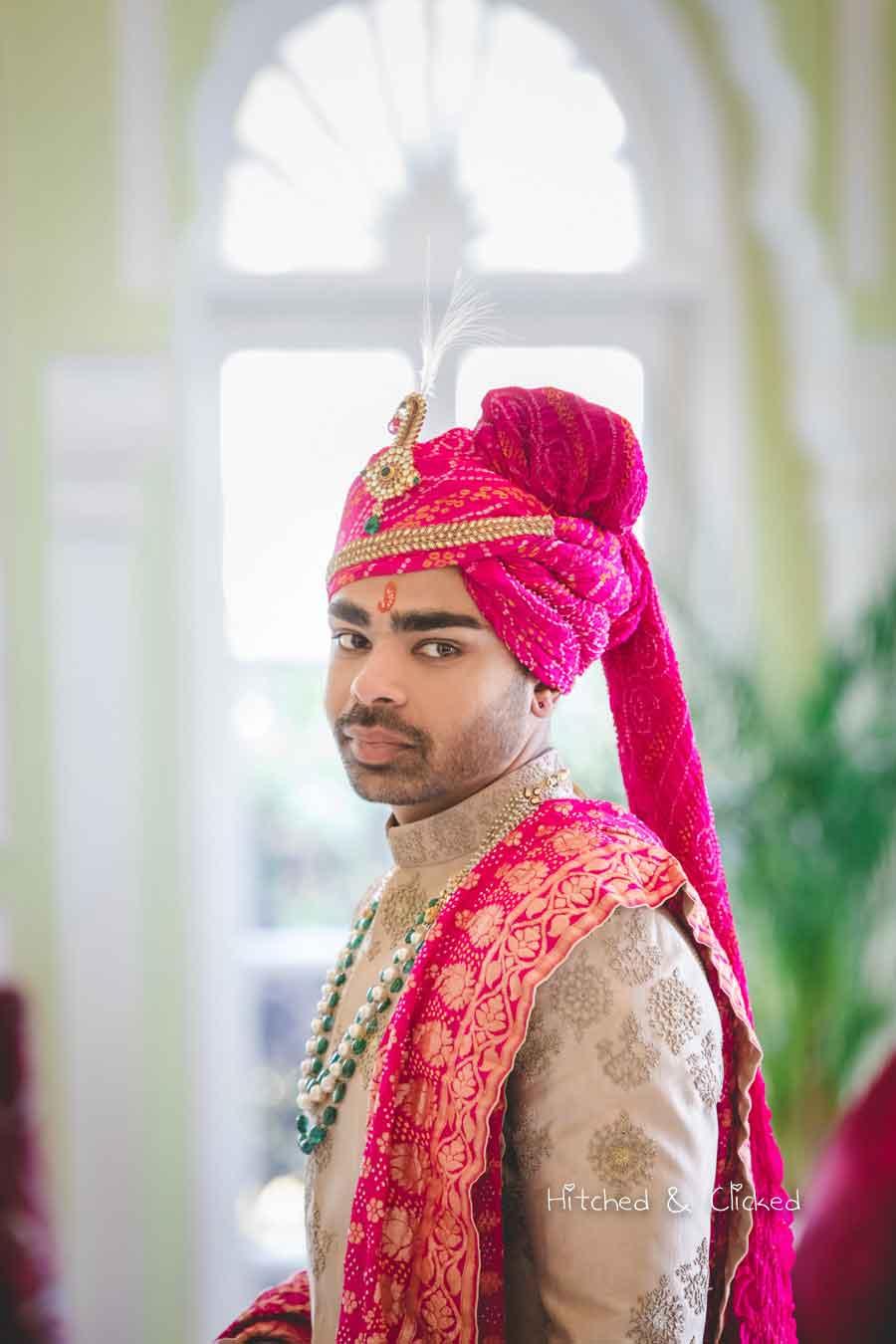 Curated by the artisans in Rajasthan, Bandhani prints are yet another vibrant splash of colours and foil silhouettes that can be easily draped in different styles. Light in fabric and extremely comfortable for the scorching sun, the Bandhani wedding safa qualifies to be every groom's BFF during a daytime wedding. Create a compelling contrast with neutral-coloured sherwani or couture paired with a bright and peppy Bandhani wedding safa. To give a more polished groom's look, Kalgi attached to the wedding safa will instantly enhance the royalty of the wearer.
Colour-Blocked Safa Design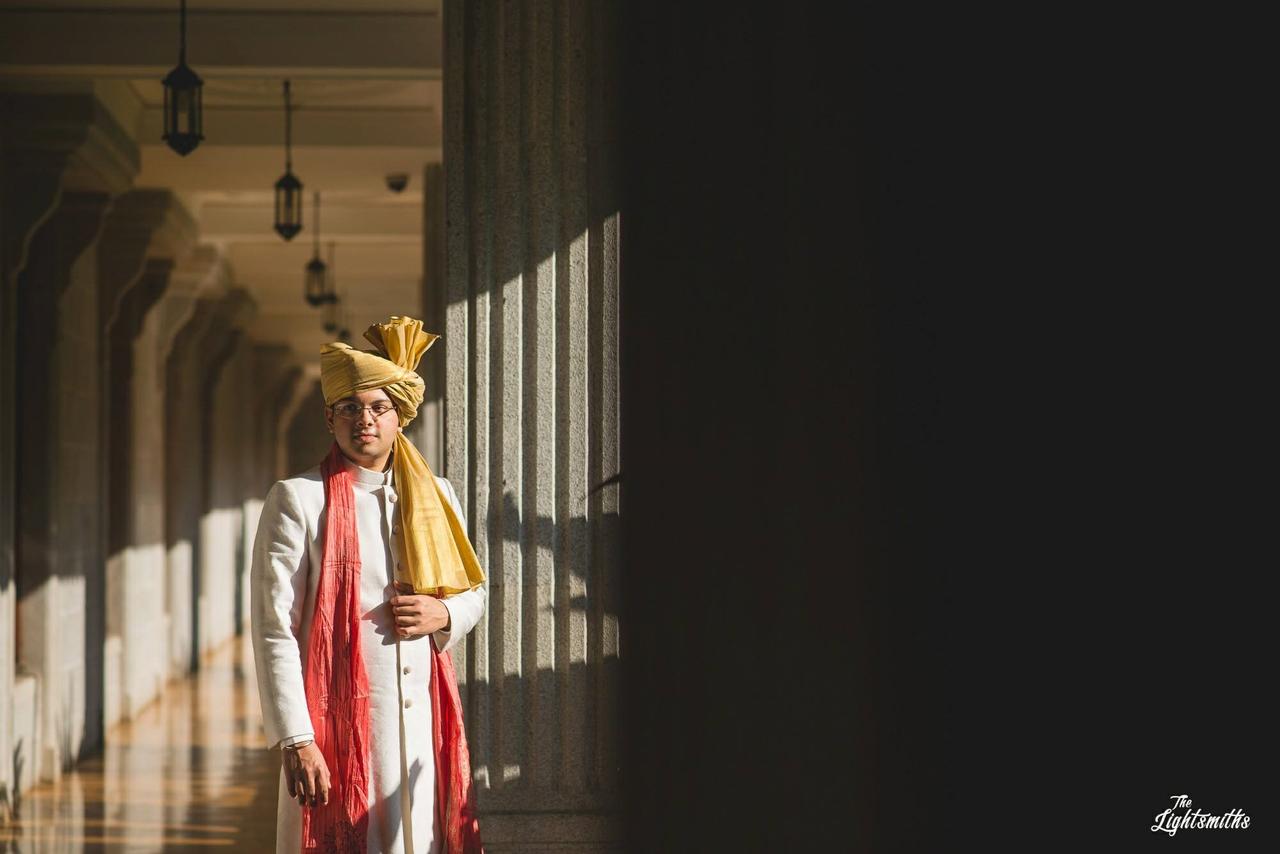 Mix and match to create a palette of fusion and indulge in a riot of colours for that EXTRA look. Move over conventional, groom sherwanis with flashy wedding turban styles for the Baraat (reception). Netizen grooms are way too cool and experimental and we're not surprised to find a myriad of colour block wedding safa looks. Safe to say, if you want to steal the spotlight on your D-Day, look no further than this uber-cool and game-changer trend, colour block wedding safas will uplift your look in no time.
The Classic Red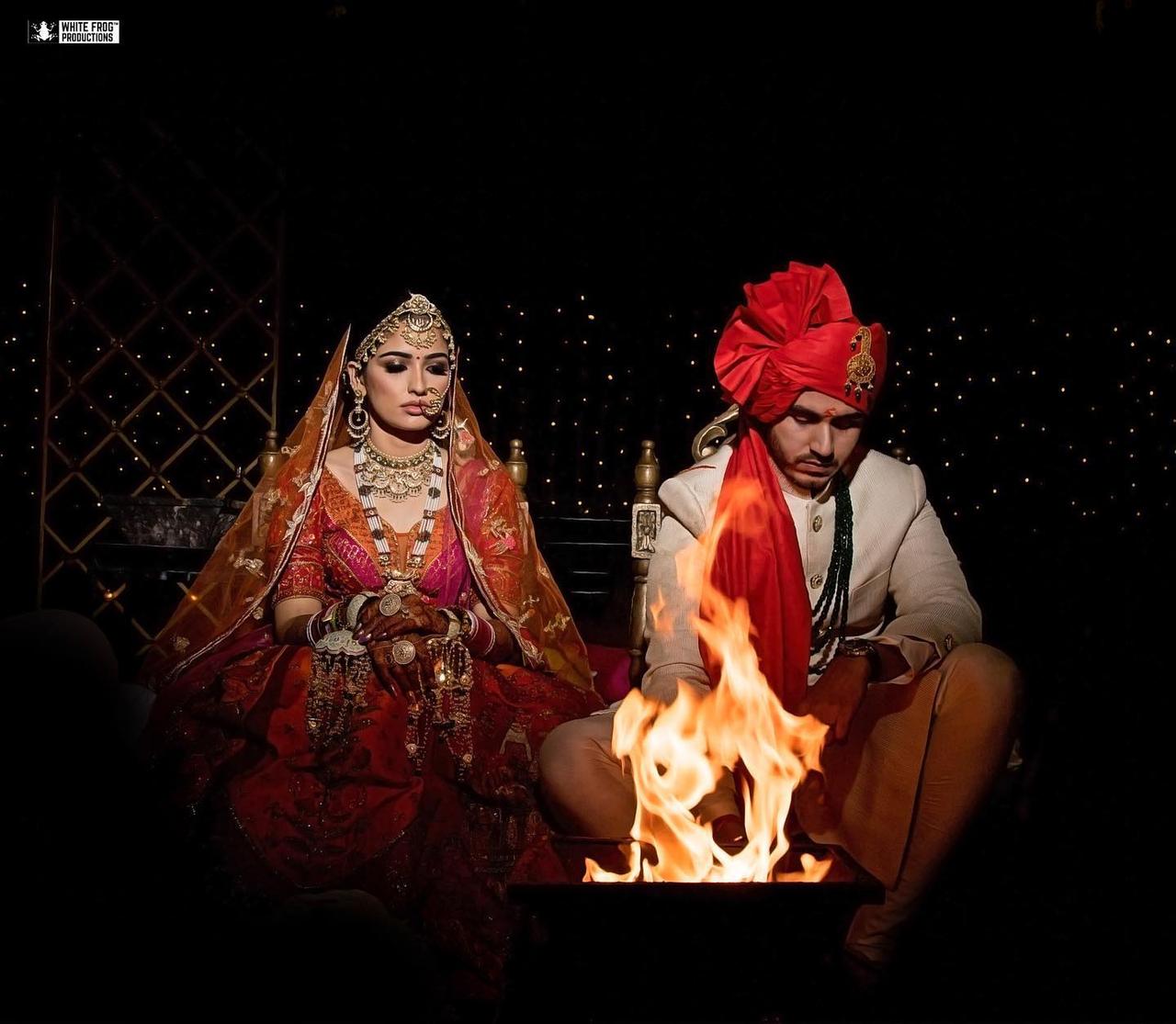 Nothing beats the beauty of a classic wedding safa on your D-Day while you make an enchanting wedding entry with your friends and family. Focus on the subtle nuanced hue of your Pagri and coordinate it with your wedding sherwani for a flamboyant look. Go for shades like gold, champagne, white, off-white or peach with a delicate gold border running through it to lend a touch of charm.
Silk Safa Route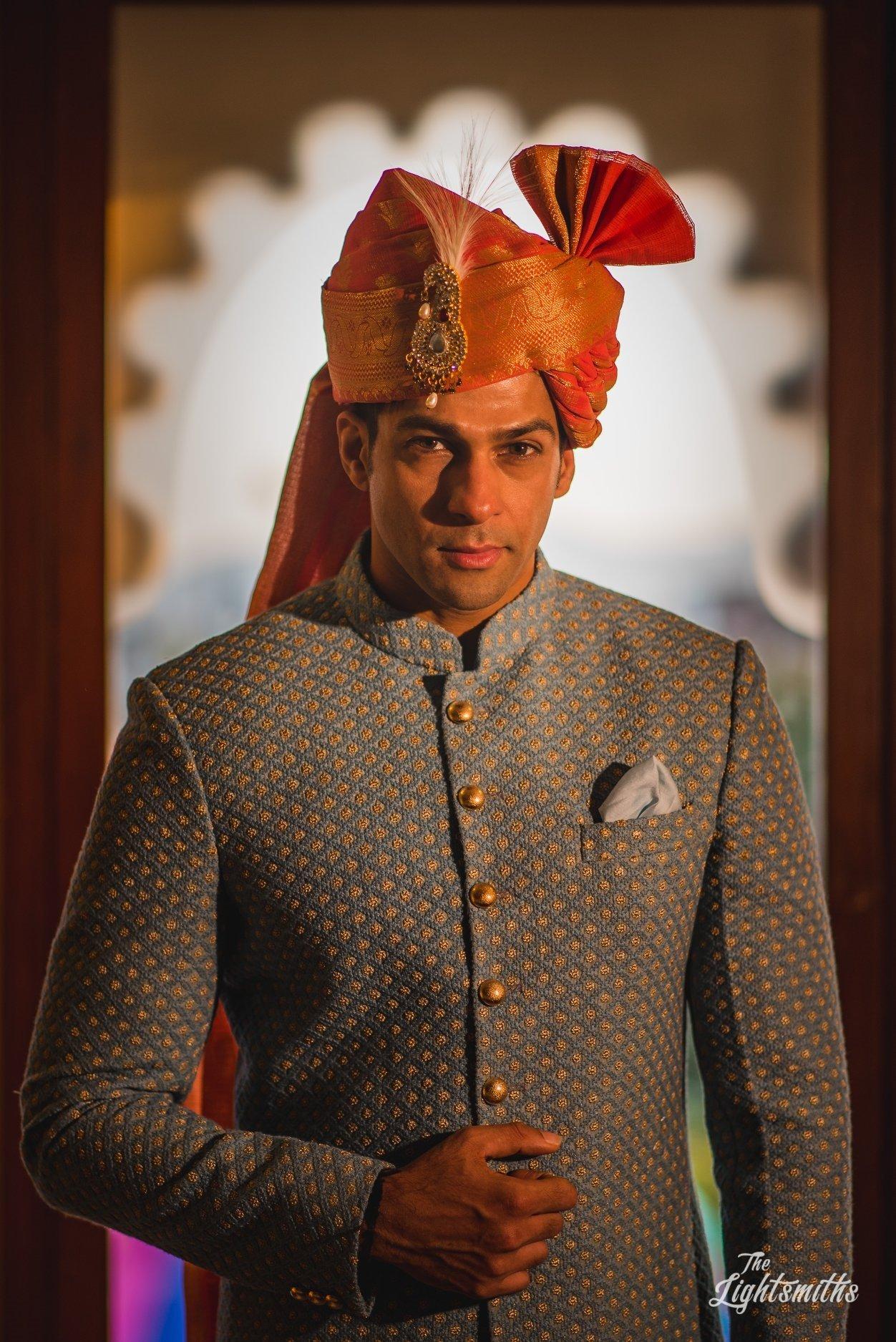 Some things in life are precious just like your love and the exclusivity of occasions like your D-Day. Celebrate them with a golden heart and experiment a little to look your dapper best. After all, they will be emboldened in an album frozen forever for life and you wouldn't want to look anything but ordinary. Couturiers like Sabyasachi launched a series of Silk Safa collections for modern-day grooms. Banarasi silk wedding safas are upping the glamour quotient and bringing an air of transformation to the cliched look of grooms. Furthermore, you can complement your bride by choosing to wear a coordinating colour of the bride's couture.
Colour Coordinate Safa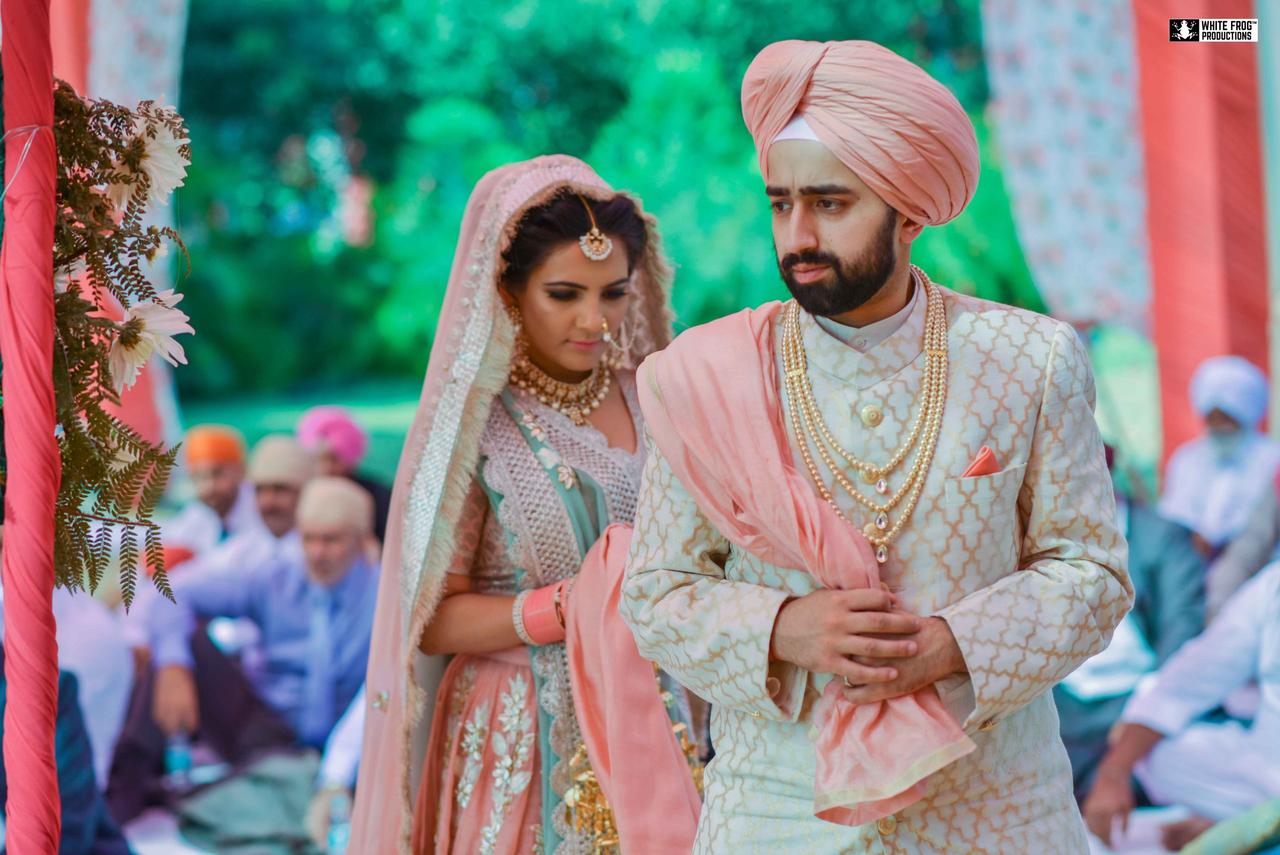 As we gave you a tip right above, it's a no-brainer to colour coordinate your wedding safa with your darling wife. Not only will she feel immensely happy, but your gorgeous pictures will be living proof of the deep bonding you share. Grooms these days are adopting the trend of matching their sherwani with their bride's lehenga. So why not your wedding safa? Don't go OTT searching for an exact colour; instead, just choose the closest hue of the family and get your wedding safa tailored.
Tie & Dye Wedding Safa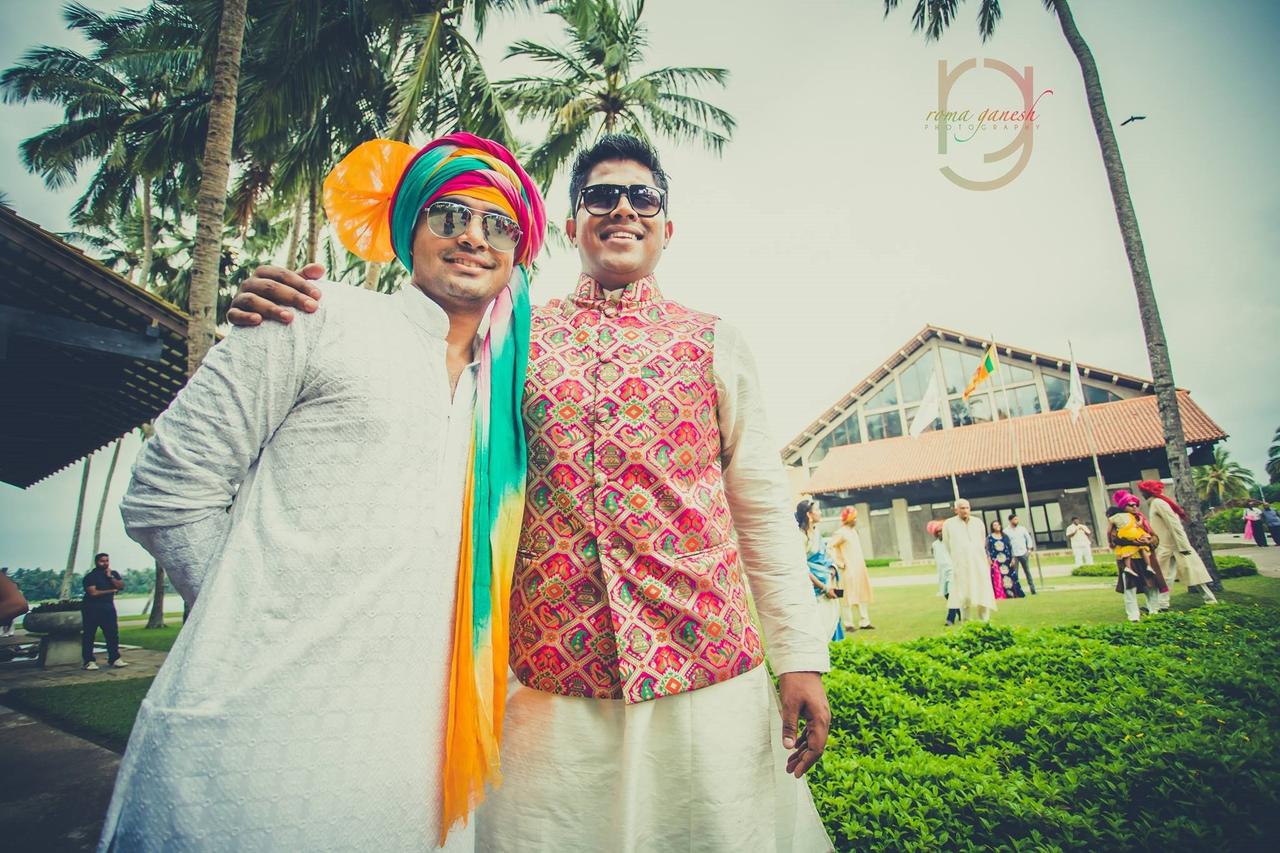 A big dan of the Jaipur-inspired tye-dye technique, featuring vibrant colours with extraordinary prints on them naturally created using kidney beans and grams. Soaked in peppy colours like yellow, red, green and blue, tie-dye adds a colourful and quirky quotient to the wearer. If you're a go-getter and a happy soul, get your heads on this tie-dye wedding safa and emanate an air of bubbliness.
Dual-Tone Safa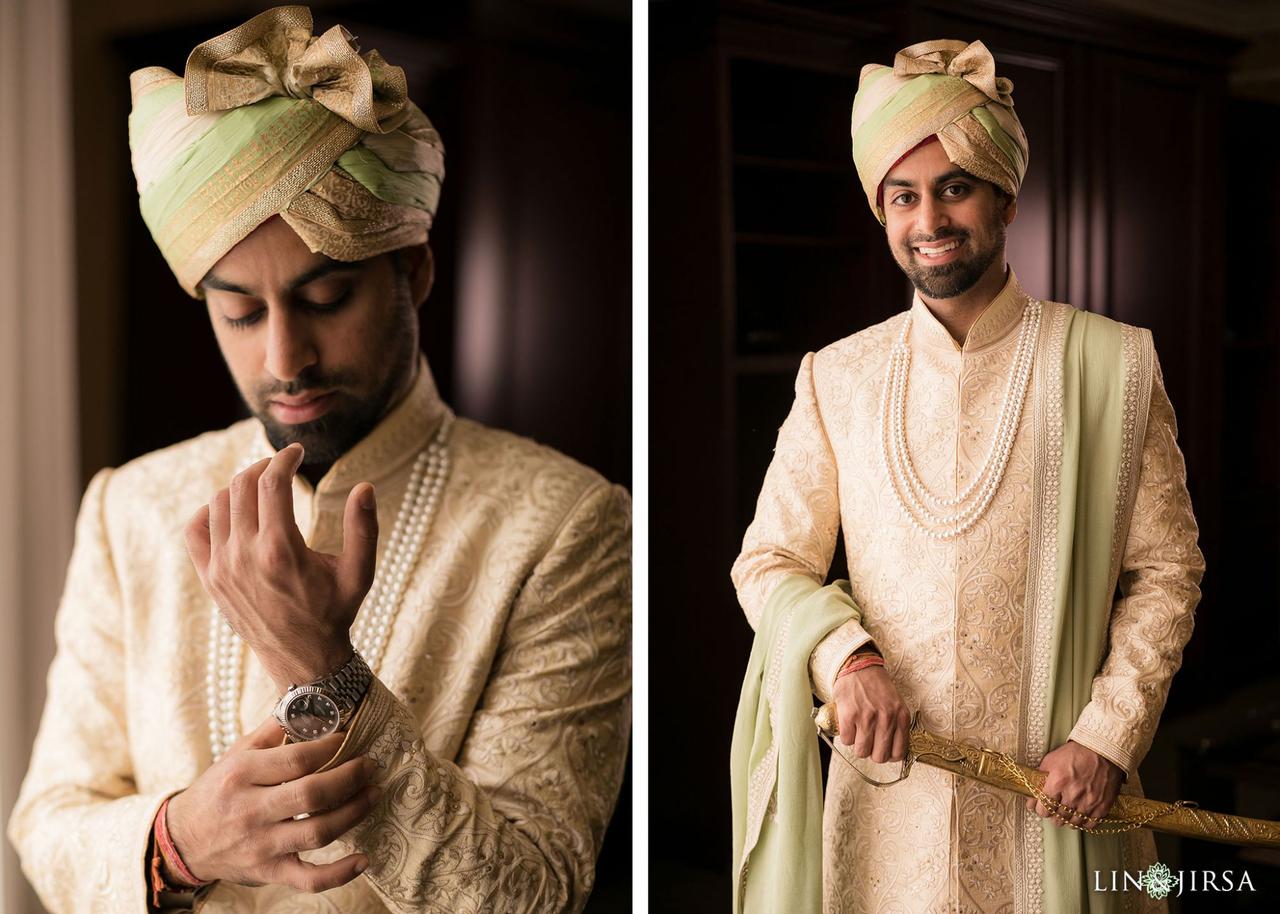 Image Courtesy: Lin & Jirsa Photography
Not heard about the monotone trend making waves in the bridal and groom market lately. With brides opting for monotone lehenga sets, grooms are also picking up monotone sherwani with wedding safa reflecting a refinement in mood and lifestyle. Monotone safas are a huge hit amongst NRI's and international-Indian origin men. Safe to say, they elevate grace and poise to the wearer, making them look even more inviting.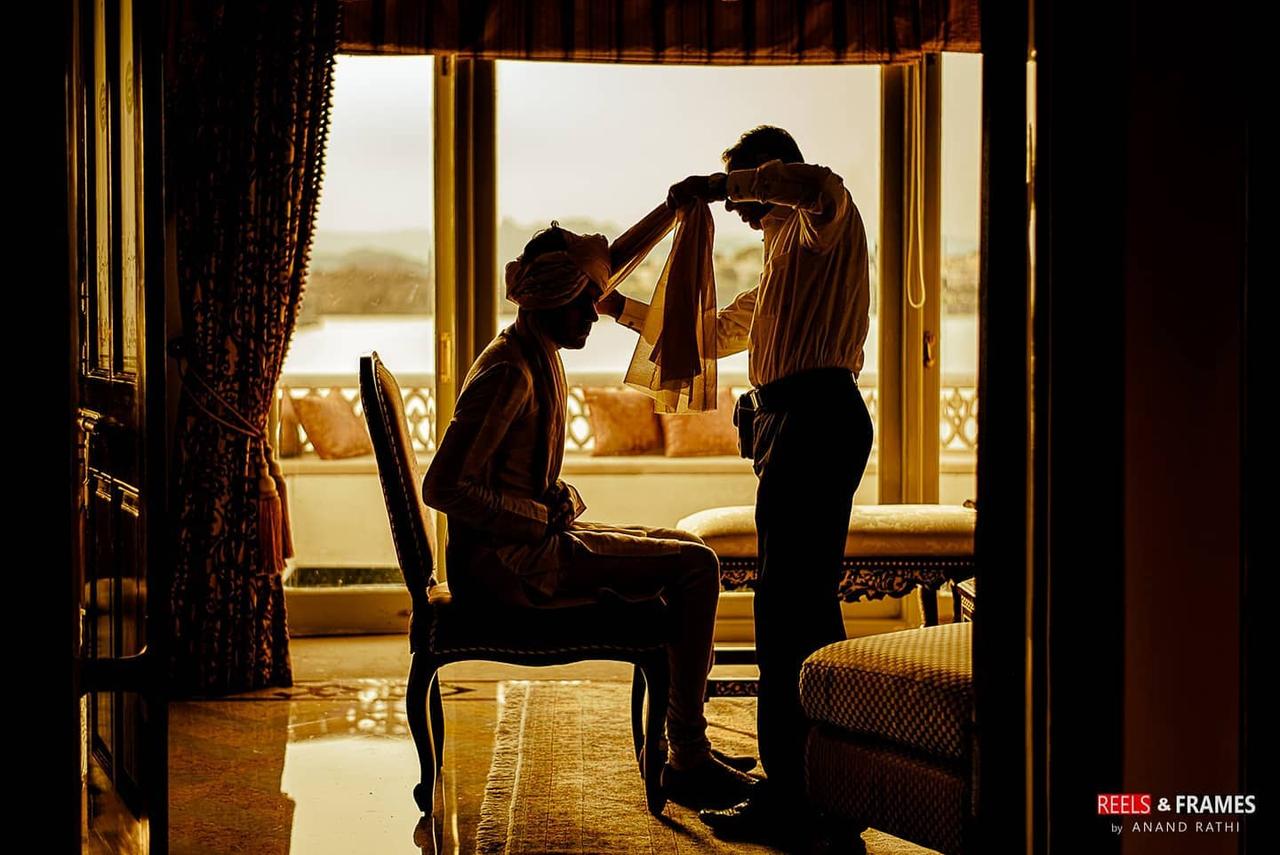 Whether you are part of the groom squad or the groom itself, it's time to steal back that limelight from the bridesmaid by choosing trendy and popular wedding safa designs while looking your best self and giving them a tough competition. For the latest wedding dresses for men or the stunning engagement dress ideas for men, a wedding safa is an addition to your outfit that will elevate your wedding look further. From our list of gorgeous wedding safas, play around with a trend or choose a design that matches your personality; you can be assured that your choice of wedding safa will definitely make the heads turn.
Wedding safa trends have ushered the wedding market like a storm, and we aren't surprised for the trendy and modern grooms are looking for exclusivity. Nothing better than a statement wedding safa can turn around an Indian groom's look substantially.
Which wedding safa trend caught you in awe that you'll choose for your big day? Do tell us in the comments below.
Top Blogs on WeddingWire India