12 Designer Sherwani for Groom That Will Make You Look like a Greek God Walking down the Aisle!
Every time we come across a groom we think – designer sherwani. With that being said, in the myriad of designer sherwani for groom collections which one to go for? We will answer all your questions about 'Why' 'How' & 'How Much.' Read & get inspired!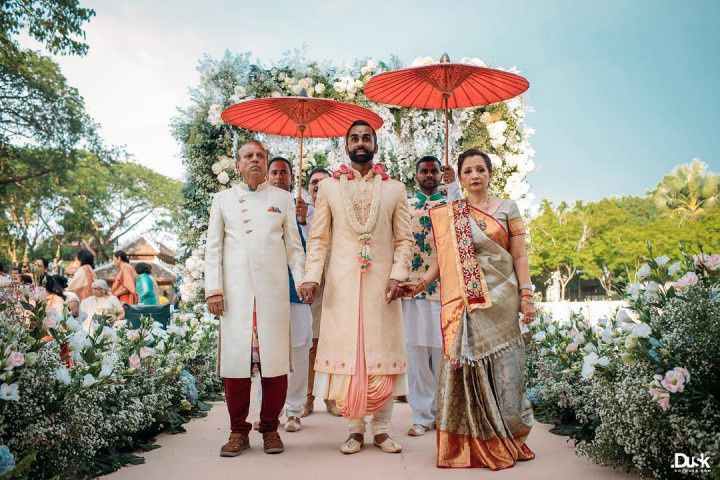 Why should girls have all the fun? It's your wedding too after all and you have all the rights to look like a Greek God, cascading the steps, making way and every last pair of eyes is set in you. We have curated for you a galore of designer sherwani for groom that will edge you just enough to go buy one for yourself! Take out your credit cards, put on the most comfortable pair of sneakers (we promise there will be a lot of showroom hopping involved) and get ready to splurge!
Make your groom entry wearing one of these flirty, light, and super dapper designer sherwani for groom designs that showcase your hot bod and bring out the best of your dapper, suave and designer self!
1. A Little Floral in Green and Ivory Designer Sherwani for Groom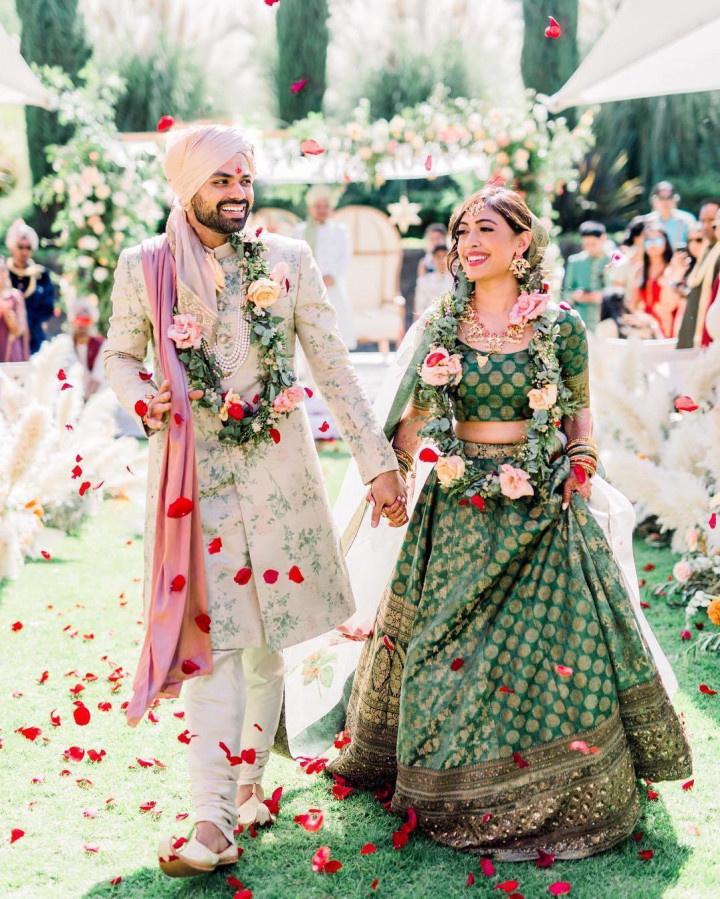 Image Courtesy: Janin Eli Care Photography
A destination wedding in a valley, with a shower of flower petals and a designer sherwani for groom that is a mix of floral motif Bandhgala Sherwani, light pink stole and an ivory shade Safa! For the added finesses, a pearl string Satlada necklace with matching Juttis is all any groom needs to look just as spectacular as the bride!
2. The Velvet Affair Designer Sherwani for Groom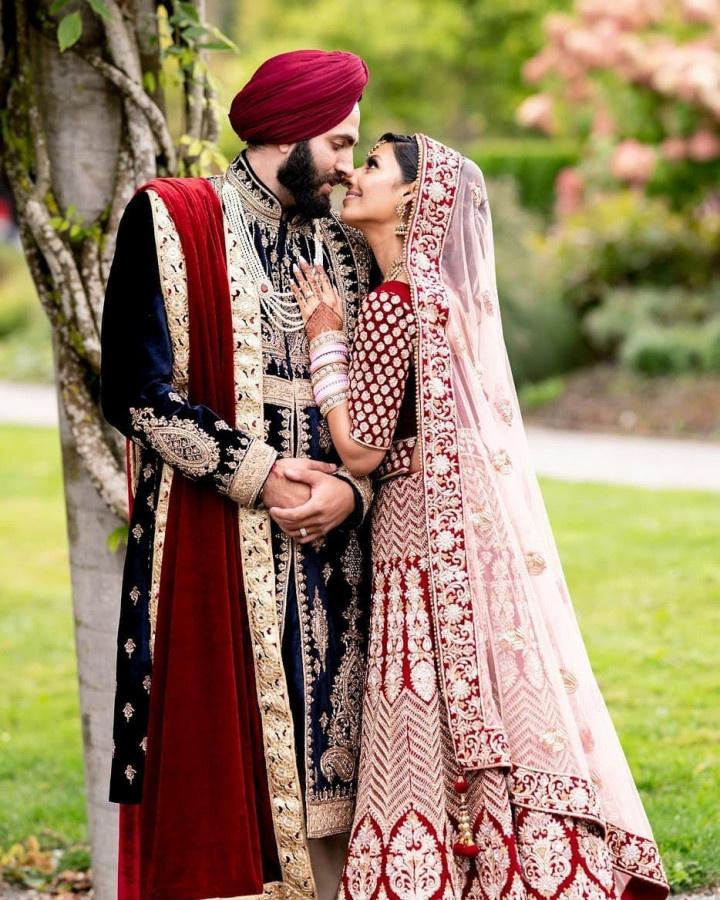 Image Courtesy: Vivid Dreams Photography
This wedding outfit for groom is legit #designersherwanigoals. From the colour combination to the Zari work Karigari and that traditional neckpiece for the extra wow factor, we are at a loss of words. A perfect silhouette for a day time or a night time celebration both. One tip, if your function is at night, then go for a combination of light and dark instead.
3. A Little Bit of Teal, a Little Bit of Silver Designer Sherwani for Groom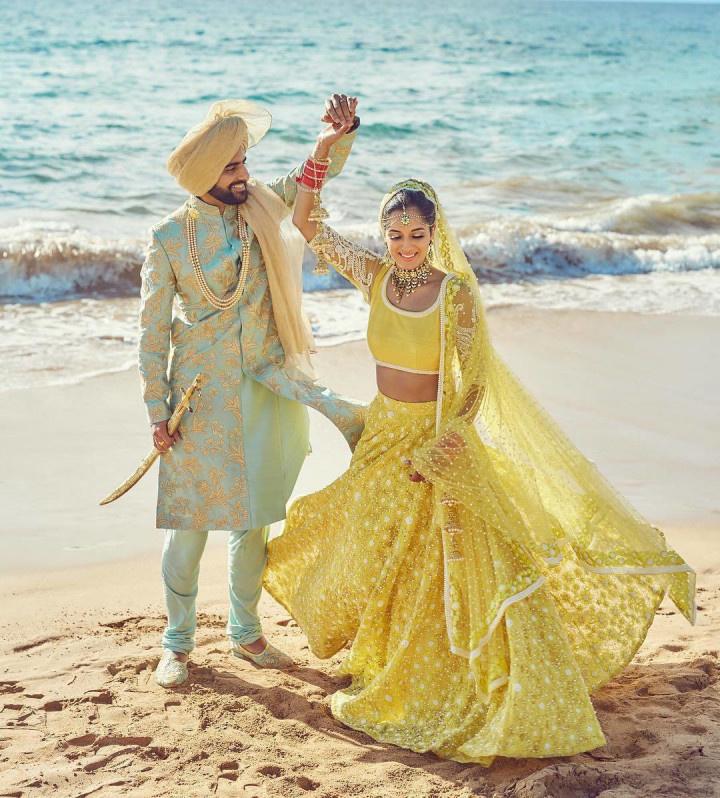 If there was one thing, we could ask this groom, it would be how in the world can a sherwani look so stunning and effortlessly dapper? We don't know whether to keep looking at his detailed golden embellished work or that Pagri and Safa or that Talvar that he is holding on to! A colour combination such as this is perfect for a day time celebration and will add that spark in all your wedding photos and couple shots!
4. The King of All, the Royal Nawab Maroon Designer Sherwani for Groom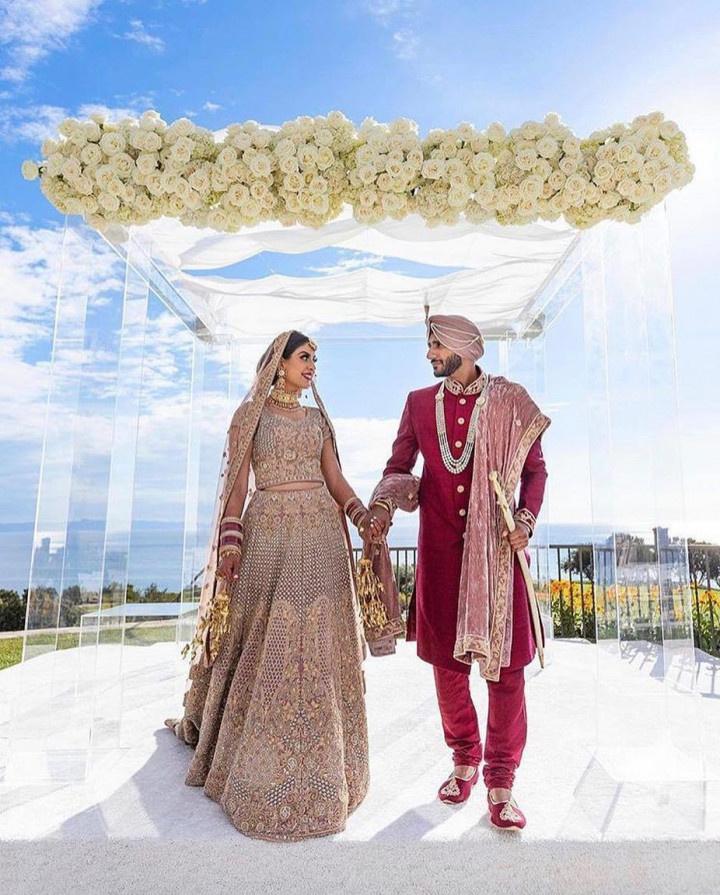 Image Courtesy: Duke Images
Always thought red or similar hues were the colour of the bride and only bride? Well, this groom gave us a run for our thoughts! Not only is he able to pull off this deep red and maroon tone but that onion pink Safa, Pagri and stole is just out of this world. He is on point head to toe and we have no doubts about that!
5. A Dash of Orange on Beige Designer Sherwani for Groom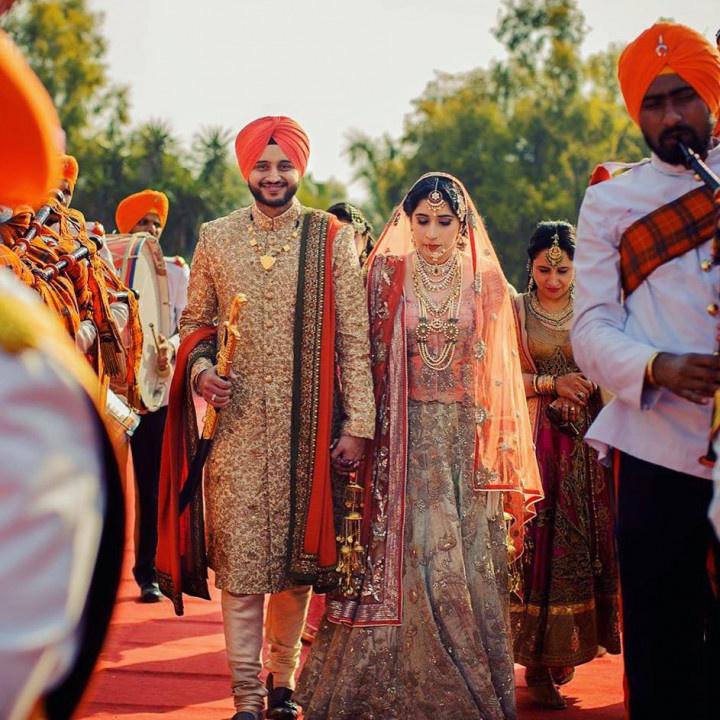 A stunning sherwani and the most unusual of combination, we sure love this combo of embroidered beige and orange. If we were the friends of the bride, we would totally have her take his stole post-wedding because it is that spectacular!
6. Peace out in an All-White Designer Sherwani for Groom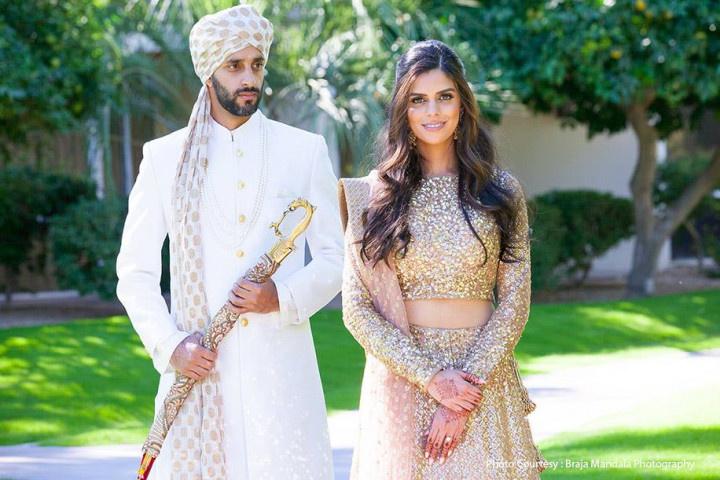 Image Courtesy: Braja Mandala Photography
Pearly white in colour, with a printed Pagri that has a long trail with golden prints, need we say more, or your curiosity is already piqued? Even if you have chosen something else for your wedding day, you must sport a similar look at least at one of your pre-wedding ceremonies.
7. The Designer Sherwani for Groom from the Mughal Era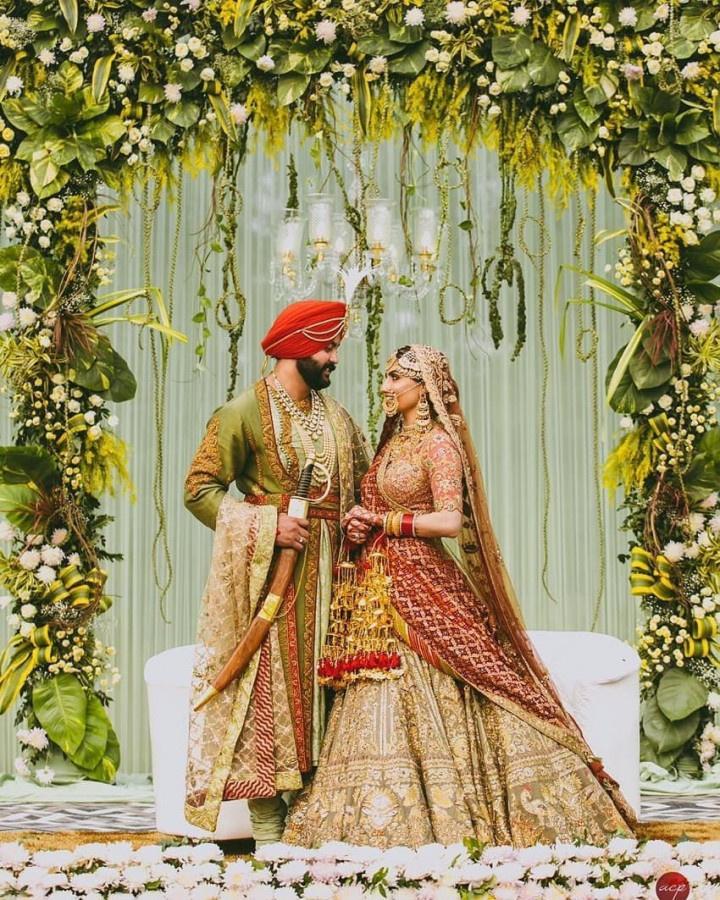 If only Akbar was alive to see his doppelgänger! This sherwani is legit goals. An olive-green shade with a maroon border with a golden see through stole, we are simply floored. If someone asked us to imagine an emperor at his own wedding, then this is the image that we would have conjured in our minds.
8. Golden Designer Sherwani for Groom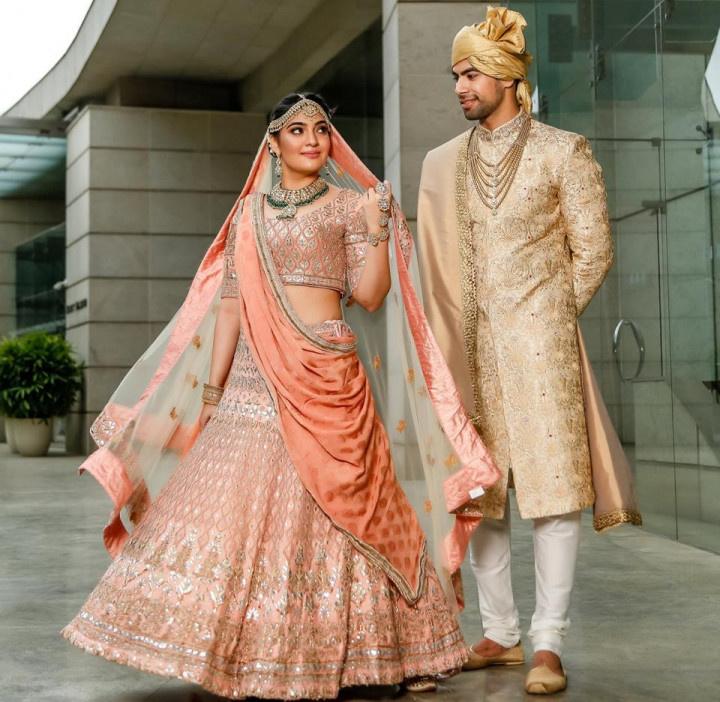 A quintessential colour and a quintessential silhouette yet as charming as ever! We love his Chanderi Pagri. Is there anything we would like to change about this picture? Absolutely no!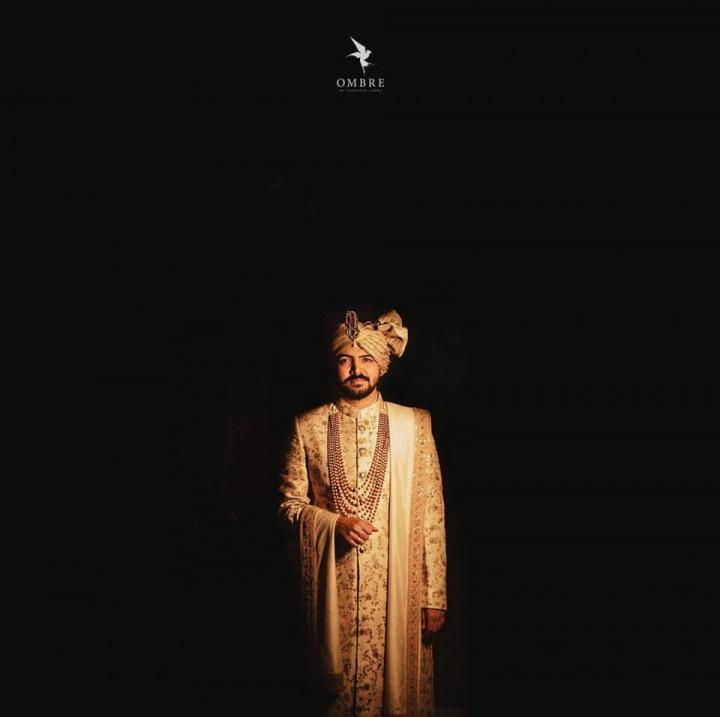 To all the grooms out there, it is a shout out to Y'all, if you still did not purchase your designer sherwani then please give this one a closer look. Somewhere in here is the designer sherwani you always dreamed of wearing.
Which designer sherwani for groom did you find most dapper? Tell us through the comments!