Must-read to Slay the Bengali Bridal Makeup Look Your Their D-day
A Bong bride, with an impending Biye? We examine traditional elements that you need to get right, for an authentic Bengali bridal makeup.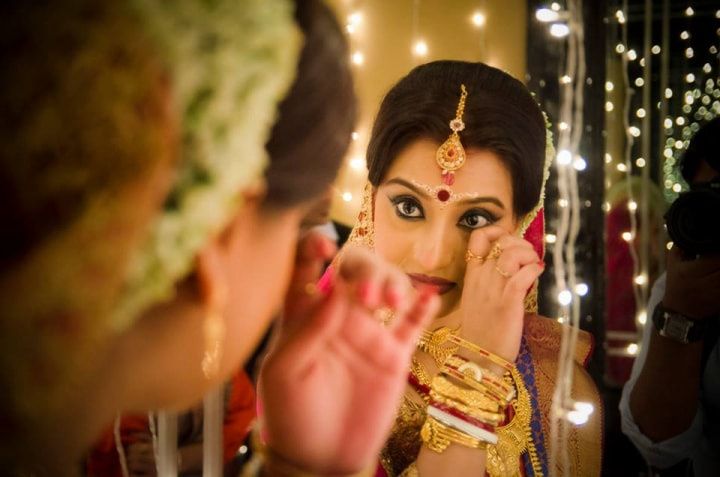 It's easy to spot a Bengali bride from a distance - the bright, red bindi, dramatic eyes and the beautiful white and red bindi design on her forehead. Looking back to the myriad of Bengali brides we have spotted in the past we have come to realise that a quintessential Bengali bridal makeup generally has big, defined and bold eyes with shimmery eyeshadows, with big kohl-lined eyes which makes the bride's look pop out. A confident kaanya, her look is timeless, bold and beautiful in one go. In this piece, we explore the classic Bengali bridal makeup and all of the elements which bring it together.
The red bordered white saree is a signature style of the Bengali women and the other is a red Banarasi saree with golden threadwork that will add the missing glamour to a Bengali traditional wedding. Aren't the gorgeous Bengali women known for the beautiful eyes that speak for them without the use of words? The Bengali bridal makeup has always focused around the eyes and here are some milestones to keep in mind.
Bengali Bridal Makeup
If you are a Bengali or marrying one, dressed up in traditional wedding saree, this is the one step which will ensure your transition into the look of a Nababodhu - a bride-to-be.
1. Chandan Bindi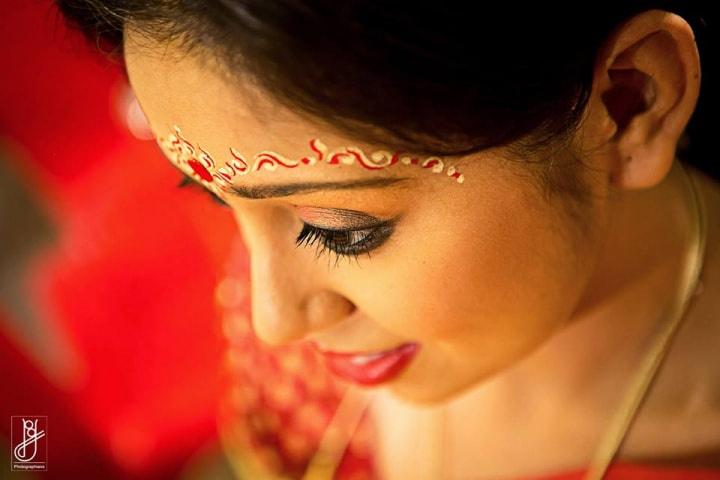 Whether you want a minimal makeup or a dramatic one, don't skip the white and red bindi design over the forehead. Known as the Chandan bindi, this forehead design is crafted now in white and red, though a few still swear by the Chandan yellow. A distinctive feature in Bengali bridal makeup, it ensures that you look the part, even if you're not wearing the traditional Benarasi saree or the bridal jewellery. The design frames the eyes perfectly and highlights your features.
How to Achieve This:
Traditional designs include ornate, encircling lines or dots, which emanate from the centre of the forehead and sweep over to the end of the brows on either side. Don't forget the red bindi in the middle. first and foremost make sure the colour combination is red and white because these two are the quintessential colours that are found in every Bengali bridal makeup.
2. Dramatic, Glittery Eyes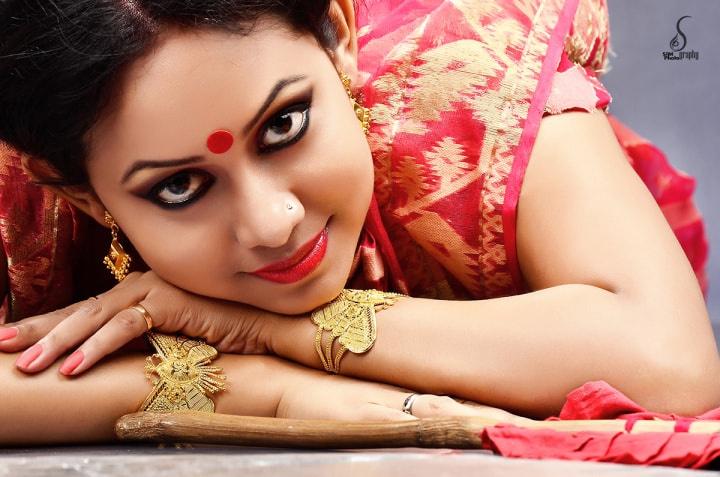 Big, expressive eyes are an aesthetic for Bengali beauty, be it in depictions of the Goddess, paintings, murals and prints. The same applies to bridal looks - where a doe-eyed beauty is an essential element to the overall look. So, from eye primer to the darkest shade of eyeliner and kohl, these are a few essentials that you must have to achieve the quintessential bridal Bengali look.
How to achieve this:
The bridal makeup tip of adding a little glitter to your eyes with bold red lips works wonders. Use a dull gold or any metallic glitter for that stunning look. You can bring in the drama of smokey eyes with glitter for an even glamorous look. Add more drama with heavy mascara, giving your eyes a deeper and voluminous look. You can even opt for fake lashes to extend the length and volume of your lashes.
3. Contoured, highlighted cheeks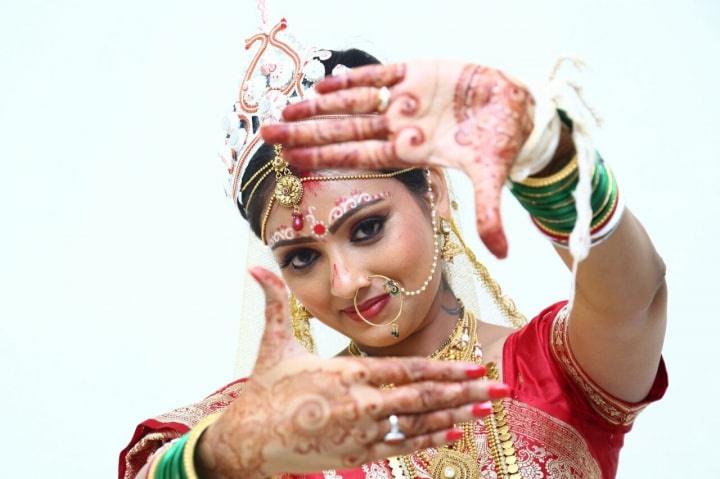 Taken again from the glistening Goddess archetype, this aesthetic involves prominent cheeks and a perfect, chiselled look. The idea is to accentuate your cheekbones and jaw so that your eyes look more prominent and your nose looks sharper. The idea is also to make sure that even though you look like a goddess, your blush should not be ignored amidst all the makeup and makeover.
How to achieve this:
A gold highlighter on your cheekbones can help. Don't add any colour, just the sparkle to accentuate your features.
You could also contour minimally to achieve these high cheekbones. Avoid overdoing it, as you would still want to look like yourself.
4. Red Lips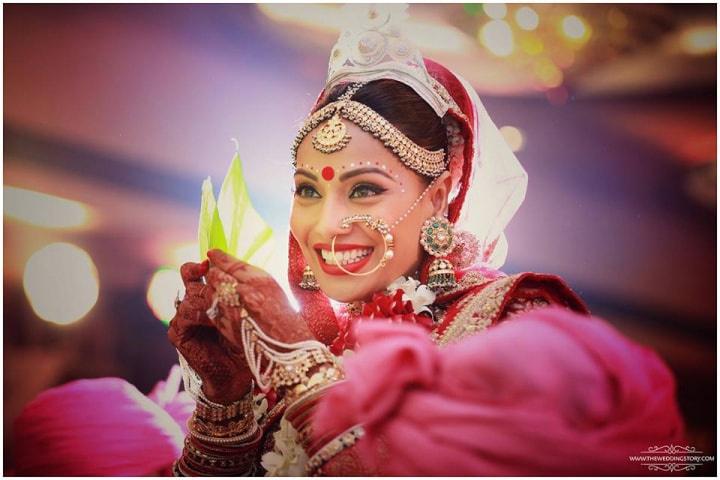 Ever saw a Bengali bride without a hot red lipstick? We haven't. From celebrity brides to real brides, to add that pop of colour onto your lips is a must when attempting to go for a quintessential Bengali bridal makeup. Traditional Bengali wedding attire is white and red and the white mukut on the bridal silk sarees is best complimented with red hot lips.
How to achieve this:
Use a bold red or a deeper tone, keep it matte or add gloss - red lipstick is a definite must. You can keep other shades and hues lighter to let your lips do the talking. If the makeup has used a lot of sheen in the eyeshadow and glittery highlighter, then you should opt for a glossy red lipstick, to be on the same page and maintain the look. However, matte red lipsticks make your lips look more shaped and bright yet glamourous.
5. Keep it natural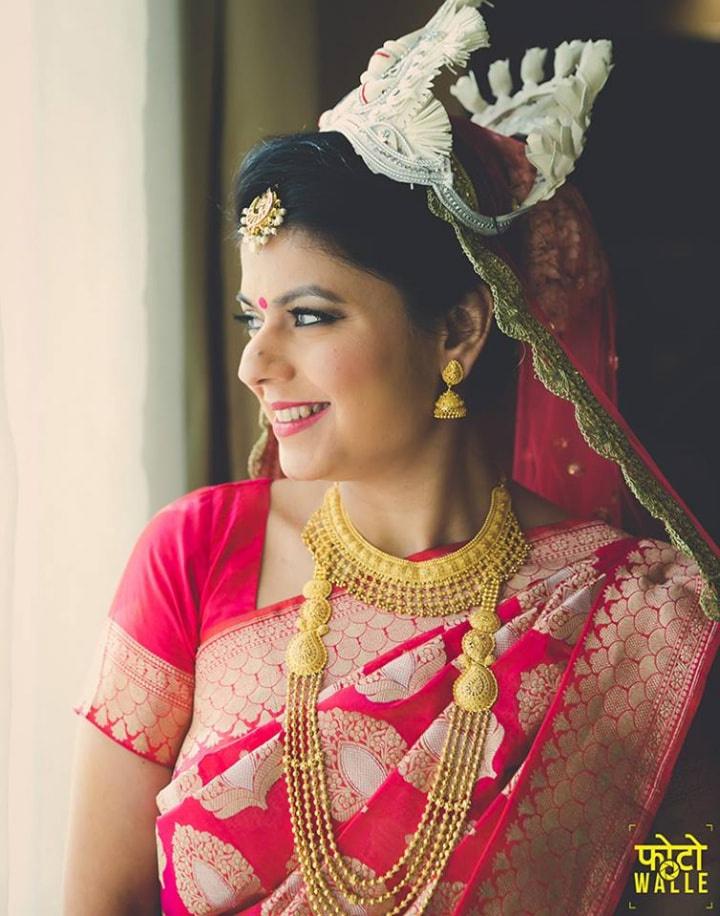 A good makeup base is all about keeping your skin tone natural and not altering it. Using the right foundation tone will help you achieve a smooth and even skin tone and not make you look pale. Also, how you apply this first base on your skin also matters. So, be mindful that the base is not flaky or cakey as it has to hold down the rest of the makeup on your skin for the entirety of the function.
How to get it right:
Need Bengali Bridal makeup inspiration - combine traditional and latest makeup trends.
Focus on a few elements rather than confusing them all together. Eg; If you choose bright lips and dramatic eyes, keep your cheeks a neutral tone.
Prep yourself ahead of the wedding day, with natural skin care treatments.
Opt for branded, trusted makeup products to avoid skin allergies and irritation.
Go for a trial makeup session before the final wedding day
Choose different makeup looks for different wedding functions.
It's important to understand that makeup does not change how you look - it only accentuates your natural beauty. So even before you decide on the makeup and the artists and your looks, you need to start with a healthy routine so the inner glow is unstoppable.
Make sure that you openly communicate and share your expectations with your makeup artist. Let your bridal hairstyle and makeup accentuate your beauty while you keep up with traditions. Do ask the wedding photographer to capture your striking look from all angles.