8 Wow Wedding Garland Ideas Which Work For A Traditional Ceremony
The wedding garland marks your wedding day like no other. Make sure it is as grand as the wedding itself. Let us help choose some unconventional wedding garland ideas for you.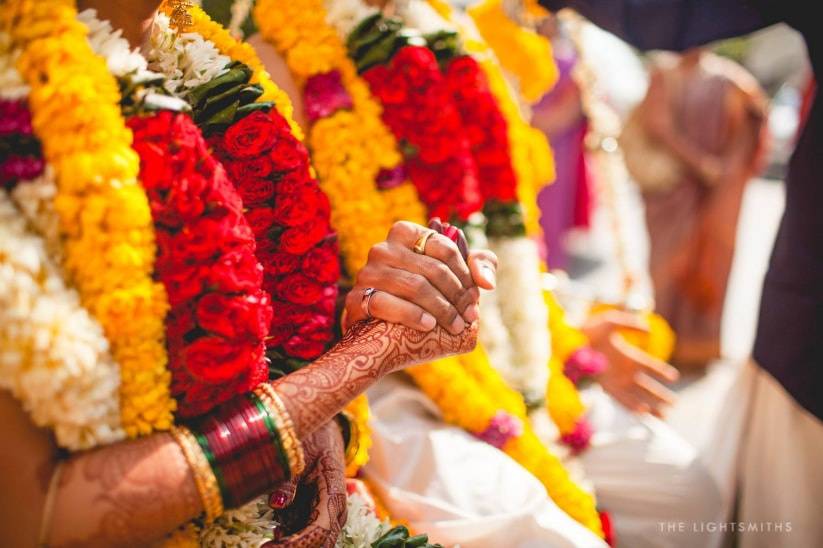 You would agree to the fact that a dreamlike wedding is only complete when each aspect of it is chosen carefully and with all your heart. Your wedding attire to bridal jewellery, everything's ready. What's next? Did you decide on your wedding garland yet? The Varmala or the Jaimala is an important element of the wedding both from traditional and 'looks good' point of view. So, if you are yet to give a thought to it, here are some unconventional wedding garland ideas that can work wonders for you:
The first thing you need to do is to choose the flowers. We have some ideas for you.
1. Orchids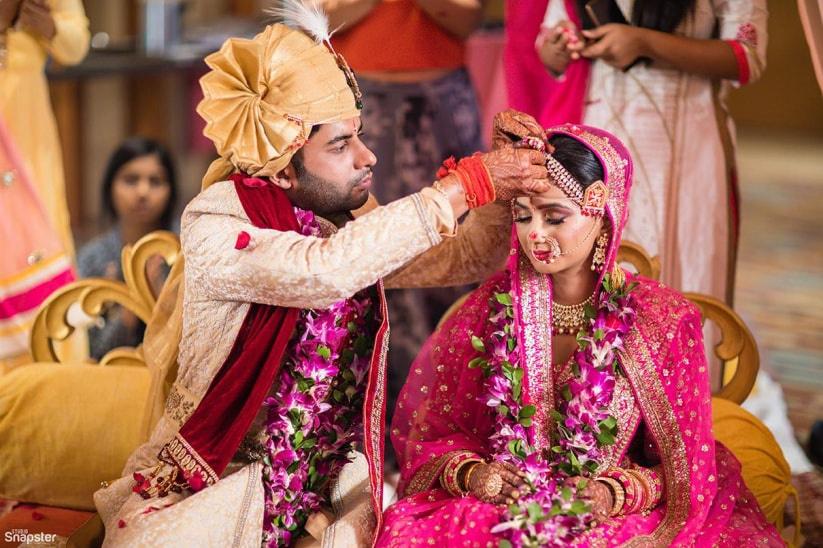 With the required splash of its vibrant colour, orchids are also the first choice of many couples because they are comparatively lighter in weight. You can also consider it if your wedding attire is too heavy and you think it would be a little too much to carry if the Varmala is on the heavier side too.
When it comes to choosing Orchid flowers for your wedding garland, you have greater liberty at matching the shade of the flowers to your outfit. However, do keep it in mind that these blooms are usually imported and need a lot of pre-care before you choose to exchange them.
2. Carnations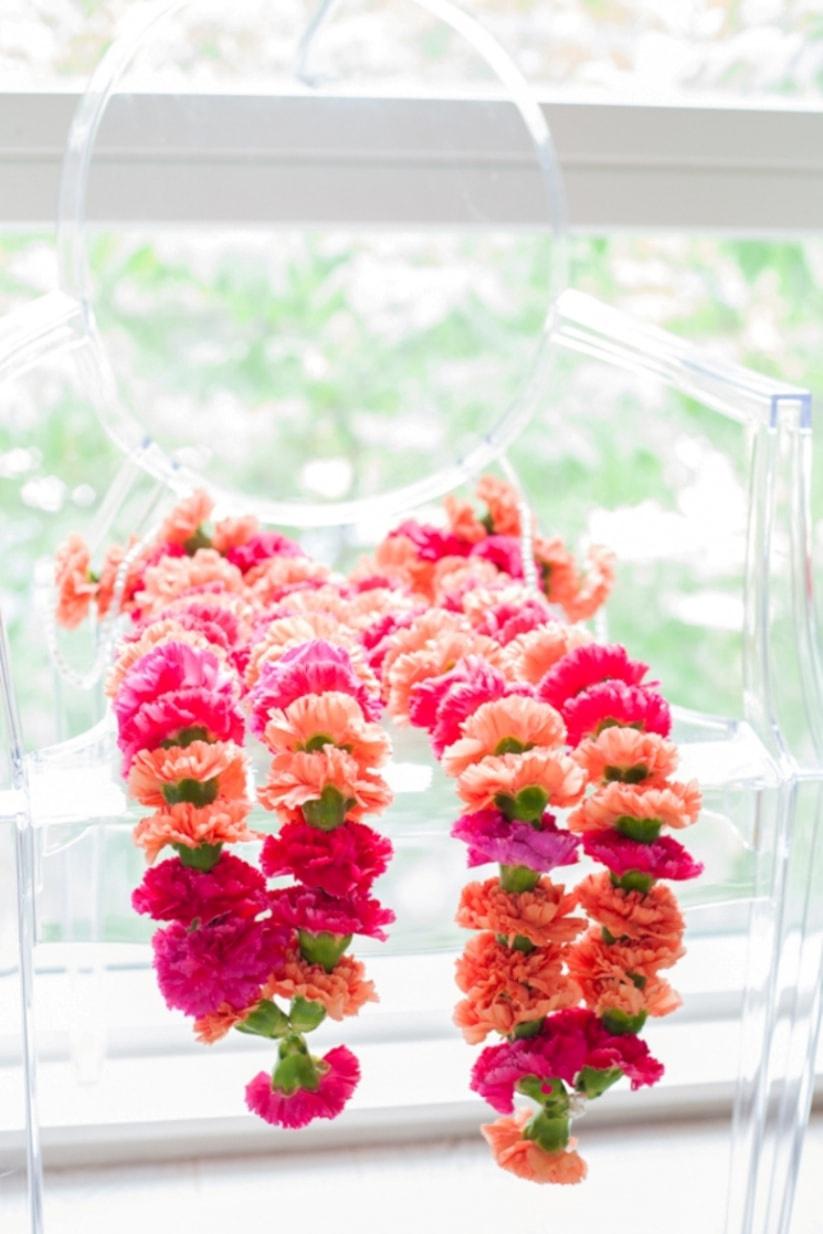 Image Courtesy: Icy Lazare Photography
The beauty of carnations is described in many prose and poems. Undoubtedly, the colours and gorgeousness is unmatchable and it's more on the subtle side. If you too want something simpler and yet bright enough, you can go for wedding garlands made with carnations of different shades.
Like orchid flowers, Carnations also offer a large variety in colour and can be matched exactly to the outfit (or in contrast). You can even combine 2-3 different shades and have them represent a more ombre palette.
3. Jasmine Buds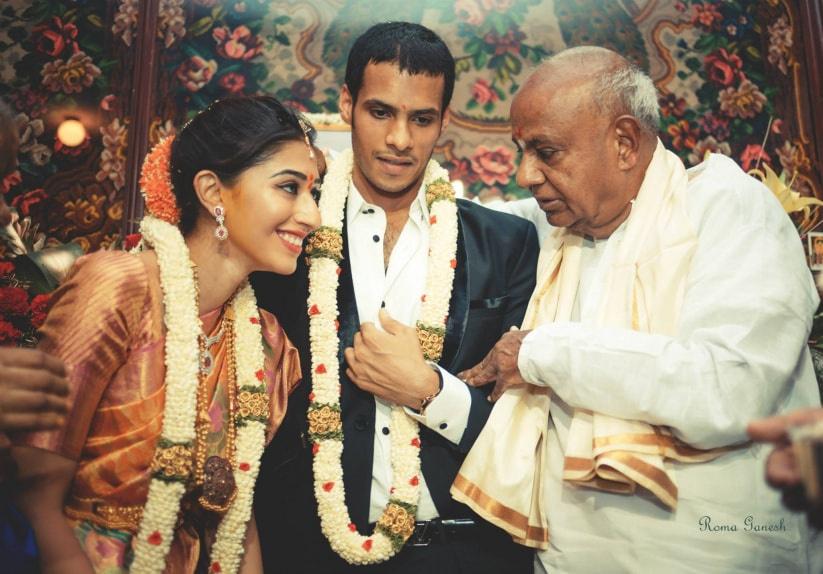 Want an appealing look with a pretty mild fragrance? Nothing better than a string of jasmines then. To add a statement to jasmine wedding garlands, you can get some bright small flowers to be included in between. Here, the couple has chosen tiny fabric roses to match with their attires.
You can also get combinations of different coloured jasmine buds (a light green tint vis a vis the conventional white) or pair them with smaller blooms in different colours to gain some uniqueness in your set of wedding garlands.
4. Roses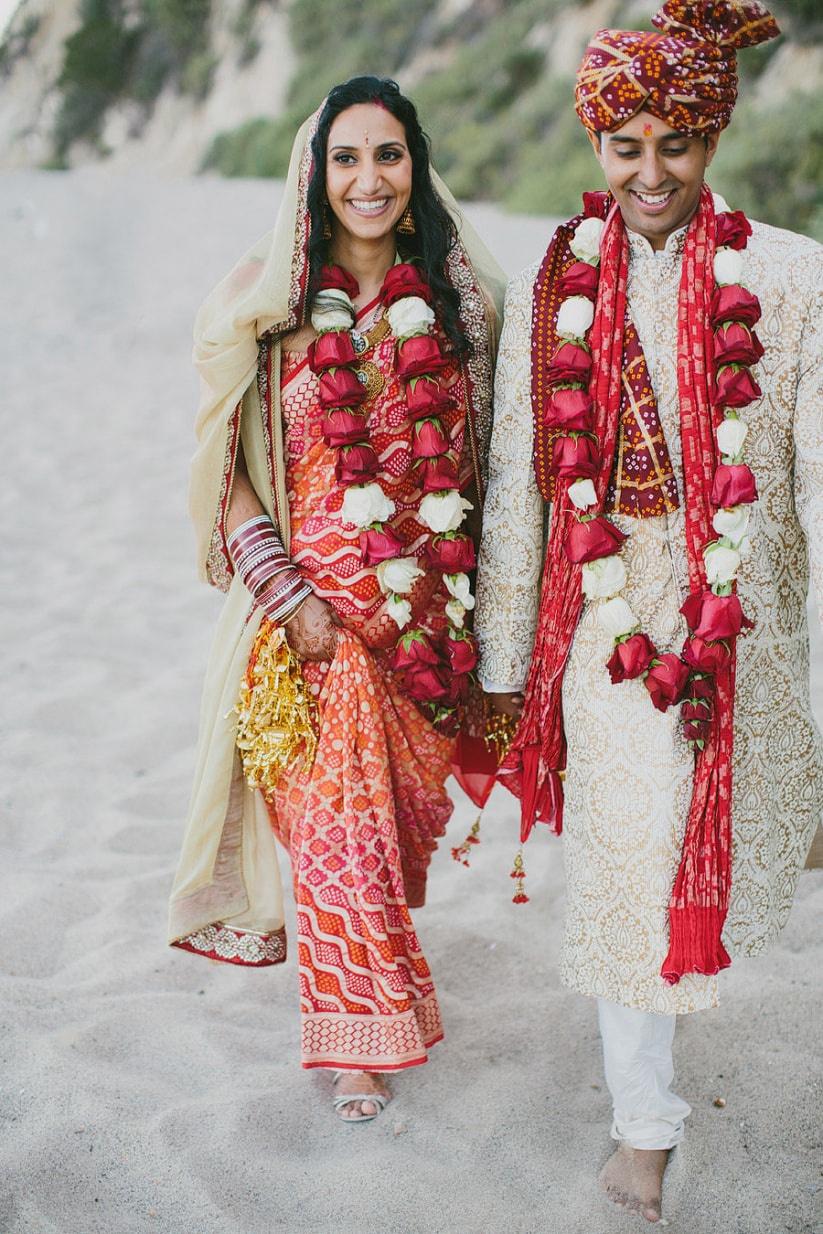 Image Courtesy: Ian Grant Photography
And who doesn't love roses? This is the popular trend this season, to choose a wedding garland entirely made up of the epitome of love, roses. It is important here to include big, slightly heavy rose buds used in contrast with each other. The couple here has matched it with their wedding attire, you can do that too since roses are available in an array of colours.
Both two-tone wedding garlands and peach and white rose blooms are in equal demand. English roses are also very popular.
If you want to go unconventional with your wedding garland, we have some more inspirations for you.
5. Towards greener pastures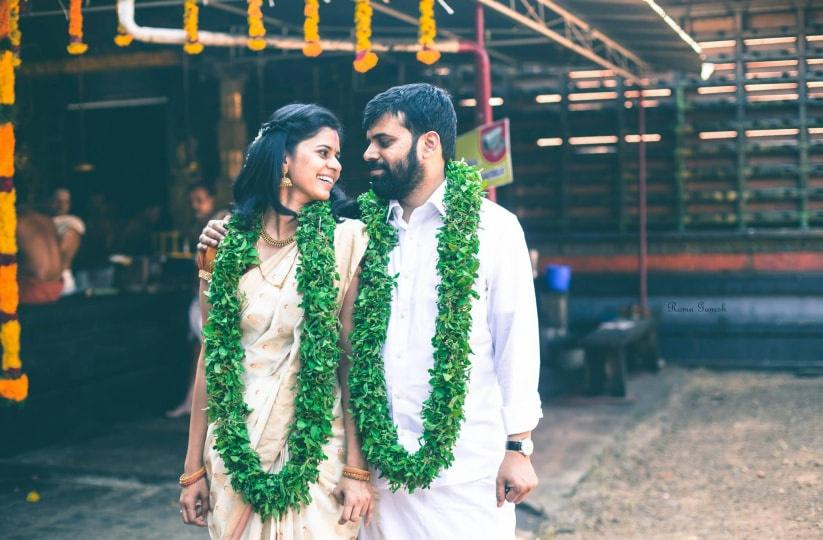 People are getting aware of the environmental issues around and some couples actually choose to further announce their love for mother earth in their wedding ceremonies. If you are one of those couples, think no more! We have got the right choice for you. You can get leafy garlands instead of flower ones. And they are totally unconventional too!
6. Thai Garland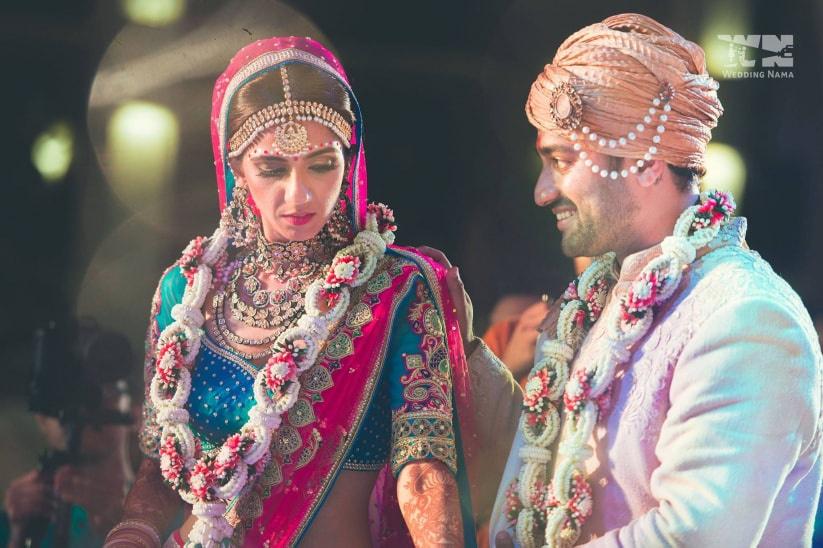 Talking of unconventional, what about imported ideas? Well, we are in awe of this bride and groom who chose jasmine embedded Thai garlands for their big day. The garlands are not only pretty on their own but augment the overall wedding look for both of them.
7. Pearl and Roses Garland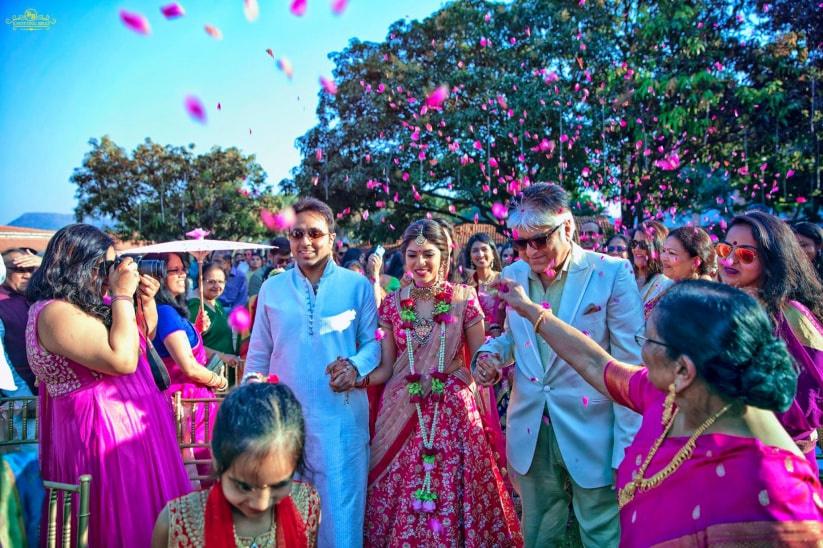 This pretty bride has enhanced her wedding look by choosing a rose Varmala, but still made sure that it doesn't take away the entire credit. The roses are limited in number with a pearl string keeping it all together. You can create such a look too by including your favourite flowers or by changing the colour of the pearls.
8. Favourite Colour Garland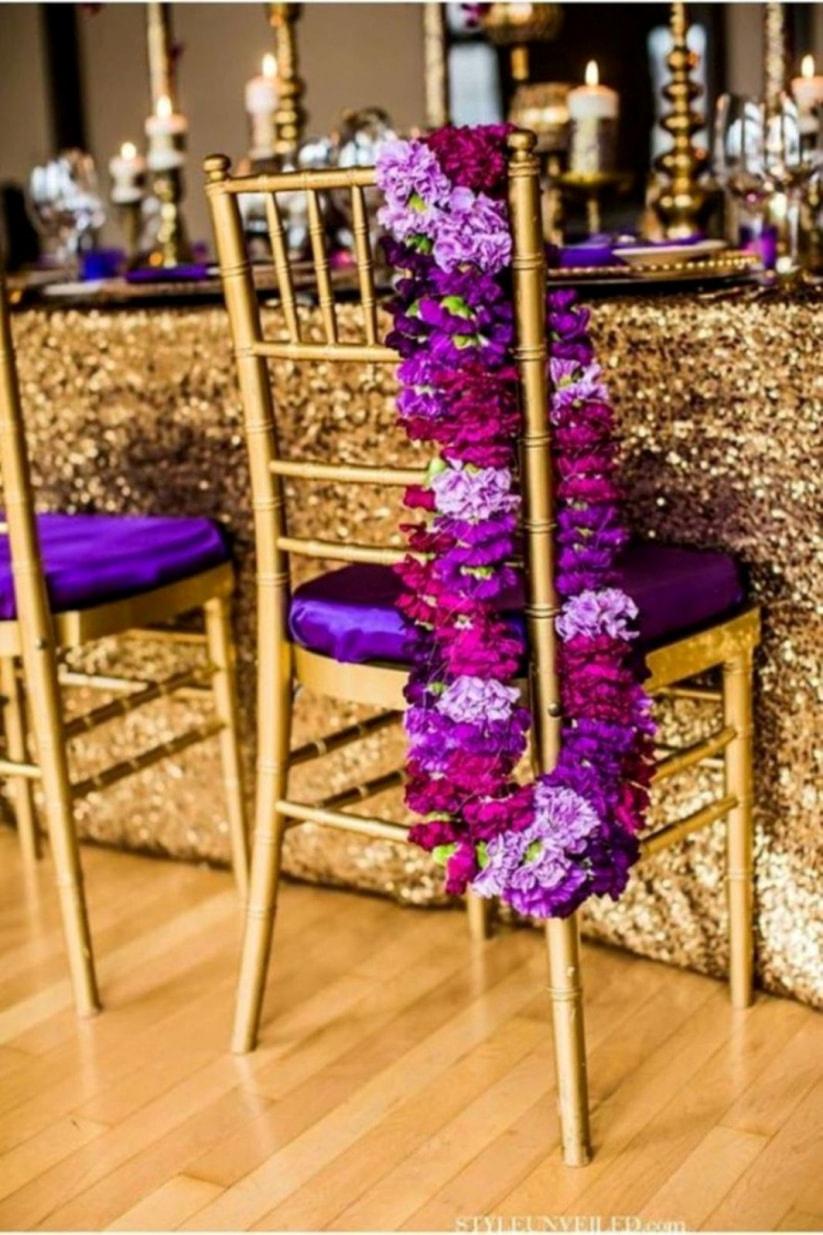 Image Courtesy: Style Unveiled
Is there a colour you go ga-ga over? Then here's another wedding garland idea for you. Instead of choosing a particular (or a couple of) flowers, choose a colour and include various flowers with shades of that colour. Same has been done with the garland above and it looks just gorgeous, doesn't it?
Tip: Make sure the colour of the garland syncs with your wedding attire. If your attire id golden, almost every colour will enhance it. For others, give a moment to mix and match.
What's next?
And when the festivities are all over, what do you plan to do with your wedding garland? Throwing it away just like that when you have put so much thought over it is just disheartening. So, don't let it spoil. But instead, re-use it. We have some options on how you can preserve your wedding garland flowers for a longer time: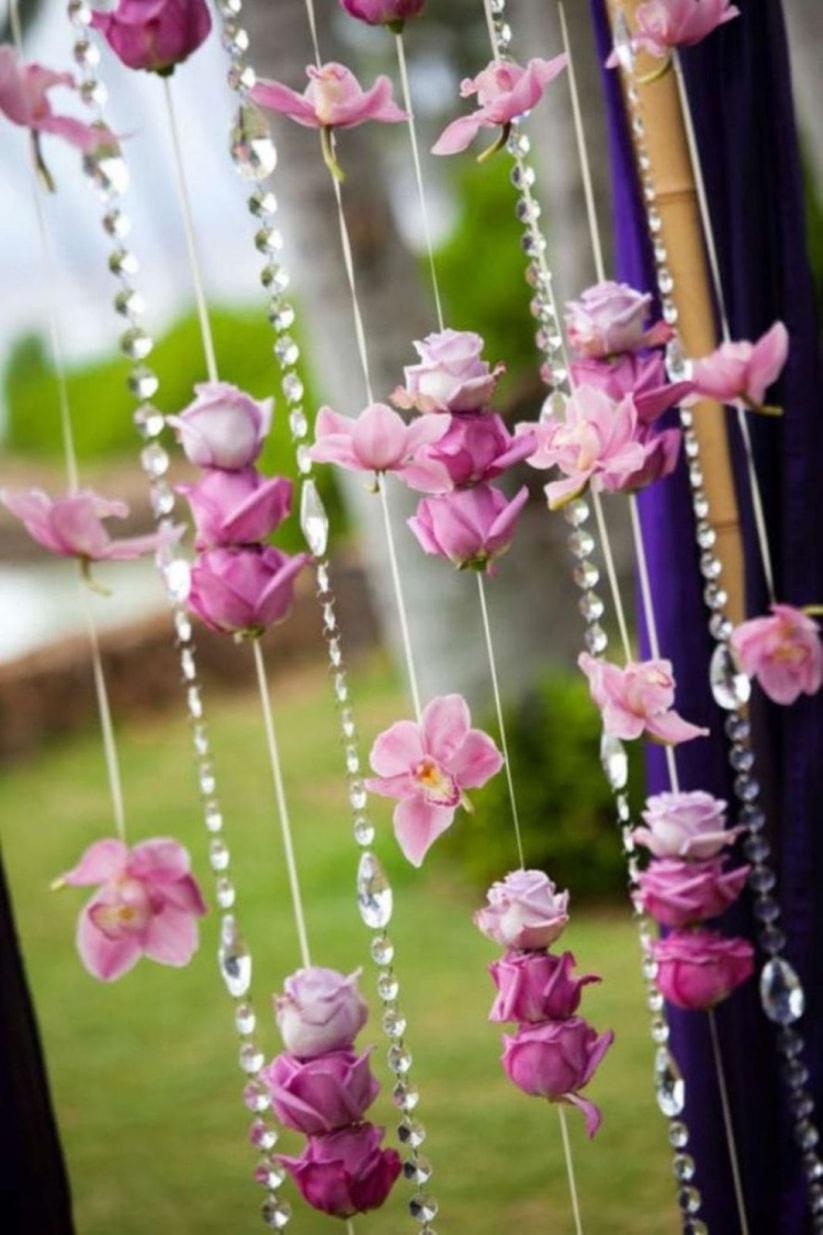 Image Courtesy: Pinterest
Just because your wedding is over, doesn't mean you should get back to boring home decor. Use your Varmala flowers and decorate your window sill with it. You can also use some artificial embellishments to enhance the look.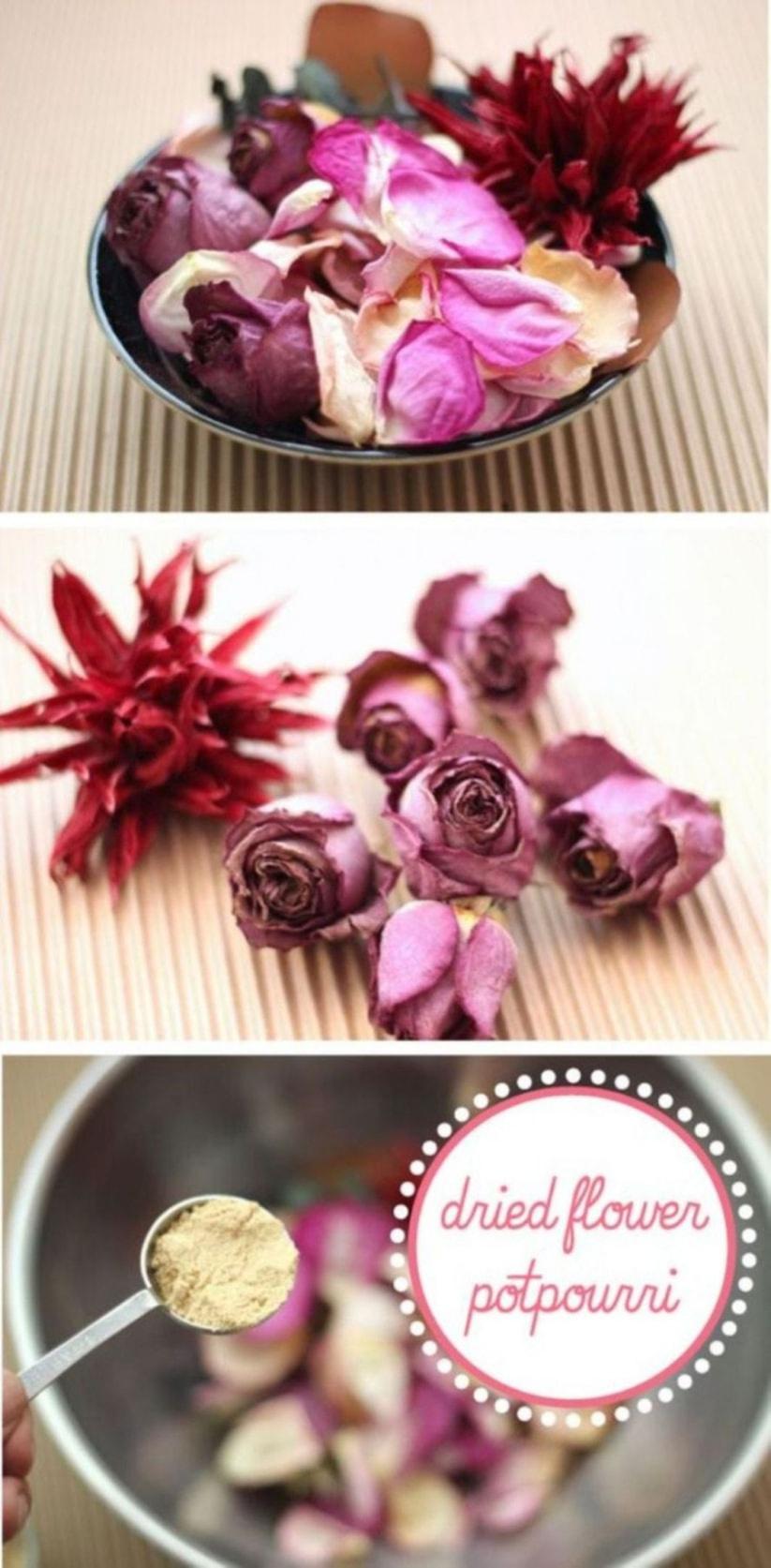 Image Courtesy: E How
Keep that fragrance of your wedding alive by turning your wedding garland flowers into potpourri. It is the best way to go if you had been busy while the flowers were still fresh. Just keep them to dry in a book (or microwave them) and when you are free from the functions, mix them up with some dry leaves for the forage, and add a few drops of essential oils to enhance the fragrance.
Tip: You can also add fixatives into the mix to make the smell last longer. Also, keep the mixture in a sealed jar for some days to let the fragrance reach its acme.
The wedding garland signifies the acceptance of the wedding proposal and hence the Varmala is one of the first rituals performed on the wedding day. And you definitely wish your wedding to be a grand opening, don't you? For more ideas to go the unconventional way, check out how to make your Varmala more special.
Also, don't forget to tell us which garland you liked best!