Choose a Jaimala Design That Brings out the Ultimate Best of Your Wedding Look
Your Jaimala will get the most attention after your wedding-day attire. We explain which Jaimala designs are trending these days and how you could go about choosing them.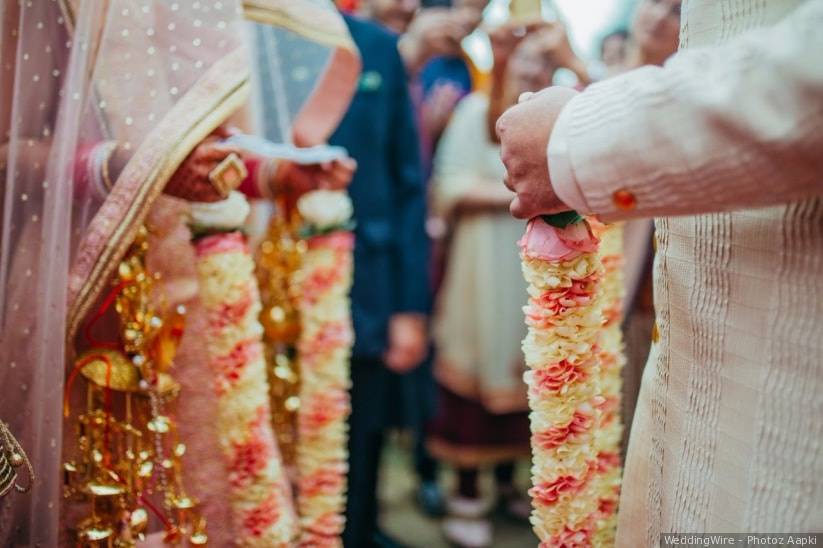 When it comes to the Jaimala, it is all about being as creative as possible these days. An essential ingredient of the Indian wedding ceremony, the exchange of Jaimalas signifies your commitment to each other for your journey ahead. And that's why it's important that you pick your Varmala or Jaimala designs, in a way which goes well with your wedding theme, your bridal lehenga and the groom's sherwani. Get them right and keep them fresh, with these helpful Jaimala tips as well!
Jaimala is probably one of those many elements that will make your wedding pictures pop out because they are so vibrant and colourful. We found for you a galore of the coolest ones and definitely some that you've never seen before. Go ahead, and get your hands on one of these Jamailas to create some stunning snapshots!
Types of Jaimala Designs on Trend:
Originally remembered as a combination of white and red, the wedding garlands are thought of as a ceremonial representation of your choice, your decision to go ahead in life with this partner, vis a vis others. In Hindu lore, a princess or leading lady often made her choice in partner clear with this thread of flowers - be it Sita opting for Ram, Draupadi for Arjun, Sanyogita for Prithviraj or even Damyanti for Nal.
Here are the different kinds of Jaimala designs that you can see in Indian weddings:
1. Rose garlands or Jaimalas: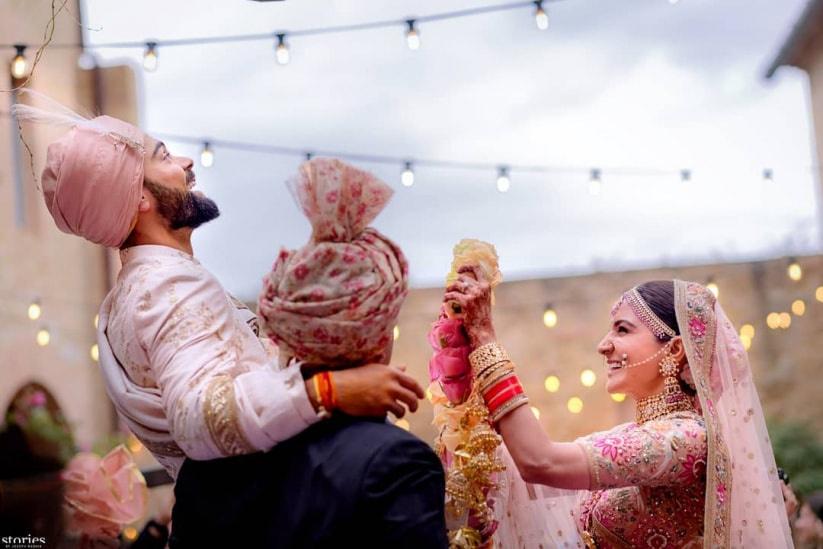 Classic jaimalas are often made of red roses - either in bud or full bloom. If you want to give them a contemporary look, take notes from the Virushka and Milind Soman wedding where white, pink and yellow roses brought out the best of both couple's attire. Using full-blown roses (the larger international varieties) and large rosebuds is also on the rise these days. Light pink roses and those with multiple shades are also on point.
2. Other Floral Jaimalas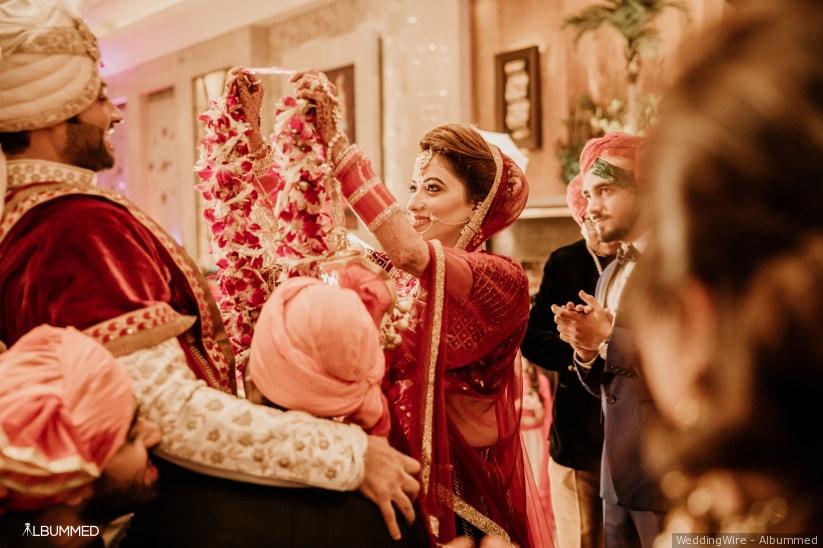 Why not use unconventional flowers for your wedding? Though marigolds, jasmines and orchids have been used in wedding garlands for a long time now, you could opt for these new variations to the original sets of white and red:
Leafy, botanical jaimala designs
Thai floral Jaimalas - with Dok Ruk, orchids, jasmine and roses interspersed with other accessories
Unconventional colour combinations - green marigolds, mokara orchids in green (even orchid jaimala designs in other colours), lavender and lilac
Carnations in peach, purple, pink, white, yellow and lilac
3. Non-floral Jaimalas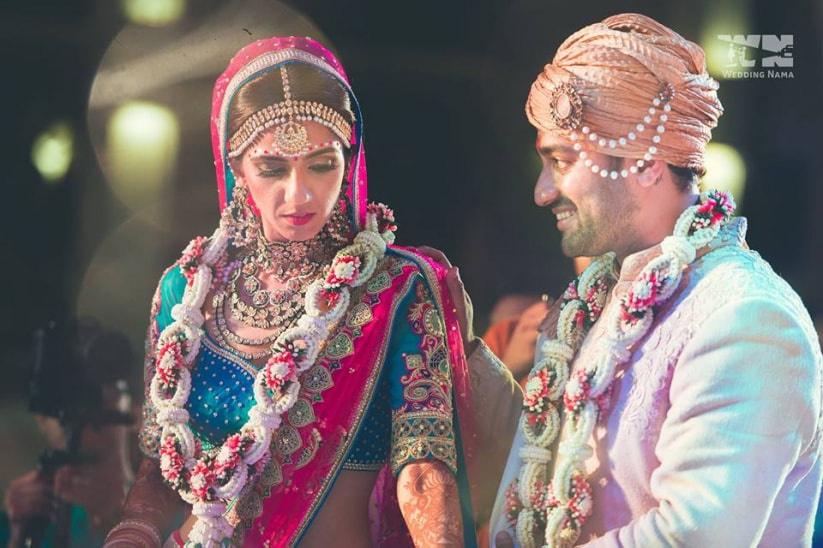 In this day and age of destination weddings, ensuring that your flowers don't wilt can be quite a task. Get rid of the hassle, by opting for a new set of Jaimala designs made of semi-precious and simple stones and crafted to look like the conventional set. Here are a few ideas to take note of:
Paper flower jaimalas
Pearl jaimalas
Pearl and cloth flower combinations
Kundan Jaimalas
Tips to remember:
1. Coordinate with your attire

Your Jaimala design is the second most attention-grabbing detail for your guests after your attire. As they come in a variety of designs and flowers, it is best to choose the Jaimala flowers that complement the colours of your wedding attire. If you are wearing a traditional red lehenga, you can choose a Jaimala design with lots of roses. Another great idea is to discuss the design with the florist and showing them your wedding attire to match the colours and design perfectly.
2. Keep the décor in mind

Why not take some inspiration from the Virushka wedding and match your Jaimalas with the décor? Discuss the wedding theme with the florist and match your jaimala design accordingly. If you are having the wedding ceremony on the beach, you can opt for lily, Thai flowers or lotus petals.
3. Give importance to traditions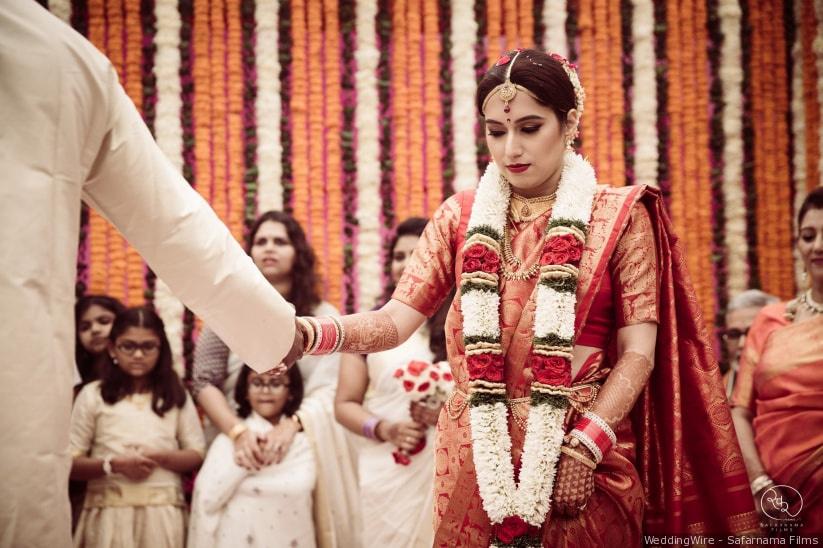 Being traditional doesn't mean you cannot be trendy. If there's a particular colour worn in a Jaimala in your community, play with the design and glam it up. The sizes for Jaimala also differ from community to community so it is better to confirm the size of your Jaimala by consulting the elders.
4. The season will matter

Flowers like roses and marigold are available all year around. But there are seasonal flowers that can add up to your look. Ask your florist about these flowers and incorporate them into your Jaimala design for a unique look. You can choose iris and dahlia for summer wedding and orchids and lily for a winter affair. These are some of the most used flowers in weaving Jaimalas.
5. Be creative with the design

A Jaimala design or Jaimala flowers search will come in handy if you're confused about what will look best for what kinds of wedding attire.
Accordingly, you can be creative with the design. Go for a layered garland that looks like a necklace or choose two different Jaimalas and tie them together for a boho look. You can also choose a Jaimala made with paper if the flowers are too mainstream for you. These are some quirky ways in which you can put a creative spin on the more generic Jaimalas.
Things to avoid: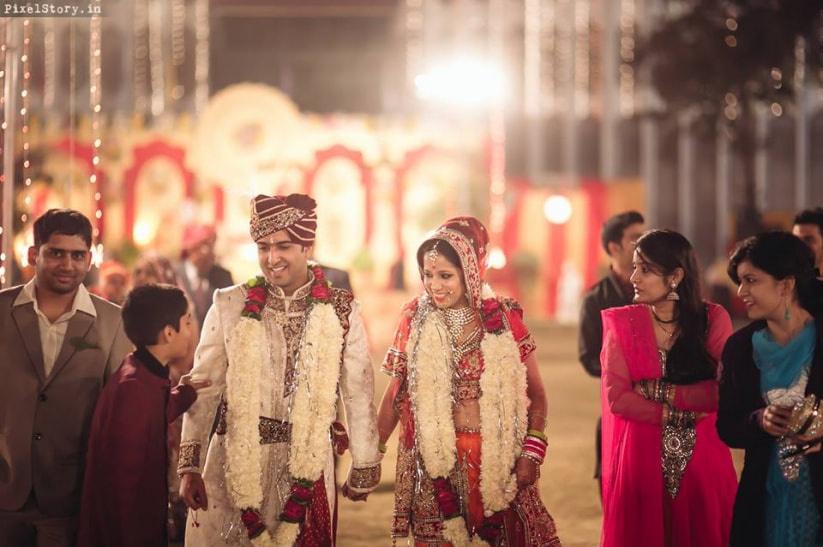 Match your Jaimala designs to the attire but try to avoid opting for the exact same shade. Ensure that your wedding Jaimalas don't overpower your look.
Avoid bulky Jaimalas as they would overpower your wedding outfit, or hide your bridal blouse.
In case of non-floral Jaimalas, buy lightweight ones. After all, you don't want a heavy one hanging around your neck for hours on your wedding.
Check for allergies. In case your partner has an allergy with some specific flower, the key is to avoid it
Make sure the flowers are fresh. our Jaimala's will be captured in most of your wedding photographs. So make sure they are fresh and picture ready
The last-minute mishaps often happen with the couple's Jaimalas. Make sure you get yours well within time. Care for them and keep the flowers fresh. Delegate the responsibility to someone to ensure that there is no confusion at the end moment as to who was supposed to get them. Pick one that resonates with you and not something you compromise on since your florist has limited options. Believe us you wouldn't want your Jaimala to mismatch from the overall theme of your wedding or your bridal outfit as well. In case you have some allergies pertaining to some specific flowers then make sure you share the concern with your partner and arrange for Jaimalas that your skin is most comfortable with.
Have some more tips for selecting a perfect Jaimala? Share them with us and other brides in the comments.
- WIth inputs by Swateja Joshi