Men's Engagement Rings 101: What To See Before You Put A Ring On Him
Looking for inspirations for men's engagement rings? You've come to the right place, where we explain what you can get for him, that would be true to his personality.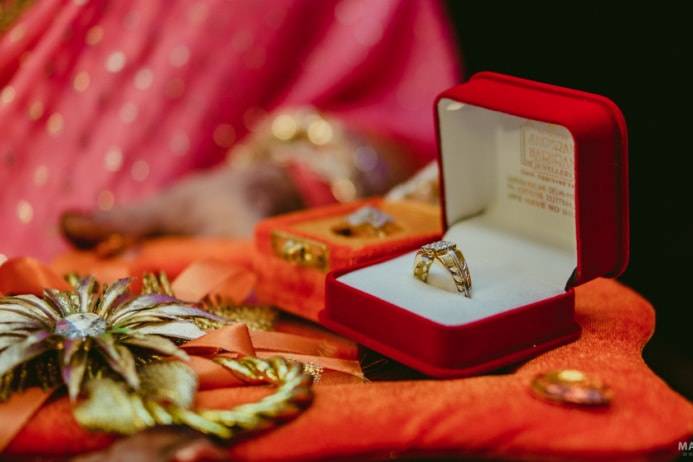 Engagement rings for men are not hard to find these days. Most jewellery stores even make men's engagement rings and rings for couples which look like they were made as a set. These rings keep in mind that most men don't like something too ostentatious and prefer something subtle.
The trend for engagement rings have really caught on and so there is quite a variety to choose from even for men. Weddings are no more tailored only for the bride. Grooms also have a variety of wedding sherwanis, rings and accessories to choose from.
Here is a list of some of the more trendy engagement rings for men to choose from.
1. Matching rocks to roll within
Feel the need to flaunt rocks in tandem? Then your oversize diamond ring is raring to have a go with a similar set rock like this, as part of your careful selection amid men's engagement rings. The rings are half the attitude won - it's held together by this iconic wedding ring pose, which had many, many fans a few months ago.
2. Platinum with Diamond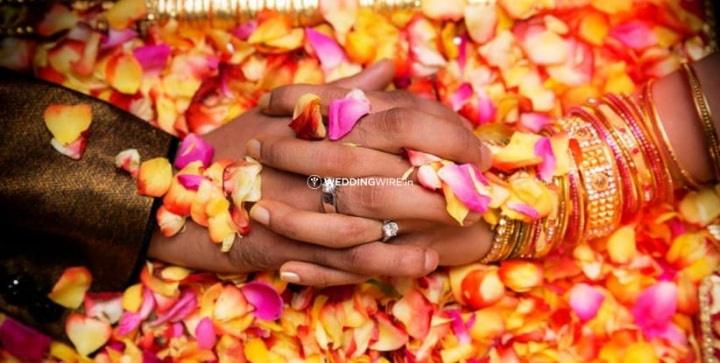 If you like something that is a little edgier then a simple platinum ring with a diamond is worth looking at. These rings are subtle and the diamond doesn't look too flashy and yet when you look closely you can see it. These rings are a good option if you'd want to wear it every day since they don't attract too much attention.
A lot of grooms don't like to wear jewellery and would keep minimal accessories with the sherwani for men but would in fact like to wear their men's engagement rings as often as possible.
3. Gold with Diamond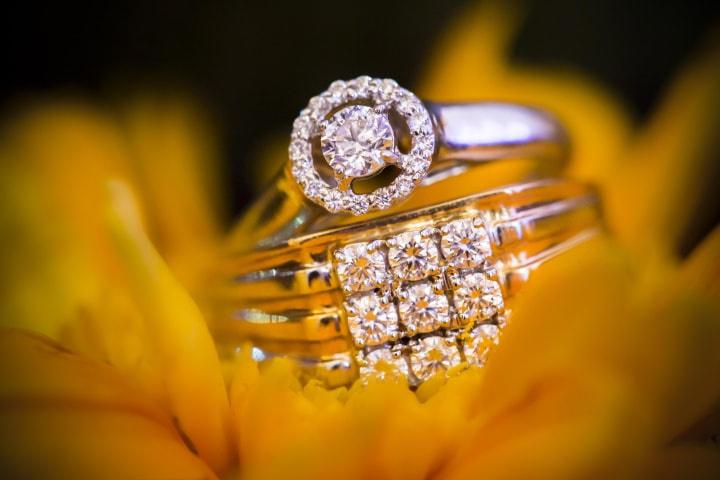 Now, if you're the type of person who likes a little bling then a gold band with an inset diamond is the way to go. These gold wedding bands can be a designer or plain, and you can pick the size and shape of the diamond that you like. You can get one to match your bride's engagement ring to make it all the more special.
Diamonds don't always have to be a girl's best friend. We love how beautiful this piece amid men's engagement rings would look from the lot.
4. Gold and Platinum mix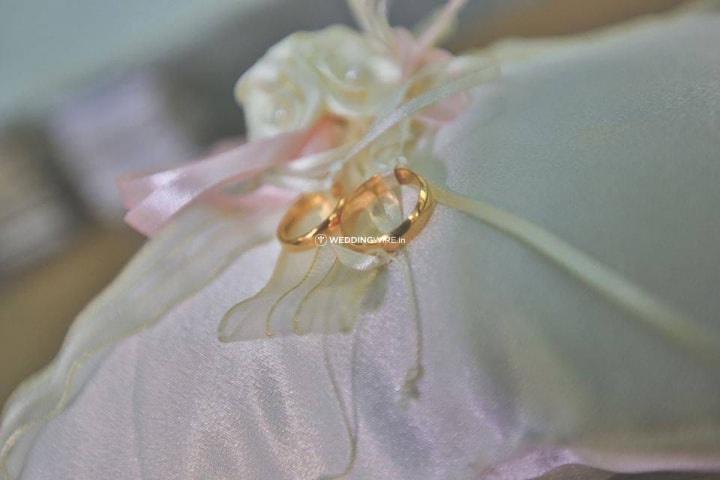 For those grooms who don't like any stones, the gold and platinum mixed men's engagement rings would work out really well. These bands can be any way you like, either platinum with gold or the other way around. In any case, you can customise it to suit your taste and comfort. Keeping it simple is also an easy way to wear it all the time and it looks quite dapper.
Don't be surprised if it gets more attention than your bride's engagement ring.
5. Crafted Rings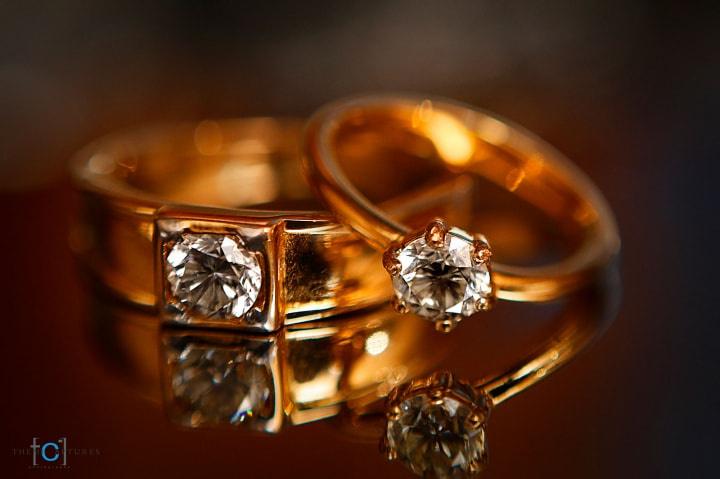 Crafted rings give you the option of transforming a simple band into something more personal. These wedding rings can have all sorts of designs and engravings. You can have it made to your taste, it can have an inset diamond or even be a mix of gold and platinum.
These rings give you the freedom to pick and choose and have a ring that truly represents your style and is customised to match your bride's ring as well. One of the best kind of men's engagement rings ever!
6. Simple Gold Band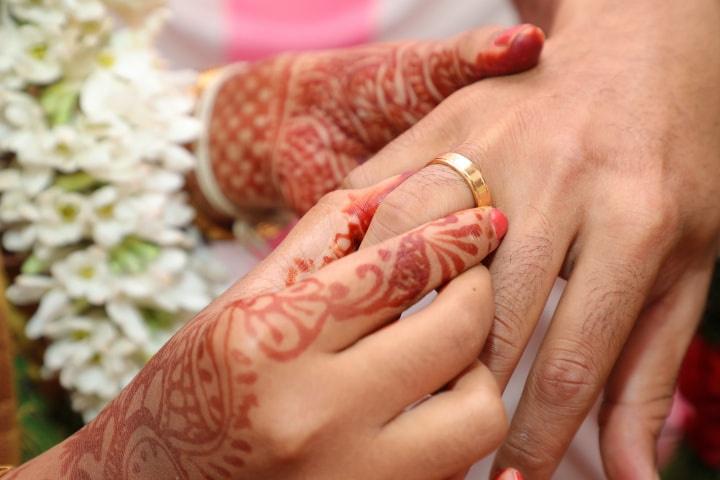 The plain gold band is the kind of ring that is most popular abroad. Most men prefer wearing a simple gold band. If you share the same tastes then this is a classic. The simple gold band is timeless and never goes out of style. This is the kind of ring that you can never grow out of and will always want to wear.
You can even have it engraved with your initials and your wedding date to make it all the more special.
Finding the perfect engagement ring is essential since this is the one piece of groom jewellery that he would always wear. It is important that it matches his taste and style, much like his sherwani or the bride's lehenga or the wedding decor. It has to be representative of the couple and their vows of marriage.
Some additional tips before you purchase one of these men's engagement rings are mentioned below: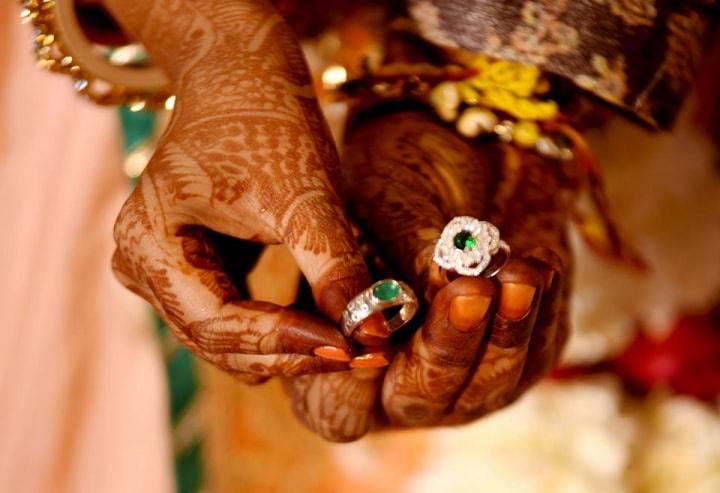 1. Make sure you get the size right, no point buying a men's engagement rings if it doesn't fit well. Right?
2. Buy it from a store you have a good rapport with. If it ever runs out of shine and needs polishing, it would be a cakewalk for you to visit the shop and get work done then and there
3. Surf your options well. There are a plethora of designs, so before you invest in buying one make sure you have looked at enough men's engagement rings before you finalise on one
4. Try and shop for the ring together, there is nothing fancier than some matching rings that you can later flaunt as a newly wedded couple
5. Stick to your budget and don't splurge unless the ring in the question is totally worth the extra pennies
We hope these tips helped you and made buying a ring a piece of cake for you. What kind of a ring did you buy for your spouse? Tell us through the comments!