Revamped Wedding Vows, Millennial Couples Decided for Their D-day
Wedding vows! Saat Pheras! Put a spin on these traditional Hindu wedding vows to be pronounced as husband and wife. Take cues from some of these songs.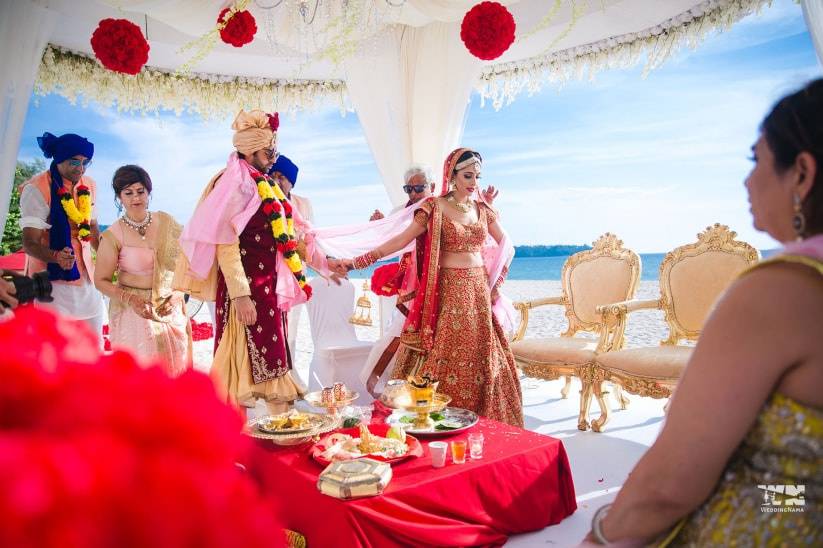 Wedding vows! Saat Pheras! Janam-Janam Ka Saath! When you find the person you want to spend the rest of your life with, that moment changes your life for the better (or worse.) Weddings are a once in a lifetime occurrence and for that same reason, they deserve to be special, unique and more about you than anything else. In this article, we will be moving away from discussing venue decoration, or wedding photographer or perhaps what bridal outfit would the bride be adorning.
We have curated for you a ridiculously crafty, mushy and funny list of wedding vows which will spin your wedding around for all the right reasons. Take a cue from some of these wedding vows and make them your own. Watch your spouse's face light up as he/she hears them!
1. The First Vow For Provision and Nourishment
Kisi Disco Me Jaye, Kisi Hotel Me Khaye!!
A fun spinoff of the first wedding vow. Being two sides of the same coin, your hubby can promise to take you out every now and then as you promise to feed him till his heart desires at his favourite food joint. Same in meaning but epically different in approach. Put your own spin on these wedding vows and ace your wedding game. The husband promises to not only provide for his bride but also take her out as an when she please. And, in return the bride promises to take him out for dining if not cooking.
2. The Second Vow For Giving Each Other Time and Strength
Tan Tana Tan Tan Tan Tara….Chalti Hai Kya Nau Se Baara
How about making your Saat Pheras a little funny and out-of-the-box. How about you tip your wedding DJ well in advance and ask him to play the song once the wedding rituals are over? You, in a typical Bollywood style, lip-syncing the lyrics of this classic number. Your bride wouldn't be able to keep herself from breaking into a laughter and neither will your guests.
Or, perhaps!
Mere dil ka tumse hai kehna, bas mere hi rehna, nahi toh...samjhe!! (Armaan)
A little bit of love with a little bit of threat! Do this or else….If you hear her words clearly, they are out and clear. Be hers forever or there is a real danger!
3. The Third Vow Is for Prosperity
Mai barish kar du paise ki jo tu ho jaye meri
None can survive without some million dolla bills! A few American dollas and boy, you'll slay! Promise each other that you will provide for one another, through thick or thin, less or more, now and forever. That is all this vow is all about really!
4. The Fourth Vow Is for Family
Kashmir tu main Kanyakumari
Fifty-fifty har situation mein hisse-daari
As much as we love our families, we share a love-hate bond with them. And taking on someone else's family is no easy task. But once you get married, you both become a part of each other's families and have to help each other to gel with all the family members. Well, for the bride it's two mums to crib to (we're kidding). That's how you promise to spread the love by sharing and caring.
5. The Fifth Vow Is for Progeny
Tujhse Dil Lagaaun, Main Bhi Family Banaaun
Ab Yehi Toh Bas Iraada Hai Mera….
Dilbara Eh Dilbara, Apun Ki Tu, Apan Tera
This could be a tremendous way of taking this vow. A promise of forever being yours and starting a family together. Your husband will become the star of the night for mustering the courage to sing this in front of people. But, then again you will love him for doing so and this will definitely make some perfect snapshots and videos.
6. The Sixth Vow is for Health
Mere liye toh fit hai tu (sexy eyes copy)
Promise to take care of each other's health with this song inspiration. Taking care of your health is important so that you can be there for your partner.
7. The Seventh Vow For Endless Love and Friendship
Kyunki tum hi ho...Ab tum hi ho...Zindagi ab tum hi ho
Imagine your groom singing this line out loud! What satisfaction you'll reap from this one. You are the apple of his eye, the star of his life and now you know that too and so does everyone else!
Tu mera tu mera tu mera tu mera tu mera hero number 1
She, too, will not shy away from reciprocating what she feels about you and how intensely. Make sure there is someone capturing this epic moment. It will totally be worth it. You are asking your bride for her precious time and for us that is baller! In return, she assures you that yes you're the one in her own boss style.
Vows That Show What a Marriage Should Be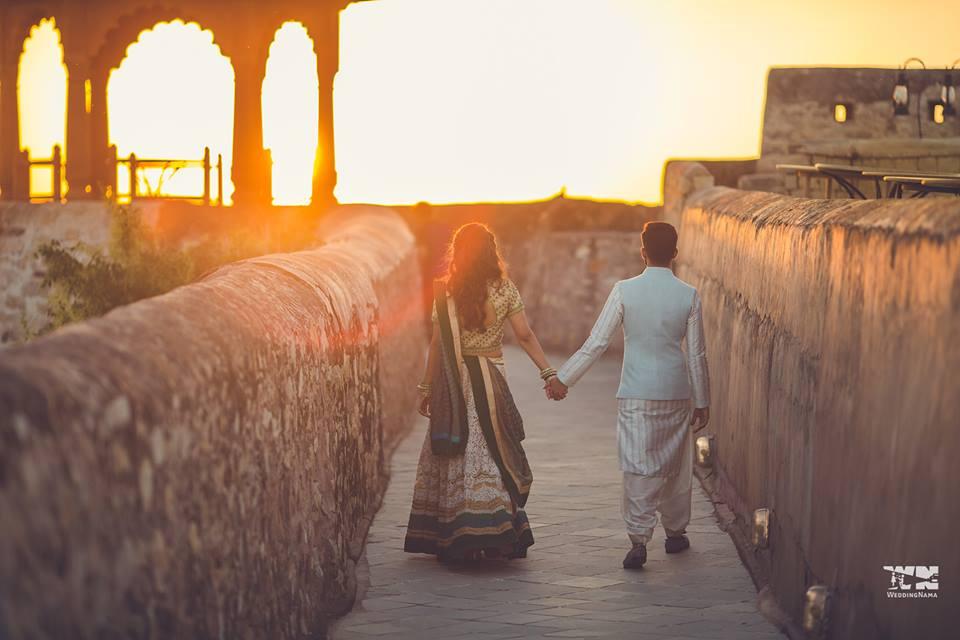 You can take a look at these revamped vows or take inspirations from the traditional vows with a modern twist. As long as you believe it, it is going to be worth everything. Some of the wonderful vows that can highlight the partnership that you are embarking on include:
1. "To be a loyal and true friend to you."
Any kind of partnership comes down to the bond that two people share. Couples that treat each other as friends are likely to share a common ground of love, affection and happiness.
2. "To communicate fully and fearlessly."
If it is one thing that we have learned in this fast-paced interactive generation is that communication is the key element holding all that goes around you. When you are beginning a new life with your partner, clearly communicating what you think or feel has to see the light of the day so that even they can understand you better.
3. "To love you more with each passing year."
As we grow old, a partner is what we need the most while their love and affection can keep you afloat in the face of any challenge that life throws at us. A constant companionship is what a marriage is all about.
4. "To value our differences as much as our common ground."
Each individual is different and holds a set of values, thoughts and opinions which we should be open to. Marriage is not a regime that you are entering in that makes you lose your individuality.
5. "To never hurt you when I am angry or tired."
It is human behaviour to snap when faced with anger or irritation. But this behaviour is what that can drive our close ones away. It is always best to anticipate any kind of challenges that you might face and resolve in it a peaceful manner.
6. "To be your partner in everything."
Marriage is not about possessing a person but working with them as a partner, in everything that you face in life.
7. "I will see these vows not as promises but as priveledges."
Wedding vows are not about saying some promises and thinking of them as obligations. But thinking of them as priveledges would certainly fill your life with happiness and bliss.
To bring to fruition any Indian wedding, exchanging wedding vows is a must. They are meaningful, hold a lot of significance and are what binds two people into one. As you keep up with the wedding formalities and wedding rituals incorporate one of these fun and quirky ways of promising each other that you're theirs from this point on and till the very end of life. Your wedding will surely end up becoming the talk of the town and create a buzz for seasons to come.
Try and come up with more personalised vows and share them with us through comments.