6 Latest Wedding Cards That Are Trending This Wedding Season
Want to know what designs & ideas for Latest Wedding Cards are trending this year? Check out a whole world of creativity you can use on your wedding invitations.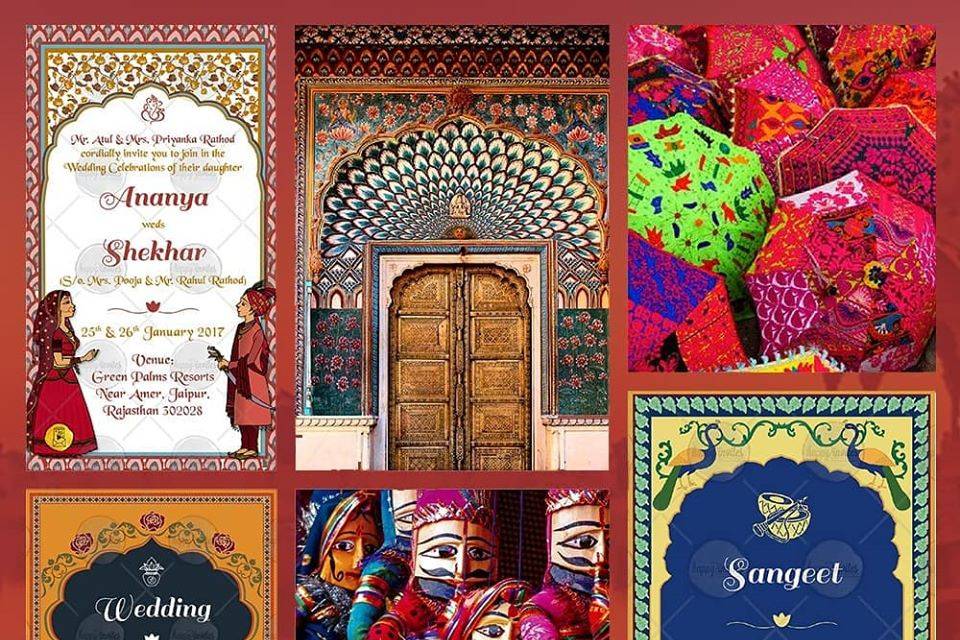 Wedding invitations are the first aspect you need to take care of in your whole wedding planning checklist. And there are a plethora of options to explore in that area. From simple personalised wedding invitations to heavy boxed invitations to smart digital cards, couples go to great extents to create innovative marriage cards for their guests. And by innovative, we don't necessarily mean expensive. With technology and smart tools, you can invite your loved ones using intelligent methods, depending on what you're looking for.
There are all kinds of wedding invitation designs and styles for everyone. So, take a look at some latest wedding cards in different styles using different ideas and utilise them on your own wedding!
Theme based Wedding Cards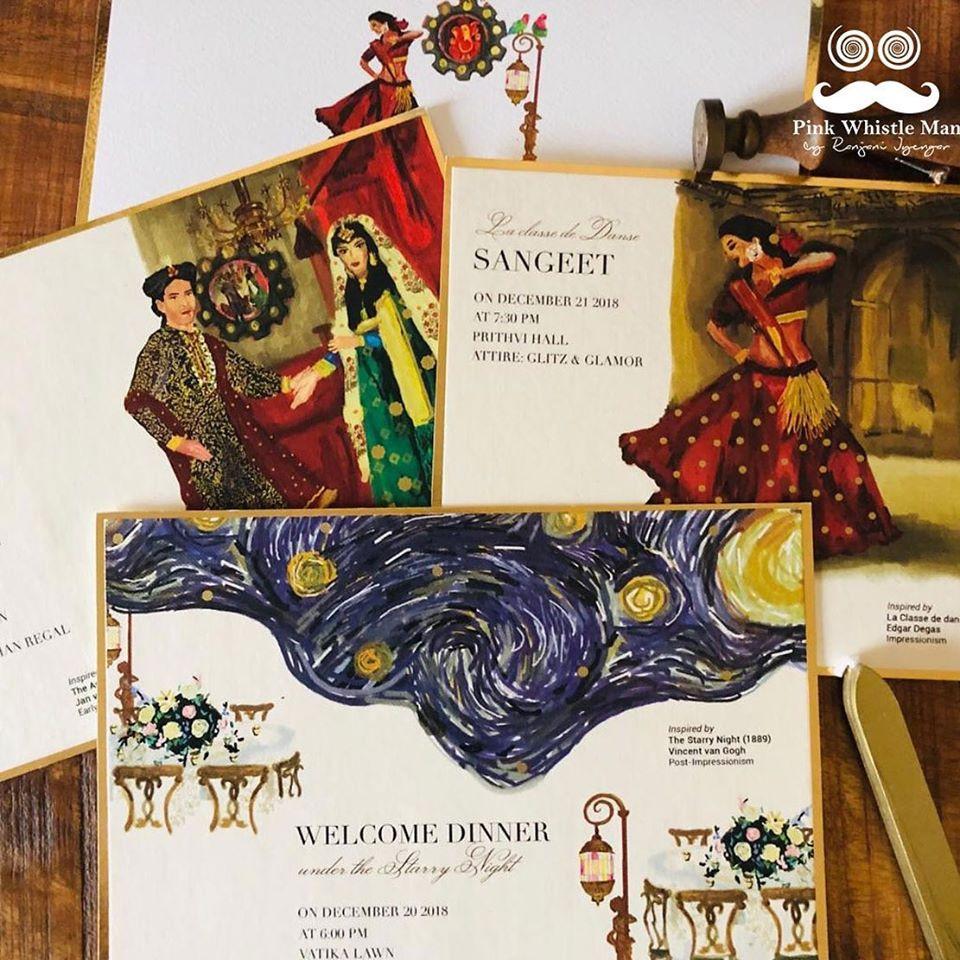 If you're planning a theme wedding, it only makes sense that you use the same for your latest wedding cards. For example, it's a beach destination wedding in Goa. How about you create exclusive sea beach themed wedding invites for all your guests? Use images of oceans, beach shacks and coconut trees. Put shells in your blue and coral shaded invitation boxes. Frame your invitation wording using specific beach-oriented lines. Also, don't forget to add your beach-side Cocktail party info on your invites.
If you're having a Bollywood theme event, use movie posters and references. You can create different invitations for different wedding functions but stick to the theme.
Traditional Wedding Cards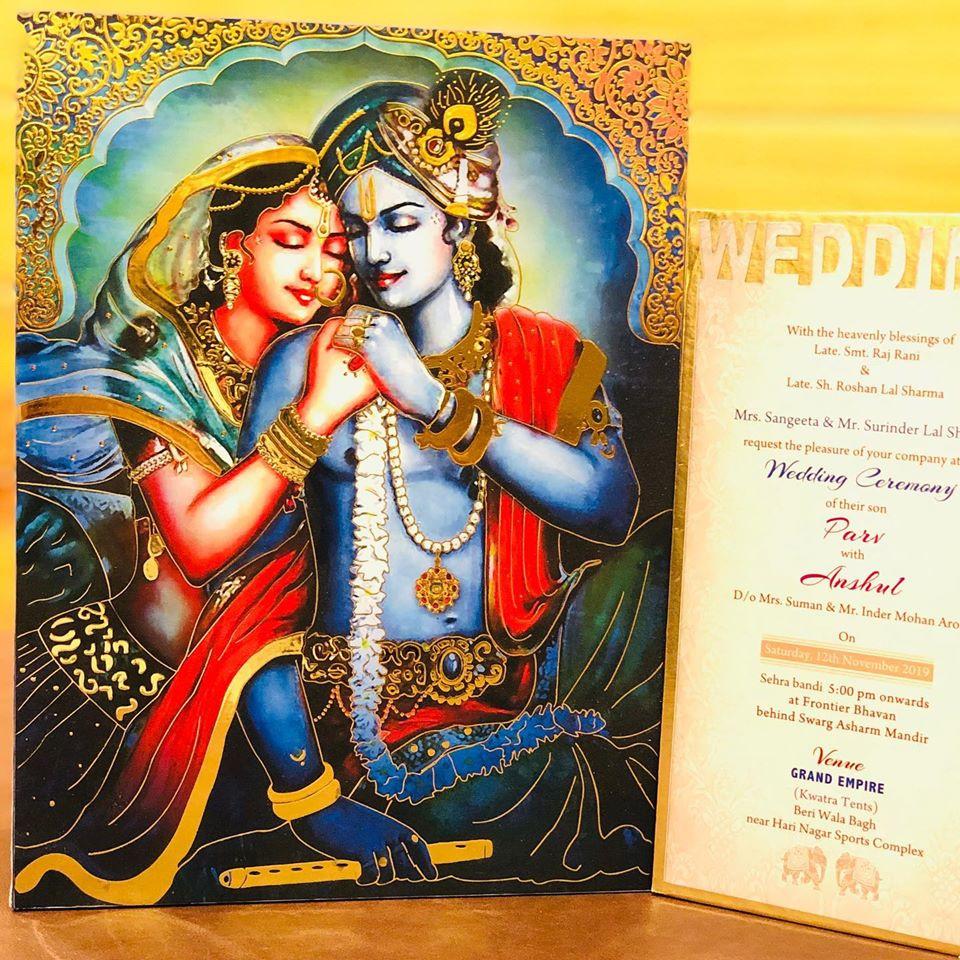 Because traditional invitations are always in style! Especially if you're inviting your grandparents and elderly guests to your wedding, you might want to stick to the traditional invitations. But traditional doesn't have to mean boring! For example, if you're creating a traditional Bengali wedding card, use lines from popular Bengali songs or poems in your invitation wording. Relevant motifs like paisley, butterfly, conch shell, Palki and the bride & groom would be some essential inputs to add.
Similarly, for a Marathi Lagna Patrika, use Ganesha and Marathi religious quotes in your latest wedding cards. Talk to a professional wedding card maker for creative designs and colours.
Customised E-Wedding Cards
Sure, the concept of digital wedding cards has been around for quite some time now. So what's new about it? What inputs would make your latest digital wedding cards unique and out-of-the-box? Here are some fun ideas:
Nature-friendly Wedding Cards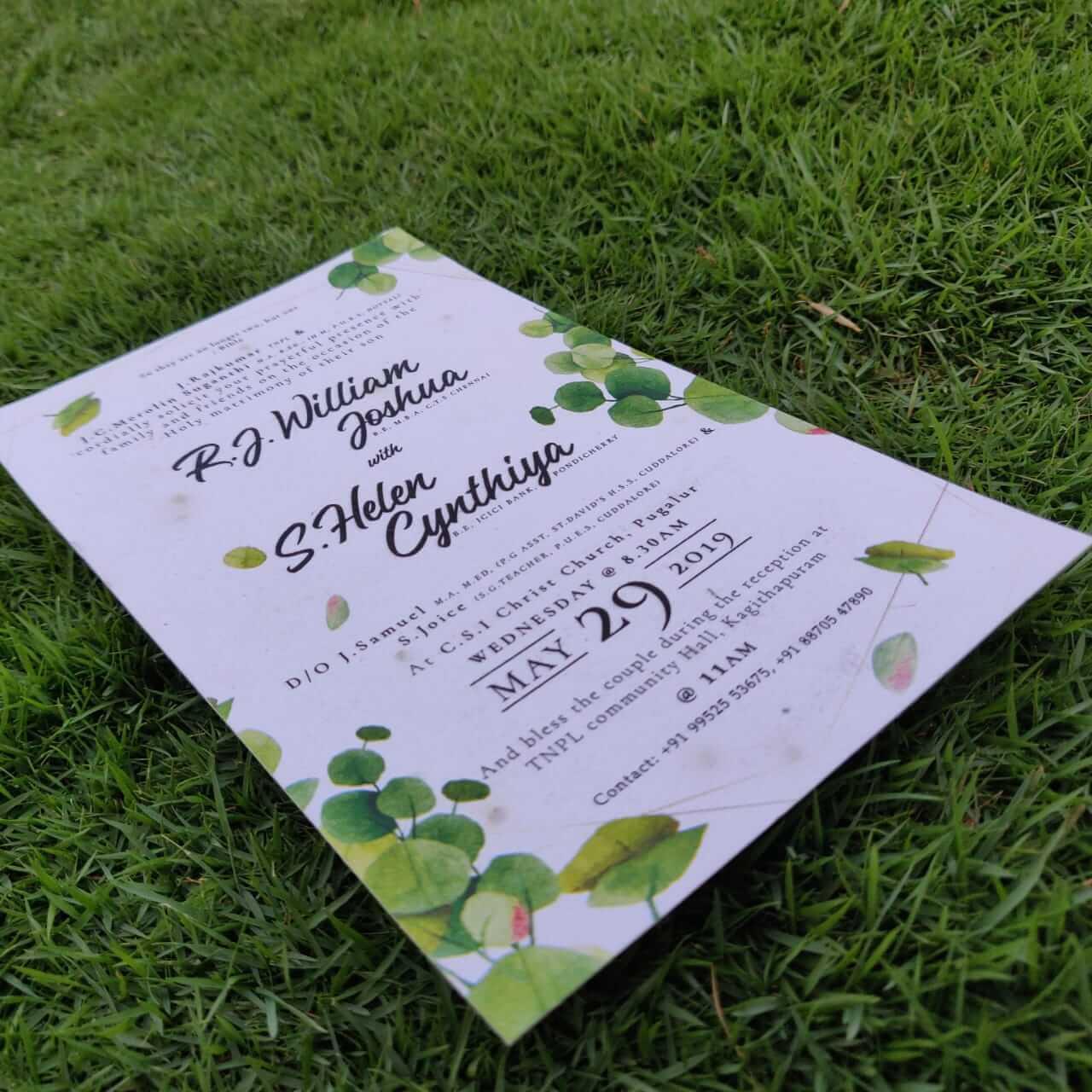 Image Courtesy: Pepaa
One of the latest wedding card ideas that millennial couples swear by are the eco-friendly ones. Use the plantable wedding cards that would not just go to waste once the wedding is over. A plantable paper card is aesthetically designed with embedded vegetable or flower seeds in them. So, once the wedding is over, your guests can give something back to mother nature by planting those seeds.
One Bangalore based company called Seed Paper India has initiated this trend and it's catching on quick for all the right reasons. So if you're planning a green wedding, there can't be a better way to invite your guests!
Elite Boxed Wedding Cards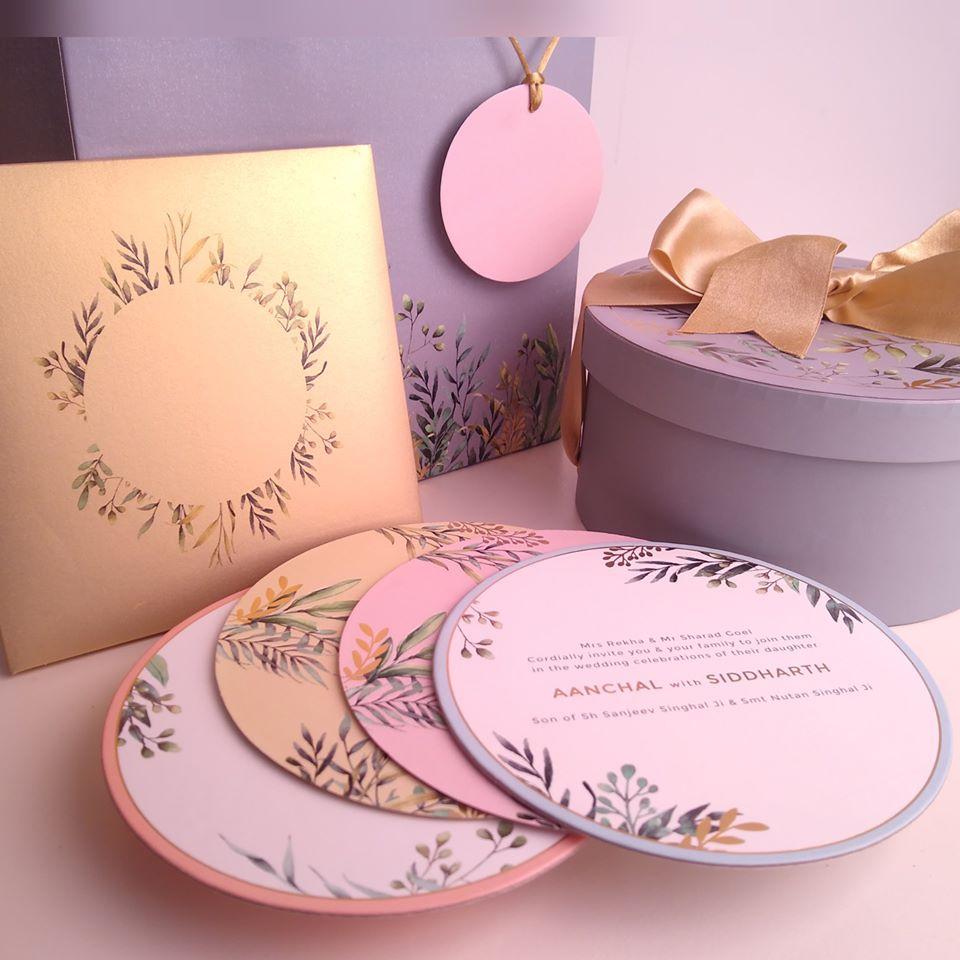 When you're having a grand royal theme wedding, you simply can't compromise on the grandeur! Boxed invitations and scrolls are the latest wedding cards trending in India. Recreate the Nawabi or the Maharaja era with these boxes. Make your guests feel honoured and important. Include fancy favours inside the box and get your invitation printed on a silk scroll cloth!
You could also go for wooden plates or coin-shaped discs. A Rajput wedding or a Hyderabadi Nizami wedding, boxed scrolls are the way to go!
Creative "Save the Date" Wedding Cards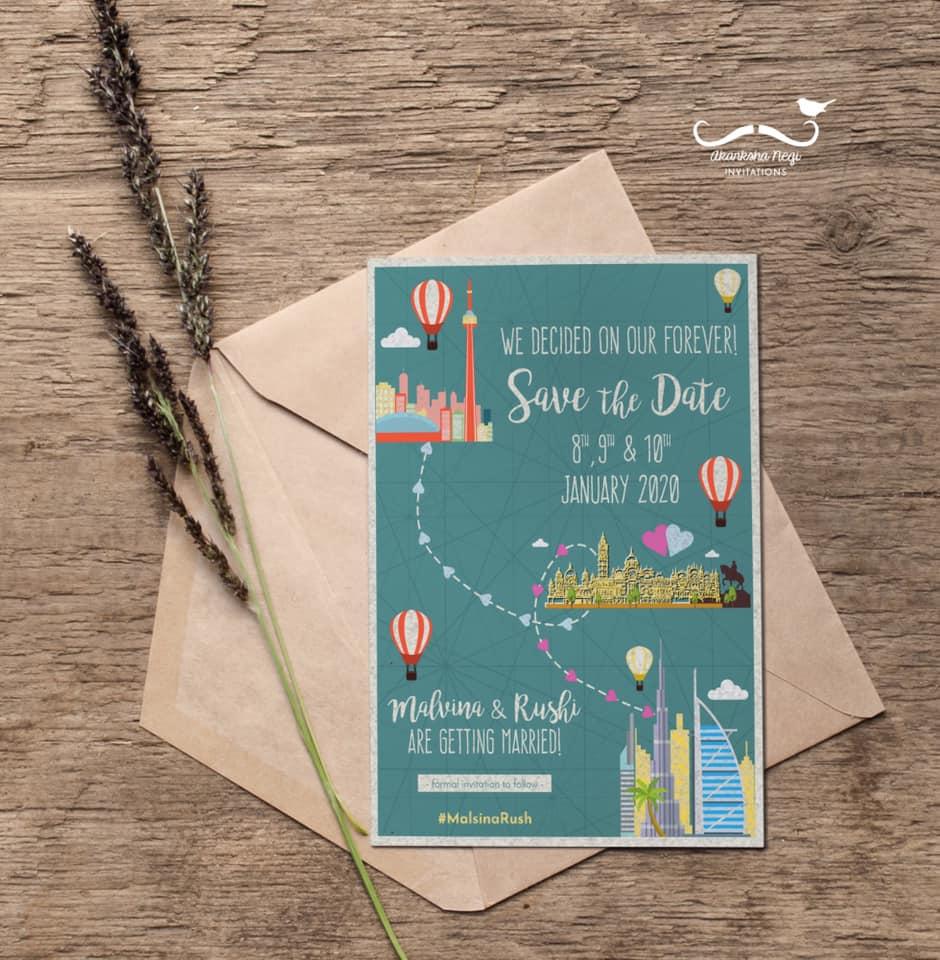 Simple yet powerful! One of the latest wedding cards that new-age couples are opting for is the minimalist chic "Save the Date" invites. You could use quirky invitation wording for friends or beautiful emotional quotes for relatives; a few poem lines to tell your guests about your love story or formal wording for colleagues.
Share your "Save the date" on your wedding websites, Facebook page, Whatsapp or get them printed on unique modern card designs. DIY or take help from card designers for an apt wedding card!
There are many wedding card making websites where you can design the latest wedding cards on your own. Try them out and make your invitations as personalised as possible. When you invite your guests, it's important they feel wanted. You must ensure to include that personal touch to your wedding invitations. Especially on your digital invites. Don't go for generic invitations for everyone. Categorise your guests and send them invitations accordingly. Fix a budget for invitations and stick to it. With some imagination and creativity, you can design brilliant cards without having to spend a fortune!
Check out some wedding card designers from our vendors' list for some great designs.