7 Digital Wedding Invitation Designers to Consider This Wedding Season
We present to you some of the finest wedding invite designers you can trust for your curating your digital wedding invitations. Read on & design the invite of your dreams!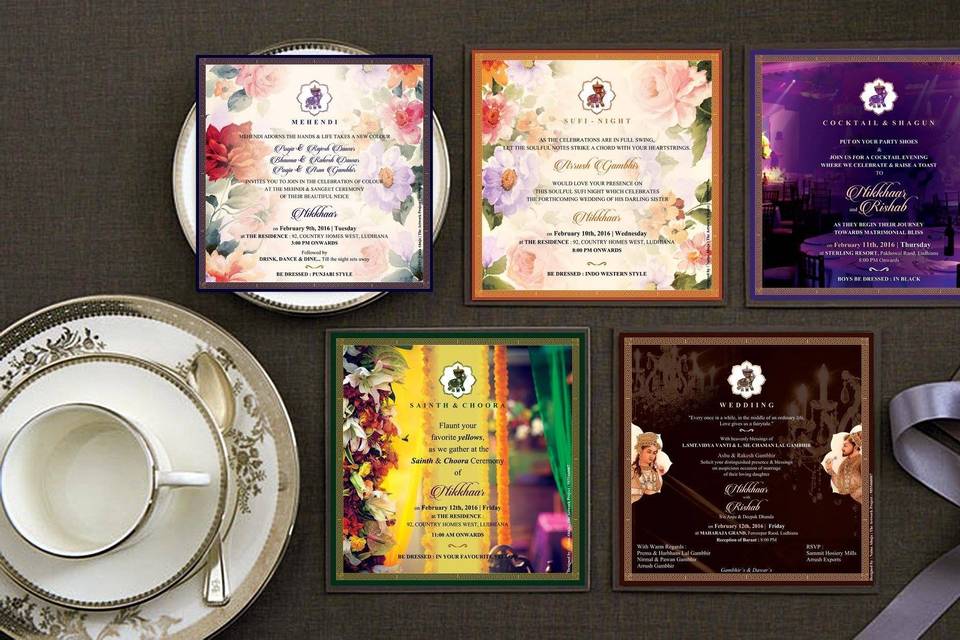 Gone are the days when couples-to-be lounged all day long in search of a perfect wedding invitation for their dreamy wedding day. Thanks to the digital transformation that gave birth to the digital wedding invitation and has caught the millennials by surprise. Why not browse over a zillion digital wedding invitation designs at the comfort of your home and effortlessly select the one you truly resonate with.
We will make your life easy peasy with some of the shortlisted wedding invite vendors that excel and specialise in digital wedding invitations that are creative, unique and extremely attractive.
From floral fantasies to latest glam laden wedding invites, expect an array of gorgeous designer digital wedding invitation that you can order at a snap of your finger. How convenient, isn't it? Take a look at some of our go-to digital wedding invitation here:
1. Caricature Design - Shailly Gajjar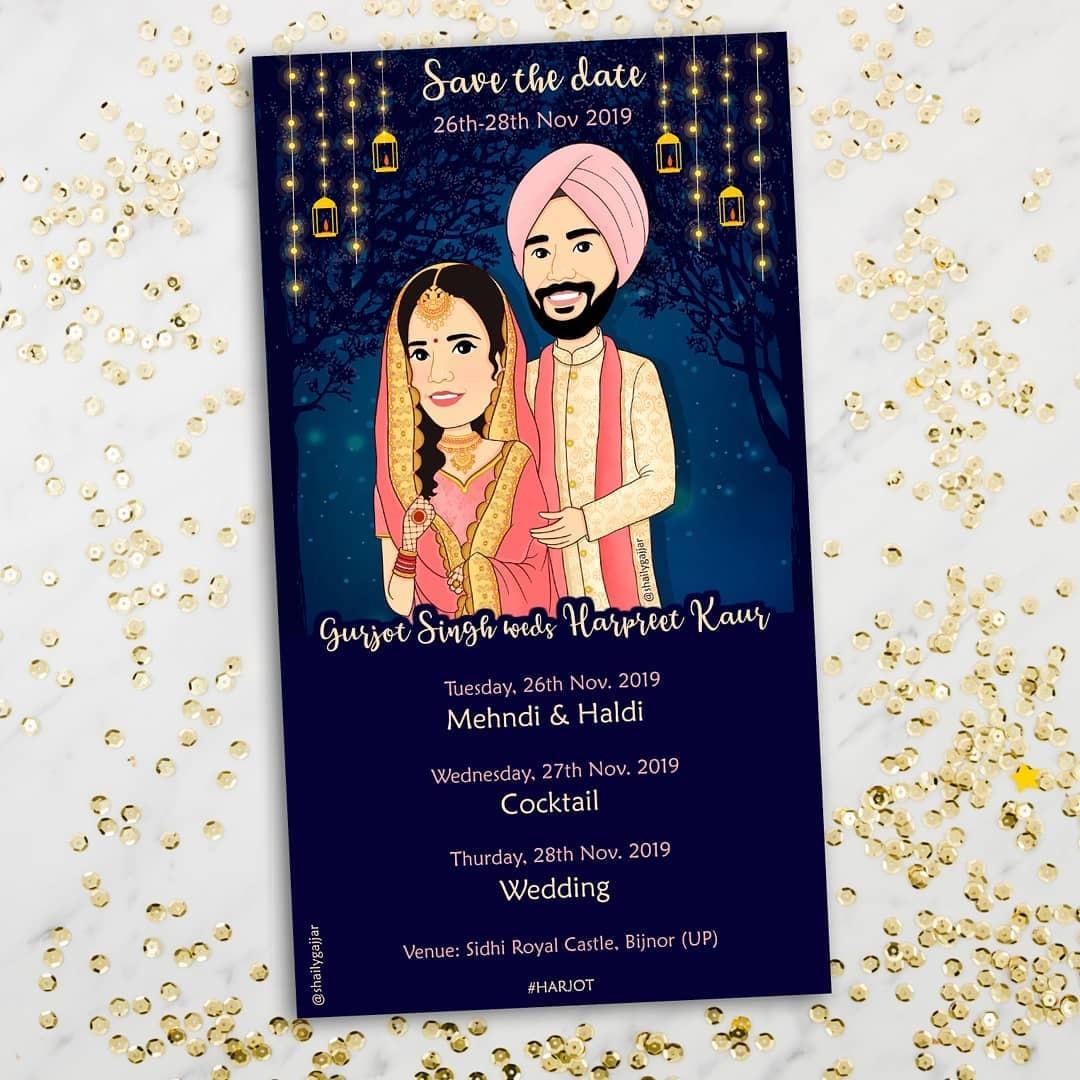 Picture yourself and your significant other in a quirky illustration glazing the cover of your stunning digital wedding invitation. Owe it to the talented and artistic minds of Shailly Gajjar who quite fine connoisseurs of are creating illustrations that will totally blow your mind like nothing else. Their team of meticulous designers and illustrators will produce such exotic elements for your aesthetically appealing digital wedding invitation that it's hard for you to resist. Bank on them for all things quirky, hep and fun to curate and uniquely craft compelling design ideas for your wedding day.
2. Baroque Opulence - Nimantran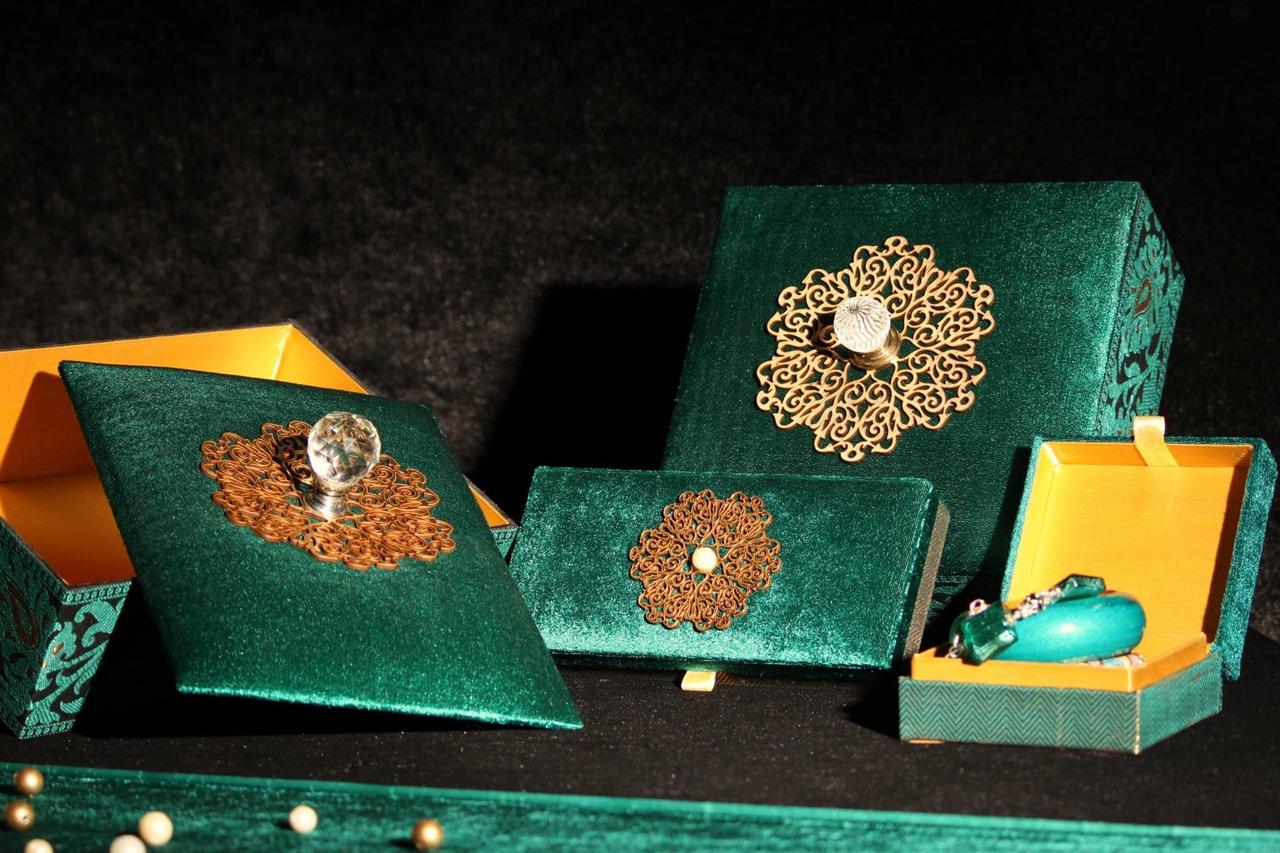 Ecstatic and stunning, Nimantran's digital invites gleam the essence of an old-world romance that lends a renaissance vibe to such a digital wedding invitation. Their specialisation in handcrafting OTT flamboyant wedding invites for the highbrow clientele certainly weaves a magic wand to the wedding day and believe us, we are shook.
The brilliance exuded in the flavours of their earthy colour palette with a touch of embellishments bring a flair of exuberance and will further your journeys as you dream on with your partner under the moonlight sky on the D-Day.
3. Royal Glam - Design by Harpriya Singh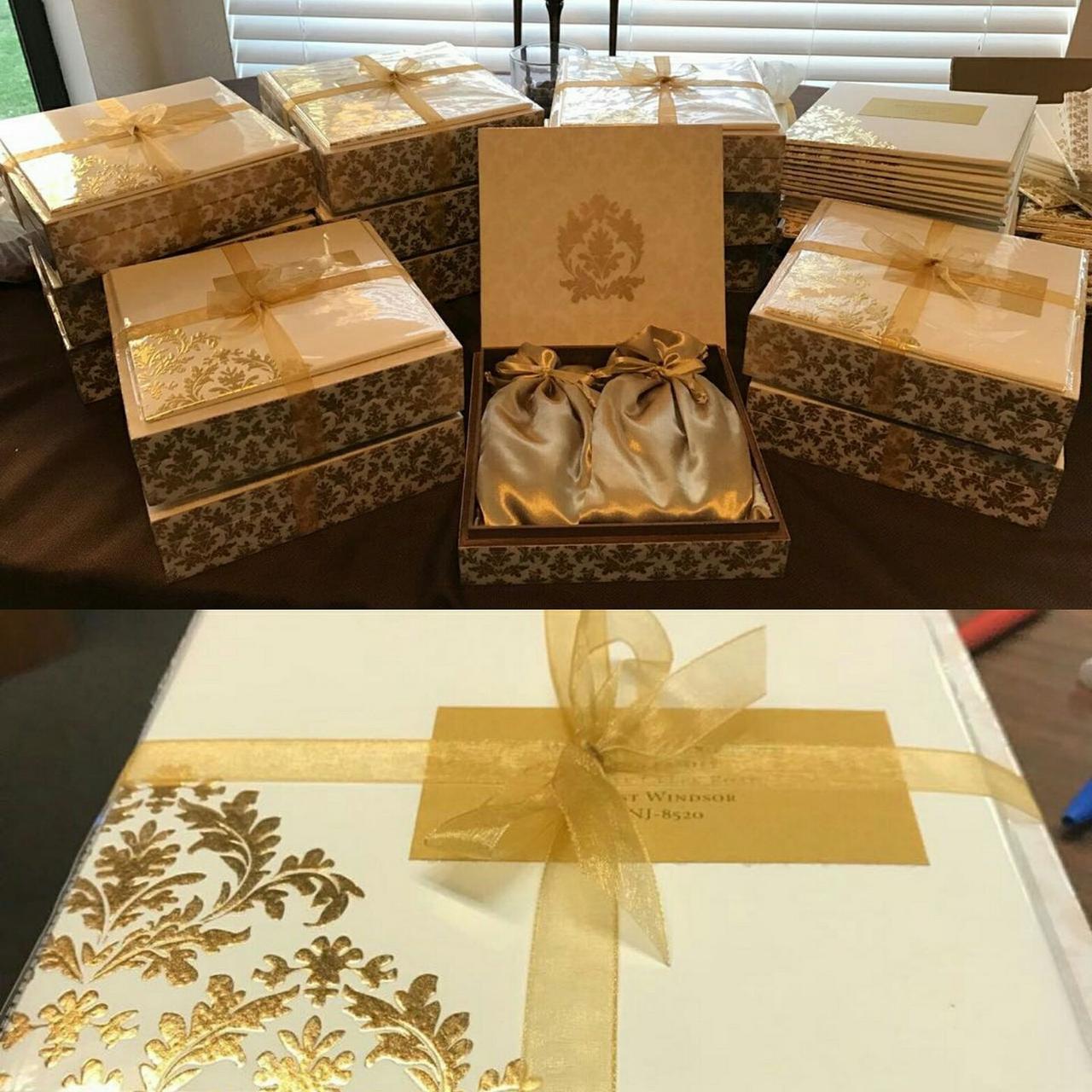 Scintillating and glamorous, these digital wedding invitation are curated by an independent wedding designer Harpriya Singh who specialises in handcrafting experiences rather than just a physical package.
She will ensure to turn your dreams into reality by curating conversation-starter wedding invites compelling your friends, family and guests to pour some genuine compliments for such sheer glamour offered on the hard copies. You can ask her for the customised and bespoke digital wedding invitation and expect nothing less than natural charm.
4. Palanquin Design - JJ Wedding Cards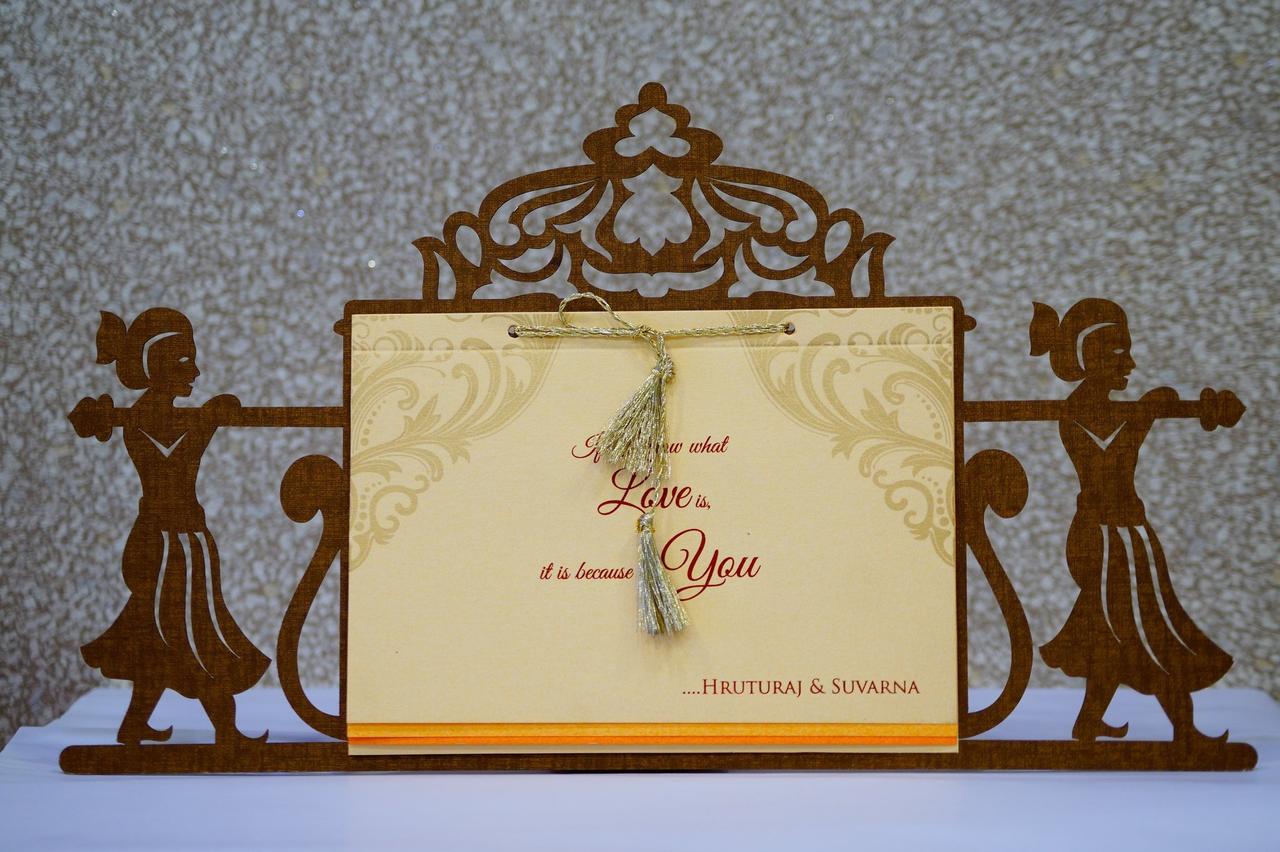 Remember the good ol' days when the brides were carried sweetly on the classic palanquins from her maternal home to the husband's abode. Re-create the magical charm of such exotic looking digital wedding invitation featuring the palanquin bearers crafted in wood with a breath-taking handcrafted recycled paper that reflects the rustic elegance of the wedding invite and offers a whiff of fresh air in terms of design and visual aesthetics.
This will work like a charm for couples who have a thing for poetry, literature, art and traditions all combined in one because you know we're totally referencing the nightingale of India - Sarojini Naidu. Garner compliments from your guests as you invite them to the biggest celebration of your life.
5. Pastel Pop - Ang by Aangi Shah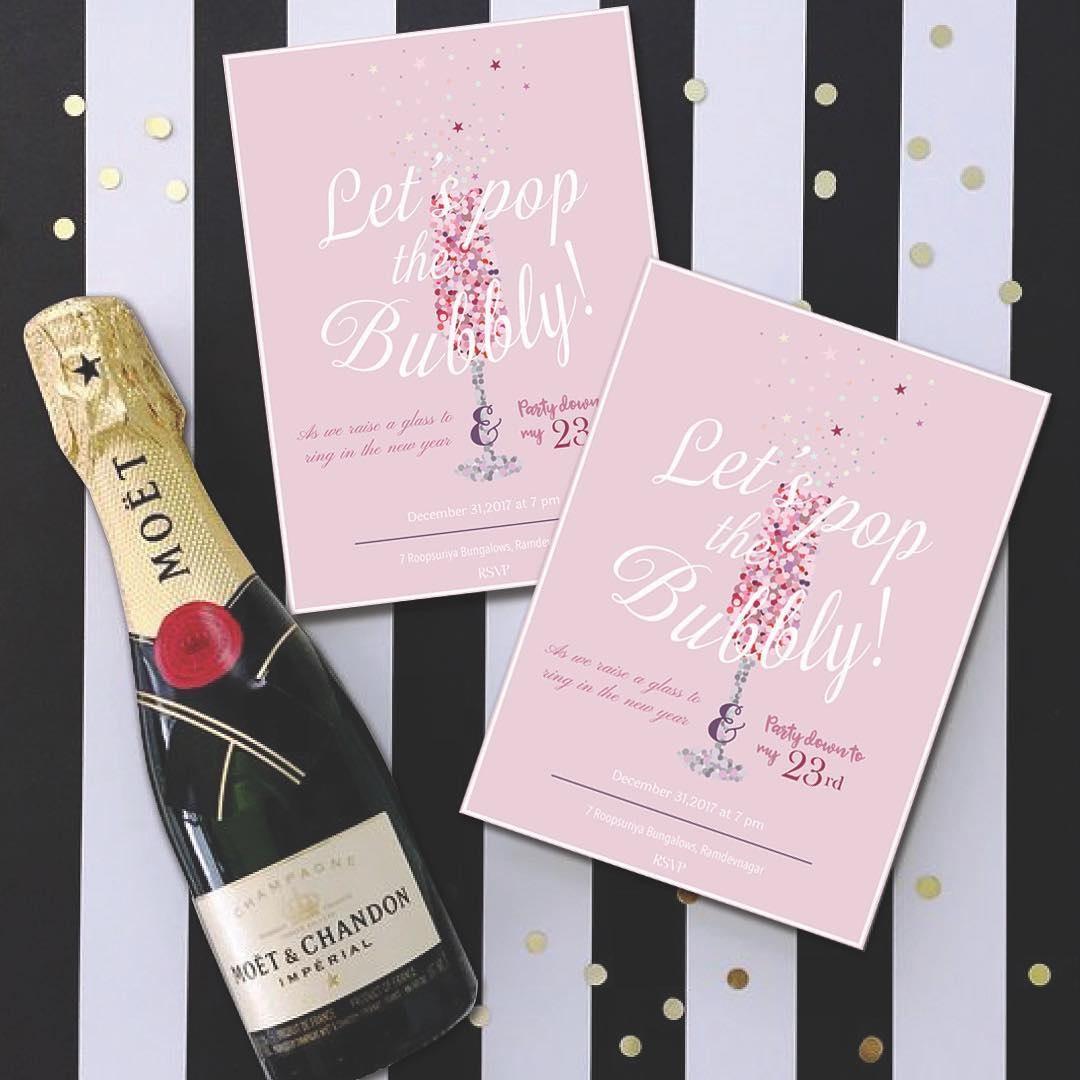 Feminine and graceful, pastel cards are the thing especially when you want to invite your girlfriends for a fancy and jazzy bachelorette party. Memories must be cherished and how with a bottle of Moet and pastel-esque flavours reflected in the digital wedding invitation. The oh-so-glittering wedding invites cast a spell on you and sway in flamboyant vibes with your girlfriends. You can totally count on Aangi Shah for all your bespoke wedding invitations.
6. Bay to Be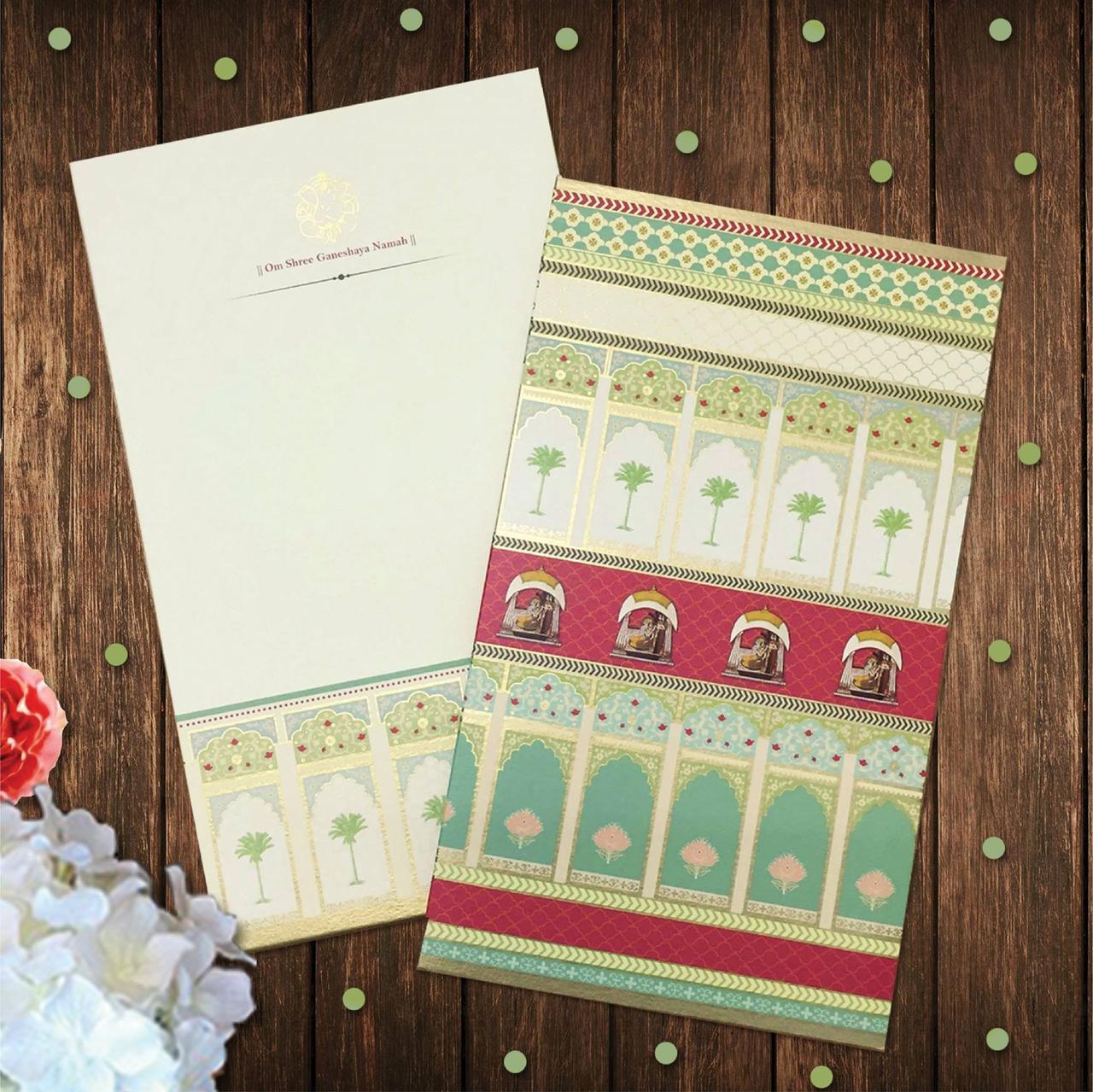 Just like the name suggests, make your digital wedding invitation your bae. Exude an air of royalty with such alluring wedding invites that will cascade into the deepest chambers of your heart and how. We bet you won't be able to get over this culturally rich representation of Mughal architectural design-inspiration on your e-vites.
For couples who are classy and regal, add a touch of intricately designs on your digital wedding invitation to garner some compliments and heart the essence of artsy vibes your way.
7. Floral Romance - Vintage Notes Papery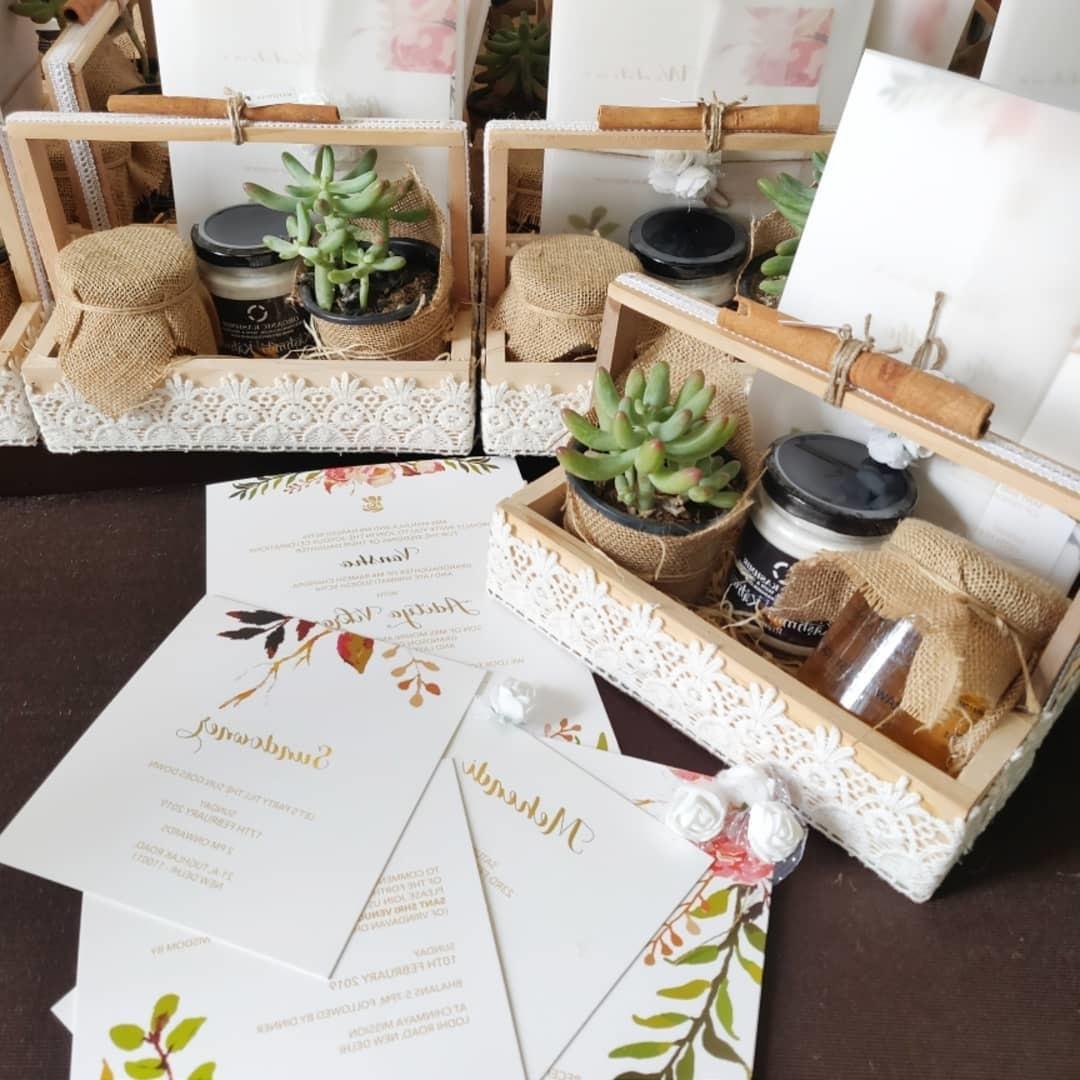 When flowers and pastel paint a perfect picture of a romantic tale of your love story, you just want to keep yourself glued to the beauty of digital wedding invitation like this. Count your blessings because Vintage Notes Papery will certainly embrace your flaws into perfection and offer you nothing less than an overwhelming heap of glam wrapped in a warp of exuberance. Your search for a perfect digital wedding invitation will be wholly true and come to life with this enchanting affair of floral romance weaved in a card.
Having said that, the digital wedding invitation market is thriving and flooded with many talented and creative souls out there curating and handcrafting such stellar pieces that it's hard to miss on the show. Which one did you love the most?
For us, it's the rustic charm of palanquin bearers who stole the show and how, tell us which one truly captivated you in the real sense in the comments below.