Impressive Wedding Card Matter in English
Penning wedding card matter in English, before it's rushed to the printer? Keep these things in mind to ensure that you're as on point on content as you're on design.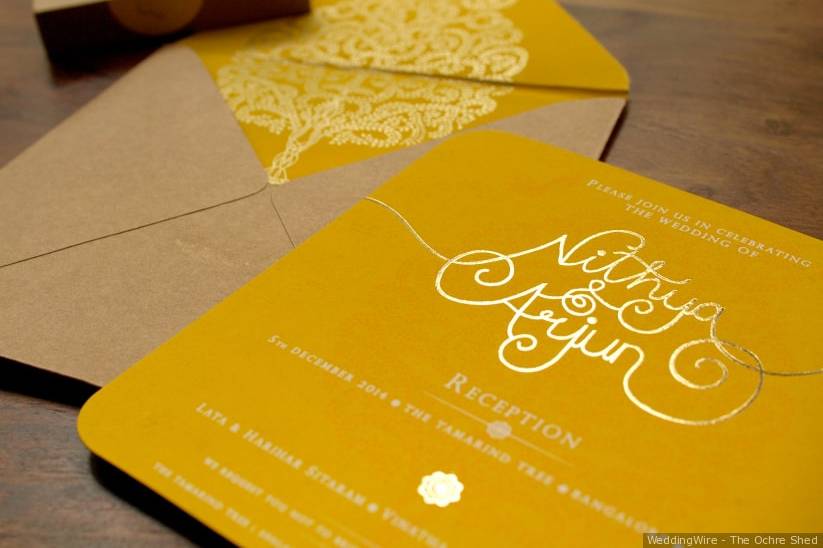 When you concentrate on every little detail for your wedding ceremony, that also extends to the first detail that everyone would see - the wedding d wedding card matter in English. You'd defend yourself by saying that you chose the best card design and the gourmet goodies to go with it. But did you check the wedding card matter in English inside the wedding invitation?
We are ending the 2020 and it's time to stop repeating the same old template over and over again! Even if you choose to opt for e-cards and video invites, the wedding card matter in English should not end up with typos, incorrect phrases or unnecessary details. Personalisation can go a long way with the wedding card matter in English. These marriage invitation fails would leave you as laughing stock and cause unnecessary confusions. So let's avoid that by getting into the details of wedding card matter in English.
Wedding Card Matter in English for daughter
Sending daughter away for life is not easy. It takes lot of strength and emotions and thereby you try to leave no stones unturned to make everything special for her. So from invitation card to the attires and almost everything is meticulously planned for daughters. Here are two important pointers when planning for wedding card matter for her.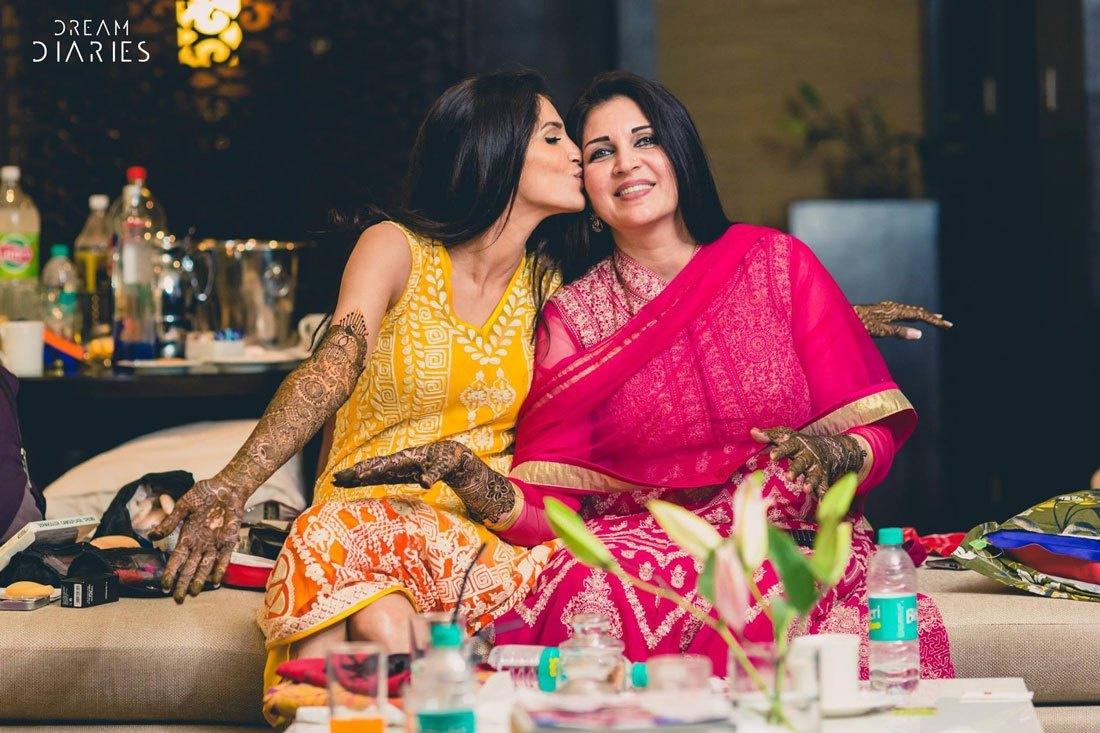 Make sure that you put these changes to your wedding card matter in English instead of going with the easily available templates. You don't how adding personal touch can do wonders. The invitation card to the grooms from the girl's side should also be also planned well for that lasting impression. So here are some options for the wedding card matter in English. Read to know more.
Replace RSVP with 'With Love'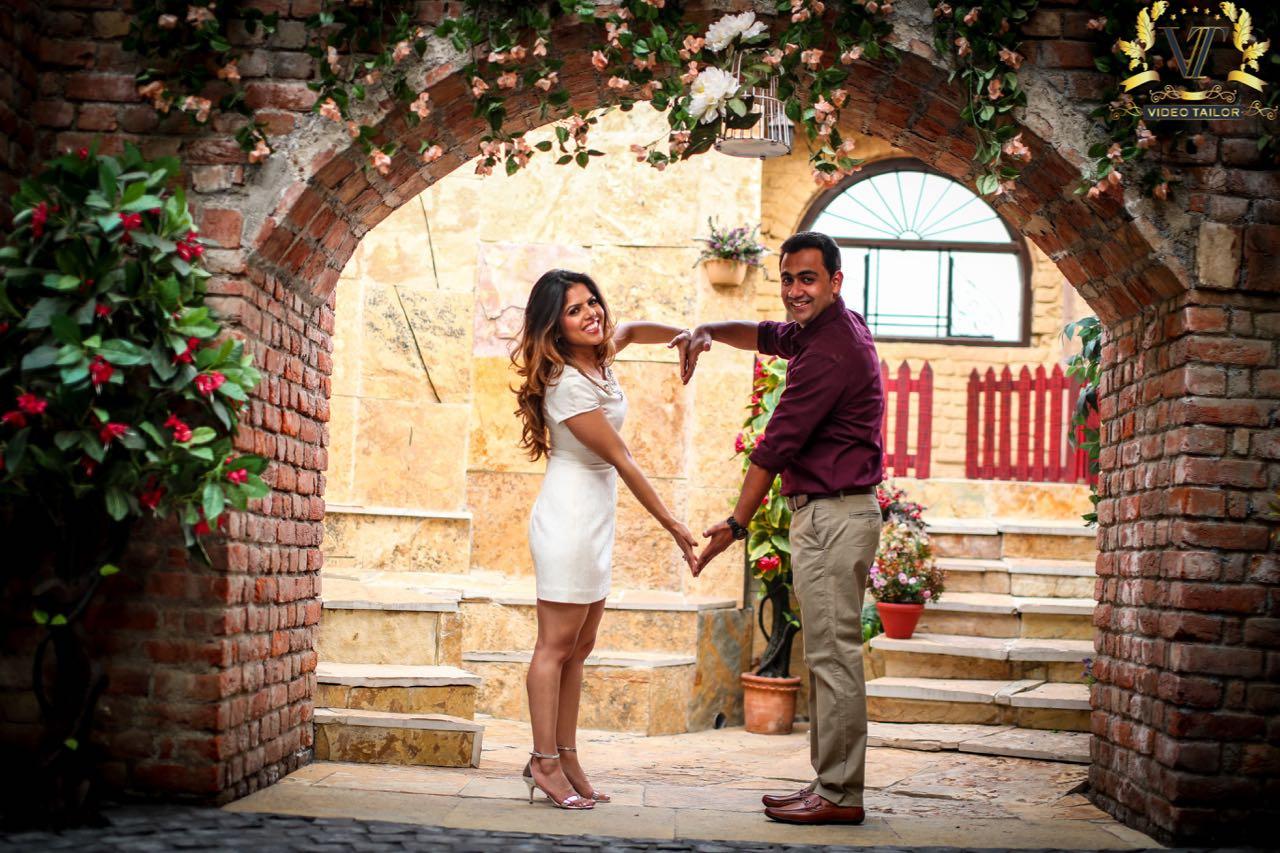 Image courtesy: Video Tailor
In the west, RSVP (Répondez s'il vous plaît) is used to actually inform the couple if you'd be able to attend (also if you are getting a plus one) the wedding or not. But in India, RSVP is a flawed concept and it's useless to write RSVP with your sibling's or uncle's name on the card. Instead of writing RSVP in Wedding Card Matter in English for daughter you can add "With love" or "Warm regards" to the wedding invitation card matter in English.
And if you have a wedding website, you can mention its link in the card and request people to RSVP there instead.
Spell out your Parental love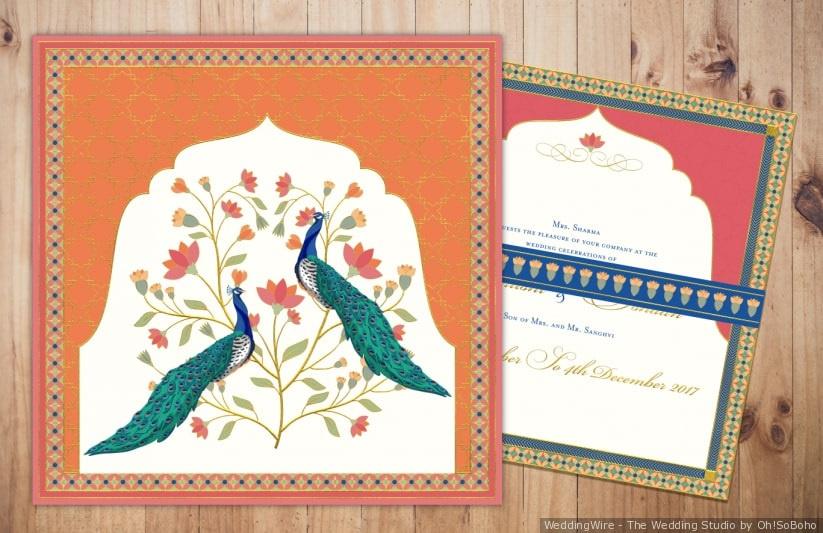 Image courtesy: Dream Diaries
It's time that we stop addressing women (especially mums) with their husband's name and give them their own name and importance. You can't simply write 'Mr & Mrs Pushkar-Singh-Duggal would like to invite you...' to address both your father and mother. Writing full names of your family members as part of your wedding card matter in English is a gesture of respect that they deserve. The parents of the bride should especially keep this point in mind while curating wedding card matter in English.
Wedding card matter in English for son
In India, marrying one's son is a matter of pride. The parent are on on cloud nine. Indeed, nothing can replace the emotions parents experience when they see their son taking "saat pheras" and ushering into a new beginning of his life with his better half. Thereby, to make this entire experience cherish able it is important to draft the invite carefully. Yes, the wedding card matter in English for son should also be well thought and curated. After all, being humble will garner all the attention and thus guests who will revel away to glory.
Dump cliched wedding phrases and quotes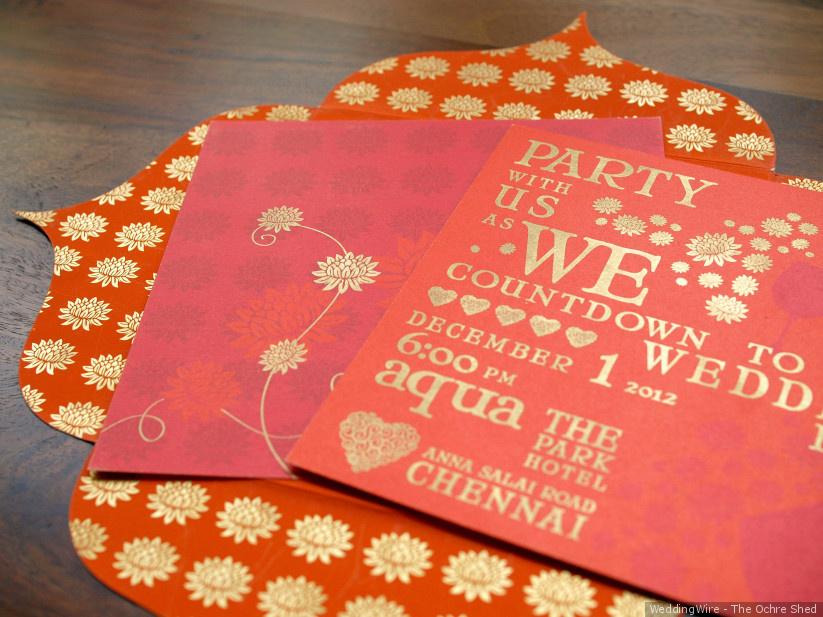 At a time when brides-to-be and grooms prepare their own vows and heartfelt speeches, why should your wedding invitation be any different? Stop copying phrases like 'Two Hearts Two Lives...One Dream Forever' and use the space to actually entice your guests to come on over. You can actually come with something yourself to put in as invitation quotes. Tell your guests what all they're in for your wedding on your wedding card matter in English itself. Something like -
Lots of Dancing, Awesome Music, Food & Booze!
Everything that a WEDDING should be about!
Let's create halla and dhoom - let this barat be cherishable
Wedding card matter in English for friends
Planning for wedding card matter in English for friends is easy! You can write, pour anything you feel like if you are sending to a friend. Content l "Shit Just Got Real" and "Doomsday has arrived" phrases sprinkled all over etc will work! A creative wedding card matter in English in a quirky way should lure everyone!
Skip the formal tone in wedding card matter in English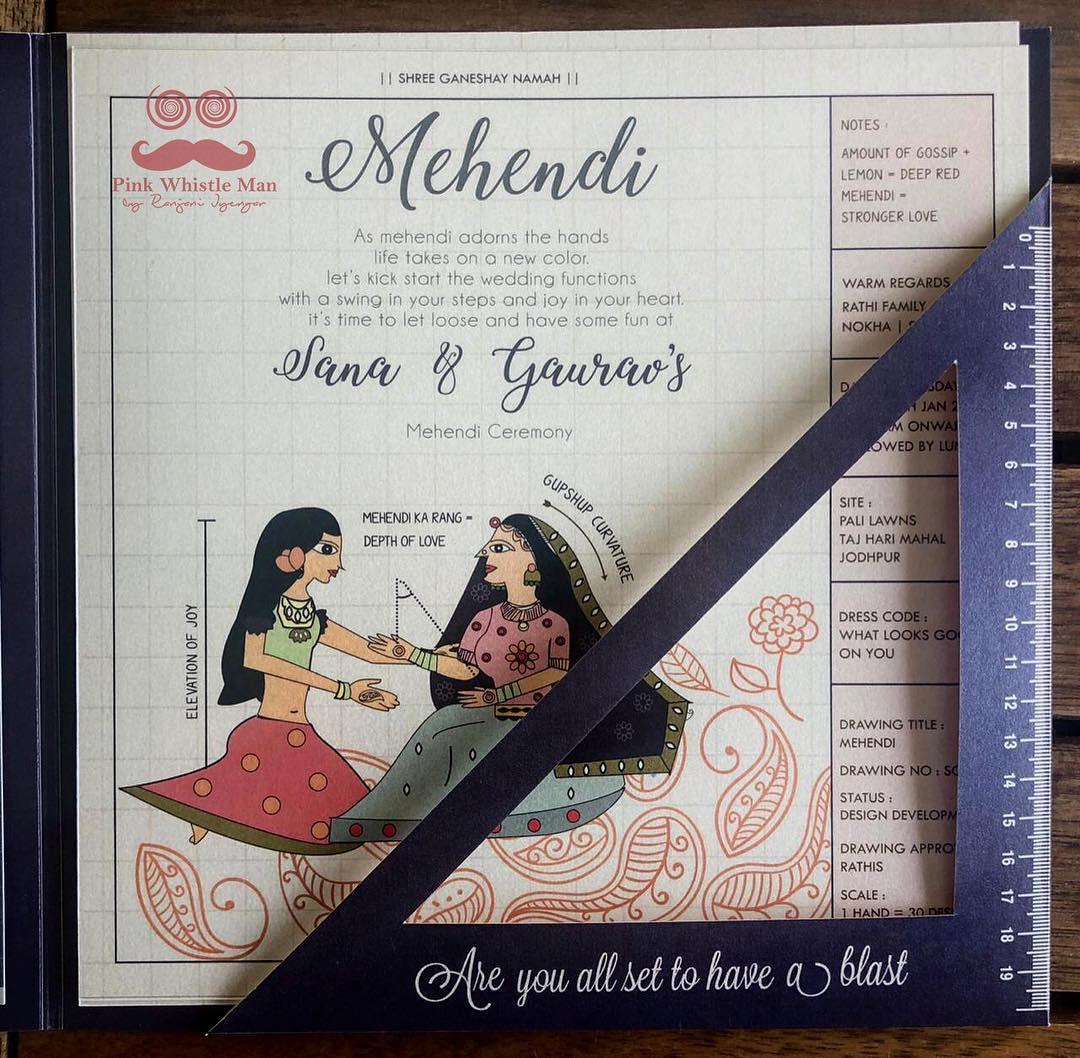 While sending out a card to friends? Don't use terms like "solicit gracious presence" or "deeply honored" on your card. You aren't inviting a chief guest to an inauguration or for cutting off a ribbon. It would also seem as if you copied your wedding card matter in English from a template, rather than composed it yourself. Instead, you could switch it up with something simpler and more personal such as: "We'd love to have you come and celebrate with our friends and family. This would suit your elders and senior colleagues but if you are printing separate cards for friends, you can even go quirky in your wedding card matter in English.
Minimal clutter in wedding card matter in English

It is understandable how you want to make your entire family/friends (including the extended one) feel included in your wedding festivities. It really isn't understandable why you'd want them all on your wedding card matter in English. Leave out the uncles and the aunts and stick to your parent (or at most your grandparents) on your wedding card invite. This would also make your wedding card look quirky to add elements of fun curated especially for friends.
Add a personal touch to wedding card matter in English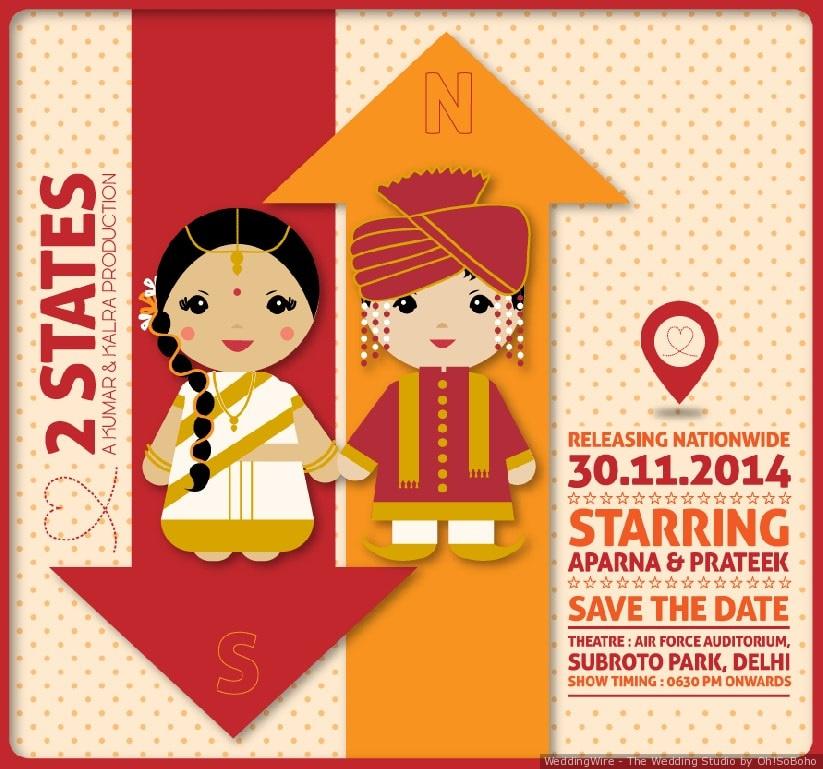 Instead of a quote that has been copied and pasted off the internet many times, use quotes that resonate with you and your spouse to be. It will also be a great personalised touch. You can write something about how the two of you met or how you have known each other for so many years. You could also keep it fun and light such as, "As long as she agrees not to cook, he agrees to come home every night." Turn your wedding card matter in English into a medium to make your guests smile when they read it. We're sure many of them would recall your funny invitation the moment they see you at the wedding.
The overall look and feel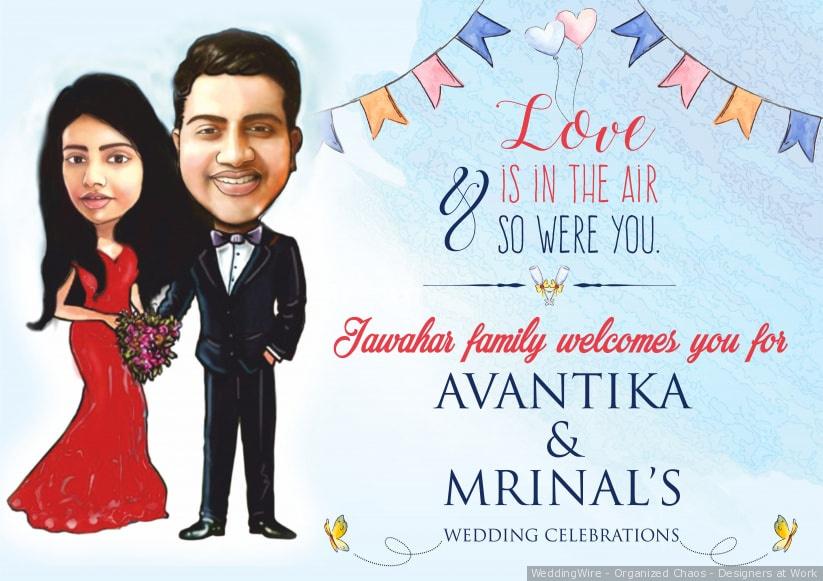 For friends you should ensure that your colour scheme and the font of the invitation card are on point. You don't want to send out cards with grammatical errors or in comic sans! Make sure that you match the colour of the text to the theme of the card (usually, black ink is avoided in Hindu tradition). Also, the font shouldn't be extremely cursive/fancy, making it too difficult for the guest to decode your wedding card matter in English.
Choose something legible and elegant, just perfect for your wedding invite.
Important point to remember in wedding invitation card matter in english
Specify location, landmark, date and time: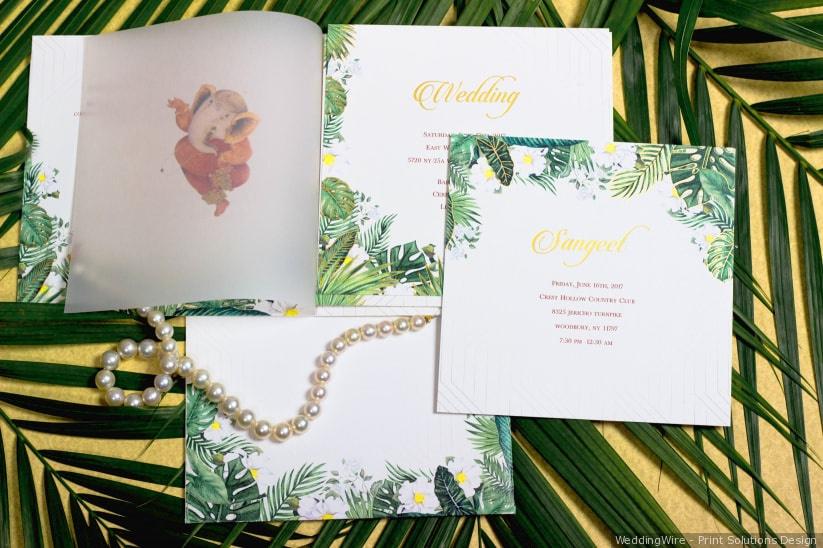 It is very important that you write the correct venue address, landmark, time and date for all functions. You don't want the guests calling you up endlessly on the day of the wedding to confirm the location over and over again! In fact, these lie at the core of any wedding card matter in English.
You can even etch put out a map at the back of the invite or to make things simpler, or add the QR code of the location of the venue. Since almost everyone goes by Google Maps these days, a QR code to the venue would be an appropriate addition.
Add a no-gifts please clause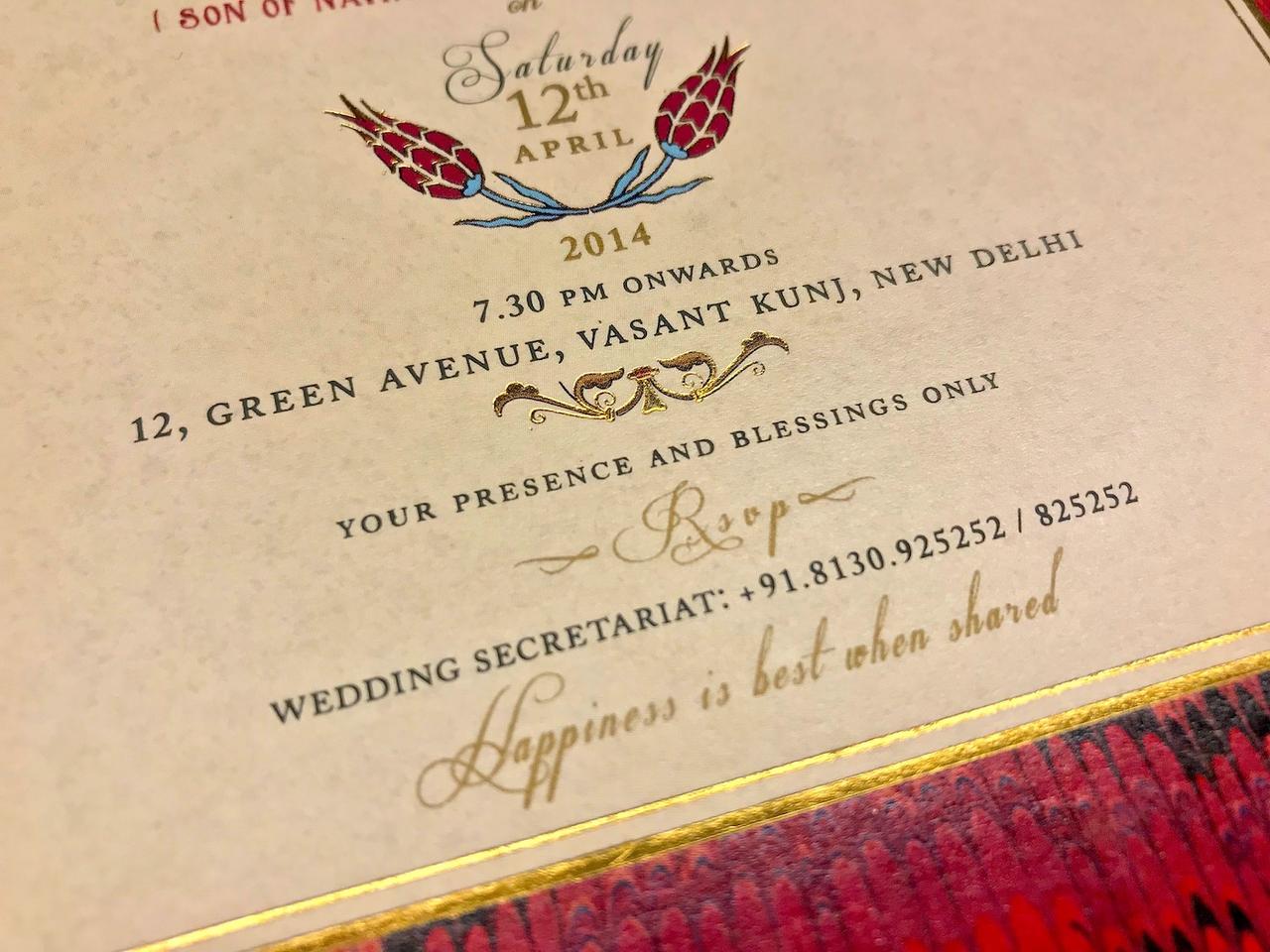 Image courtesy: Wedding Invites
If you'd rather not sift through mounds of unneeded wedding gifts or divert your guests' good wishes to a worthy cause, then say so in your wedding card matter in English. Trust us, this is not considered impolite or rude at all.
Rather, you'd save your guests hours worrying about what to give and rather spend that energy on being a part of your event.
You could also ask them specifically for things that you want - either donation to a cause or charity or even a contribution to your wedding registry.
Your wedding card can speak a thousand words. It is the impression you give out to the friends and family that you are hoping to see on the day of your wedding. Ensure that you give out the best impression not only by the outside of the card (and the additional goodies and wedding favours) but also on what words you choose to put on the card.
In the end, remember these points while curating the content of your invitation card. Bookmark this page if you feel the need.
Have you put it all together? Now, connect with some of our wedding invitation vendors to close this piece.