9 Wedding Cards: Take Inspiration and Curate One for Your D-day
Planning the right wedding invite is a herculean task as it speaks volumes of how the wedding will be. Set the right pace with cool wedding card ideas !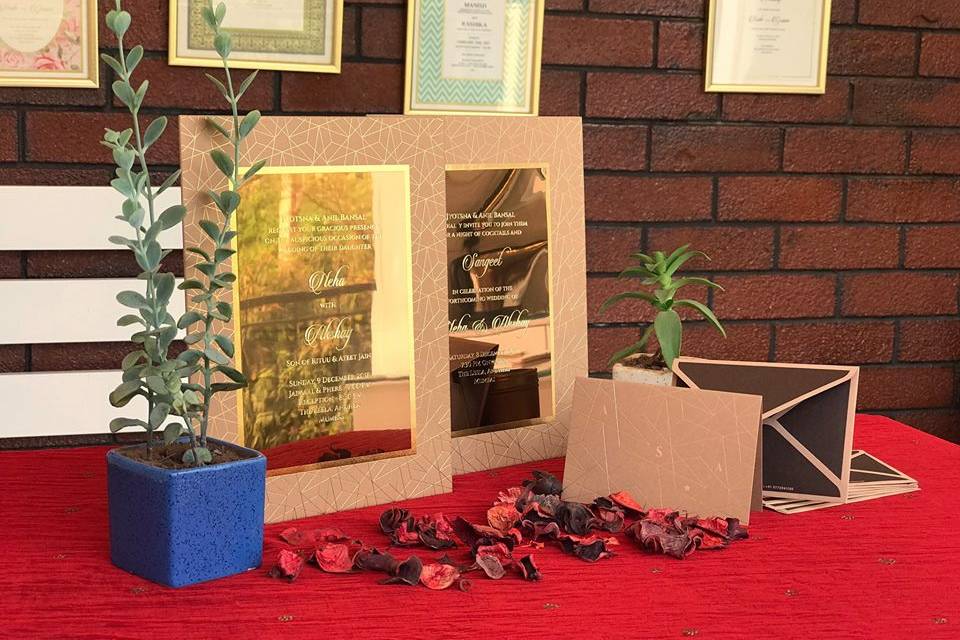 The wedding season is rolling in, and if you are the one getting hitched this season, you sure have a lot to worry about, and your hands will soon be full with the receipts of florists, banquet halls and caterers. One important and beginning step of the whole saga is to create the buzz by zeroing on an invite for your wedding guests.
It, sure, takes a lot of thought to pick the colours, cut and design of the cards. The wedding cards industry has not grown manifold because now the card needs to carry not just the information but the vibe of your wedding too.
Therefore, you would simply want it to be the best first step to set the tone of the wedding. In order to give you a little nudge in the right direction, we have brought together this list of 9 invitation wedding cards to take inspiration from. Take the guide:
1. Riot Of Colours

While looking for designs for wedding cards, this is where you can start. Make it a fun riot of colours for your invitees with a colourful theme. Pick a variety of colours unique to your traditional wedding palette and go on attributing a unique colour to each leaflet. To add more drama to it, you can even include some stickers and funky pins with quirky messages like "Bride's Troupe" on them
2. Floral Touch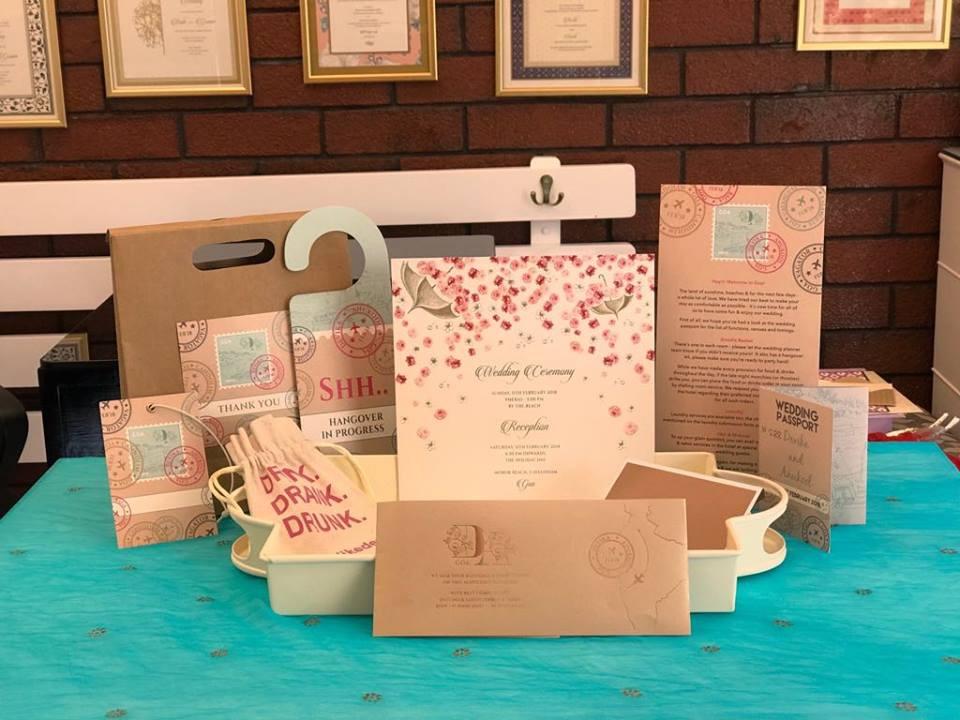 Floral is considered a classic theme for weddings with its charm of new beginnings and happy tidings, and you must think about using it for designing your wedding cards. You can try anything from graphic floral background to miniature daisy bouquets bound along with the cards for your invitees.
3. Caricature Cut-Out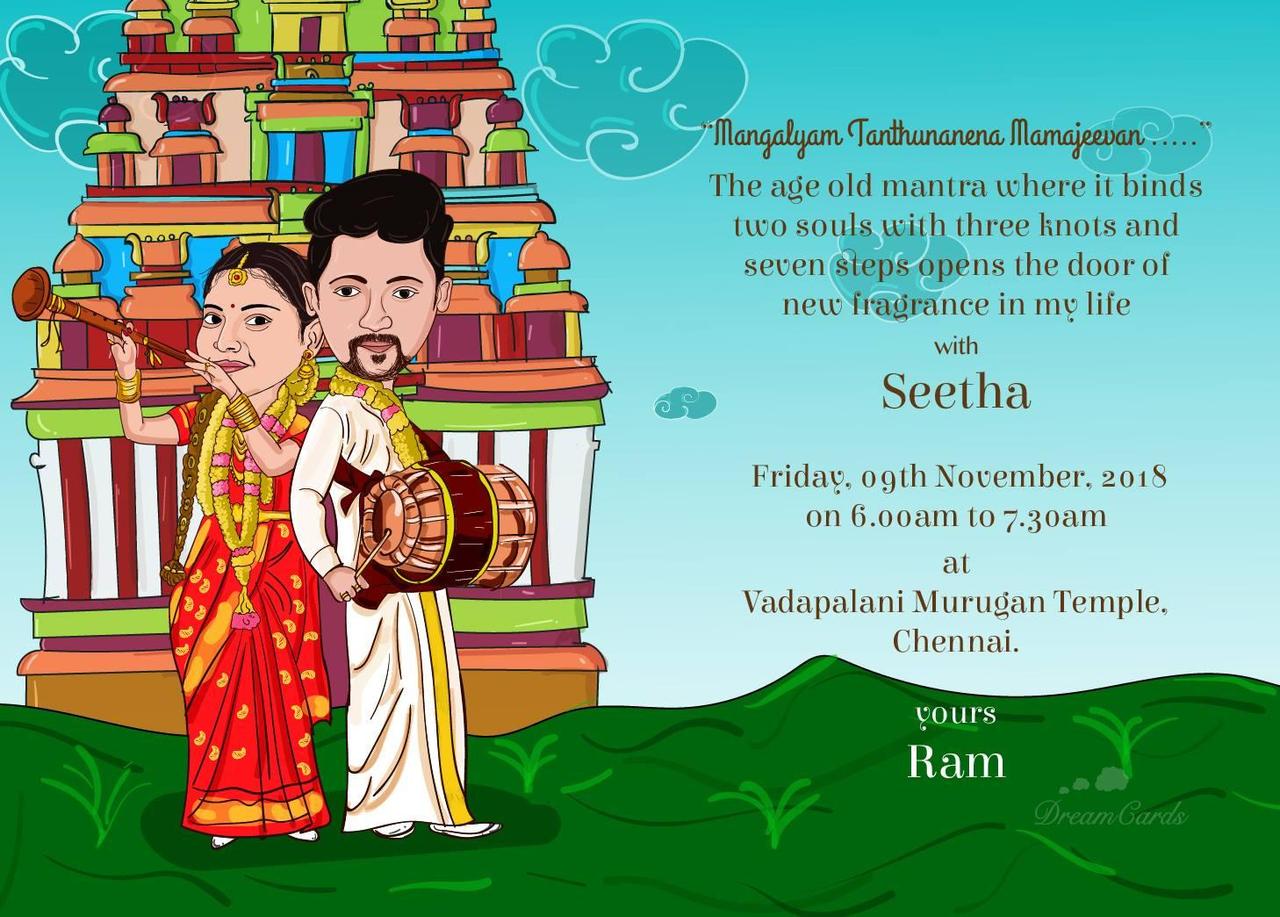 This design for wedding cards have been in use for quite some time now and adds the right amount of quirk and fun element to the invitation. It contains a cut out of caricatures of you and your partner in your wedding poses. It makes an amazing invite for your guests to be a part of it all.
4. Traditional Touch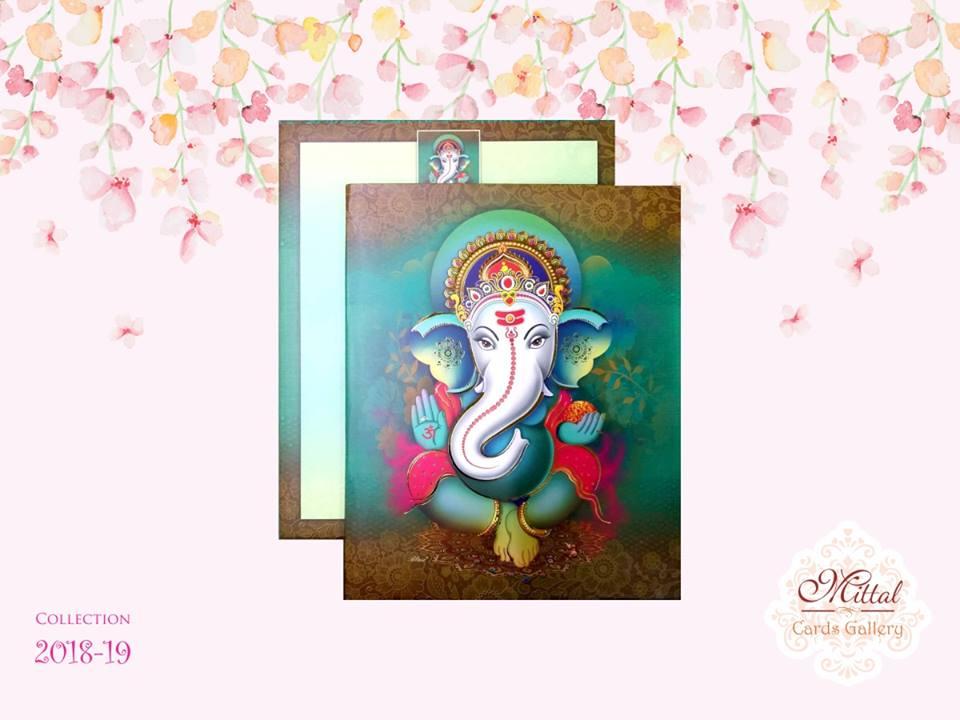 Every culture has a set of colours and things sacred to the wedding rituals like the marigold flowers and mango leaves and reds and yellows. The Ganesha print is a classic hit as well. Use this in designing your wedding cards to make them a little more special. Have them decorated with graphics hanging of marigolds and mango leaves. You can also go even more creative and have a bundle of mango leaves tied in a red thread with a marigold in your invite, to give it the traditional touch.
5. Event Leaflet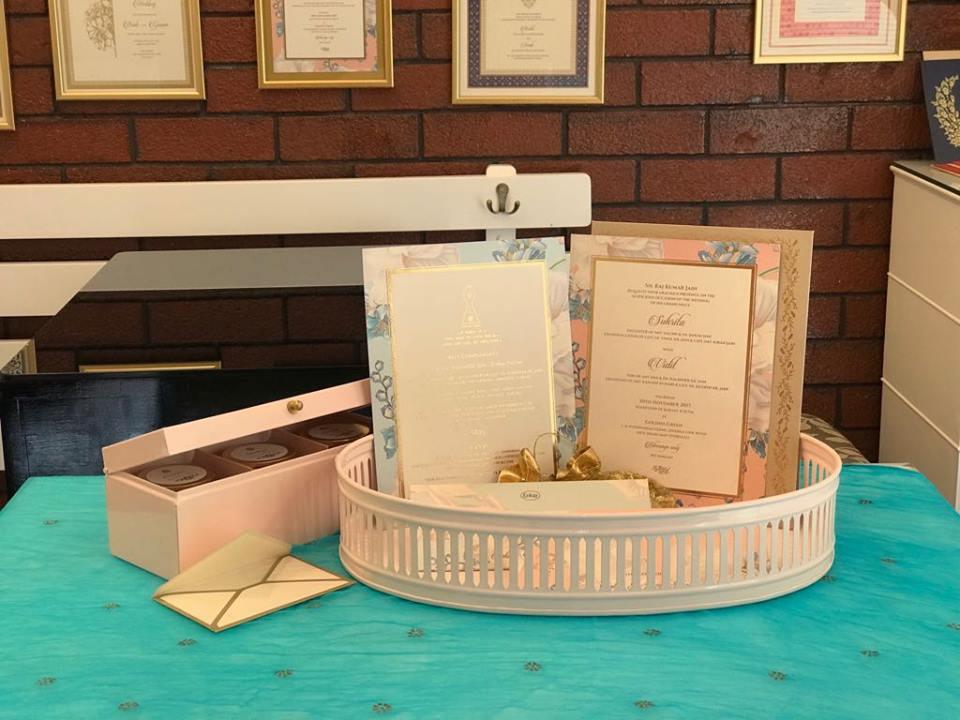 Just like sacred images and colours, there are also certain rituals specific to every culture and this too can be used to perk up the designs for your wedding cards. Dedicate each leaflet to an event with imagery, decoration and colours specific to that event and steep your wedding cards in the essence of the traditional wedding.
6. Goodie Bag Invite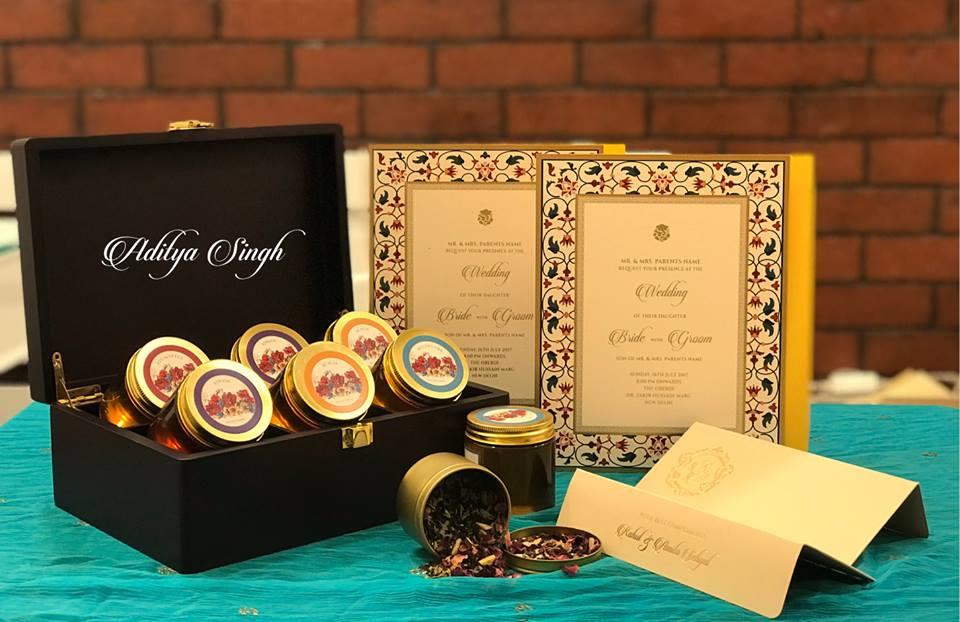 A trend which is super new and exciting is to make a goodie bag for your invitees to go along with your wedding cards. You can add something as special as a wine bottle to something as classic as handmade chocolates to go along with your wedding invites. To keep the theme alive, go for a fancy card design with silver calligraphic font and rich, royal colours like wine red or royal blue.
7. Box Invite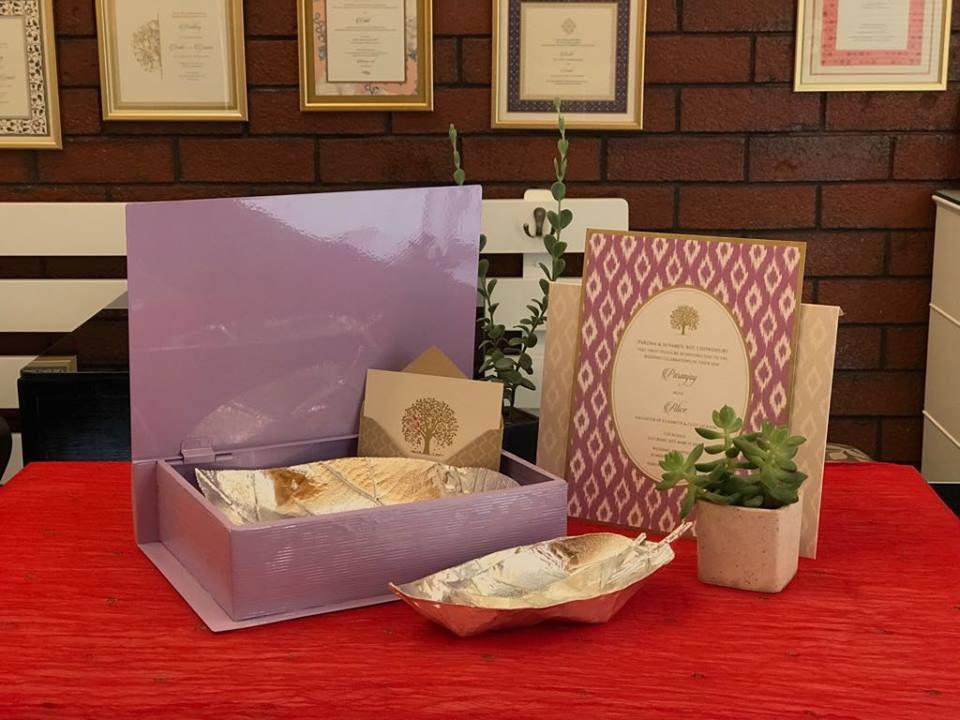 This is another new and creative way of planning your wedding cards. Go creative with it and design your own colours, add wedding card inside it along with a small lucky wedding token. This sophisticated box will be the perfect start to the wedding that you are planning.
8. 'Save The Date' Post Card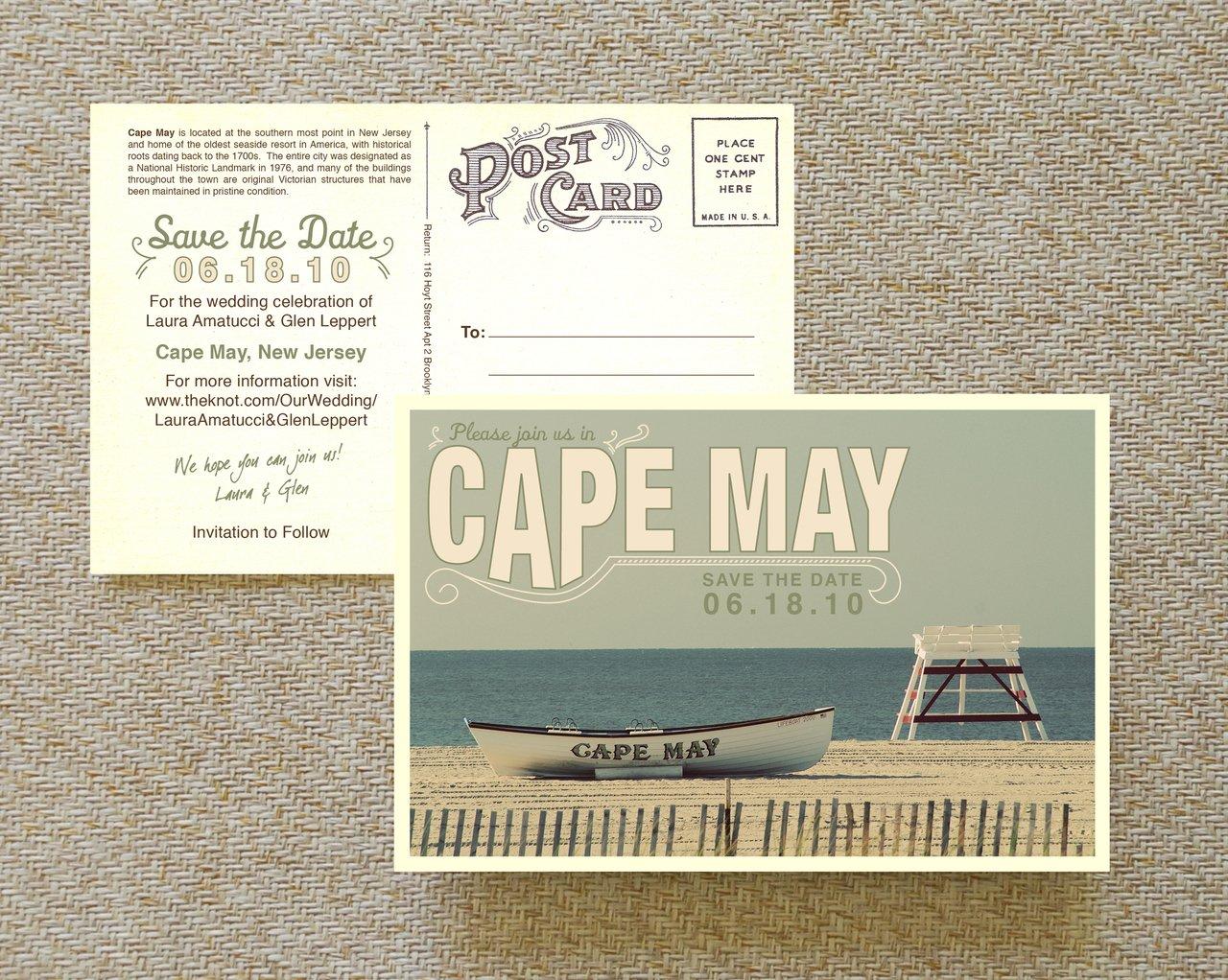 Image courtesy: Serendipity Beyond Design
There is something inherently very romantic about postcards boasts of a very vintage kind of romance. Get in that romance in your wedding cards too by going for a postcard theme and use the invitation card maker with a picture of your favourite place. Make use of silver or golden glittery calligraphic fonts packed with miniature bouquets of little flowers of your pleasing.
9. Vintage & Simple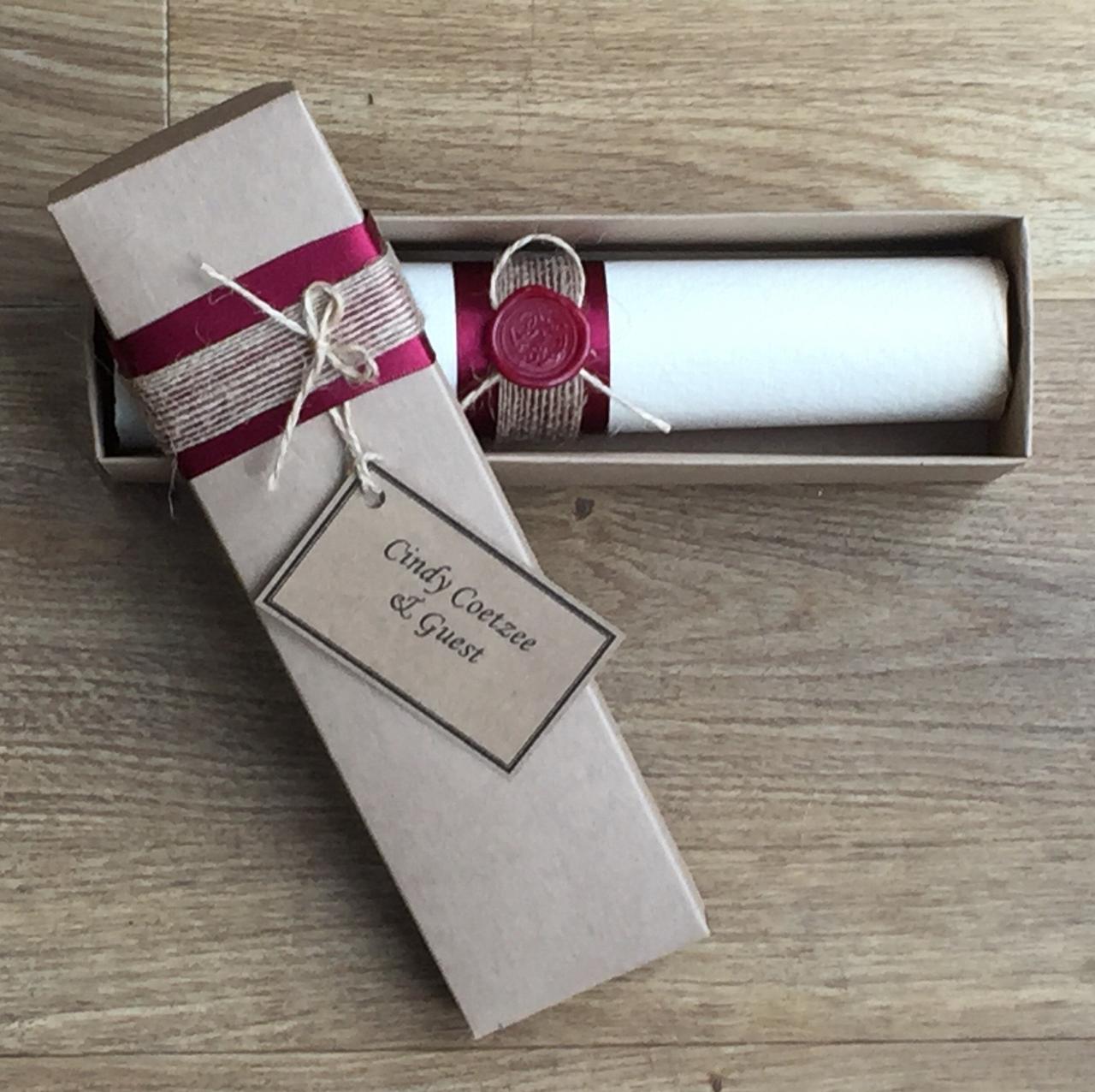 Image courtesy: Trinitybox
In the times when even our Finance Minister has switched to clothbound papers, you should try some vintage too. Go for the good old Pothi way with your wedding cards leaflets bound in a velvet cloth and golden silk thread to exude royalty and old time charm.
You can also go creative and create your own wedding card and have it sealed with a seal designed by you and your partner, from your favourite flowers to your initials- anything to keep the charm on. So, delight your guests with a charming wedding invite and customise it with a touch of love to make it personal and more pleasant.
So you have more ideas for wedding card invite? Let us know in the comments below!