An A To Z Guide On Quirky Wedding Invitation Email Designs
A wedding invitation email is the latest trend & couples use it to send out invitations. How to create a quirky wedding invitation email for your own wedding? Find out!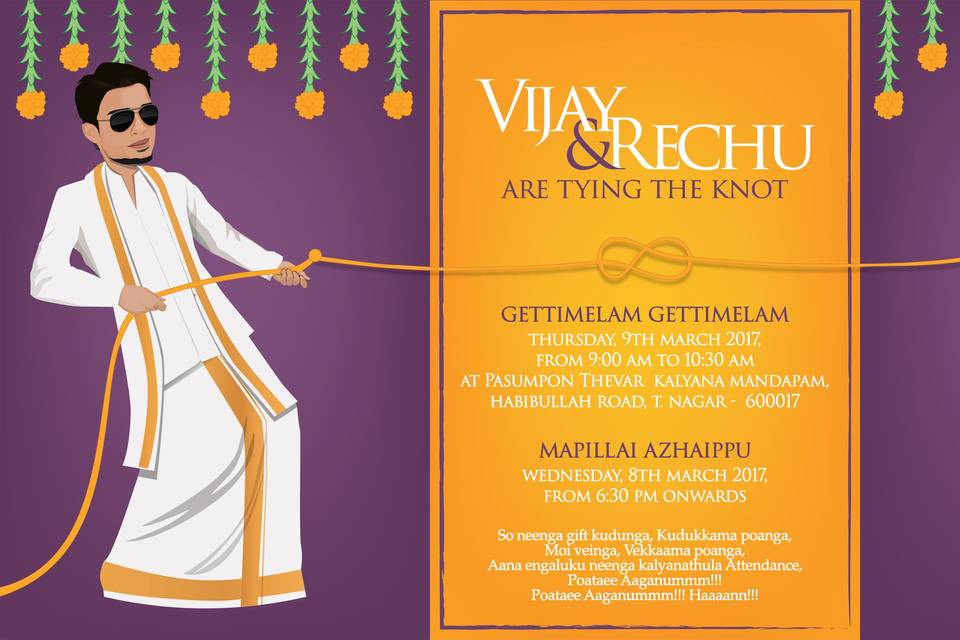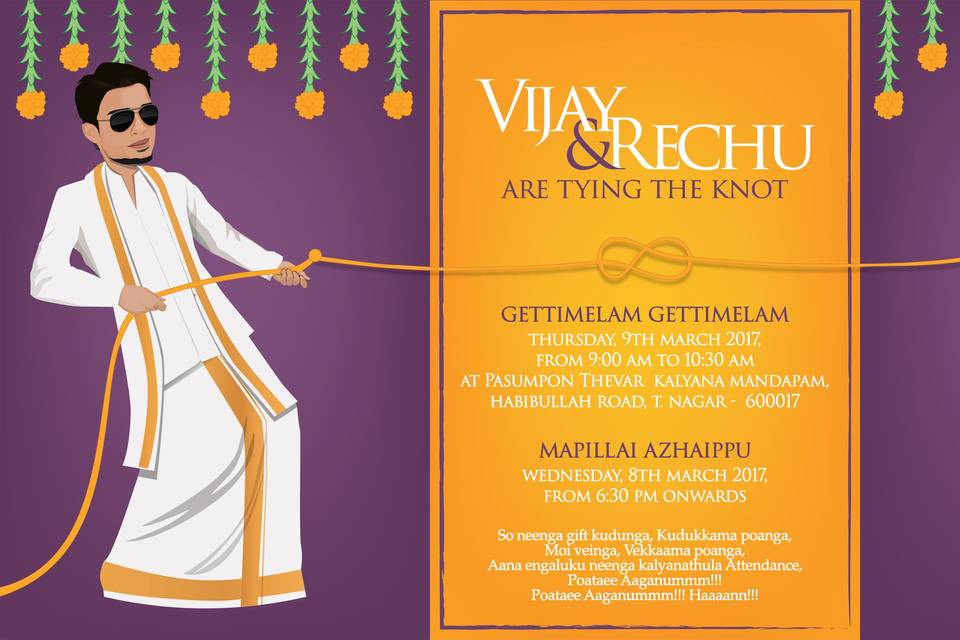 Image Courtesy: Sanjana Hegde
The wedding invitation email is the fastest and the most convenient way to send across the save-the-dates to family and friends across the globe. Instead of waiting for a package to be delivered across continents, it is ideal to let the digital connectivity come to the rescue. But a wedding invite being the first step or rather a glimpse of the upcoming wedding, has to leave an impact behind on the receiver.
After all, first impressions are the last impressions. Making sure that your guests are left spellbound and elated by the invite, we are sharing some insights on creating quirky and fun wedding invitation email designs.
As a bonus, we are also sharing exclusive wedding invitation quotes that you can use for your own wedding invitation email. Check them out!
Caricature-Style Wedding Invitation Email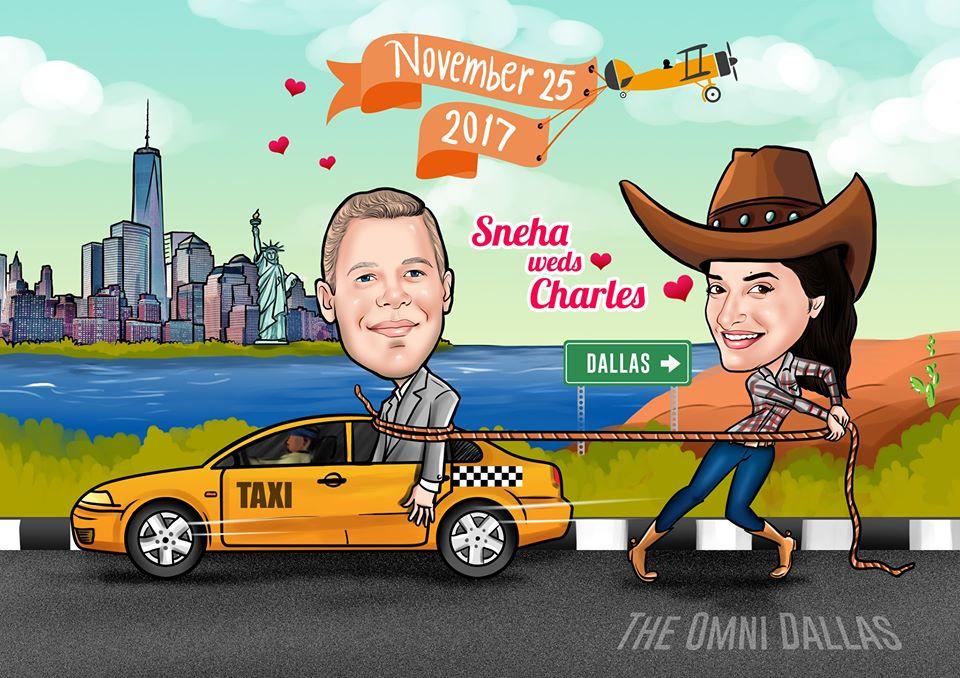 Image Courtesy: EloCaricatures
The quirkiest and the most popular way of getting wedding invitation email designed is by getting caricatures done of He & She. And with caricatures, the wedding invitation quotes too, have to be light, fun and a little imperfect. Just like this one!
When two imperfects meet, a perfect marriage happens!
Save the date, because we are finally getting married.
Cannot wait to welcome you to this madness. So come join us and be a part of a mad-hatted ceremony.
Formal invites to follow soon.
Jab-We-Met Wedding Invitation Email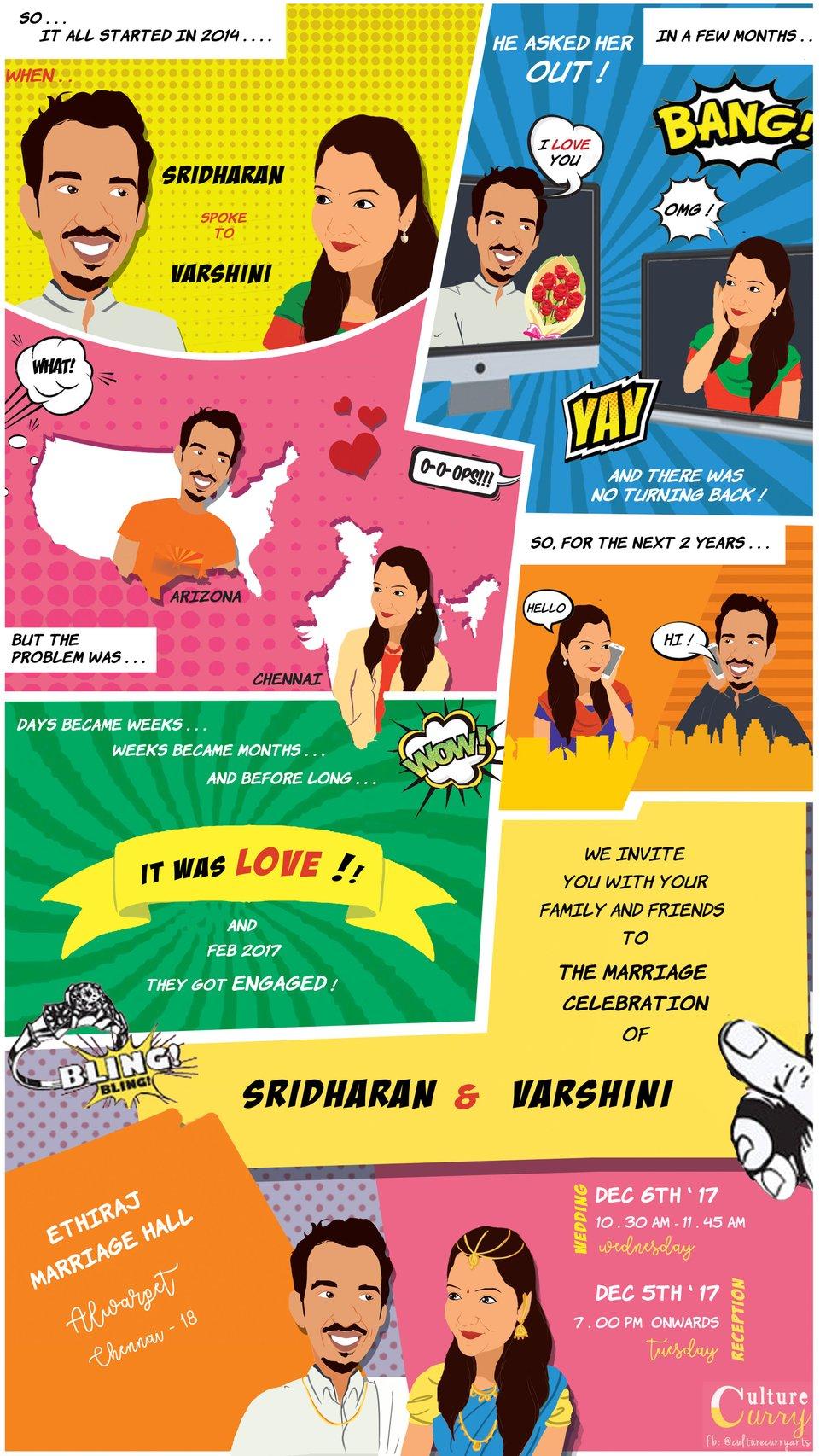 Image Courtesy: Culture Curry- Creative Invitations
Whether it is an arranged marriage or a love marriage, everyone gets excited at the idea of learning how the couple met and what is their story. Take designing (or getting designed) a wedding invitation as an opportunity to let the world know just that, graphically.
Since you have been wondering about our Jab We Met story, we thought to share that with an extended invitation of our story's next chapter - marriage!
Yes, we are getting married and before you arrive, we wish to catch you up on our love story quickly.
This love story has finally reached its climax of a 'Happy Ending' and we wish for you to be a part of this filmy drama.
R.S.V.P. because Dulhan Hum Le Jayenge together!
Two-States Wedding Invitation Email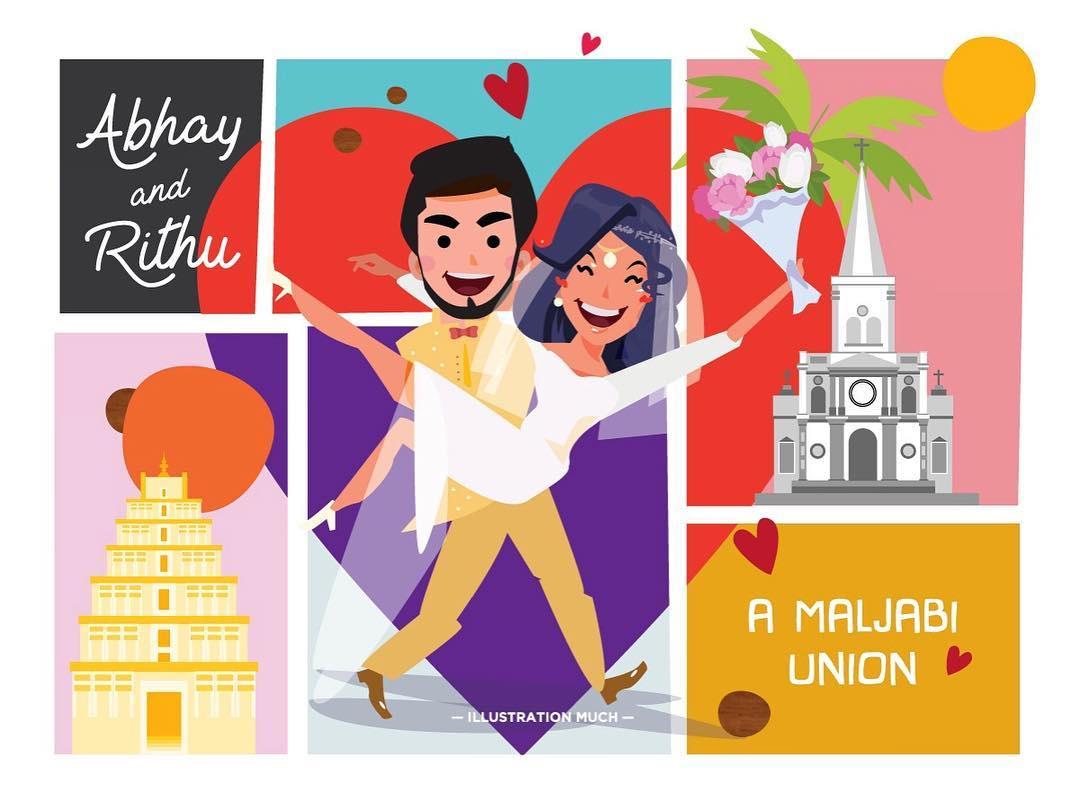 Image Courtesy: Illustration Much by Sruthi Das
Nothing is more exciting than seeing two people following two different cultures coming together in marriage. It is a great opportunity to witness the wedding traditions of two cultures and having fun being a part of both styles of wedding ceremonies. Keeping that in mind, create a hashtag that unites both cultures and let your friends and families get a glimpse of what this wedding celebration holds for them!
Save The Date
02-02-2020
Save The Hashtag
#Maljabi
When North meets South, Bhangra feat. Kathakali happens!
We invite you to be a part of this Punjabi-Malayali wedding extravaganza, where bilingual conversations will take place, Thali parties will be on loop and Bhangra will be a non-stop affair. Wear a saree or wear a suit, all that we wish for is your presence for the marriage of this meet-cute. See you then!
Illustrated-Tales Wedding Invitation Mail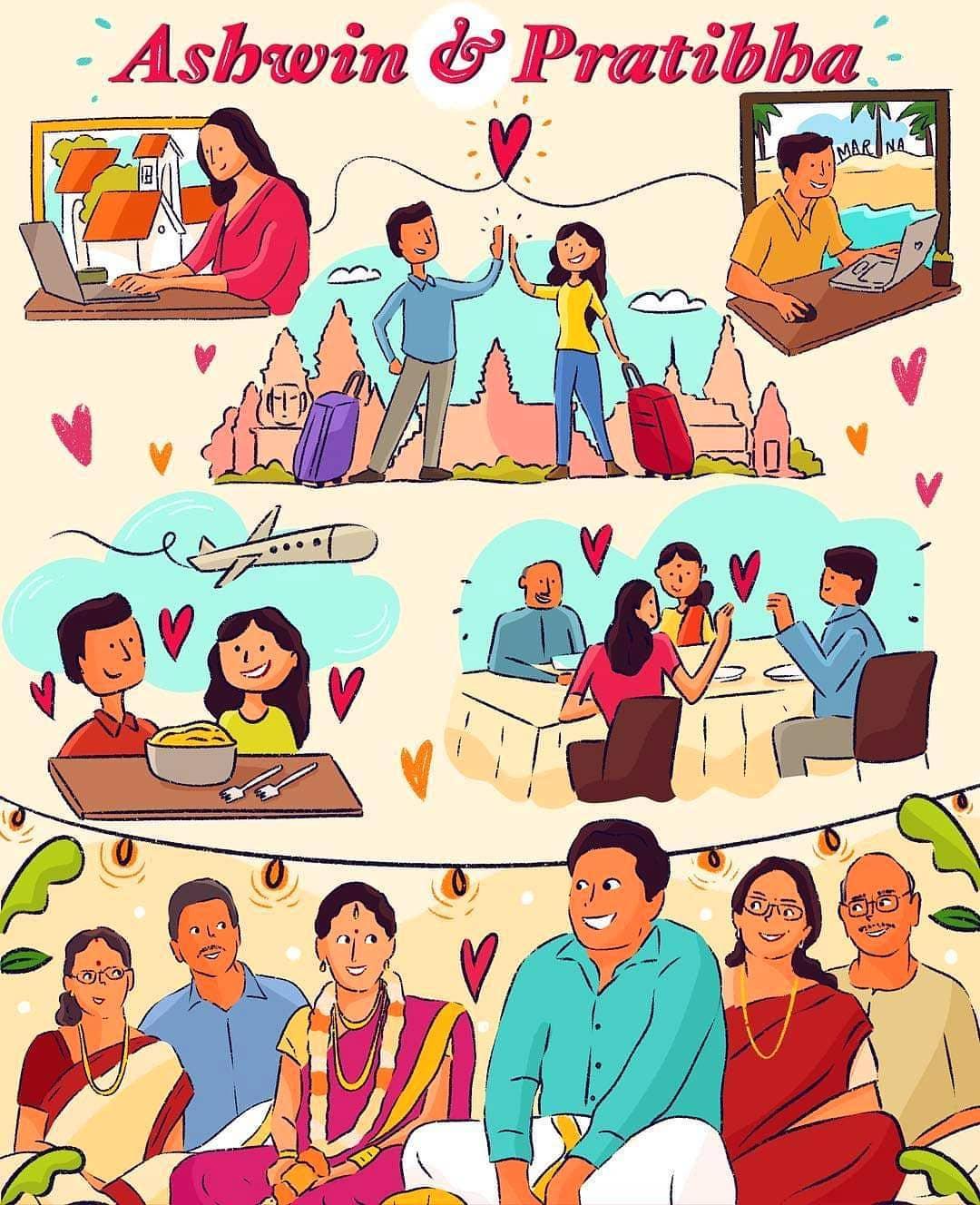 Image Courtesy: Woodle Doodle Designs
If not for words, then let a beautifully illustrated comic strip become your wedding invitation email for friends and families. Skip dialogues and simply focus on getting illustrations done, talking about the key points of your journey so far as a couple and then conclude the comic with a picture of the happy ending - a glimpse of marriage. This invite has won our heart for this one factor, where it shares families sitting together with the couple, foretelling the marriage ceremony that is to take place in the future.
God surely has funny ways of bringing two people together.
Our paths crossed, our eyes met, we talked on phones till wee hours of every night, our love nurtured and we finally understood why god made us wait for each other for so long.
Now that we have found each other it is only fair to conclude god's plan in YOUR presence.
We are thrilled to invite you to our wedding.
Are you coming, or are you coming?!
R.S.V.P. on high demand.
Whether you decide on taking help from a graphic designer, or you plan on designing the wedding invitation email self, make sure that the design speaks volumes about you two's own personality rather than simply copying templates that you can't even relate to. Being digital, everything needs to be compact and crisp. Hence, give extra attention to the text that will go on the invitation. It has to be easy to understand and quick for the readers.
Take your time while finalising on a wedding invitation email. For assistance, you can also check out our professional graphic designer's vendor list to find the one that suits your requirements best.