Out-of-the-box Beach Invite Ideas for Your Dreamy Sea-side Wedding
A romantic beachside affair calls for out-of-the-box wedding invitations. Read all about dreamy shells, starfish, sand, and sea RSVP ideas!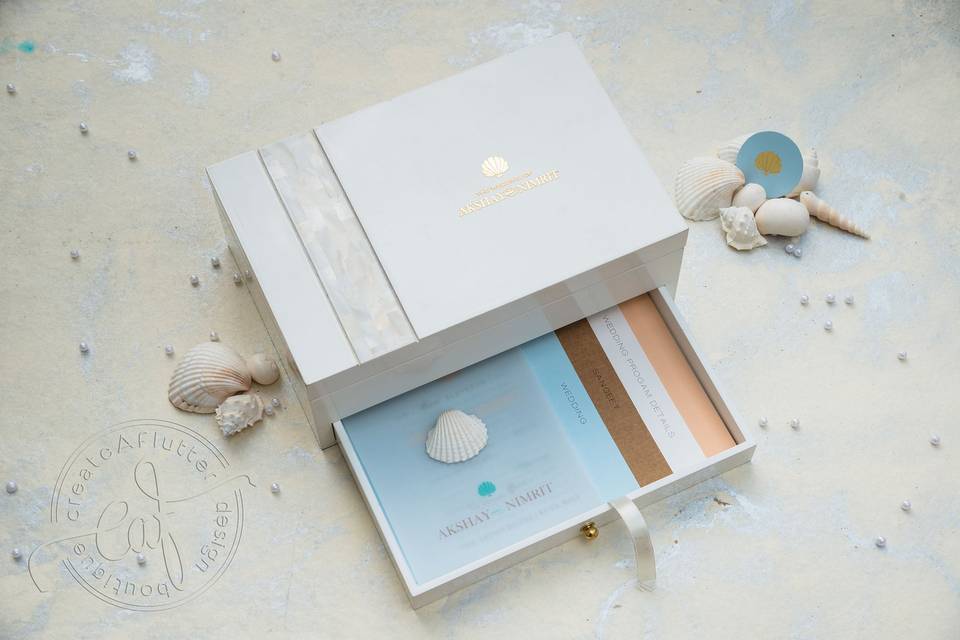 Every bride dreams of a perfect, romantic affair, one that is about everything she has imagined and more. What's dreamier than an elegant beach-themed wedding? A tropical landscape in the backdrop, a slight whiff of salt in the air, and an ambient arrangement are what dreams are made of. With more and more couples preferring to go with destination weddings by sea, a beach wedding invite leaves a lot of room for stylised, imaginative ideas. Whether you are a couple who wants to go with the classics or the kind who would love to go overboard with the design, there is a style of invite for everyone!
When it's time for wedding invitations, trust these nature-inspired card designs to kickstart your wedding journey. From tropical hand-painted invites to classic gold calligraphy ones, here's a list of 6 dreamy invites for you to take inspiration from:
Tropical Palm Beach Wedding Invite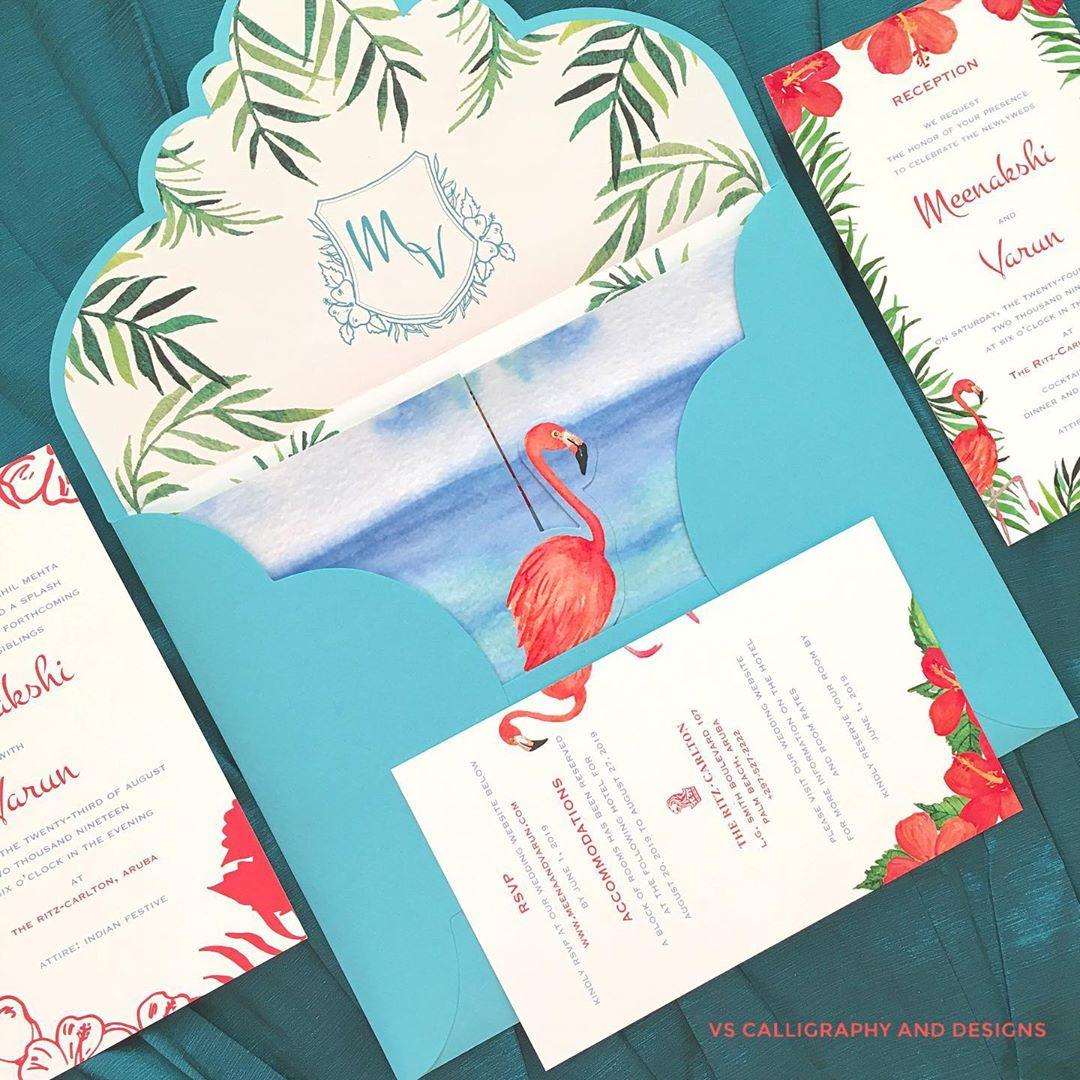 Locked yourself an exotic wedding in a place with palms and lush backdrops with the sea peeping through? Get a bespoke wedding invitation designed with watercolour palm leaves, calligraphy text, and stunning details. Give your guests a peek into your luxury wedding by picking an invite like this one. The hand-painted flamingos have an element of retro-modern style that blends seamlessly with the hand-done backdrop. Focussed on a green and blue colour palette with a lot of coral hues, an invite like this one is perfect for a sophisticated affair by the sea!
Clear Floral Acrylic Wedding Invite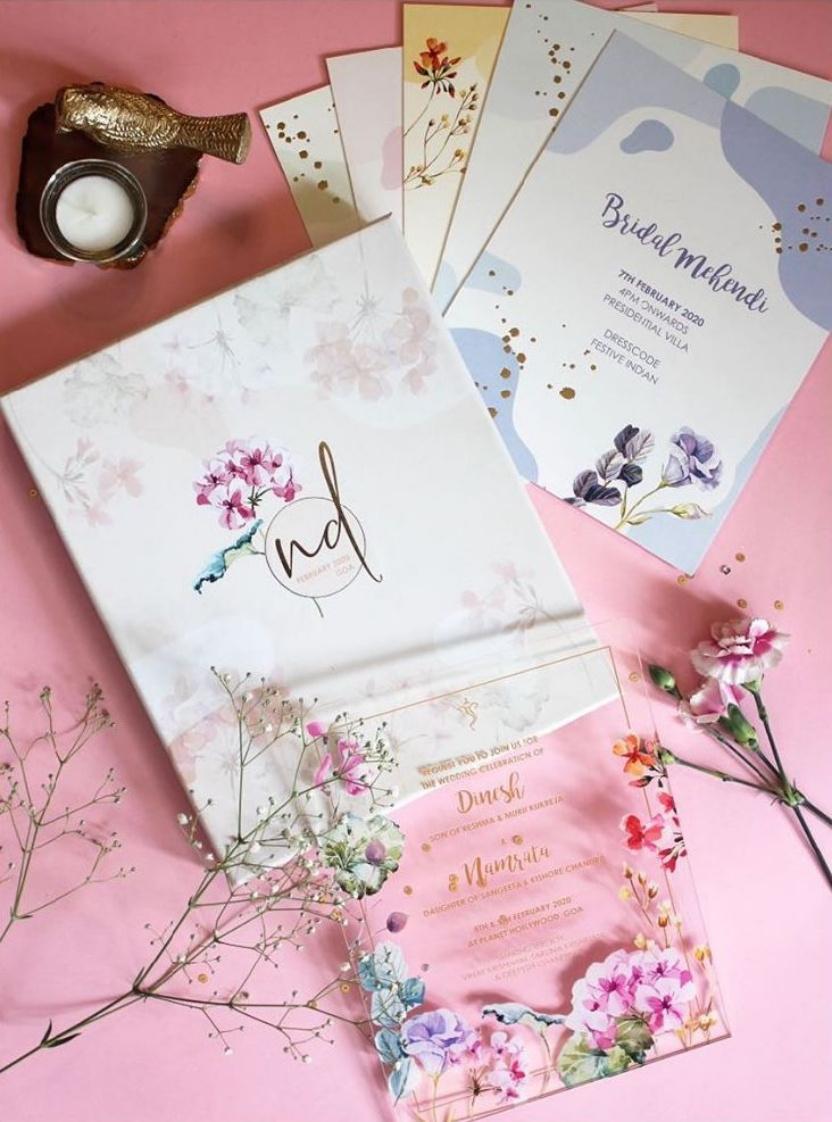 Set the tone for your dreamy sea-side wedding with script typography and soft floral background. A lot of colours and pretty floral touches define an invitation like this. An all-in-one card with inserts and all ceremonies in one place, and a clear acrylic welcome page announcing the wedding with golden typography and uniform floral touches all throughout, is a beautiful way to invite your near and dear ones. Separate inserts talk about each event during the wedding. The neatly lettered initials add finishing touches to this stunning design.
Vintage Box Invite with Passport-themed Itinerary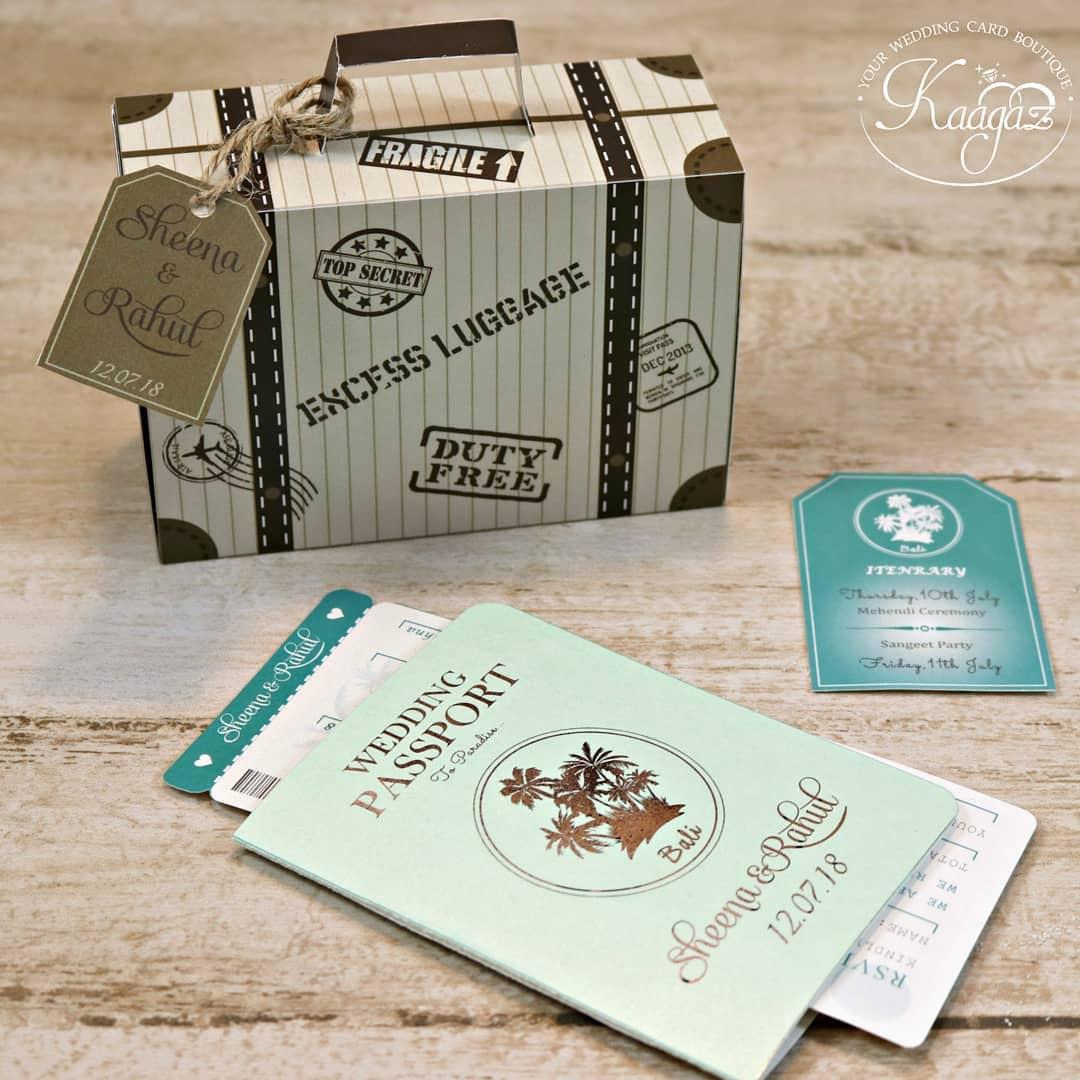 Want to go with elaborate beach wedding invitations? If you are the kind of couple who has a love for all things custom-made and lavish, vintage luggage box style invites with passports that have all the details of your wedding is a great way to stun your guests with your out-of-the-box ideas. Classic lettering along with artsy touches make a bold statement. As for party favours, you can add mini champagne bottles, cocktail shakers, or even parasols inside the luggage box itself.
Beach-themed Jigsaw Puzzle Invite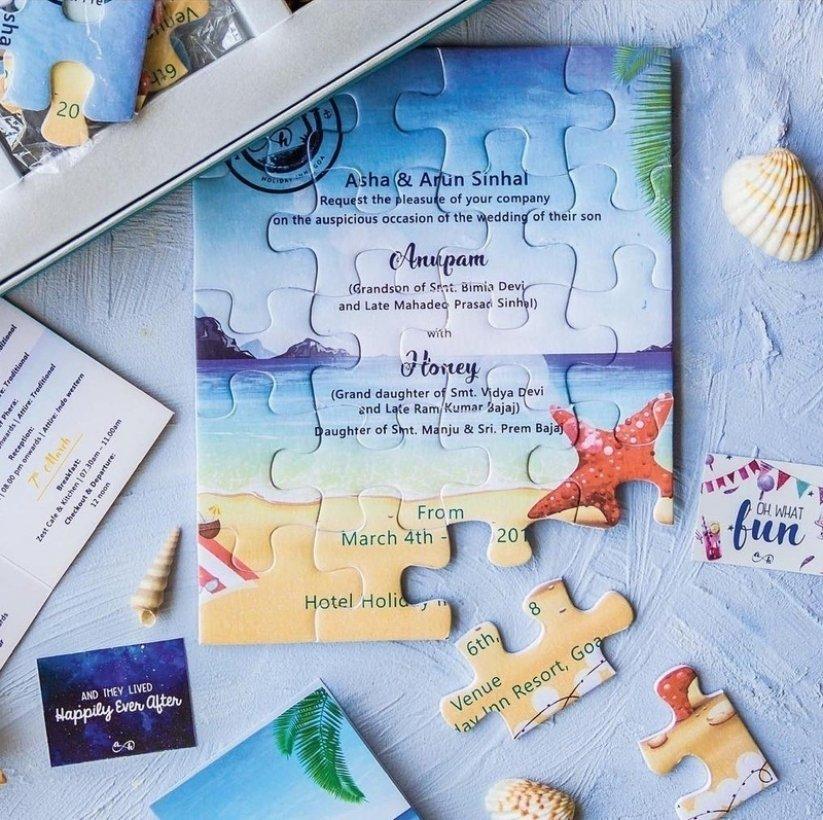 Give your wedding invites a fun twist with a beach wedding invite box containing a jigsaw puzzle and a separate printed card. Your guests can bring together all the parts of the puzzle to reveal the dates of the ceremonies. The beautiful tropical touches like the beach, starfish, palm trees and sand add a striking visual element to the card. Not only is the idea fun, but a programme card included in this style of wedding invite is also to make sure all important information is in one place. Get your guests ready for a fun wedding ahead with out-of-the-box ideas like these.
Scroll-in-a-bottle style invite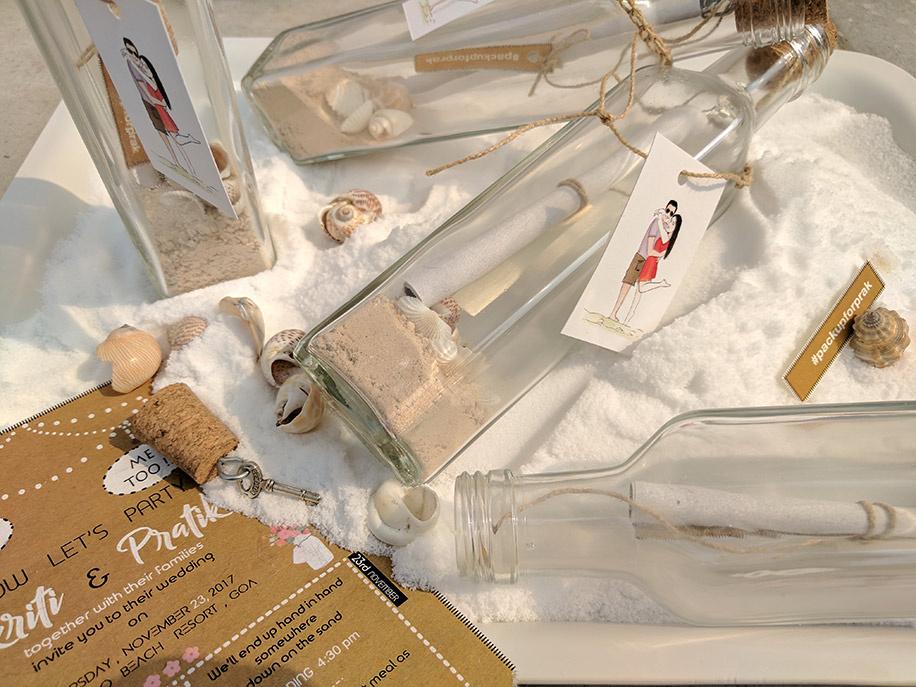 This year has been all about sustainable choices when it comes to wedding planning. Venture a step ahead to give out beach wedding invites in a bottle to your guests with some sand, seashells and a rolled invitation stating all important dates and the venue inside. This couple went for scrolls done on recycled paper, to lessen their carbon footprint in the process. The seashells together with the sand say tropical; The twine, the paper, and the glass bottles scream of a following sustainable wedding with up-cycled décor and responsible use of resources. We approve! Don't you?
Say it with over-sized nature-inspired elements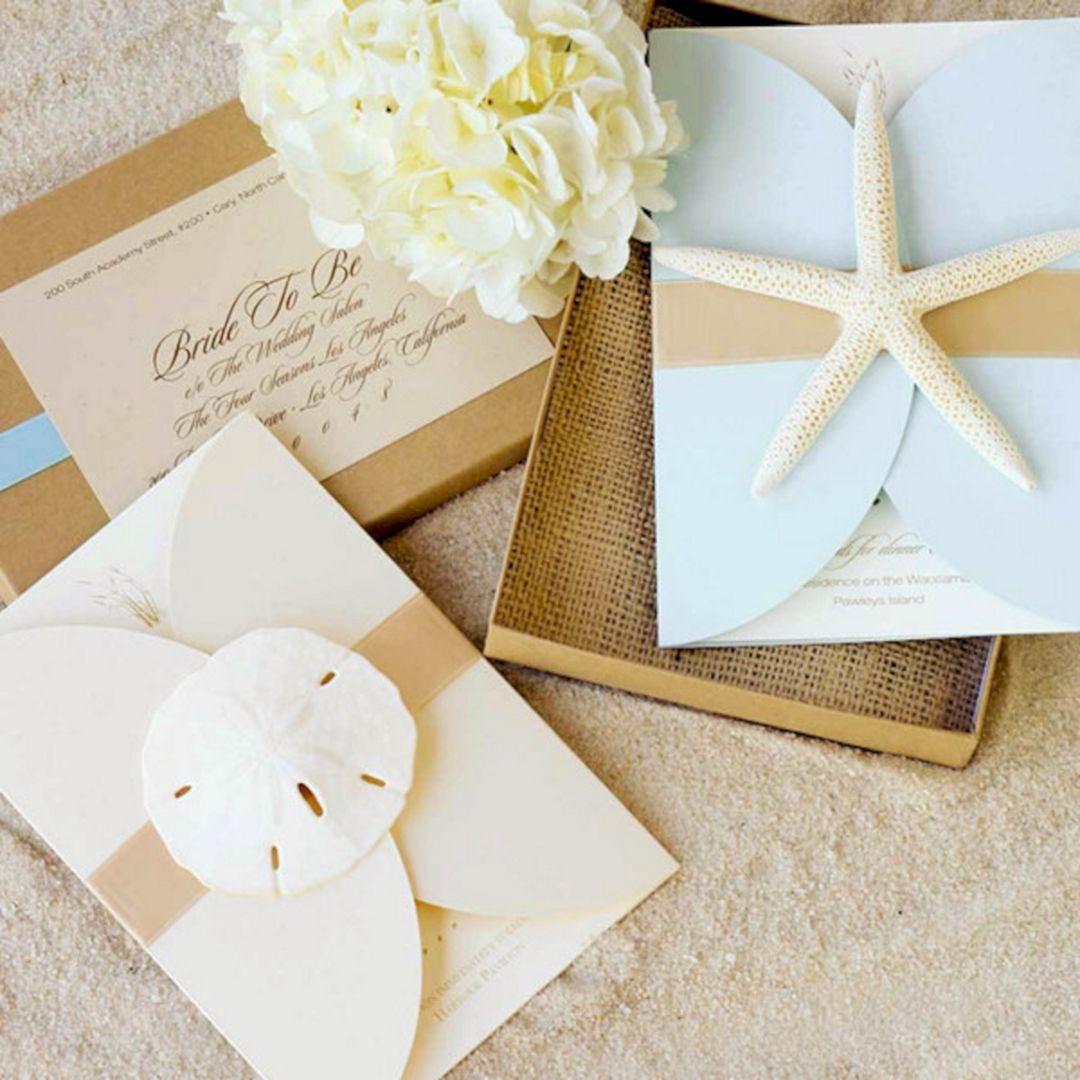 Image Courtesy: The Wedding Co. India
Set the tone for your Summer beach wedding with elegant neutral palettes, pastel, and recycled brown box covers. Go matchy with the theme of your beachside wedding, be it for the pastel décor or the cream and taupe hues. We love the minimalist fold card look with text written in calligraphy inside. The huge starfish and seashells add an element of the sun-soaked, sandy celebration ahead. Go for these beach wedding RSVP cards to hint your guests about the fun time that's waiting for them ahead. Couples who love minimalist, classic things can consider going for similar card designs.
Tropical cocktails, sandy toes, and happy hearts against a serene backdrop, and thousands of happy clicks is how you'd remember your seaside wedding. Make sure you set the tone right and keep your guests on their toes with the upcoming beachside feast! Choose to go with complimenting sea colour palettes, pastel hues, and eco envelopes.
Were you able to set your heart on one of these nature-inspired designs? Now book the best invitation designers online to get your beach-themed wedding invitation crafted.