Dear Veere, your family may have been after your life asking when you would get married. However, it's your friends who have been really looking forward to being a part of your festivities. Probably longer than yourself! They deserve a special invitation, one beyond what you plan for your extended family and colleagues. How should you frame it? Should you send it online instead since they're your friends? We know you must be having all sorts of questions in your head regarding wedding invitation wordings for friends.
To help, we bring you six ways in which you can pen the right wedding invitation wordings for friends.
Wedding Invitation Wordings for Friends
When we think about these words, we want our friends to feel a little extra special and exclusive. You may tell your story on how you met, fell in love, proposed and finally fixed the date...all in a way that perfectly synchronises with your personalities. Here are some ideas on how to go about your wedding invitation for friends this year. Take a look and bookmark the inspiration you relate to.
The three invitation modes:
The best part about a wedding invitation for your friends is you don't need to invest unnecessarily on paper cards and designs (you may still choose to opt for them). In terms of the card matter, there is no need to be formal at all. You could also supplement your wedding invitation wordings for friends with images, videos or GIFs. The possibilities are endless. Imagine a video of GIFs lined one after the other that form the wedding invitation wordings for friends. Doesn't it sound cool?
Here are the three ways in which you can such an invite digitally:
1. Wedding invitation through email:
You can draft personalised wedding invitation wordings for your friends on your e-card. And then, add a video montage of your pre-wedding shoot photos with apt captions to go with them. Have a really quirky email subject that intrigues your friends, something they will surely remember for quite some time.
2. Wedding invitation through Whatsapp:
Believe it or not, WhatsApp marriage invitations are really a thing! Design your own e-invite by choosing fun emoticons and gifs. Go for audio or even better, video clips and send them out to your friends. A personal video invitation certainly adds a charm that your friends won't be able to ignore. Also, it is so accessible that all the details of your wedding can be just a click away. From the map location of the venue to the date, everything is available on WhatsApp.
3. Facebook page or a webpage:
Creating a customised web page or a Facebook page just for inviting friends is a trend that has caught on in the last few years. Pen appropriate paragraphs with witty, smart wedding invitation wording for friends, to go along with your photographs and videos. Add your story and keep updating the events on your web page. You can even have a countdown on your wedding website.
Wedding Invitation Wording Styles: Your Story, Your Style
Are you a romantic couple or a quirk-loving one? Did you meet each other at a party, a club or on a vacation? You can choose your wedding invitation wording for friends according to your personalities and your stories, something that speaks volumes about you. Here are a few styles you could choose from:
1. Deeply Romantic: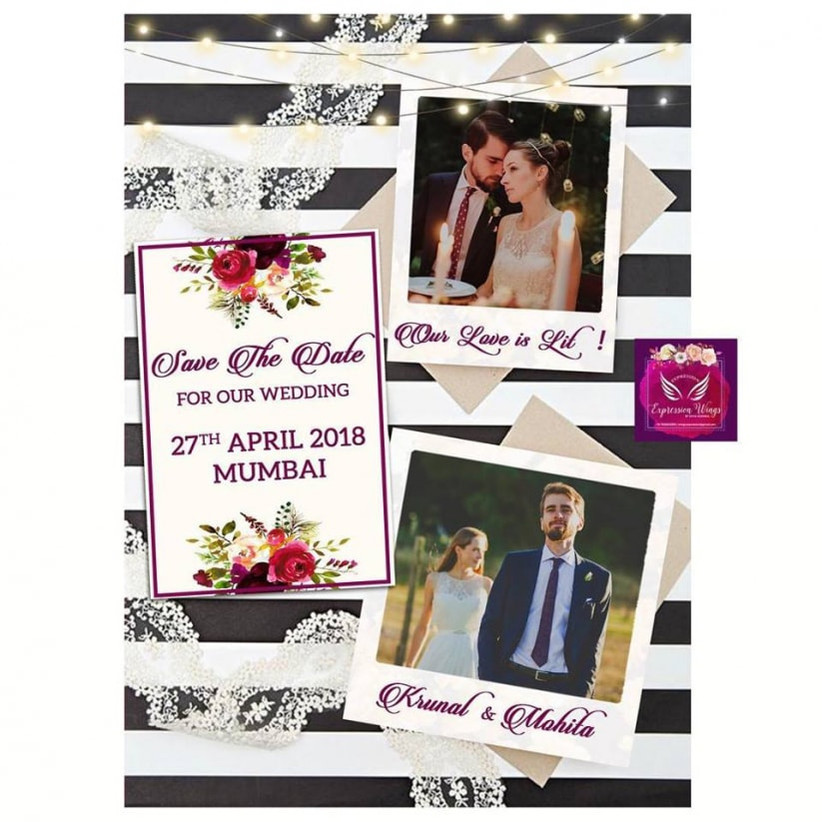 Just like your immensely romantic love story, you can frame your wedding invitation wording using dreamy language. Bring in all the romantic quotes when finalising wedding invitation wording for friends. For example:
"Our Fairytale wouldn't be complete without your presence. Please join us on our journey to a land far far away!"
"It only takes a moment to know the "ONE". Please join us celebrate the power of love"
2. Friends Forever:
You've been high school sweethearts and finally, that love story is going to turn into an eternal bond. Make them the central element of your wedding invitation wording for friends. Here are a few examples:
"Friends turned lovers about to begin their "happily ever after" journey. Please be there for the finale like you've always been there for us"
"Just like we watched every episode of F.R.I.E.N.D.S. together, let's all watch OUR own final episode...together"
3. Adventurous:
Went on a hiking trip and fell hard for each other? Tell your friends how your love for adventure brought you closer and surprise them with your wedding announcement:
"A Trek to remember...looks like our love for each other is just as high as the Himalayas. Join us for our new Adventure!"
"Who knew two people road tripping on two separate bikes would end up riding for the same destination? We need you all to be there on our newest journey together!"
4. Quirky:
Your friends know all about your funny bone. So why not stay true to form when penning your wedding invitation wording for friends? Write down your inner stand-up comic's random jokes as wedding invitation wording for friends. We give a few examples:
"Free food, free drinks, a huge cake, live music and a dance floor...need we say more? Come join us for the biggest party of the century!"
"You were there whenever we took a big step. But this time, you get to dress well too! Come, be a part of this grand celebration, like you always have been in every other party."
5. Truly Traditional:
If not anything, a classic Indian wedding invitation always works. Just like the one you must have sent to all other guests of yours. Use words like, "By the grace of the almighty we will be bonded together forever. We request the honour of your gracious presence"
6. What's the Theme:
Going to a beach or an underwater wedding? Choosing your wedding invitation wording for friends according to your wedding theme can be extremely chic. Let your wedding theme take over or use your destination wedding location for a cultural touch. A few examples:
"I went to look for corals and oysters... and I found my Pearl! Be a part of our Blue wedding beneath the ocean"
"Sands, Sunsets, cocktails, pool parties...any guesses? Join us for a week-long celebration of our eternal togetherness amidst the silvery beaches."
Be funny, cute, quirky, romantic or artistic...your wedding invitations should reflect your character as a couple. Whichever theme or style you choose, your wedding invitation wording for friends should come from your hearts. Go all the way to express your love for each other, share your proposal stories, and mention your friends' contributions.
Make your wedding invitation a short tale that would compel your friends to come running to your wedding.