The Most Unique Wedding Card With Photo Designs With Price
Wedding card with photo that will make your guests go "Woah!" in excitement. Let us talk about the designs, kinds of vendors available in India and the cost of it.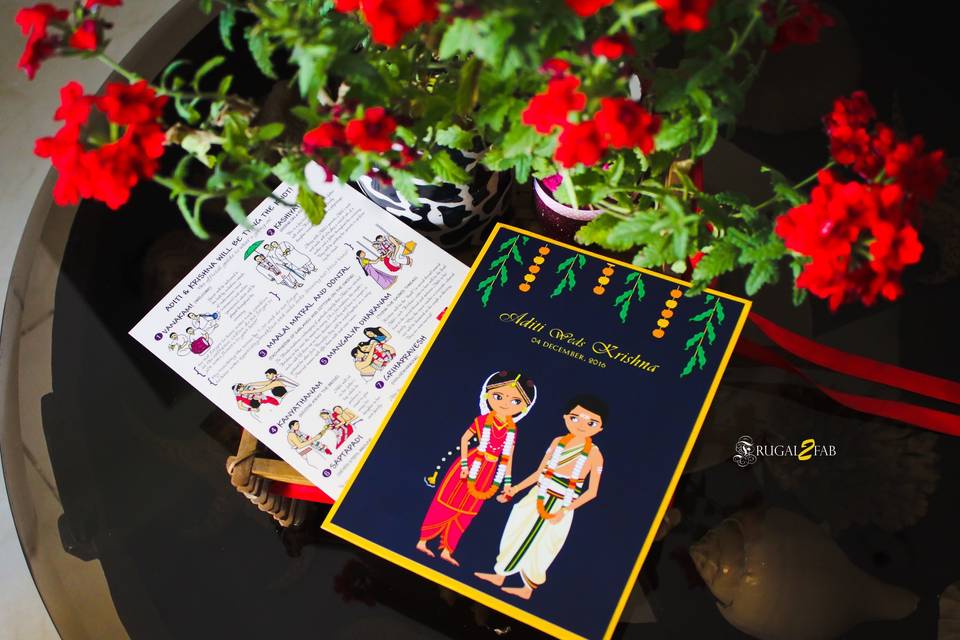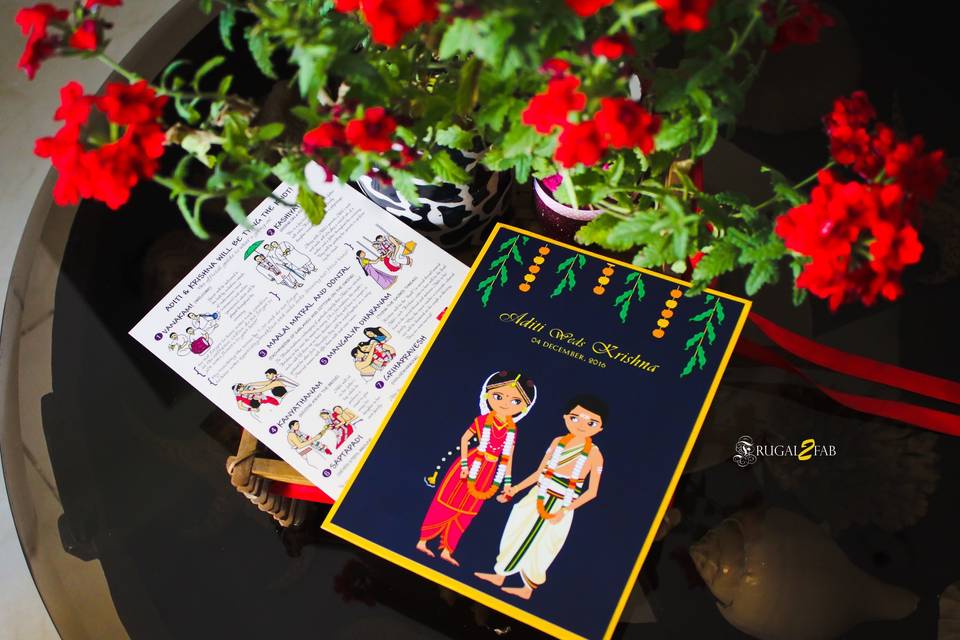 Image Courtesy: Frugal2Fab
Wedding cards, as we have mentioned several times, are the first impression that every guest gets about the upcoming wedding. Wedding cards also signify celebrations of two people uniting to begin a married journey ahead.
This is exactly why your wedding cards need to be well thought about, with designs that match your personalities best. What really strikes as a great way to portray a couple's personality in a customised manner is by having their own version of a wedding card with a photo made.
A photo can be that of the couple posing for the shutterbugs in an aesthetic manner or can be a fun caricature of them both designed by a professional. Our talented Indian vendors are offering some unique wedding card with photo ideas that you can consider for your own wedding.
Take your notepads out and read through, as we talk about every aspect of understanding this style of wedding cards, the costs involved and where to look for them.
Traditional Couple Doodle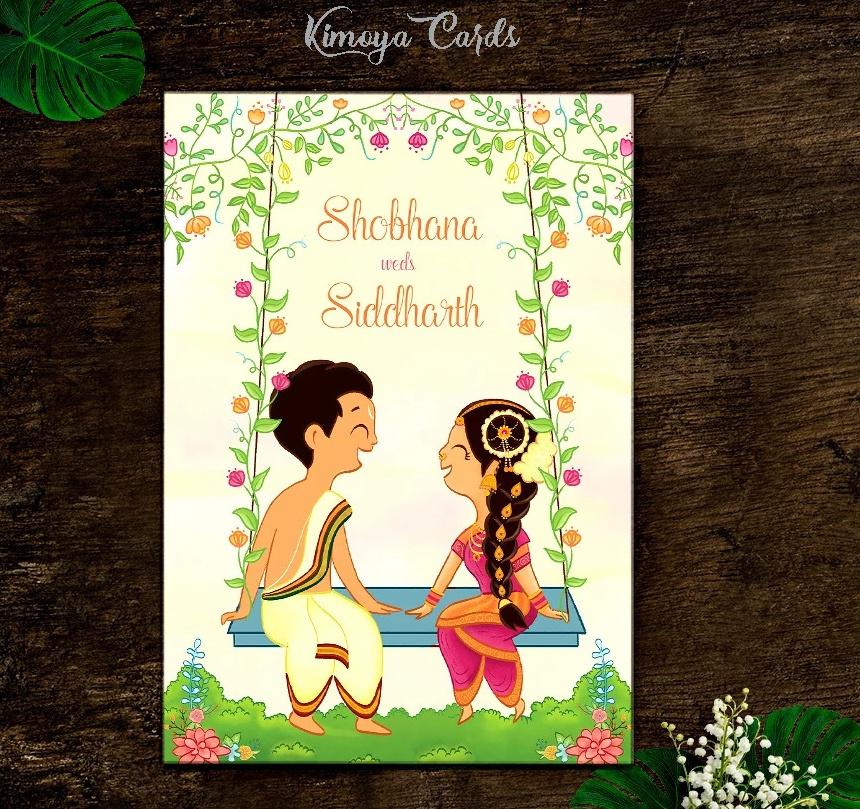 Image Courtesy: Kimoya Cards
Whether you are getting married Punjabi style, Malayali style or Bengali style, Kimoya cards have traditional couple doodle wedding card with photo options available for all. It is an interesting way of sharing forward the type of wedding that all guests can expect upon attendance. These designs of wedding card with photo are offered in A5 style and come with a glossy laminated finish on a thick card paper.
These are priced at ₹70 per card (includes an envelope) with a condition of minimum order for 50 cards.
Illustrated Copy Of A Photograph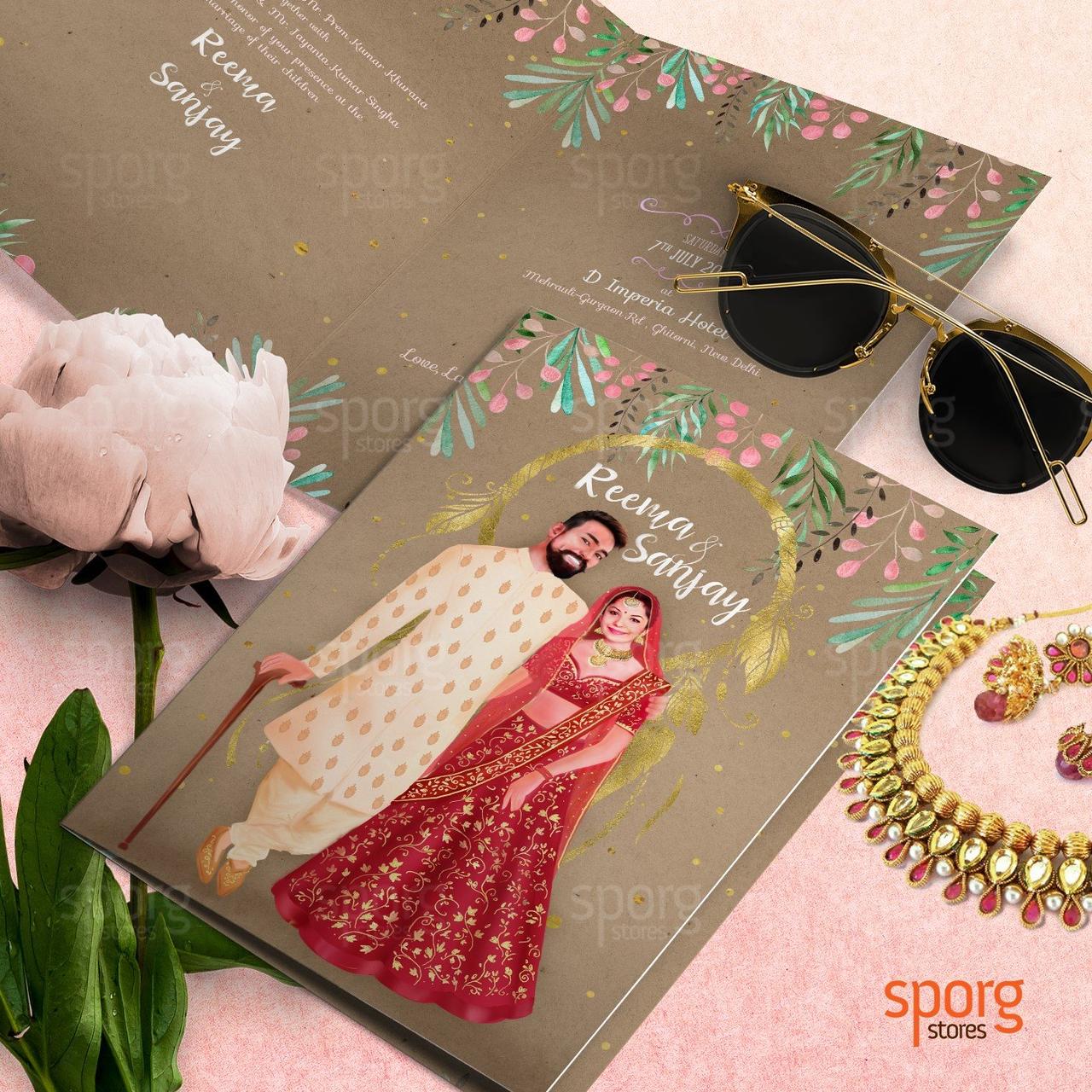 Image Courtesy: Sporg Stores
Get one of your most favourite couple's photograph converted into an illustration as part of your wedding card with a photo theme. These digitally illustrated wedding cards are fun, artistic and 100% exclusively designed for your wedding.
These cards in print are priced at ₹80 along with the additional cost for customisation. Minimum order quantity is marked at 100 cards.
Wedding Card Box With Photo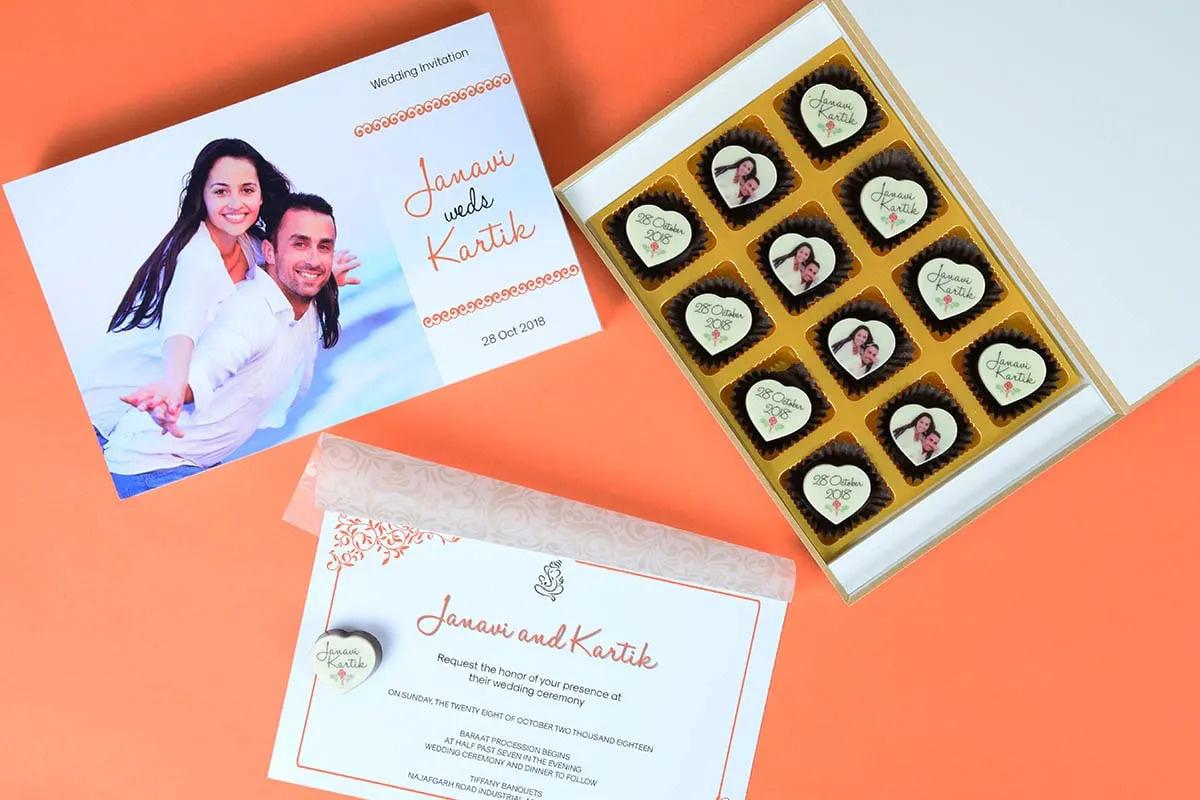 Why limit getting the photo of you two only on the wedding card? How about getting a customised wedding card box with a candid photo of you two printed on it? Chococraft offers not just a wedding card with photo and box option but expertise in producing edible photo decorated chocolate boxes to go well with the wedding cards as well.
A set of 10 boxes with 12 chocolates and a printed box and wedding invitation costs approximately ₹9,950.
Destination Wedding Special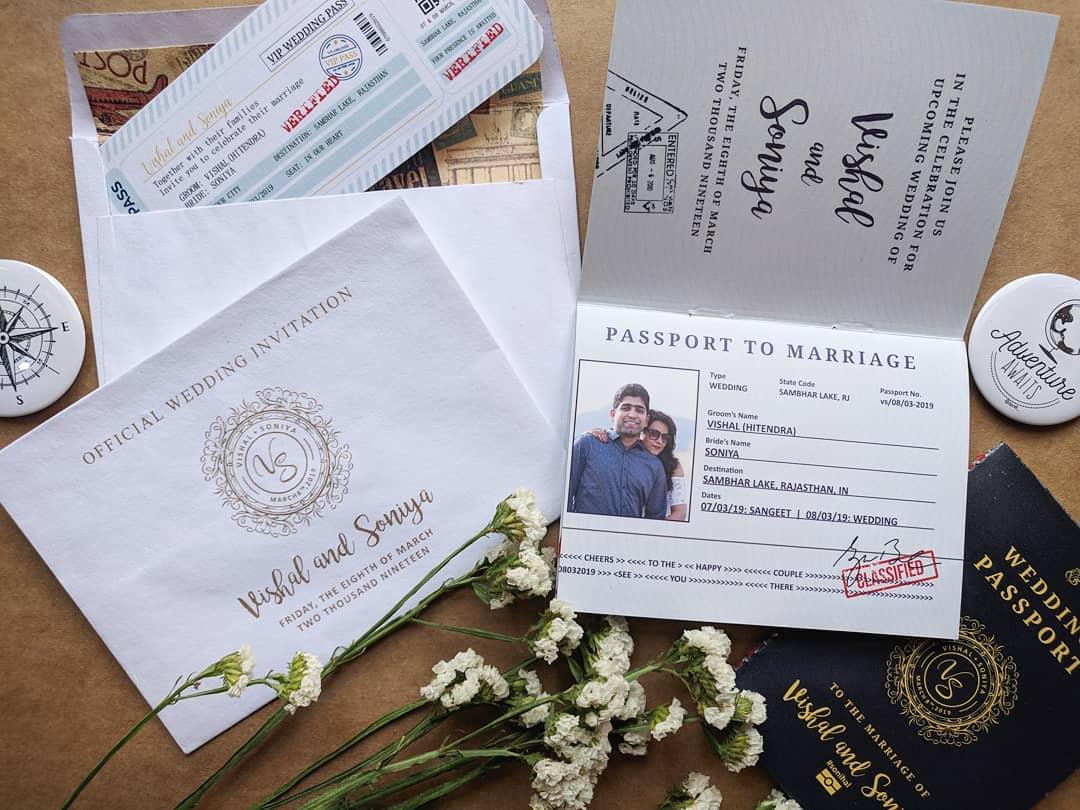 For couples who are planning a big fat destination wedding for all the guests, the wedding card with photo design also needs to convey the same. And what better way to let the guests know about the destination wedding than by getting a passport and other travel stationery designed as wedding invitations for all of them? The exotic invites team is an expert in creating some realistic-looking destination wedding special cards, customised with a photo of the couple to match the aesthetics right.
They offer wedding card with photo ranging between ₹80 to ₹1,500 per print.
Wedding Card With Photo And A Story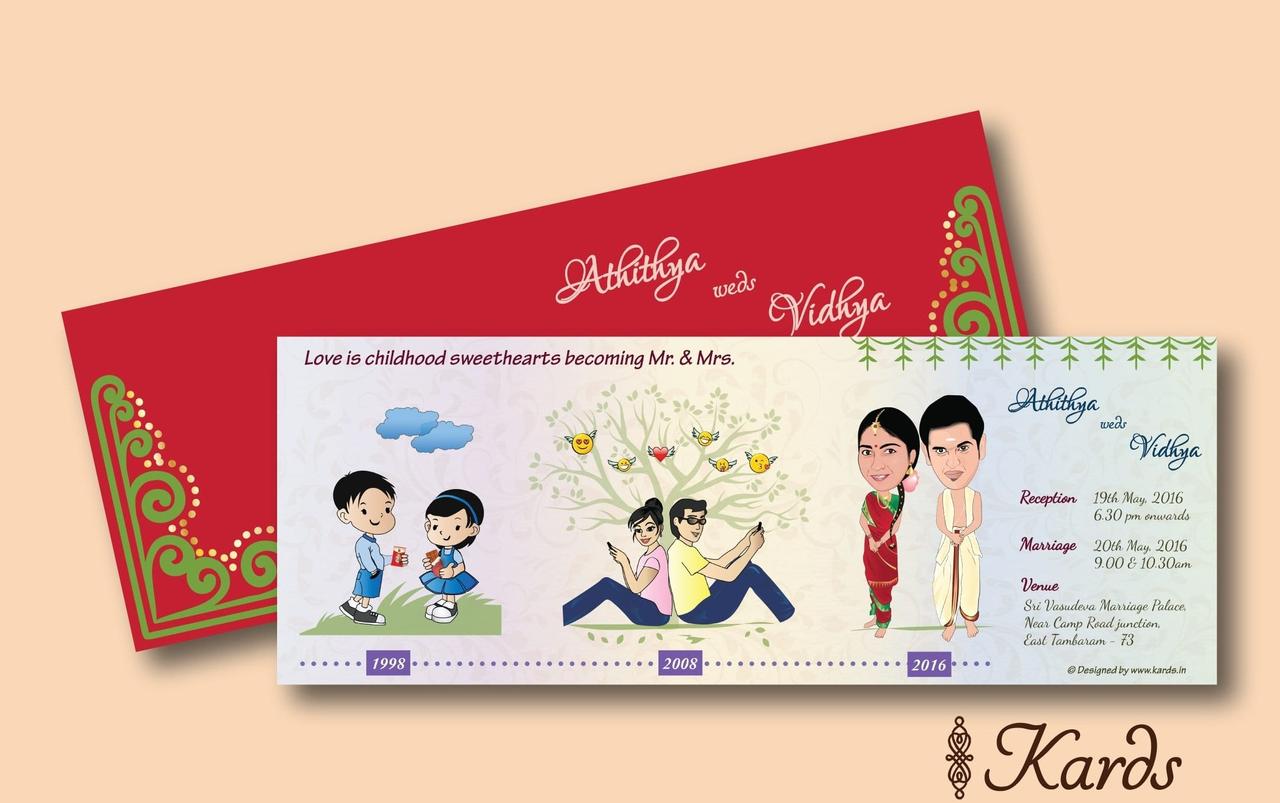 Image Courtesy: Kards
At every wedding, the one question that everyone is curious to ask is 'How did the bride and the groom meet?'. Whether you have been childhood sweethearts or it was love at first sight when you met with each other's families, the story is always interesting. Which is why, it can be a fun idea to present all the guests with a wedding card with photo that tells a story! Kards is a brand that expertise in illustrating love stories in the form of wedding invitations.
You can either check out the e-card samples and customise a pre-designed card online for a downloading fee between ₹1,750 to ₹3,250, or you can write to them for a more customised wedding card with photo of you two instead.
Collage Invite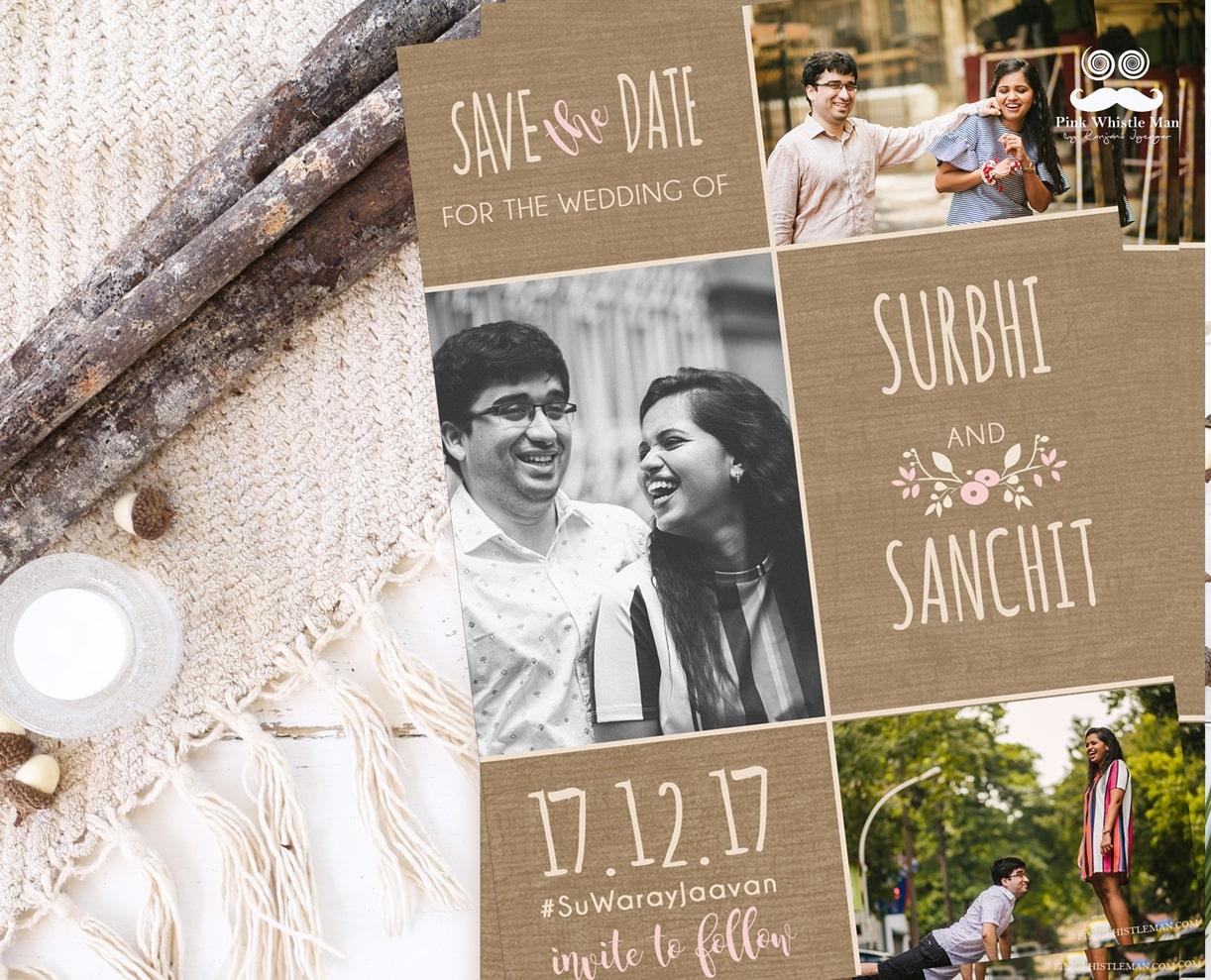 Pre-wedding shoots have become very common nowadays. This means, that there are some candid photographs of the couple available pre-wedding, which can be used to create beautiful wedding with photo designs. Every couple should sit down and sort 4-5 images that they love of themselves the most and then pass these on to the designer for a collage-style wedding invitation card.
The starting range of such designs by Pink Whistle Man is ₹150 and based on the customisation the prices go up gradually.
Case Files Style Invite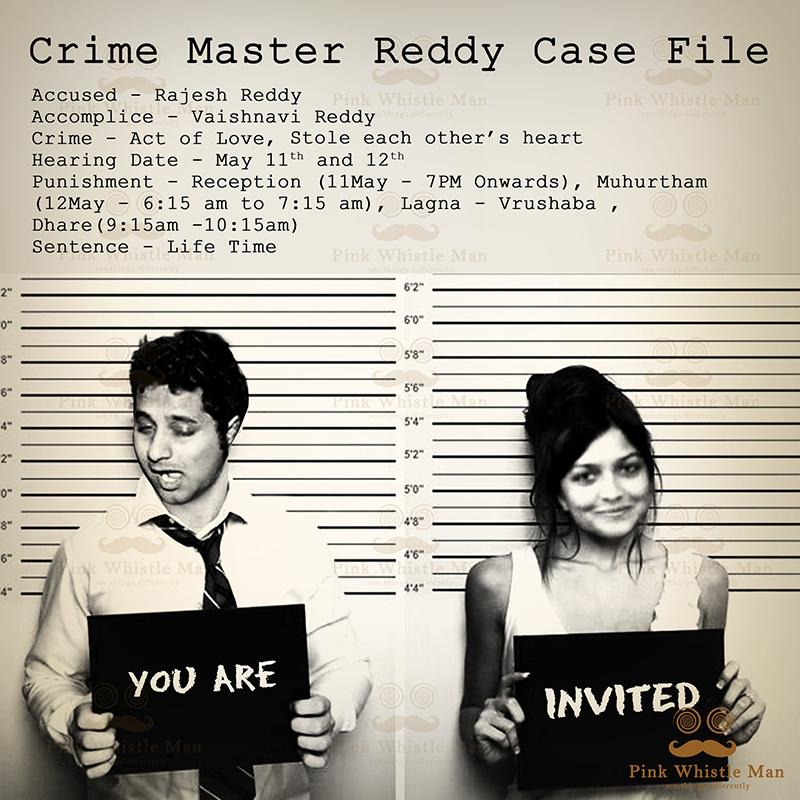 Have some fun by getting a wedding card with photo design made that is distinct from the regular ones available in the market. A case file style invite will be perfect if you wish to keep your wedding affair fun and humour-filled. Get some mugshots of you two taken by the photographer with maybe a black-board in hand that has a message or a quote scribbled on top.
Customising a pre-set case file design by Pink Whistle Man has a starting range of ₹150 which goes up with customisation requests.
Filmy Style Wedding Card With Photo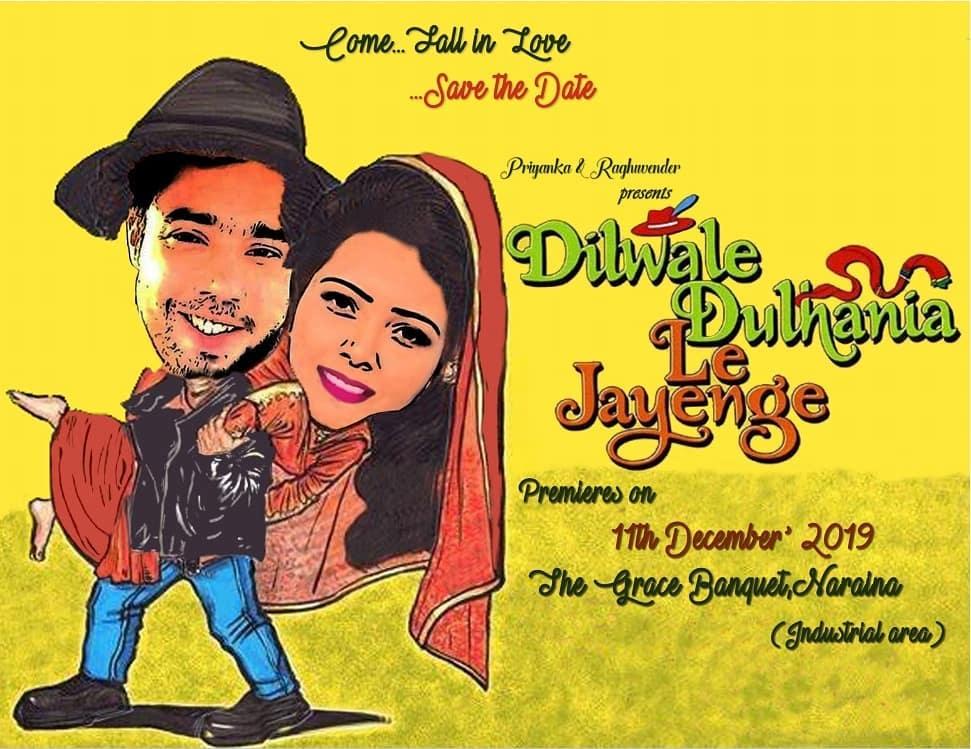 For couples who are a big fan of Bollywood, this style of wedding card with photo from Sugarcrum by Urvashi is for you! Find the one film that you two love the most and get a wedding card designed graphically with your faces replaced digitally with that of the hero and the heroine.
Sugarcrum by Urvashi excels in the task and her pre-made to custom designs range between ₹100 to ₹25,000 for a budget to extravagant gifting deals.
Greeting Card Style Wedding Invitation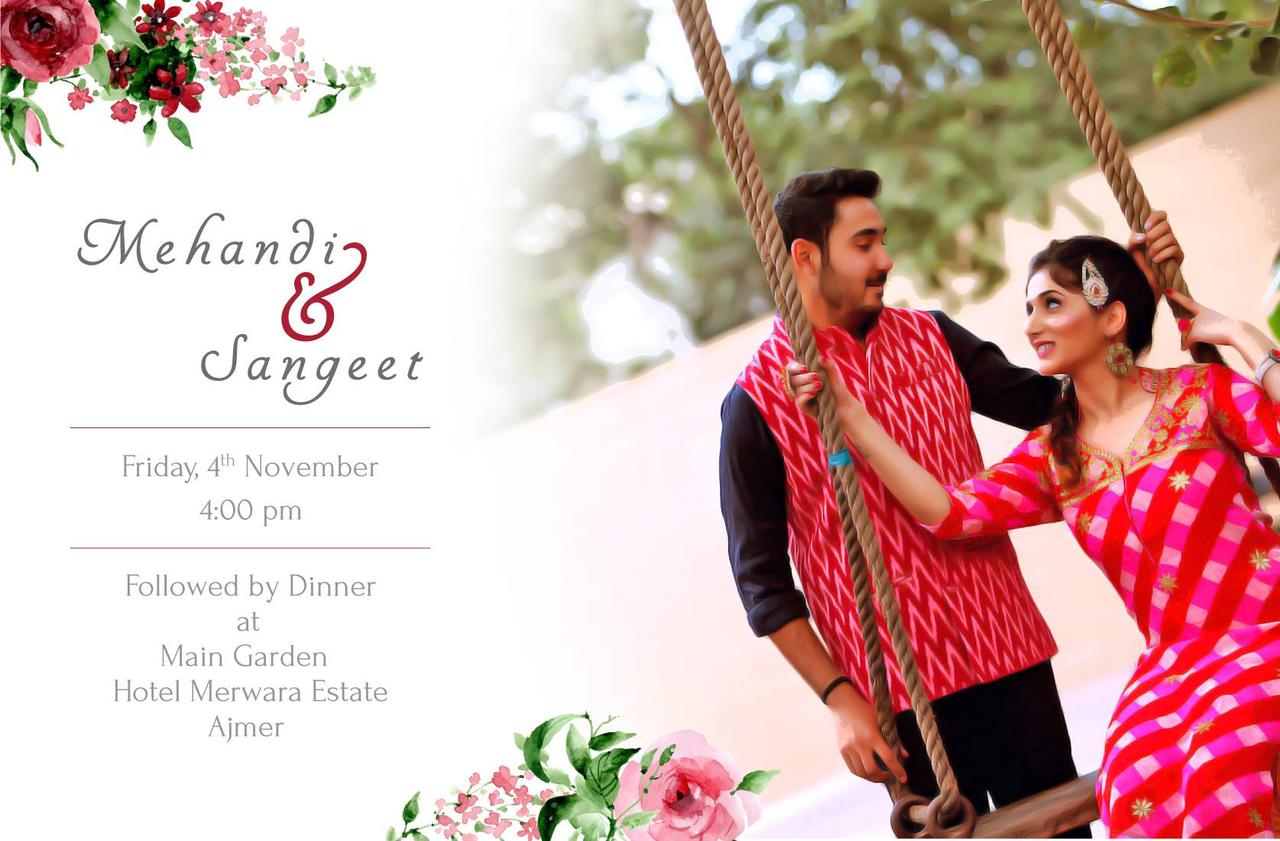 Getting a greeting card style wedding card with photo is a great way of keeping the invitation simple, sweet and to the point. The only graphical attraction of such designs is the lovely photo of the couple that is supported with all the details of the upcoming wedding. There are many artists who offer such a wedding card with photo options in print and boxed invitation boxes.
The packages for such greeting card styles by Silly Pixel Studio costs between ₹2,500 to ₹25,000.
Cartoon Style Wedding Card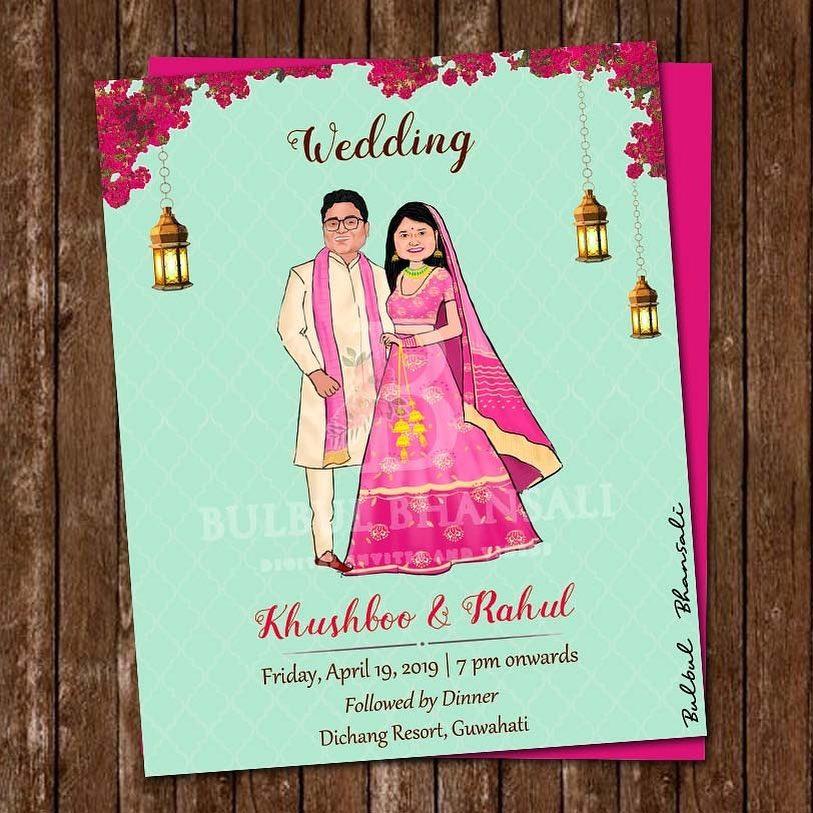 Another fun way of getting wedding card with photo designed is by getting cartoons made of you two by an artist. Cartoon is very different from a caricature and so you can always decide between whether you want a more realistic looking drawing of you two or more comic-style cartoon.
If you have decided on the wedding wear for both, you can actually ask the designer to include the design and colour of your wedding trousseau while designing the cartoons as well. Or you can discuss getting a comic-strip type cartoon design made of you two for a funnier wedding invitation.
The starting range of such wedding card with photo designs is ₹3000 onward by Bulbul Bhansali.
Gone are the days when wedding cards were meant to be just a formal written invitation to the guests. Wedding card with photo is a trend, is a style statement and is an expression of the wedding in colours and graphics on paper.
Hence, go wild with your concepts and sit to discuss how to make this first impression eventful and memorable for all the guests. After all, your wedding needs an extra-extra dose of excitement among all the attendees from the moment they receive their invites through all the wedding functions and celebrations!
Do check out our list of talented vendors who excel the art of designing wedding card with photo, customised to the needs of every couple and wedding.