6 Latest Designer Saree Images To Bookmark This Wedding Season
Searching for the latest designer saree images to strike a stunning pose with your beau? Here is our selection of saree gowns, drapes and kanjeevarams with a twist.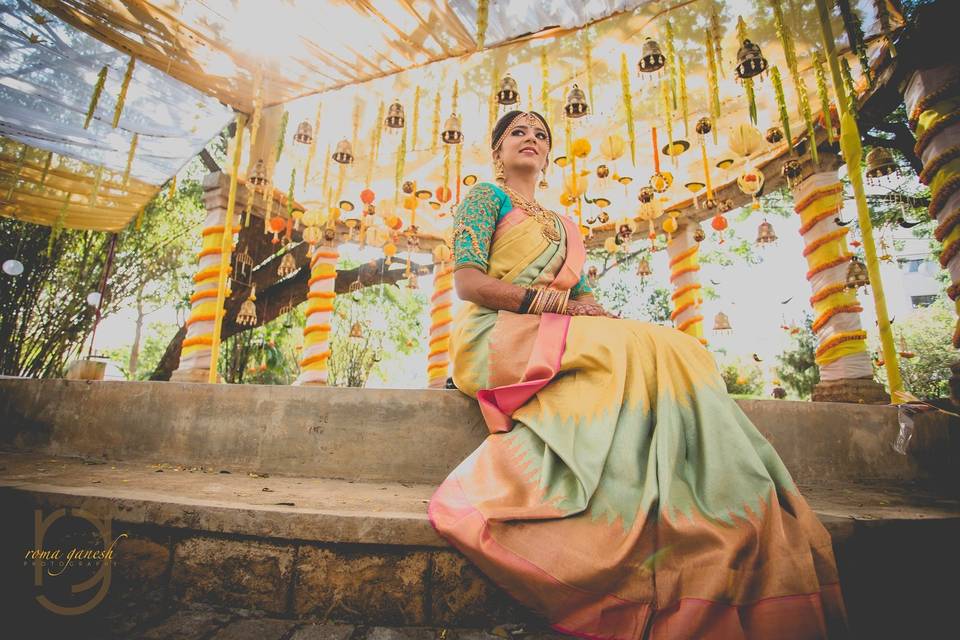 Are you ready to take a dip in the glorious ethnic ensembles this season featuring a myriad of latest designer saree images? We will take you through this amazing roller coaster ride and let you explore the flavours of some breath-taking designer saree images perfect for the modern-day brides-to-be. From scintillating silhouettes like organza, chiffon, lace, chikankari coming to the foray while the intricate handcrafted embroidery laden on such delicate designer sarees truly bring the magic of the yesteryears while immersing us in the world of glamour so effortlessly.
Thanks to the contemporary and avant-garde styles that have totally stolen the show with their unique compiled designs and endearing artforms. Let's hit the road to nirvana with such stylish latest designer saree images which will offer you a respite from the monotonous life:
1. Saree Gown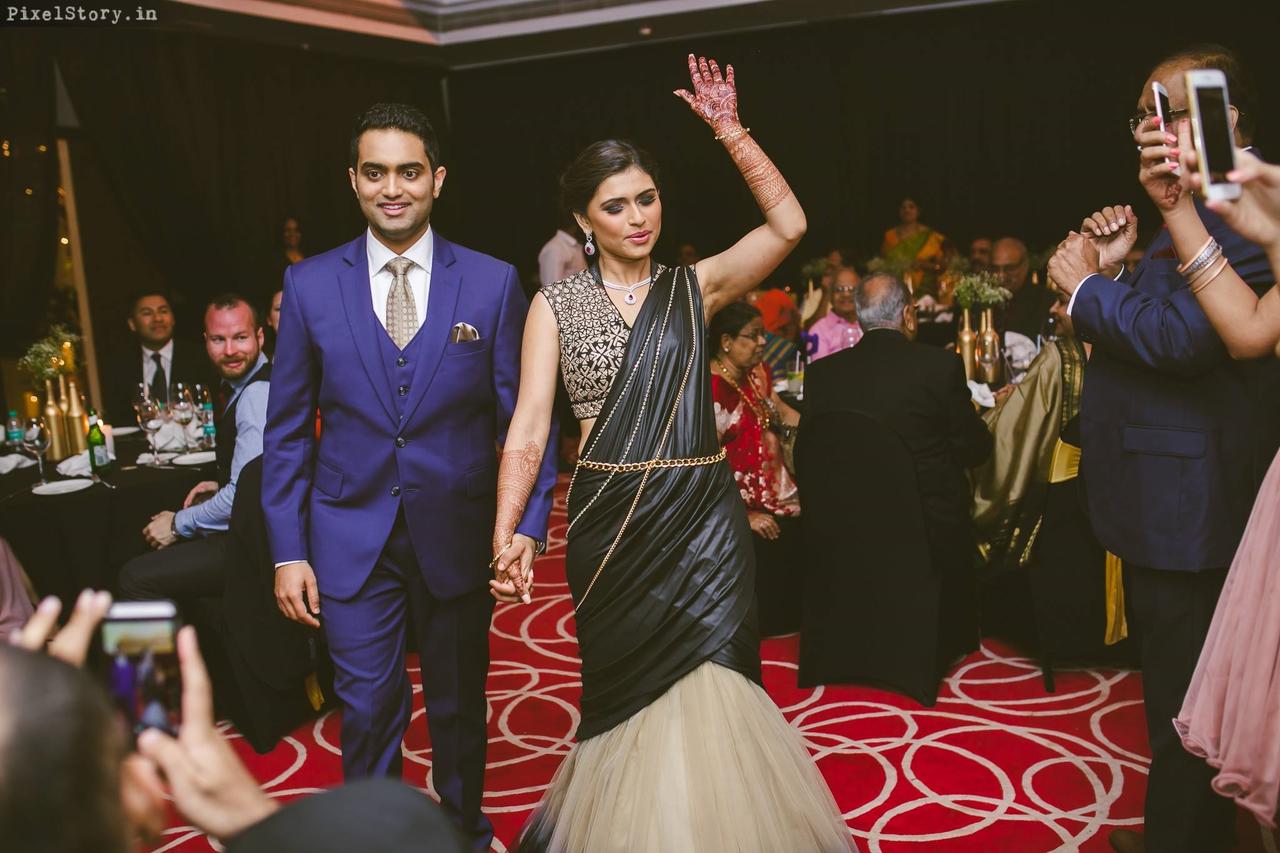 Exude an air of elegance with oodles of grace as you drape this stunning saree gown as your cocktail saree or for a gala reception evening. Leave the coterie in awe as you show up in this glamourous ensemble with a touch of sass reflected through chicest selection of fabrics. Here, the bride is seen rocking the gorgeous leather pallu with a crepe sheer net pleated saree skirt which makes up for quite a risqué yet unconventional dressing form.
We especially love how beautifully she paired the designer mesh and lace-laden blouse with a surplice sweetheart neckline to offer a further surprise to her beau. While we're hearts for this exotic attire she wore, we are equally mesmerised with the fancy diamond and Ruby-based jewellery she preferred to accessorise her look with.
2. Contemporary Saree Drape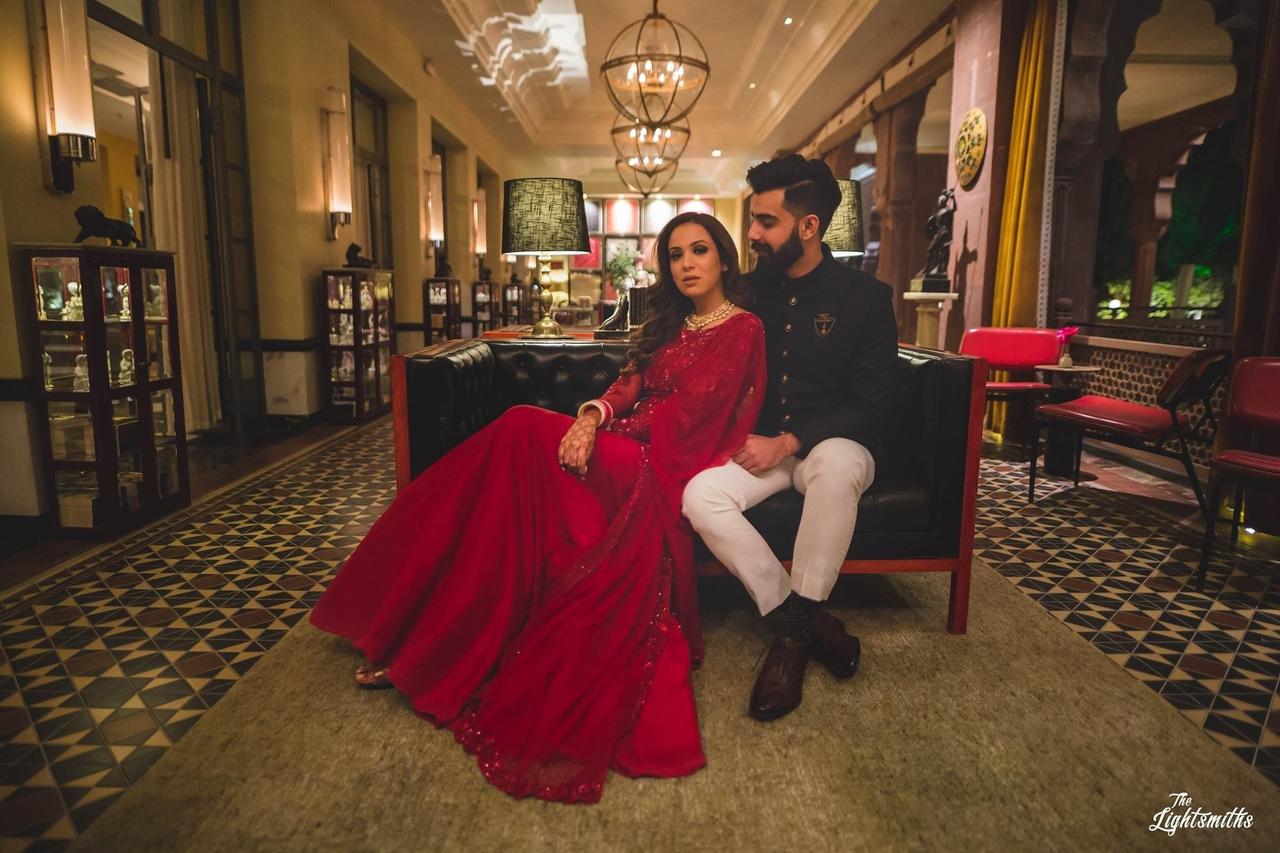 How about adorning the sophisticated yet striking appeal of this deep red contemporary saree drape at your wedding reception to let your man fall in love with you all over again. The profound shade of this alluring saree drape will truly unfold the real you while the guests will pour you with heaps of compliments and steal side glances.
Such latest designer saree images are quite a hit amongst fashion-conscious women who love to strike stylish yet chic looks and are not afraid to try something new. The trendy yet fashionably fierce saree drape will indeed complement the dusky Indian complexion and bring out the best in you. Just go au naturale with your makeup and light on your jewellery to keep your fashion game strong.
3. Colour block applique work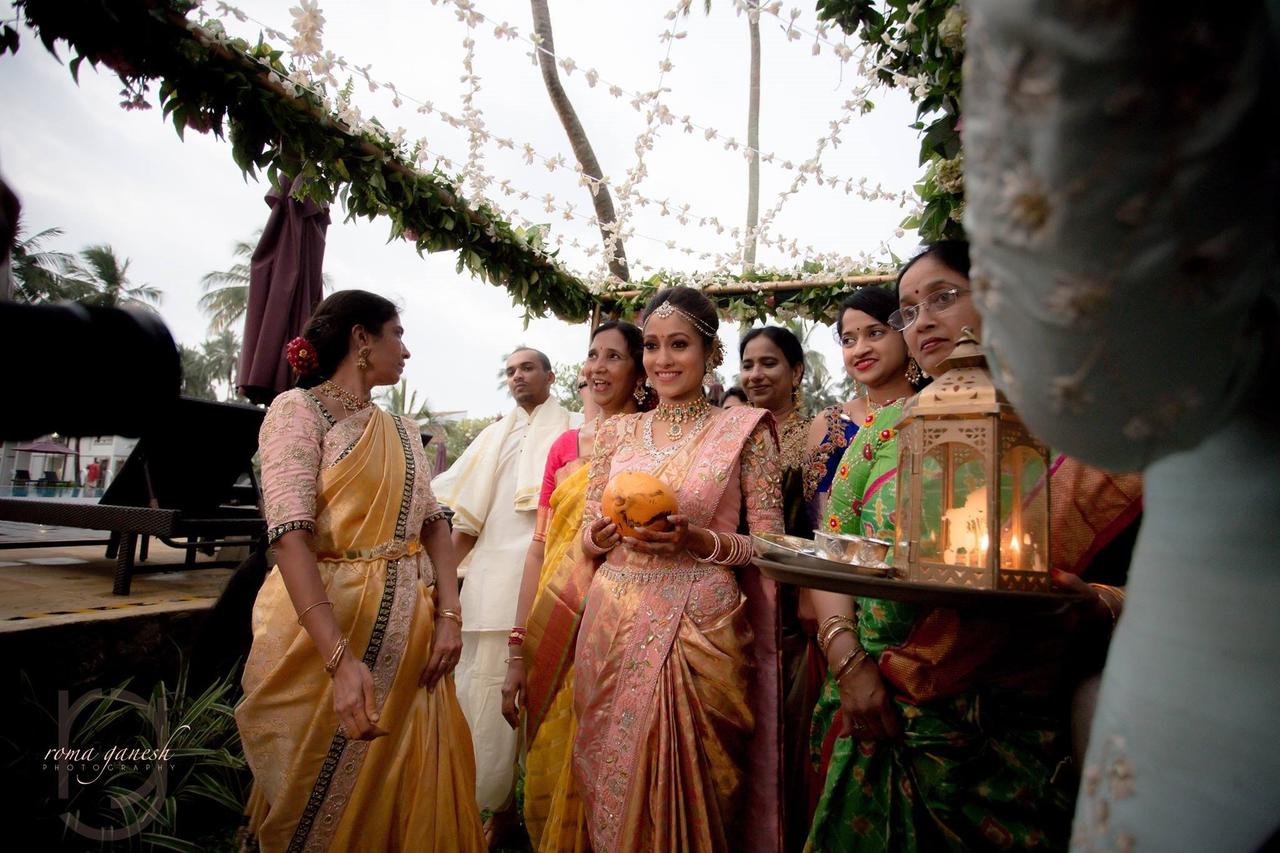 Isn't this a dreamy look to imitate on your D-Day as you walk down the aisle wearing this exotic colour block saree with flamboyant applique work embroidery. We're so in love with the pastel-esque hues creating a soothing vibe while the statement precious jewellery is totally brewing up the flavours of glam and jazz quite effortlessly.
Blending the best of the west with east, the graceful saree resonates nothing but elegance at par. What truly differentiates this look is the statement kamarband or waist belt gracing the delicate and slender waist of the bride-to-be as she walks towards a new life in a surreal way.
4. White and gold Banarasi saree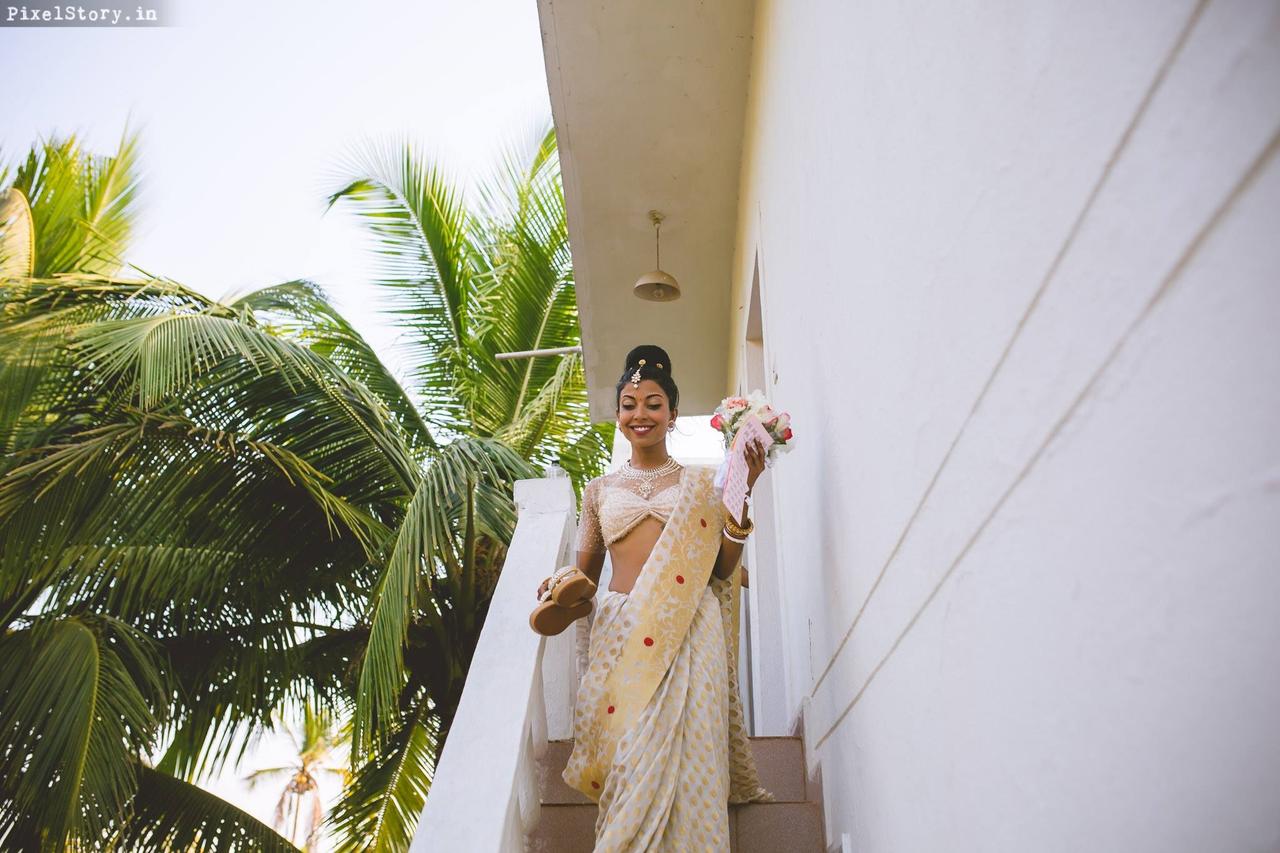 Exclaim in joy ladies for we got you covered this wedding season in our spectacular bridal saree which will serve as the latest designer saree image and a treat to your eyes. The subtle poise and surreal glam resonate the underrated glamour of this saree which is effervescently draped by the bride. What truly captivated our attention were the red polka dots daintily imprinted on the pallu.
The rich and vibrant Banarasi saree featuring the classic blend of white and gold Buta work embroidery, the bride truly took our breath away in her uber-sizzling sheer net blouse.
5. Half-half designer saree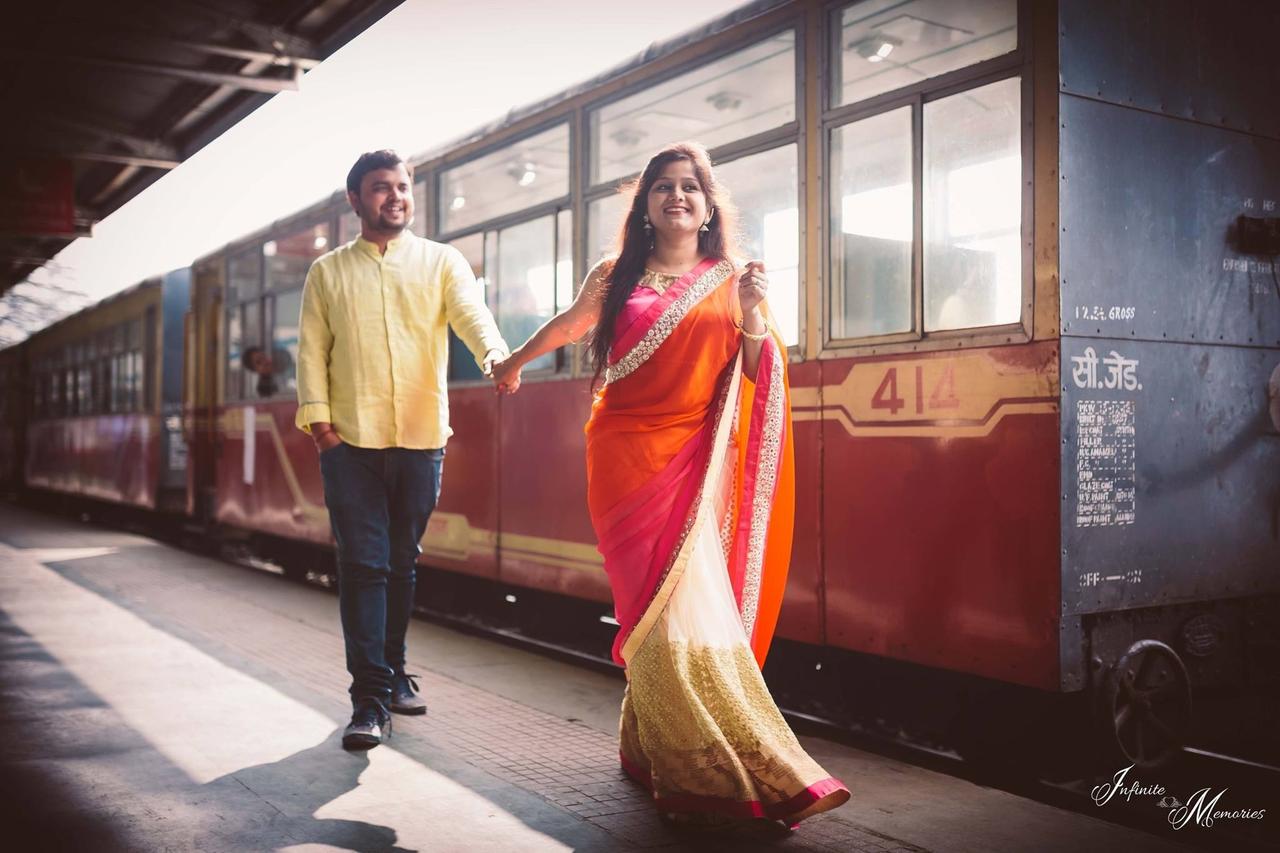 While you may be still wandering around in regular Kanjeevarams and Banarasi sarees at weddings, it's time to embrace the change and how. Thanks to the couturiers' forward fashion innovation that brought to us a whiff of change with the slew of half-half designer sarees flooding the bridal market.
These latest designer saree images will be your dream come true as you step into the godly vibes draped in perfection from head to toe feeling nothing less than a holy figure.
6. Gold Kanjeevaram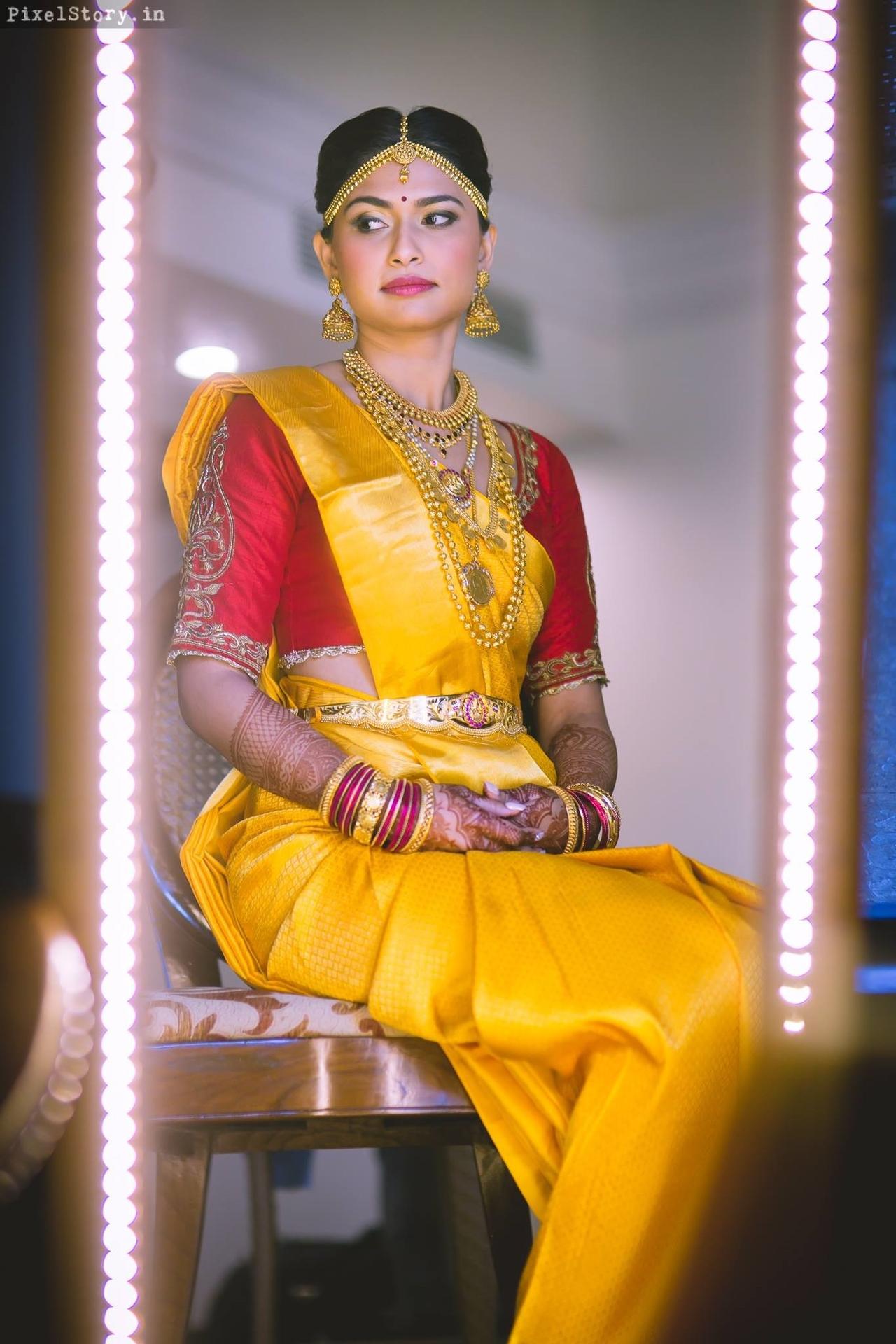 Exude an air of flamboyance and uber traditional vibe as you drape the pious and highly sophisticated kanjeevaram silk saree on your wedding day. Pour the goodness of chastity in this magnificent royal saree which is a staple for every South Indian bride. Needless to say, you can pair it with a contrasting blouse to create a striking effect and further enhance the beauty of this gorgeous saree.
Kanjeevaram silk sarees are indeed proof that old remains gold until you have a better reason to talk shop and add some glitter to your persona in a different silhouette. Such glamorous and ever-classic latest designer saree images will always transport you to the good old' days when your mom draped them while you nonchalantly admired her.
Aren't these latest designer saree images evoking the passion underneath you to quickly tie the knot with your significant other? We ain't denying the fact how beautiful it is to create a replica of gorgeous sarees and invest in latest designer sarees but ensure beforehand about the wedding theme, your in-laws traditions and such quintessential elements before you finally finalise the saree. We personally loved the contemporary saree drape for its unusual grace and poise.
Which one of these did you heart the most and why? Tell us in the comments below.