Kerala Gajra Hairstyles with Fresh Strings of Gajra That Make You Look and Smell like Heaven
For brides flaunting a Kerala hairstyle, it is a given that they'd be flaunting a beautiful gajra with it too. Want to know what is so special about these hairstyles and how the gajra adds to its beauty? Well, look inside.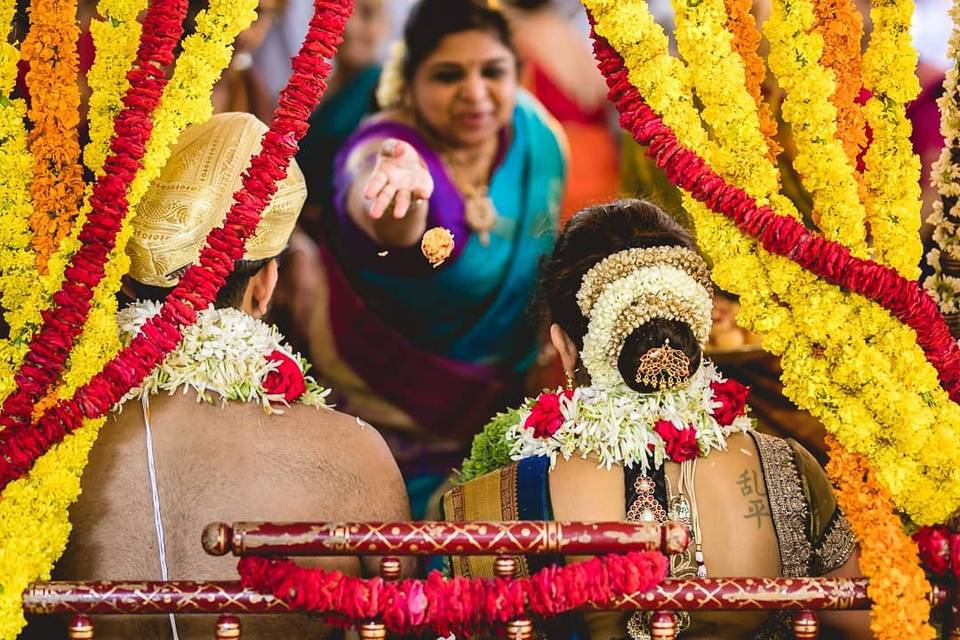 The brides of Kerala have a very distinguished style when compared to all the other brides. The Kerala Hairstyle is nothing but the distinctive statement that they make with their classic yet stunning hairstyles. Well, you can also say that it is their hairstyle that makes them stand apart from the other brides. The Kerala hairstyles are simple and yet so elegant. They look effortless but trust us when we say that there is a lot of hard work that has gone behind making sure that it's perfect.
Another thing about Kerala Hairstyles is the amount of gajra we see in them, and we don't just mean the classic style of wearing gajra, but a lot of variety that Malayali brides carry off. From using single buds to the entire string of gajra, the choices for them are many. Gajra is also the element that makes their hairstyle fancier. Also, let us not forget that gajras also hold a huge significance in a married woman's life, and adding them to these hairstyles on their big day marks a great start to the new journey. I am sure by now you are starved to know how these gajras fit into different Kerala hairstyles and what can you pair it with to make it look more stunning.
1. Fully Covering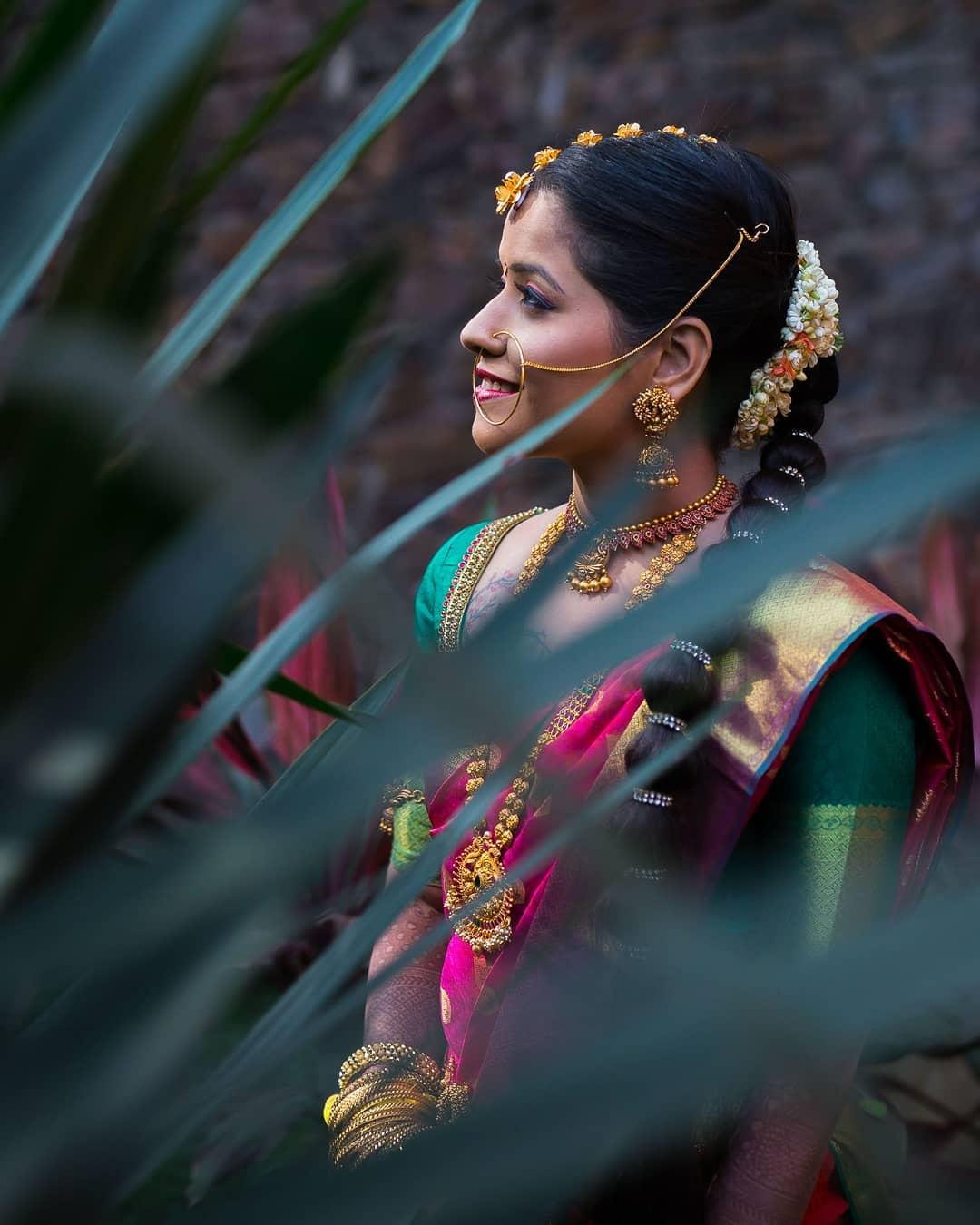 Let's start with one of the most traditional Kerala hairstyles, which is the full covering gajra bun. This hairstyle has a bun which is fully covered with beautiful and fragrant strings of gajra. This is a hairstyle that can be worn with your traditional clothes if you want to go down the classic route, or you can also go with a contemporary look to show a beautiful clash of new and old. Since your hair is going to be pinned up, it could also be a great idea to bring out the long dangling earrings that you want everyone to admire. You can go for a matching necklace with those earrings, if you have one, as your neck area could otherwise look bare with this hairstyle.
Best Occasion: This type of hairstyle can look heavy, so whip it out for the main function, like the wedding day, or the reception night.
2. Flowing Hairstyle
The next best thing after a nice bun is an open hairstyle. Now the thing about this hairstyle is that it is universal and it looks amazing on everyone. There is no going wrong with it. But to make it look more like an authentic Kerala hairstyle, you must add a few strands of gajra to freely flow along with it. This hairstyle does not need any specific kinds of clothes, contemporary or traditional it does not clash with anything. You can maybe add a pair of eye-catching earrings that can shine even with some hair covering it.
Best Occasion: This hairstyle is best suited for smaller functions and more intimate gatherings.
3. Bun And Braid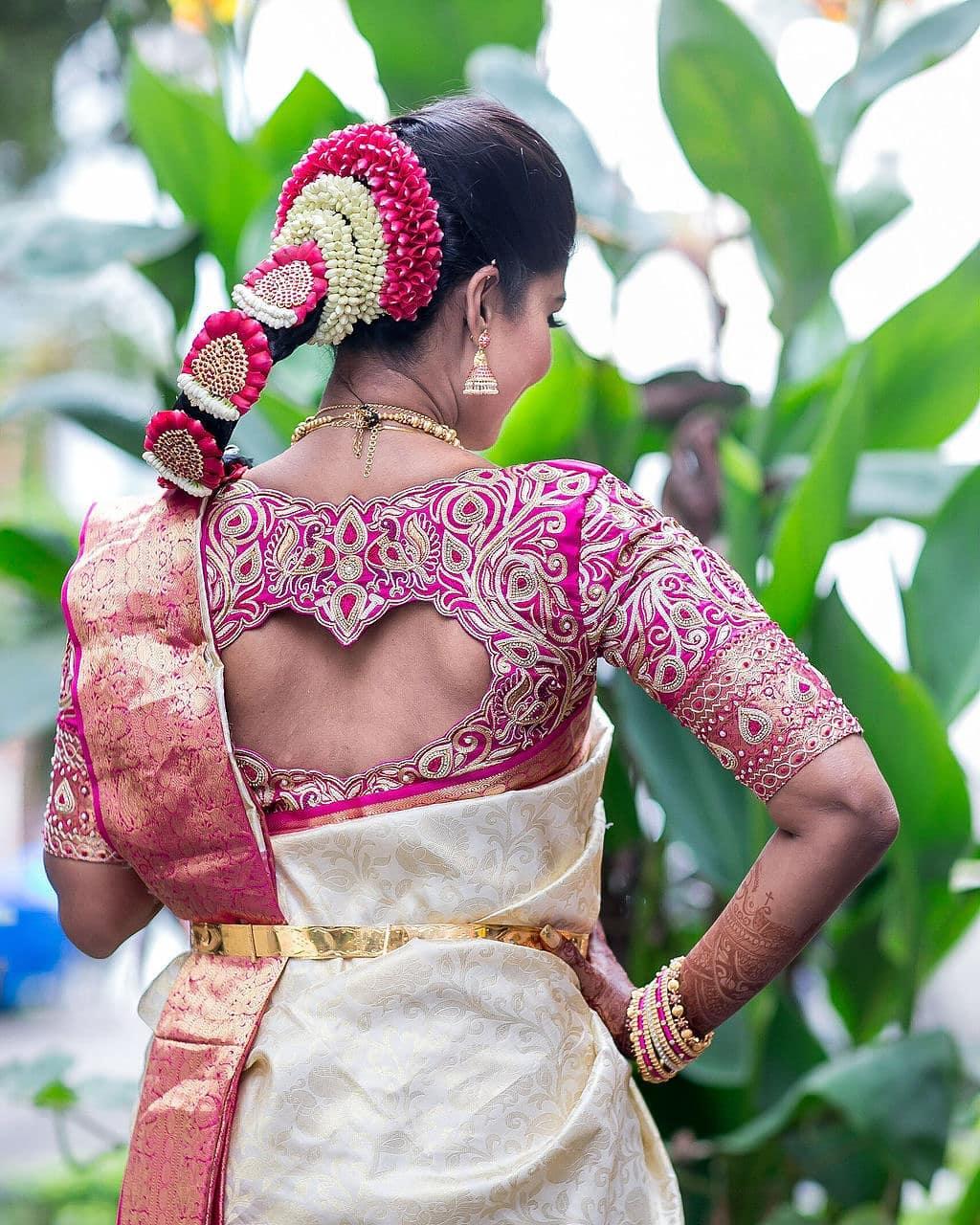 This is one of the most seen hairstyles on the brides of Kerala. This braid and bun hairstyle is even called the go-to style for some Kerala brides, and it emphasises on the traditional and classic bits of their getup. This hairstyle has a beautiful combination of gajra and jewel decoration; with the gajra cover the bun and the jewel coming down with the braid. If you can find something suitable enough, then maybe you can match the hair jewellery with your earrings or your necklace.
Best Occasion: Most brides find this Kerala gajra hairstyle the right pick for their wedding day, as it would go suitably with their traditional attire.
4. Round The Braid
Talking about a similar concept, we look at the braid that boasts a beautiful technique of displaying gajra. The gajra going around the braid is a concept that we have come to love. It not only brings a twist to your very conventional hairstyle but also gives you a more modern look that evens out the conventional get up that you have on. With your hair neatly held back with this stunning braid and gajra, you can maybe pick some of your modern jewellery over the heritage ones.
Best Occasion: Functions like the mehndi or engagement are perfect to carry off this Kerala gajra hairstyle.
5. Go Around The Bun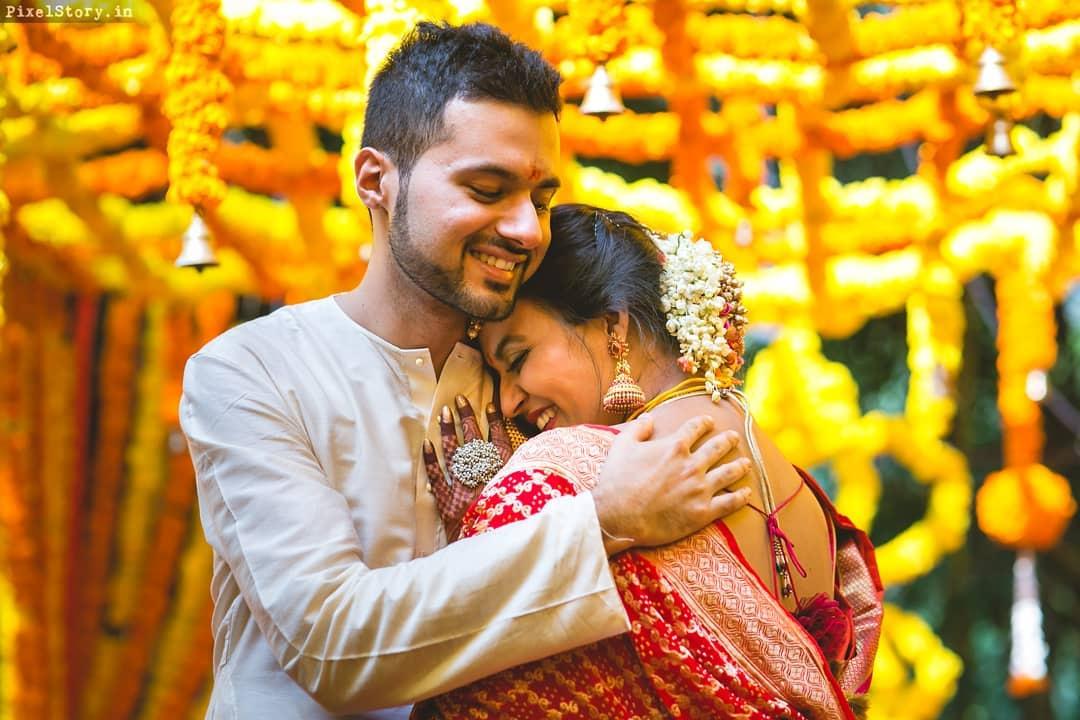 Though this hairstyle and its accessories are similar to the classic bun and gajra, this gajra hairstyle does not fully cover the bun with the gajra. It just goes around the bun and covers it on the edges. It looks quite elegant and can be your choice of Kerala hairstyle if you want something lighter than a full gajra hairstyle. This look is more fashionable than the full covered bun, therefore you could go with a piece of comparatively lighter jewellery to give it a more up-to-date look.
Best Occasion: This hairstyle can be suited for all occasions in your wedding, as it is a traditional look but still looks à la mode.
6. Jali Like Cover
If you want to go for something aesthetically pleasing then this Kerala gajra hairstyle is one that you are looking for. With the traditional bun and gajra combination it does sound like the usual hairstyles, but looking at it will make you realise that it is nothing like it. With the usual gajra going around the edge, this one has a beautiful jali made from the same flowers. It is not just extremely striking but is also a step above from the usual hairstyles. Pair this gajra hairstyle with a nice contemporary set and you're good to go.
Best Occasion: Try this hairstyle for maybe your reception night or wedding day.
7. Nothing But Gajra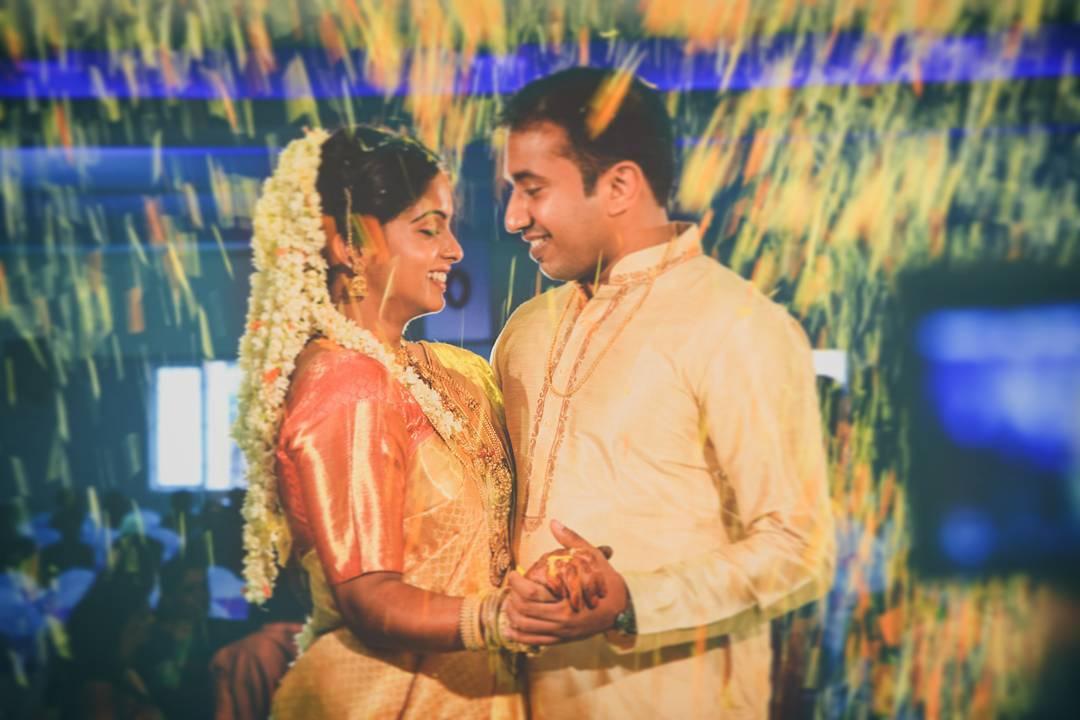 This gajra hairstyle is sure to turn heads. If you are someone that likes to be a little extra then this Kerala hairstyle is the one you should try. It sports a braid and a lot of gajra, so much so that it is unlikely to get unnoticed. With long strings of gajra going down your back with the braid, this hairstyle forms a beautiful vision. With this braid you must opt for your traditional or heritage jewellery, as it would be more in line with the look.
Best Occasion: This hairstyle deserves an occasion where everyone gets to see it. So, go for functions like the main wedding day or the reception night.
8. Mix It Up
Thinking of going for a braid and the usual beautiful gajra? Well, that could be a good idea but maybe you could mix it up a bit by adding some different flowers in your usual gajra. Add roses maybe so that there is some kind of colour contrast in the gajra hairstyle as well. To add another element, you could even add some hair jewellery to this Kerala gajra hairstyle. If all these elements are put in equal amounts then nothing will be too overpowering. You could go for your classic jewellery with this look as it would complete this amazing gajra hairstyle. Best Occasion: You could choose this for functions like marriage and reception, where such a heavy hairstyle would look amazing.
All these Kerala hairstyles look amazing by themselves, but when you add the touch of gajra, they look completely ethereal. And every bride deserves a look like this at her wedding. In addition to that, the jasmine flowers in the gajra are traditionally said to signify good luck. Who wouldn't want some of that on their wedding day?
Which is the most unique Kerala gajra hairstyle that you loved here today? Tell us in comments.