Florals & Personalisation: 21 Latest Jewellery Designs That Everyone Is Talking About
Every bride-to-be wants to keep up with the popular trends yet look different and unique from the rest of the brides. And we get that. That's why we have listed 21 latest jewellery designs that will set you apart from everyone else.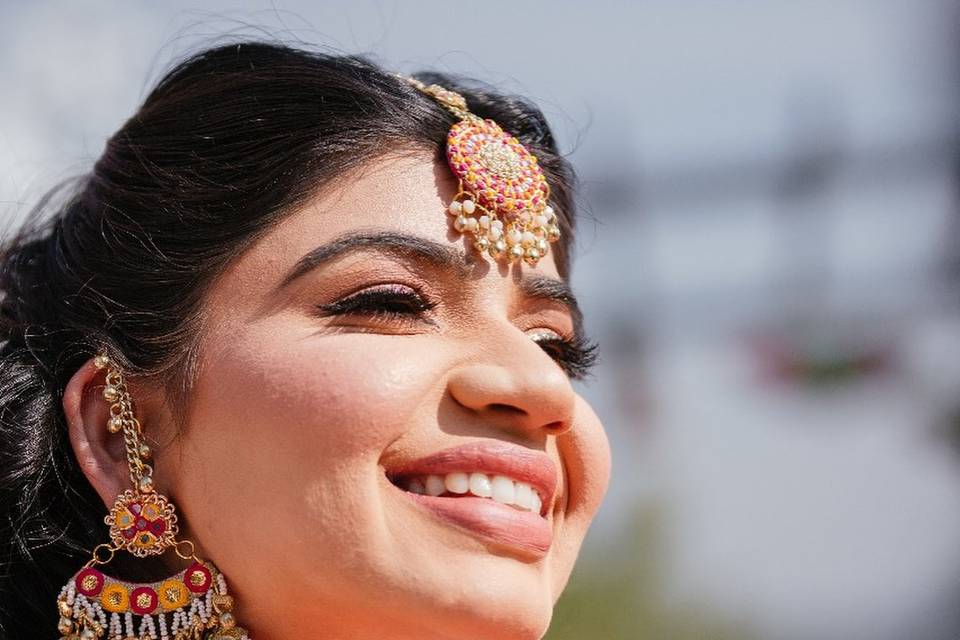 With a plethora of latest jewellery designs available, making a choice can be a task, especially when you are doing it for your own wedding. And the desire to choose fashionable pieces that will go perfectly with your selected outfits is absolutely justified. So to help you make the right choices, we have put together some of the most loved and popular latest jewellery designs that you can rock at your ceremony.
Latest Jewellery Designs: The Floral Edition
While we are on the topic of latest jewellery designs, we cannot not talk about one of the most favourite and followed trends these days; floral jewellery. For any bride-to-be, it has always been an unspoken rule to wear heavy jewellery for all her wedding ceremonies, but thanks to this latest trend, you can look absolutely breathtaking in these light, colourful, and stunning jewellery pieces for your Mehndi and Haldi ceremony.
1. A floral Rani Haar for the royal bride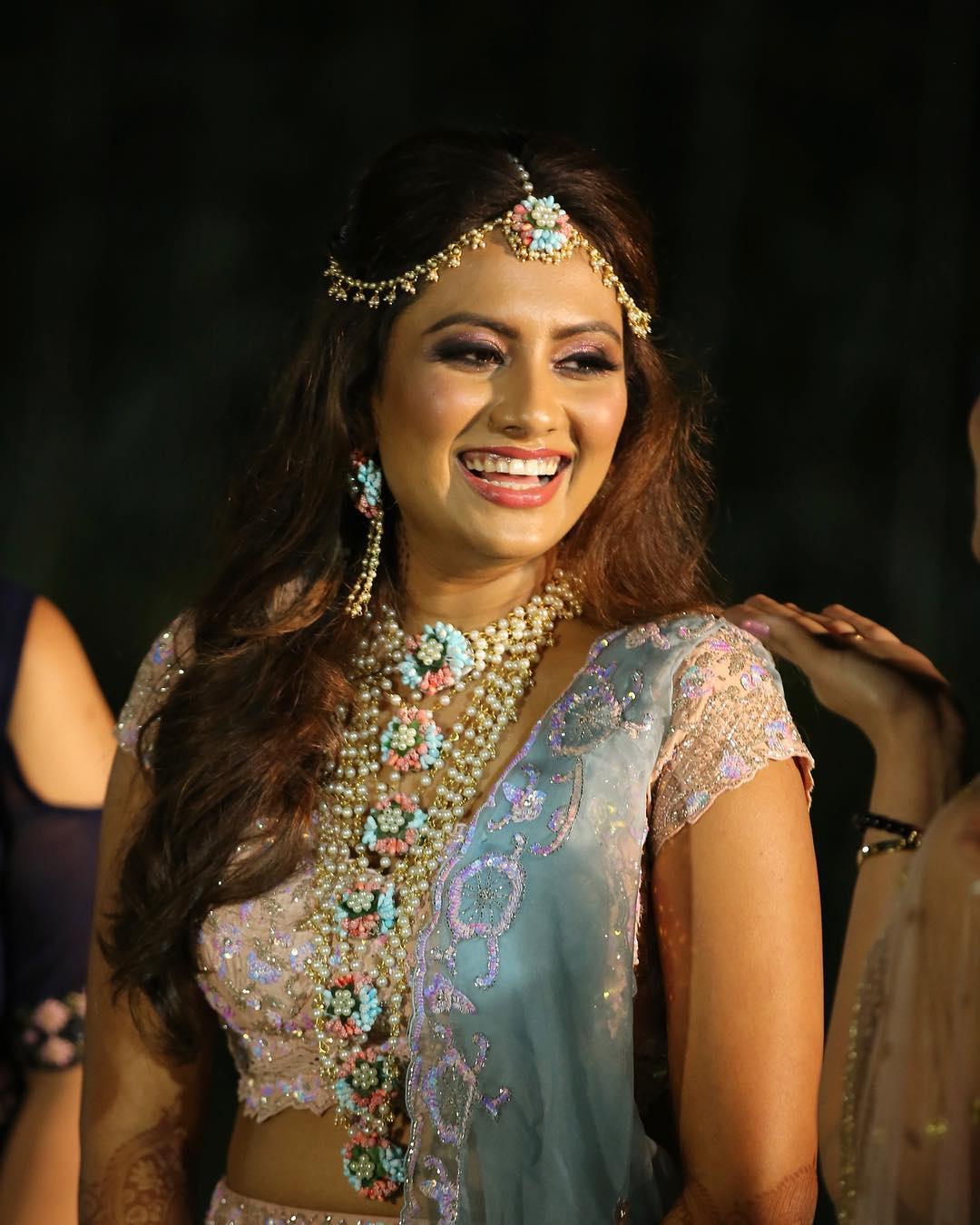 Think floral chokers are too mainstream? How about you flaunt a floral Rani haar at your Mehndi ceremony instead? We love the intricacy of this beautiful, layered necklace. With flowers and pearls used together in the most elegant manner, this rani haar is a statement piece in itself. But you can always ask the floral artist to make a proper jewellery set in the same style and look like a royal bride.
2. Say yes to flowers, pearls & Gota Patti with this beauty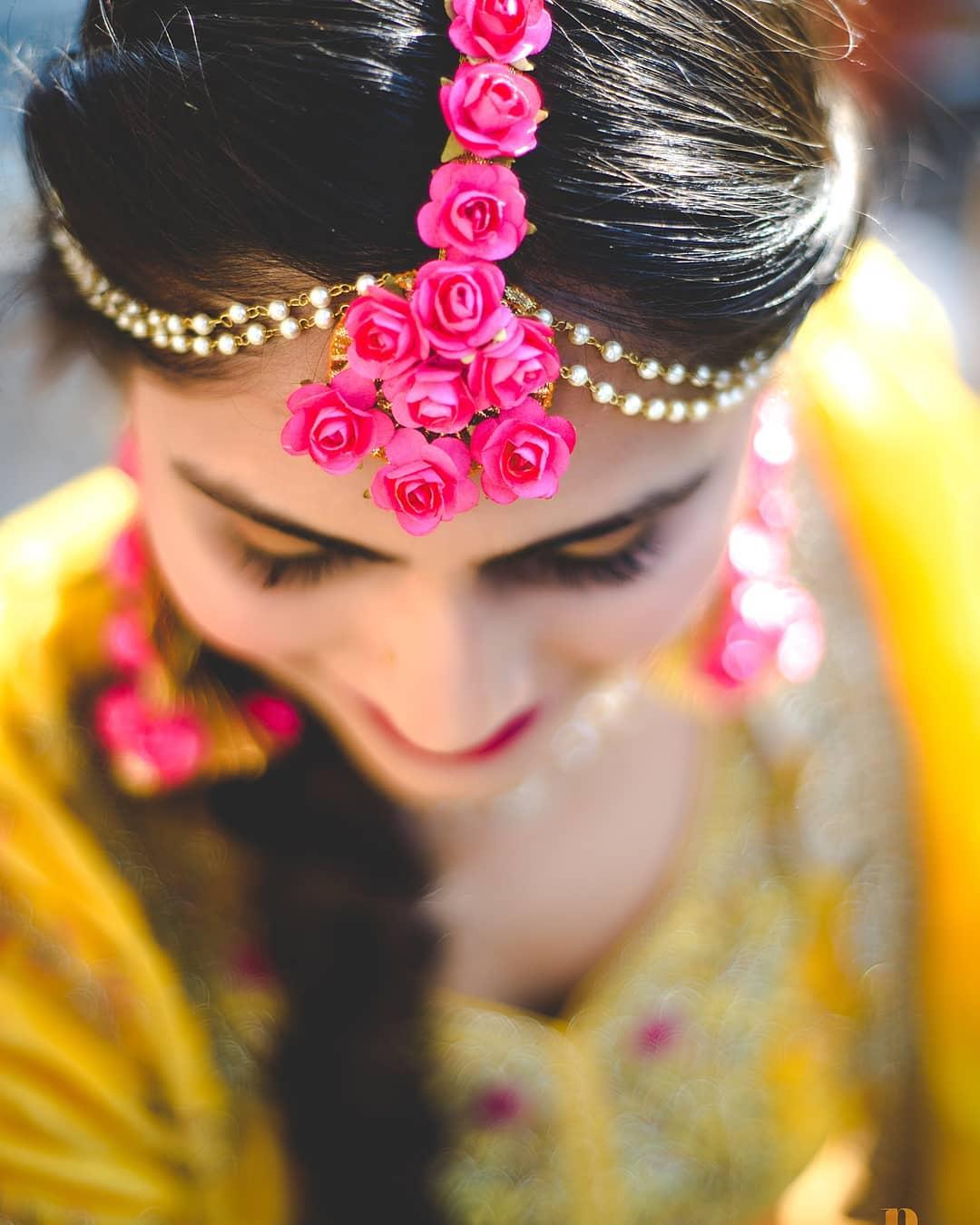 Ditch the simple Maang Tikka for this beautiful, floral Matha Patti, and look like an absolute stunner at your Mehndi. Adorned with tiny roses, pearls, Gota Patti, and golden chain detailing, this Matha Patti will go perfectly with a pair of chunky Gota Patti earrings.
And if you don't like roses, then get them replaced by your favourite flower and slay the day in style.
3. Adorn your Nath with flower buds & pink pearls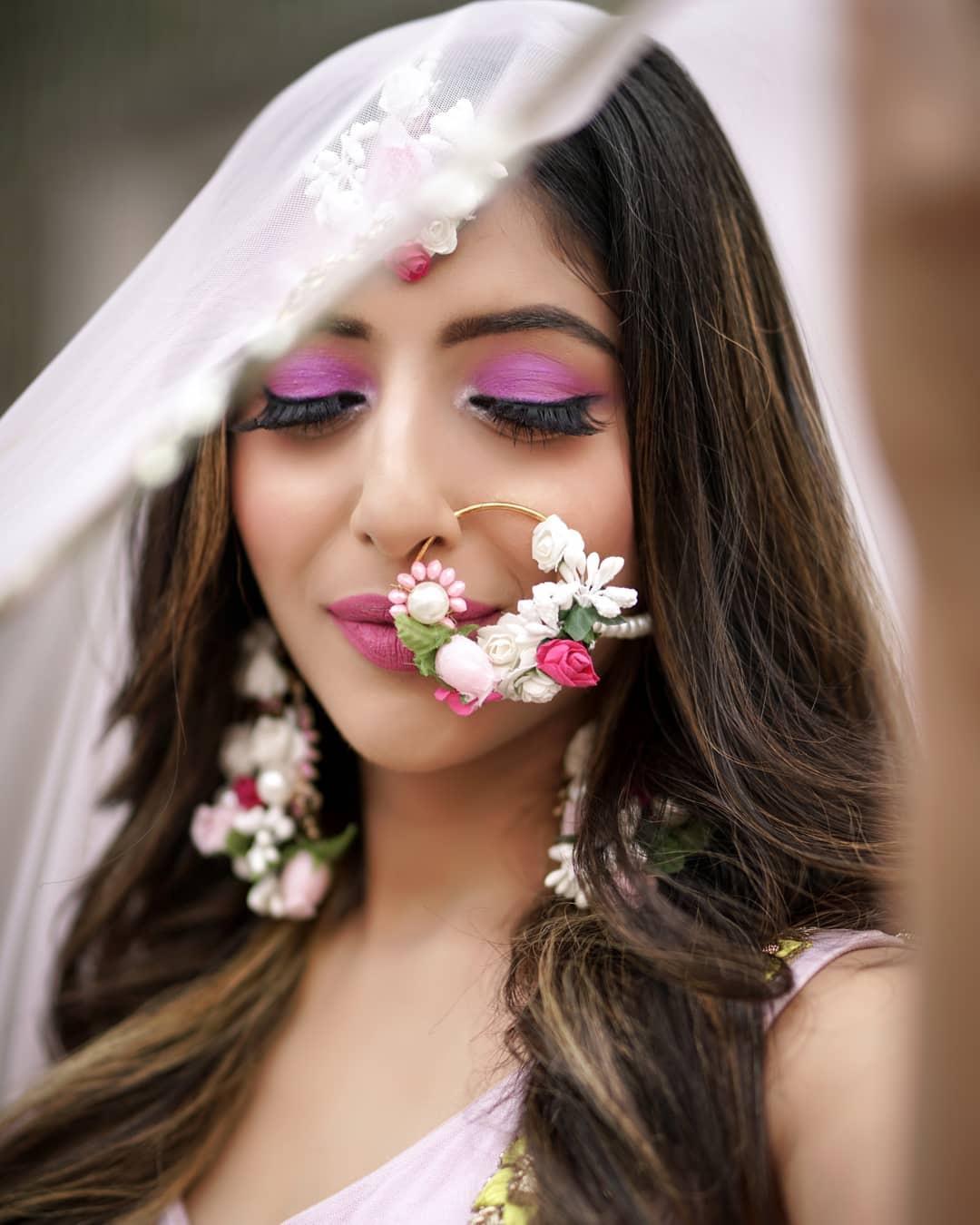 Pair your white rose or jasmine-based floral jewellery with this gorgeous Nath (nose ring) beautified with tiny buds and pink and white pearls. Latest jewellery designs like this one look amazing with pastel shades, so if you are wearing pastel pink, laurel green or even light mauve at your ceremony, this piece will go perfectly with it.
4. Personalise it a little with fur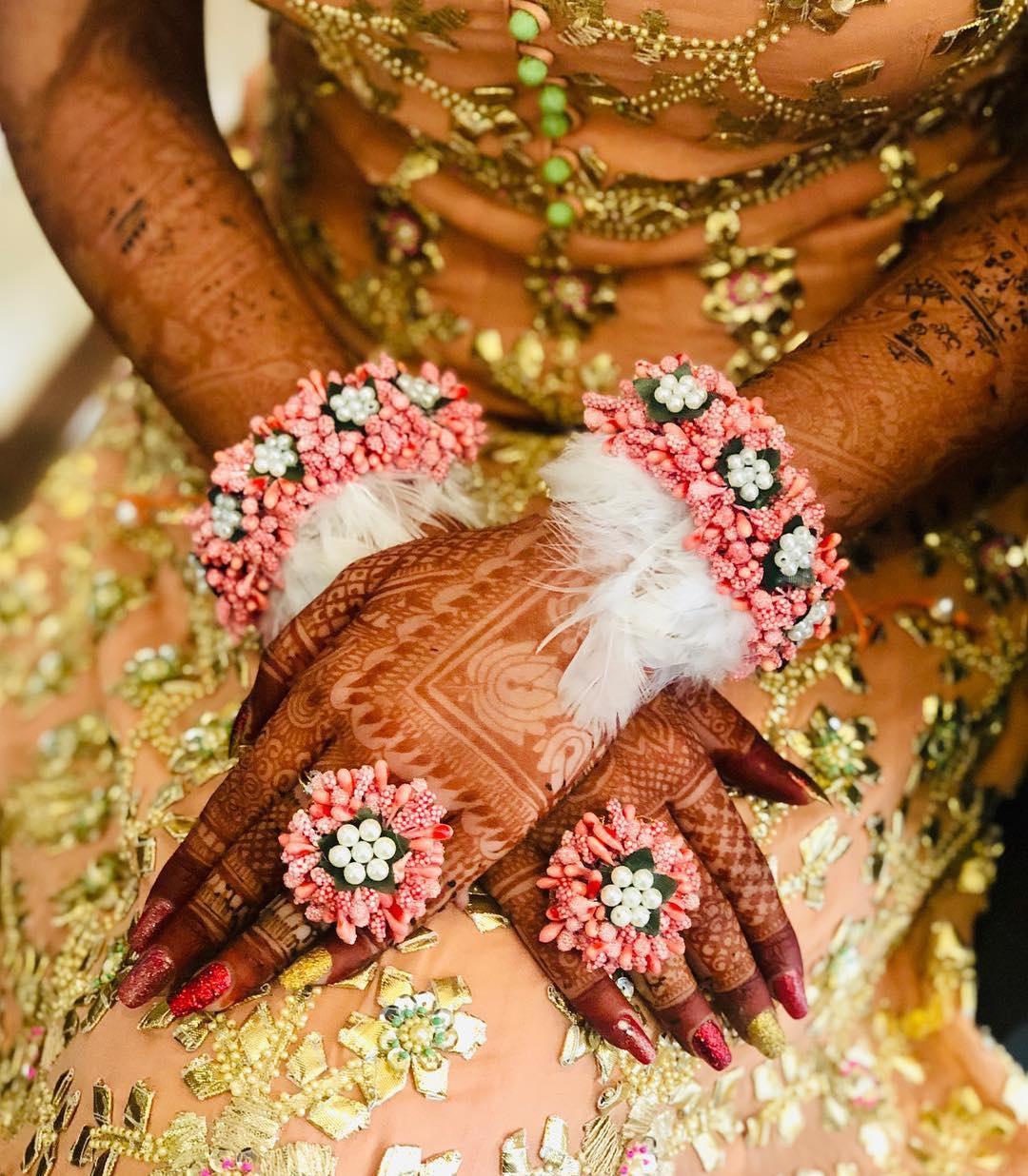 With latest jewellery designs like Haath Phool winning hearts all around, these fur detailed floral Kadas are like a breath of fresh air. They are offbeat, delicate, and so pretty. And the best part is that the fur works well with all kinds of flowers, in fact, you can get it a little more personalised by colour coordinating the fur with your outfit (and the flowers) so that nothing looks out of place.
5. An aesthetically pleasing Haath Phool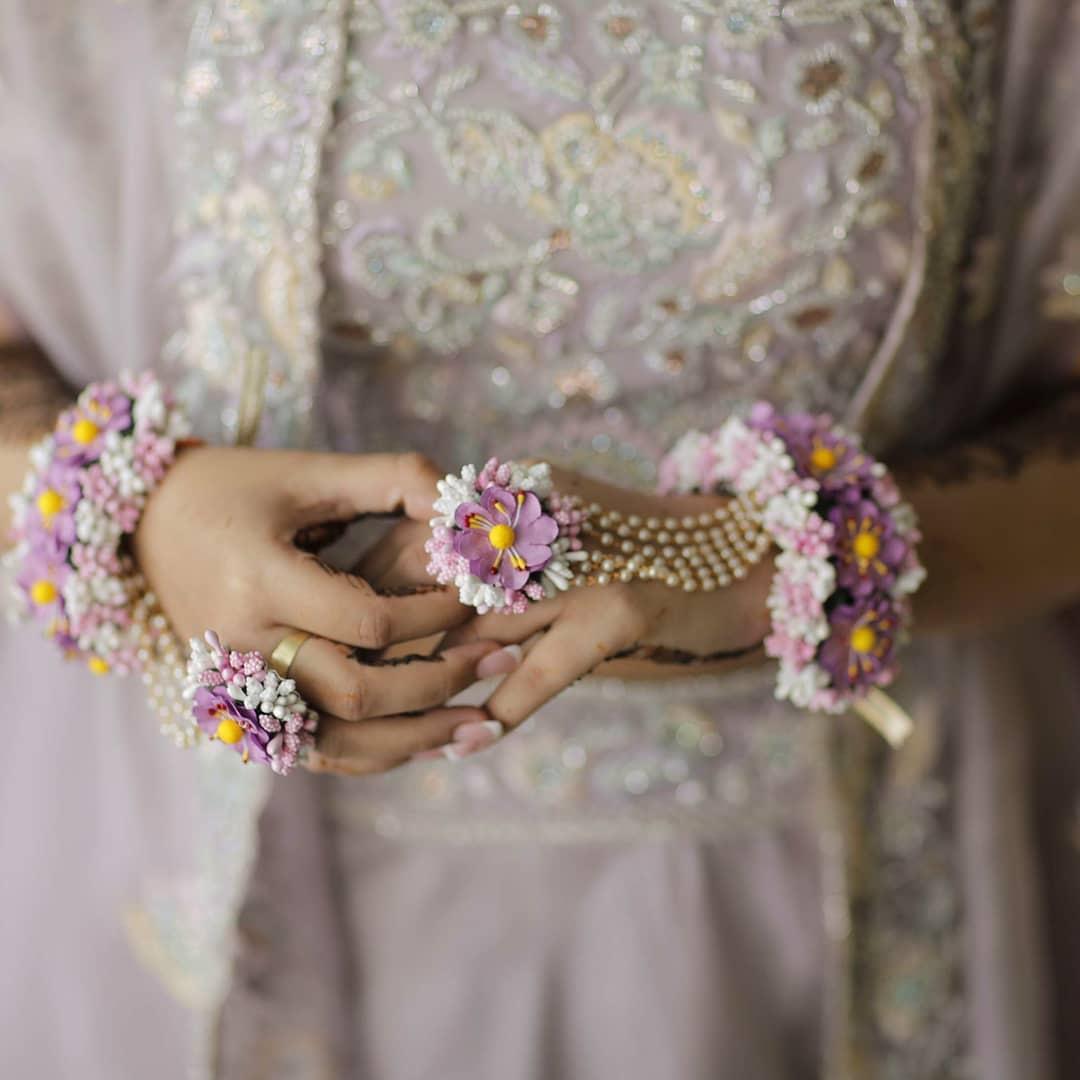 We simply love the concept of a Haath Phool. And if you come to think of it, what is not to love about this elegant jewellery item? An intricately designed piece that serves the purpose of both a ring and a bracelet or Kada all this while looking graceful on the hand and adding oomph to the whole look.
A floral Haath Phool has become an essential part of a bride-to-be's '101 ways to ace the Mehndi look' starter pack, and we couldn't be happier.
6: A Pair Phool That Complements Your Haath Phool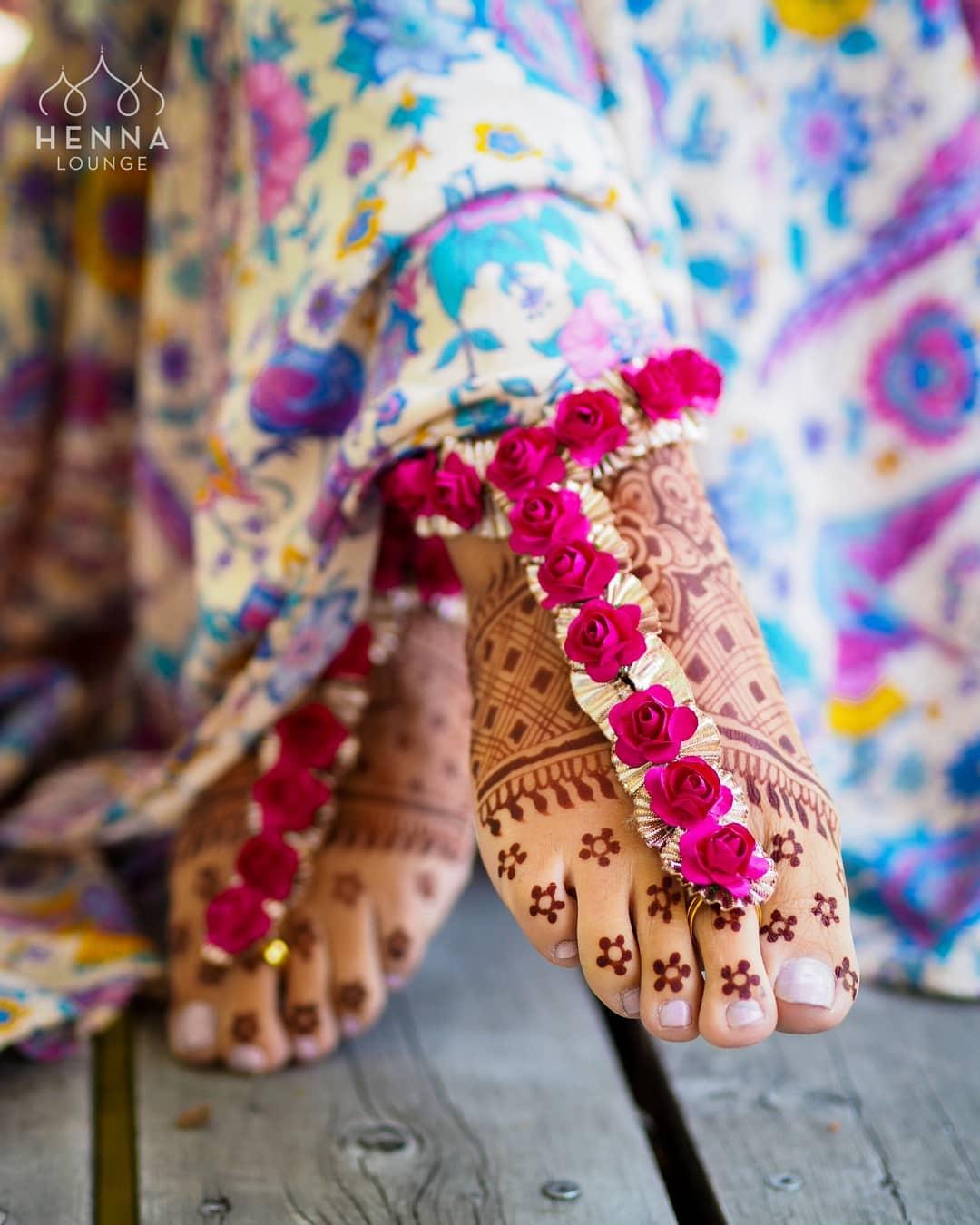 There's no such thing as too much when it comes to floral jewellery, so why stop at a Haath Phool? Get a beautiful Pair Phool or Pag Pan to complement your feet mehndi design. Choose the style and flowers based on what would look good with your outfit and adorn your pretty feet with these latest jewellery designs.
7. Add A Pop Of Colour To Your Kalire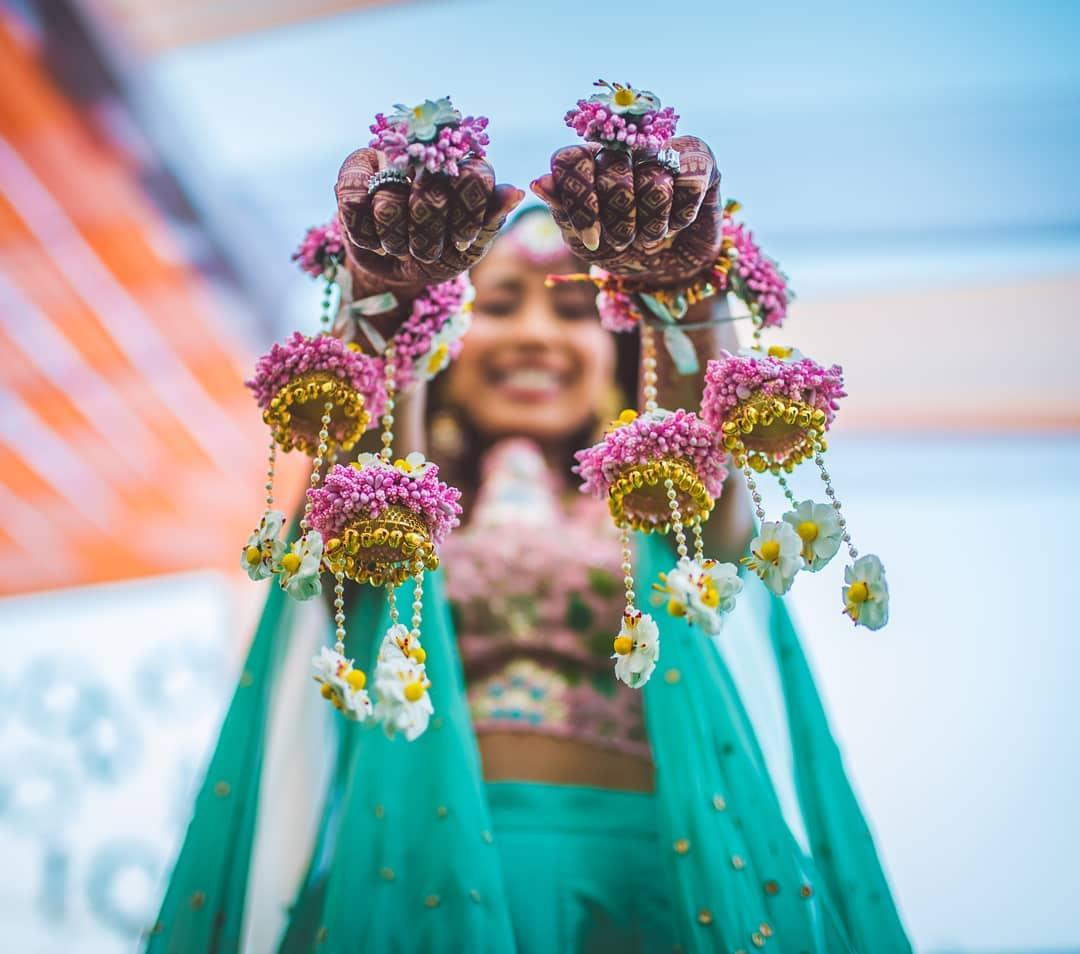 Kalire has always been a significant part of the whole bridal look, and in recent years, we have seen brides flaunt a variety of new styles and designs on their D-Day. And while the chandelier design or Baraat-inspired Kalire look absolutely great, we are all hearts for these floral Kalire. They are light, pretty, and add a pop of colour to the basic golden ones.
8. The Floral Jhumki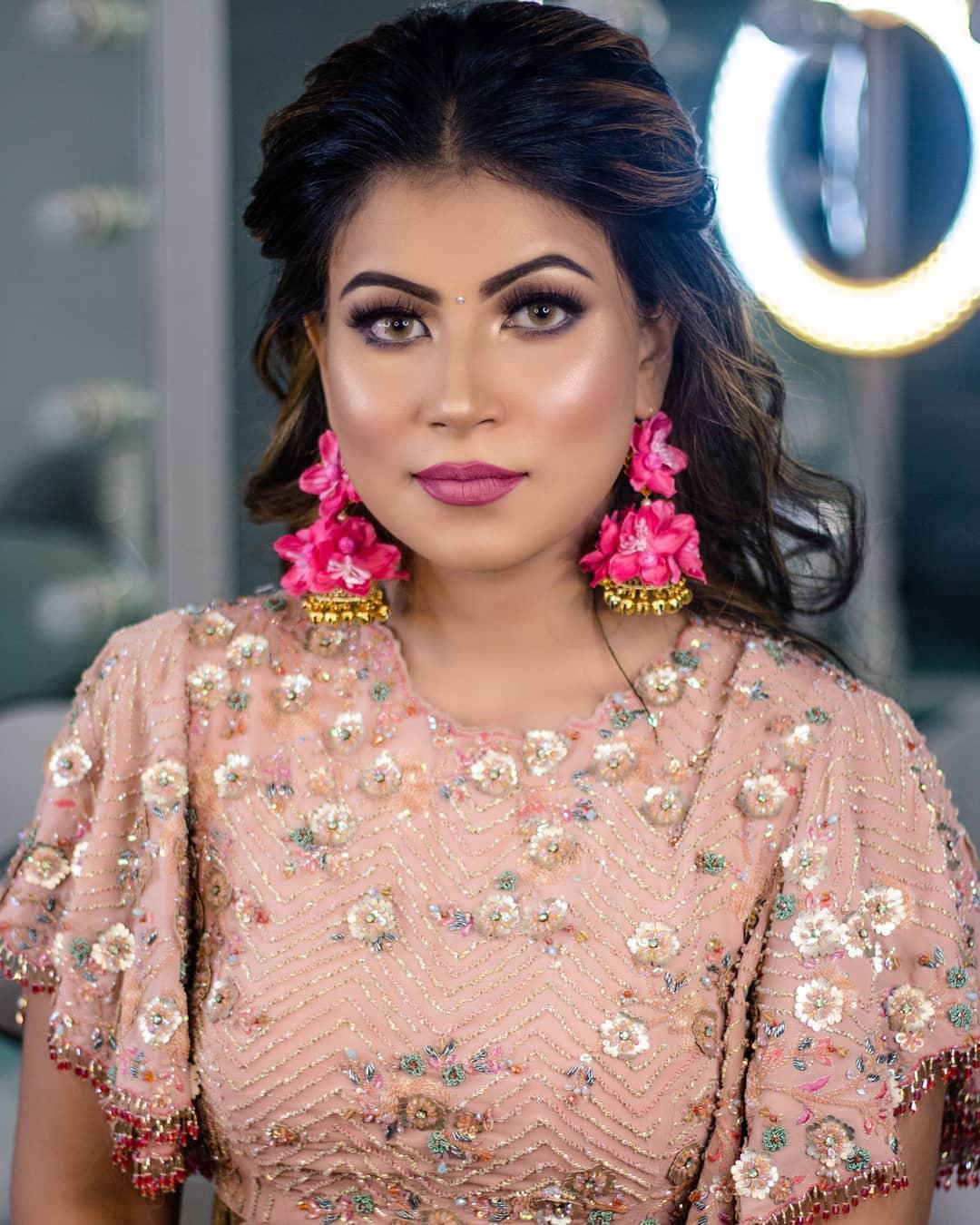 If you are looking for the latest jewellery designs that you can style with a high neck blouse for your Mehndi ceremony, then these floral Jhumkis are perfect for you. They are eye-catching and draw enough attention to the face (and the makeup).
You can opt for a half-up, half-down hairdo to flaunt these to the fullest.
9. Bedeck Your Feet With These Floral Anklets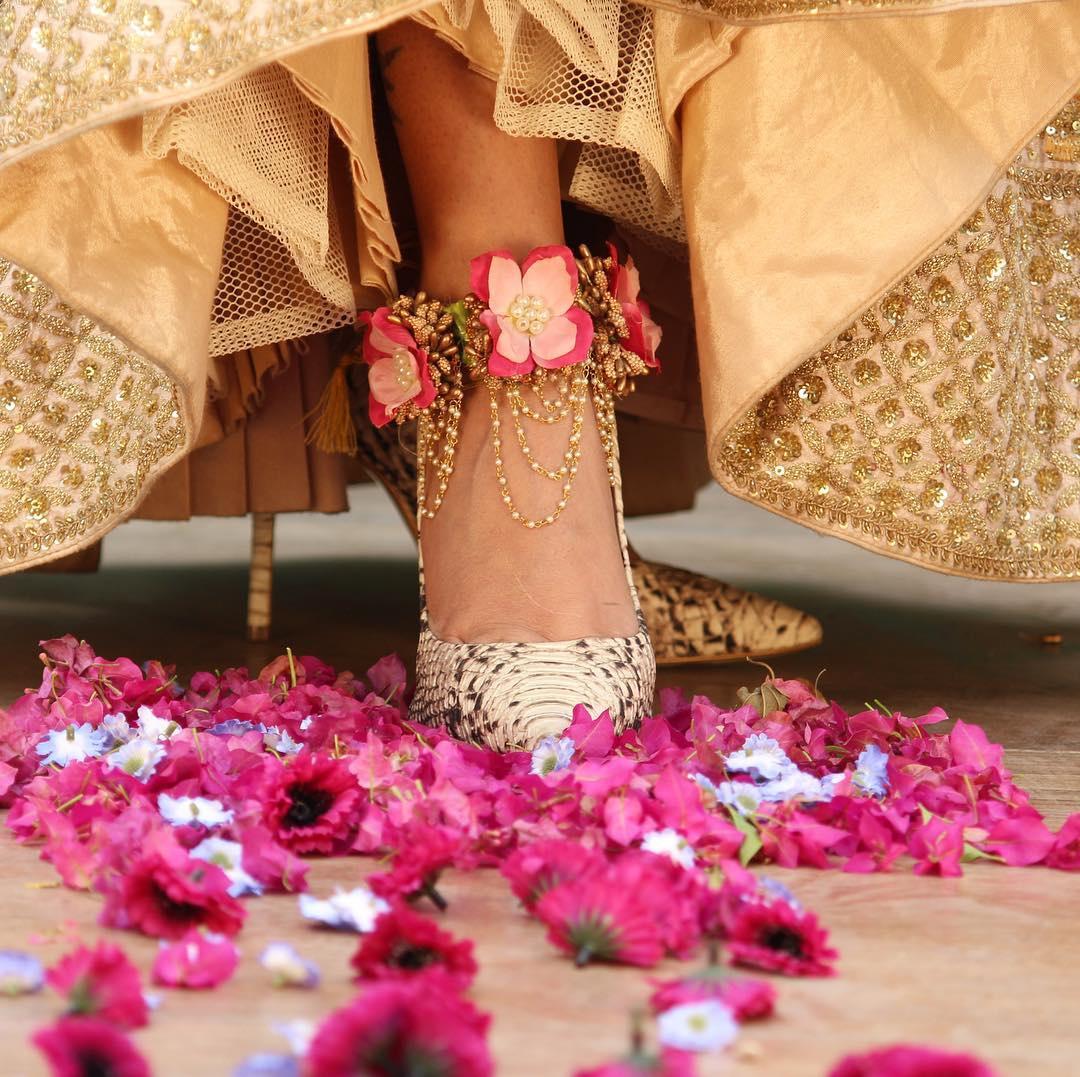 Although we are head over heels for Pair Phool, there are times when wearing them isn't the most feasible thing to do. Say, when you want to wear your favourite high heels with a co-ord set or when your printed pumps go perfectly with that eclectic lehenga, you need to choose a stylish alternative. In other words, a floral anklet.
This fancier version of Payal would look stunning and make your feet look prettier than ever. Plus, it ten-folds the beauty of that 'look at my heels for I have lifted the lehenga' shot.
10. A statement ring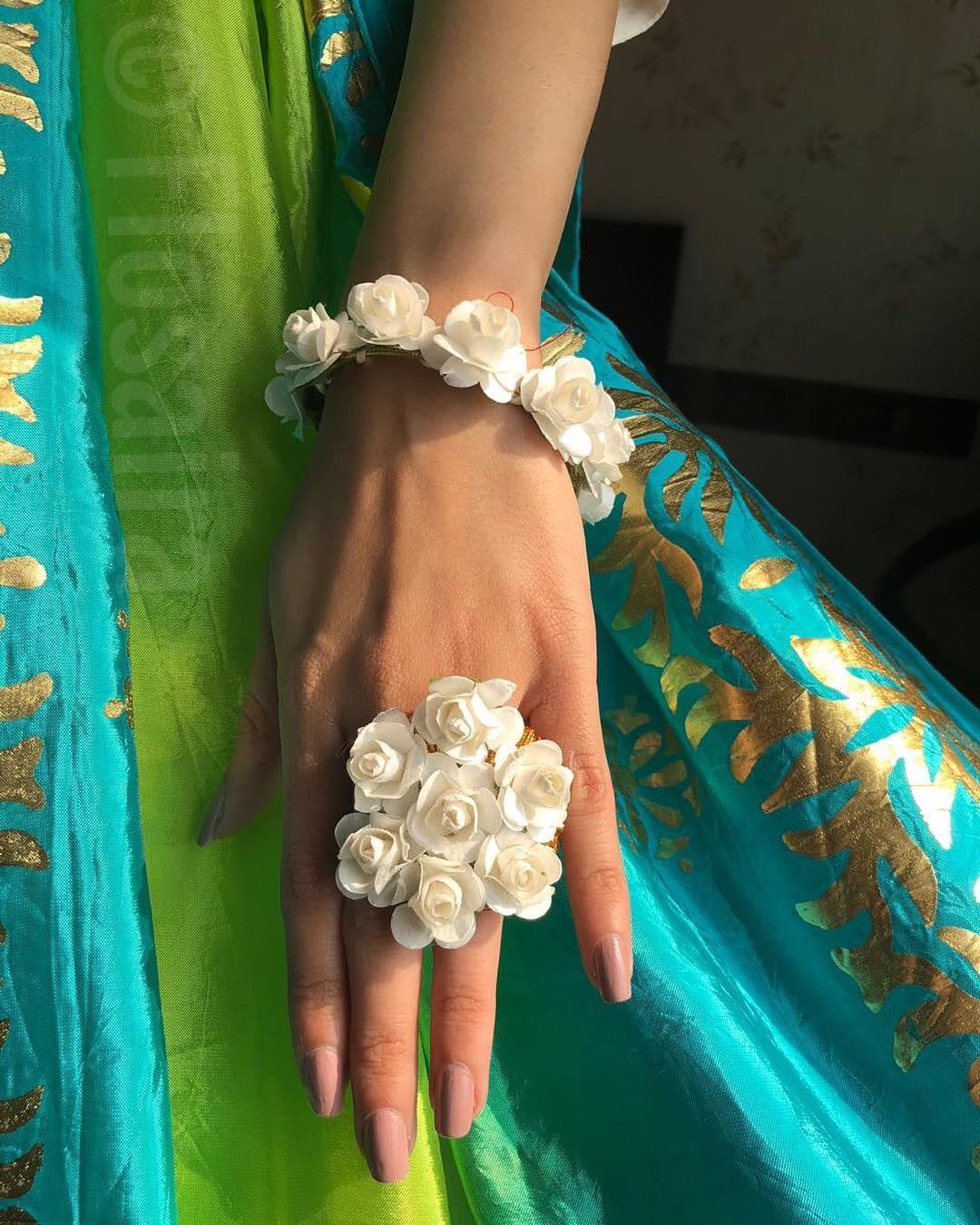 When you don't want to follow the Haath Phool trend and want to stick to the classics, pick this petalled ring. The two-toned petals, white buds, and stone detailing in the middle makes this ring a winner.
11. A classy rose Maang Tikka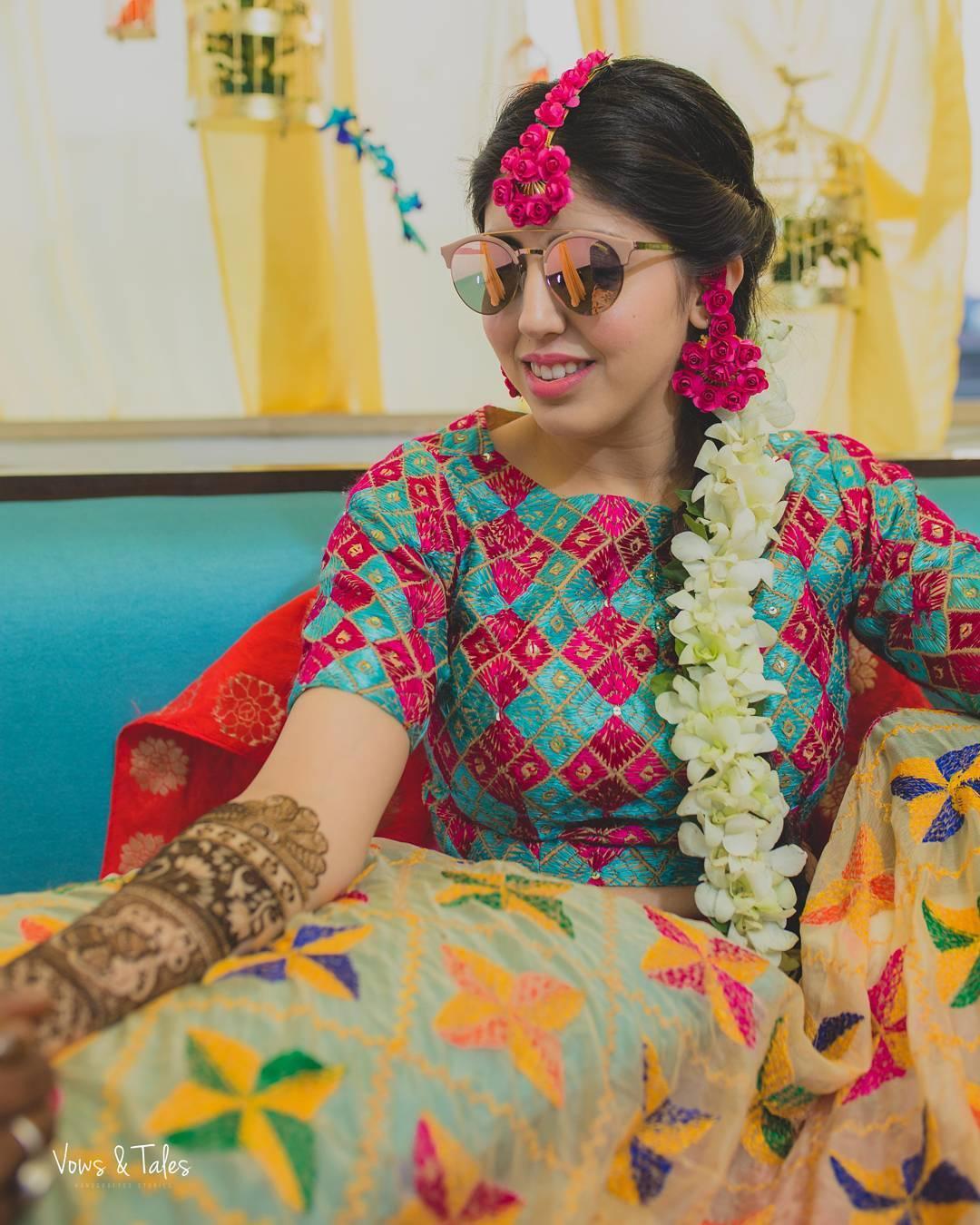 Planning to choose from minimal and sophisticated latest jewellery designs to flaunt at your summer wedding ceremonies? This floral version of the classic Maang Tikka looks pretty great. It is decent and classy. And if you want to avoid the whole pearls and chain detailing of a Matha Patti or a Passa, then this Maang Tikka is your best (and most beautiful) bet.
12. A pastel coloured Kamarband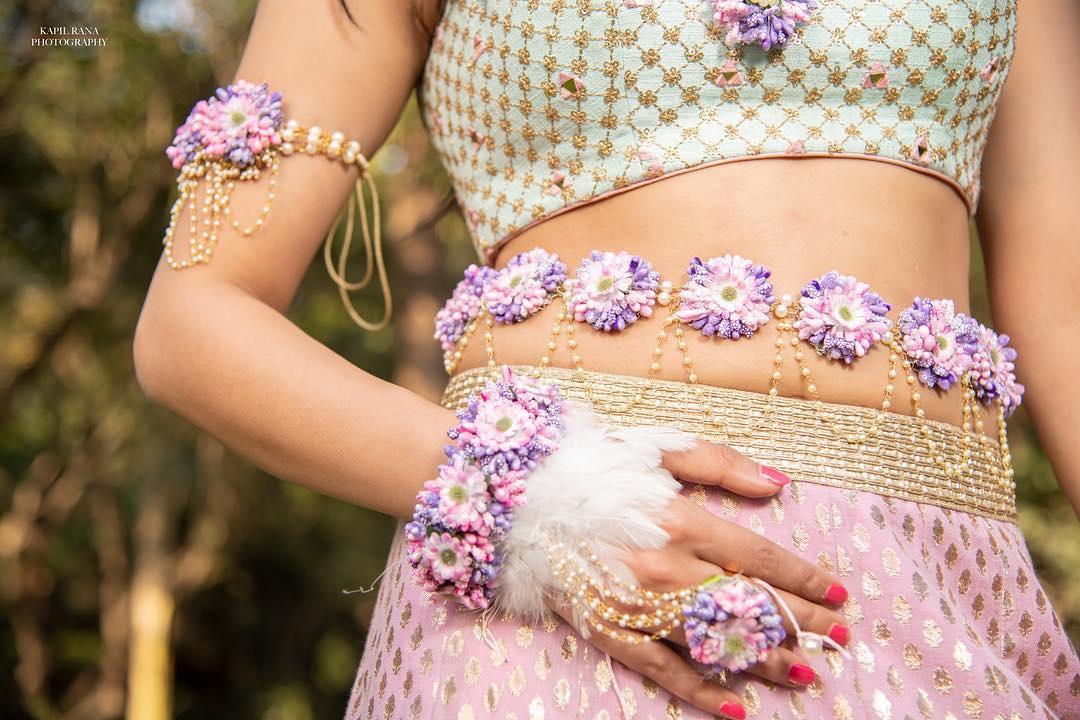 When you are picking all things floral in latest jewellery designs, you might as well get this subtle, pastel coloured Kamarband for one of your wedding ceremonies. So adorn that stomach (and abs) that you have been working on for your D-Day with this pretty piece and slay the day.
13. A Two-Toned Floral Passa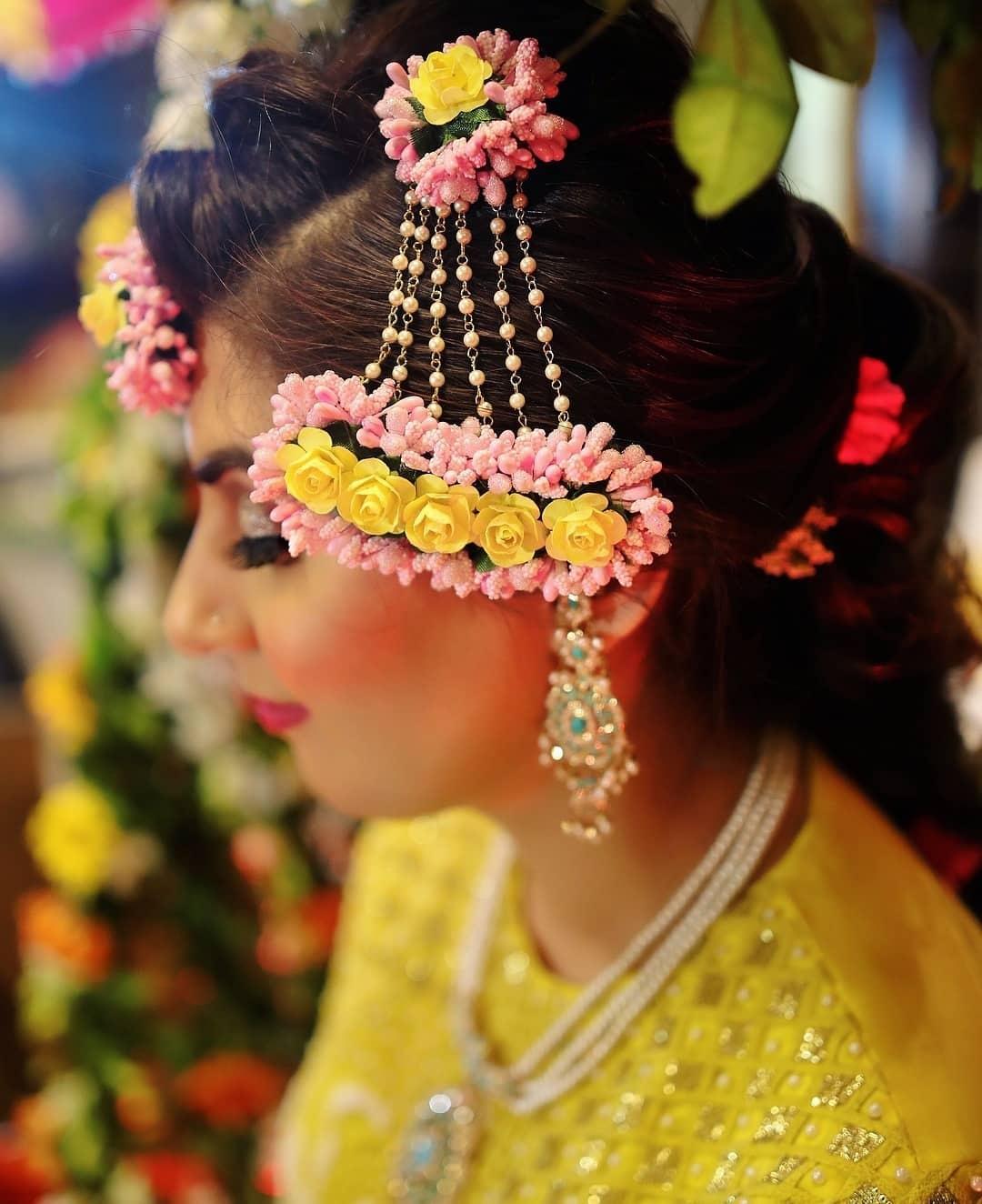 Style a gorgeous Passa with the yellow outfit that you are wearing on your Haldi ceremony. This floral piece from our favourite latest jewellery designs will work amazingly well if you are going for a regal and sophisticated look. However, if you can't decide between a wearing a Maang Tikka and a Passa, we say you wear them both. After all, it is YOUR big day, and you can do whatever you want, girl.
Latest Jewellery Designs That Are All About Personalisation
With everyone going gaga over personalised latest jewellery designs, clothes, and even footwear, here are some designs that you can show off at your wedding ceremonies and stand out from the crowd.
14. Take Pride In Being A Bride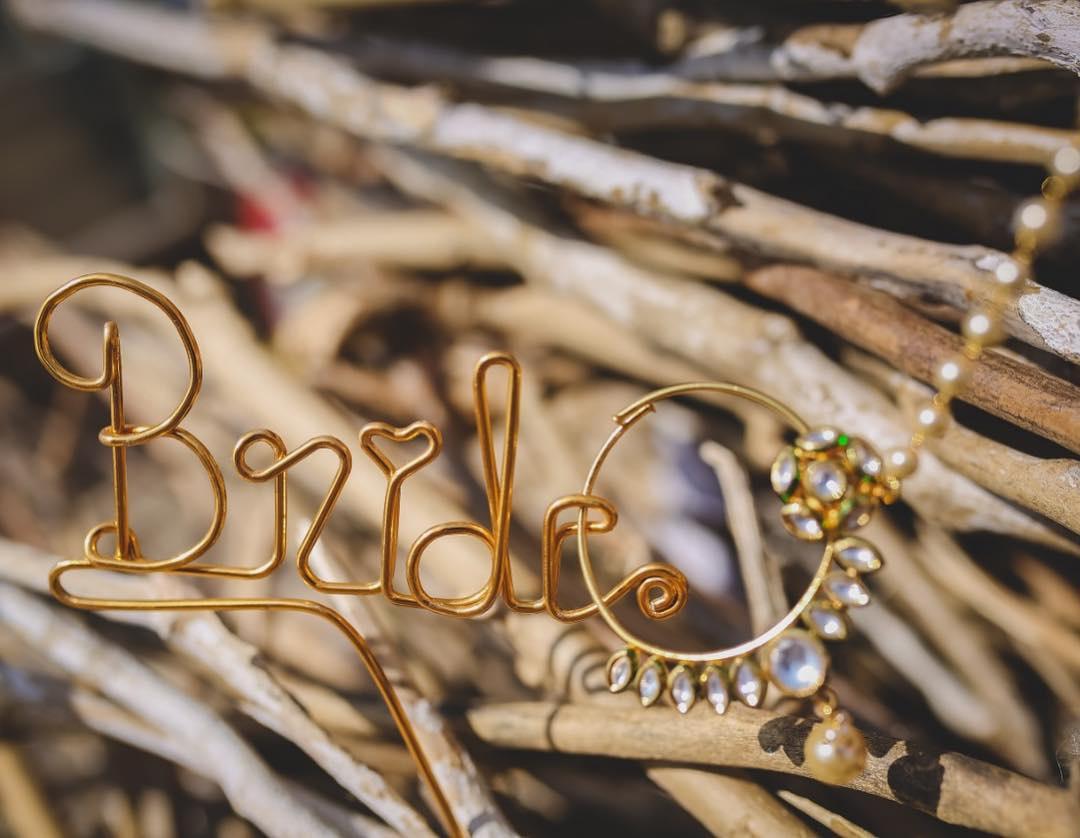 Own your wedding day with this beautiful Nath that reads 'bride'. While the kundan and pearl detailing give the nose ring a traditional touch, the way the word 'bride' is spelt with the metal make it more personalised. And adds to the uniqueness of this gorgeous piece.
15. Pastel Coloured Kalire Bangles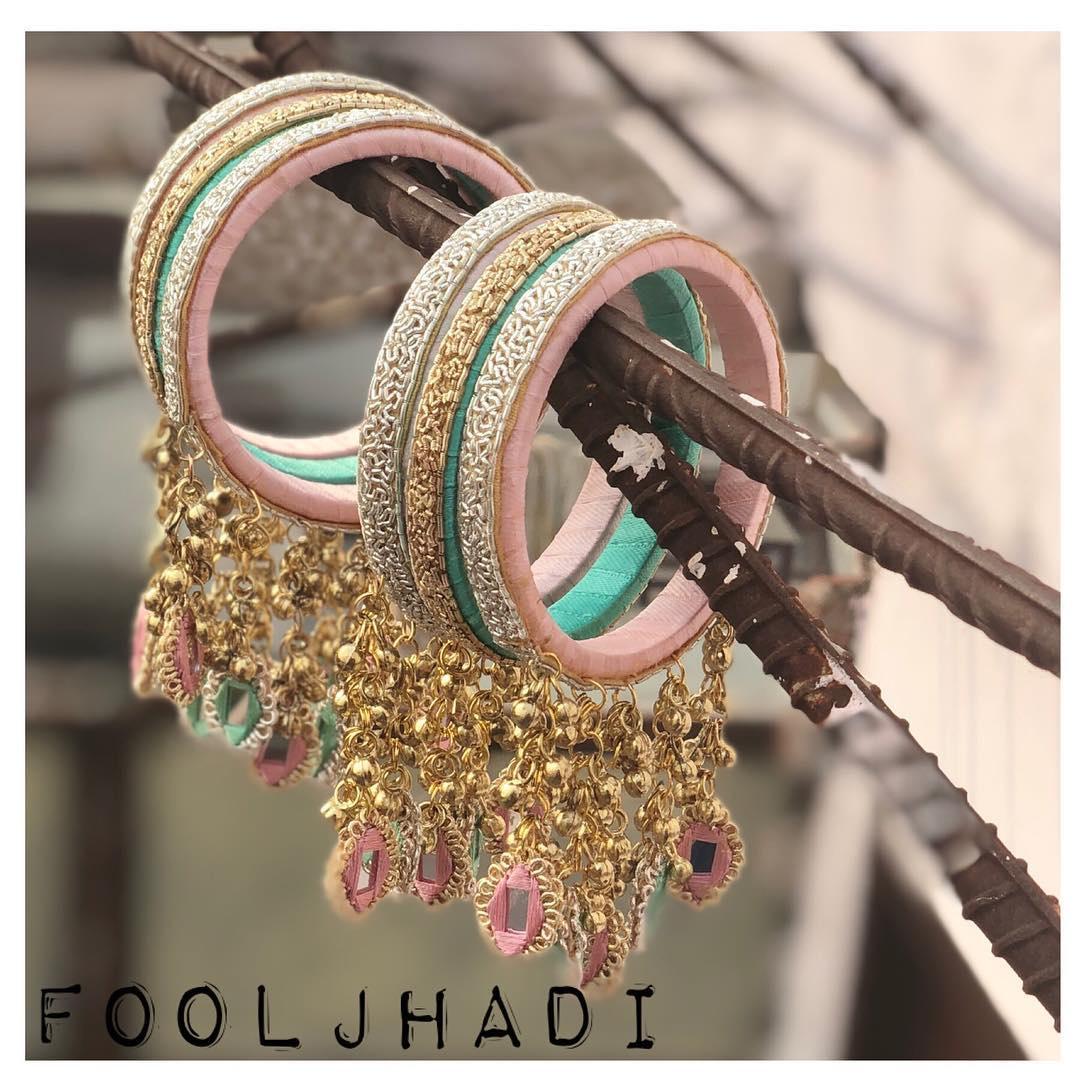 Kalire bangles are perfect for the brides-to-be who don't want to miss out on any ritual but at the same time want to keep things minimal. These pastel coloured, embroidered bangles with ghungroo and mirror detailing are stunning and subtle making them an ideal choice for a no-hassle bride.
16. Pick A Side With This Brooch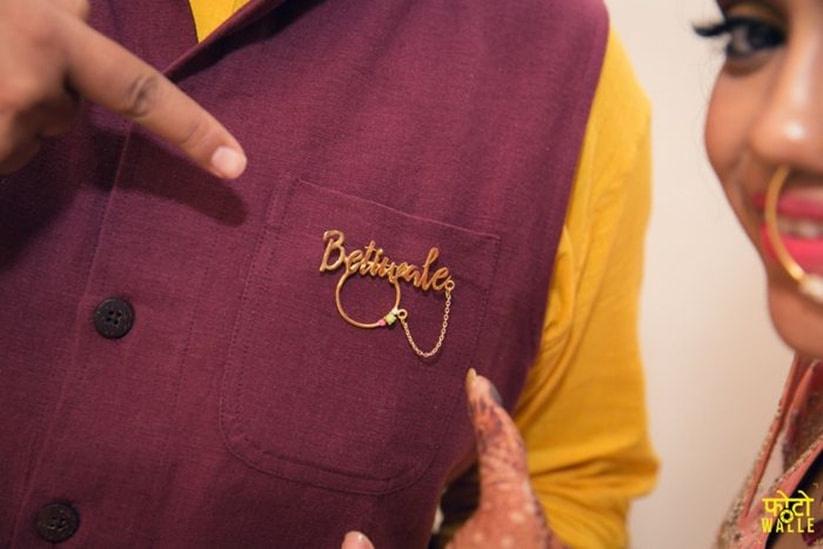 Personalised latest jewellery designs like this brooch are super in these days. They are quirky and make for a great accessory for both men and women alike. Betewale and betiwale brooches add an extra dash of fun and playfulness to the ceremonies while bringing everyone together.
17. Flaunt These Earrings Like A True Dhulaniya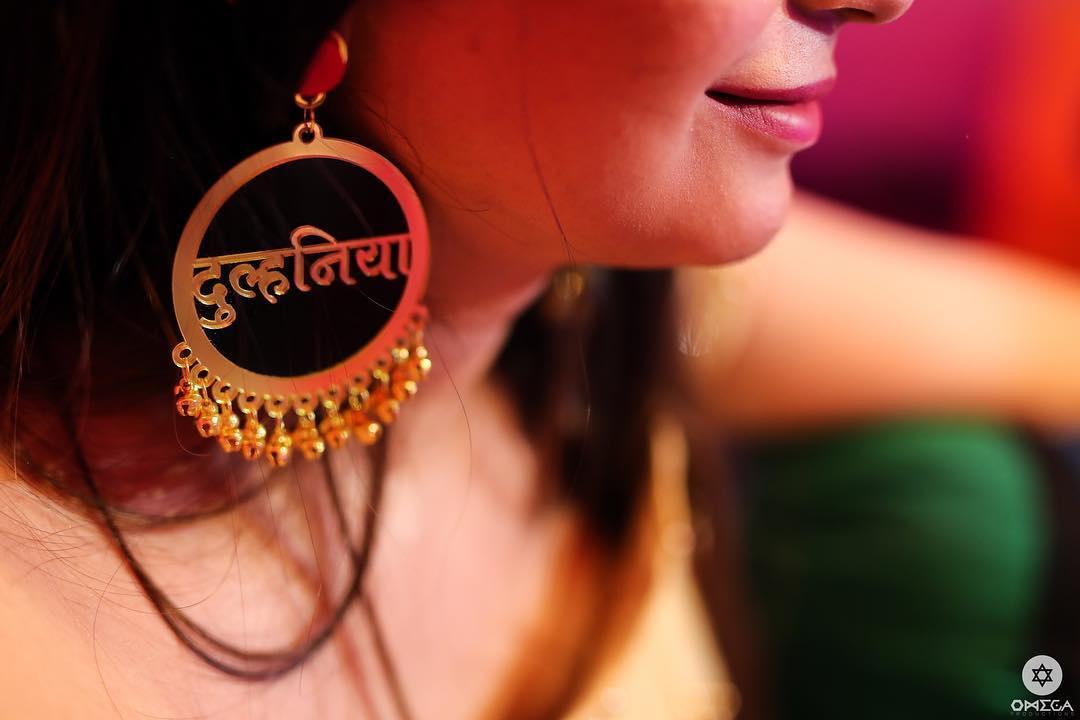 Personalised earrings are the talk of the town and for all the right reasons. You can double the fun of your Mehndi ceremony by styling these round, golden Dhulaniya earrings right. And the best part is that they work well with all kinds of outfits. So whether you are planning to wear a crop top and skirt set or a gorgeous suit, you can complete you look with these earrings.
18. Showcase Your Love for Him With These Earrings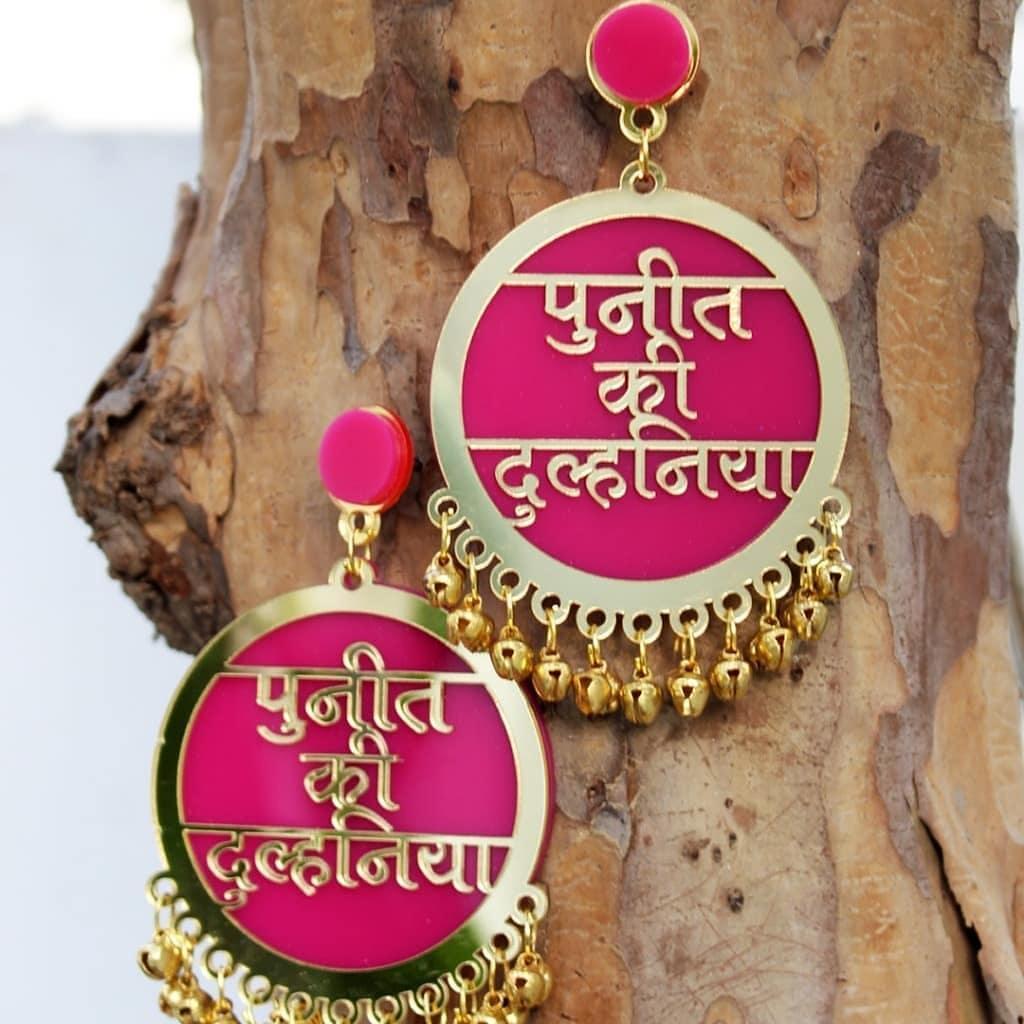 Image courtesy: Krafted with Happiness
Make an adorable addition to your Dhulaniya earrings and show your partner how much you love them by adding their name to this piece. It is super cute and personalised. Don't forget to mention the colour of your outfit to the designer, it will help them choose the perfect background colour for the earring.
19. A Delicate Pair Of Chunky Gota Patti Earrings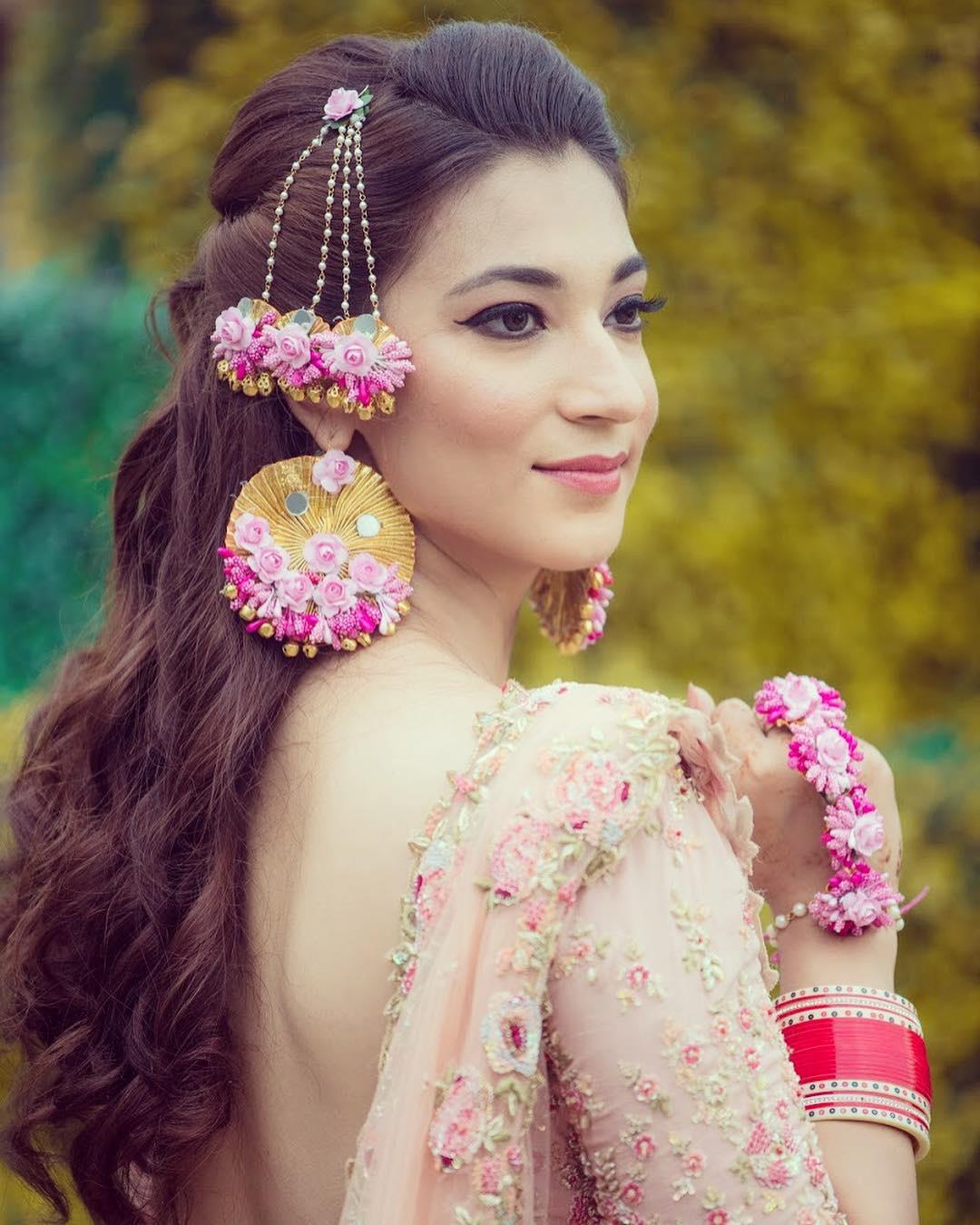 Everyone these days is raving about chunky gota patti earrings prettified with tiny flowers, mirrors, and Ghungroos. And why won't they? These earrings are trendy, elegant, and super light, so you can wear them for a longer duration without stressing about having sore ears after.
20. Hand-painted Frida Kahlo earrings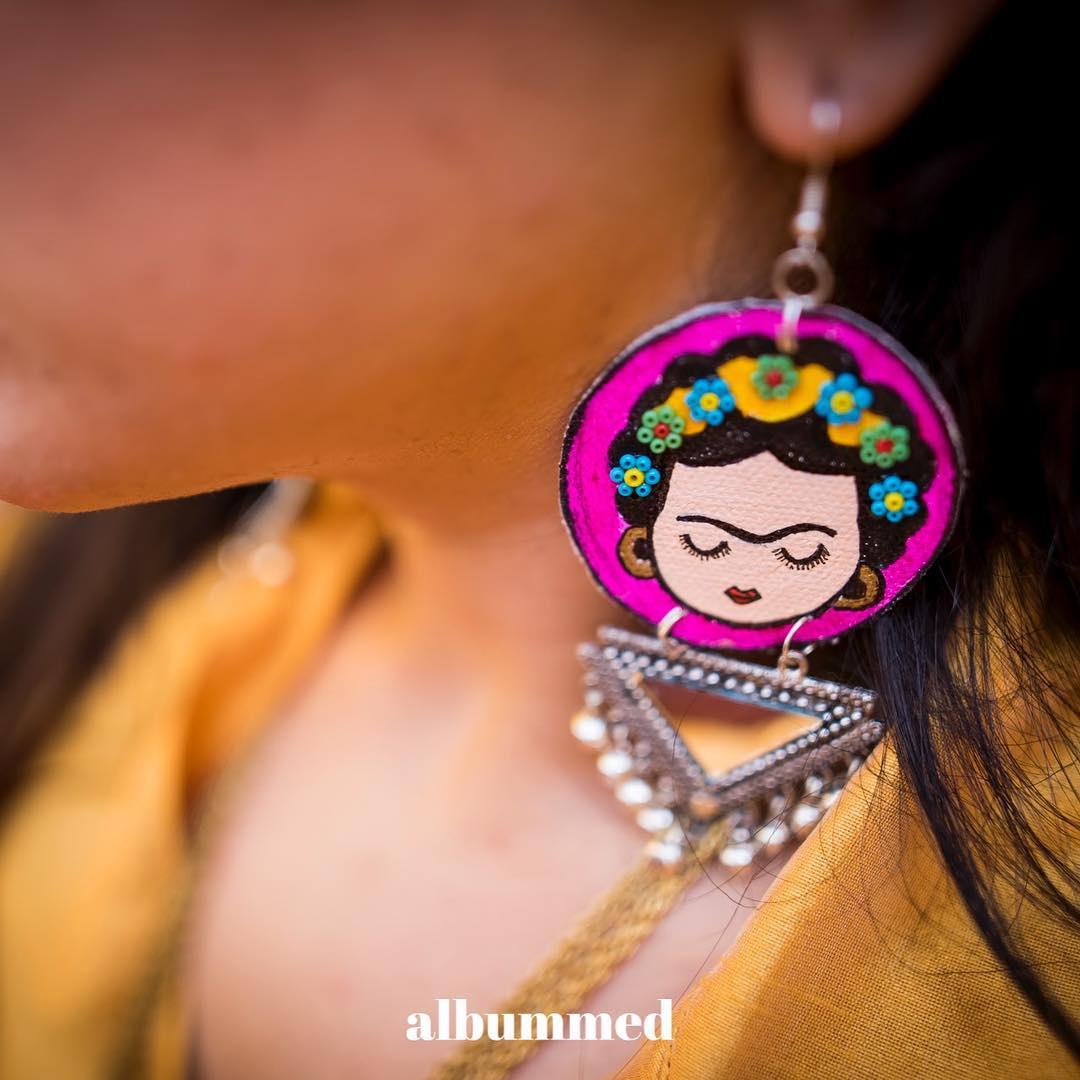 This pair of hand-painted Frida Kahlo earrings is just the right choice for all you artistic souls out there. The intricate detailing of this piece makes it all the more appealing. So style these earrings with your Mehndi or Haldi outfit and add a pop of colours to your look.
21. A Pair Of Stunning Floret Bangles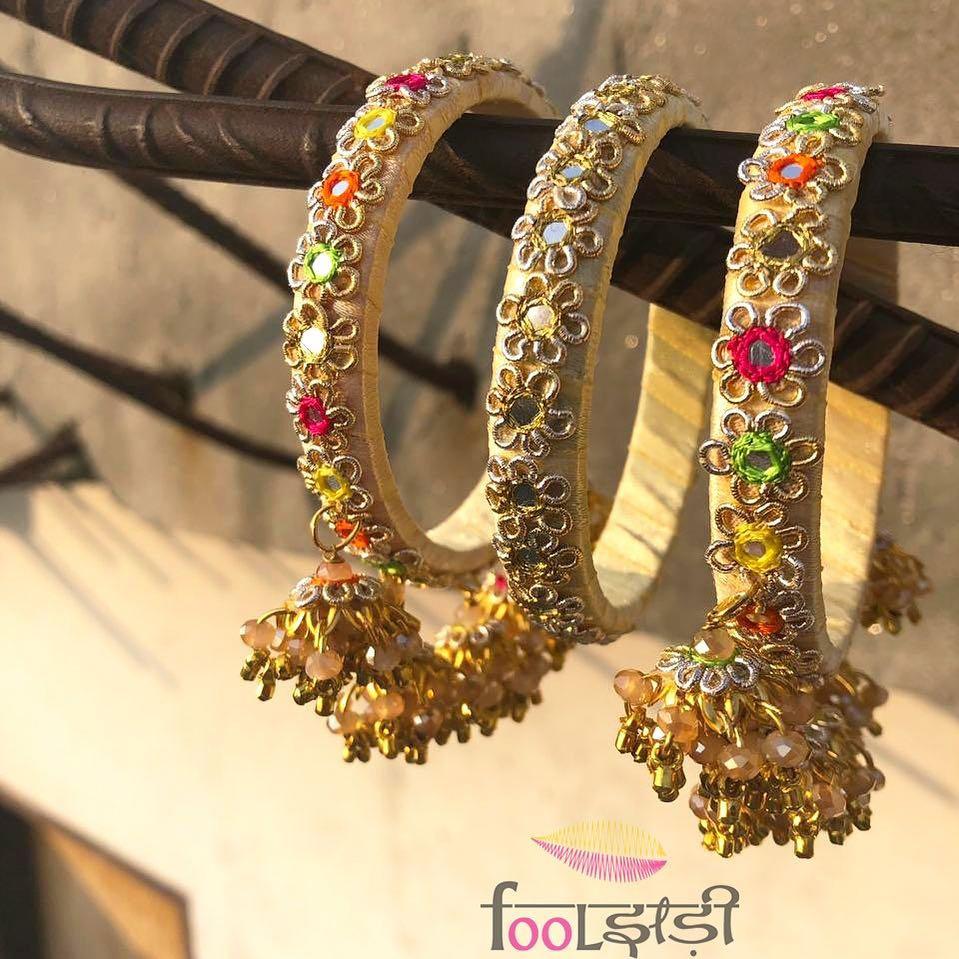 With a variety of latest jewellery designs available in the market, these floret bangles are winning hearts left, right, and centre. They look stylish and the pretty detailing of beads and Ghungroo will make sure that everyone takes notice as soon as you enter the room.
When choosing the jewellery and accessories for your wedding wear, always pick the designs and colours that will complement your outfit. You don't necessarily have to colour coordinate everything, however, it looks good if all the jewellery pieces are of the same style so that you look on point for your big day because hey, all eyes are going to be on you.
Tell us which latest jewellery designs you are most likely to try at the next event in the comments below.