Check Out These 8 Trailblazing Designer Potli Bags
Designer potli bags are the newest raging accessory everyone is going gaga over and you ought to check them out + where to buy them!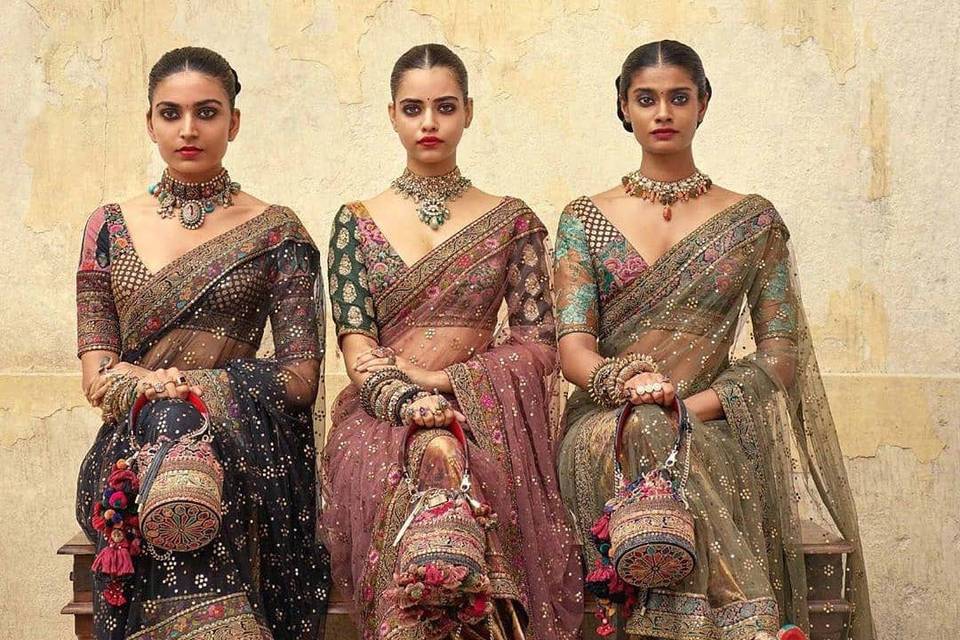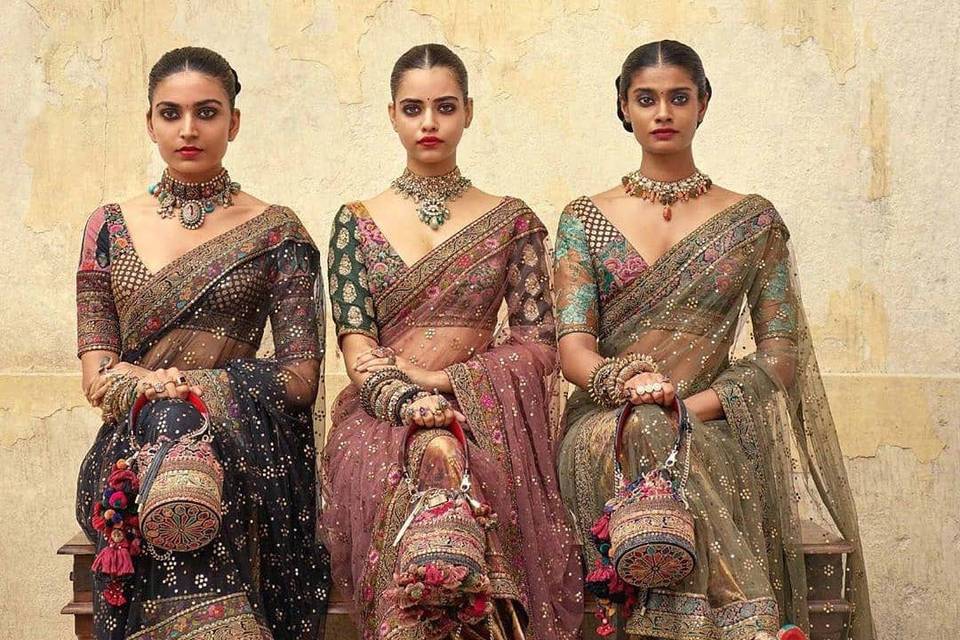 Image Courtesy: Sabyasachi
For the longest time, potli bags have been ruling in the wide world of bridal accessories and nothing seems to dull the charm of these little bags of joy. They only get finer with time like wine–from modernised styles to never-seen-before embroideries, there's nothing not to love about these designer potli bags this wedding season. You go check out what's all the hype about and pick the ones you would like to loosen your pockets for!
Potli Bags for Pre-Wedding Functions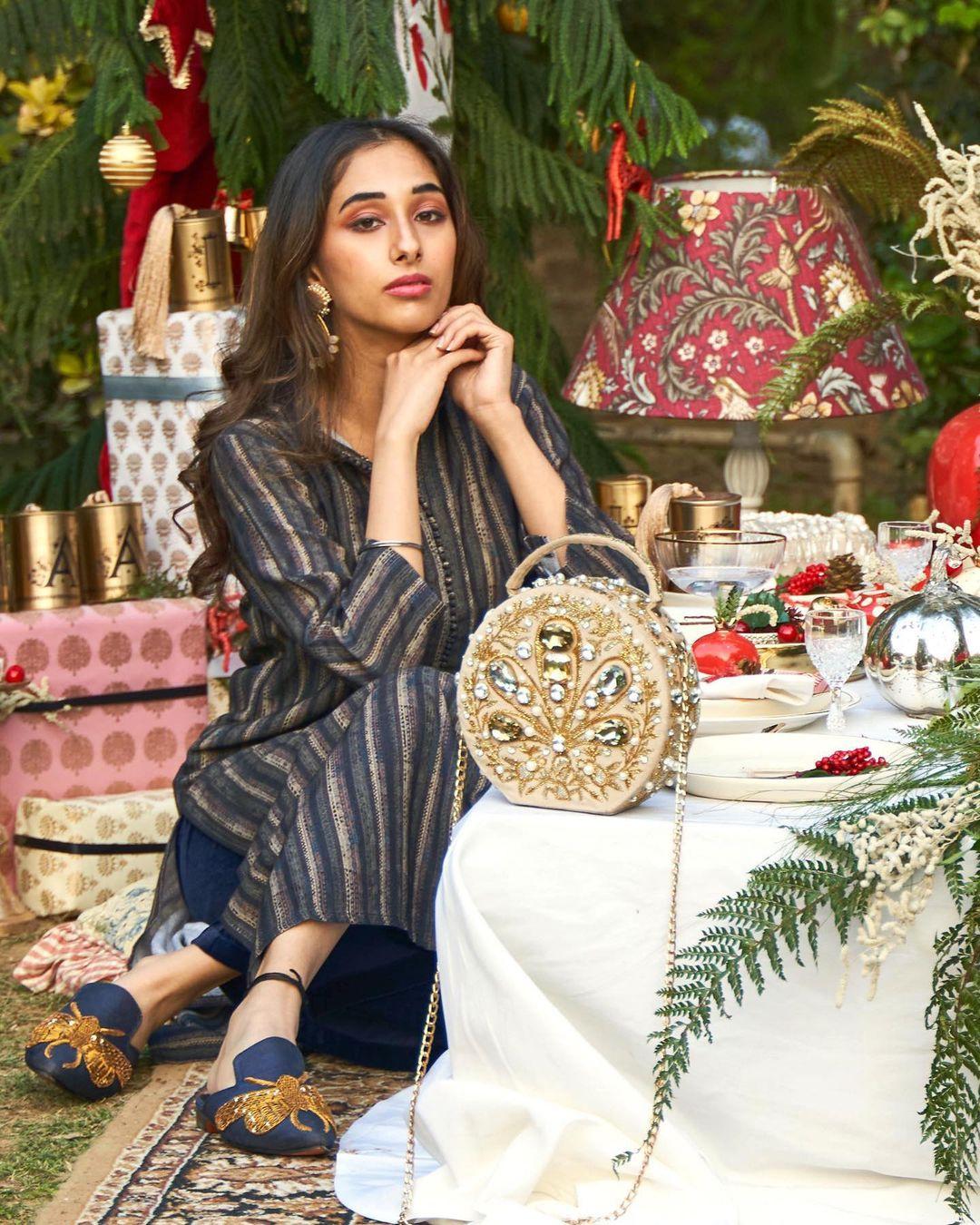 Image Credits - Adora by Ankita
For pre-wedding function, wear potli bags that are light, sleek and have traces of Parisian and Indian style craftsmanship. Here we bring Potli bags that you can adorn in soirees, pre-wedding functions and other important events.
The Right Sided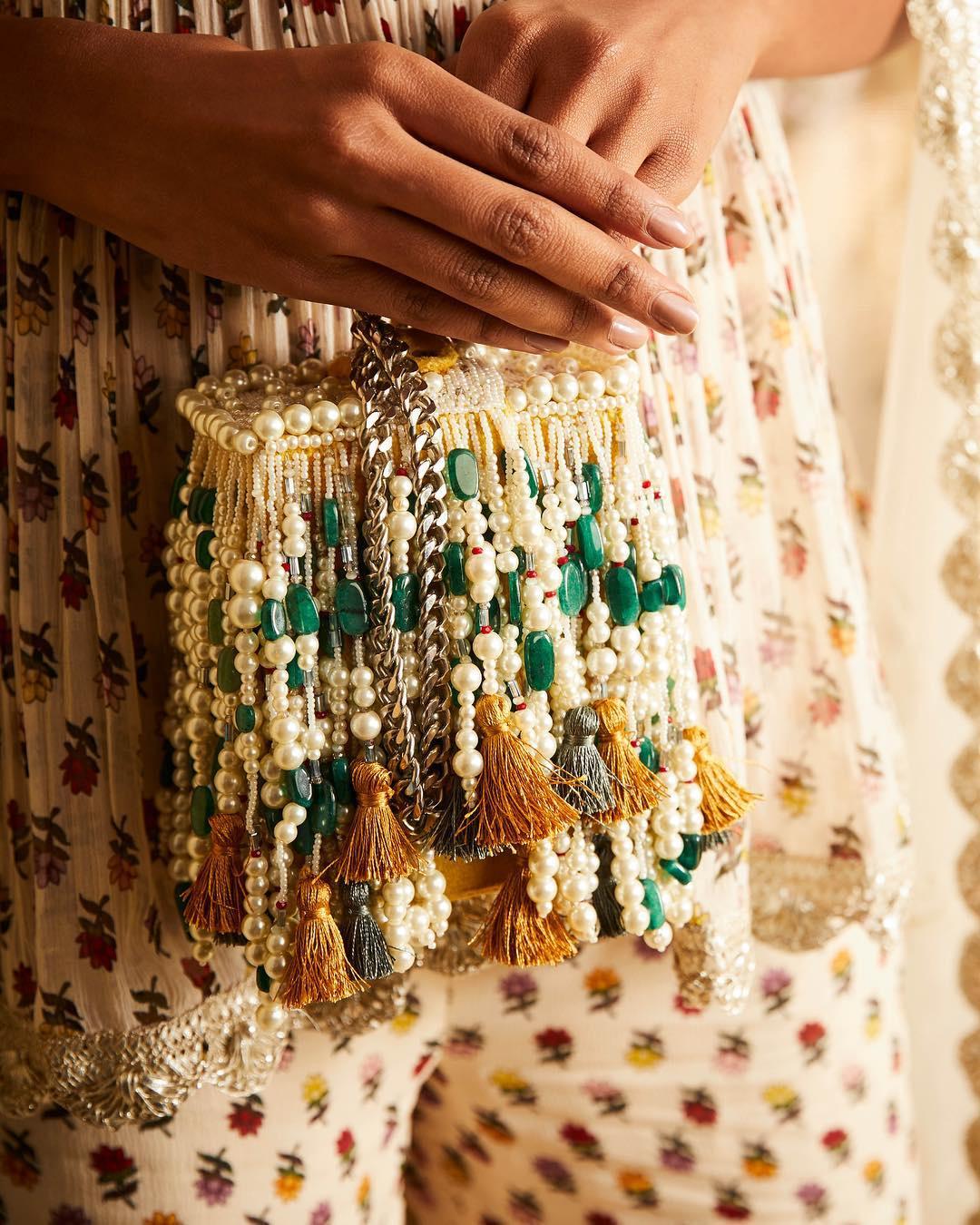 Image Courtesy: The Right Sided
The Right Sided is a luxury brand for hand-crafted accessories. They proffer in all kinds of accessories–right from meticulously embellished shoes to designer potlis and bags that are beyond your ordinary designs. You can buy their bags online or drop by at their store in Chattarpur, New Delhi.
The price range starts from ₹9,000 onwards.
T O R A N I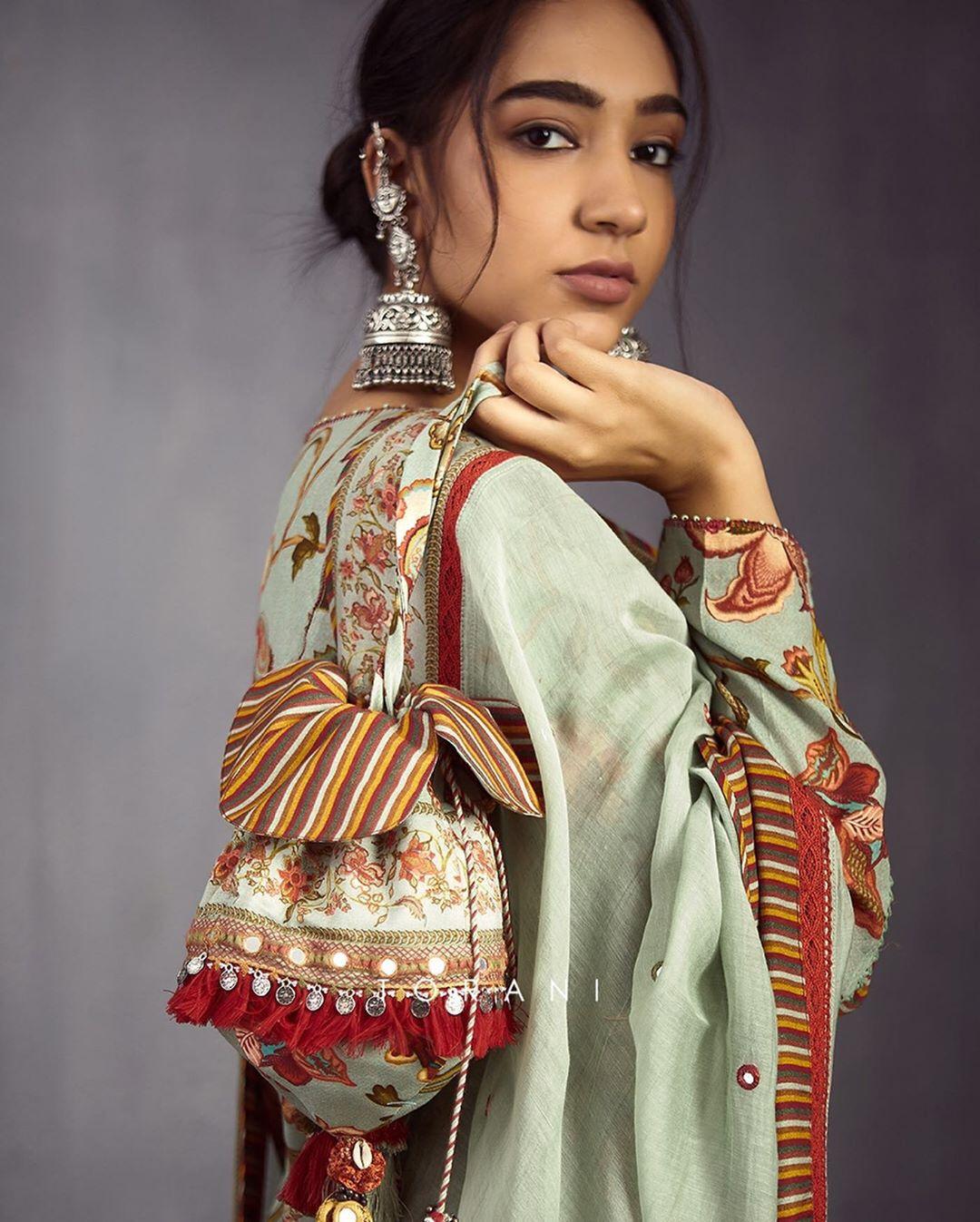 Image Courtesy: Torani
The brainchild of Karan Torani, T O R A N I is all about classic Indian handlooms and of course, they venture in designer potli bags. Fabricated in different prints and beautified with mirror work, shells and tassels, their potli bags are worth the splurge. You will also find one-of-kind designs for lehengas, suits, jackets and other ensembles on the racks of their store in Shahpur Jat, New Delhi or on their official website.
The price range starts from ₹9,500 onwards.
Sabyasachi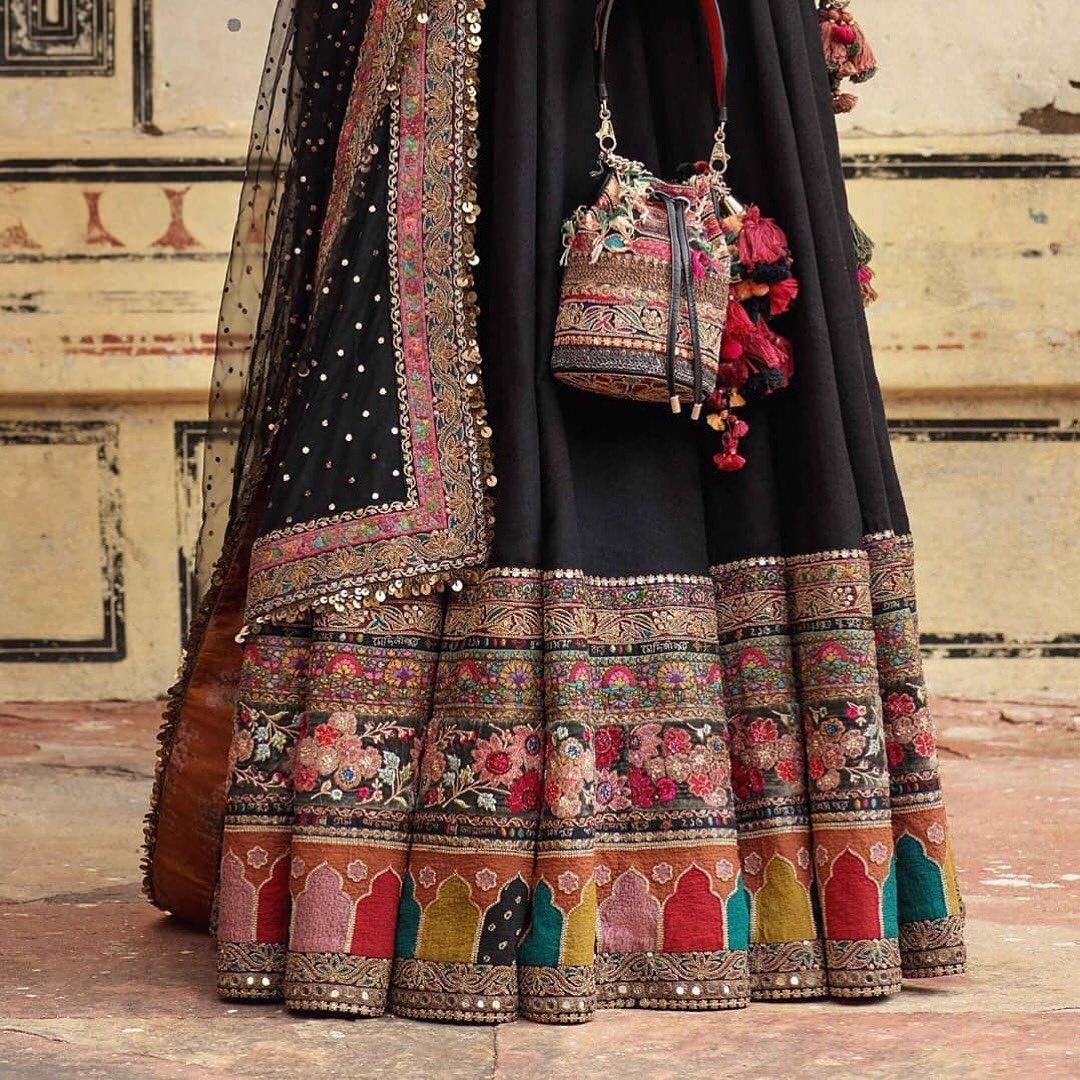 Image Courtesy: Sabyasachi
Sabyasachi is best known for his bridal lehengas but for the ones living under a rock, he's a profound creator of accessories like belts, clutches and footwear. In his last collaboration with Christian Louboutin, Sabyasachi launched limited-edition designer potli bags which are totally worth gushing over. This collection was a stunning amalgamation of Parisian and Indian style craftsmanship.
The price range starts from ₹49,500 onwards.
Styling Tips
A designer potli bag will only add an element of oomph to your whole pre-wedding wardrobe without having to put much effort and what's more desirable than that?! With them hanging by your side, you can easily ditch those heavy wearable accessories which you anyway dread.
A designer potli bag can be carried with grace if you hang in front, or take it above shoulder. You can even hand it, the way it is shown in the pictures.
Bridal Potli Bags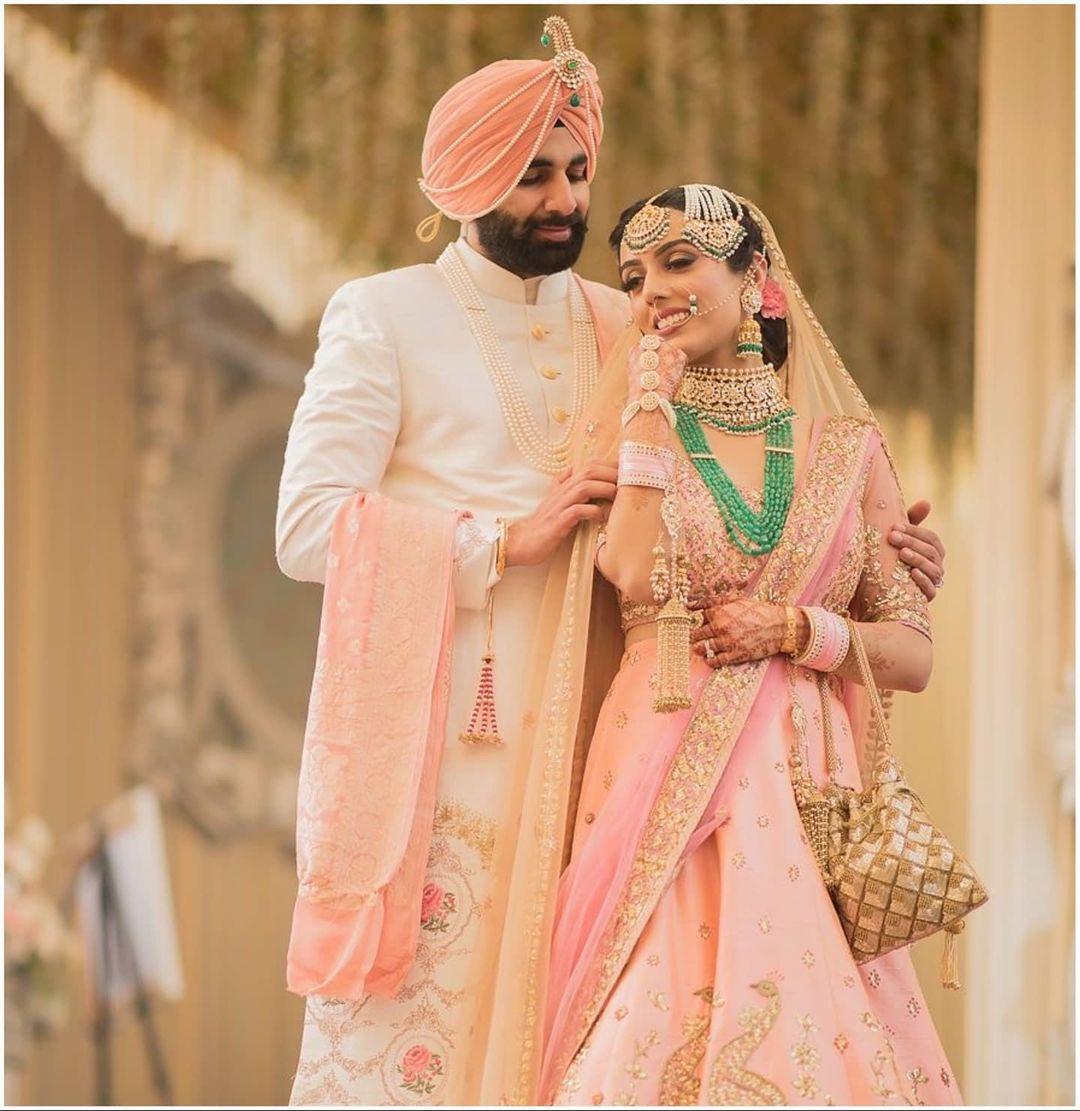 Image Credits - The Pink Potli
Here are some bridal polti bags that you can wear it on your D-day. These are colours that can match well with your favourite designer lehenga. Read here to know more.
Anita Dongre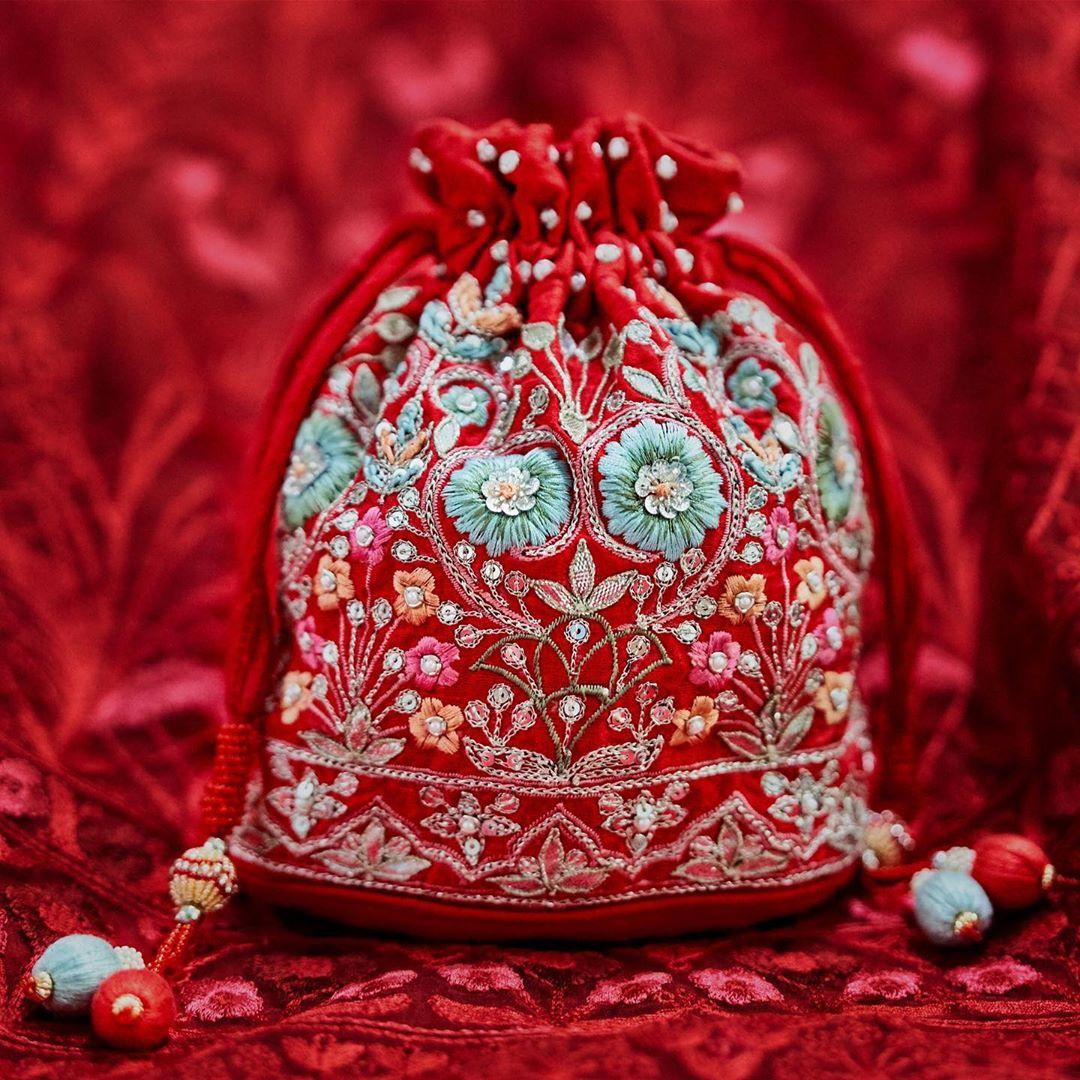 Anita Dongre is one of the best Indian couturiers we love not only because she's a top-notch designer but because of the craftsmanship she delivers in each and every masterpiece she creates. From the bridal lehengas to designer potli bags, every creation has an impressive story to tell.
The price range starts from ₹4,990 onwards.
LOVETOBAG

Image Courtesy: LOVETOBAG
Love to Bag is a designated brand for pretty accessories. Their creations right from fanny packs to backpacks and everything in between is sure to leave you wanting to buy everything the brand has to offer. They definitely deserve brownie points to provide customised services to create accessories personal to every buyer.
The price range starts from ₹3,500 onwards.
Styling Tips
Adorn these with your bridal lehenga by just subtly carrying it on your right hand side while walking towards the aisle.
If you seek to be free, you can ask your bridesmaid to carry this and you can keep this while posing for pictures.
Potli Bags for Post Wedding Ceremonies and Soirees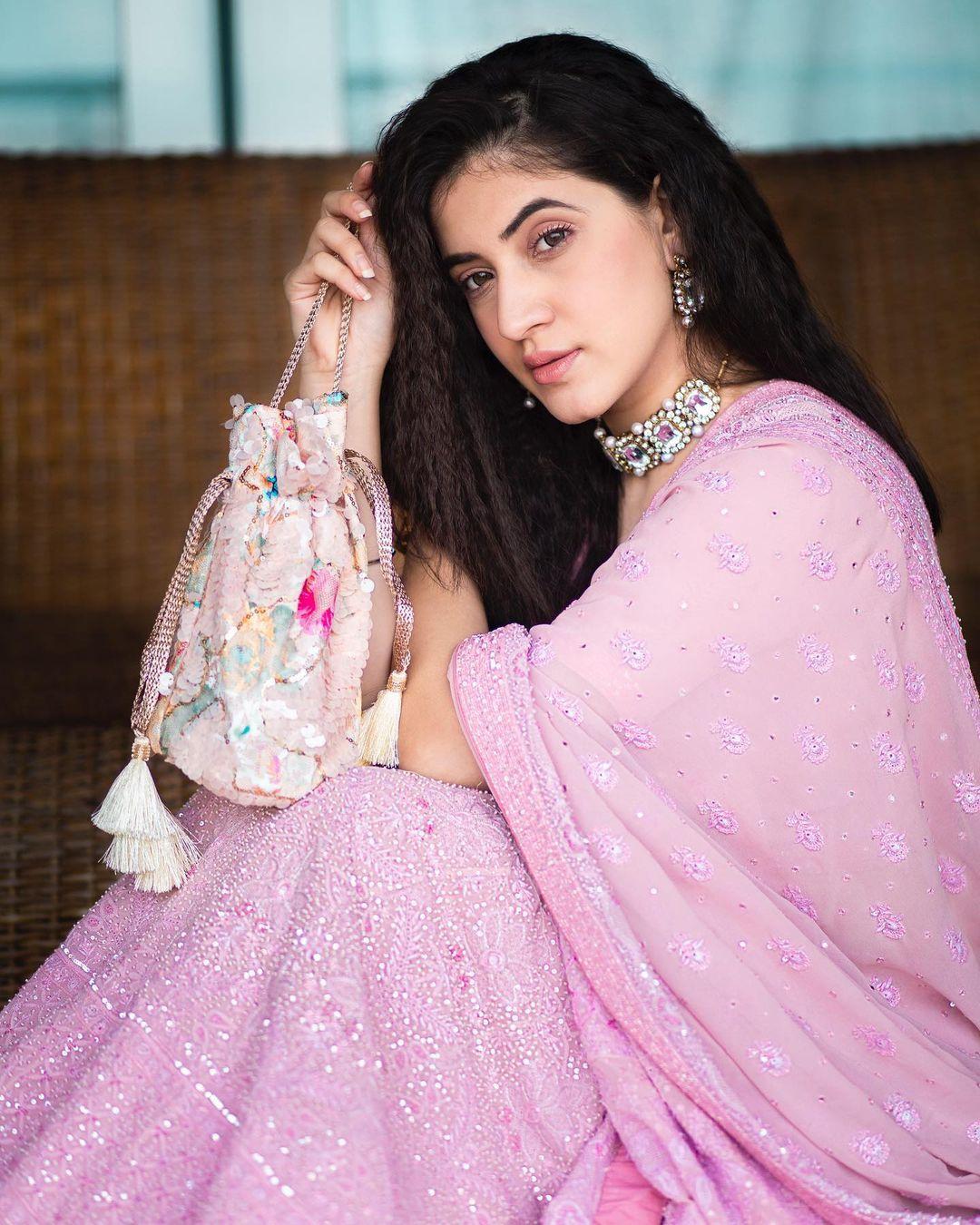 Image Credits - The Amyra Store
Be it a reception day or some glamour struck soiree, you can adorn these potli bags and walk with élan. These potli bags can be worn along indo-western wear and dresses. Check to read more-
House of Vian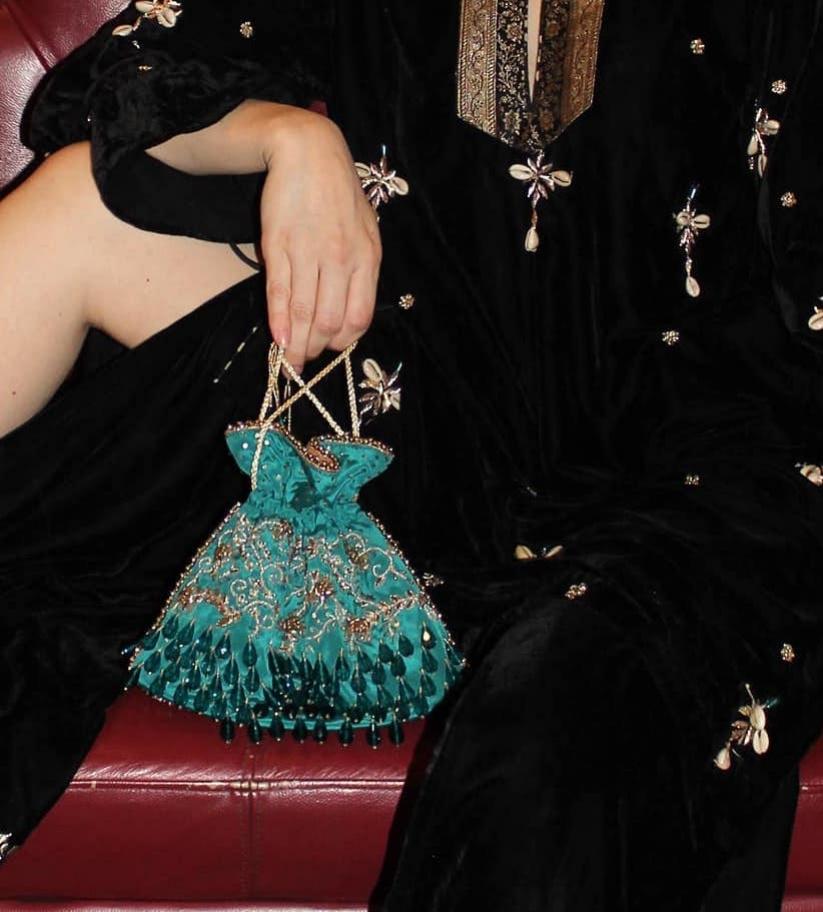 Image Courtesy: House of Vian
Famous for their Punjabi juttis handcrafted in pure leather, House of Vian has also ventured into creating stunning potli bags for all occasions and oh boy, they're lust-worthy. The pearl & 3D embellishments on their potlis are totally a thing of fancy.
The price range starts from ₹6,000 onwards.
The Pink Potli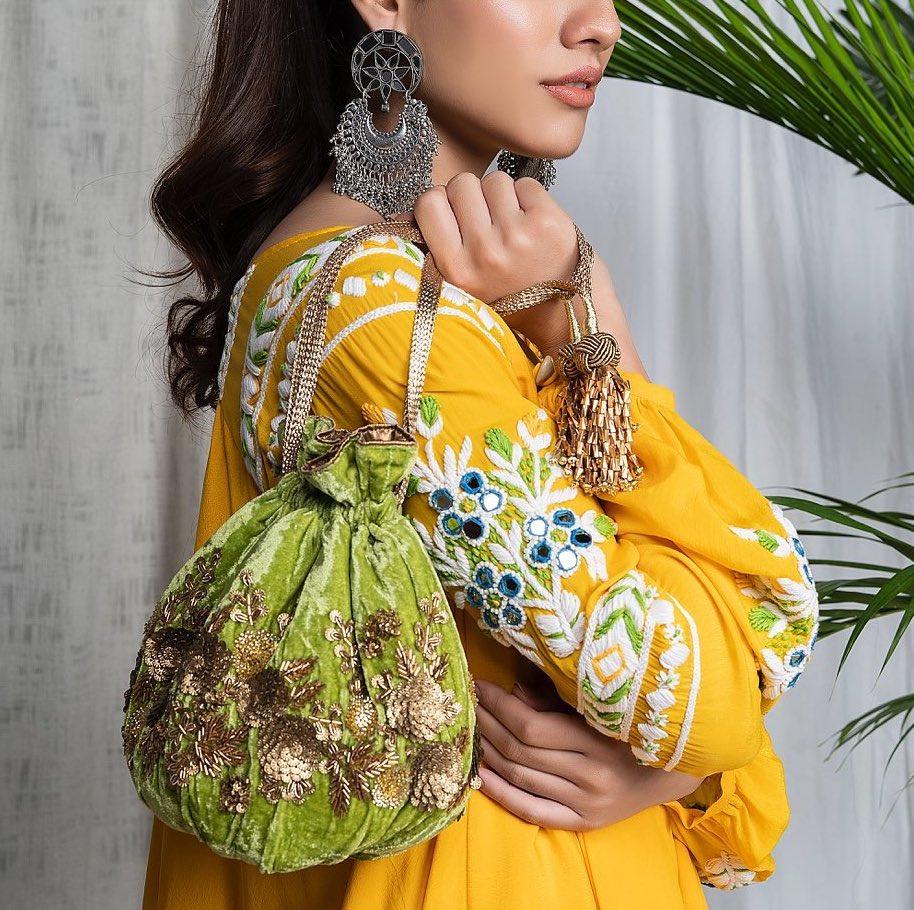 Image Courtesy: The Pink Potli
A brand brought to life by mother-daughter duo, Deepa and Pranati Mansukhani, The Pink Potli celebrates the culture of India with its fine craftsmanship. The fact that every piece is totally handcrafted, right from hand embroidery to manual assembling of the product makes it a very precious addition to your wedding wardrobe.
The price range starts from ₹4,200 onwards.
Rani Pink Gifts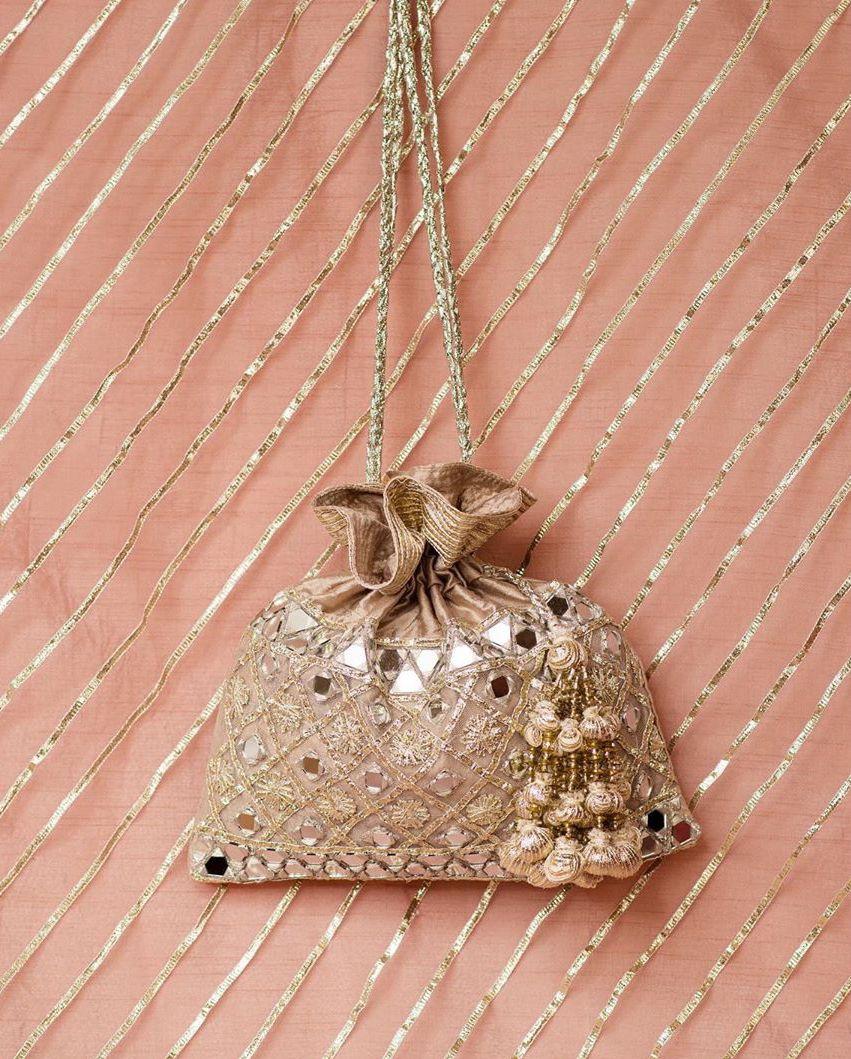 Rani Pink is a well-known name in the wedding industry when it comes to wedding decor but for the uninitiated, they have recently launched "Rani Pink Gifts", a go-to destination designed to make gifting fun and thoughtful. With this launch, they brought in these lovely designer potli bags in our lives only to make it less boring and more fun. Embellished with mirror-work and latkans, these potlis are definitely the most-adorable in this list.
The price range starts from ₹2,000 onwards.
Styling Tips
You can wear these potli bags with panache, as shown in above pictures.
You can wear your watch on the same hand, and let everyone gaze at your dainty potli as well as the watch.
These are some of our favourite designer potli bags which has to be every woman's wedding wardrobe classic without a doubt. They're sure to add sense and style to any ethnic ensemble for any wedding ceremony. You just cannot go wrong with potli bags! Did you sense us obsessing much? Oh, we're totally smitten!
Which designer potli bag convinced you to loosen your pocket even while you're broke? Tell us in the comments below!
With Words by Meha Khera