Bridal Accessories Trends For 2021
We talk to the expert accessory designers of the industry to enlist the most popular bridal accessory trends of 2021!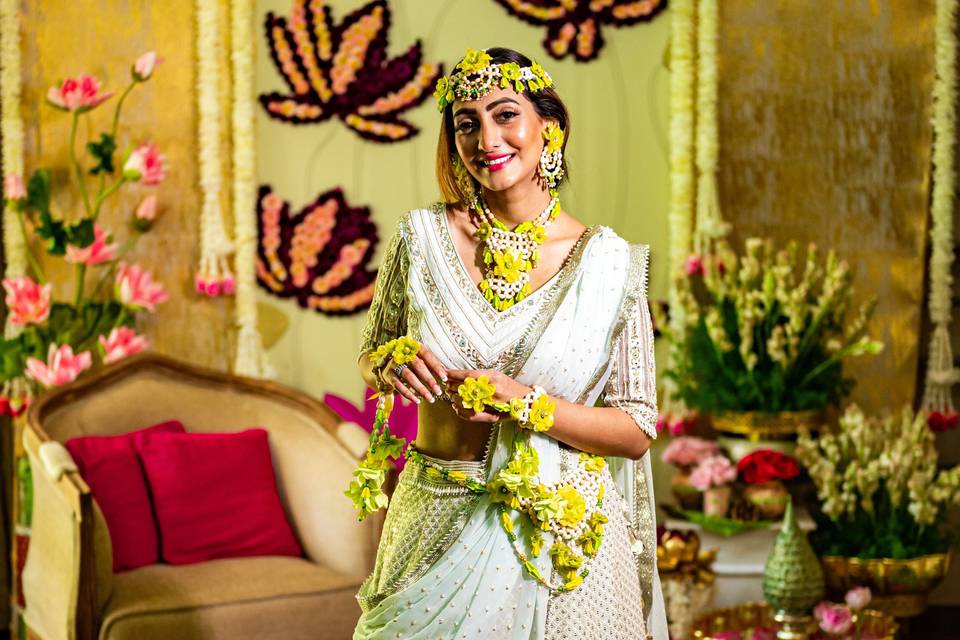 The quintessential solaah shringar of a bride is incomplete without the right mix of accessories. From fresh flower jewellery, to punjabi juttis, pouches and the latest must-have wedding masks - accessories have always been the finishing touch of a bridal look. As the dawn of a new year approaches all of us, we are eager to embrace the new accessory trends that brides can adorn on their wedding day. With a sudden upsurge in intimate weddings in 2020, many brides have swayed from the traditional - drenched in red and gold bridal looks and are experimenting with accessories to complement their preference of minimal fashion.
In conversation with Srishti Kapur, Founder of Floral Art and Founder of eponymous label - Aprajita Toor, we decode the raging Bridal Accessory Trends for 2021.
Trending types of Bridal Accessories
Floral Jewellery Trends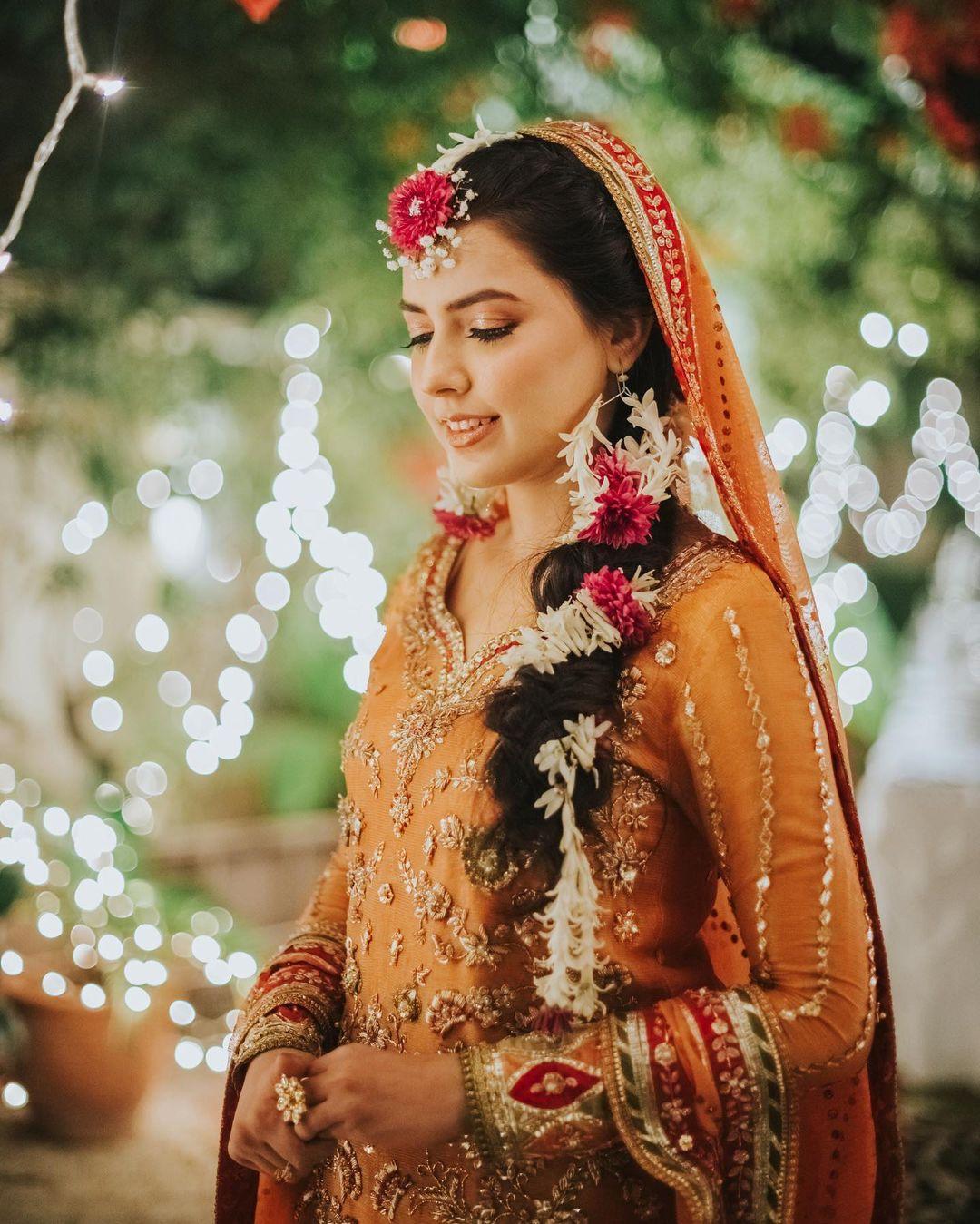 Image Credits - Areeba Mansoor
Kapur shares, "No amount of sparkles or gold jewellery can do justice to a bride who is looking to intertwine the fragrance of culture and traditions into her wedding. Fresh flower jewellery adds that extra touch of elegance and and vibrance to her look. This year, brides have become more experimental and want to explore different kinds of jewellery like anklet cuffs, passaa, tiaras, shoulder pads and many more. While roses, orchids were an obvious choice, brides are now experimenting with tropical foliage, exotic flowers, shades of terracotta, rich indigenous flowers and other non floral elements like cowry shells, etc."
If there is one wedding trend that has been in full bloom, it is that of floral jewellery! The ornaments are uniquely designed in fresh and artificial flowers making them a perfect way to freshen up one's look and ditching the gold and diamond rotation. They are effortless, elegant and adaptable to a variety of taste. Sharing below two bridal accessories that are trending this season.
Footwear Trends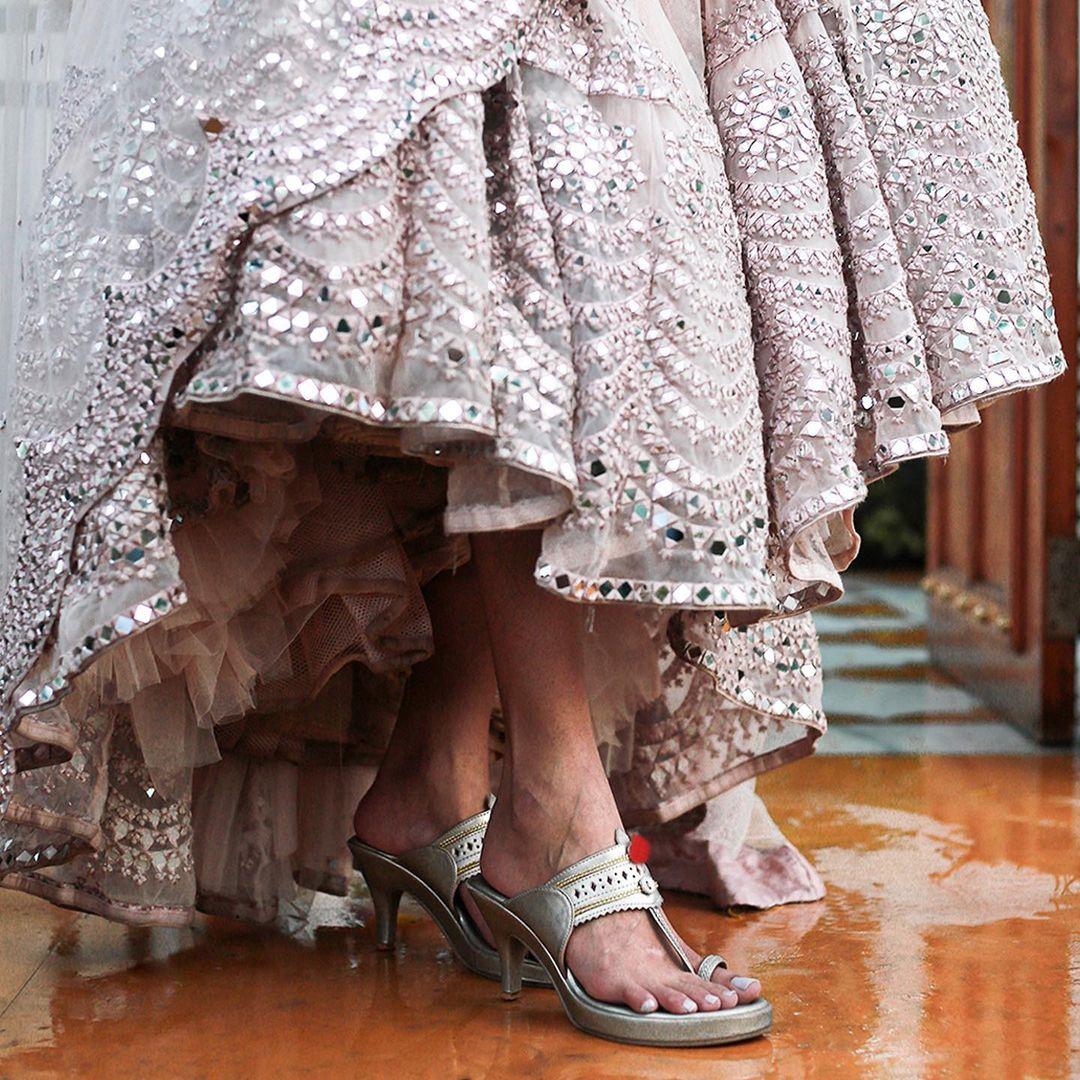 Image Credits - Aprajita Toor Official
Toor says, "Bridal shoes this season will be a beautiful and contemporary amalgamation of style and convenience. The classic styles are here to stay; the traditional designs like toe loop strap for the less in-your-face brides, while the more risk-taking bride would most definitely want to add a bit of their personality and playfulness to the style, like sneakers or chunky platforms with unique engravings or fun hashtags. Embellishments and embroidery on shoes for both the bride and groom are hot favourites this season."
Handbag Trends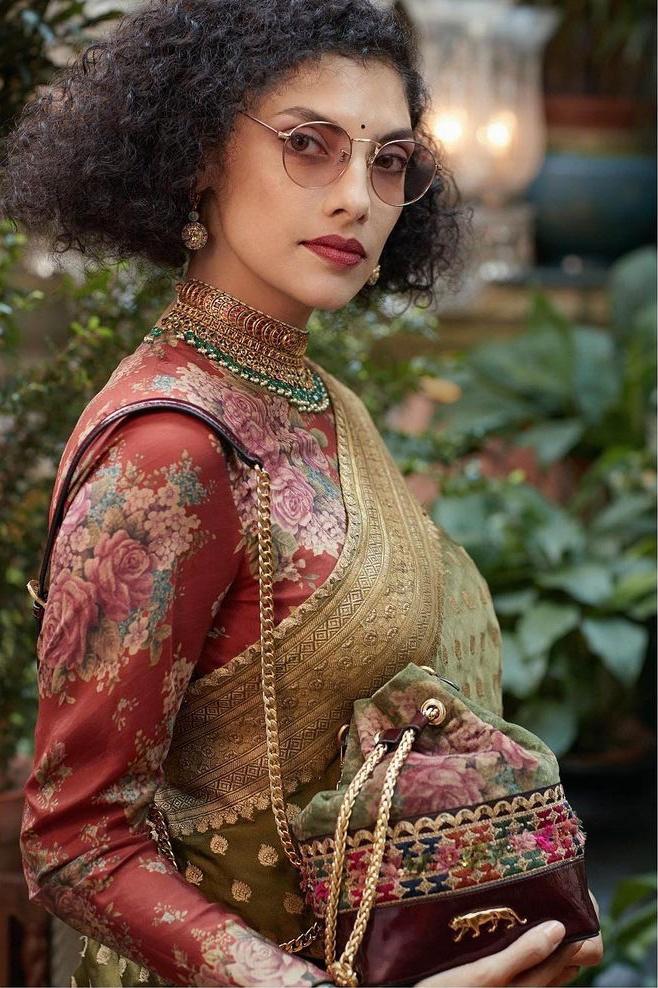 Image Credits - Sabyasachi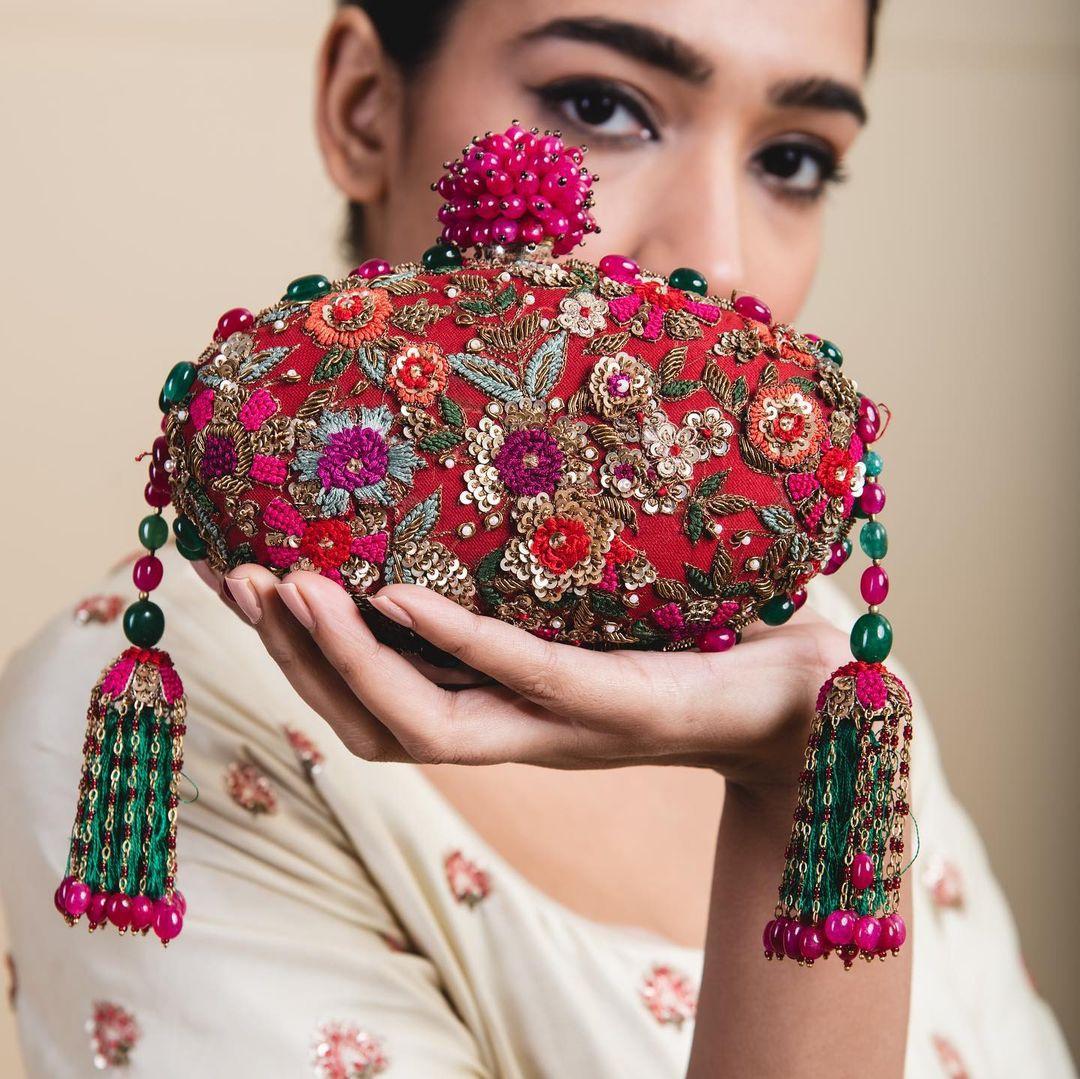 At the WWI Editorial desk, we have a budding romance with traditional Potli bags and sleek clutches. Here are our favourite picks for the wedding season -
Top Colour Palettes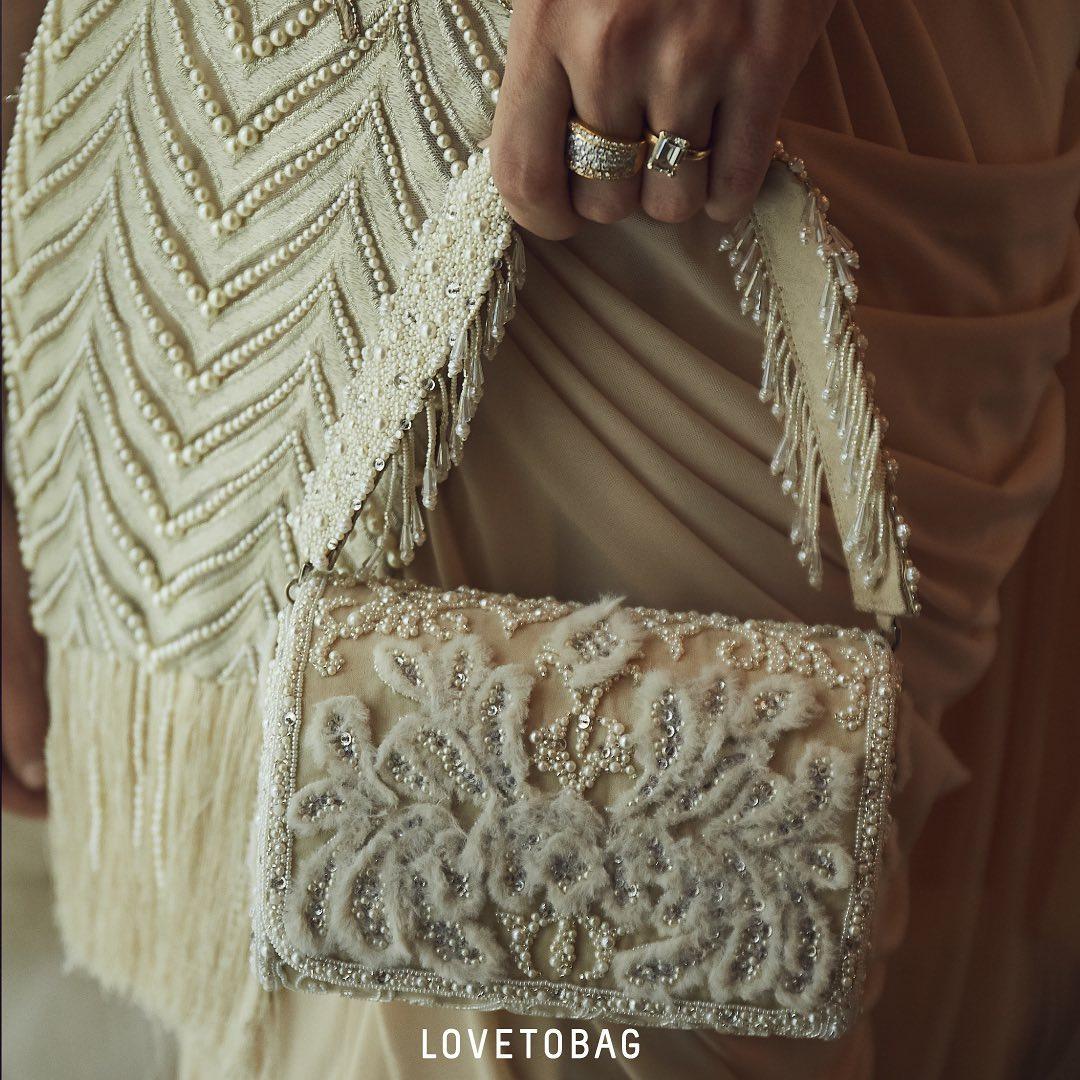 Image Credits - LOVETOBAG
We recommend -
Colour Coord Tips - Toor shares, "Mixing bold hues with pastel tones is most definitely the pick of the season. The colours are easy on the eyes and can be paired with most outfits worn through the wedding."
Top Styling Tips For Brides 20-21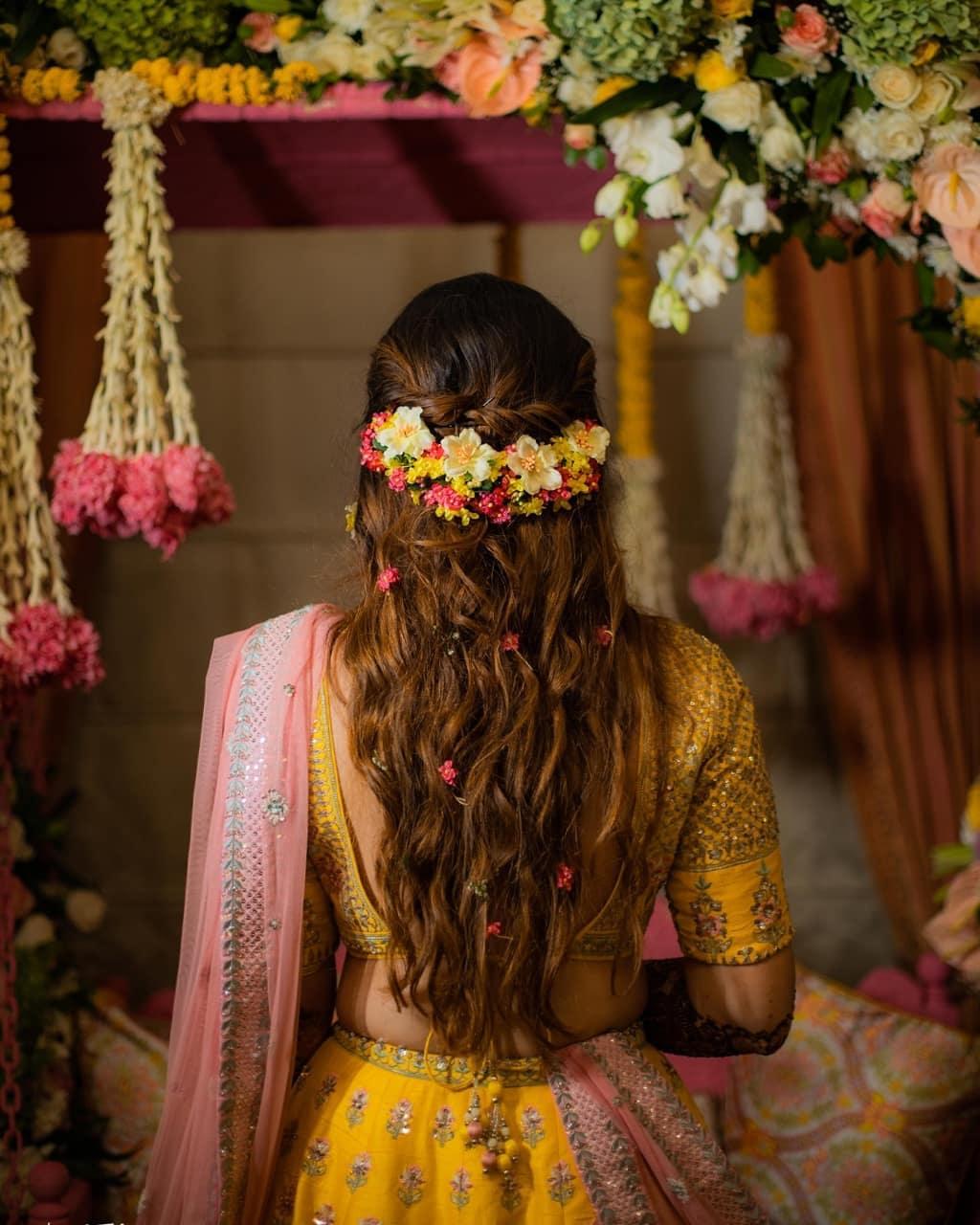 Srishti Kapur shares tips to style Floral Jewellery with your Bridal wear -
Floral Jewellery can be braided along with the brides hairstyle into an extravagant hairdo.
Layering is a trend for 2020 and that same can be applicable for floral jewellery.
Kaleeras are usually worn for weddings but now brides don't shy away from floral kaleeras for other smaller junctions.
Brides are now open to experiment using non floral elements, which can be used to create interesting pops of colours.
Styling Tips For Other Accessories -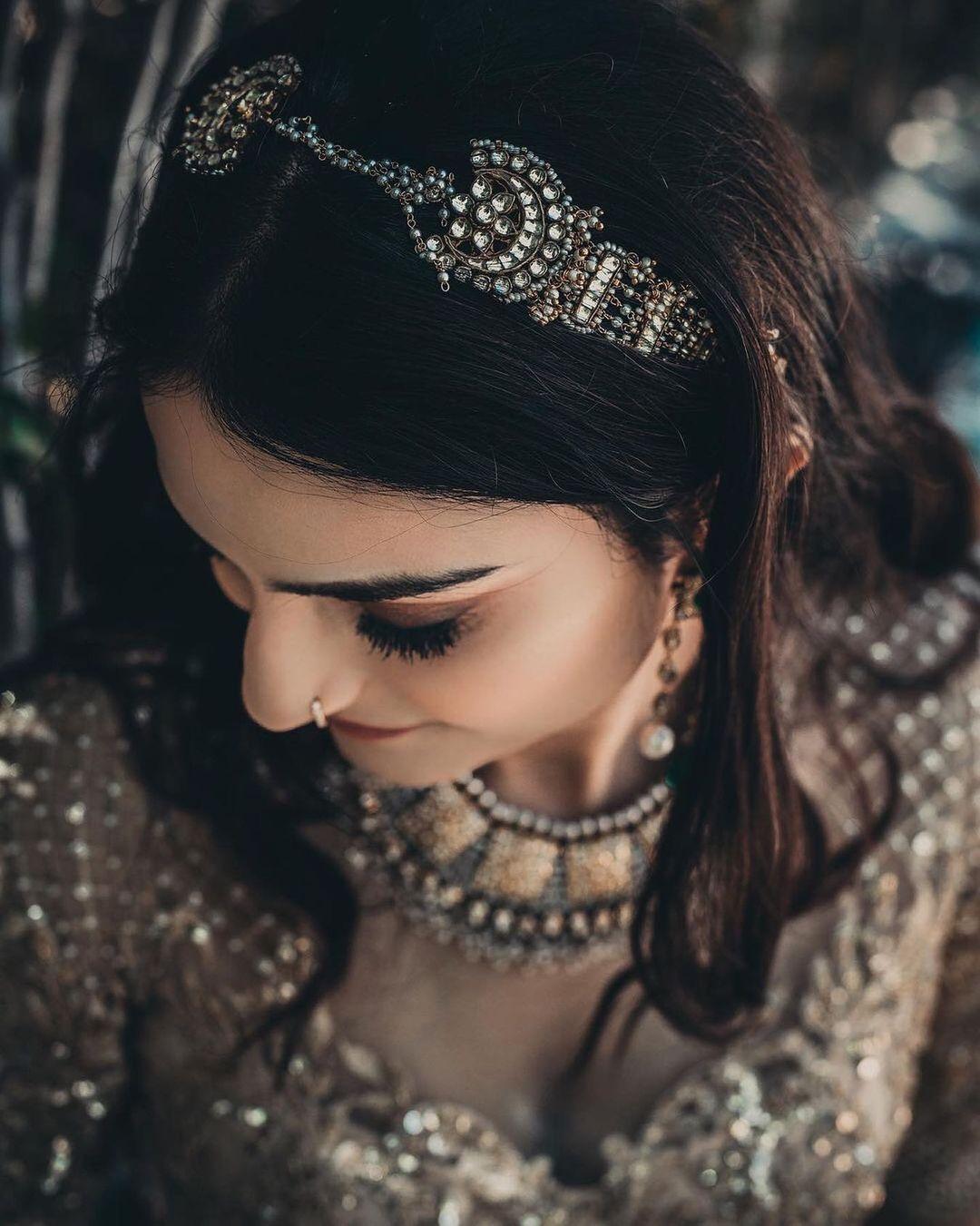 Impact of Intimate Weddings on Bridal Accessory Trends 2021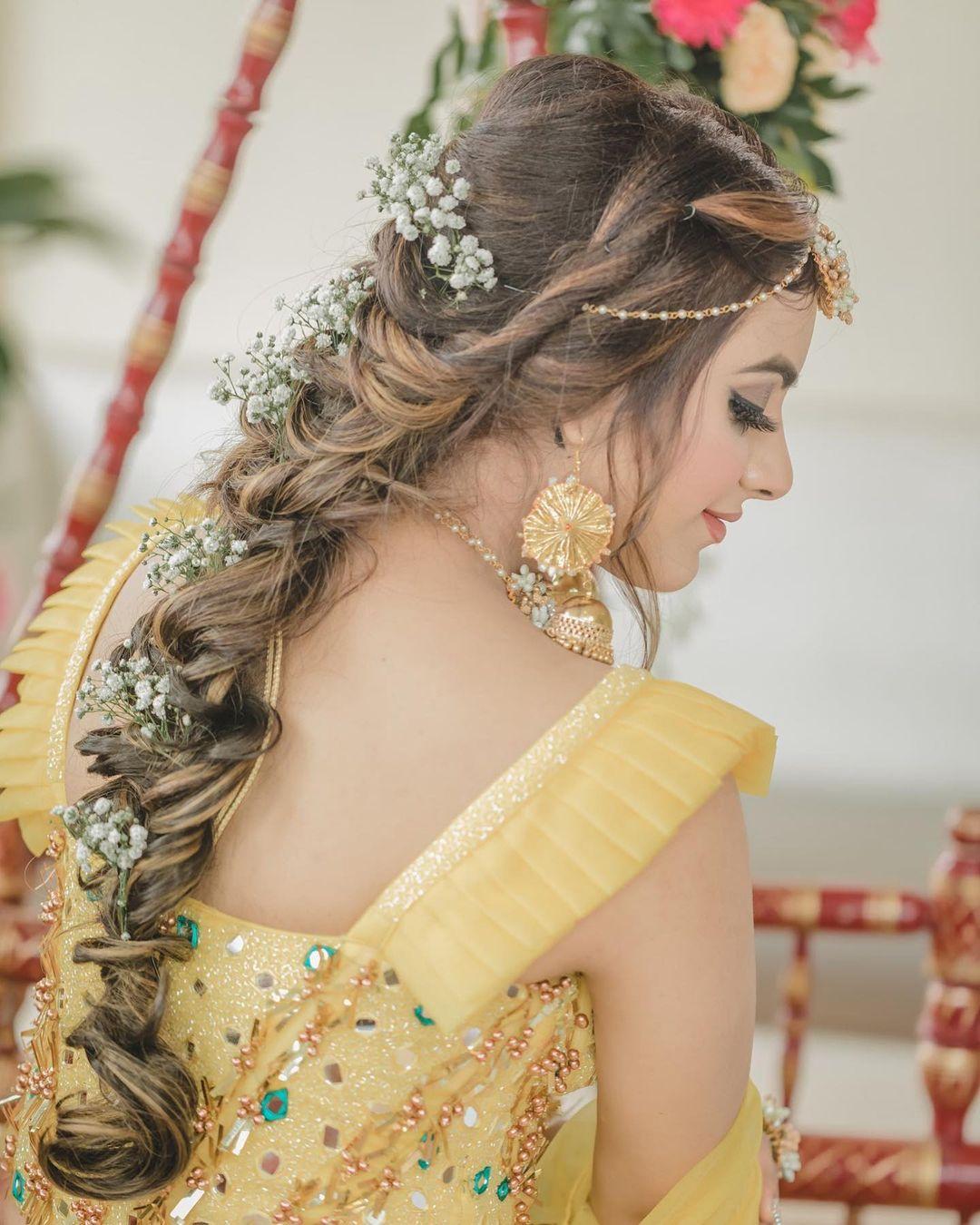 This has been a year of micro weddings and intimate ceremonies. Couples are also preferring day ceremonies due to the limited no. of saaya dates and huge list of pending weddings that are keeping wedding business occupied at the moment. Kapur throws limelight to the current scenario and talks about how these weddings have impacted bridal accessory trends, "Through the various enquiries we have received, we can confirm that there are two major types of weddings happening in this season. First, being an extremely intimate function with only family at the couples residence where they aren't investing in floral jewellery but are reaching out for fresh flower decor. The other is a 100 person version of the Big Royal Wedding where the bride is still keen on having a lavish wedding and is going all out with her accessories. She is not scaling back and wants the entire set from head accessories, kaleeras, earrings, necklaces etc. We have received orders for both fresh and artificial flowers."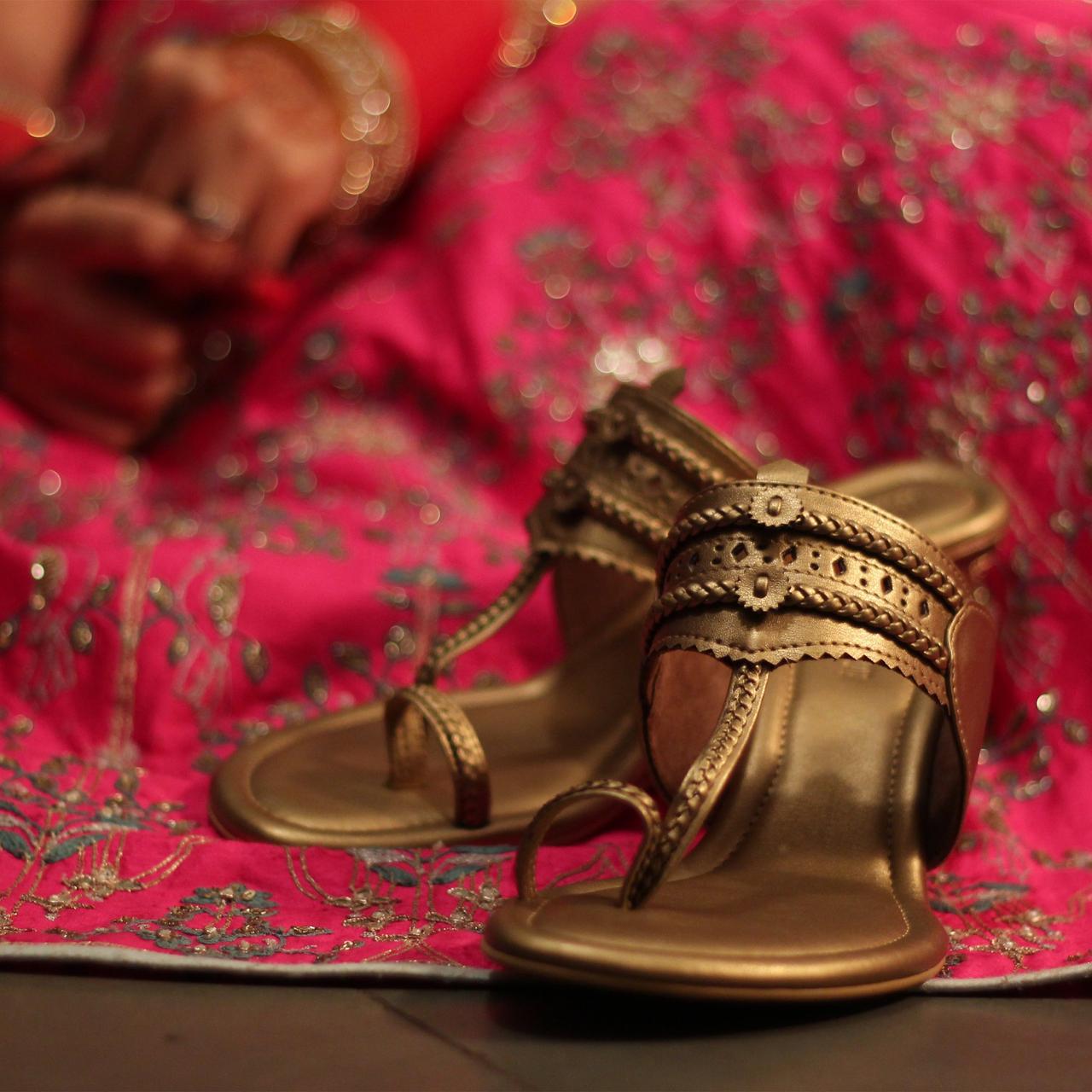 Image Credits - Aprajita Toor Official
In conclusion, your choice of accessories might depend on the scale of your wedding celebration and your bridal attires. While some brides are choosing more elegant and sublime bridal accessories, some are staying traditional at heart and going all out to wear ethnic bridal wear and accessories.
A Sustainable Approach
The global awakening towards a sustainable and eco friendly approach has not left out the bridal accessory industry either. Sustainable is definitely the word of the year and designers are incorporating various ways to make this industry a more eco friendly environment for the generations to come! Toor says, "We have always made a conscious effort to incorporate sustainability in our products even before the pandemic, where we focused on using materials that were durable and re-usable in different forms. The pandemic has surely made us realise how little we need in order to survive happily and how old/discarded items can be reshaped and re-modeled to create contemporary designs. We have always used leftover fabric and materials to make bags and other accessories which we send out with our shoes, which complement the footwear in small ways too. This helps us utilise the last bit of material in a positive way rather than letting it go to waste."
Kapur shares, "Brides are opting for seasonal and locally sourced flowers to not only support Indian vendors but also follow an eco-friendly practice. By using in-season flowers, especially those grown close to the venue. Branched from the concepts of Zero Waste is foraging accents like autumnal branches, wildflowers and vines of greenery are incorporated in floral jewellery. For my latest collections I have given brides the option of dry flowers or fresh flowers, if they choose the dry option. They can store and keep their floral jewellery for a longer time and possibly pass it down for the generations to come. However, kindly note with the nature of the industry it's difficult to be as sustainable as the fashion industry, however my team and I constantly look out for environmentally conscious raw material, we promote local produce and repurpose 70% of the waste."
Looking for more bridal accessory styling tips for your d-day? Ask your questions on our Community page and get styling tips and ideas curated by us exclusively for you!