43+ Colour Coordinated Outfit Trends for the Bride & Groom
Millennial couples have often flaunted colour coordinated outfits at their weddings & to decode this trend, we have a list of couples in colour-combination outfits for inspo!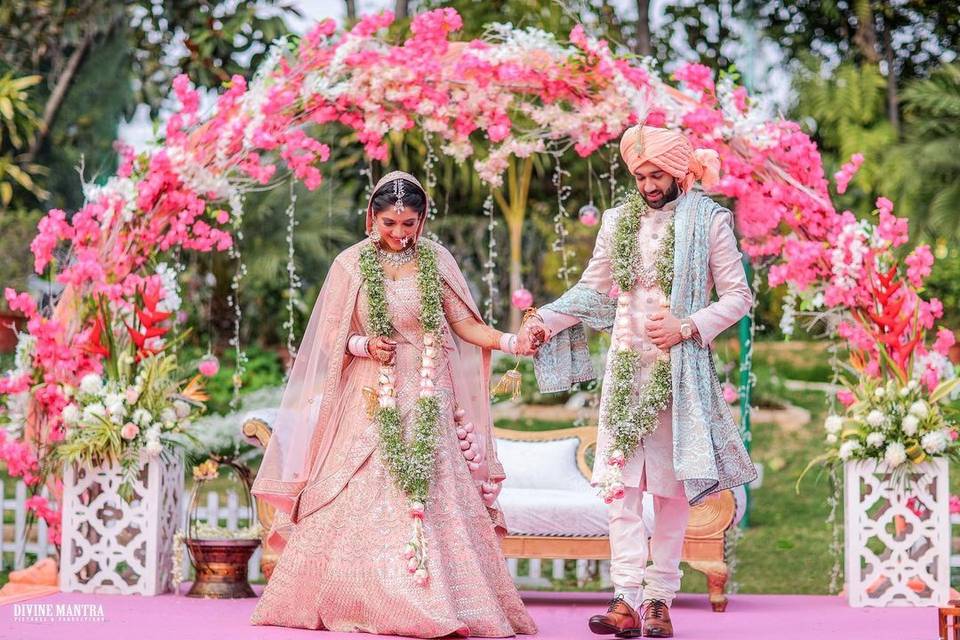 Gone are days when grooms wore off the rack outfits for their weddings or brides picked run-of-the-mill dresses. When you start planning your wedding, you immediately also start planning what you would wear for each of the ceremonies. From the million Instagram pictures and a thousand more Pinterest mood boards surfing for inspiration, you will slowly have a picture in your head of how you both want to look for your big day. Outfits are these days very carefully picked to complement the decor hues, location, inspiration, the setting, the time of the celebration and also each other - especially each other.
From popular couples like Anushka Sharma and Virat or Deepika and Ranveer, colour combination and coordinated outfits that match each other, along with the decor and setting of the wedding, have been a much-loved trend. If you are planning to be the bride and groom who wear coordinated outfits for your wedding, we have got the trendiest best images for your inspiration. Read on to bookmark your favourite look now!
In this article:
1. White Colour Combination Outfit Ideas
2. Pastel Pink Colour Coordinated Outfits
3. Colour Coordinated Outfits for Couples in Peach
4. The Contrasting Colour Combinations
5. Metallic Colour Combination Outfits
6. Off-White Coordinated Outfits for Couples
7. Red Colour Coordinated Outfits for Bride & Groom
8. Coordinate Your Yellow Colour Dress
9. Purple Colour Combination Outfit
10. Outfits From The Green Colour Palette
White Colour Combination Outfit Ideas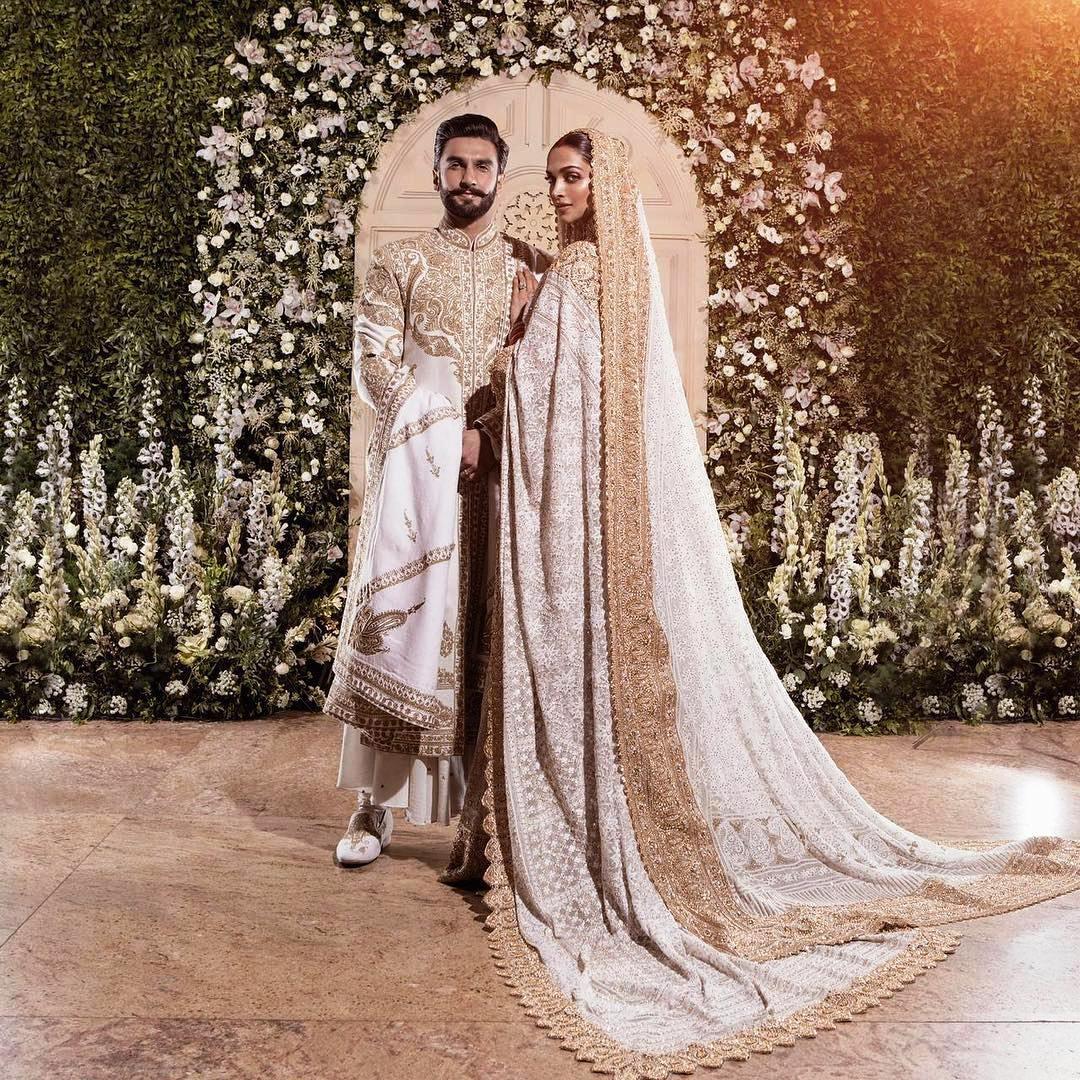 Image Courtesy: Errikos Andreou
Deepika and Ranveer flaunted white and gold coordinated outfits for their Mumbai reception. Deepika's white saree was designed by none other than ace couturier Abu Jani Sandeep Khosla and to complement her look just perfectly Ranveer Singh was seen in a Rohit Bal couture that showcased excellent embroidery work in gold. With the white and foliage decor that made the backdrop stunning, the B-town's A1 couple looked ravishing in their white wedding soiree.
Apart from this stellar idea of a white colour combination outfit worn by the stars, here are some more ideas on how to wear this colour combination for your wedding.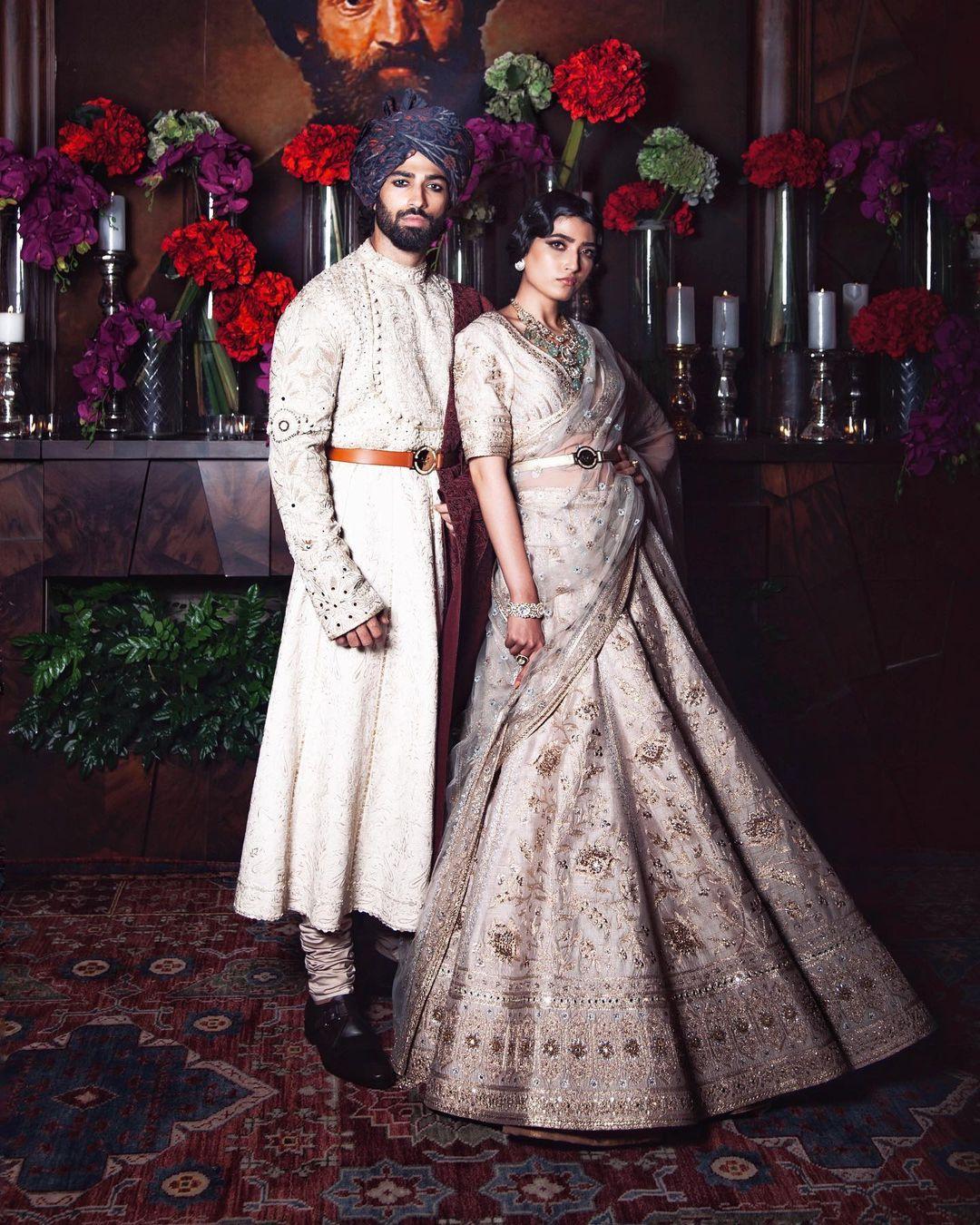 JJ Valaya's ICW collection Bursa has been a definite head-turner, to say the least. In his showcase, this ivory embroidered Choga for grooms with a matching churidar complements the bridalwear. The fully embroidered Nugrey lehenga comes with an embroidered Nugrey blouse and an embroidered stole to complete the look. For a regal wedding theme in one of the dreamy forts or palaces, this perfectly coordinated couple outfit is going to steal hearts.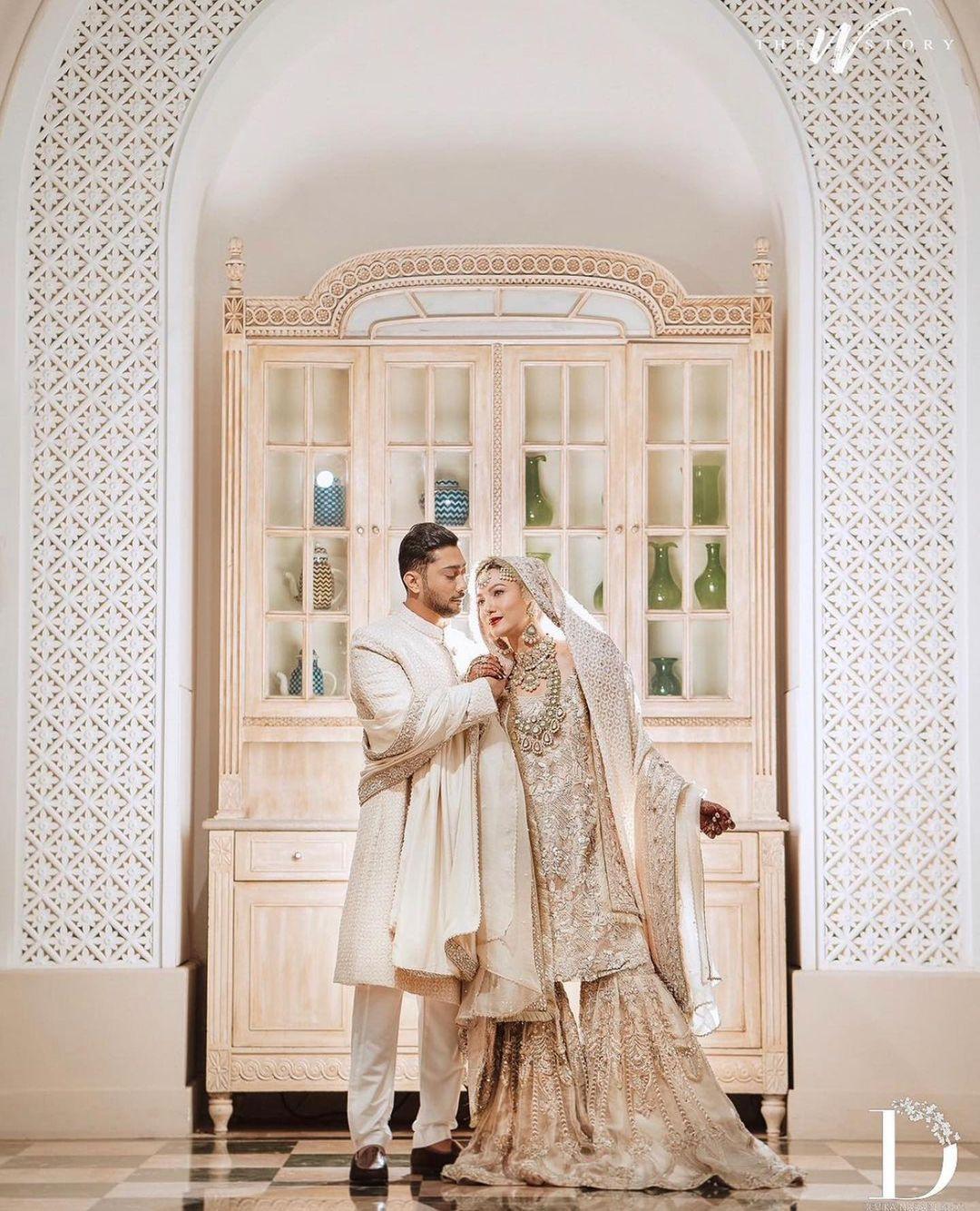 Another popular duo, Gauahar Khan & Zaid Darbar wore white colour combination outfits for their intimate wedding. Gauahar Khan's heavenly Gharara set by LAAM was complemented beautifully by Zaid Darbar's serene white sherwani.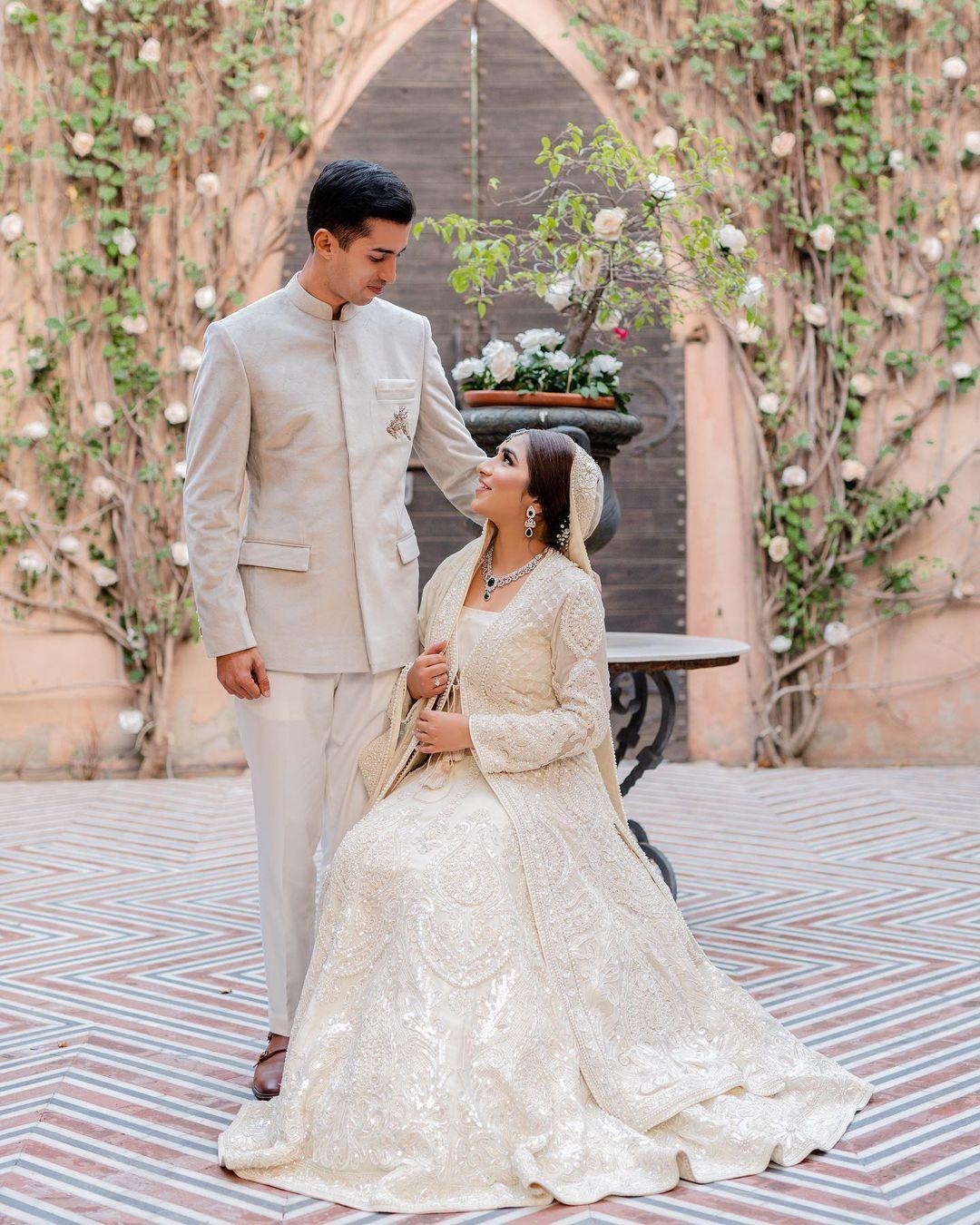 Image Courtesy: Natasha Zubair
Another gorgeous white affair when it comes to flaunting white colour combination outfits - Izzah & Hamza's white wedding gave us exceptional outfit goals. This famous Pakistani photographer flaunted a beautiful Rizwan Beyg design with intricate embroidery and her partner Hamza complemented her gorgeous white look with an off-white Bandhgala suit and pant.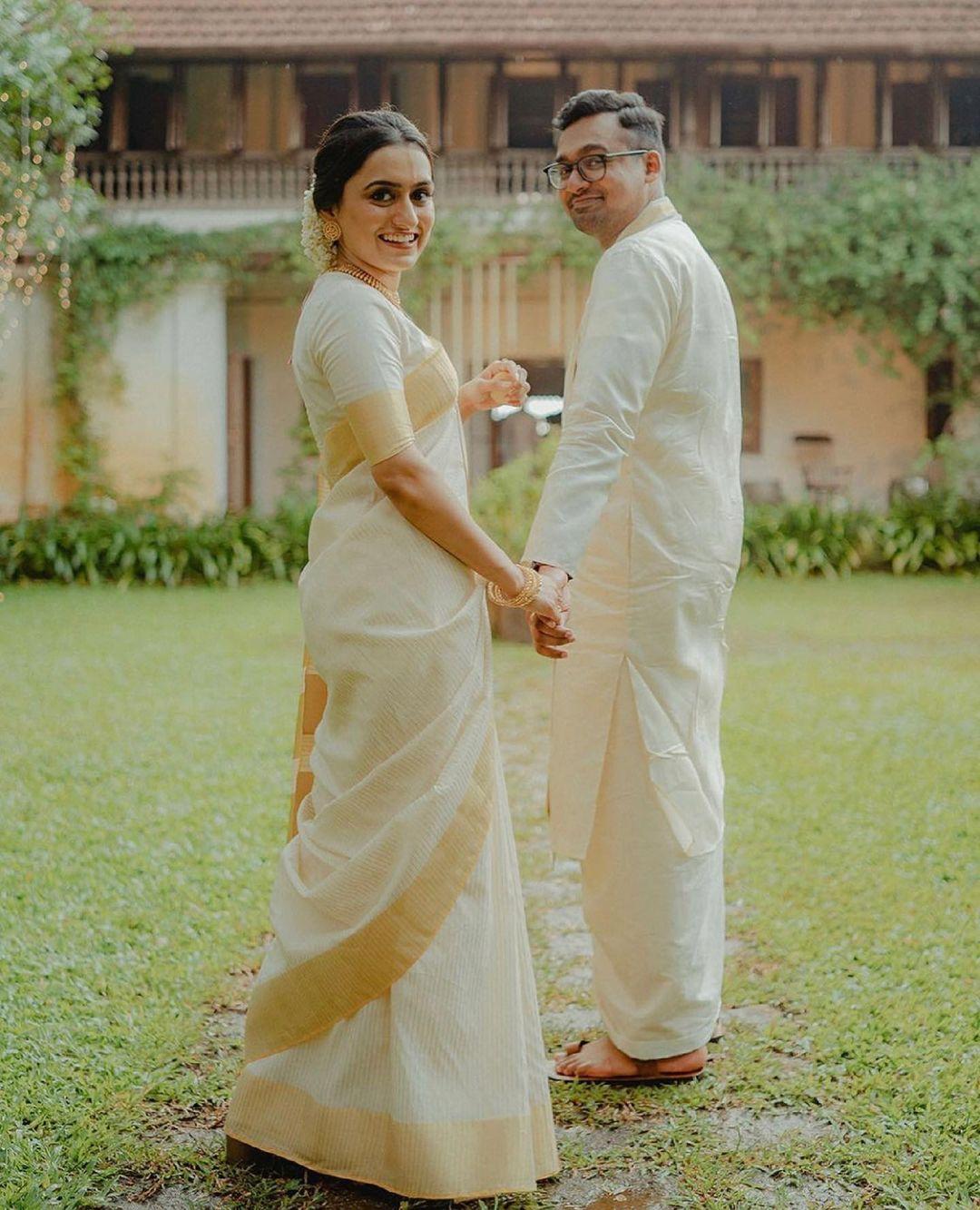 Image Courtesy: Jackson James Photography
South Indian weddings are absolutely gorgeous and this couple dressed in white look beautiful. The cultural significance of white Pattu Sarees or Kasavu sarees with golden borders in South Indian wedding is impeccable. The groom in his dhoti and Kurta in white and the bride in her serene white Kasavu saree that is accessorised with a Gajra and simple Temple jewellery is a sight for the sore eyes.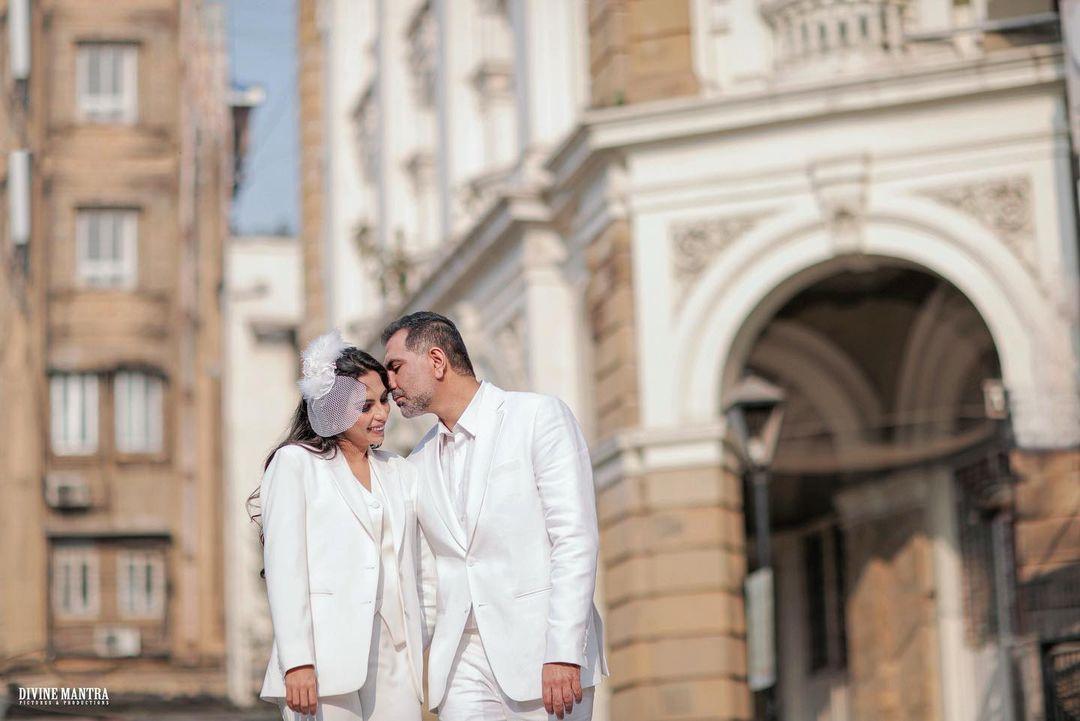 If you are the edgy couple who likes to bring forth fresh fashion statements, then flaunting a white pantsuit together with your partner for the wedding is going to be a big hit! This duo wearing a simple white colour combination for the big day is a millennial goal.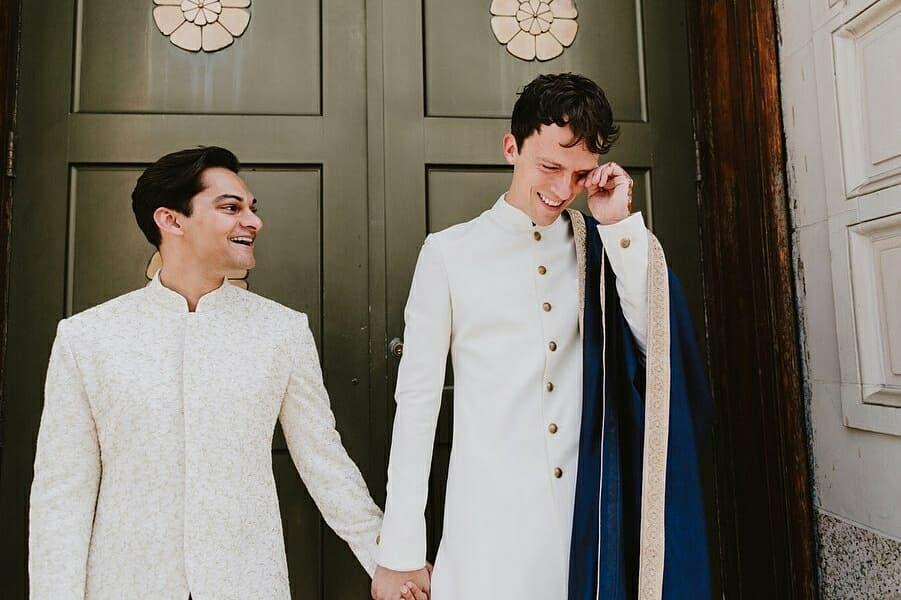 Image Courtesy: Sojourner Creative
This couple here picked alluring white sherwanis for their wedding to complement each other. Their colour coordinated outfits have been designed by Herringbone & Sui.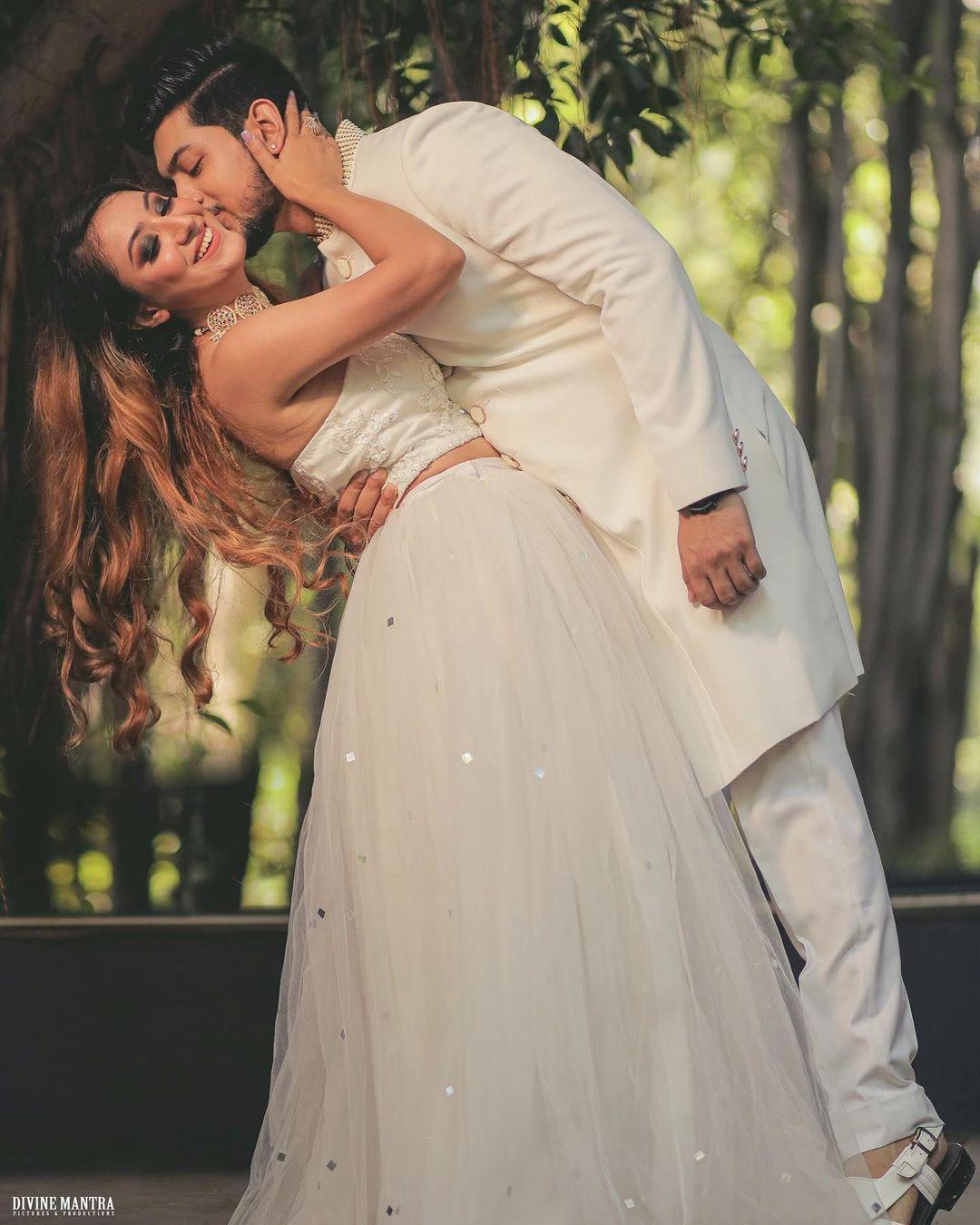 Image Courtesy: Makeup by Sonal
Not only for the wedding, but you and your partner can pick serene white colour combination outfits for your reception too.
Also Read: The White Wedding Soiree
Pastel Pink Colour Coordinated Outfits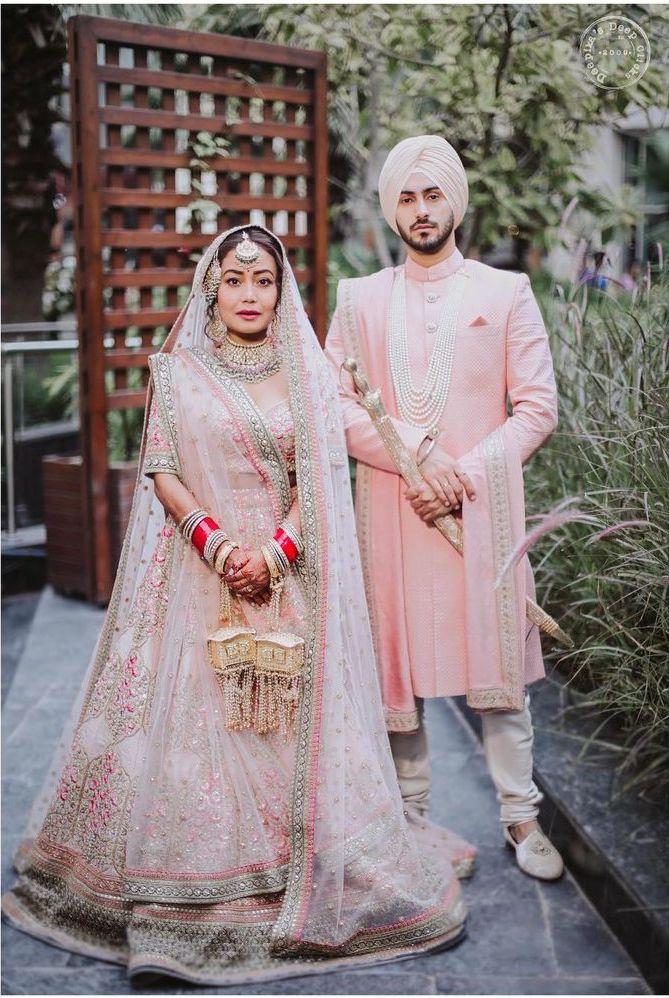 Popular singer Neha Kakkar tied the knot in an intimate ceremony with beau Rohanpreet Singh very recently and the duo was mostly seen in colour-coordinated outfits through all the ceremonies. One of their many colour combinations was their Anand Karaj ceremony outfit in pink. Looking tranquil in this beautiful pastel pink colour - the Sabyasachi couple broke the internet and how. For the Anand Karaj ceremony in a gurudwara, lighter pastel colours are more in trend now and also recommended owing to the daytime celebrations.
Here are some more couples flaunting the pink colour combinations for the wedding celebrations.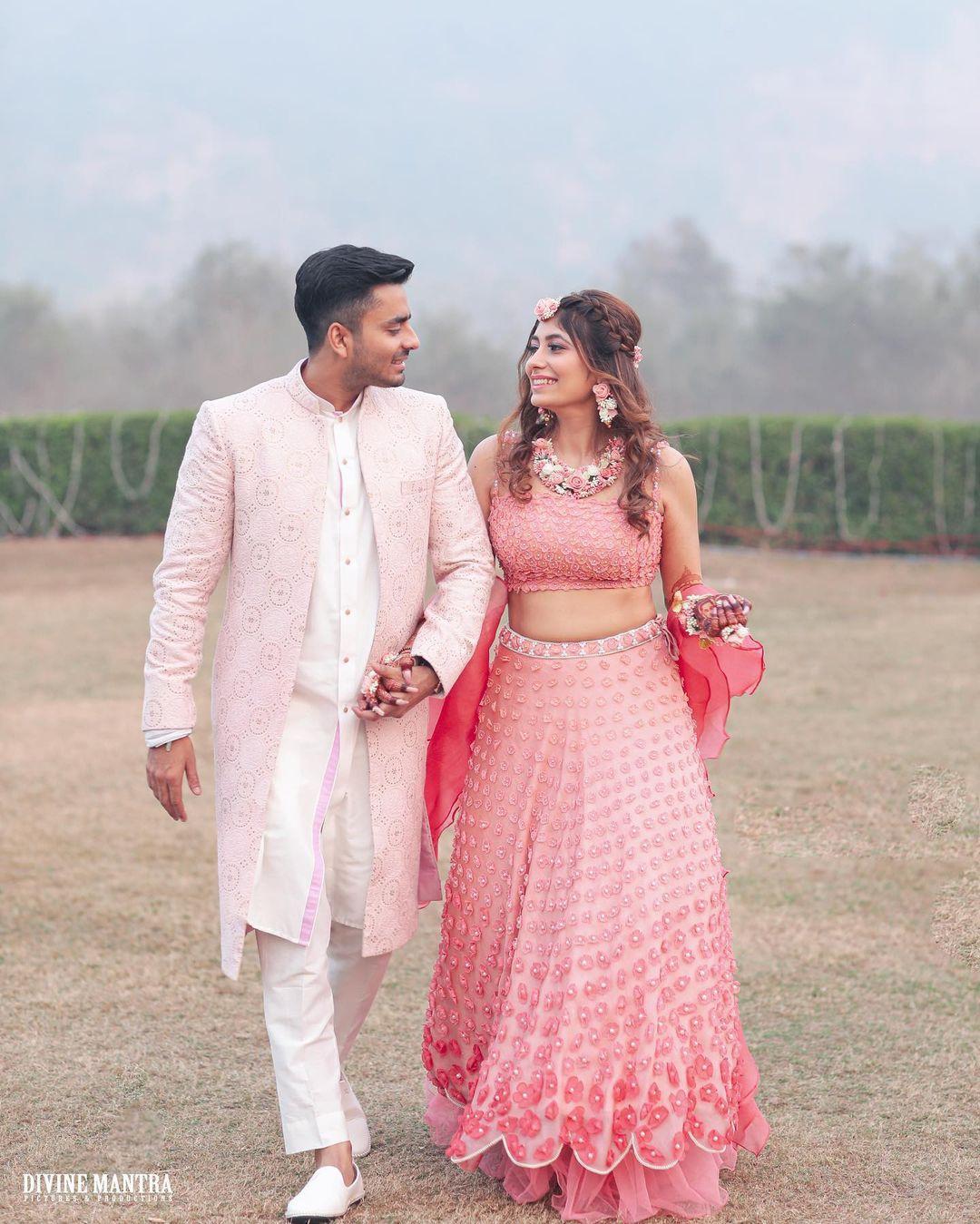 This to-be-wed couple is seen in a pink colour combination of sherwani and a pink lehenga for one of their pre-wedding ceremonies. The bride's outfit by Anjni Design Inc is topped with mesmerising floral jewellery in a pink and white colour combination. Pink is your go-to colour for daytime ceremonies!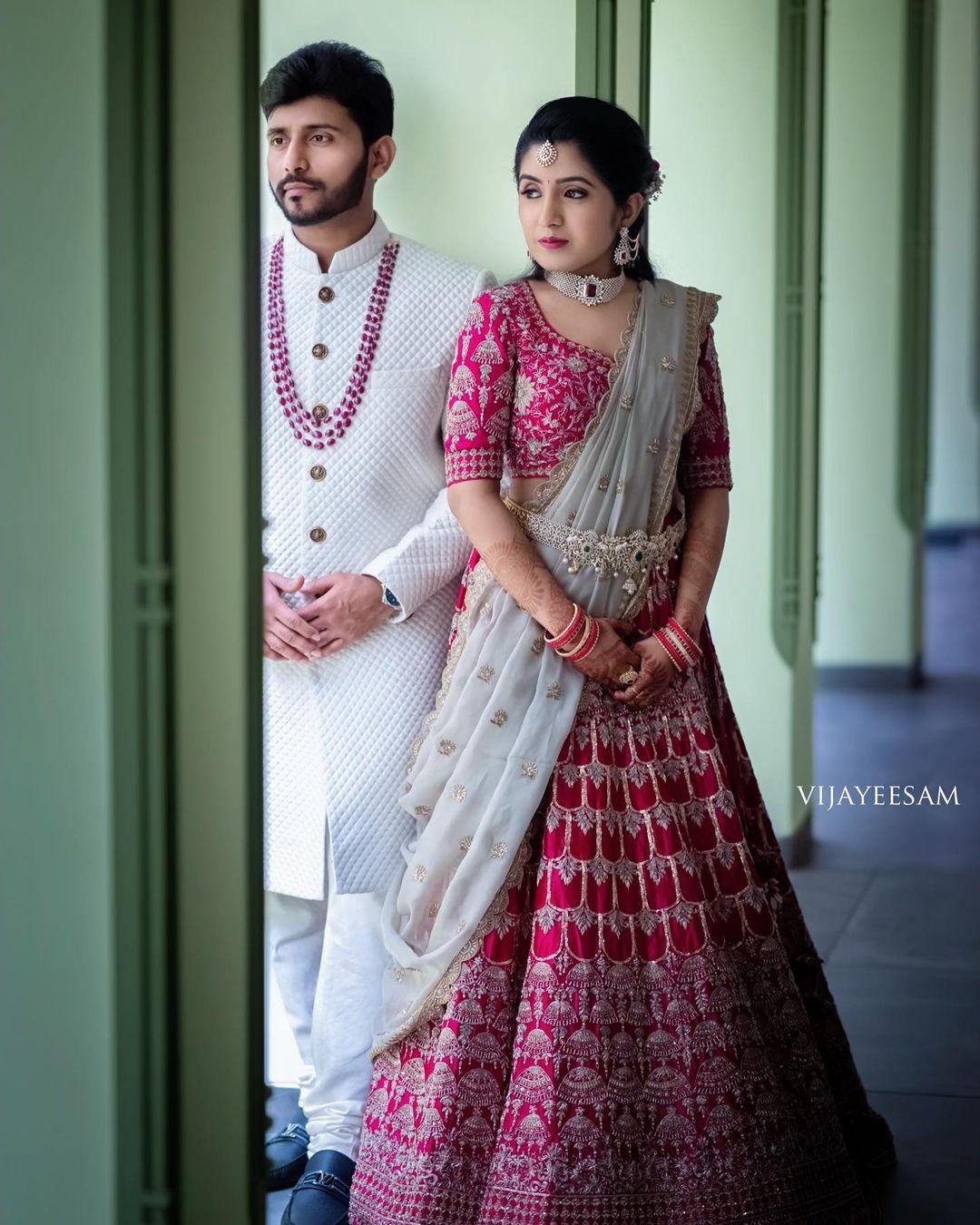 Image Courtesy: Vijay Eesam
It is not always necessary to pick an outfit that is made exactly the same way as your partner's. This groom decided to flaunt their version of the pink colour combination by accessorising his white sherwani as a contrast colour for pink with a pink layered Haar that matches the Rani pink lehenga of the bride.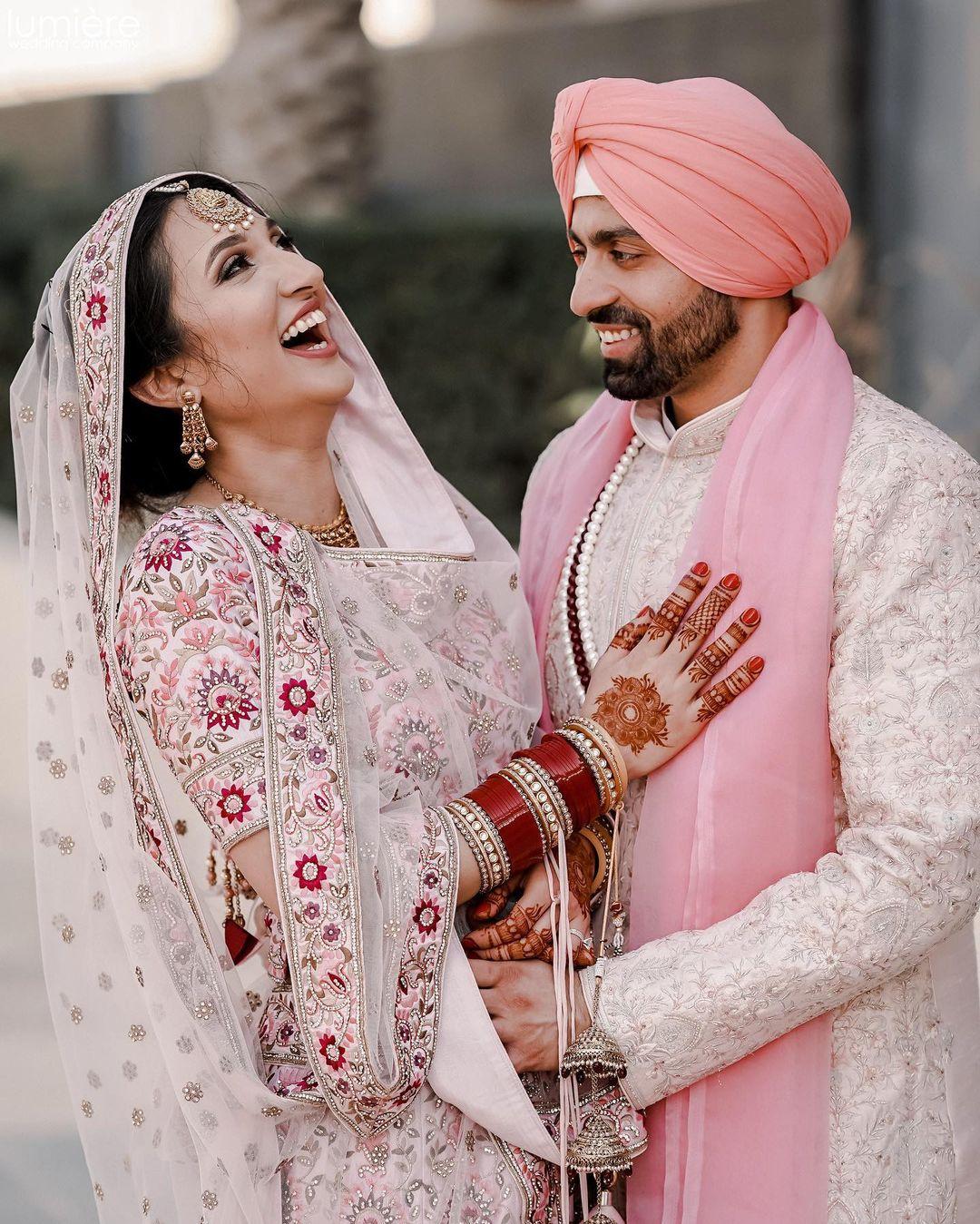 The happy couple in the picture has picked pink colour dresses for their Anand Karaj ceremony and matching dresses in pink are making our hearts smile!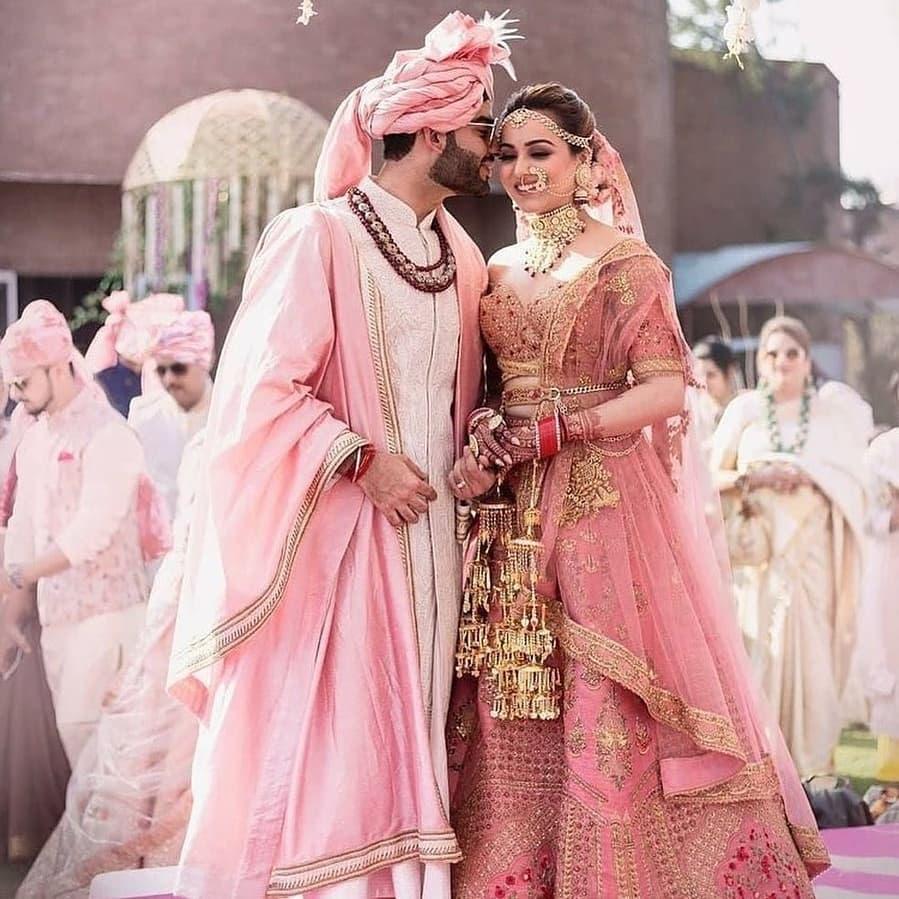 Image Courtesy: Pankaj Mantri Photography
The pink bridal lehenga is being matched with the groom's white and pink colour combination here. You can avoid wearing the exact matching dress with your partner and pick an element of the outfit in the same colour to match each other.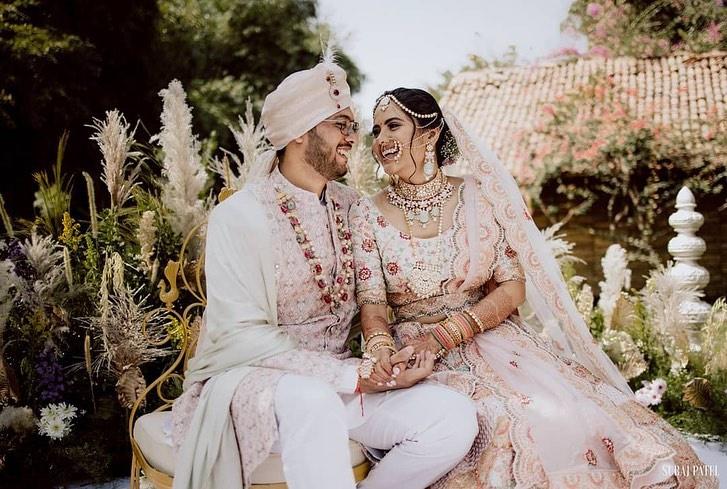 This cute couple is dressed like two peas in a pod in their matching dresses in pink and we love it! The charm of pink in a day wedding is untouched.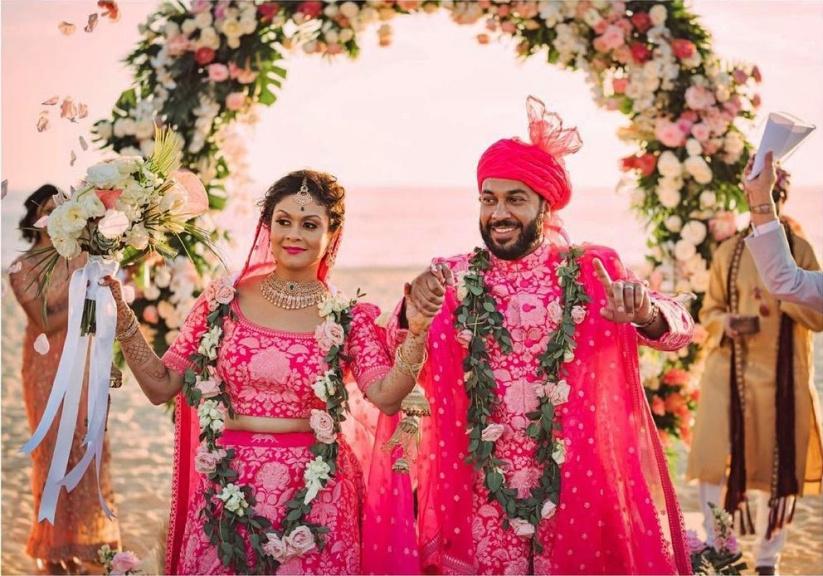 Image Courtesy: I Alam Photography
If you wish to go all out and wear the exact same colours as your partner for the wedding, get two different outfits made of the same fabric! Voila! This dark pink brocade work lehenga and sherwani is a hoot.
Colour Coordinated Outfits for Couples in Peach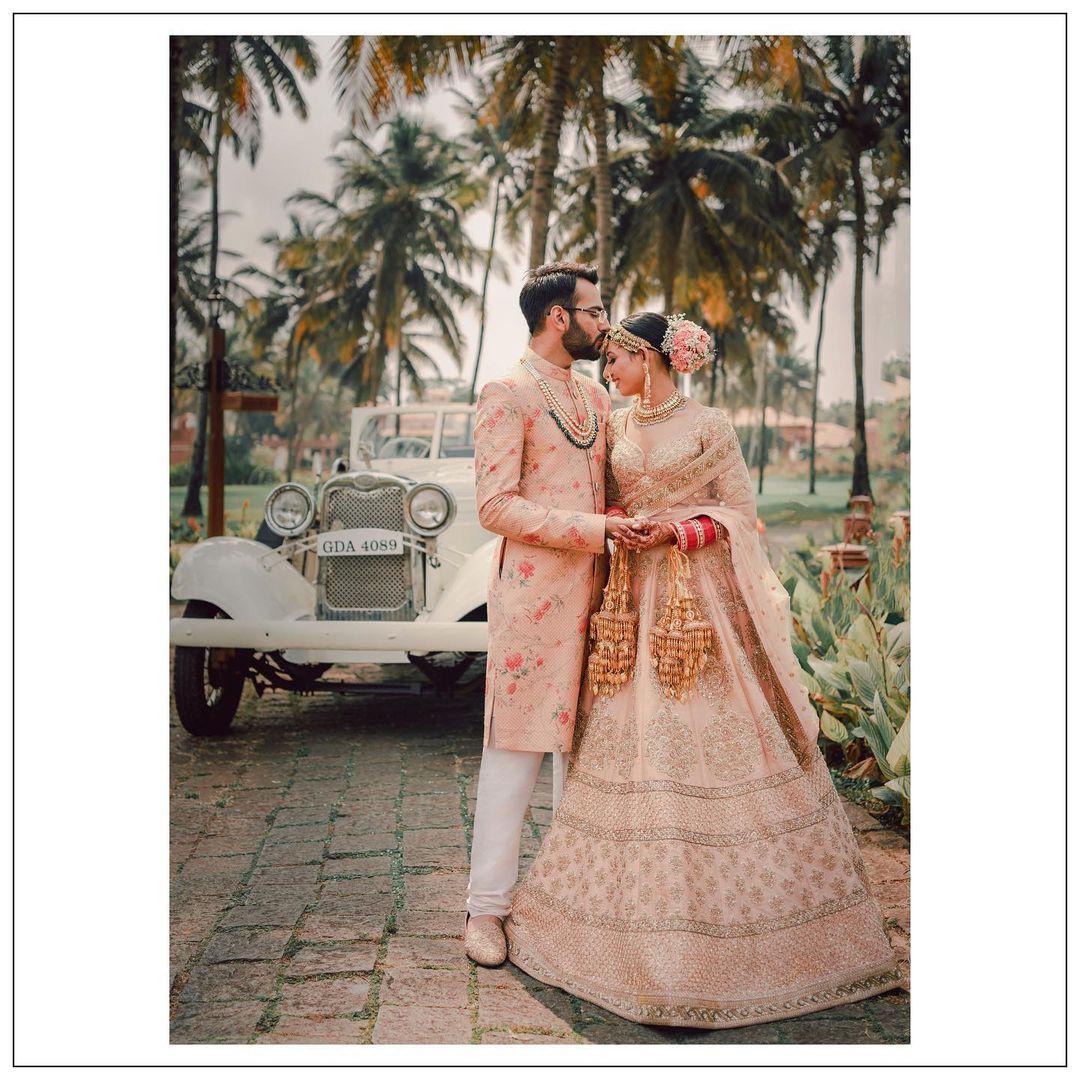 Image Courtesy: Sabyasachi
Peach is a versatile colour that makes any outfit look subtle yet mesmerising. Just like pink, peach is also a colour that will turn the course of your daytime events in ways you have never imagined. Be it a peach lehenga skirt or a peach sherwani or even a peach Nehru Jacket - this colour's subtlety is here to win hearts and turn heads.
Here are some of our top peach colour combination outfit ideas for you.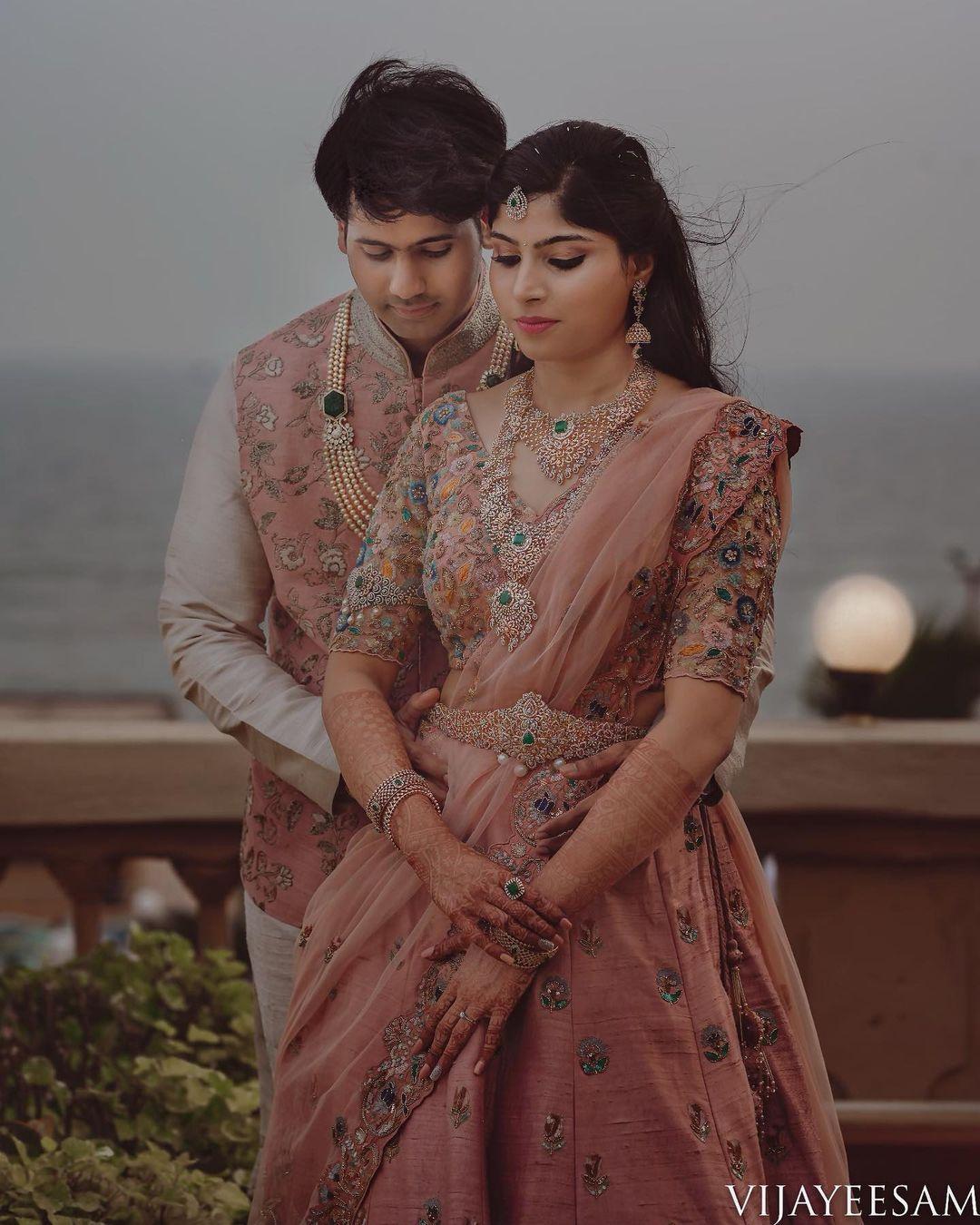 Image Courtesy: Vijay Eesam
Matching the bride's blouse and lehenga choli that she is wearing with a beautiful Kamarband on lehenga, the groom has picked a Kurta with a jacket in peach.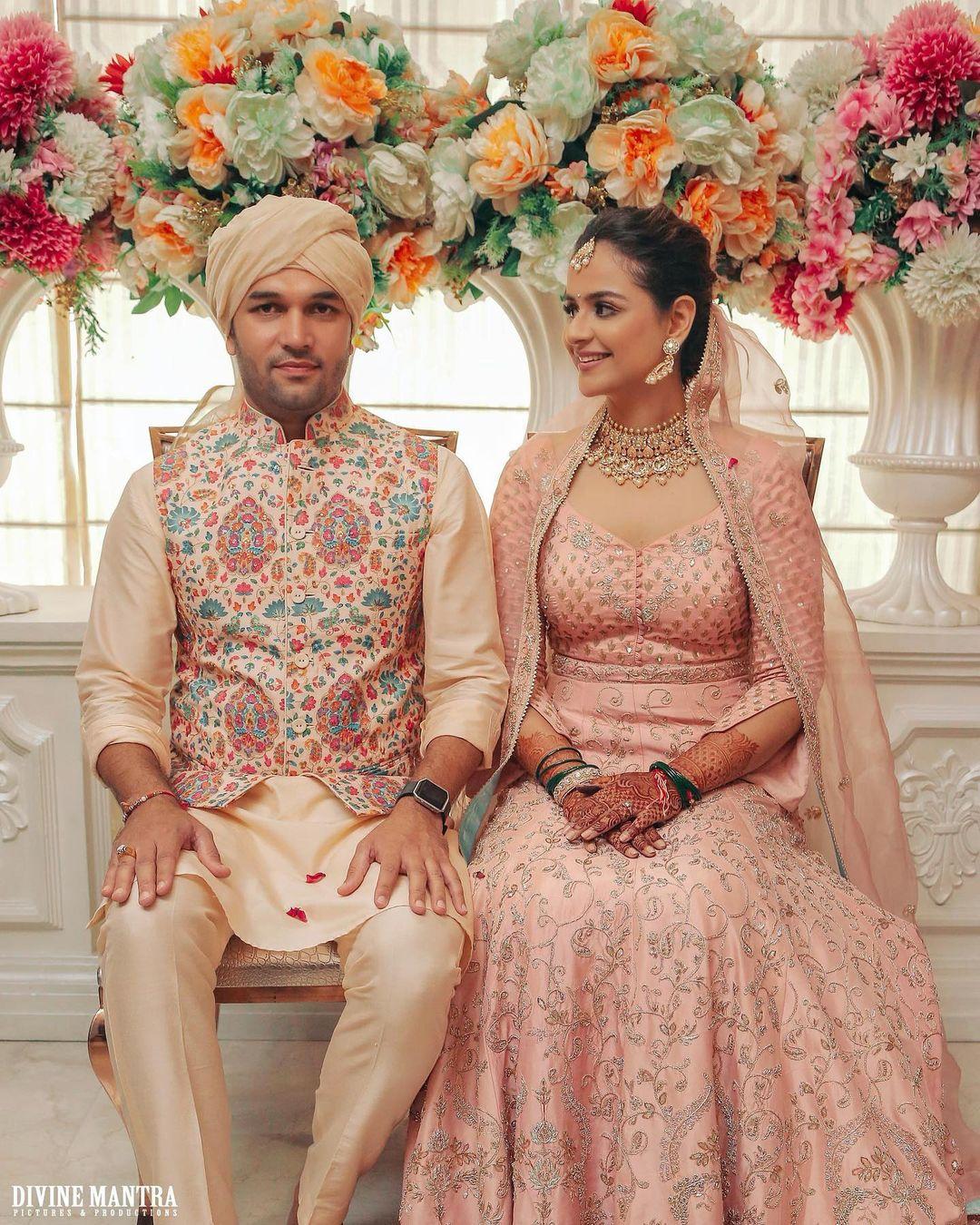 Keeping the base colour combinations the same, the way this couple has incorporated peach into their wedding wardrobe is a beauty to adore. Peach is indeed a charming wardrobe colour not only for the brides but also for the grooms.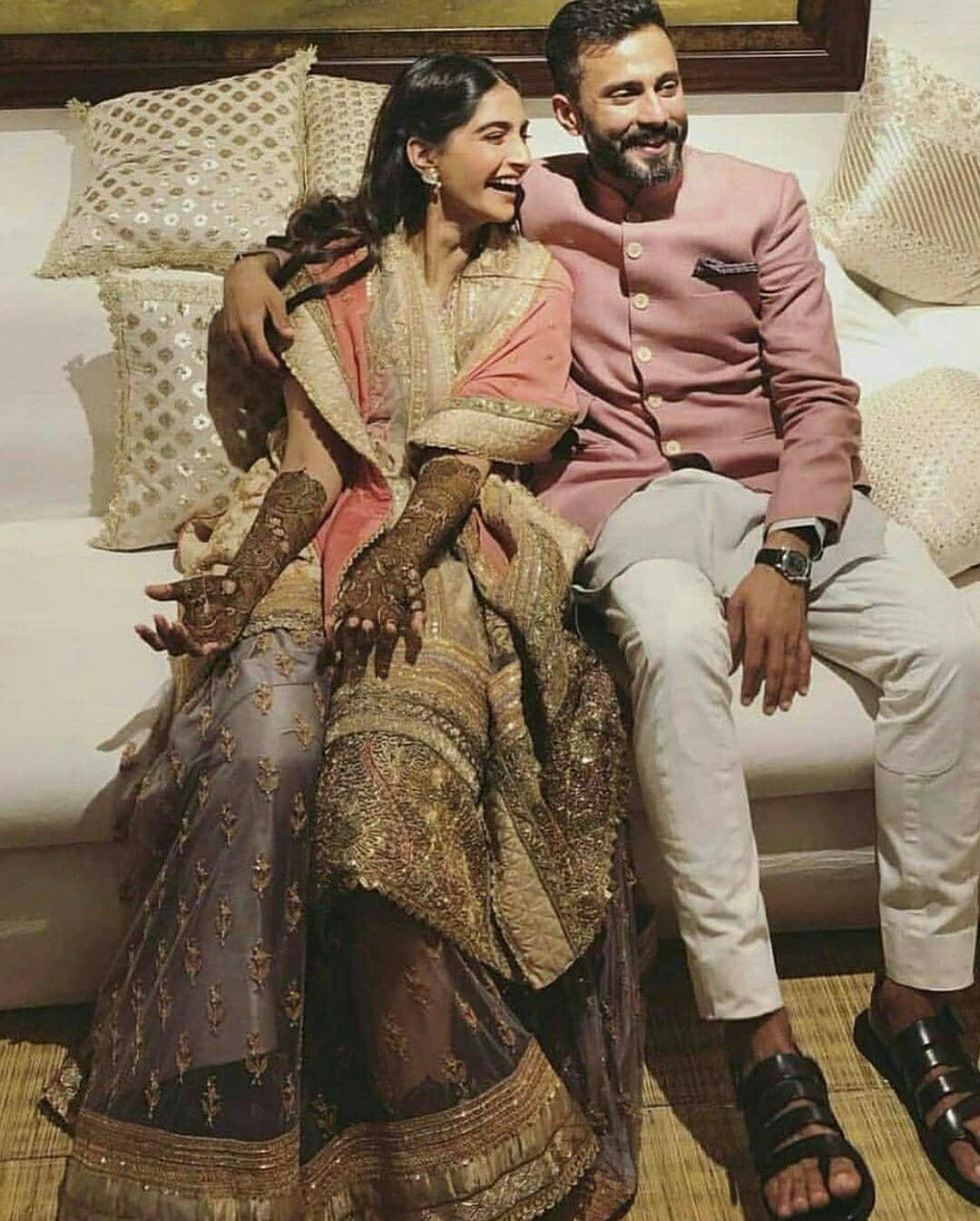 Image Courtesy: Sonam Kapoor Ahuja
Among other colour combinations, tinsel town star and fashionista Sonam Kapoor Ahuja and her beloved husband were spotted complementing each other's salmon pink outfits. This shade of peach colour in their matching outfits is very subtle and perfect for intimate weddings.
The Contrasting Colour Combinations
Image Courtesy: Kama Catch Me (Fiji Wedding Photographers)
The perfect way to add some colours to this wedding is by picking bright contrasting outfits. Now if you are wondering what colours match with blue, you've landed in the right place! The above picture shows a couple who picked a blue sherwani and a red lehenga. Coordinated outfits do not always mean outfit designed from the same fabric or in the same colours. The main goal is to be in SYNC - even if the colours are as contrasting as primary blue and red.
Here are some more contrasting colour combination outfit ideas for your inspo.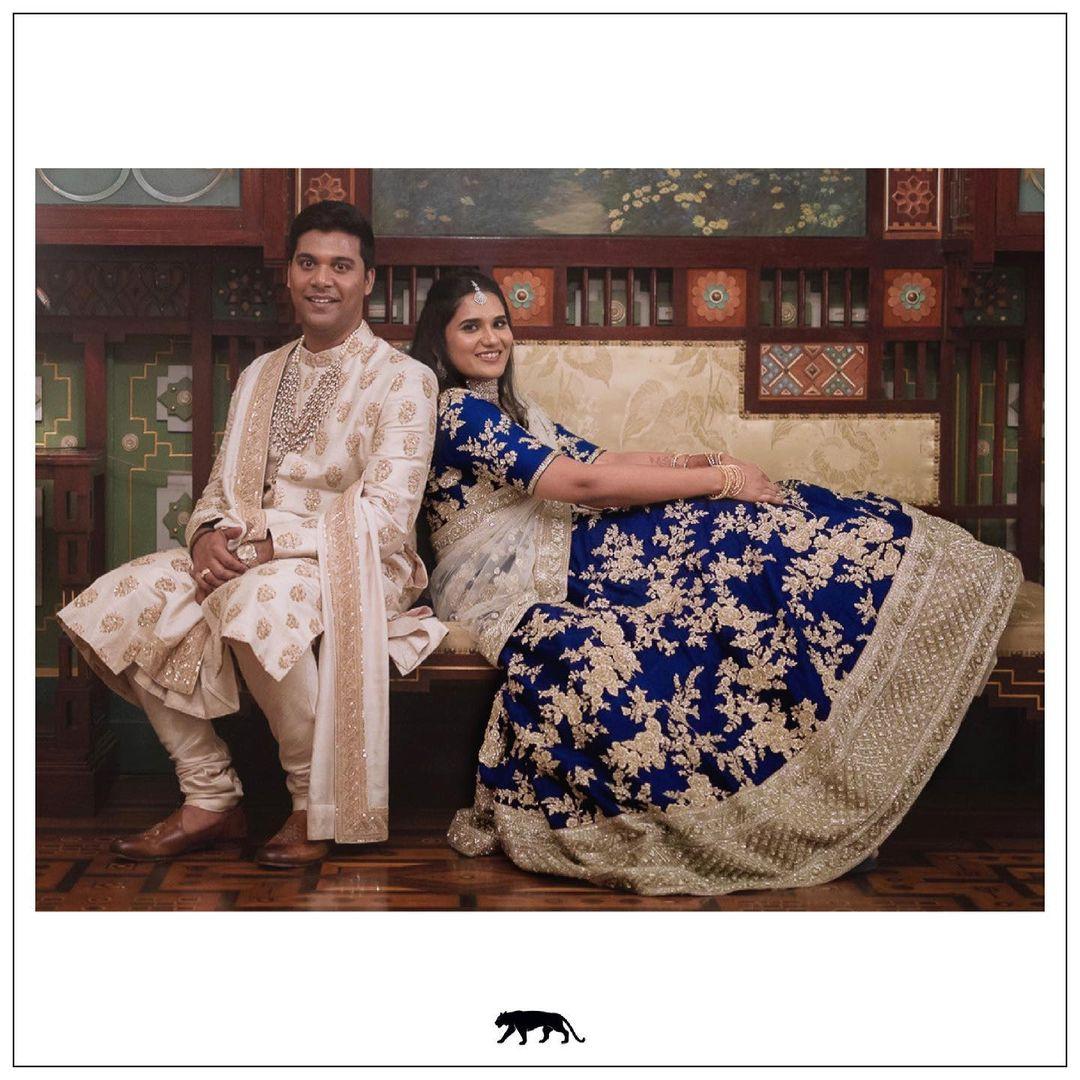 Image Courtesy: Sabysachi
If you are wondering what is the best pick for a blue contrast colour outfit for a wedding apart from red, well among all bright colours, it has to be white! These two colour combinations are also one of the best colour combinations that are embedded with royalty.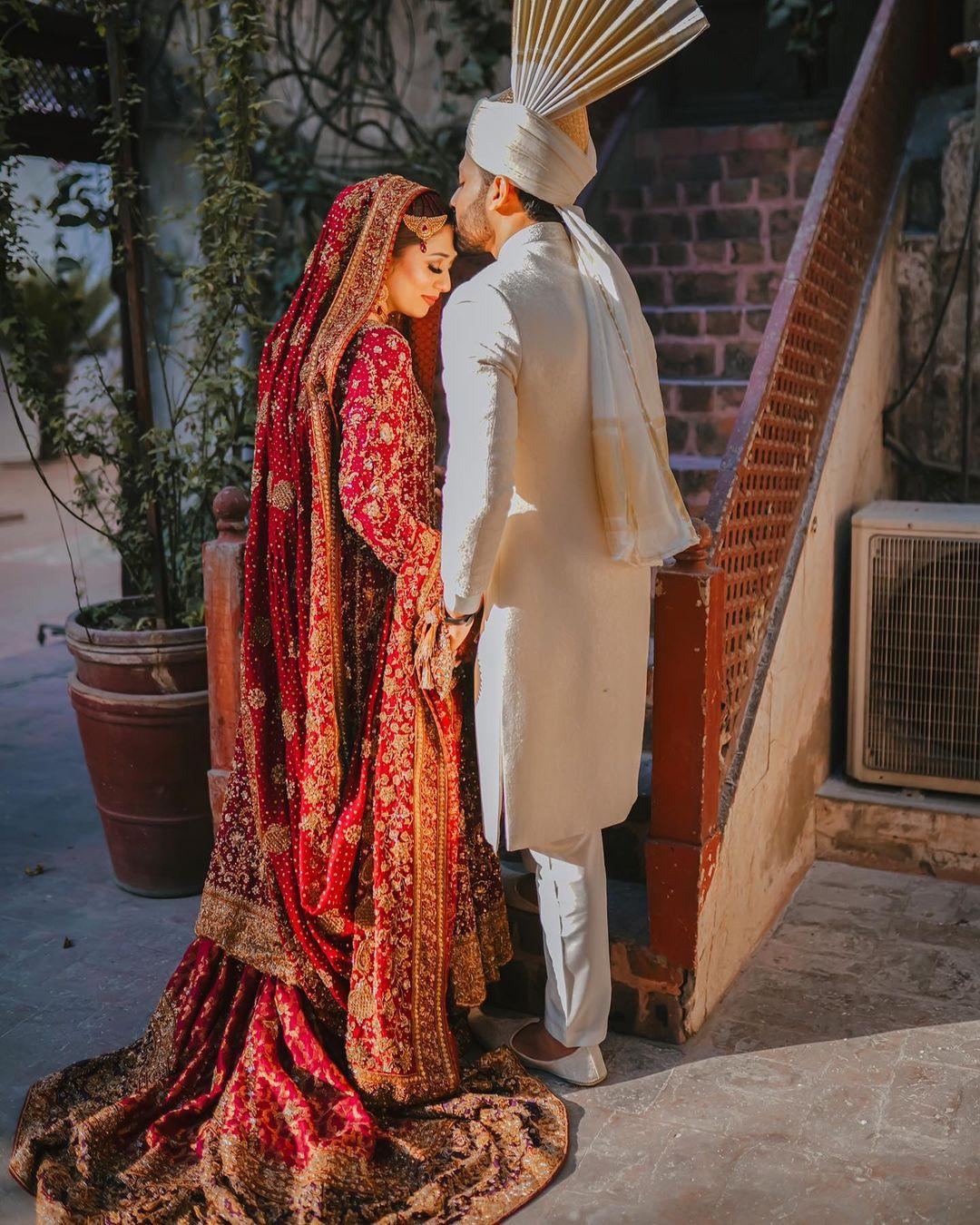 Image Courtesy: Izzah Shaheen Malik
There is no colour combination that speaks of love like red and white. The white with red colour combination pulled off by this couple is probably one of the best colour combinations to wear at the wedding.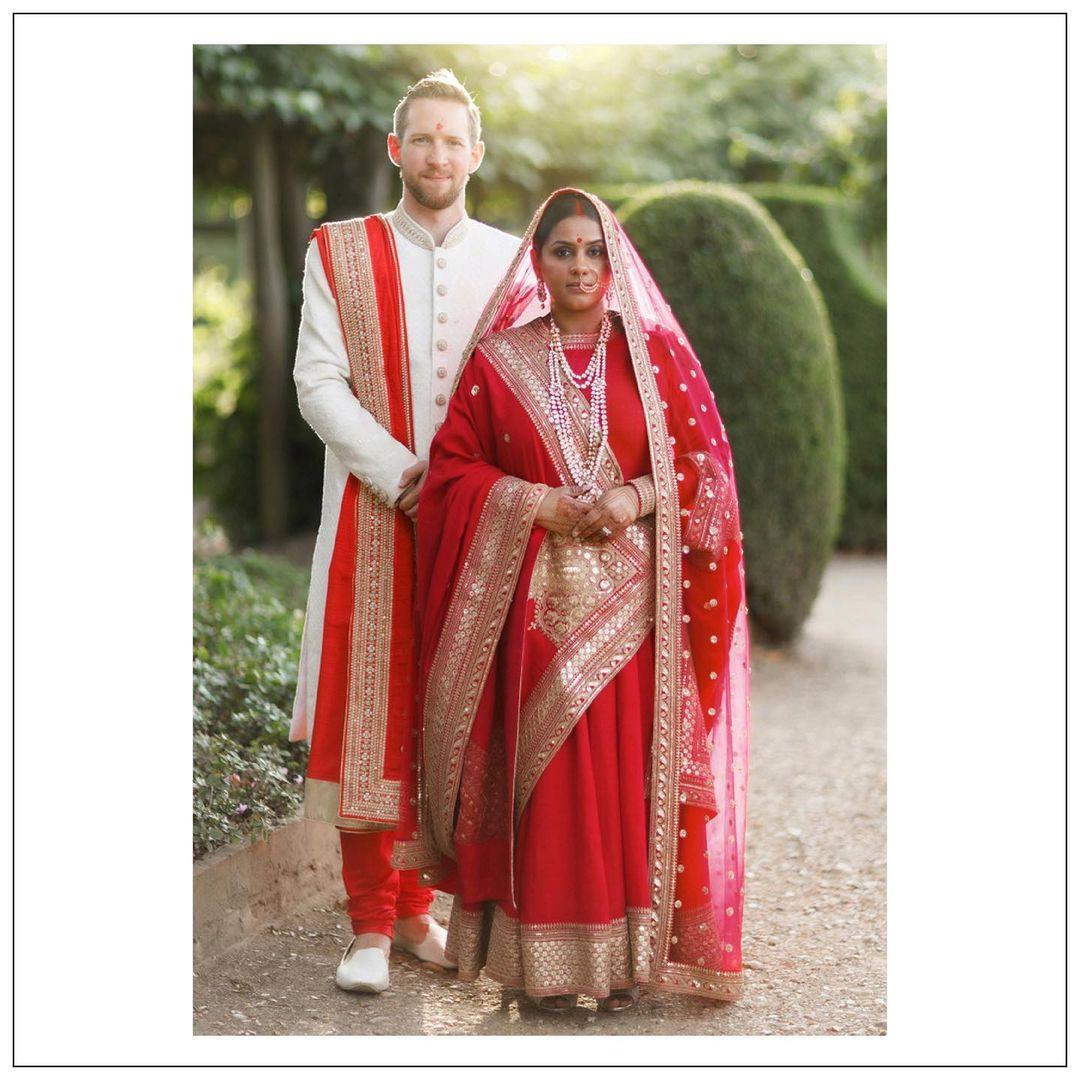 Image Courtesy: Sabyasachi
Red is the colour of weddings without any second thoughts. Despite the new trends following up - from maroon lehengas, velvet lehenga designs, green lehengas and yellow ones; the beauty of a traditional red lehenga is indomitable. However, the groom here has not worn a red sherwani and even though the combination of red and white if evergreen, the way the groom has taken the red stole that is exactly matching the bridal lehenga is impeccable coordination of outfits right there!
Also Read: The Resurgence of Red Lehengas
Metallic Colour Combination Outfits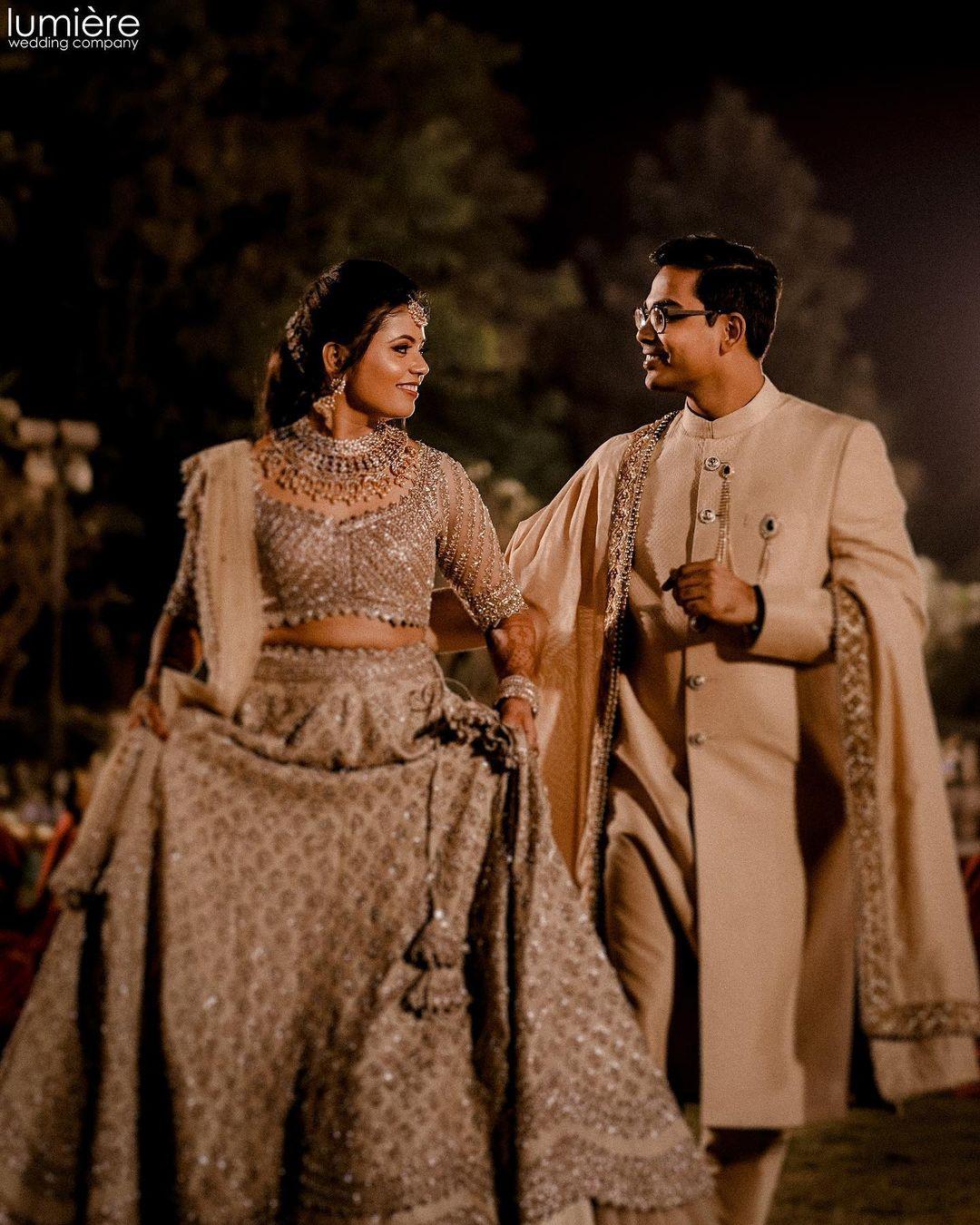 Subtle golden outfits are absolute goals, especially for a destination wedding setup. It is often misunderstood that the golden colour always has to be something gorgeous and blingy. However, there are various rose gold wedding outfits, silver ones and even proper golden metallic outfits worn by the bride and groom, that balance the bling and elegance finely.
To complete the look perfectly add baubles like a diamond necklace for the bride and a beautiful brooch for the groom. With the mellow lights of a nighttime ceremony at some dreamy venue like Umaid Bhawan Palace, you're all set to turn heads in your metallic colour coordinated outfits.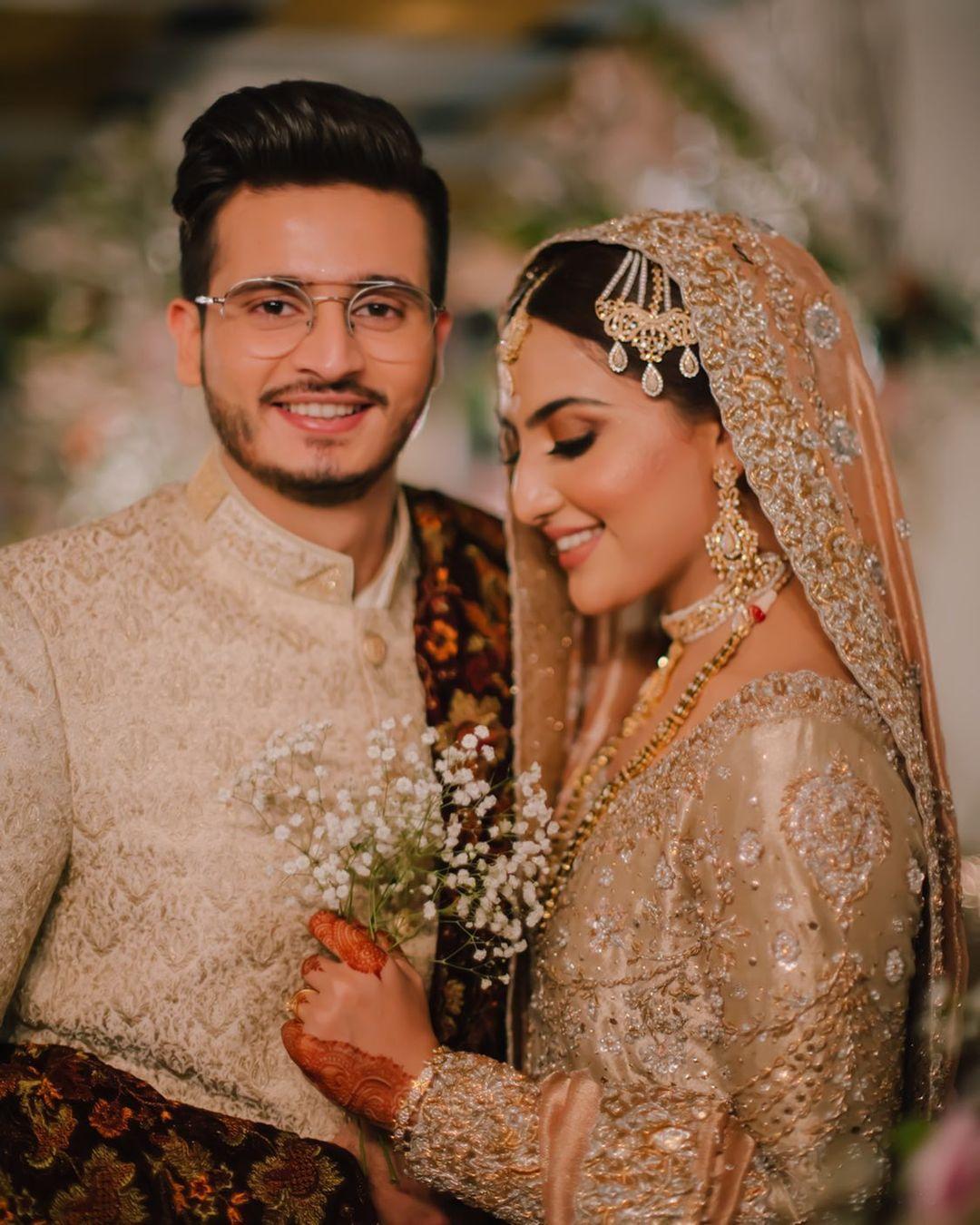 Image Courtesy: Izzah Shaheen Malik
Gold is a beautiful colour that one can pick for wearing at their wedding especially if it is a nighttime ceremony with the lights glimmering all around. The couple in their golden colour combination outfits for the wedding sure look ethereal.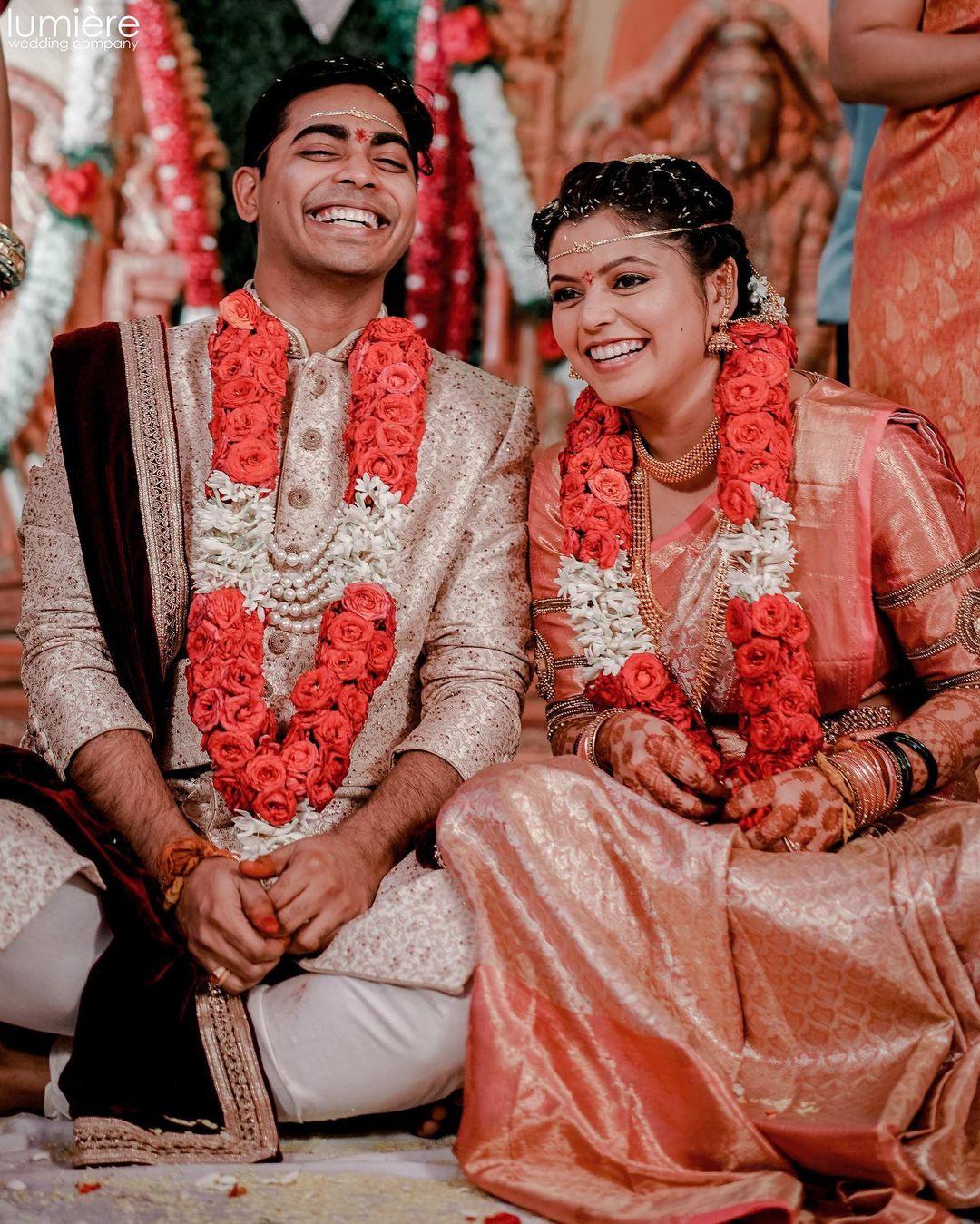 Temple weddings are a part of many cultural weddings in India and some other couples willingly opt for one even if it is not a hard and fast rule in their ceremonies. To ace the temple wedding look, this couple gives us absolute goals. The subtle sheen of silk sarees paired with the ivory sherwani with intricate embroidery in Resham makes for that perfect to the T temple wedding outfit. The smiles match too - a perfect ornament to add.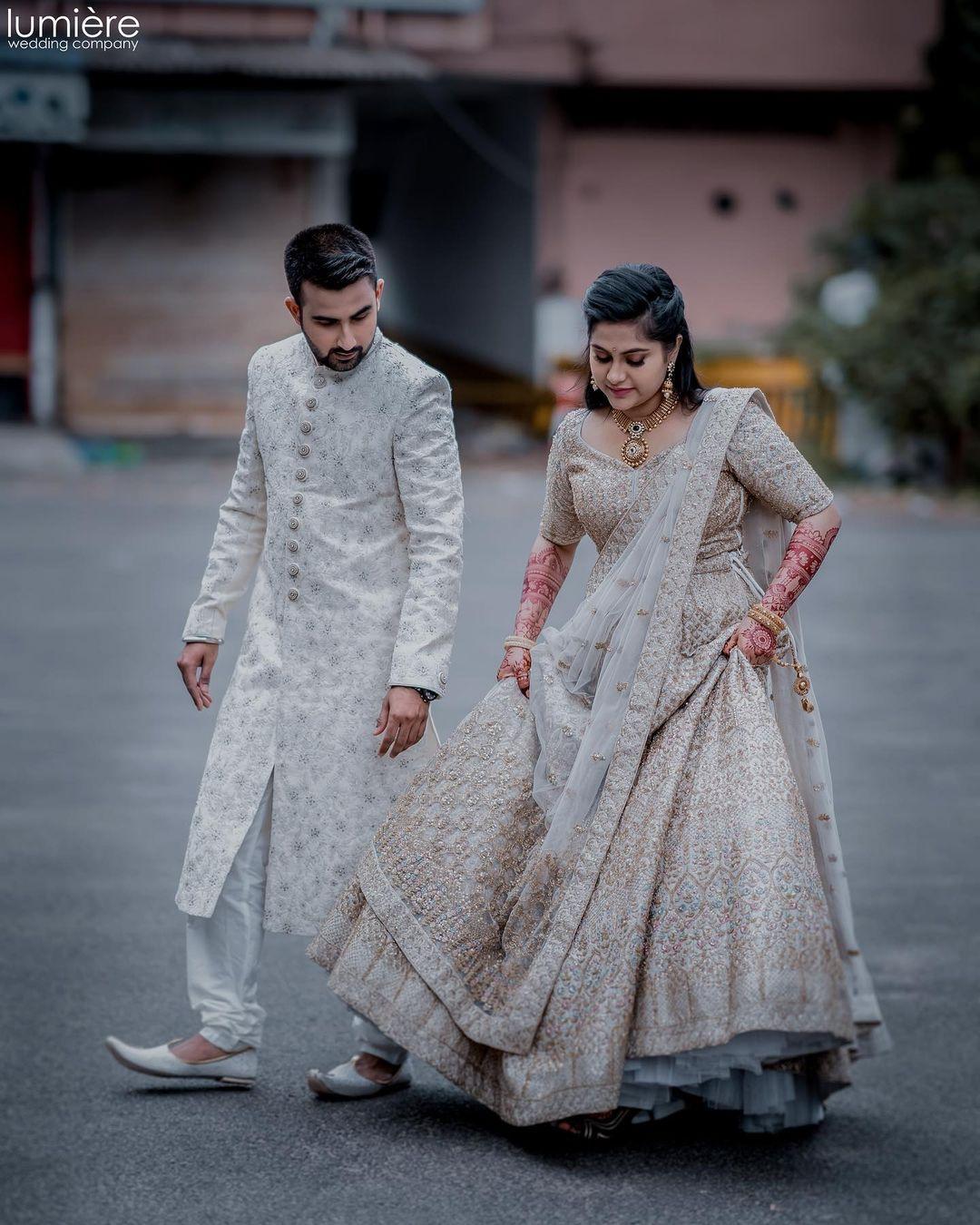 Grey colour combination is also a big hit with the millennials and this couple wearing their silver-grey colour combination outfits with the subtle sheen surely turned a lot of heads on their way down the aisle.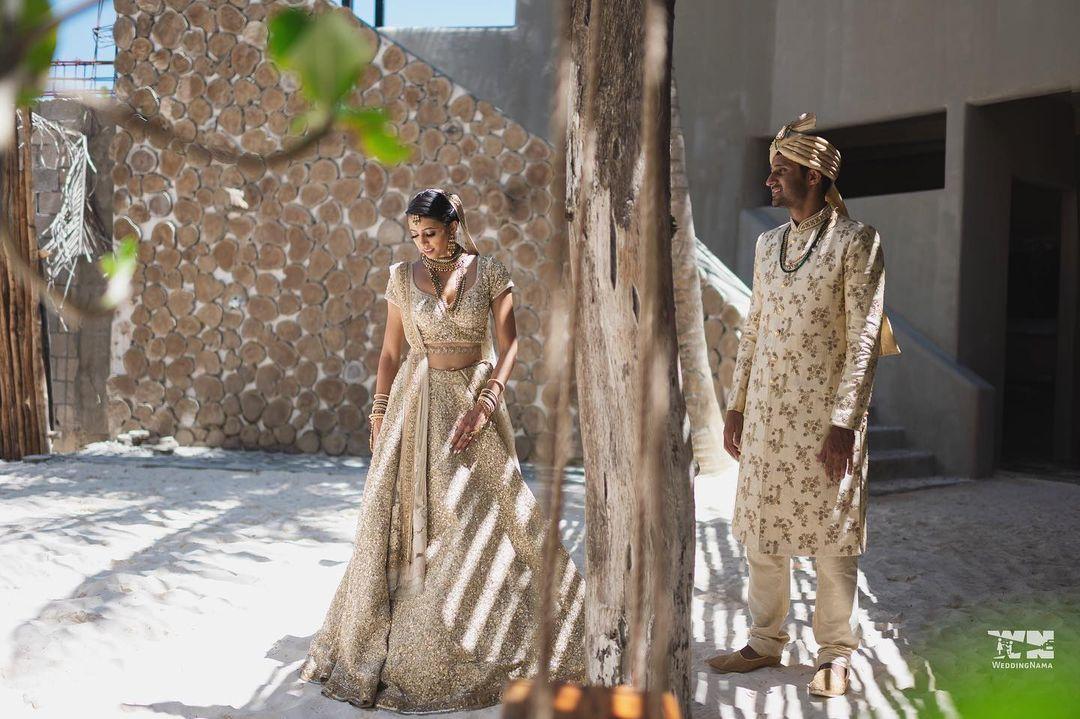 Beige is a very subtle colour and it is often preferred for day weddings. If you are also planning a wedding in the woods and are looking for the perfect outfit that will not stand out but at the same time create an unforgettable statement, then these beige or golden coordinated outfits are your go-to. Intricate embroidery in subtle hues celebrate a couple of the hour and at the same time, the subtle tones let you enjoy the backdrop perfectly.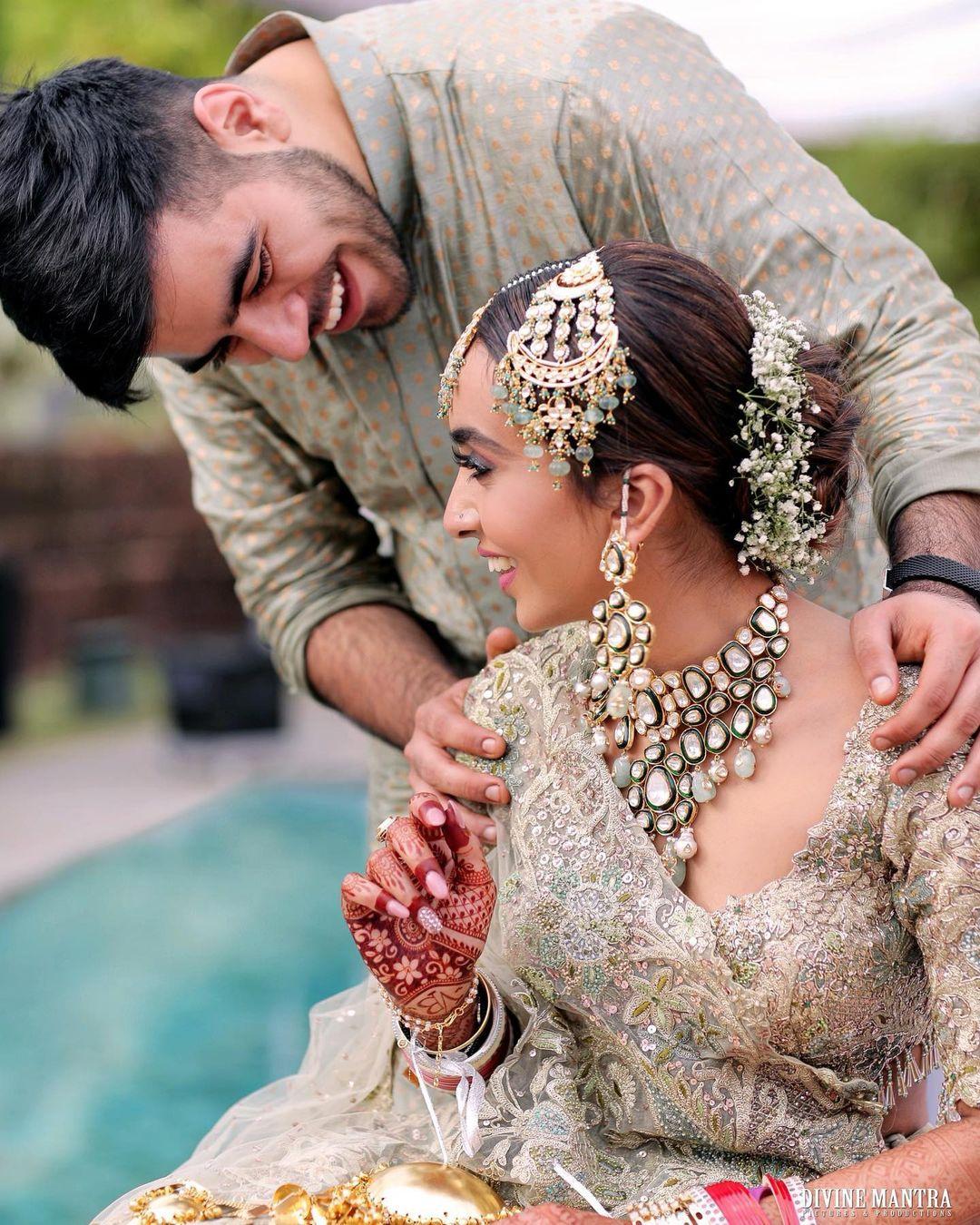 Another grey colour combination for the win. This outfit by Rimple & Harpreet worn by the bride looks divine with her Kundan haar and baby's breath on her bun hairstyle.
Also Read: The Metallic Wedding Lookbook
Off-White Coordinated Outfits for Couples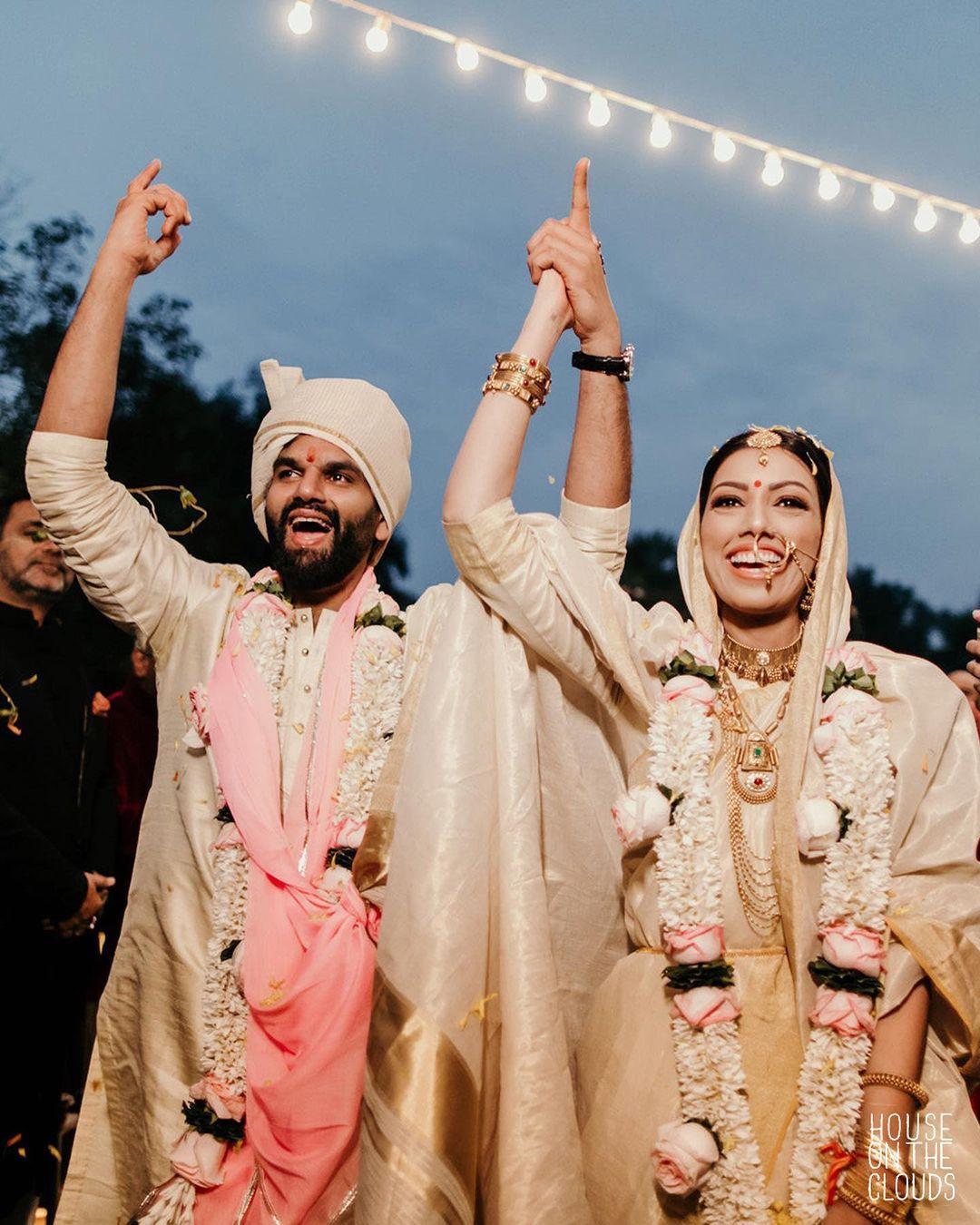 Image Courtesy: House On The Clouds
With intimate weddings being preferred by millennial couples more than ever, simple minimalist wardrobes have taken the wedding fashion world in a whirl. This couple in their off-white drapes look mesmerising as ever. For a home wedding, a backyard wedding or even a small temple South Indian wedding this couple outfit is going to seal the deal for sure. The groom in his serene off-white dhoti kurta and shawl matches the bride's off-white saree.
Off-white, ivory or cream colour combination for intimate wedding ceremonies is a big hit indeed. Check our some of the off-white and cream colour combination outfits that we have cherrypicked.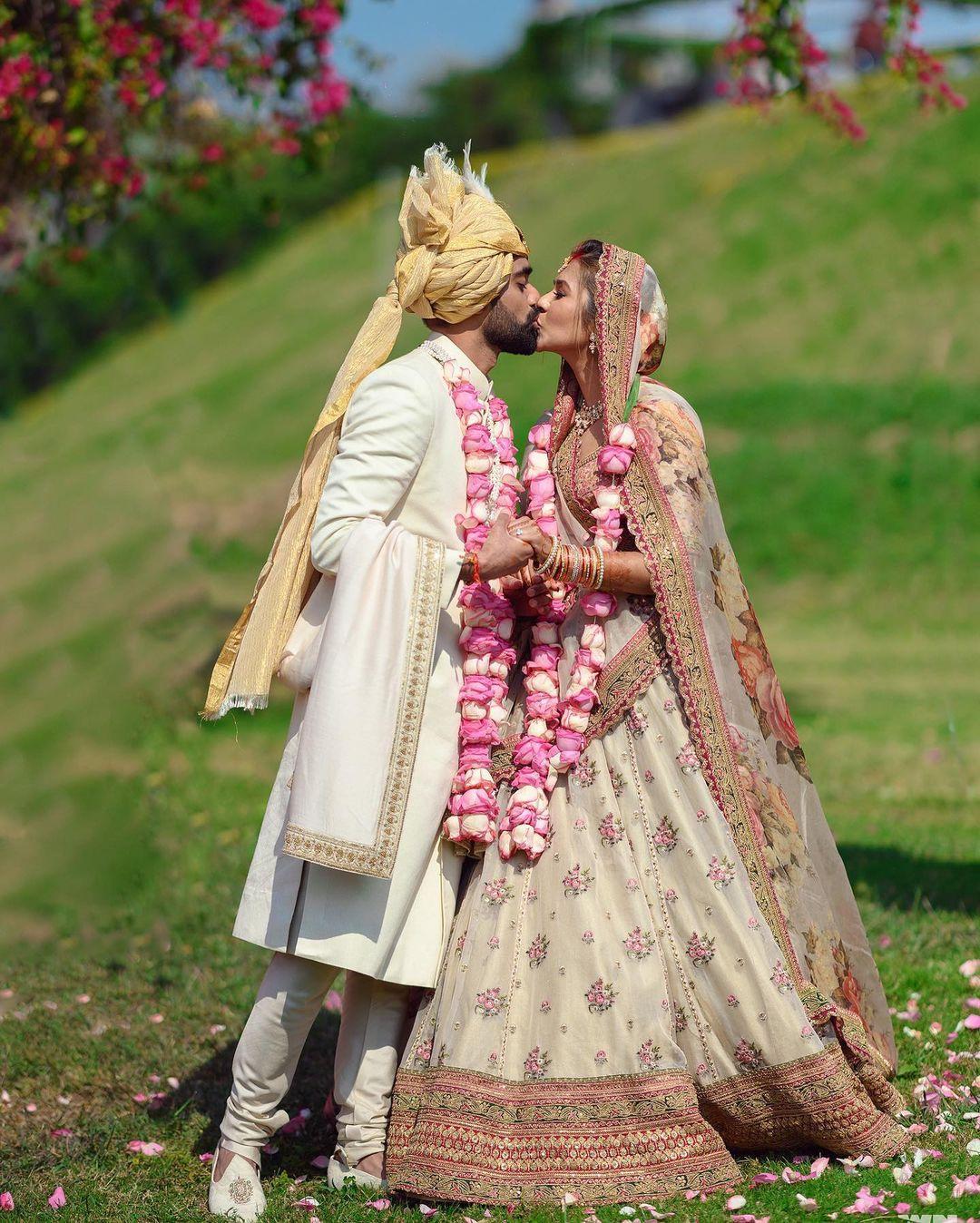 Image Courtesy: Sabyasachi
Another breathtaking Sabyasachi bride in her absolute best. This couple has kept the base colours of their outfits the same with variations in the design of course. The white base of both the outfits with the enchanting flower shower of white and pink rose petals is the cherry on top. It is very important to maintain the balance between the outfit and the theme of the wedding and this couples coordinated outfits is a benchmark!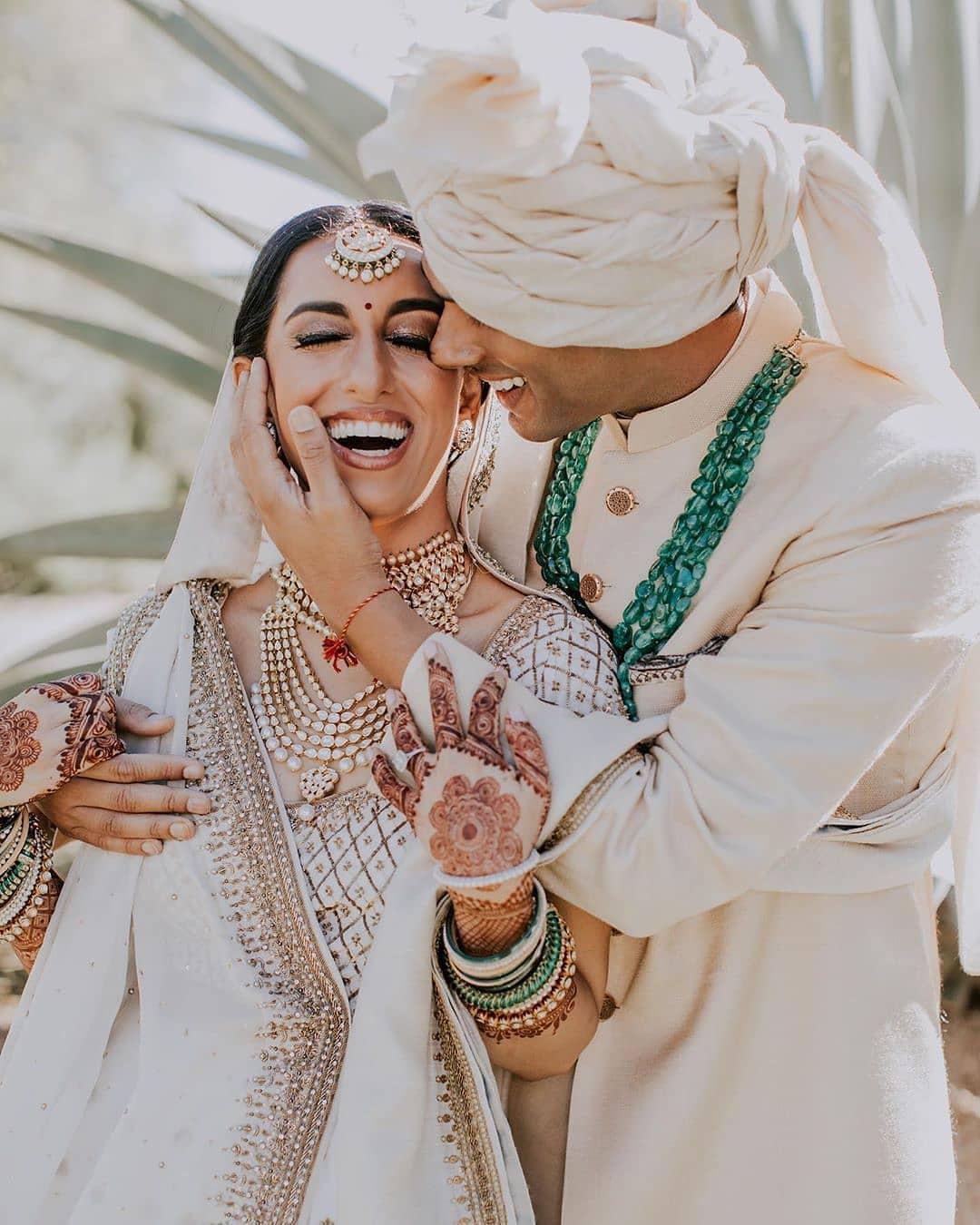 Image Courtesy: Ushna Khan Photography
Weaving magic in this photo, this couple has opted for cream colour combination outfits for their wedding. Even the groom's Safa abides by the colour combination.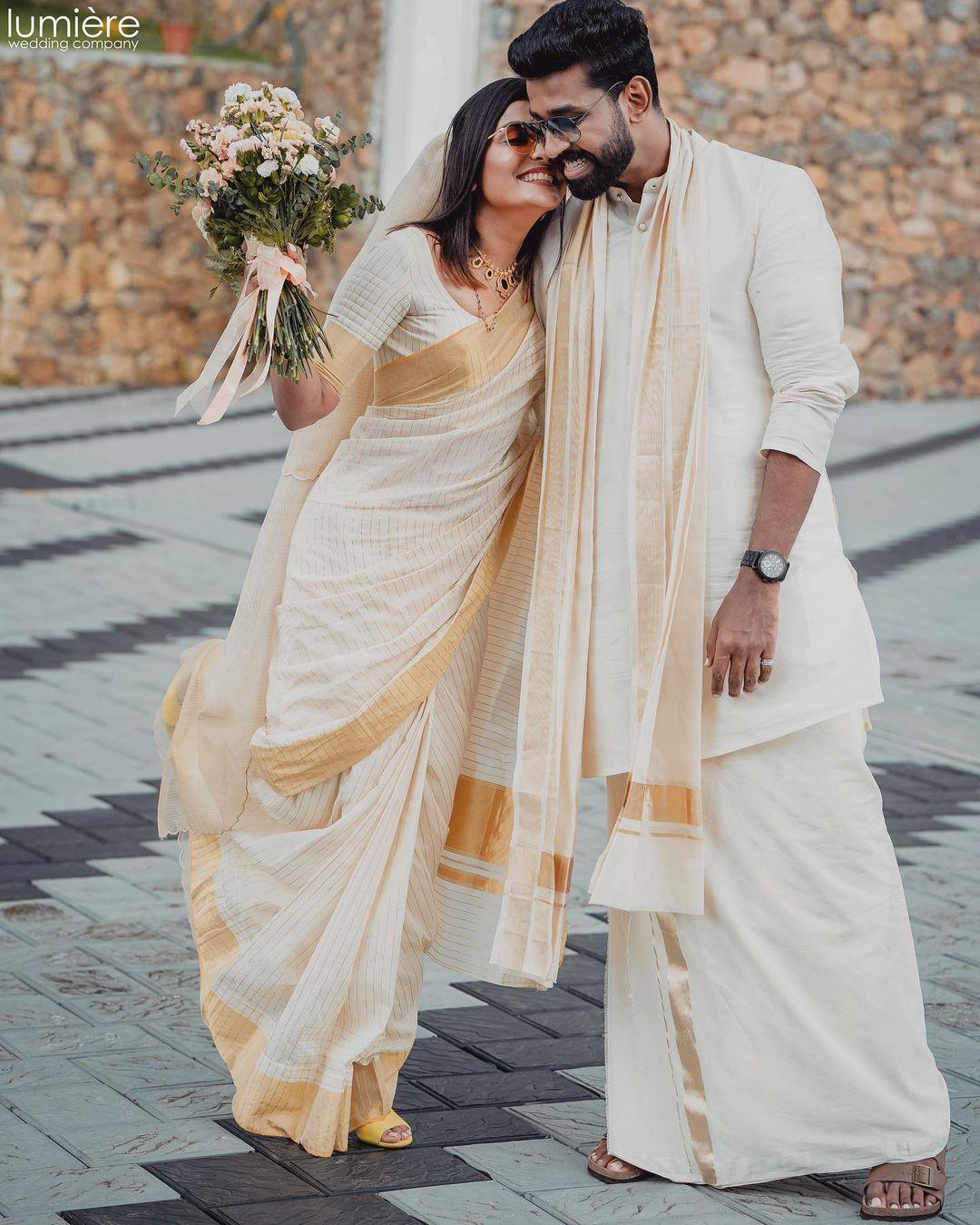 Kasavu sarees and the tranquil white with golden border look is typical of south Indian weddings. Keeping it simple for your temple wedding, especially for the south Indian brides and grooms - this cream pair of absolutely charming outfits are going to weave magic through the day while keeping it simple, subtle and comfortable. The elegance in the outfits lightweight nature and simplicity is everything.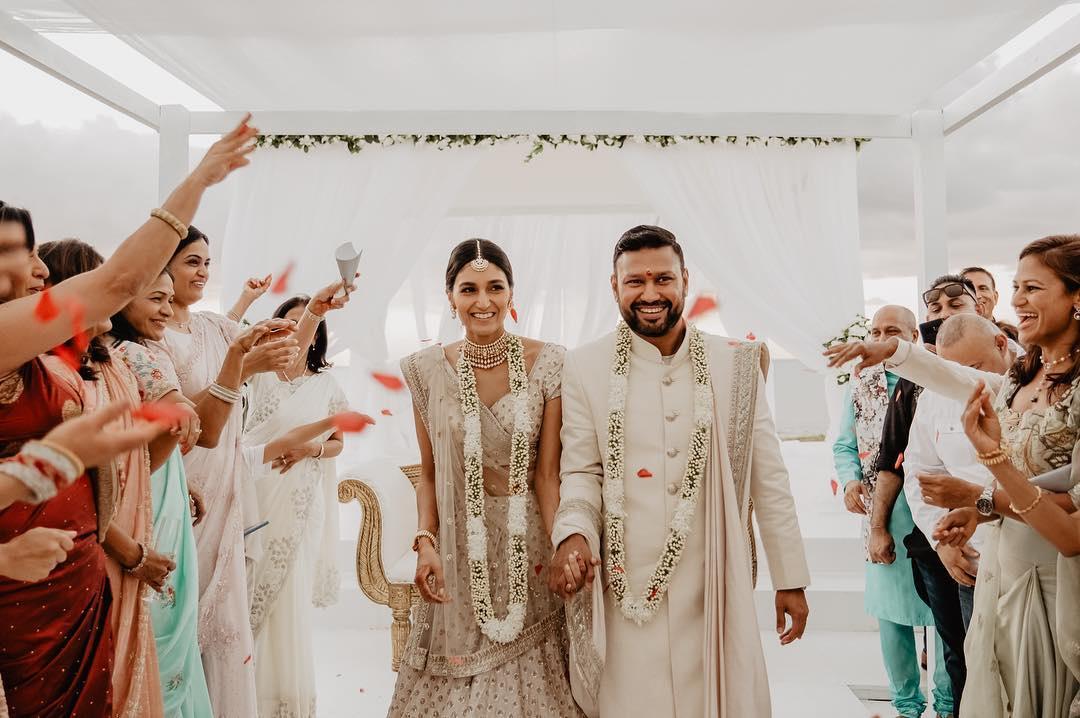 Image Courtesy: Kama Catch Me (Fiji Wedding Photographers)
Another gem for a boho themed beach wedding with the splashing waves in the backdrop and pristine white sands glistening in the light is this colour coordinated outfit picked by the couple. Cream colour or a shade of very light beige makes for a perfect wedding colour for day weddings and beach weddings. The couple can even go an extra mile with the bride pairing the second dupatta in a double dupatta draping style with the groom's shawl.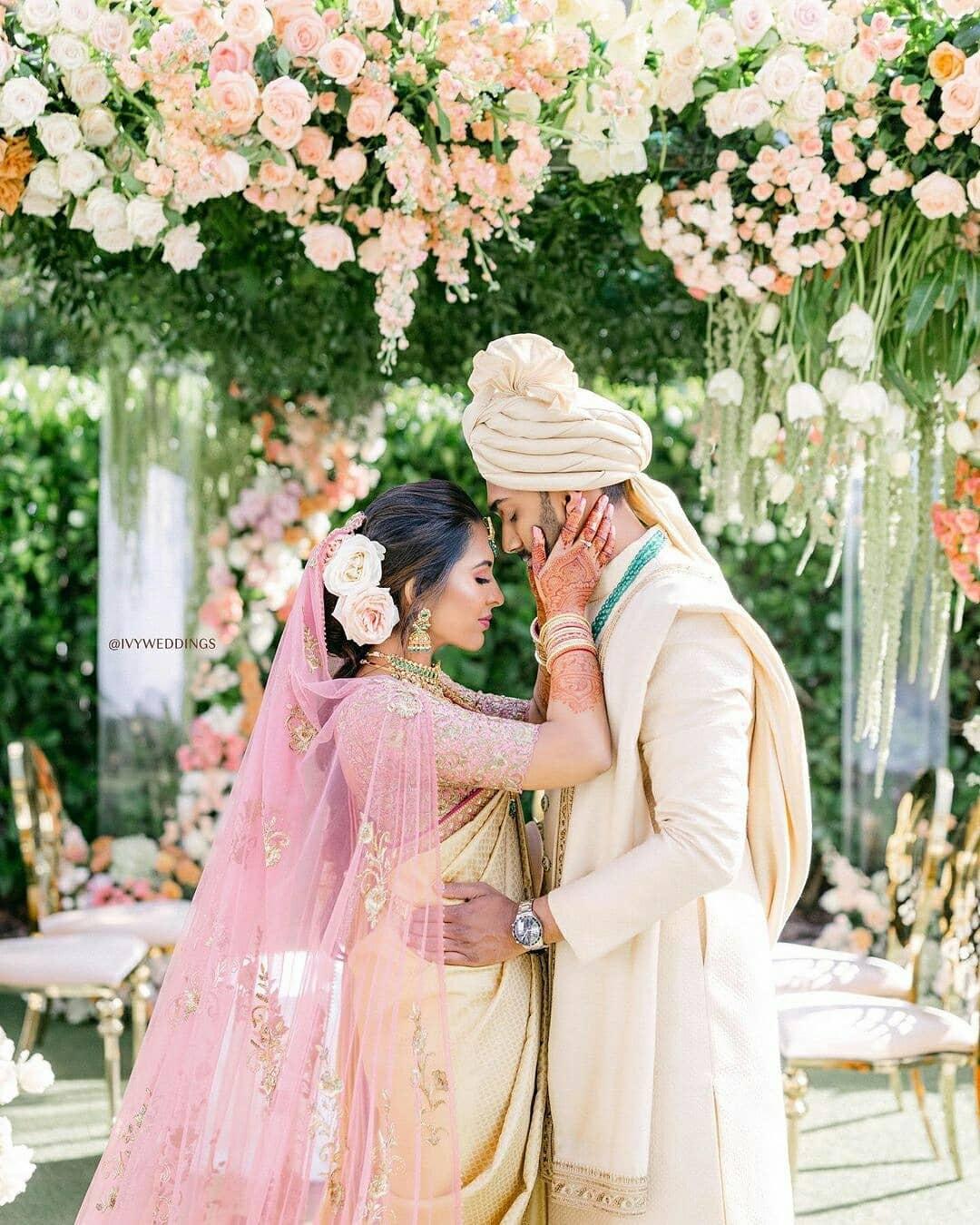 Image Courtesy: Ivy Weddings
Another beauty in cream captured in this photograph here makes our hearts swoon. The delicacy and exquisiteness of the bride and groom's cream colour combination outfits is a pleasant view for the beholder.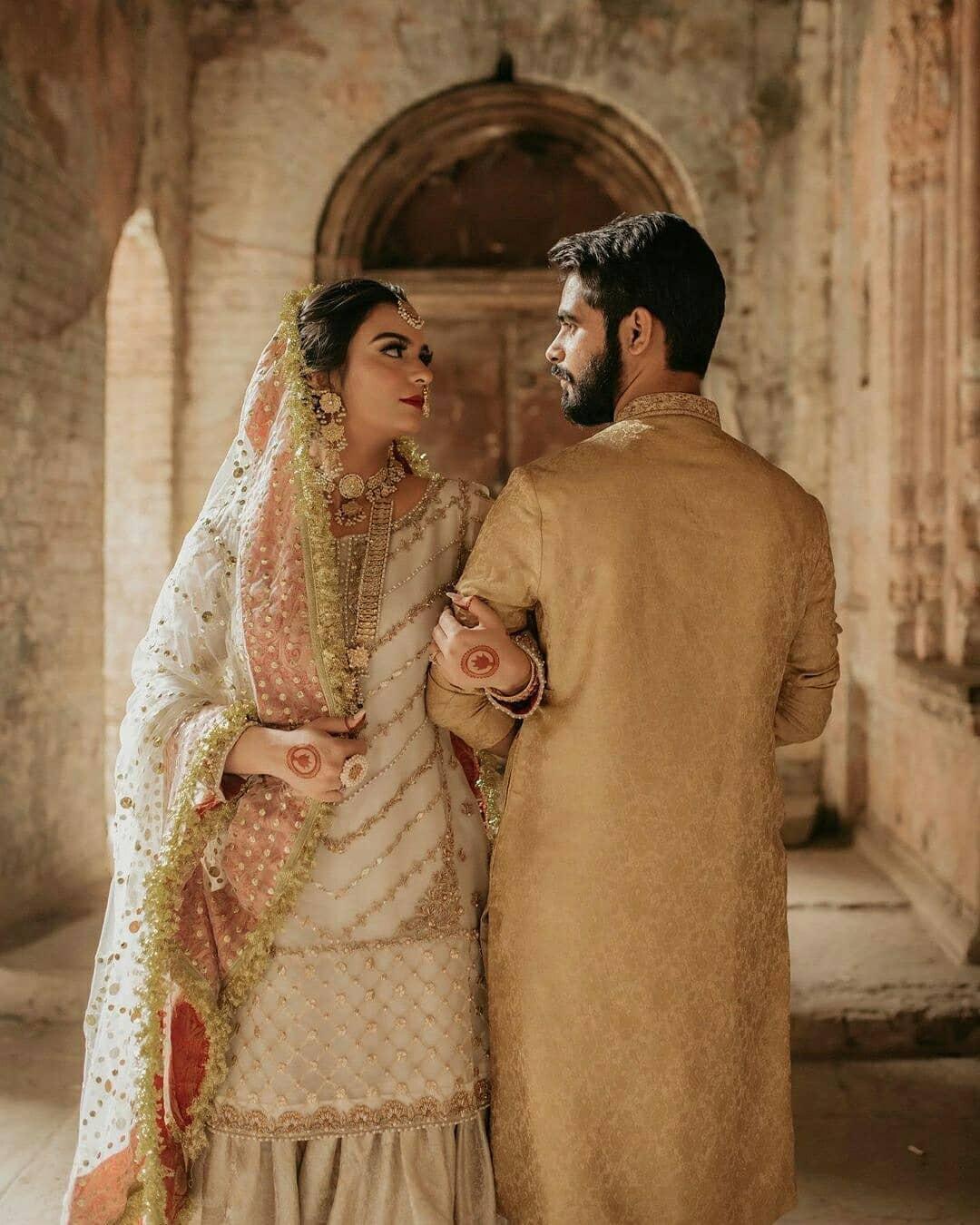 Image Courtesy: Naba Khalid
Keeping the essence of the cream colour alive, the serenity explored by the couple in their outfits is commendable. We absolutely love the gharara and the sherwani in cream colour combination.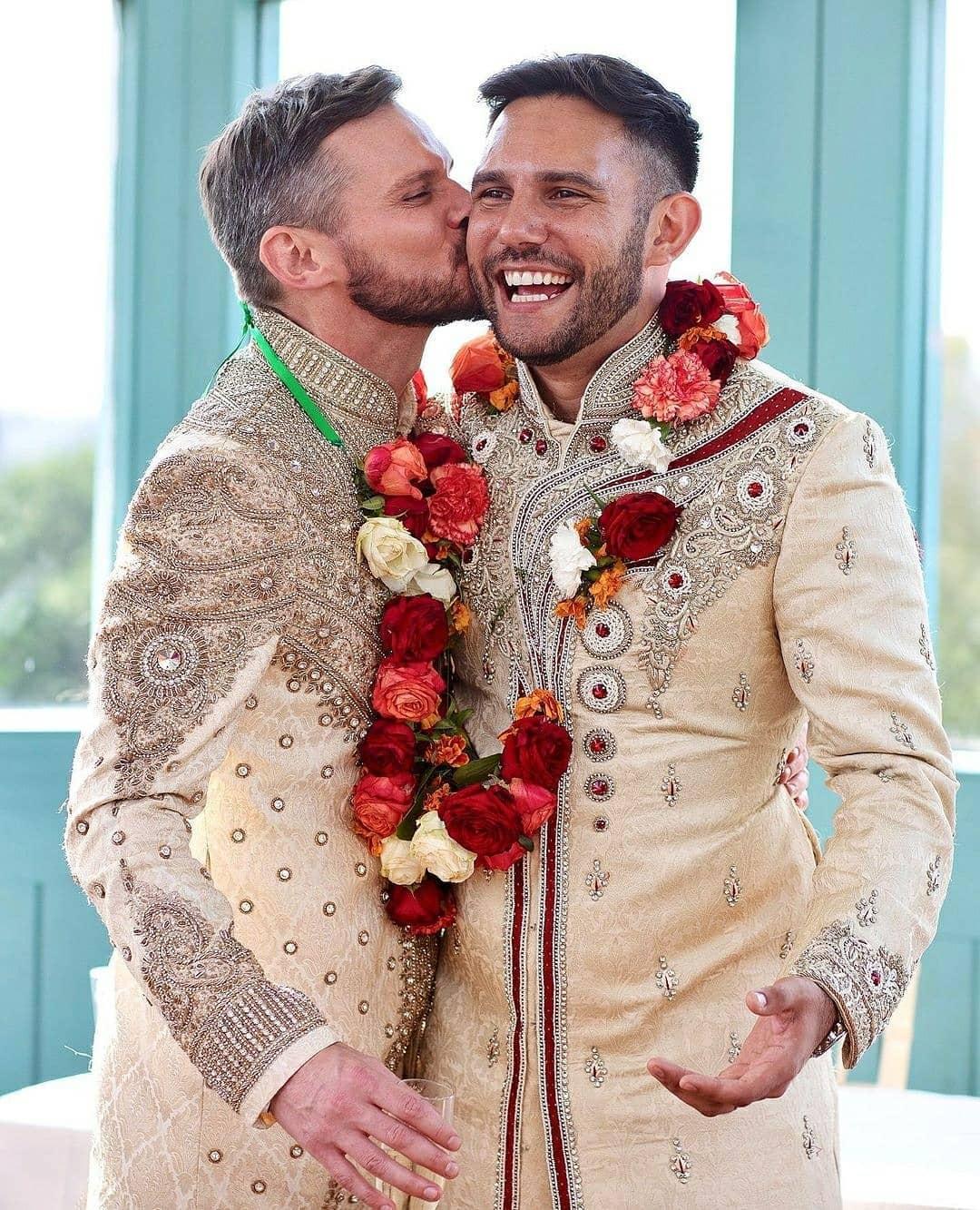 Image Courtesy: Reece Chapman Weddings
The adorable duo in their cream colour combination matching dresses looks all the more delightful. The cream-coloured sherwani that both the grooms have decided to wear for their big day is a big hit!
Red Colour Coordinated Outfits for Bride & Groom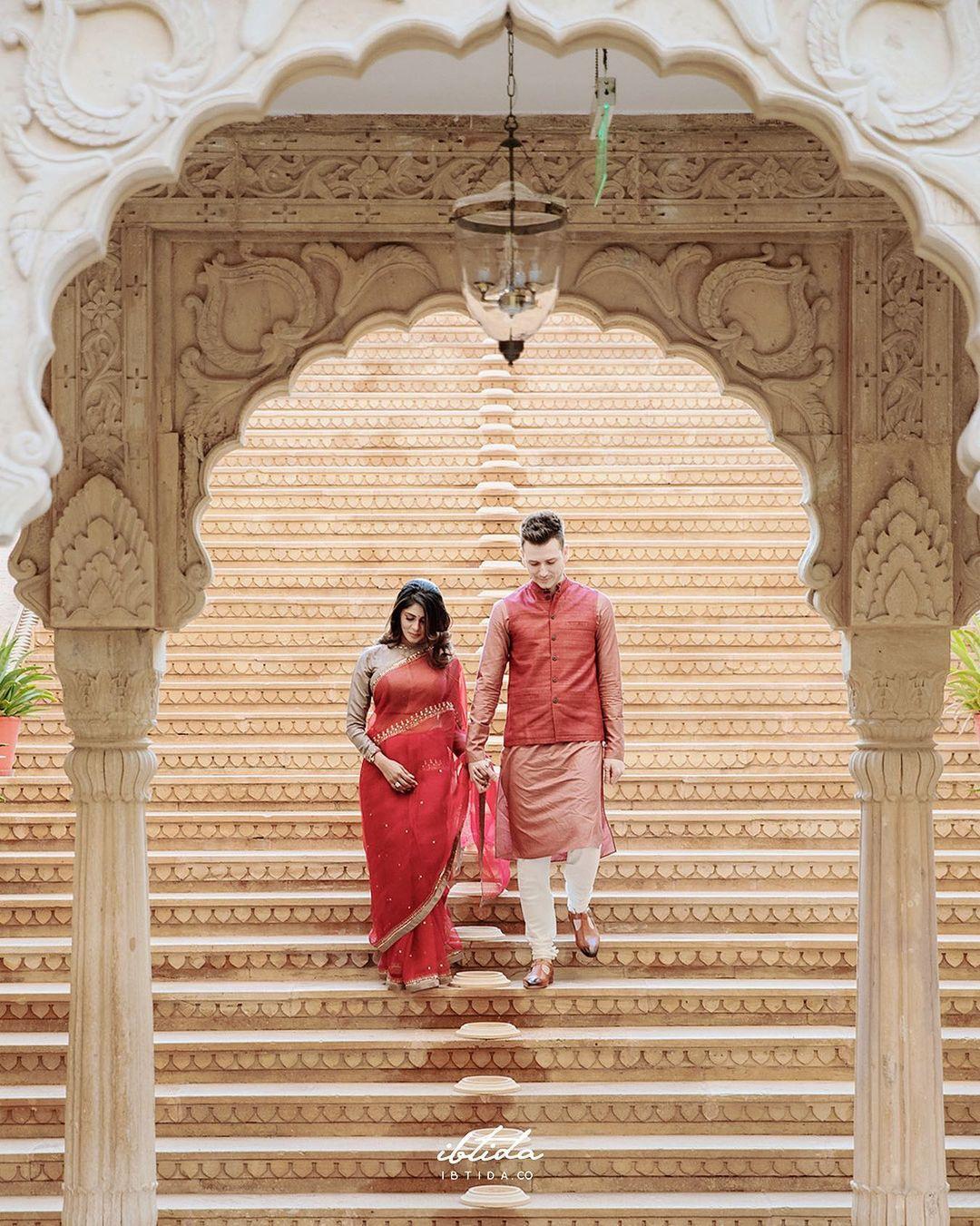 Image Courtesy: Ibtida
For a day wedding ceremony, this crimson outfit pick for the bride and groom is perfect. Especially if you are planning to keep the outfit simple and sober, this beautiful crimson saree and a rust orange kurta with crimson Nehru Jacket in raw silk look perfect. Crimson is the colour of weddings and to keep it ethereal pair the saree with a golden blouse and the groom can complete the look with a dapper pair of shoes. The rustic yet royal setting complements this look so beautifully.
Red is the most popular and pious colour when it comes to Indian weddings. Celebrating the culture while making sure you and your partner look gorgeous, here are some of our best red colour combination outfit ideas.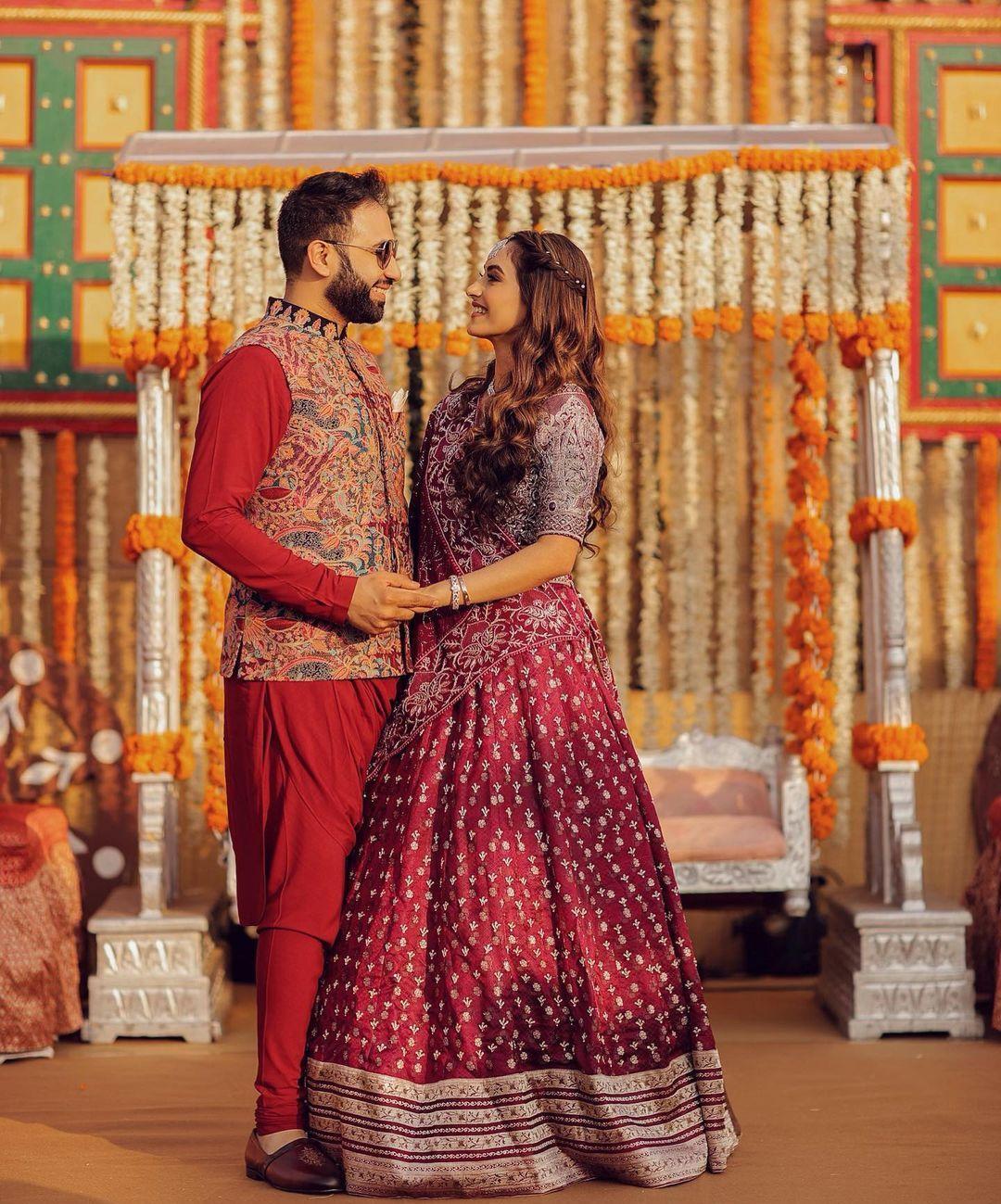 This red colour combination outfit worn by the couple in the photograph is more like a maroon colour combination outfit. The rich colours of the bride's maroon lehenga and the groom's Kurta with jacket look are setting a vibe.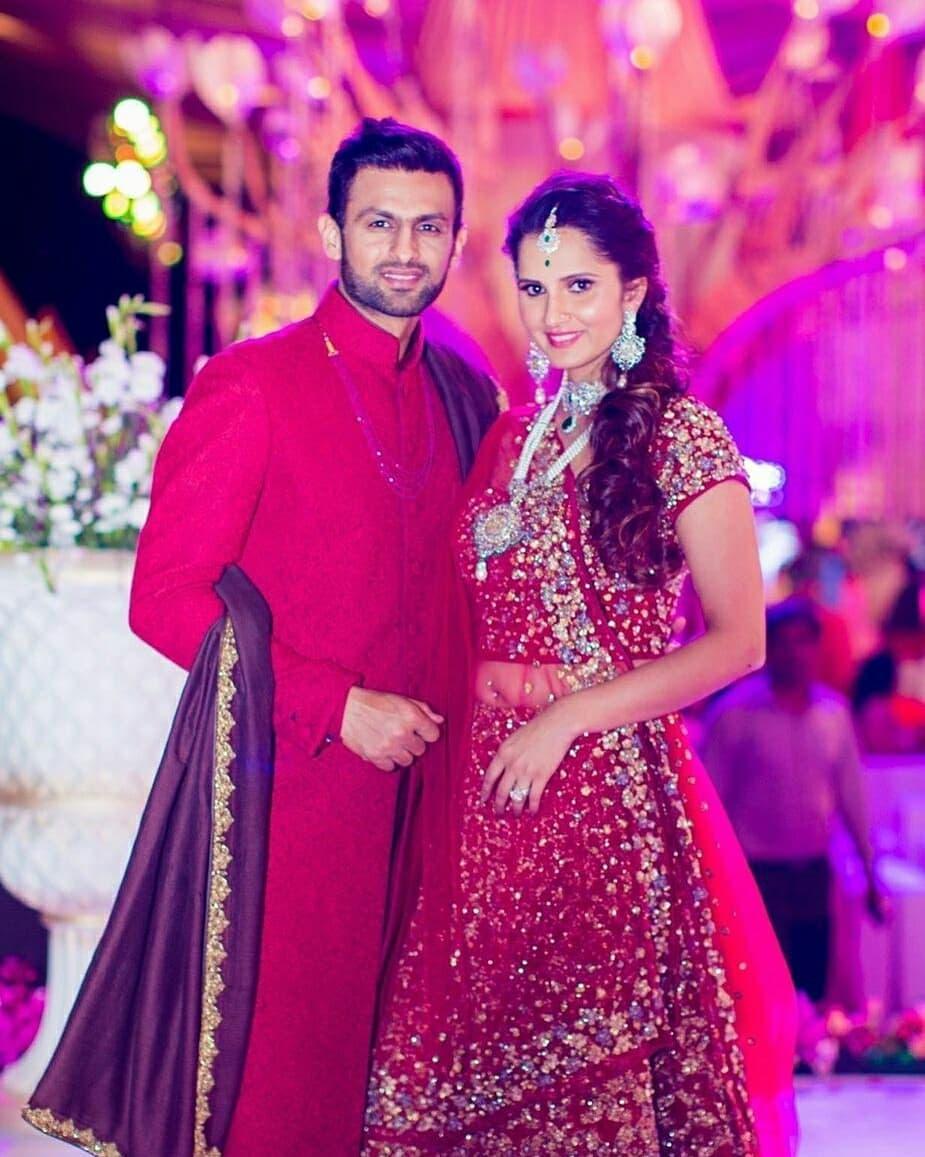 Image Courtesy: Shoaib Malik
Tennis diva Sania Mirza and her beau Pakistani cricketer Shoaib Malik have complemented each other in their red colour combination outfits so beautifully and benevolently that the picture seems to charm us even today!
Coordinate Your Yellow Colour Dress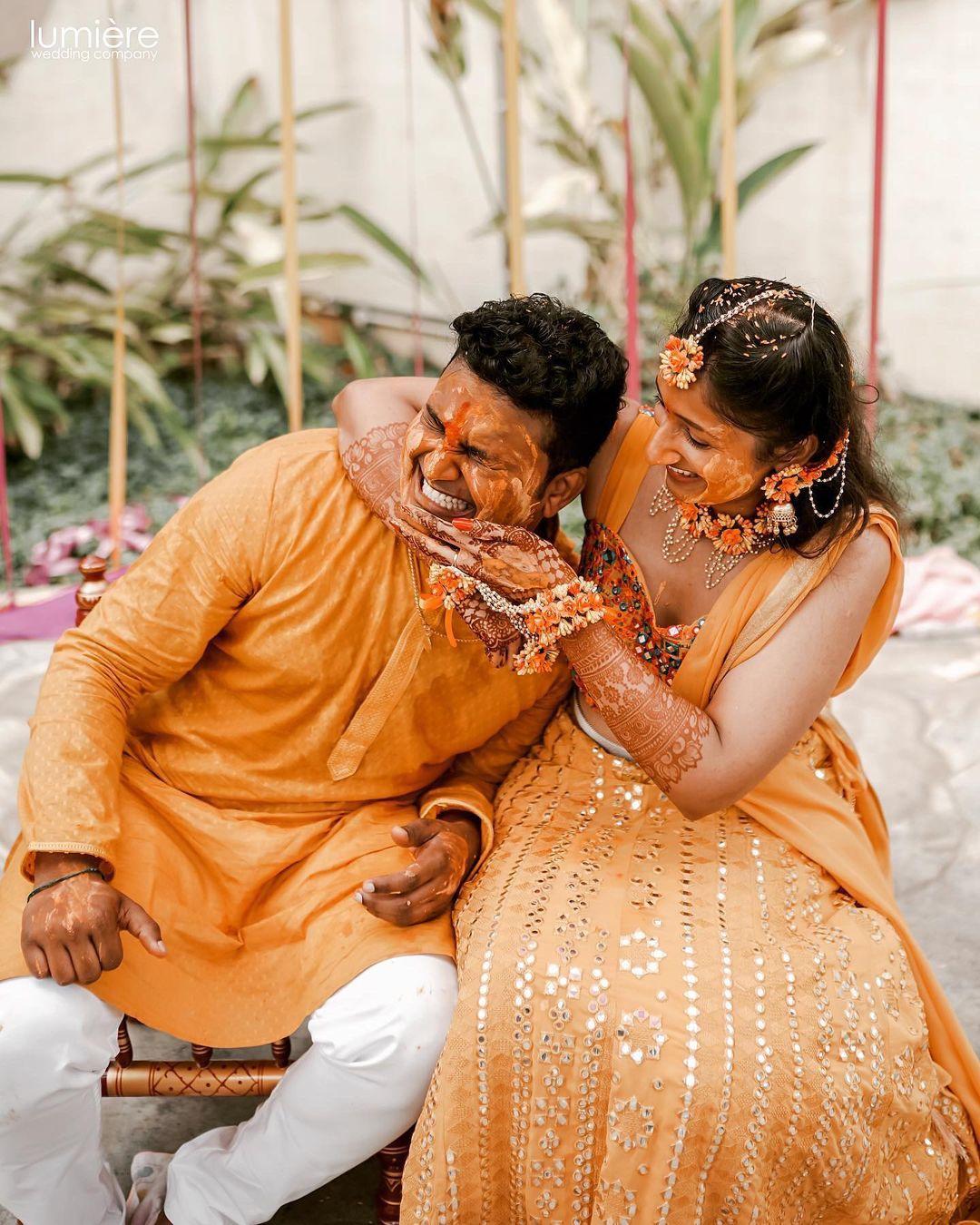 Most brides and grooms wear yellow colour dresses for the auspicious Haldi ceremony. No matter what the occasion is if you are planning to pick a yellow dress for yourself, here are some ways to flaunt a yellow colour combination and coordinate with your partner for the ceremonies.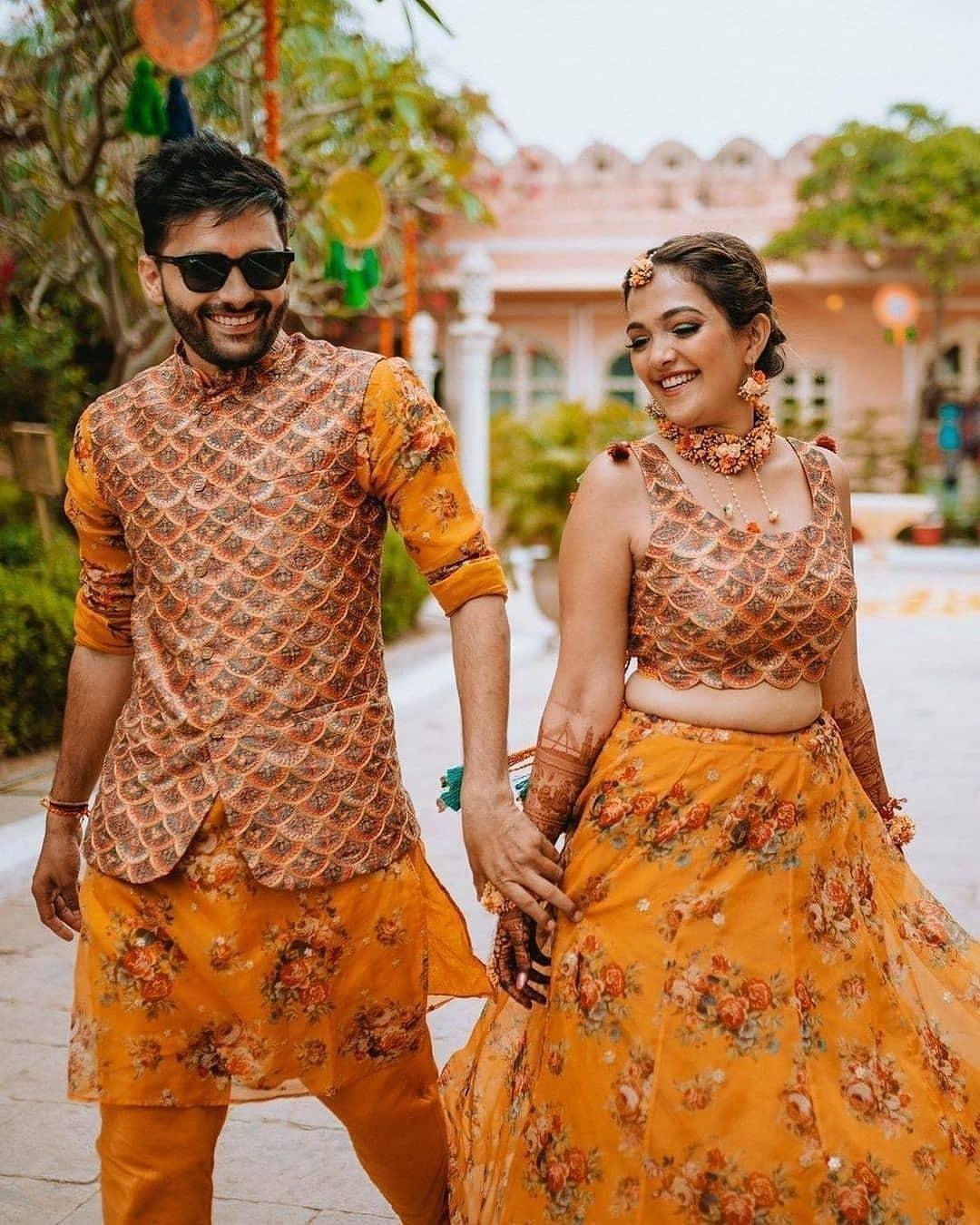 Did we say how sporty these two look? The sleeveless blouse of the bride and the groom's Nehru jacket, catch perfectly and the floral yellow kurta worn by the groom matches the yellow lehenga of the bride. They look inseparable/
Purple Colour Combination Outfit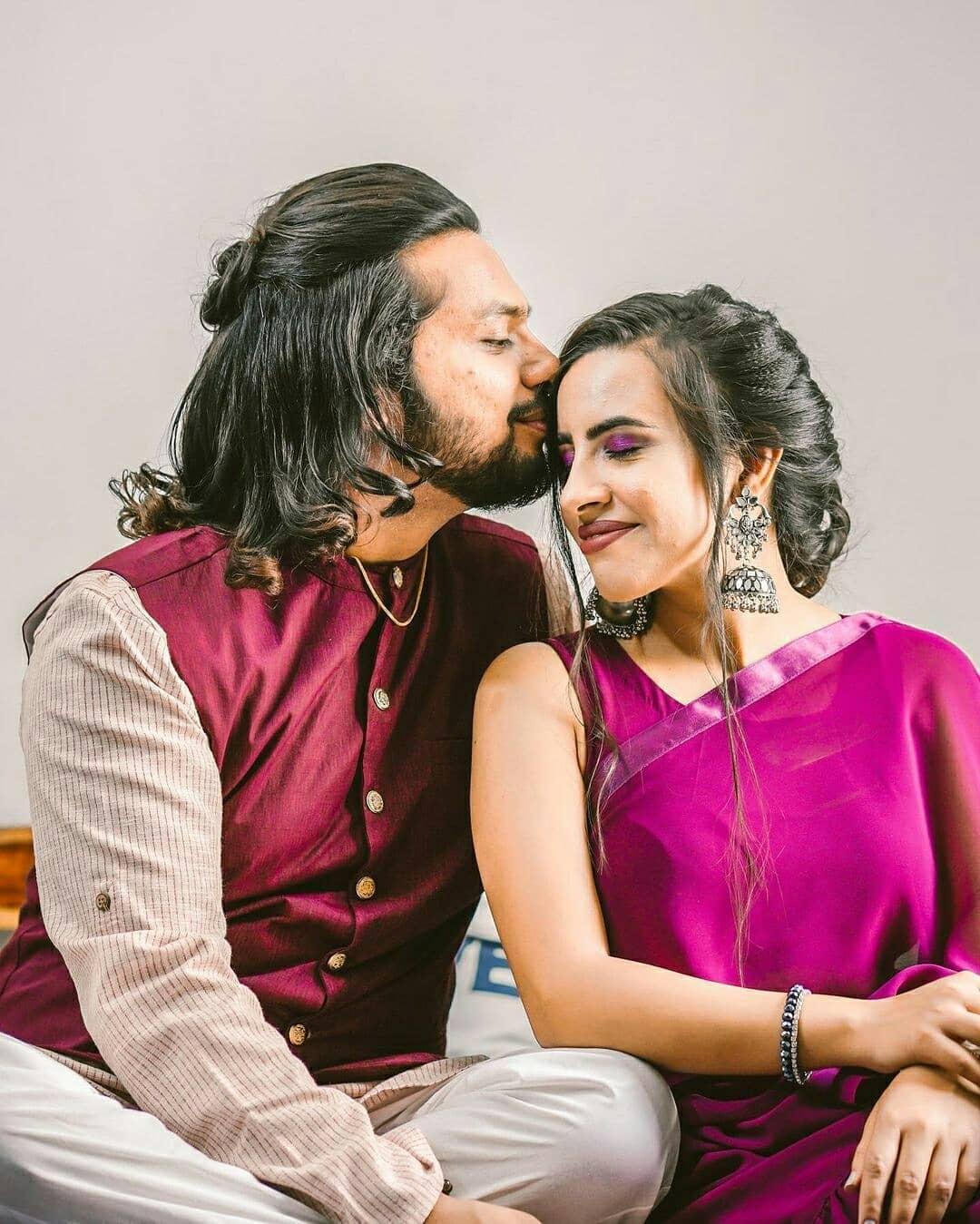 Looking just perfect together, this charming duo brings out elegance by picking an offbeat colour combination like purple. This purple colour combination of the bride's saree and the groom's jacket surely fits the intimate wedding ceremonies perfectly.
Also Read: Check Out These Latest Purple Lehenga Designs for Inspo
Outfits From The Green Colour Palette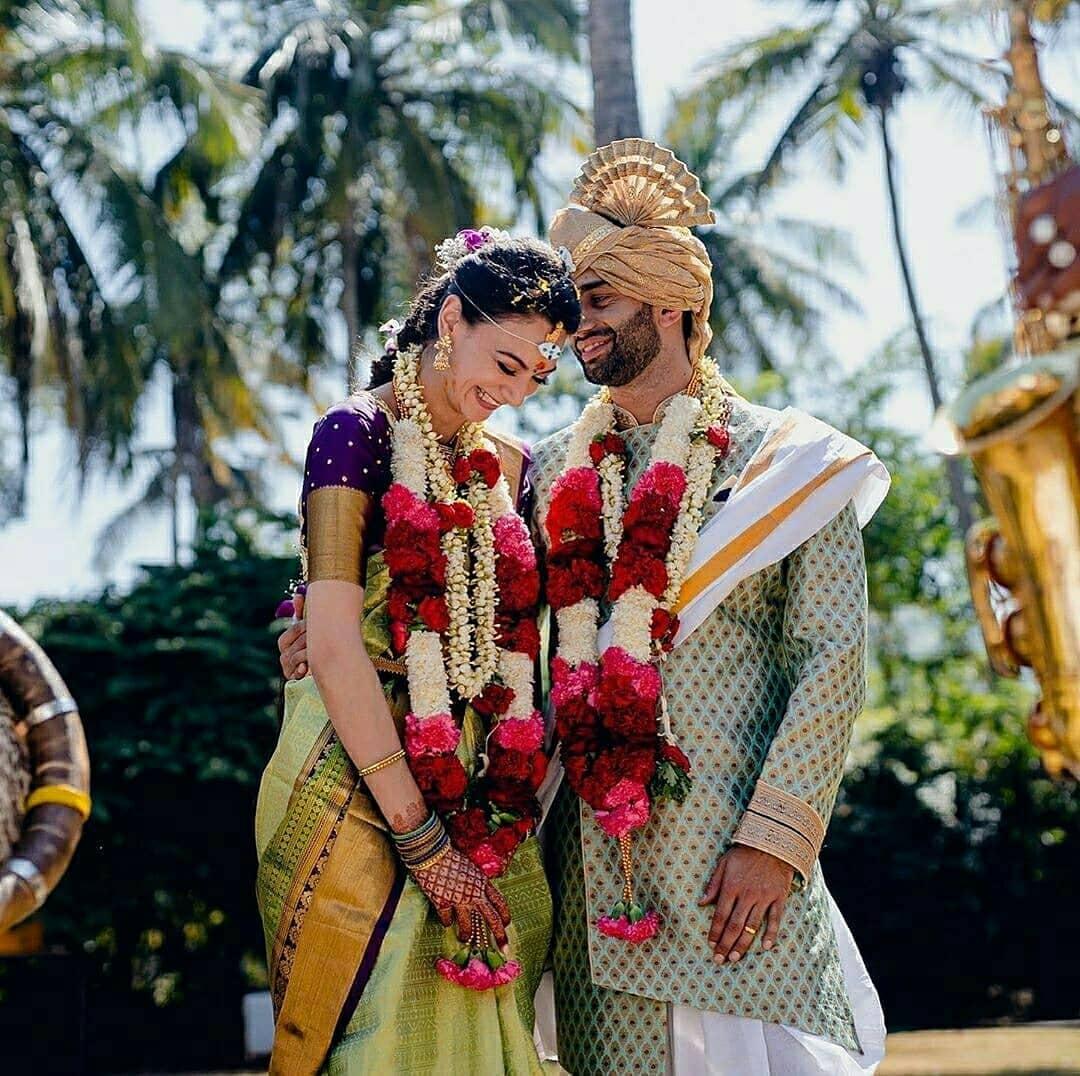 Green is again a colour that is mostly picked by couples for their Magical mehndi ceremony outfits but there are many brides and grooms who have opted for a green lehenga or a green shirt with pant for their wedding and pre-wedding too.
Here are our top green colour combination picks.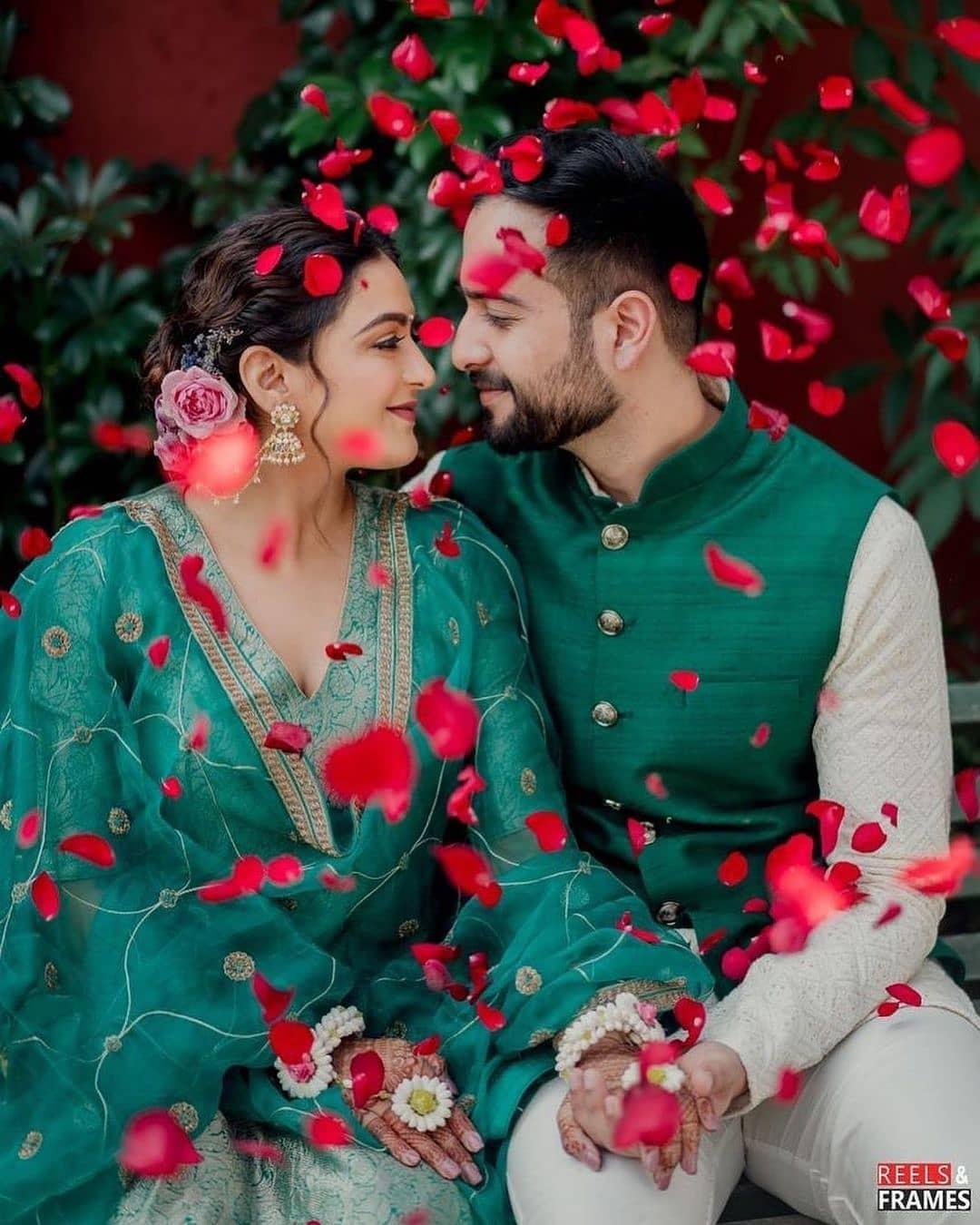 Don't we instantly fall in love with the silk green lehenga of the bride and the groom's stunning Nehru jacket in green that completes the bride's green look for the ceremony?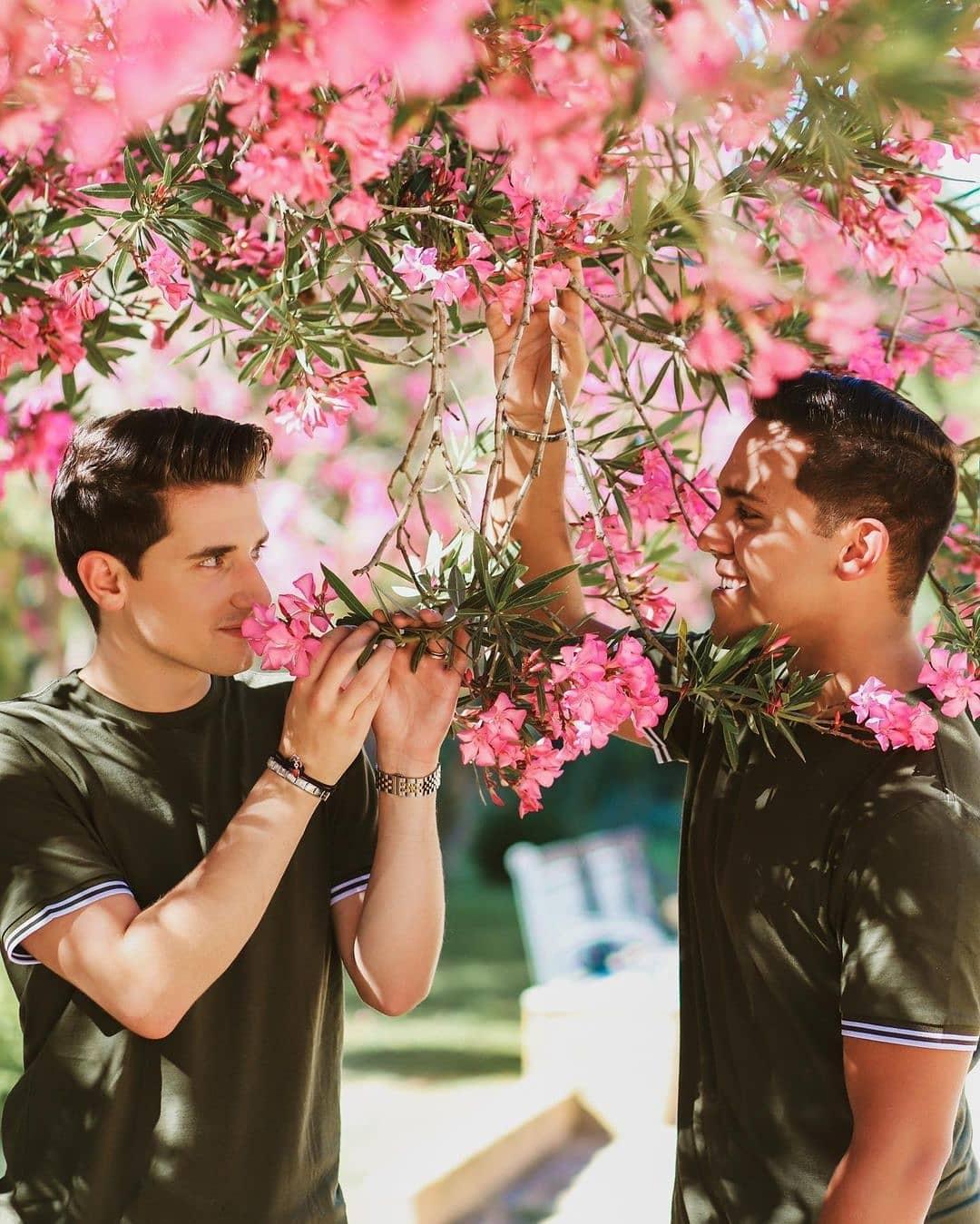 Image Courtesy: Hiram & Ben
Why stick to mehndi when you can pick green colour combination outfits for your pre-wedding shoot too? Inspired much!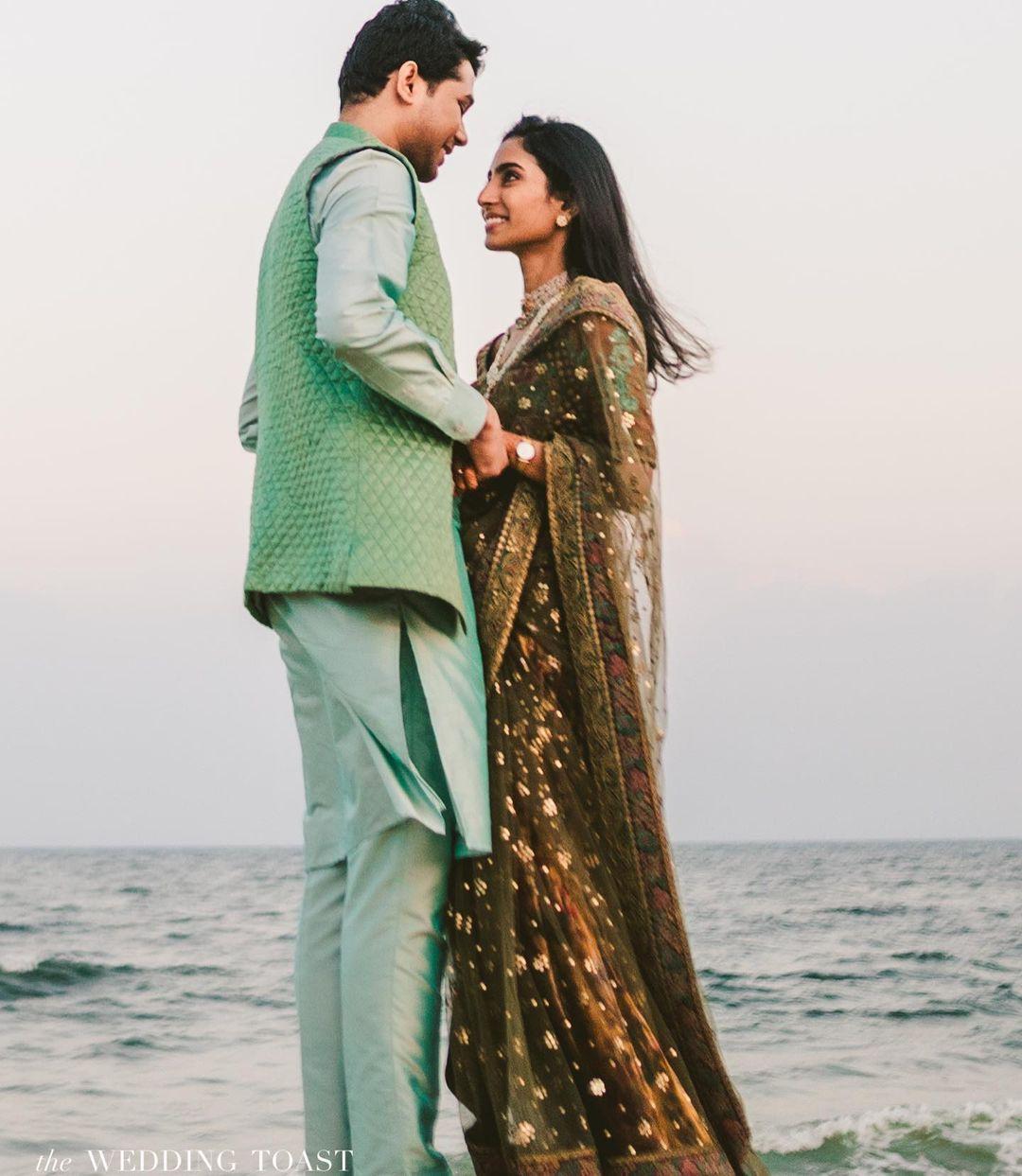 Image Courtesy: The Wedding Toast
This couple picked green colour combination outfits. Though they are not the same green - the groom picked a mint green silk kurta-pyjama with a jacket by His Studio and the bride is seen in a moss green floral saree by Sabyasachi.
While you are making the checklist of things to keep in mind before picking the outfit and coordinating with each element at best, this list is going to sweep you off your feet like a pro!
Found your favourite colour combination yet? Get in touch with the outfit designers on board to get your best pick now!