Have You Joined Purple Saree Wedding Trend of the Season?
Reds & pinks make way because purple is the new fad that brides are draping nowadays for their wedding ceremonies. Browse through our list of hottest purple saree designs!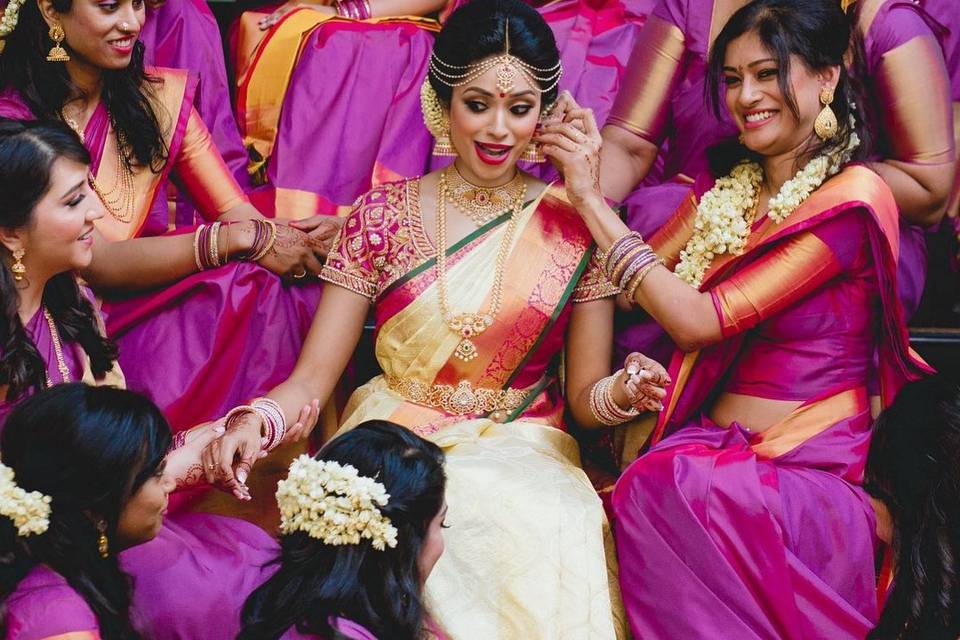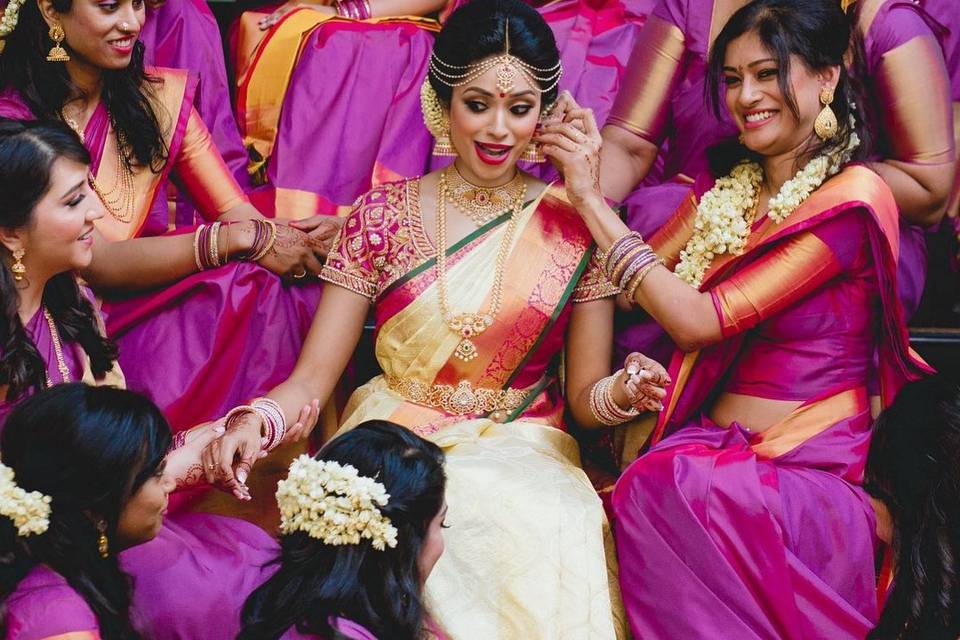 Image Courtesy: Photonimage by Daran
Purple saree style is fast catching up as the next big wedding trend and is surely taking over the style spotlight of 2020. It is a vibrant colour that enhances the beauty of Indian brides-to-be and goes perfectly well with all kinds of wedding jewellery as well.
As we always abide by keeping you up to date with all the latest trends of each season, we have compiled a list of some suave purple saree designs that designers and recent brides have been spotted trending this season.
Take a look because these purple sarees are the trendsetters of today and upcoming tomorrow!
Pattu Saree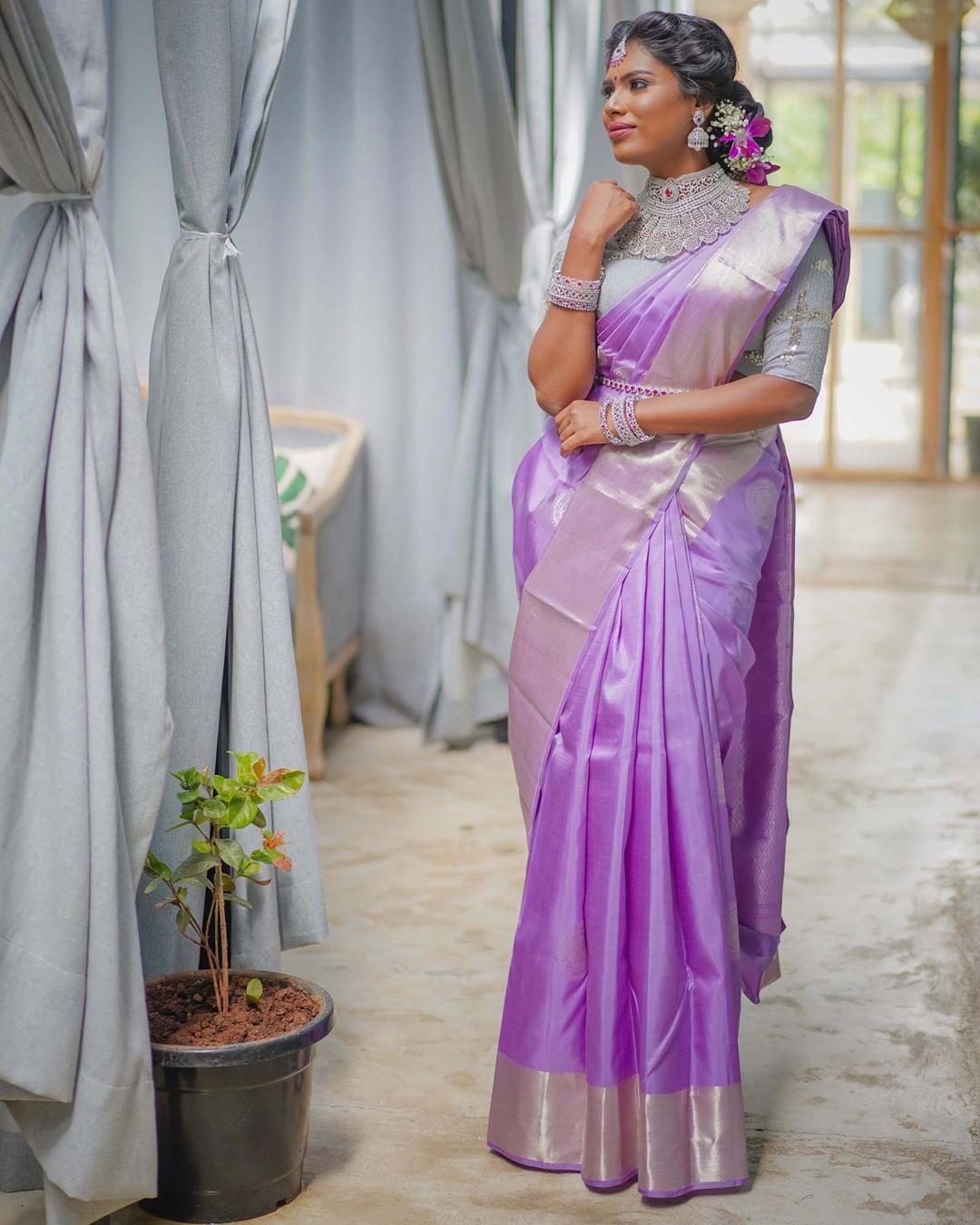 Image Courtesy: Pinterest
Pattu saree style is supposed to be shimmery seam-to-seam. The best way to adorn this metallic purple saree style is by going for the lightest shade of purple for the wedding. Pair it with diamond or silver bridal jewellery and decorate the hair with an orchid flower to complete the look perfectly. Neutral makeup is an added bonus!
Pastel Sequin Saree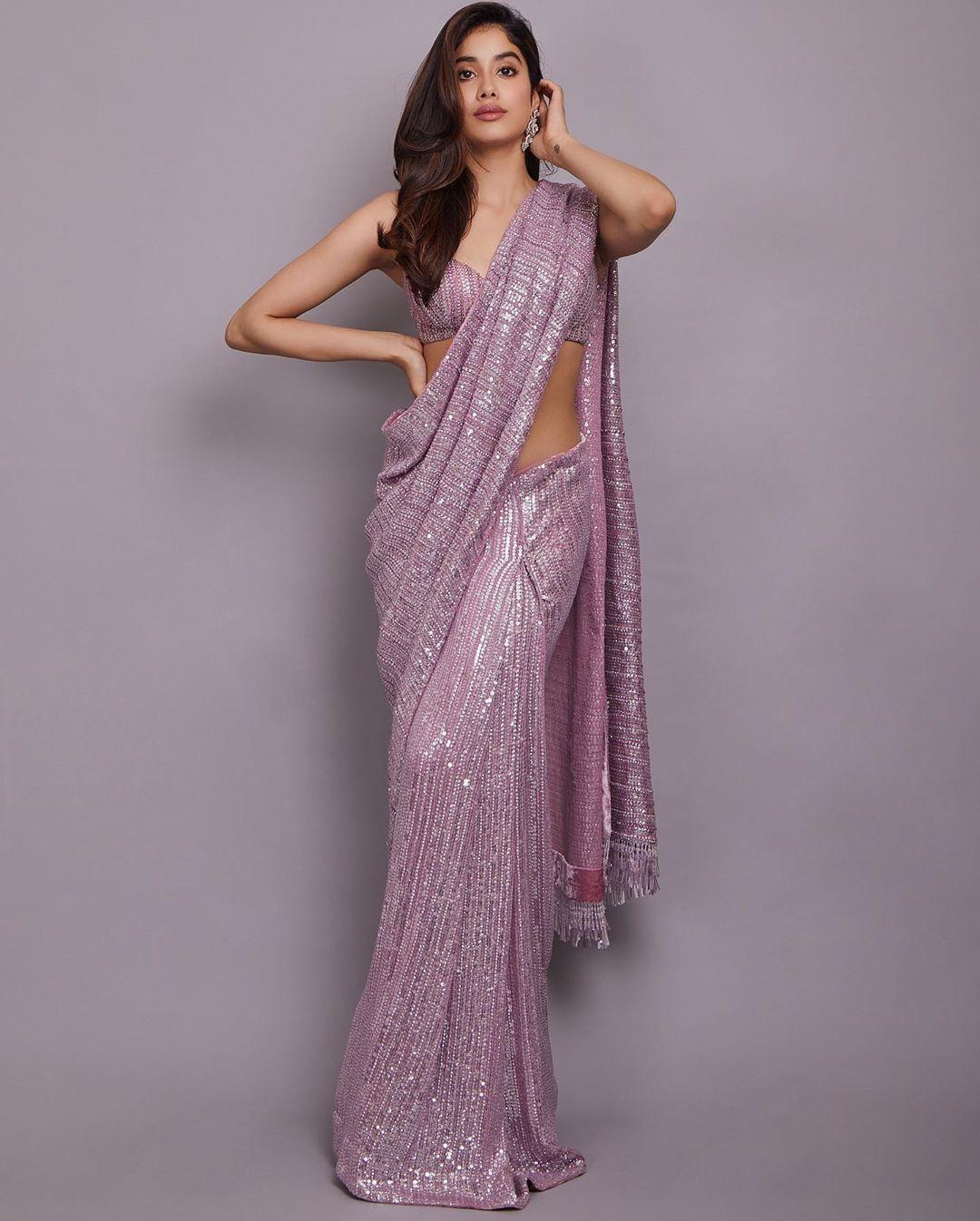 Image Courtesy: Manish Malhotra official
Make a dazzling appearance at the Sangeet or cocktail party of your wedding by draping this pastel purple sequin saree by Manish Malhotra. It offers a svelte silhouette and goes perfectly well with bustiers as well as sleeveless blouse designs for that summer wedding look. Keep accessorisation to a minimal and let the sequins shine brighter.
Banarasi Silk Saree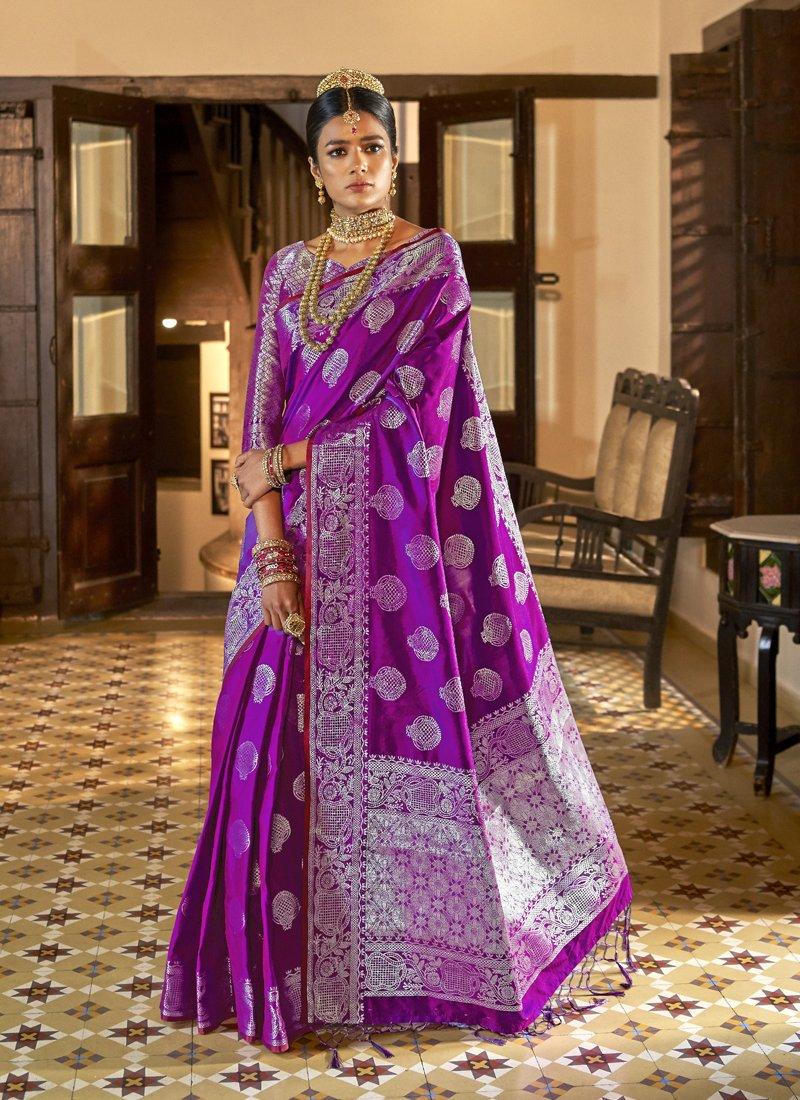 Image Courtesy: Ma Panache
Banarasi silk saree is a statement in itself. This saree style is popular across the globe and is a favourite of Indian designers always. No matter what way you drape a Banarasi silk saree, what jewellery you wear with it and what makeup you opt for, this ensemble will make you look elegant without fail. So a purple Banarasi silk saree had to be included in our list of purple saree styles.
Banglori Silk Saree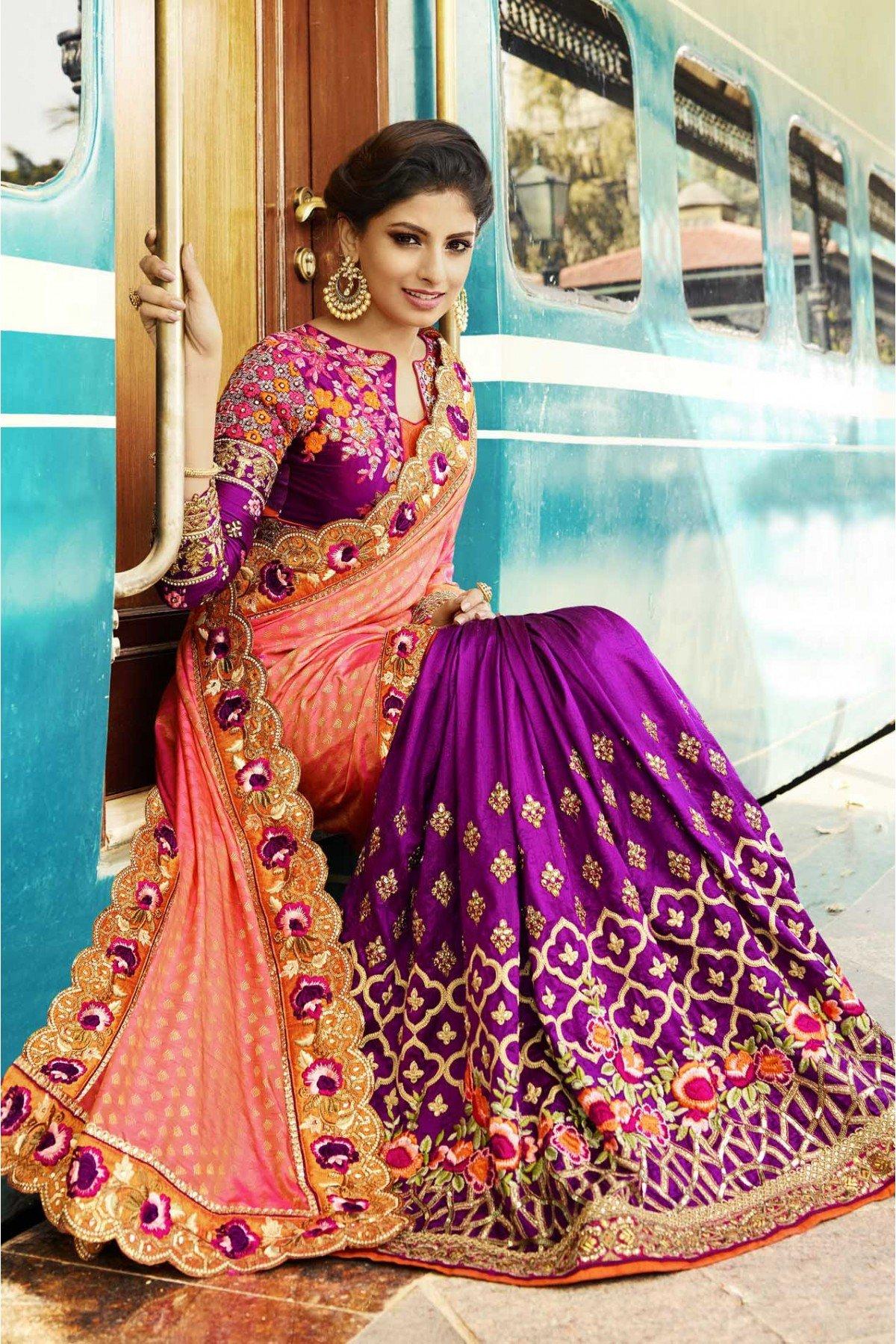 Banglori silk is another form of silk fabric that brides-to-be opt to wear for their wedding functions. This lehenga styled purple saree will go very well for the Sangeet and Reception party. With such heavy embellishments, opt for statement earrings and ditch the necklace to finalise the look perfectly.
Designer Chiffon Saree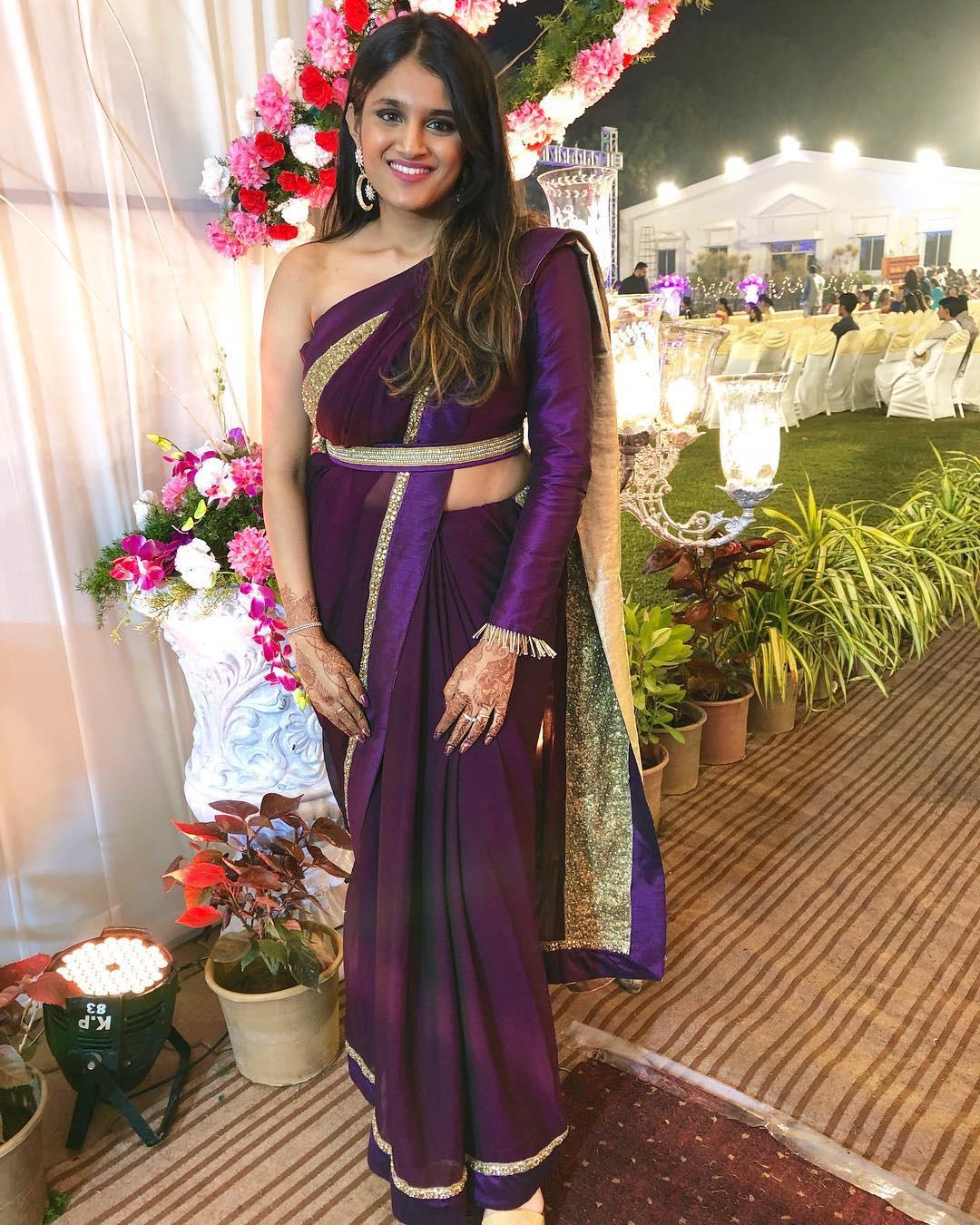 Image Courtesy: Pranalli Paressh Paarekh
Turn a regular purple saree into a designer purple saree and it will remain to look glamorous and wedding-ready. Solo-sleeved bandeau style blouse teamed with a Chiffon purple saree will be a great pick for the Sangeet night. With a creative draping style, the brides-to-be can provide more definition to the simple saree style easily.
Kanchipuram Silk Saree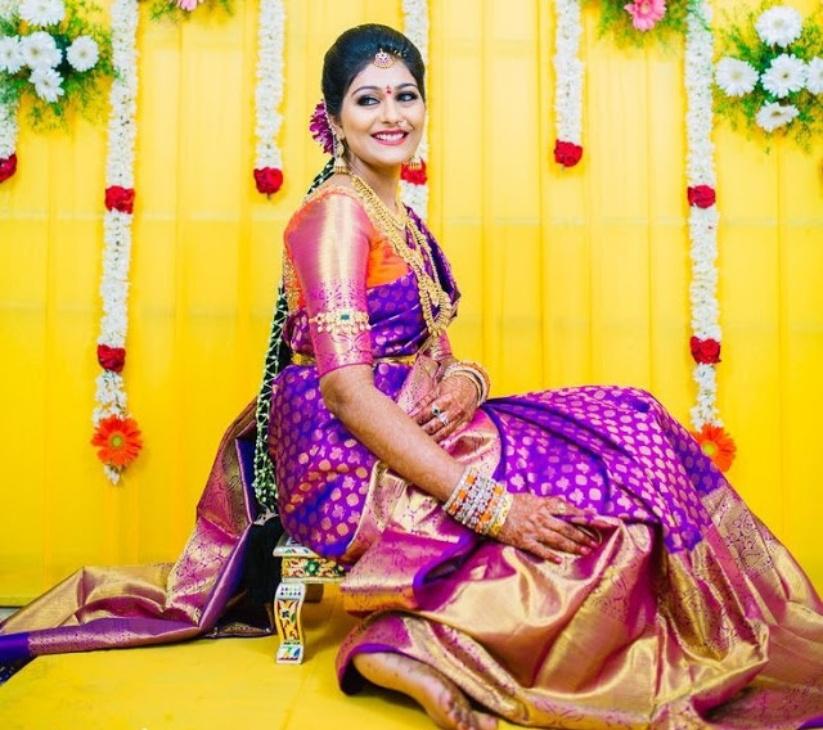 Image Courtesy: Celebrity Saree
Nowadays, South Indian brides can be seen shopping and wearing purple Kanchipuram Silk saree for their Manavarai ceremony. Gold temple jewellery inclusive of the Laxmi belt will complement this dark-hued Kanchipuram silk purple saree pleasingly.
Nauvari Saree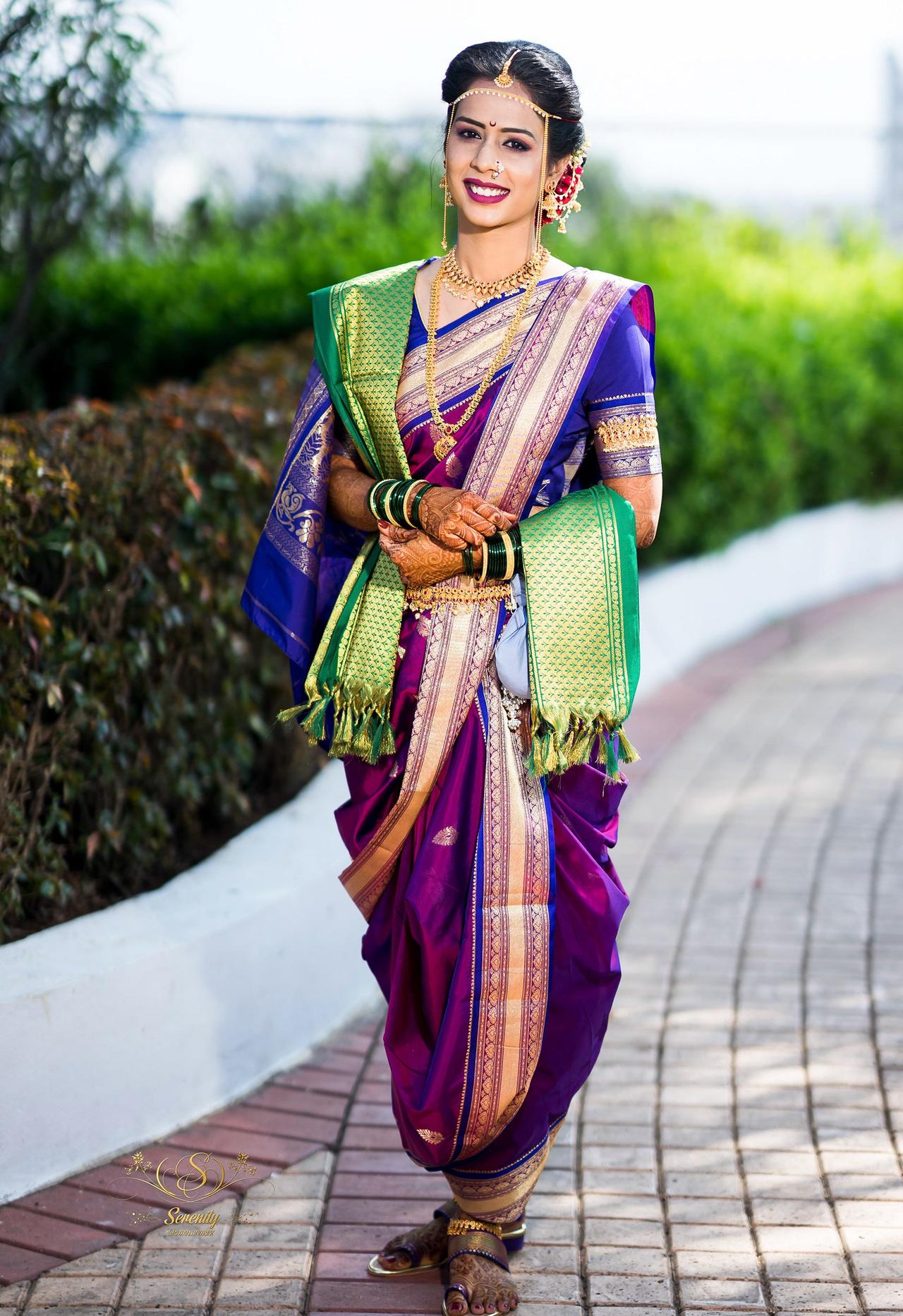 Who says that only South Indian brides have caught up on the purple saree trend of the season? Brides of Maharasthra too are folding the drapes of a purple saree Nauvari style and can be seen taking Saptapadi rounds like a true fashion diva. Set of matching Kolhapuri Chappals are a great match to any purple Nauvari saree.
Borderless Silk Saree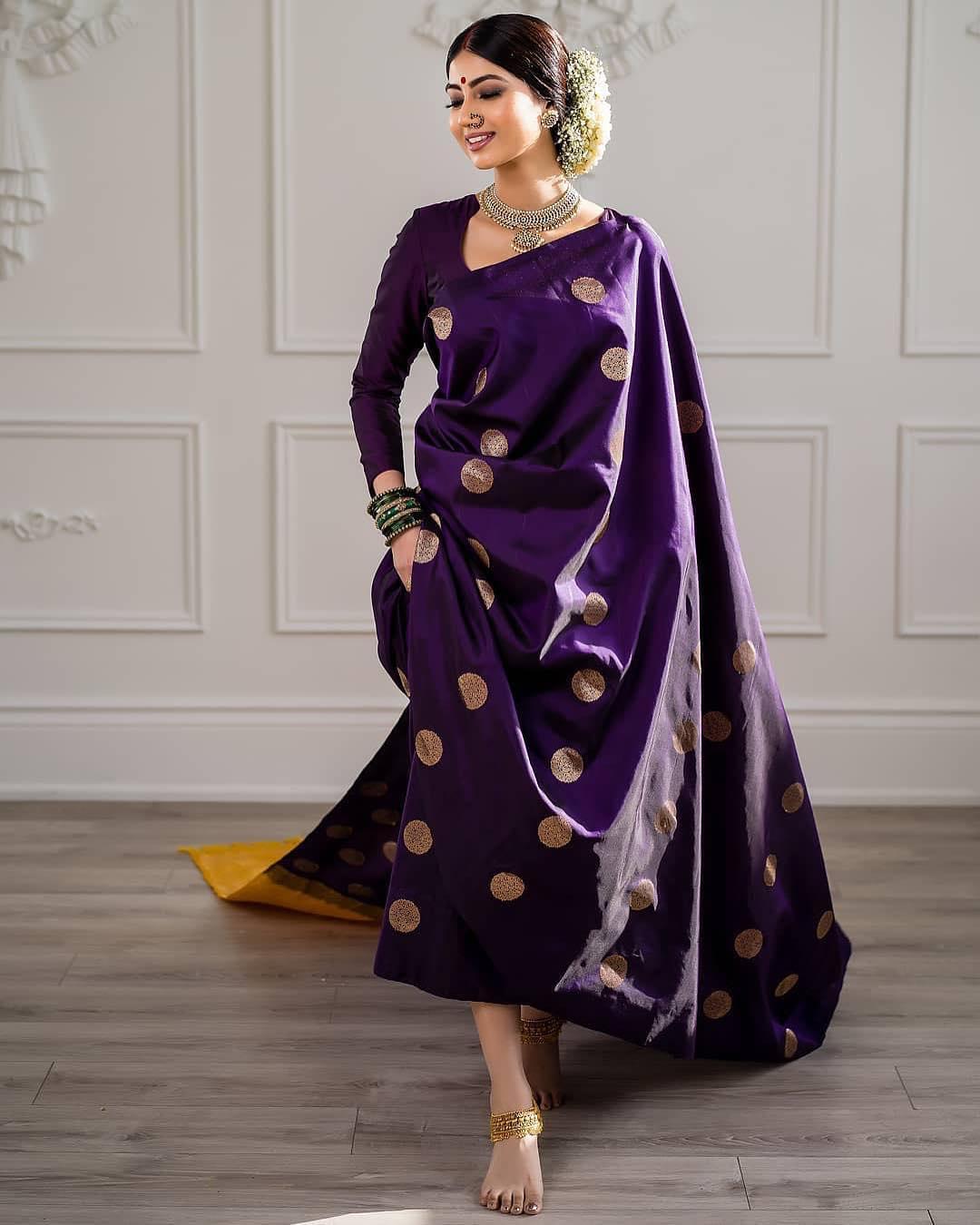 Image Courtesy: Timeless by Vinay
We have spoken about an array of purple saree styles with stark borderline. Now let's talk about a borderless purple saree which too looks every bit a stunner and can be passed on as a wedding ensemble easily. Hair wrapped in a bun with Gajra, tribal necklace, Laq or glass bangles and silver Payal set is all you need to be ready with this look.
Motif Printed Saree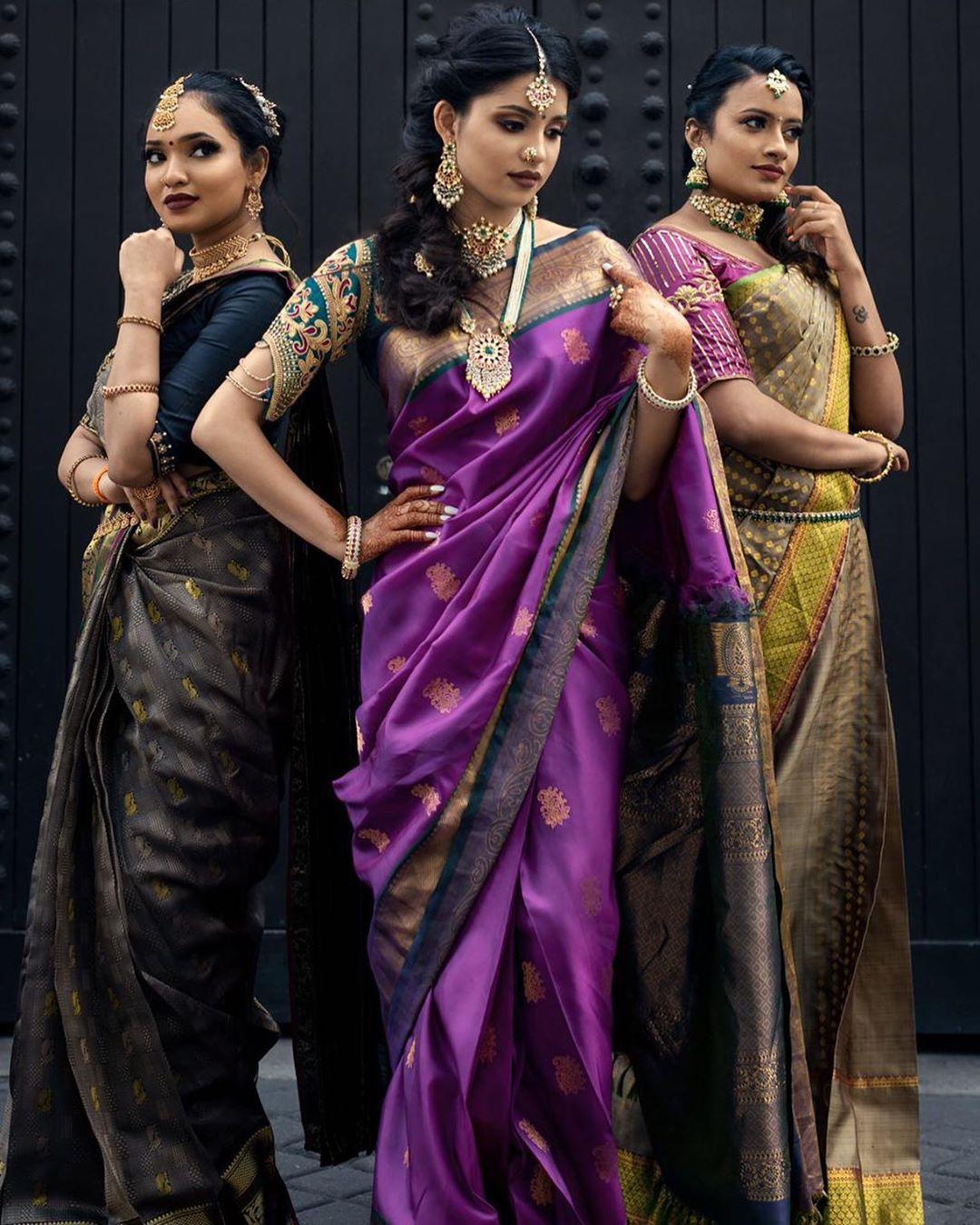 Image Courtesy: Deborah Meenakshi
If a bride's preference is to keep the purple saree for wedding style simpler, sans embroidery and embellishments, then they can try motif printed purple saree styles instead. The spaced-out motif print all over the saree gives it a hint of glamour quotient while maintaining the subtleness in demand as well.
Are you excited to drape a purple saree for your own wedding now? Because we can't wait to see you in a nine-yard drape of this vibrant colour. If you wish to experiment with a purple saree, you can always try complimenting it with an array of colourful blouse designs. Embellished, printed and even contemporary cuts are all a perfect match to any hue of a purple saree.
We can't put a finger on our favourites from this list of purple saree styles, so we are leaving the task to you. Comment below and tell us your top picks from the collection.