Brides Who Nailed the Quirky Sneakers With Lehenga Look
Take a break from the ordinary and try something experimental; being a modern-day bride. Here are some real brides who showed us how to make a statement as they flaunt their sneakers with lehenga looks.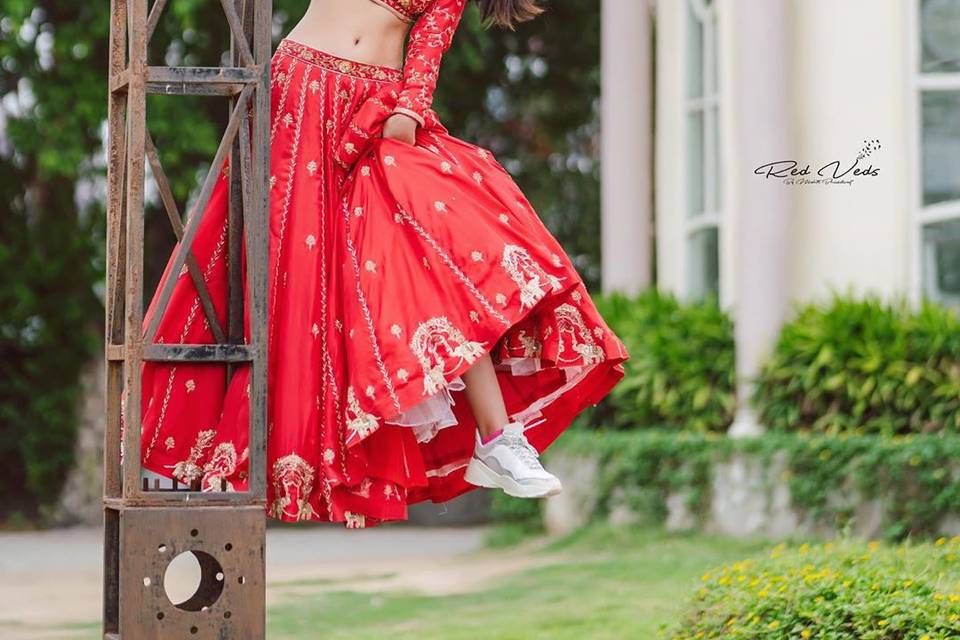 One thing that has come through after witnessing so many bridal trends over the years is that modern-day brides are digging for comfort more than anything. From choosing comfortable and practical couture to keeping the looks uncomplicated–comfort has been on the top of the list and how. That's also how the minimalist trend came to life and was so fondly adopted by Indian brides.
Along with seeing so many brides go off-beat and minimalistic, their unusual footwear choices are creating new dimensions in the bridal world altogether. They certainly know that when it comes to choosing the footwear, nothing shouts comfort than a pair of feet-hugging sneakers. Once the sneakers made their way to a woman's trousseau, it didn't take much longer to become a blazing trend in the bridal world. So much so that even celebrities joined the comfort bandwagon and sashayed down the aisle in a pair of chic sneakers. It only takes a true comfort-digger to wear them on the D-day and it's pretty safe to say that staying in the comfort zone isn't all bad after all! *wink*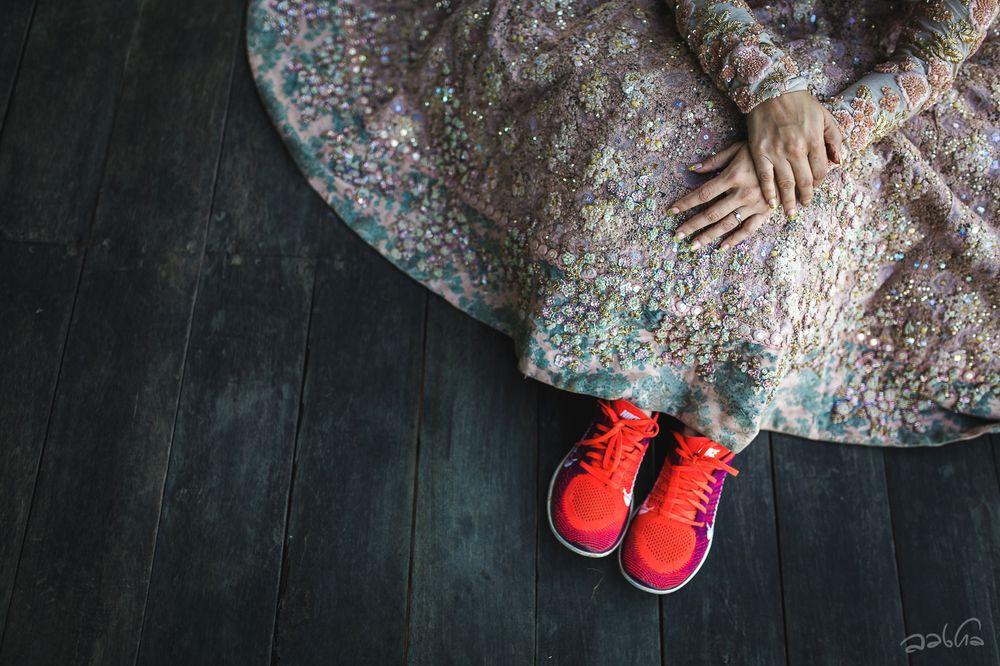 Image Courtesy: Aabha Chaubal Photography
So here we're featuring brides who ditched the sky-high heels and styled their kicks with bridal lehengas and pumped some sass into their bridal look. We've also listed similar buying options for you to check out. Scroll below to breathe some inspiration!
Keep it classic with white sneakers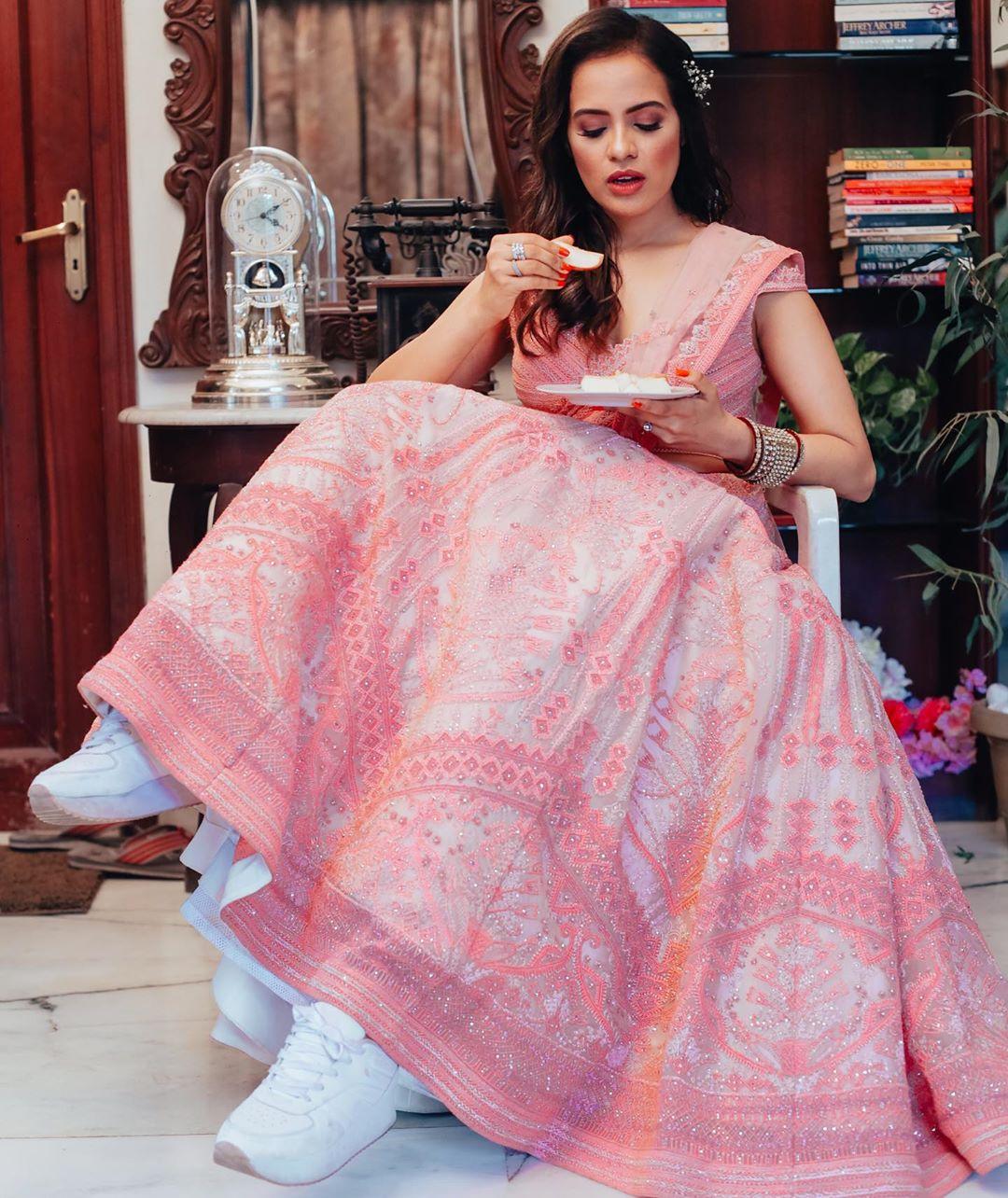 Image Courtesy: The Glutton & The Owl
One can never go wrong with a pair of white sneakers when it comes to dressing up casually but you'll be surprised to witness how brides styled their white sneakers with bridal lehengas like a total pro like Tanushree from The Glutton & The Owl styled her white sneakers with pink lehenga from Shantanu & Nikhil. While white is a super risky colour to work with it is also the most-embraced one as it instantly adds freshness to the whole look. White sneakers are easy to style and go well with almost every other hue. So whether you have a white in your lehenga or not, white sneakers will always fit the bill.
Get your hands on a heeled pair of sneakers from Aldo.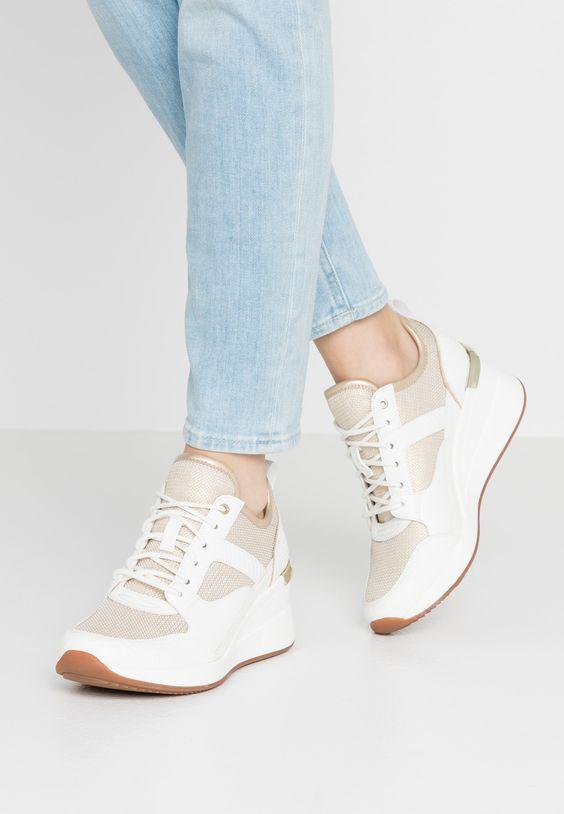 Image Courtesy: Aldo
Go all coordinated with your lehenga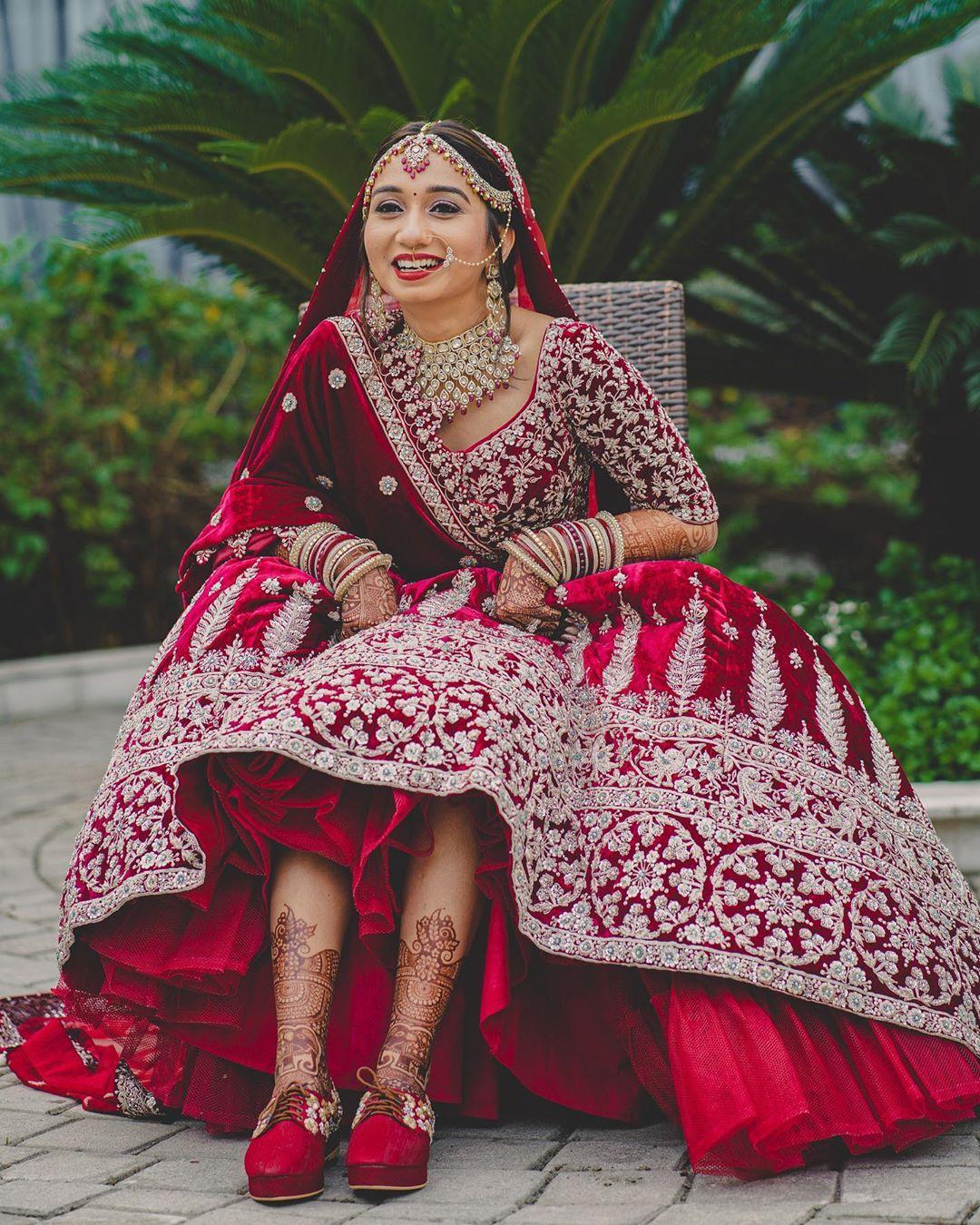 Level up your coordination game by slipping into a pair of perfectly matching bridal sneakers as your red lehenga and watch it add oodles of charm to your wedding-day look. While embroidered sneakers are not a usual choice but if styled rightly, can prove to be a real game-changer for a bridal look. This particular pair of embroidered sneakers which matches the bridal lehenga to the T is such a lust-worthy option. We're so game for this one!
Buy a pair of embroidered sneakers for your D-day from Leonish.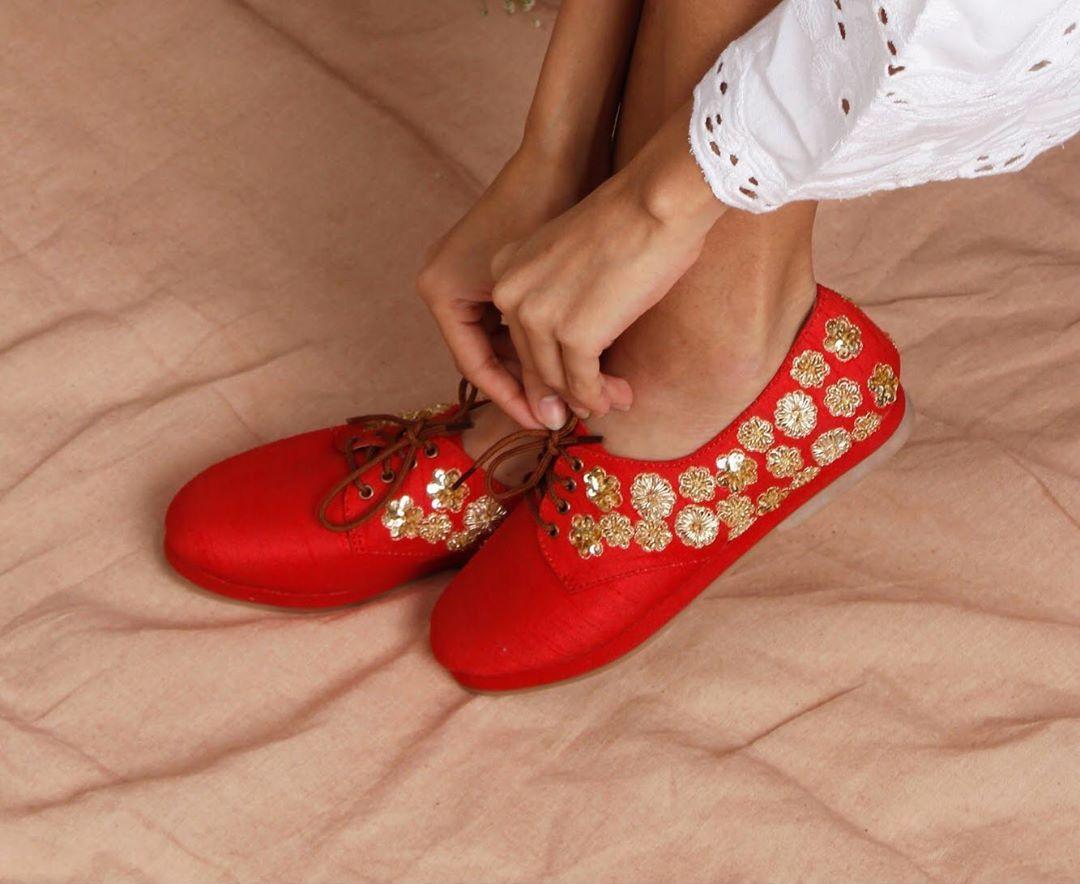 Image Courtesy: Leonish
Pump some life with LED-lit kicks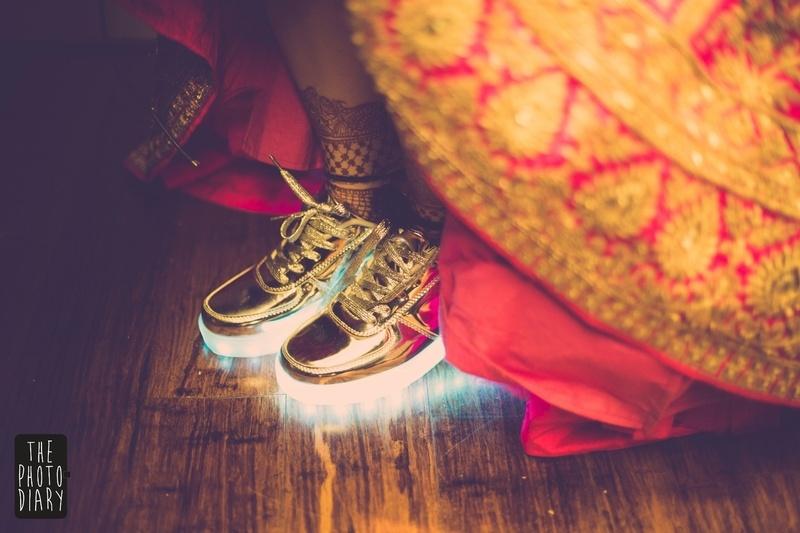 Perfect for a sundowner wedding ceremony, these LED sneakers are the bomb. The gold-metallic tone with an LED-lit sole makes them the coolest pair of sneakers a bride can own and wear for her D-day. The LED sneakers not only add so much character to the bridal look but it elevated the bride's personality phenomenally. These definitely call for a night full of endless dancing and fun.
Want a pair of LED-lit sneakers to pair with your bridal look? Amazon is the place.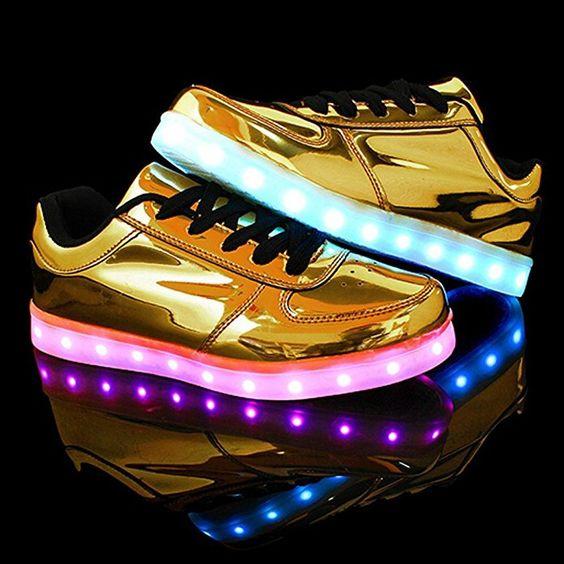 Image Courtesy: Amazon
Flaunt your elite possessions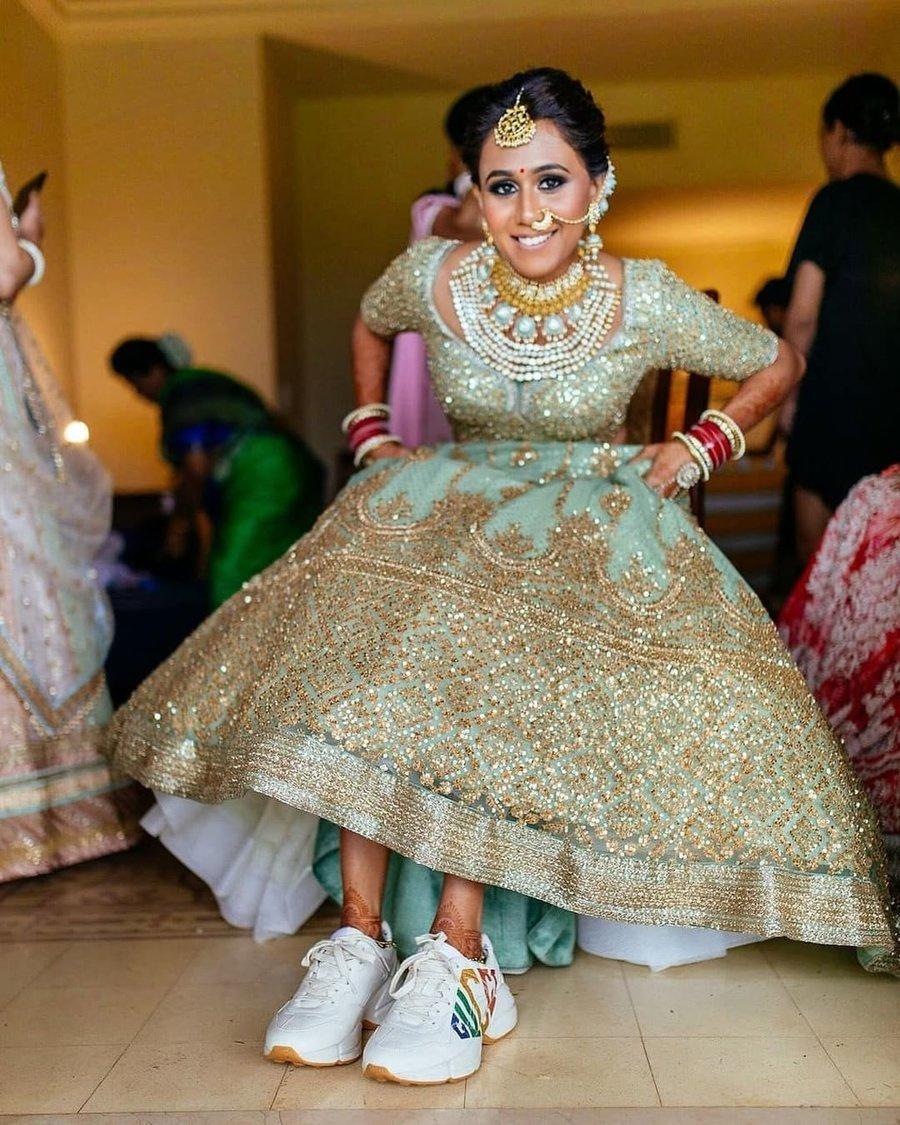 Bring your designer kicks to better use by slipping into them on your D-day. You might be looking out for a pair of Louboutin stilettos to walk down the aisle but know that your Gucci kicks are all you need. A powerhouse of comfort with truckloads of chicness, these rhyton sneakers will lend you great support and height as you seal the deal.
Invest in these solid Gucci sneakers, if you may. Available on Gucci's website.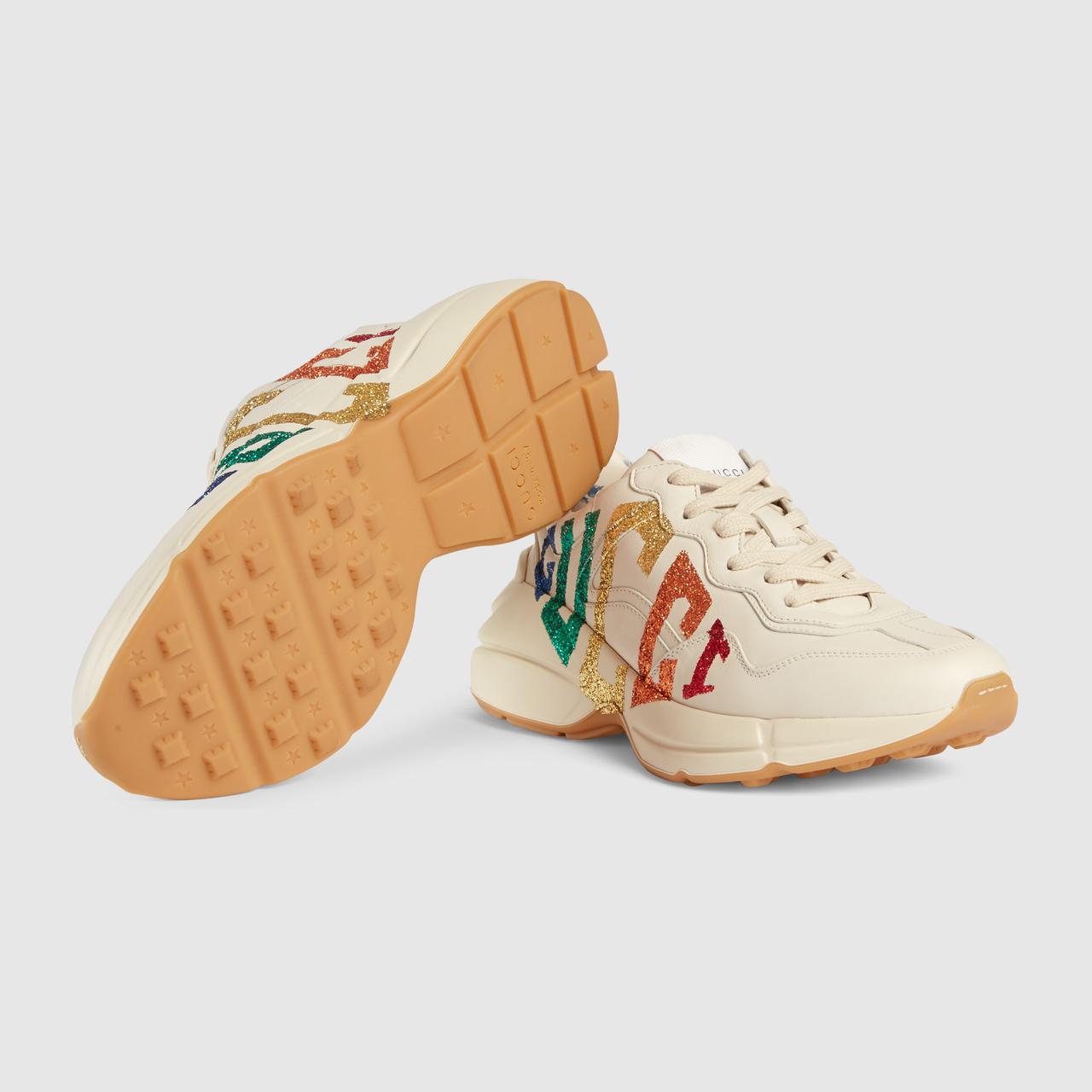 Image Courtesy: Gucci
Bring on the bling with sequined sneakers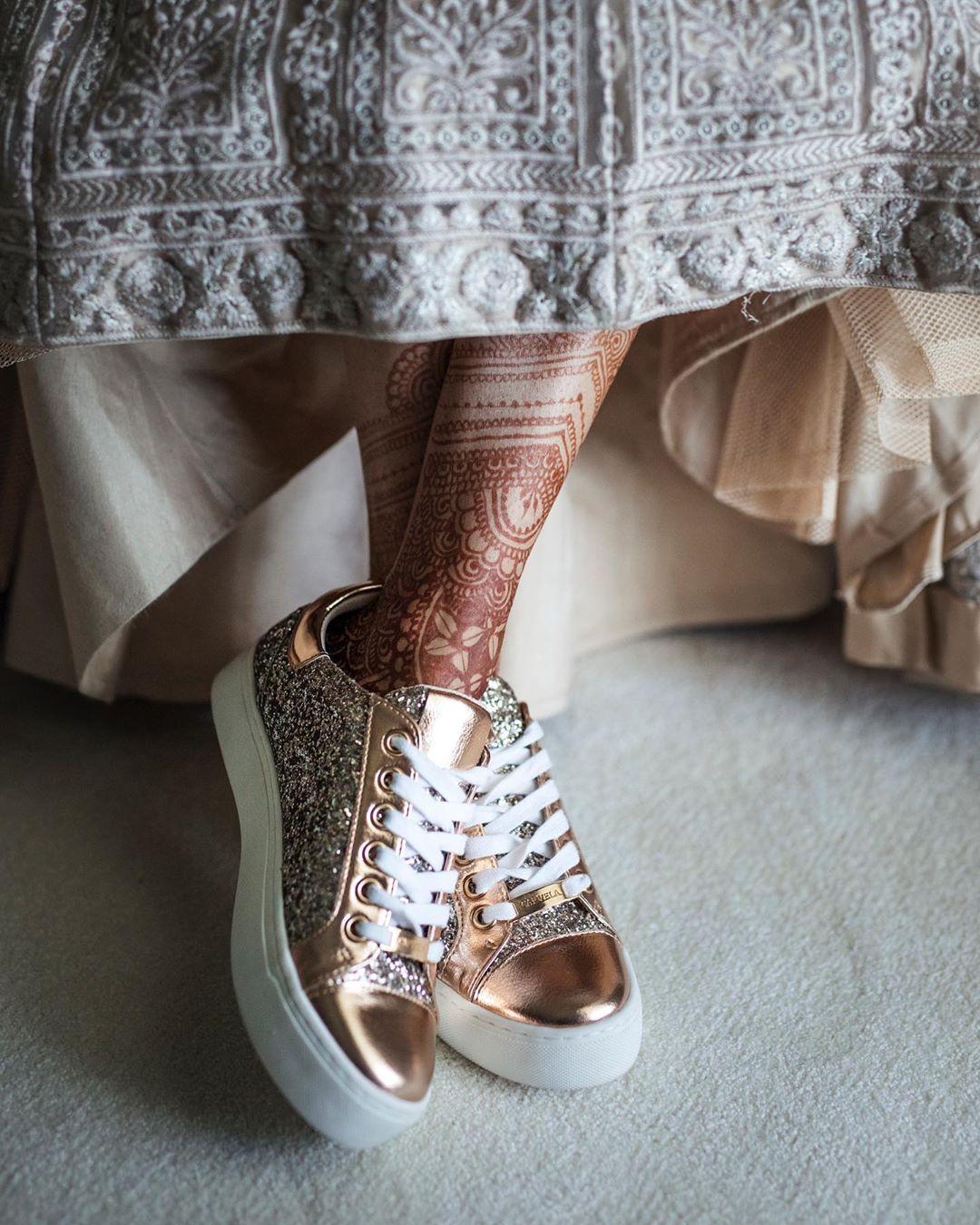 If you don't like to play safe, the sequined sneakers are your jam. Not everyone can carry the glam of glitter without dulling their own, and if you can, nothing like it. Moreover, a little glitter hurt nobody. We're totally eyeing this stunning pair of sneakers; it has the right amount of glitter to create a statement. When opting for a pair of shimmery sneakers, ensure the rest of your look is toned-down. You don't want the glitter to shine more than your bridal charm. Do you?
Get your glam on with these stunning gold sneakers from Puma India.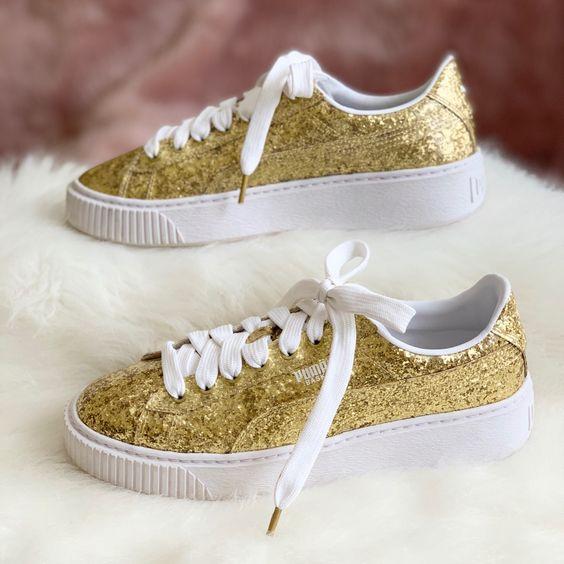 Image Courtesy: Pinterest
Heels, for sure, add a lot of poise and structure to a bride's wedding look but they do bring nasty shoe bites and swollen fingers too. So, if you're having a night-long celebration, it is only wise to slip into more-comfortable footwear. Whether you decide to go for a classic white sneaker or make an edgier statement by donning the customised bridal sneakers, don't forget to wear your sass all along. When opting for sneakers as your bridal footwear, make sure you wear liner socks to keep any sweat and unpleasant odour at bay. Now go ahead brideys, breeze down the aisle in a pair of comfortable kicks and seize the day.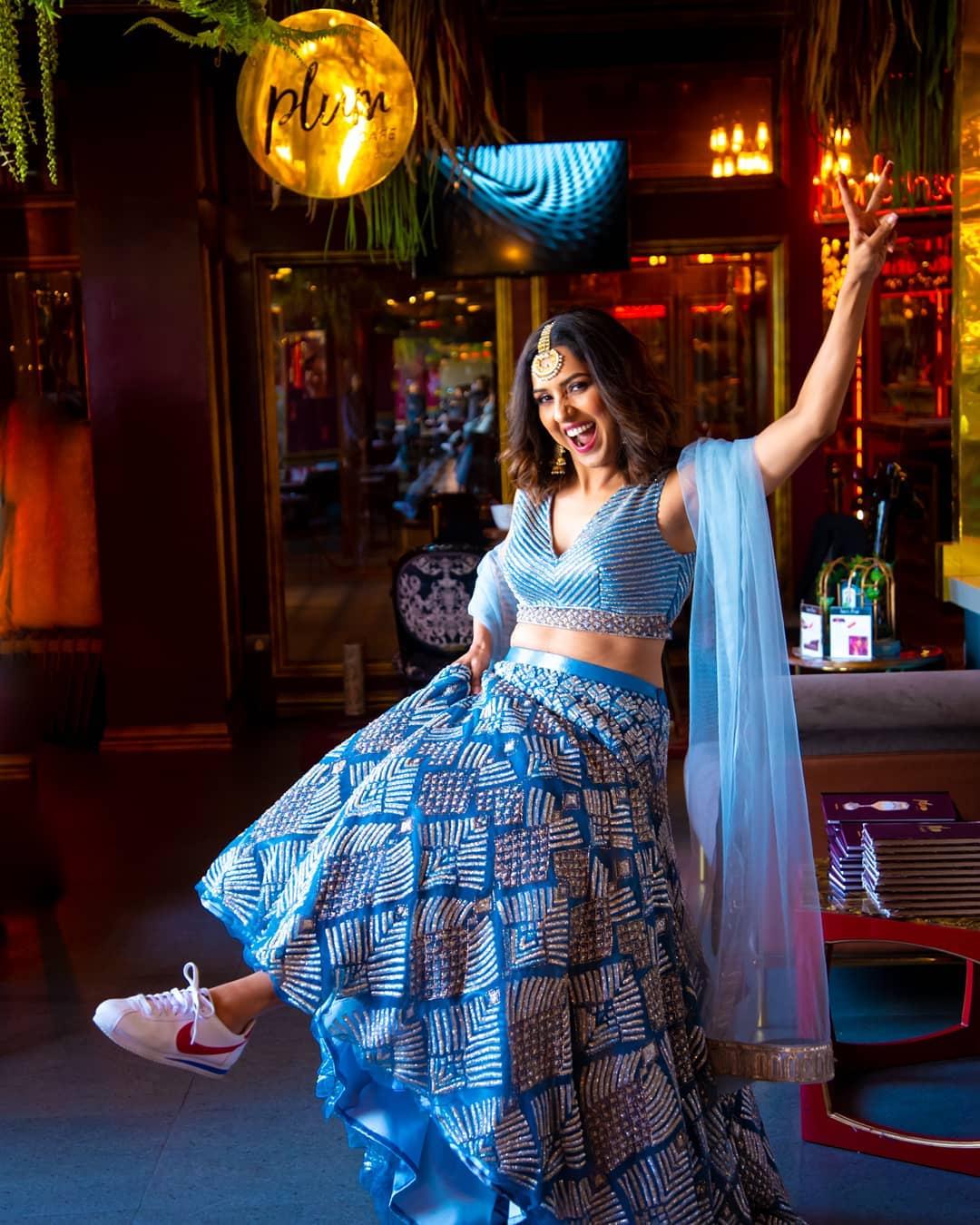 Are you going to try the sneakers with lehenga look for your wedding? Tell us in the comments below.