This Lifestyle Blogger Planned Her Intimate Civil Wedding With a Twist!
Tanushree Sharma of The Glutton and The Owl got hitched to restaurateur Nishant Dhamannwala in an intimate civil wedding with a twist. Read to know the exclusive deets!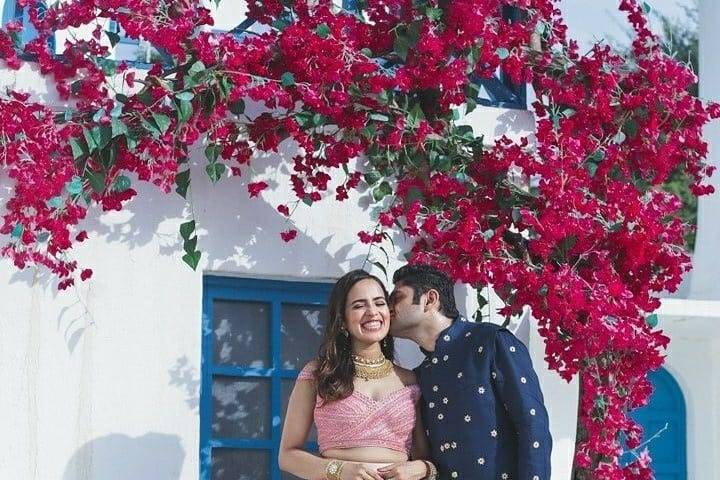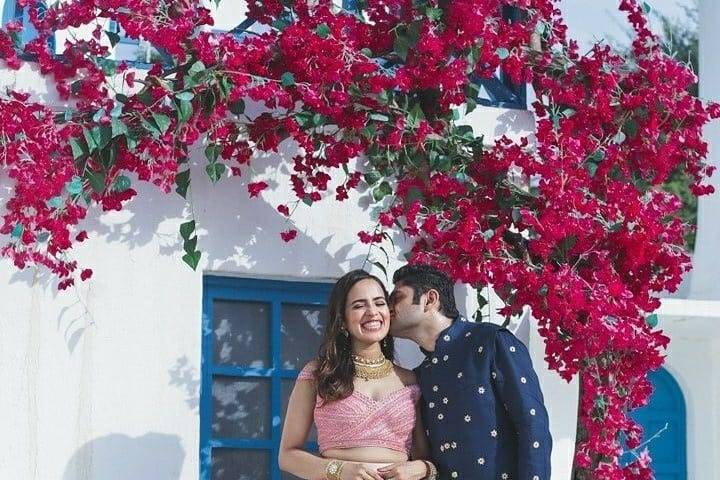 The beautiful Tanushree Sharma of The Glutton and The Owl got hitched and we cannot keep calm! While the pandemic might have stopped a lot of plans involving the typical big fat weddings in India, this couple took the leap of faith and how! Remember when Rihanna sang "We found love in a hopeless place," who would have known it would come to this? While the world struggles to find a silver lining amidst this chaos, Tanushree and Nishant Dhamannwala sweeps us off our feet with their breathtaking wedding.
The standard Indian weddings with a guest list of hundreds might have been put off the books for now, but the 20-people wedding of the gorgeous lifestyle blogger with her beloved is everything wonderful.
With intimate weddings becoming one of the most loved trends among the millennials especially post the COVID-19 phase, here is the complete story of Tanushree and Nishant's wedding with some stunning photographs. Make a note of all your takeaways for inspiration.
Tanushree Met Nishant @ A Goan Restaurant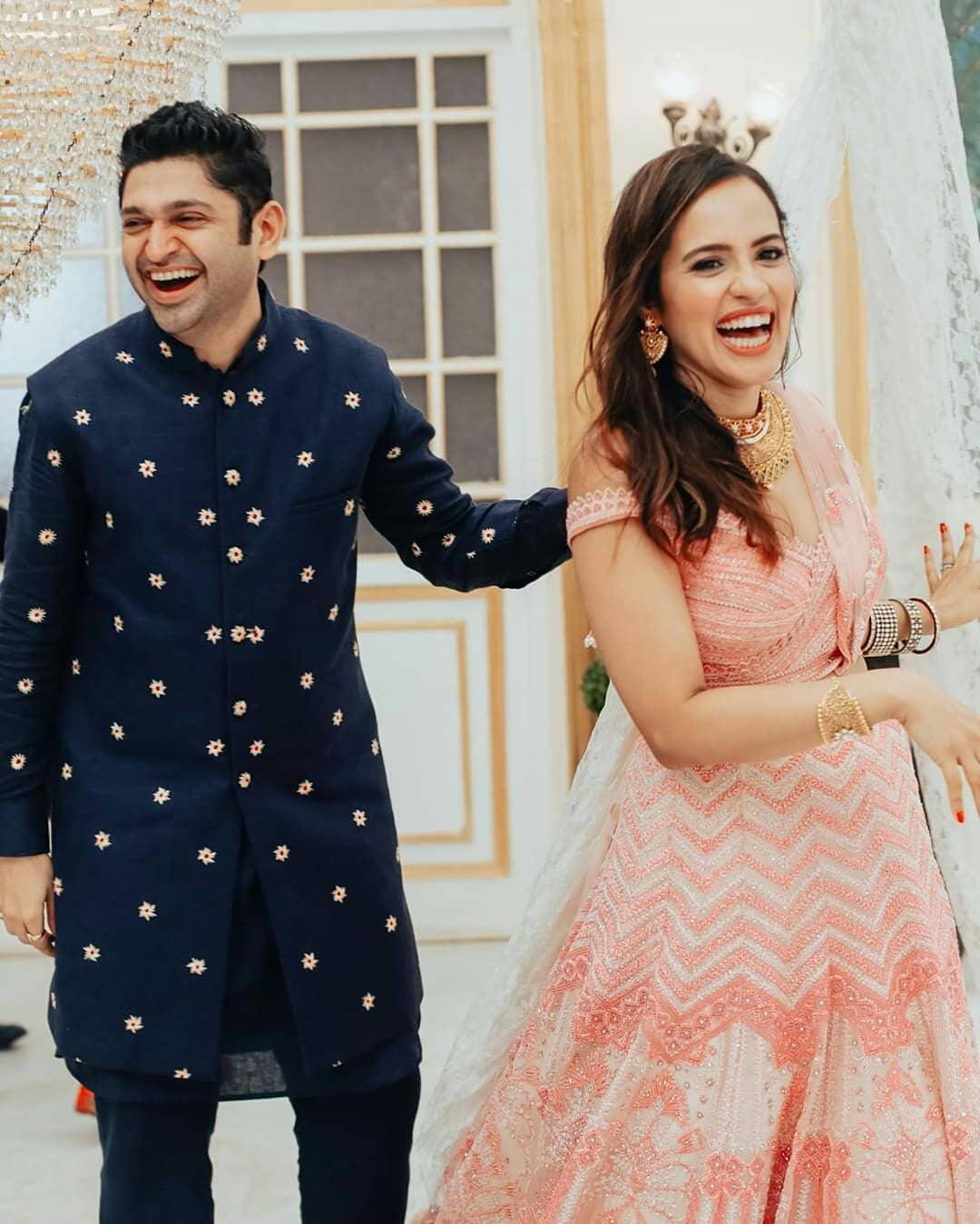 The ace blogger Tanushree tells WeddingWire, India, "Nishant and I met in an arranged marriage setup that our parents had arranged for us. We met for lunch at this Goan restaurant in BKC (Bandra Kurla Complex). I remember our date like it was yesterday. I was getting late for my Visa appointment but little did I know Nishant was smitten in the first 5 minutes. We kept meeting for 6 months and decided we couldn't stay apart."
Their Journey From A Big Fat Wedding to an Intimate One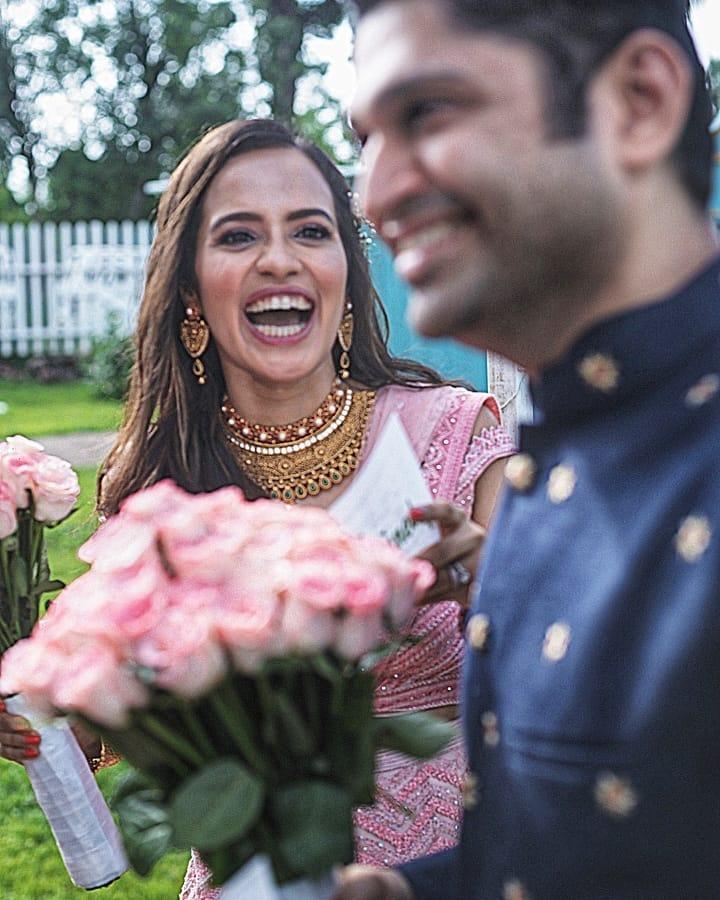 Tanushree tells us, "The original wedding dates were supposed to be the 10th and 11th of April at the Taj - Lands End. We had booked the entire venue for a big fat Indian wedding with 1000 guests. It was supposed to be a day wedding."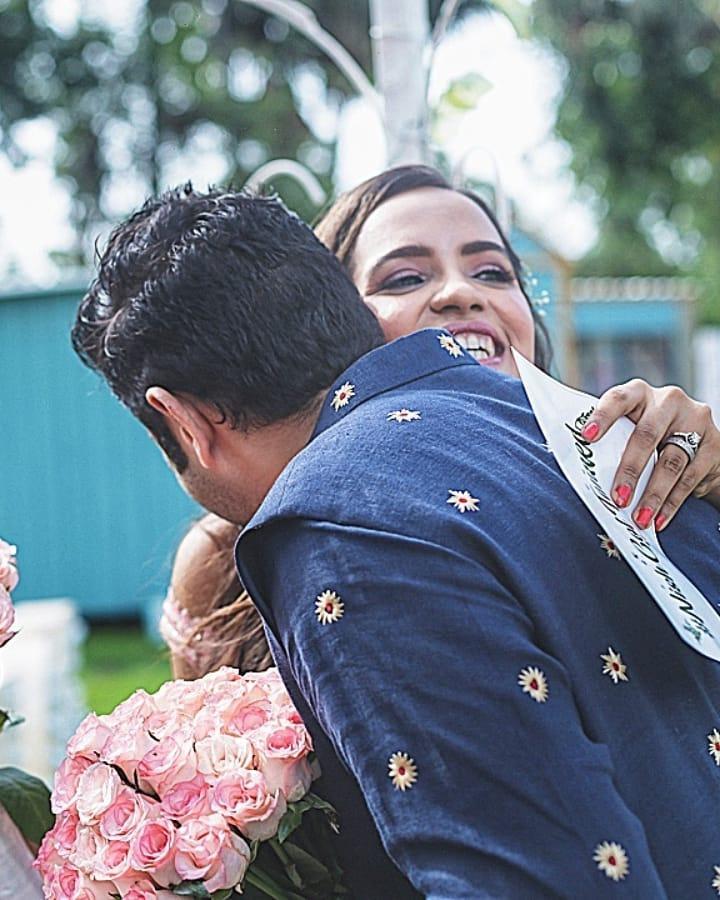 Tanushree and Nishant were captured in the most beautiful candid moments by Adak Vishal Photography. One of these frames caught them in the moment of sharing some beautiful vows. On being asked about their vows ceremony, Tanushree says, "Nishant and I are extremely modern with our thinking but we are also true romantics at heart. Our Vedic wedding is happening next year so we decided to give our civil marriage a twist. We wanted to express our love and passion for each other by exchanging these wedding vows. It was truly a magical experience and a dream come true."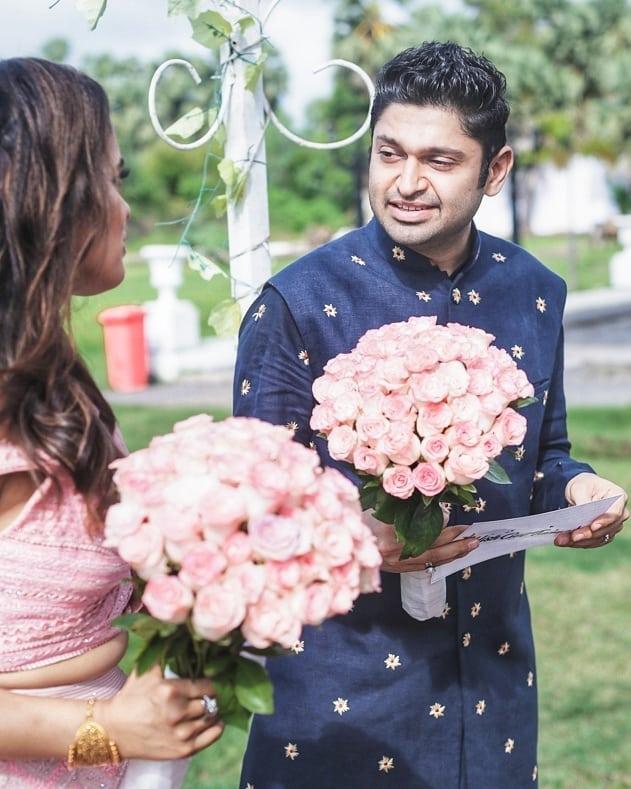 We couldn't help but notice from the Instagram stories of The Glutton and The Owl that one of Tanushree's vows were, "I promise to charge your phone every night", while Nishant promised to protect her, stand by her and be the person who she wants him to be. We couldn't help but drool over this aww-dorable couple at their candid best.
The Wedding Planning & Other Stories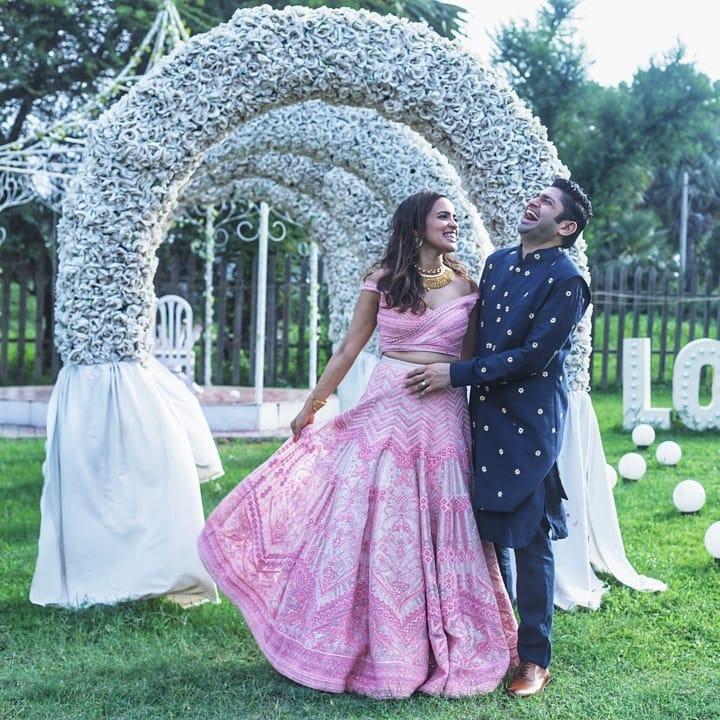 Wedding planning, in general, is not an easy task. It is tedious and gets super frustrating at times even if you have a wedding planner in place. Experts have often advised the couples to
de-stress from wedding planning stress
or
navigate the stress right
. This is an obvious scenario because it is one of the greatest celebrations in your lives and to make it perfect is a lot of pressure and responsibility at hand. That being said, planning a wedding while treading the uncharted waters of the pandemic is another challenge altogether.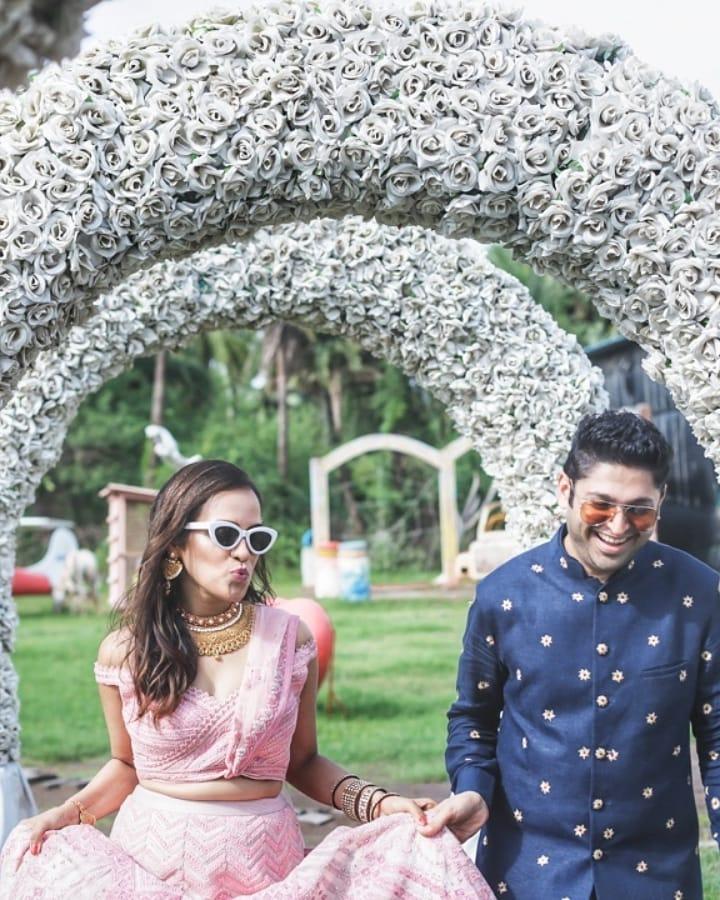 Tanushree throws light into some of the hurdles that they faced while planning their wedding in the lockdown saying, "We had to change our venue 3 times. We first booked Marriott, then we picked a farmhouse and then finally settled with an outdoor wedding venue. Honestly, I wasn't convinced about the venue. I wanted the theme of the wedding to be a summer wedding in Santorini. Our honeymoon was supposed to be in Greece too and since we couldn't make it there we decided to make Greece happen at our wedding. It turned out to be beautiful!"
We cannot agree any less. The venue looked enthralling indeed. We loved their wedding hashtag too - #NishGotTanned!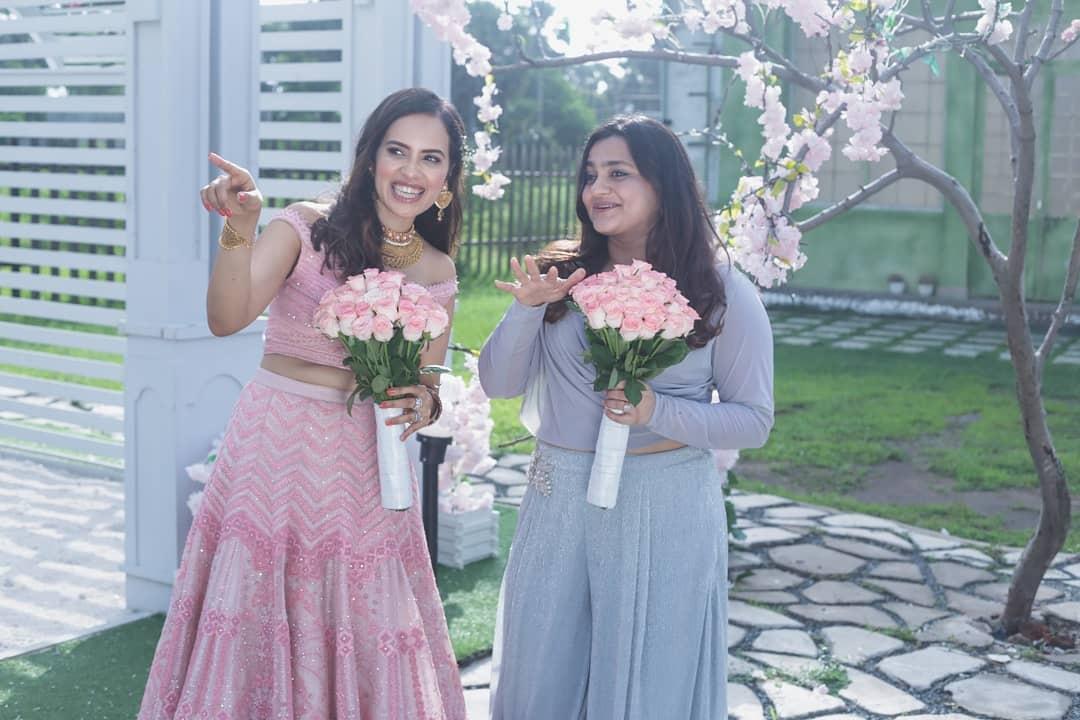 She further tells us how she finally decided to host her wedding at Pixocity studio, "We planned a full setup, decor, catering everything at the venue. We had about 20 closest of the closest friends and family. We live-streamed our wedding and over 2,00,000 followers watched us get married. This kind of made up for the fact that it was a small wedding otherwise. Nishant and I personally went to the venue one day prior and got it sanitised for the second time just to be sure."
Also read: Quick Guide on the Safety Precautions for Intimate Weddings
The Summer in Santorini Themed Wedding & Their Outfits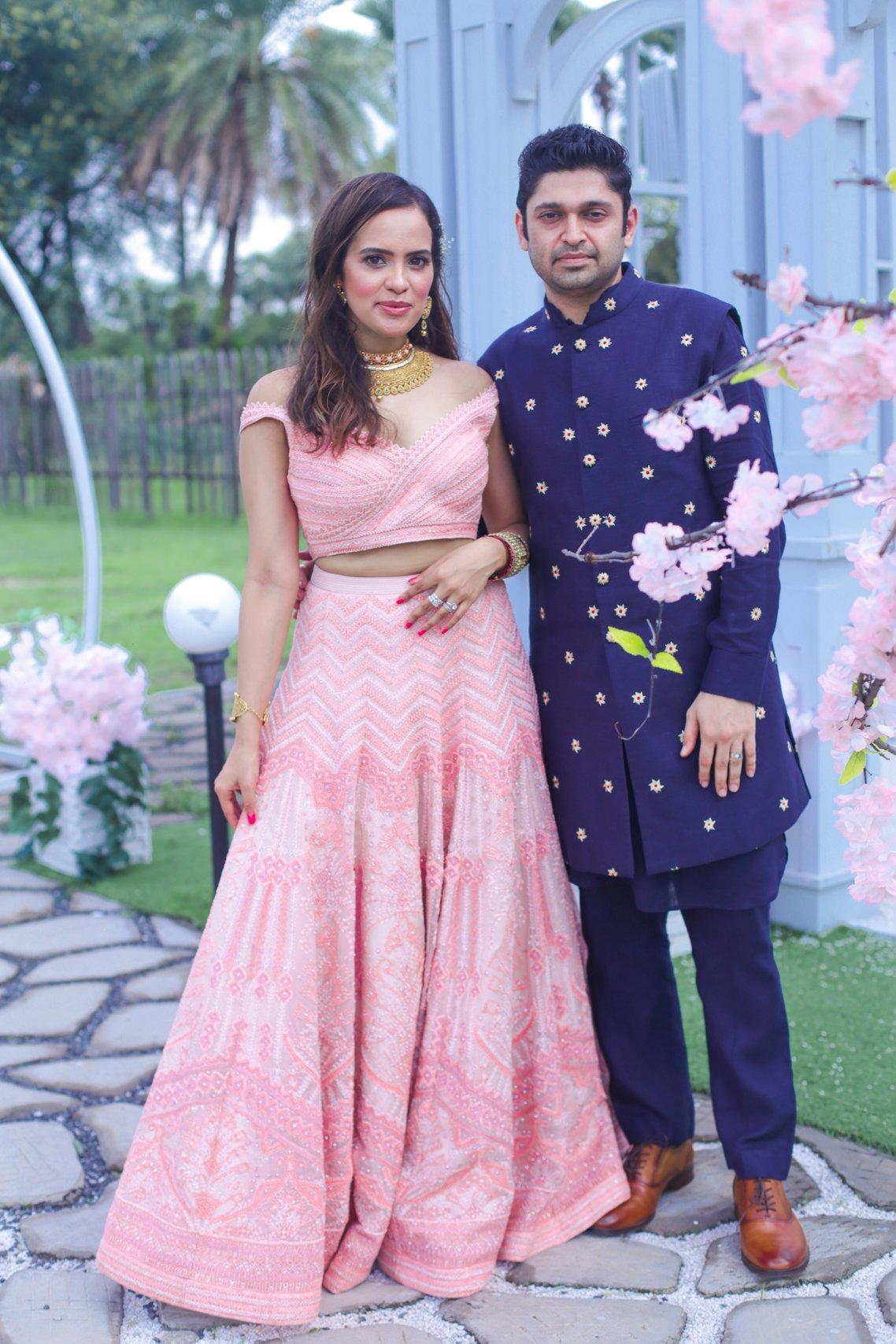 Their wedding in Surat was A Summer in Santorini themed wedding. Tanushree loves summer weddings and incorporated that in her wedding theme too. They recreated the aesthetics of Santorini in the Pixocity studio and it was fascinating! Not only was the decor in sync, but even the guests were also beautifully co-ordinated and flaunted outfits that matched the theme of the wedding. Both the bride and groom flaunted beautiful ensembles and looked alluring on the day of their wedding.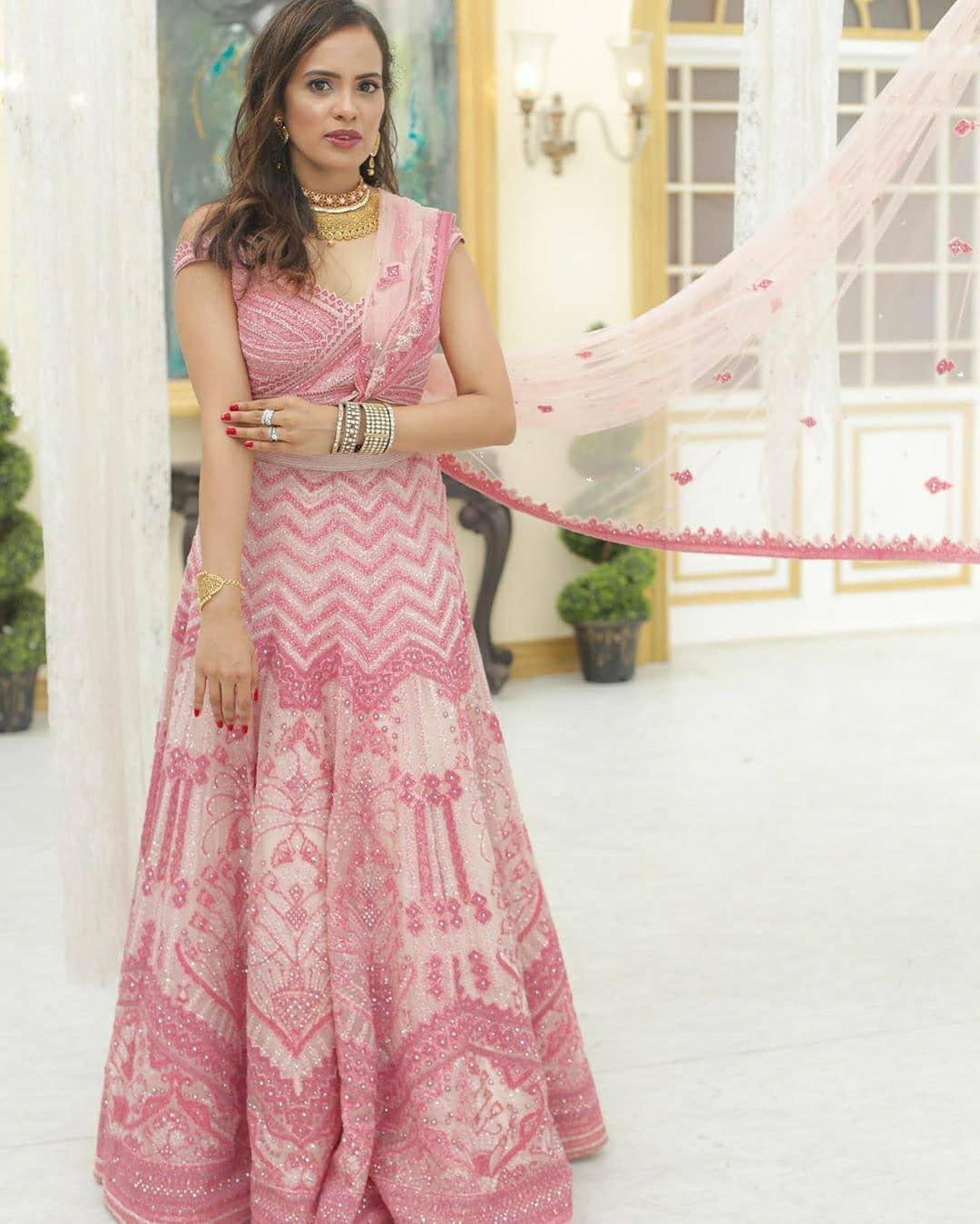 This is what Tanushree had to say, "I LOVE love pastels and I was so excited to get everything together for the wedding. My outfit is from Shantanu and Nikhil. It took me 2 months of online research to find a powder pink lehenga (which is my favourite shade). My hair and makeup were subtle. I just wanted them to enhance my features. I always feel makeup should augment your look and not change your face haha. Nishant wore an outfit from Curato. We definitely coordinated our colours - the traditional boy and girl colours you know!🤣"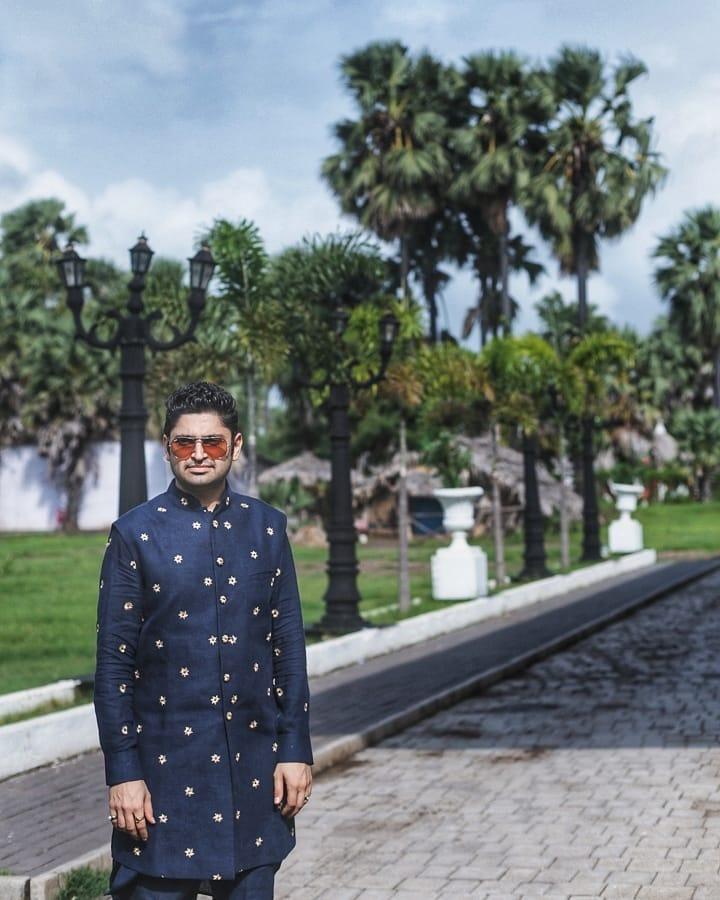 Many brides who have hosted a lockdown wedding had a tough time figuring out what to wear and how to get their hands on their wedding outfits. The lockdown made it difficult to step out and pick the wedding wears. Tanushree found her dream lehenga online. She tells us, "All my wedding shopping was done online. Very honestly, it was pretty easy for me. I have often been buying my outfits from Shantanu and Nikhil so I know my size and my perfect fit. I just needed to go through their collection and find something that suits my personality."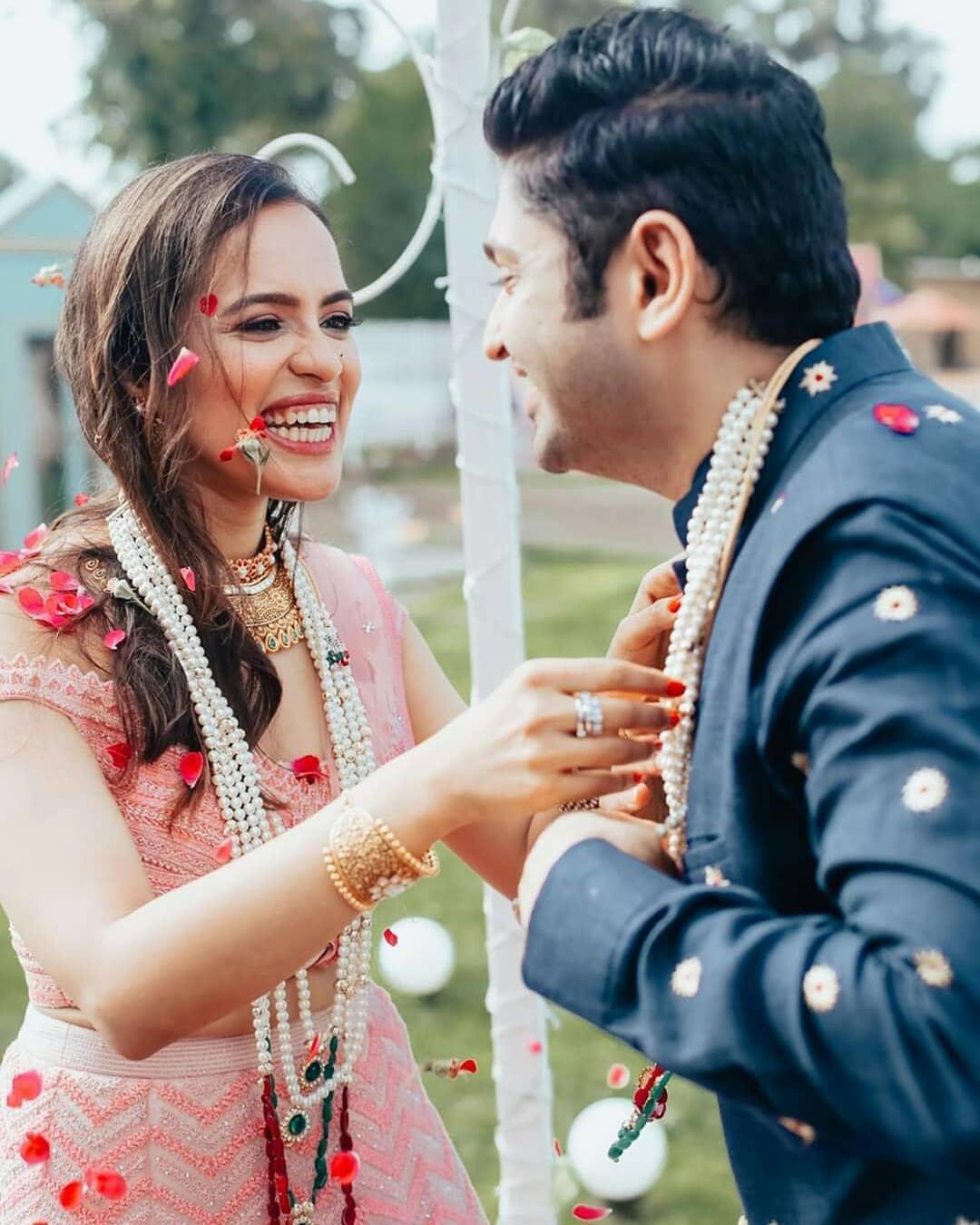 Another highlight of this entrancing wedding was the varmalas that they exchanged right after their vows ceremony. Unlike the conventional floral malas that couples generally exchange during their Jaimala ceremony, Tanushree and Nishant exchanged beautiful faux pearl malas. Giving us more insight, Tanushree says, "The credit for this goes to my mom. She's super creative and always thinks out of the box. The varmalas are actually semi-precious stones."
The Team Who Helped Tanushree In Putting 2 & 2 Together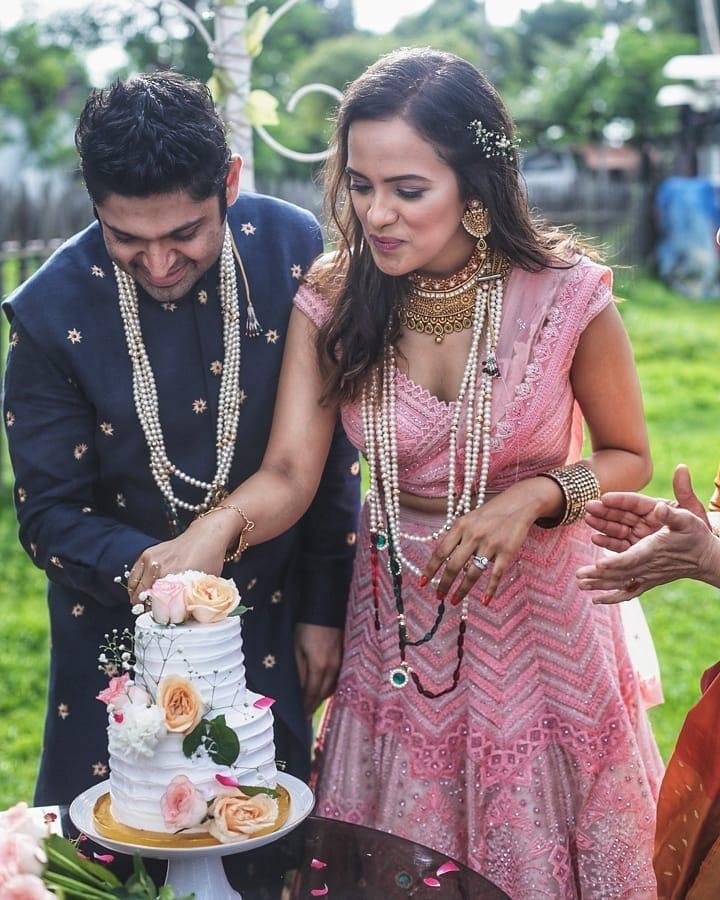 "Everything from start to finish was done by me. I am very very organised as a person. I must've hunted 1000 Instagram businesses to shortlist my favourites. We went back and forth with our preferences via email after that," says the Super-bridechilla.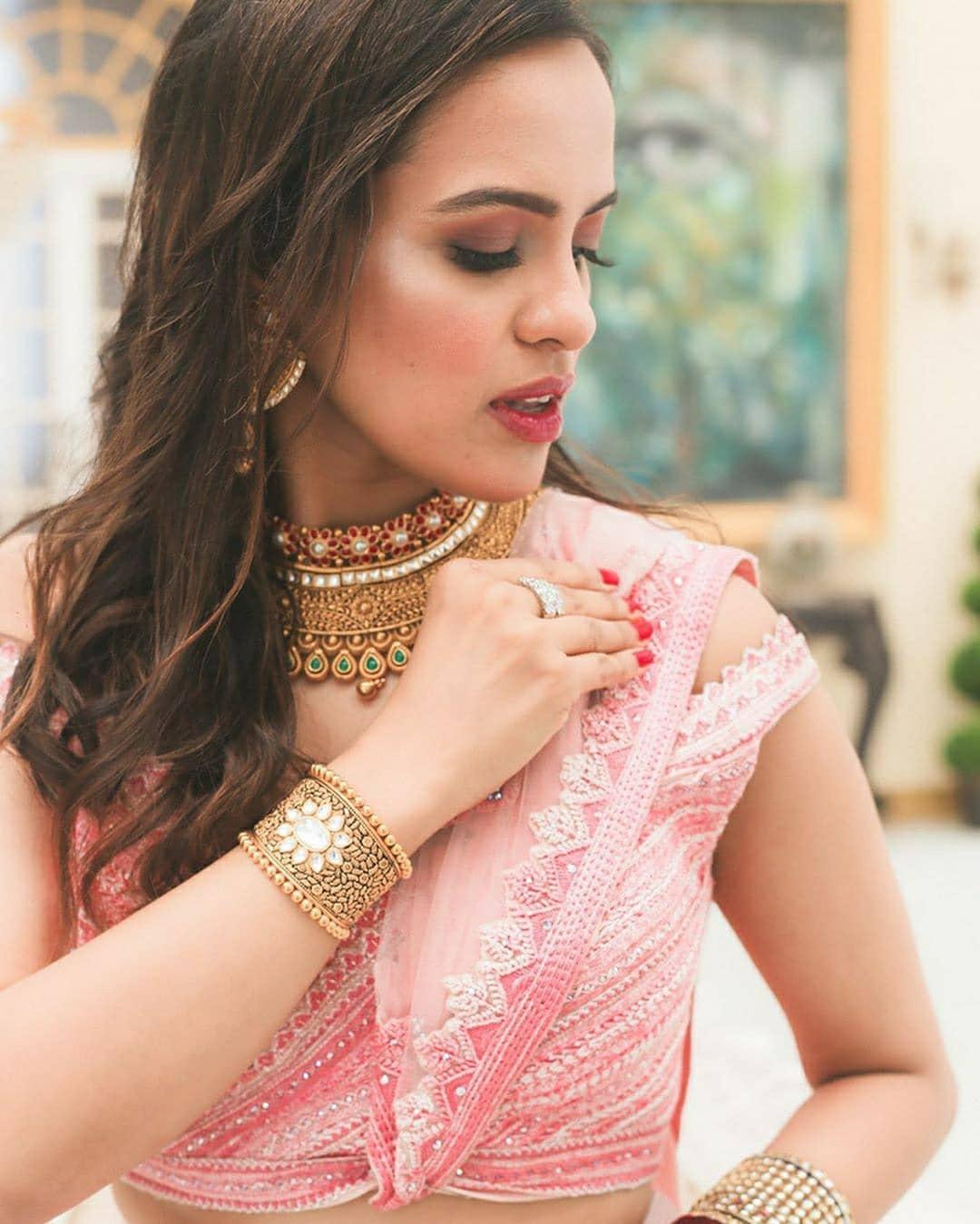 Tanushree and Nishant's wedding was beautifully captured by Adak Vishal Photography & Moon Bohra. She also had a team of ace makeup artists by Janki Makeup Artist. She wanted a nice-looking volume in her hair with loose curls and she looked drop-dead gorgeous, TBH! Apart from this, to be on the safe side, without taking any chances, the food was prepared by the team of professionals at Ministry of Eggs which is owned by Nishant himself.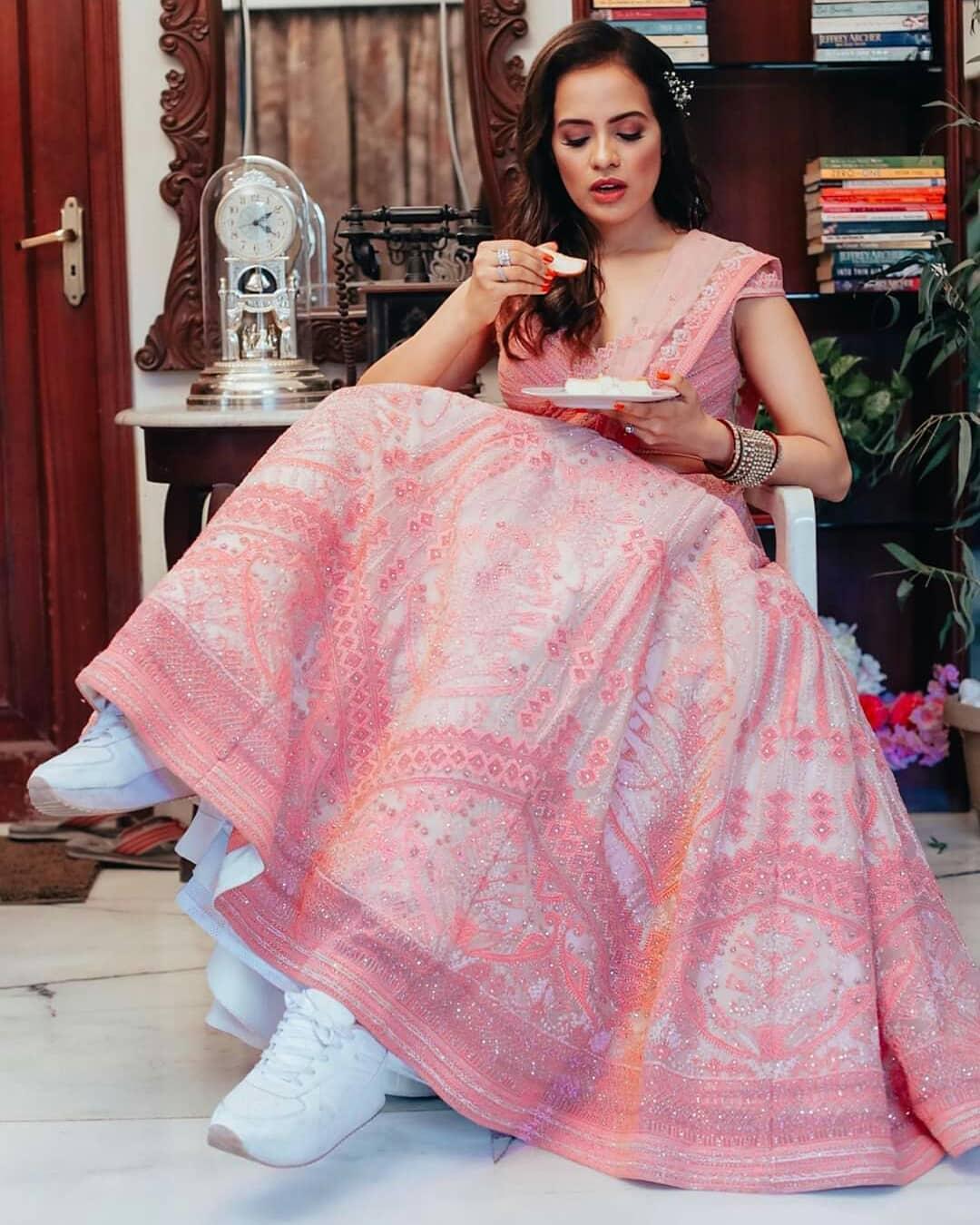 They had to pick a seated arrangement for the wedding brunch keeping in mind the social distancing norms that are still very much real. She tells us, "Owing to the current situation, a buffet was not possible. So we had a seated arrangement. My husband has his own chain of restaurants and catering business. It was pretty easy for us to handle the catering."
Their gorgeous wedding cake was baked by Juana Oswal and the astounding part is she is a 13-year-old!
Tanushree's Take on Intimate Weddings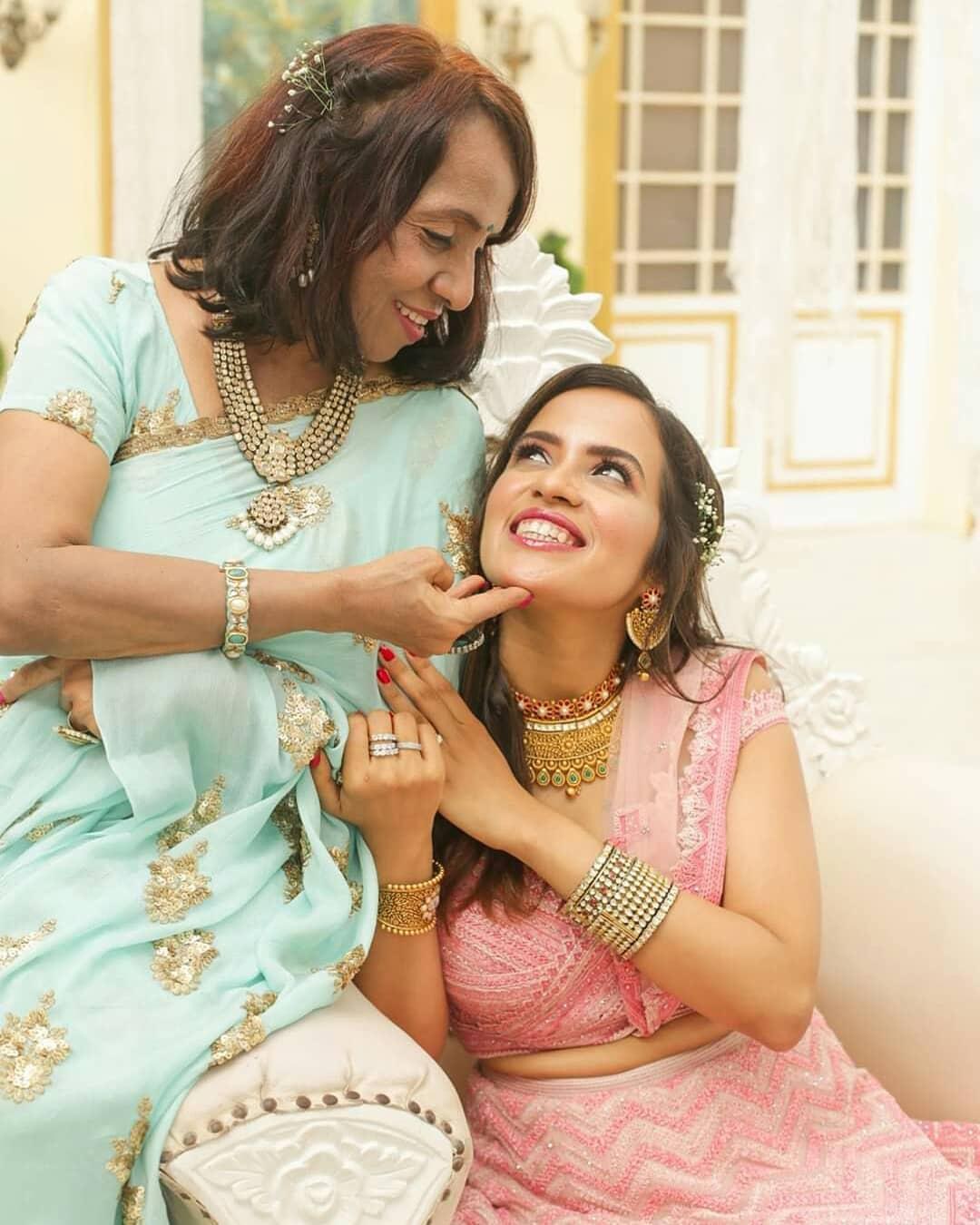 When a wedding takes a whooping U-turn from being a big fat Indian wedding with thousands present to witness and bless the couple, to just 20 people, it is heartbreaking. Especially when everything was planned. However, Tanushree and Nishant made their way to downsize their wedding guest list to 20 and be aligned to the need of the hour and the government regulations too.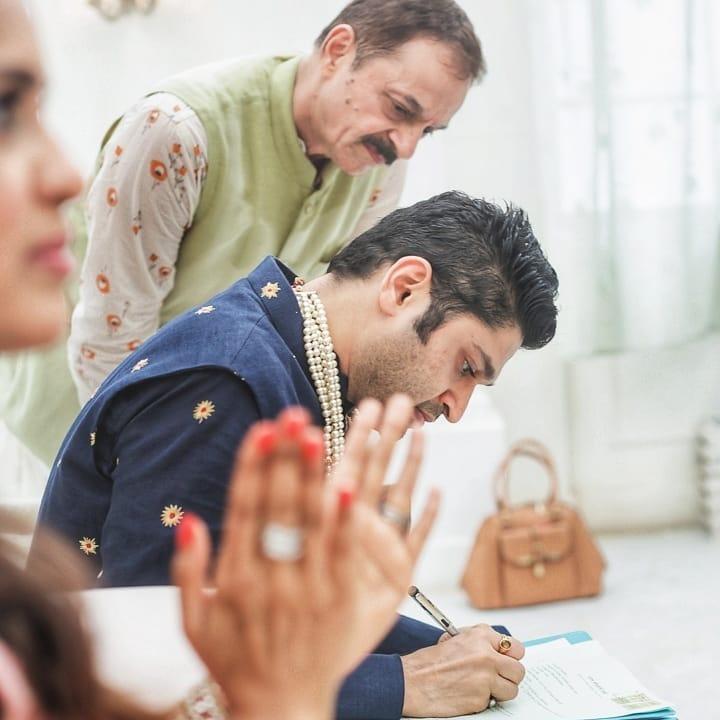 However, couples can actually plan a lavish wedding even if it is an intimate wedding even when the pandemic is not a looming situation. On that note, Tanushree shares a tip for the brides-to-be saying, "I feel intimate weddings are a lot of fun. I would recommend the brides-to-be to plan an intimate destination wedding. That's my dream for next year actually."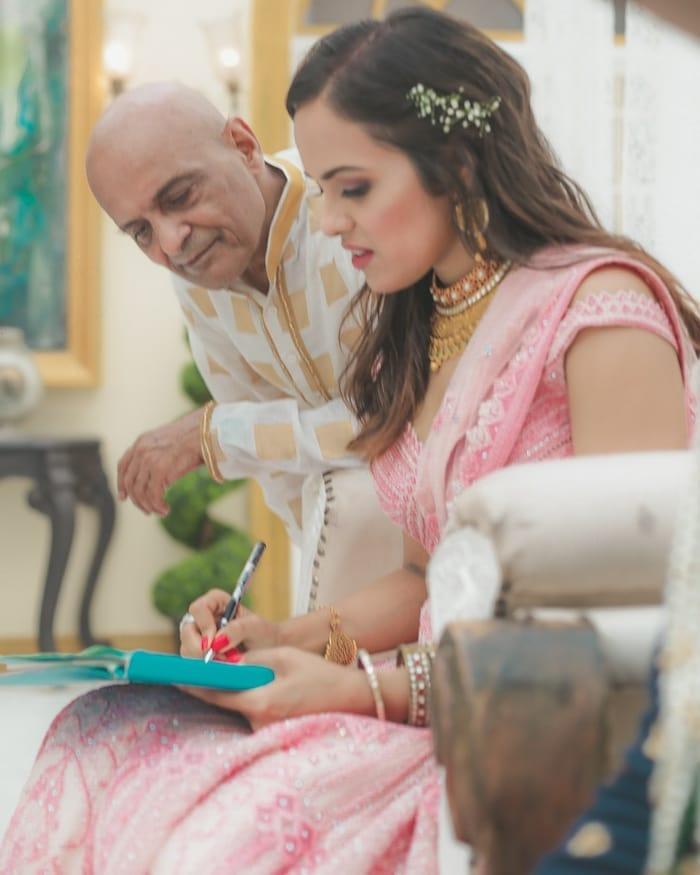 She adds, "In fact, smaller weddings are a lot more fun and relaxed, especially for the bride and the groom. I put all my attention to the theme, decor, food, music and vibe of the wedding." The size of the guestlist is indeed not a factor that determines a wedding experience if it's done right!
Some Relationship Takeaways for The Couples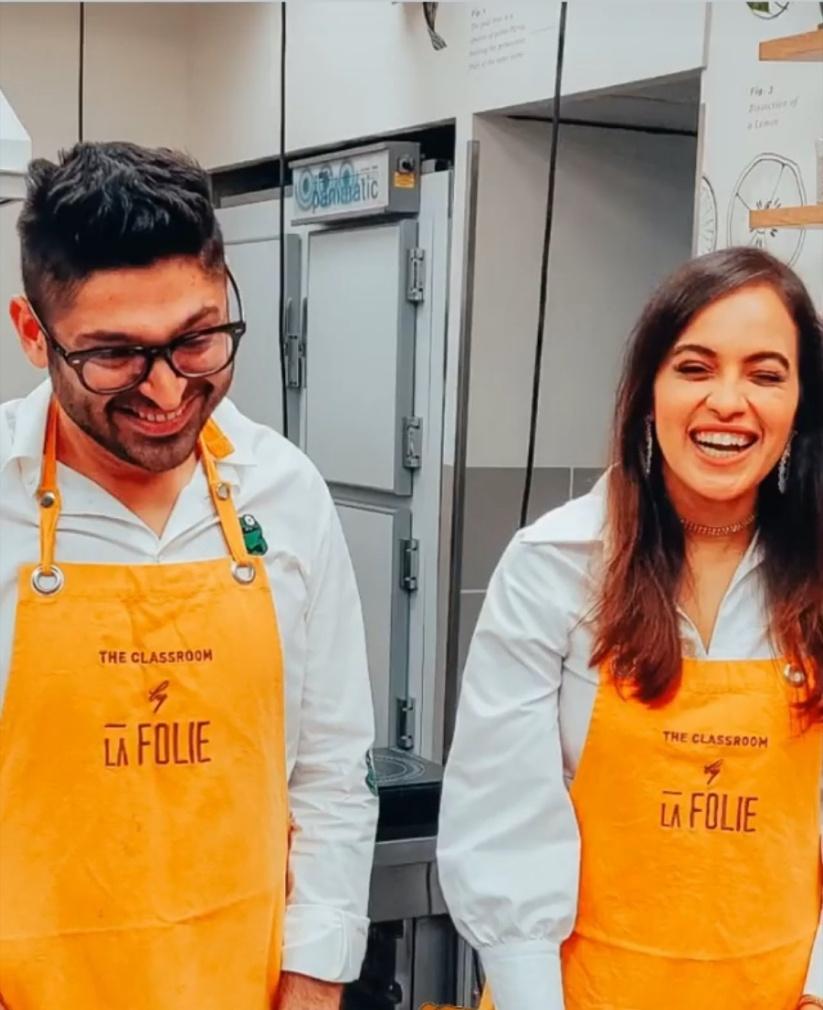 Before Tanushree walked down the aisle to exchange her vows with Nishant, the duo had participated in a baking class together and their adorable pictures melt our hearts. Tanushree says, "It was actually a bachelorette/Pre-wedding celebration with 30 of our closest friends (Pre-COVID). I organised a vegan dessert cooking class for us at La Folie. Nishant and I love cooking together. So naturally, this pre-wedding celebration was our favourite date! Food and wine - can you imagine a better way to celebrate with your friends?"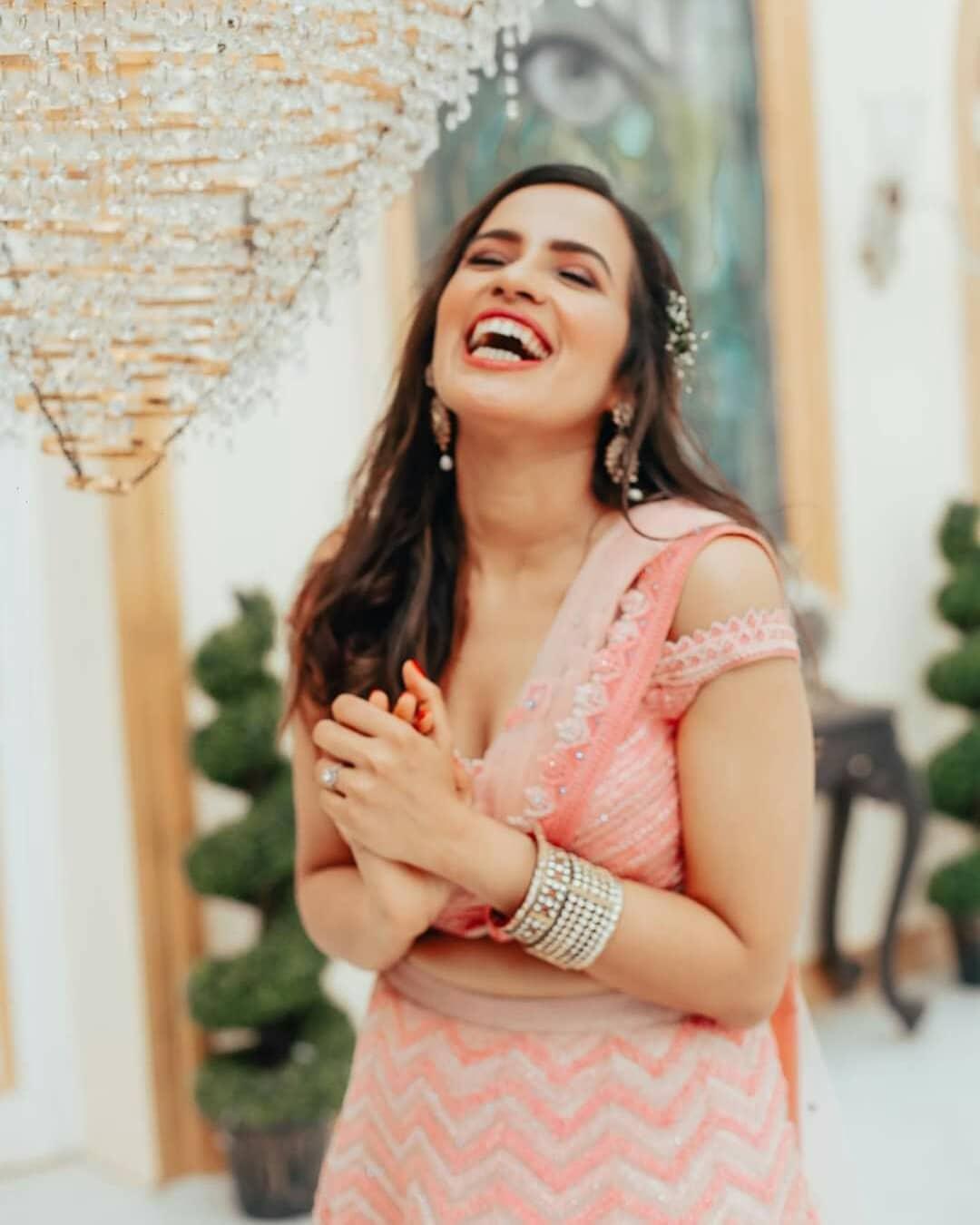 On similar notes, Tanushree says, "For us, the best part about staying apart was understanding each other on a deeper level. We realised if we can overcome this uncertain and unpleasant time together then we can overcome any problem in our lives. The distance was painful and excruciating but we channelised our energy into work and supporting each other to grow. Also, lots and lots of FaceTime!😝"
The intimate wedding was indeed dreamy. However, there are some things that the couples are deemed to miss having at an intimate wedding especially with the government guidelines and rules in place that keep you from travelling or inviting more than the given number of guests. Tanushree tells WeddingWire, India, "I missed my extended family, they all live in New Delhi and abroad. We did so many video calls together planning the Sangeet. But I'm sure we will fulfil this next year."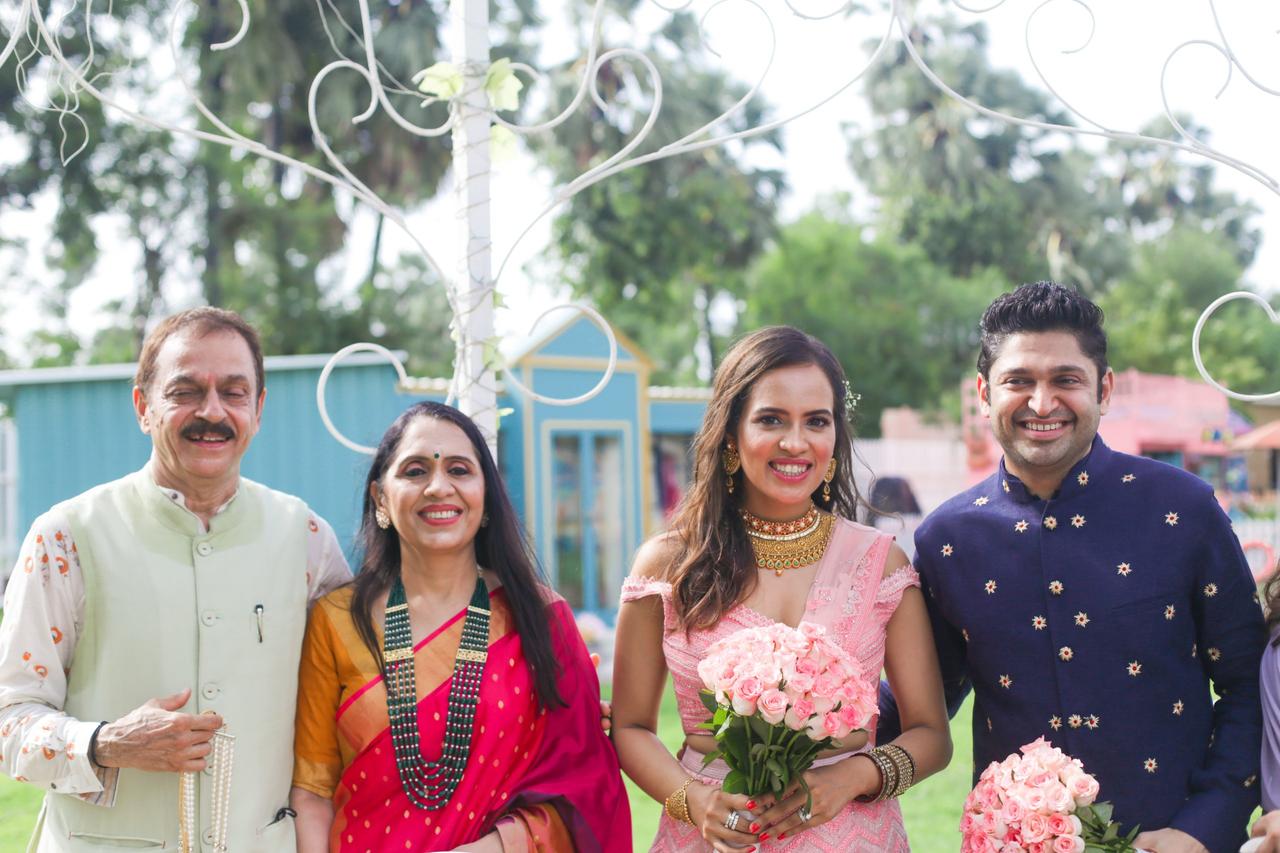 Ending the interview on a positive note, Tanushree confirms, "Yes, I am planning a big wedding next year. I don't have any dates in mind. The times have made me realise that it's better to take each day as it comes. Currently, I'm happy and enjoying my married life- I always say marriage is more important than the wedding. But it doesn't hurt to have a fairy tale wedding either!😜 "
Their intimate wedding was a HOOT! In one of her Instagram pictures, her caption says she was speechless. She had expected this to be a great day, but it was greater than what she had dreamt of. She has been very expressive about her feelings for Nishant and lockdown or not, that will stay unchanged.
As the beautiful couple start a forever chapter in their lives, their lockdown wedding is also a great inspiration to many to-be-weds. From the decor to the way Tanushree draped her dupatta, their wedding was full of unique elements to bookmark.
Note: All the photographs have been clicked by Adak Vishal Photography.
Get in touch with the expert wedding planners on board to plan your intimate wedding with tailormade services to make it a unique one. Make sure to hire the best photographers in your city to capture every beautiful moment form your dream come true.