Whether you are a bride-to-be or a bridesmaid who is planning to wear an alluring traditional outfit to her BFF's wedding ceremony, picking the right style of dupatta draping is not a decision to be made in haste for how you style the dupatta can make or break the look.
No matter how stylish or designer the outfit is, and how on point the makeup or hairstyle is, the dupatta is the cherry on the top of all the hard work that has been put in to bring the look together.
Be it a contemporary veil style, an effortless drape, a wrist accessory or a neck wrap around, the dupatta has the power to make you look stunning.
1. Get Twisty: Throw It Over The Shoulder Diagonally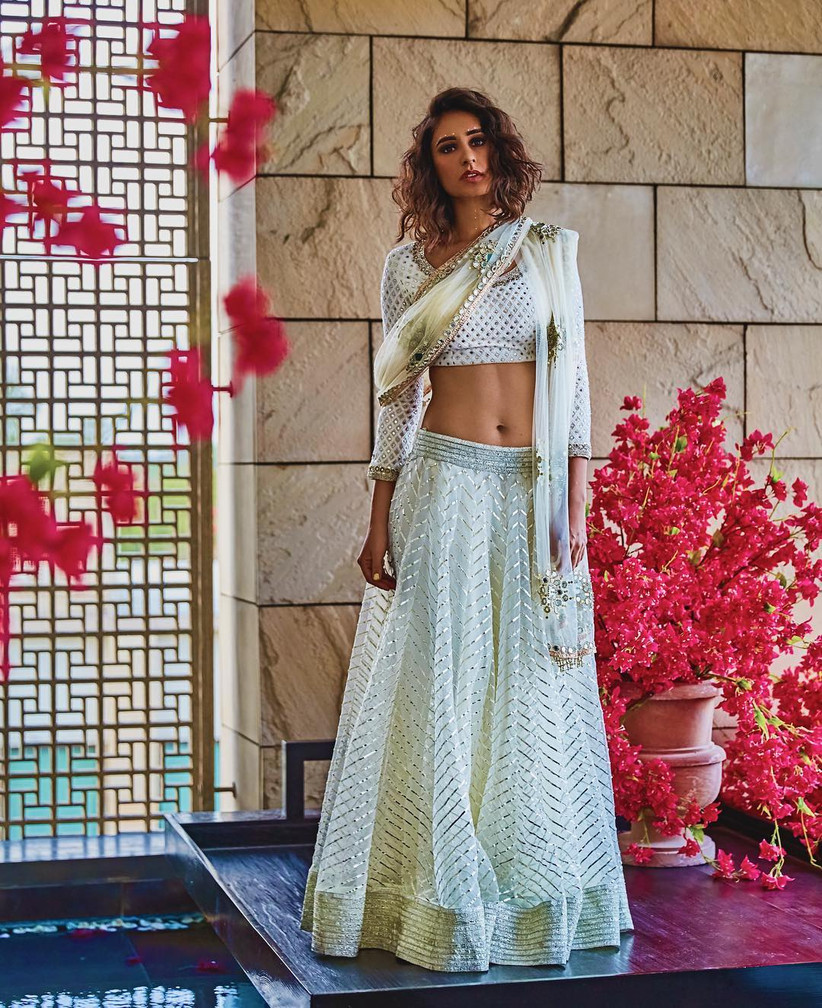 Image Courtesy: Abhinav Mishra
The modern bride does not conform to any set rules when it comes to dressing up for her D-Day. This contemporary style of dupatta draping where it is gracefully thrown over the shoulder diagonally is the perfect blend of modern and traditional styles coming together.
Comfort and fashion mix to create this unorthodox look which is on point not only for the brides-to-be but also for the bridesmaids.
2. Full Cover: Let It Fall Naturally
More often than not the outfit takes up all the glory and the dupatta which is an equally graceful and an integral part of the ensemble is overshadowed. It is either pinned on the side, used as arm candy or just placed on the head.
This doesn't do justice to all the hard work that has been put in designing the beautiful piece. So how about you let it fall naturally and take all the long-overdue glory?
This style of dupatta draping works best when you want to flaunt that heavily embroidered chiffon dupatta or that sheer net dupatta that looks breathtaking.
3. Drape It Like A Saree
When you are torn between wearing a lehenga and a saree, choose this style of dupatta draping instead. You can move freely in this easy-breezy outfit that offers the best of the saree style and the elaborate lehenga.
You can pose in varied styles that are advantageous to these two elements coming together. So don't hold back and twirl around, girl.
4. Keep It Simple: Put It Around Your Neck
When you want to flaunt that gorgeous neck design and the intricate work on your blouse and sleeves, go for a simple style of dupatta draping. Put it around your neck to keep the flare of the dupatta intact all the while highlighting the precise work of your outfit.
This style keeps the dupatta in place and does not let it interfere with all the fun that has been planning for the ceremony.
5. Flaunt It Like A Shawl
The moment you hear think about an outfit that has a dupatta, there is bound to be some apprehension about how it will be set into the outfit to ensure that it stays put and looks stylish. This style of dupatta draping provides all of that and more, it
6. Style Your Dupatta Like A Cape
Ditch the oh-so-regular styles of dupatta draping for this one. Style your gorgeous dupatta like a cape and channel your inner diva (and superwoman).
The best part of wearing it like a cape is the fact that you won't have to keep fixing and/or worrying about the dupatta while you are having fun. This makes the cape style a go-to option of dupatta draping for all the no-hassle brides and even bridesmaids.
7. The Classic Ghunghat
Who says a modern bride cannot opt for a super traditional look? This bride, right here, is proof that modernism and traditionalism, when mixed in the right proportions, results in a fantastic look.
The ubiquitous symbol of the wedding from the yesteryears, the classic Ghunghat adds drama to this outfit. This style of dupatta draping is a go-to if you want the old-world charm added to your modern outfit.
8. Wrap It Around The Wrists
Wrapping both ends of the dupatta around the wrists is yet another hassle-free style of dupatta draping. This style is one of those ever-stylish forms that have never gone out of fashion.
Oh, and if you have taken the liberty of adding personalised tassels to the ends of your stunning dupatta, then this dupatta draping style is the perfect way to flaunt them.
9. Cover A Shoulder
This style of dupatta draping is quite similar to the shawl style. But there is a twist. Rather than draping the dupatta across your shoulder, how about you cover one shoulder and let the dupatta fall loosely from the back on the other arm?
This style is more casual and chic, and it makes for the perfect style of dupatta draping for the bridesmaids.
10. The Pretty Side Veil Style
If you too are tired of seeing the dupattas wrapped over the head or pinned in the conventional style, then add a nice touch to your wedding look by choosing this unique yet classy style of dupatta draping.
Rather than pinning it on the top of the head like it is usually done, pin it on the lower back of the head like a side veil. This style is pretty, sophisticated, and traditional with a little twist.
11. Keep It In Place With A Kamarband
You don't want to be busy fixing your dupatta while everyone enjoys drinking and dancing at the ceremonies, do you? So to help you enjoy the wedding functions to the fullest, we have added this smart style of dupatta draping to our curated list.
Adding a classy belt or a Kamarband to keep your dupatta in place will not only add oomph to the overall look but will also complement your beautiful curves.
12. Wear It Like A Veil
Want to look all royal and pretty for your wedding? Then check out this graceful style of dupatta draping and wear it like a veil. It will make for a beautiful element that will ten-fold the beauty of your wedding outfit.
And imagine the number of new and unique poses that you can strike in this style. The possibilities are endless with this decent and royal form of dupatta draping. Oh, and don't forget to make a grand entry.
While growing up, we have seen the evolution of fashion in terms of all the elements of the wedding trousseau, however, we have witnessed the mixture of traditional and modern elements when it comes to dupatta draping styles.
There is no dearth of brides opting for the classic Ghunghat while an influx of fashionable, contemporary, and modern styles have got enough takers too. And that is why we have curated a list of dupatta draping styles that has something for everyone.
So whether you are going for a simple and traditional look or you want to look like a royal bride, we are sure you will find something that suits your style in this list.
Don't forget to share these dupatta draping ideas with your BFFs and slay at the next wedding, girl!