Real Brides Who Wore Customised Wedding Masks To Their Intimate Wedding
Take inspiration from these stunning real brides who wore customised wedding masks and turned the tables of the ordinary, by adding the glimpse of a new bridal accessory to their wedding ensemble.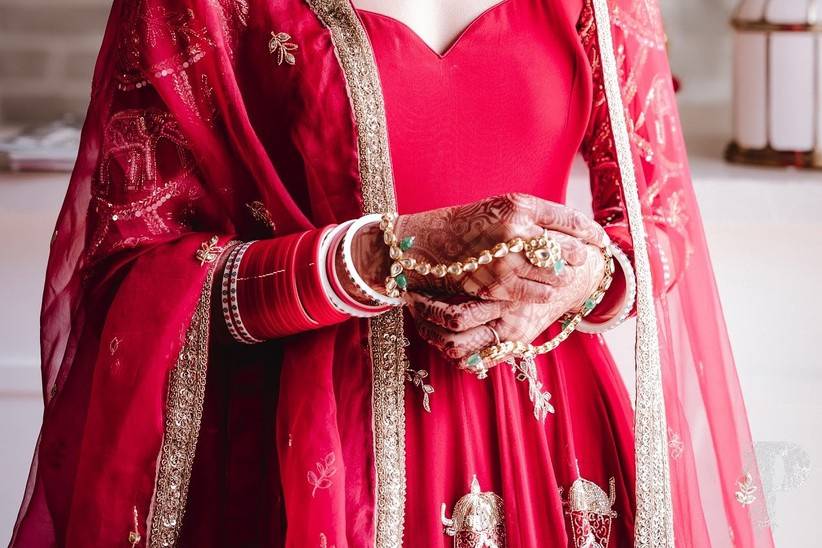 Did someone say COVID and Intimate Weddings? This unusual combination has set a new bar of positivity and creativity with full grace. Nowadays, brides have pushed the button of trending and are fascinated over the matching outfit with a fancy wedding mask. Who thought these masks would become so important and will create a unique space of bridal accessory for all brides-to-be?
Why vibe out when you can vibe in with an appealing wedding mask and make tons of jolly memories with your loved ones? Having an intimate wedding doesn't mean that you don't have to look out for your own safety. Get your hands on prettiest wedding masks which match with your royal bridal outfit and hit your D-day with full enthusiasm and a carefree attitude.
From lace to embroidered masks, we are swooning over these new accessories like a happy bee! We are in awe of these millennial brides who are experimenting their look with full charm. Dearest brides-to-be, this is your chance to flaunt your wedding mask and grab the 'In Ankhon Ki Masti' moment while you shine in your matching bridal outfit. Scroll up for a bunch of enchanting brides who rocked their wedding attire with these masks!
Ring The Wedding Bells in Pretty White Masks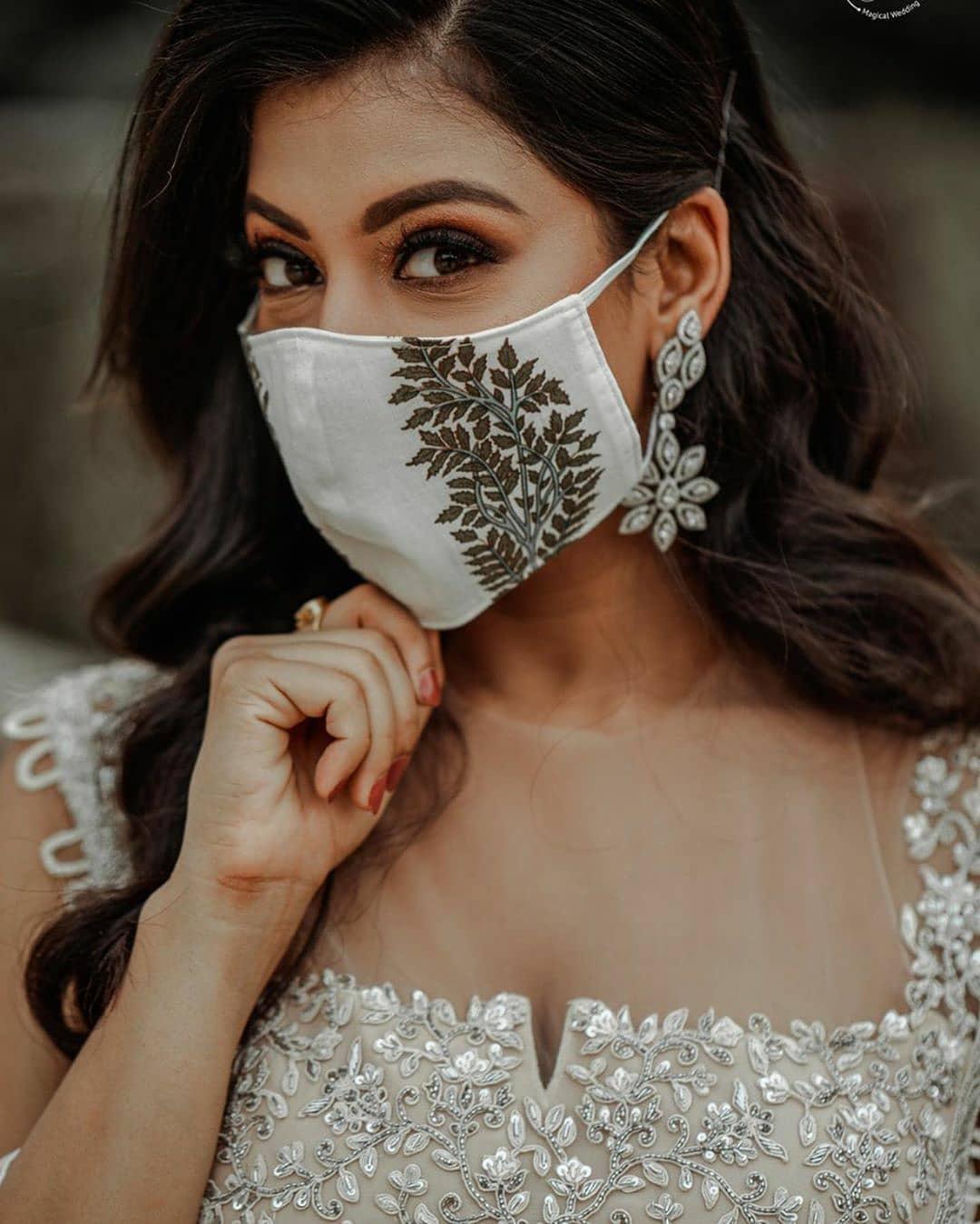 This leafy print bridal mask has set an elegant print on our hearts. Are we right, or are we right?
Designer Bhavdeep Kaur designed her own Wedding Mask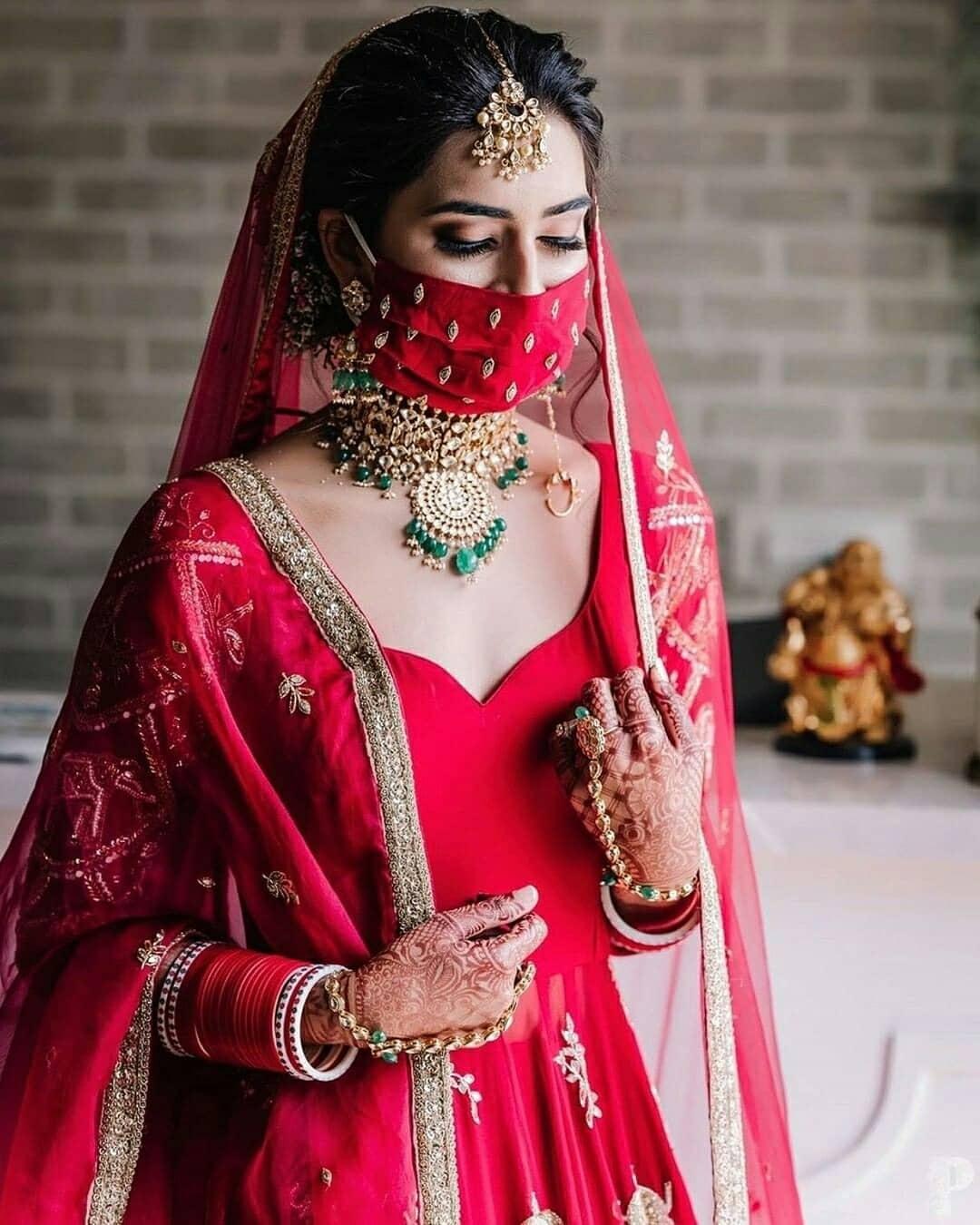 What is better than designing your own wedding outfit and adding a gleaming factor by crafting a shimmery and matching wedding mask? Be it a cheerful mehndi ceremony or an enchanting wedding function, Bhavdeep Kaur, founder of Youngberry official, grabbed all the strings of elegance, charm, beauty and managed to clutch the attention of the guests with these intricately designed face masks. Glittering embellishments, embroidery and motifs are some factors in her wedding mask, to drool over!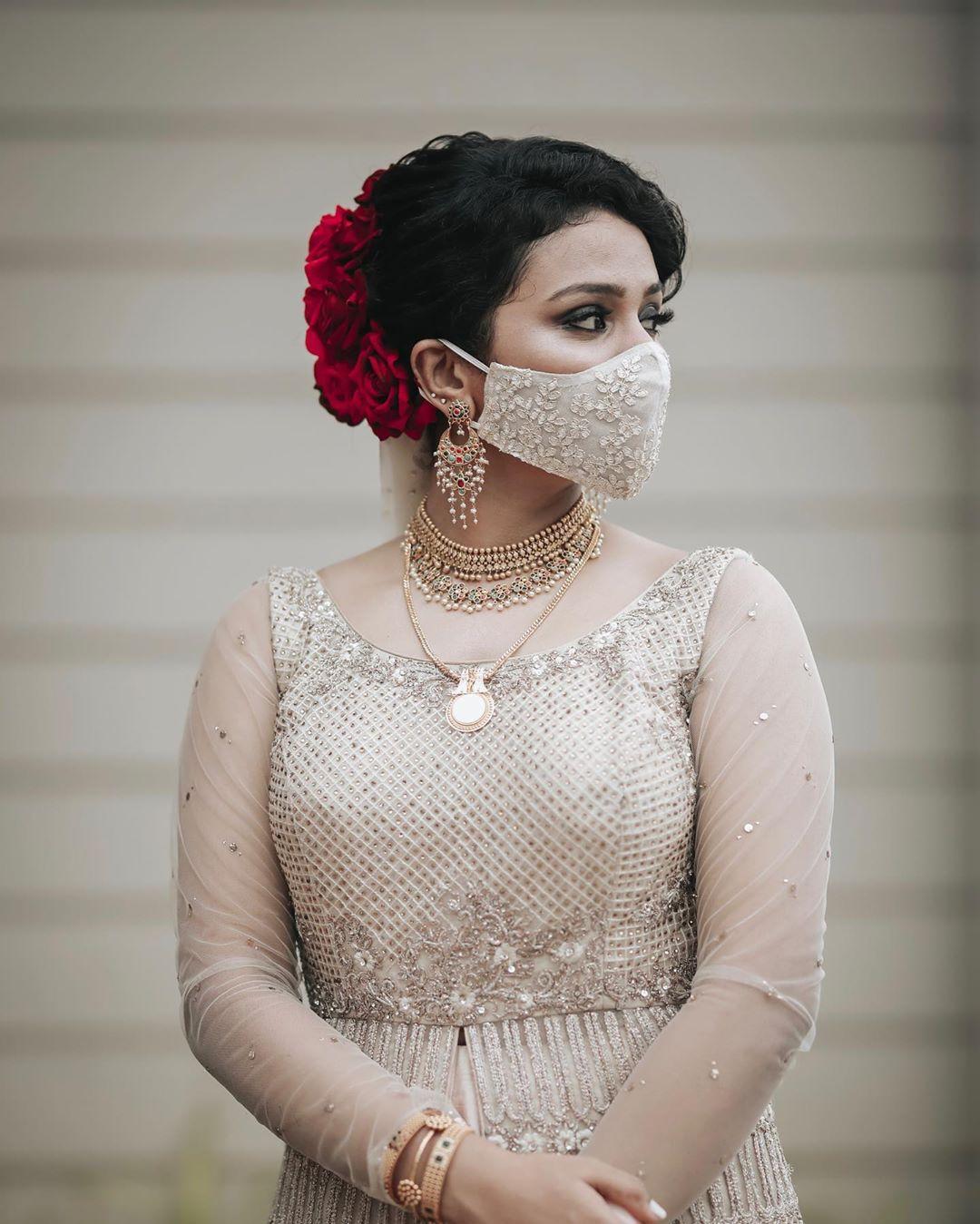 Image Courtesy: Nandgopal Iyyamparambil
Not a fan of beaded masks? Not to worry, this embellished face mask is perfect for your D-day and will give you princess feels!
White has always been the colour of peace and when this colour is blended well with a classic wedding outfit, the rays of elegance showers throughout. How about topping your attire with a matching designer face mask for your D-day? Catch some motivation from these gorgeous real brides who looked stunning in their wedding masks and queened up for the wedding!
Colour Coordination At Its Best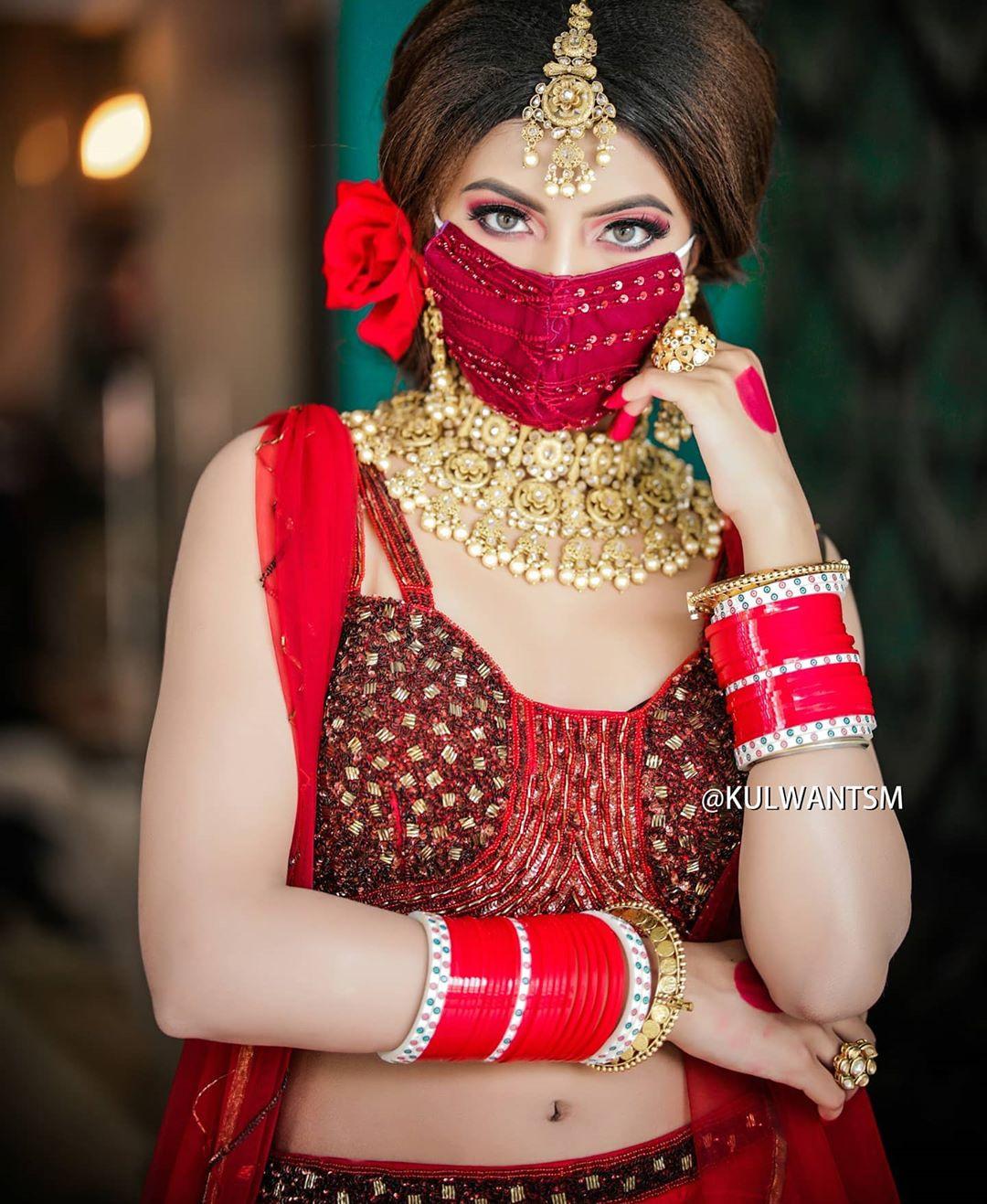 Image Courtesy: Kulwantsm
Ain't no sparkle when the sequin is not there, but this classy bride made it all right with her coordinated chic accessory.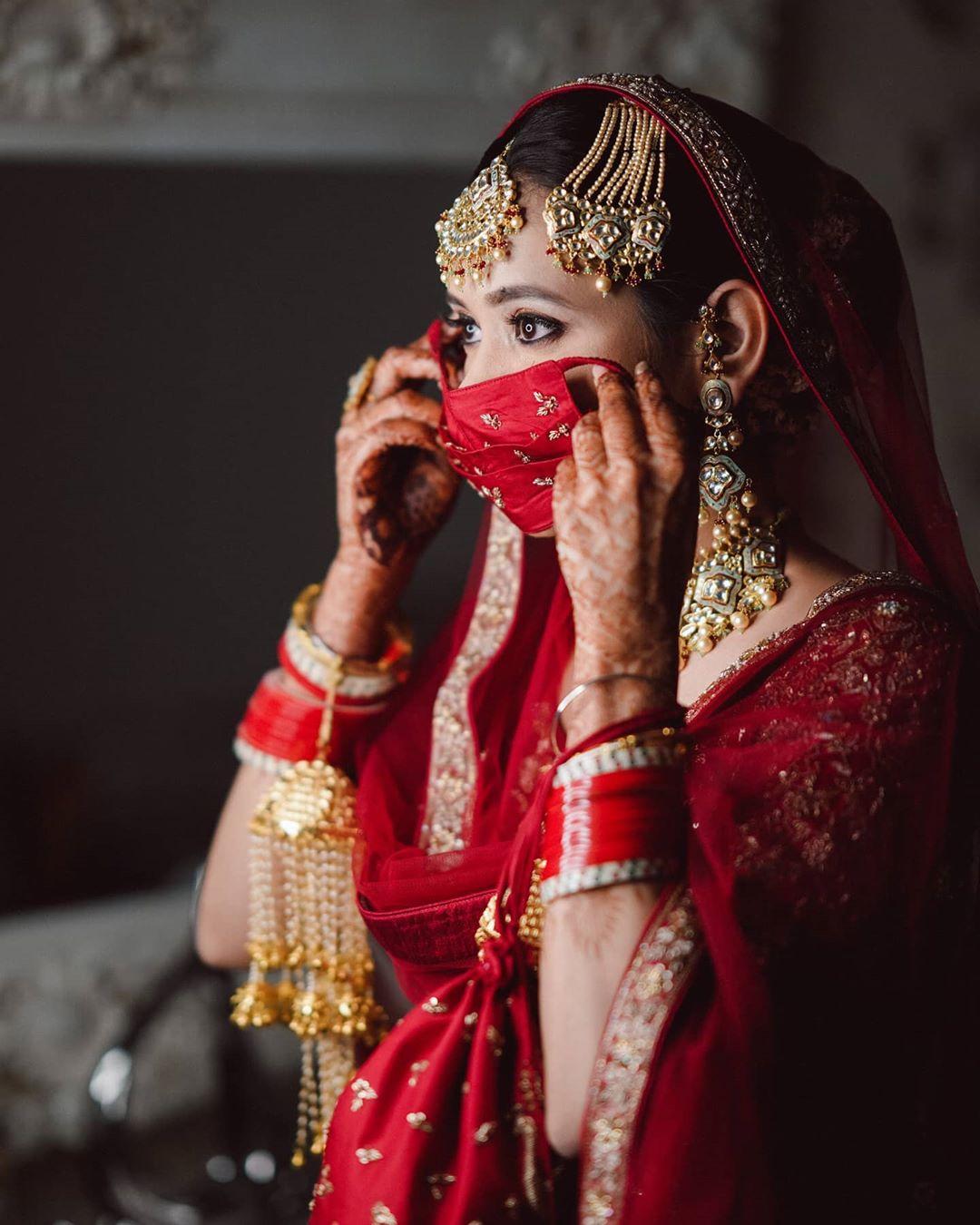 Image Courtesy: Meharaala
Where's the match? Oh, there it is! Bridal mask coordinated well with the Potli Bag. Isn't this unique?
When it comes to colour coordination, the only thing which hits our mind is an astounding bridal outfit with a matching accessory. This match can be made with anything, just like these brides who managed to top their bridal outfit with a glam wedding mask. We just can't get enough of the charisma and charm flowing from the eyes of these lovely brides!
When Royalty Met Enchanting Bridal Masks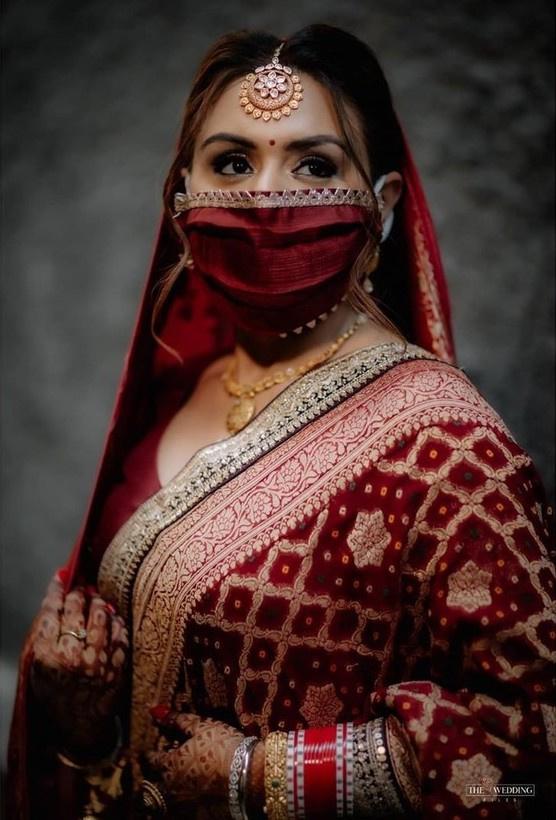 Image Courtesy: The Wedding Files
Planning to wear a blood red saree on your D-day? Don't forget to twin your saree with a bold red mask as this real bride has. Looks gorgeous no?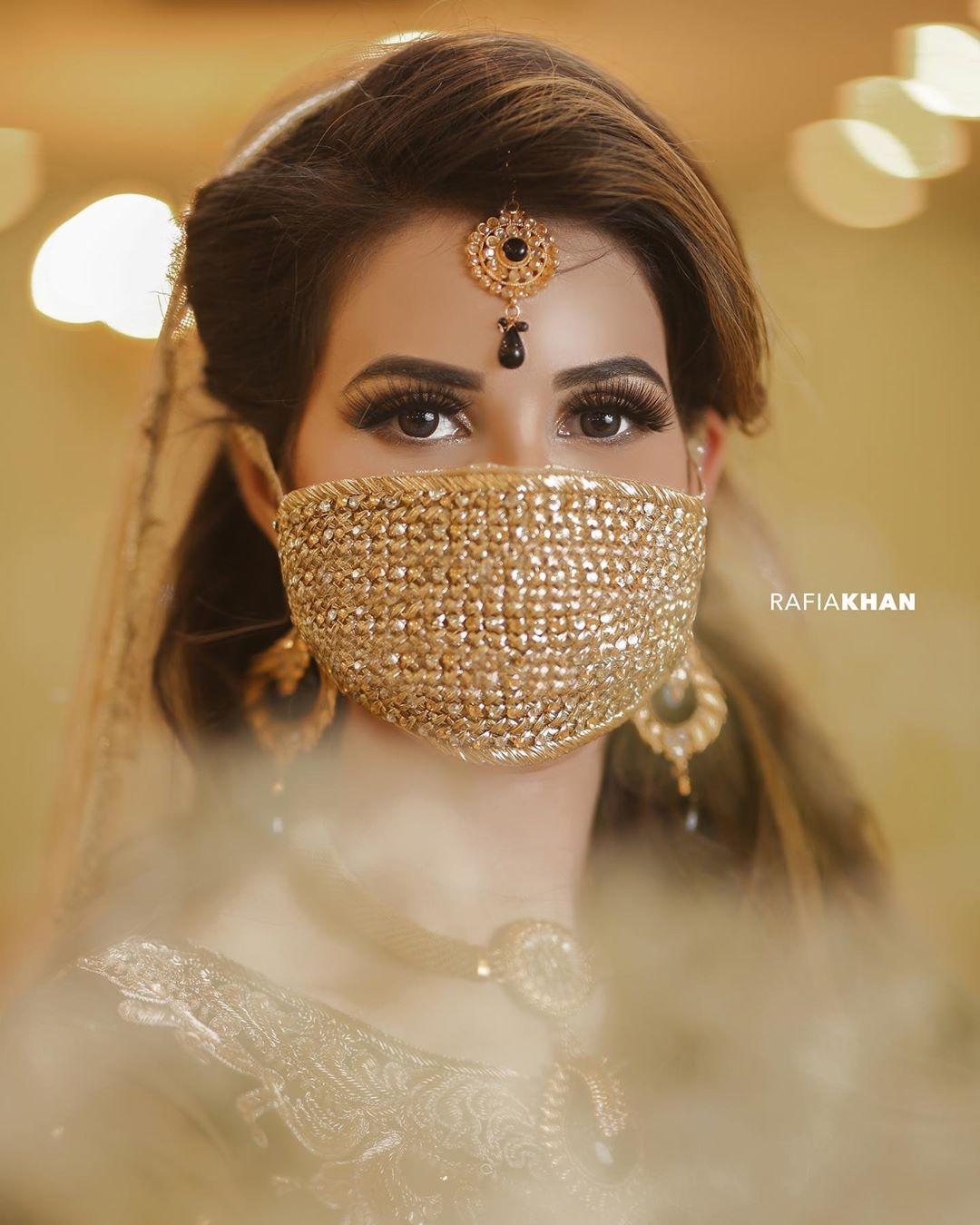 Image Courtesy: Rafia Khan
Wish to get a contrasting look for your precious day? This real bride proved it right by wearing a glittery mask which is totally opposite to her outfit. This duo of matching jewellery and bridal mask cannot get better!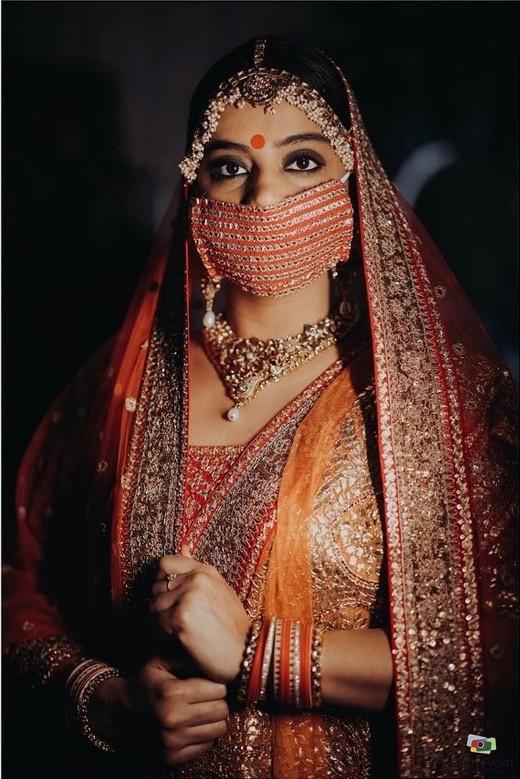 Image Courtesy: Nitin Arora Photography
We are smitten over this embroidered and glitzy orange mask, which complements the outfit well.
Wedding ceremonies are all about fun and merry memories, but when it comes to an intimate wedding, the meaning of happiness increases and the vibe of blue decreases. Let's contemplate the weddings celebrated during the pandemic and the brides who took full care of the safety of themselves and their guests with style! Face masks have given a new meaning to private weddings! We cannot agree more after gazing at these ravishing real brides who crowned their wedding with high-end uniqueness.
Pastels Are Always Perfect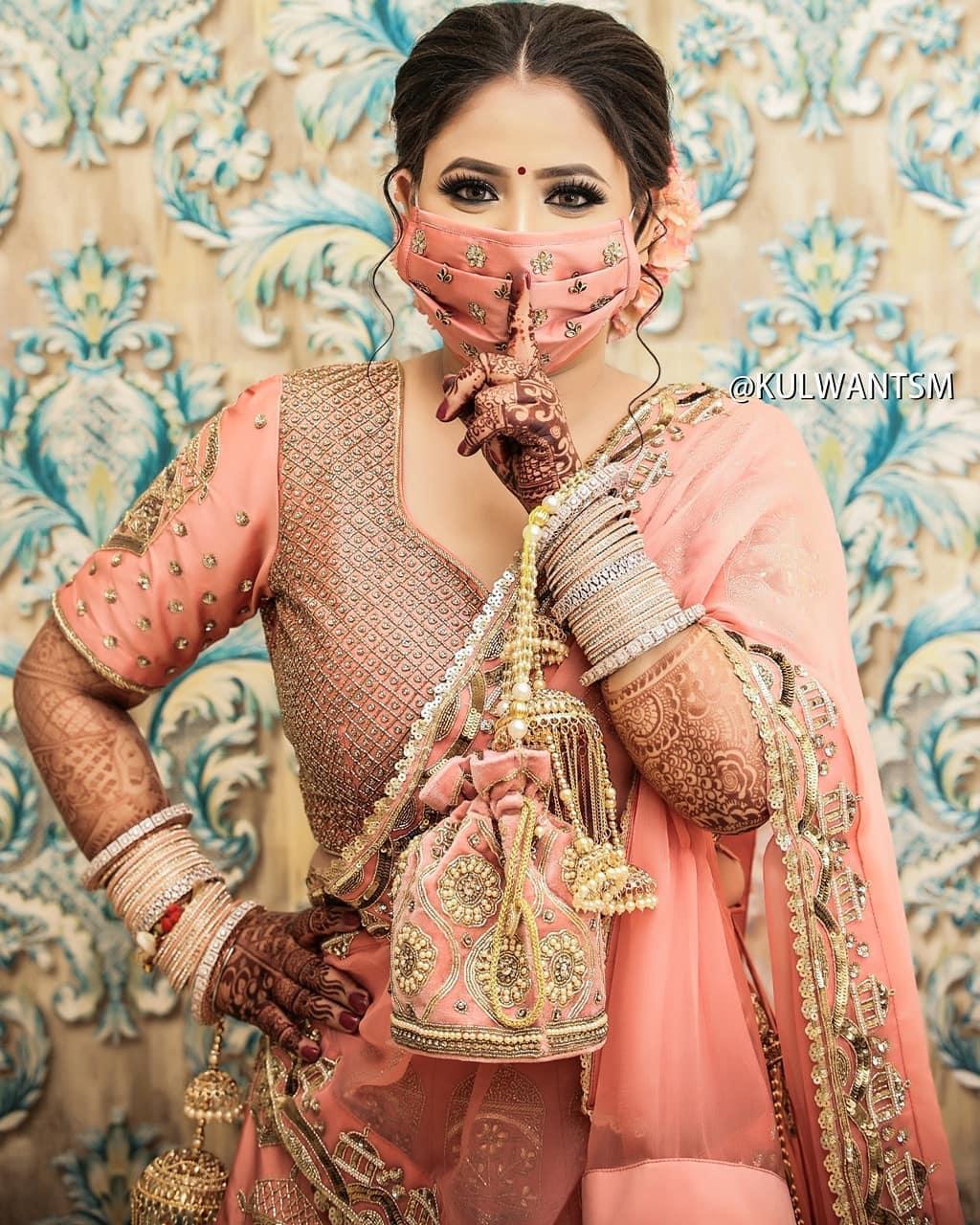 Image Courtesy: Kulwantsm
From an oh-so-pretty-peach attire to the glamorous face mask, there is nothing missing on this cheerful real bride. Crushing on it!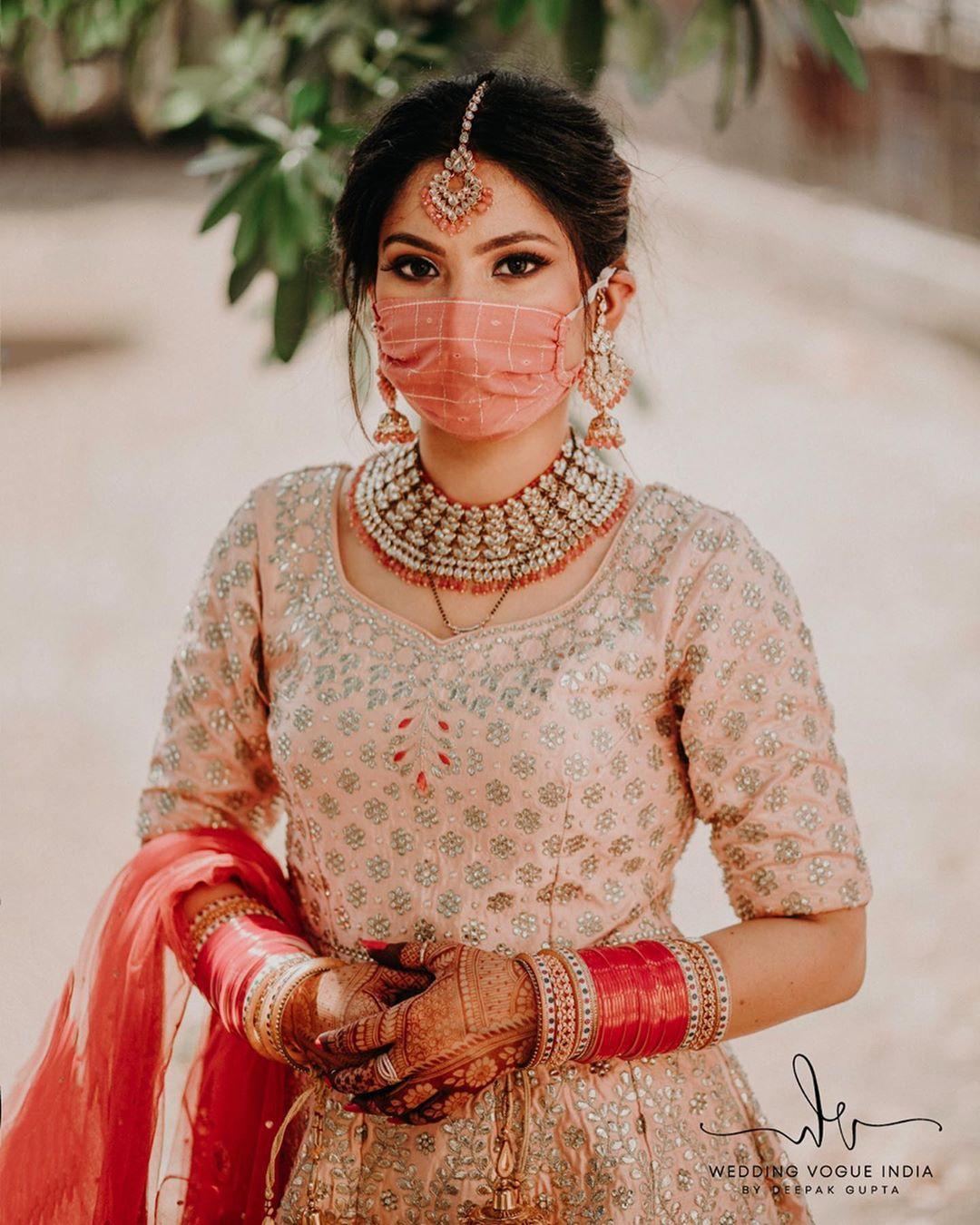 Image Courtesy: Wedding Vouge India
We know protection is the key for intimate weddings and we cannot get our eyes off these pretty bridal masks which turned out to be so good. A soft hue outfit with an elegant matching mask, what a combination to celebrate your D-day with bliss!
This pandemic has challenged many of our wedding plans and dreams, but why to stress over when you can get married in the presence of your closed ones and press the button of forever with your better half? Don't let any negativity harm your cute-little wedding wishes but also don't forget to inculcate some minute yet safe changes. Make face masks your saviour and make a heart-throbbing entry on your precious day.
How are you planning to pair your wedding outfits with face masks? Comment below and let us know about your D-day fantasy!
Words by Surbhi Sachdeva