Weddings are the biggest and the most extravagant celebrations that bring together our family and friends. The main focus of all the guests is on the bride and everybody is keen to see how she is looking at her D-Day.
This is why most girls want to make the most of the spotlight and look like the best version of themselves on a day they'll remember forever!
You can choose to wear anything from a long gown to a heavy flowing lehenga in all sorts of different colours and materials. However, a classic red bridal saree has a charm of its own which is very hard to replicate with any other outfit.
It is a popular choice for brides to wear amongst many cultures in the country. If you are also looking to join the bandwagon and wear a stunning red bridal saree, this is the right article to help you get inspired!
This minimal saree for the bride who likes to keep things light and comfortable
We start off this list of red bridal saree ideas with this minimal saree design that has a very clean and simple approach. Such sarees can be a great choice for a bride who doesn't want to spend an exuberant amount of money on her wedding outfit or for someone who wants to wear a comfortable and light outfit.
This elegant silk saree for the bride who likes delicate designs
For the next picture on this list of red bridal saree ideas, we feature this elegant silk saree with a very intricately woven design in gold that looks very tasteful and attractive. Silk sarees are extremely popular in South India, and you'll be hard-pressed to find a bride who dresses in anything else!
This beautifully draped traditional silk saree
Here, we have another fine silk saree with a unique drape that's known as the belt style drape. The traditional pleats are usually accompanied by a Kamarbandh that forms a belt and holds the garment loosely in place! You can experiment with similar draping styles with your wedding saree on the big day. We also recommend trying the trending dhoti drape!
Another traditional red bridal saree with a thick border
In the above photograph, we feature another stunning red bridal saree for the bride who wants to slay in a traditional avatar on her wedding. Thick borders and fine motifs add to the oomph of the overall look and make for a fine addition on this bridal saree.
This heavy silk saree studded with gold motifs
We Indians have the strongest obsession with gold especially when it comes to our Big Fat Weddings and the bridal outfits. This heavy silk saree has a big splash of gold, making it a fine outfit of choice for the bride who likes some bling in her look.
A classic Sabyasachi silk saree worn by Anushka Sharma on her wedding Reception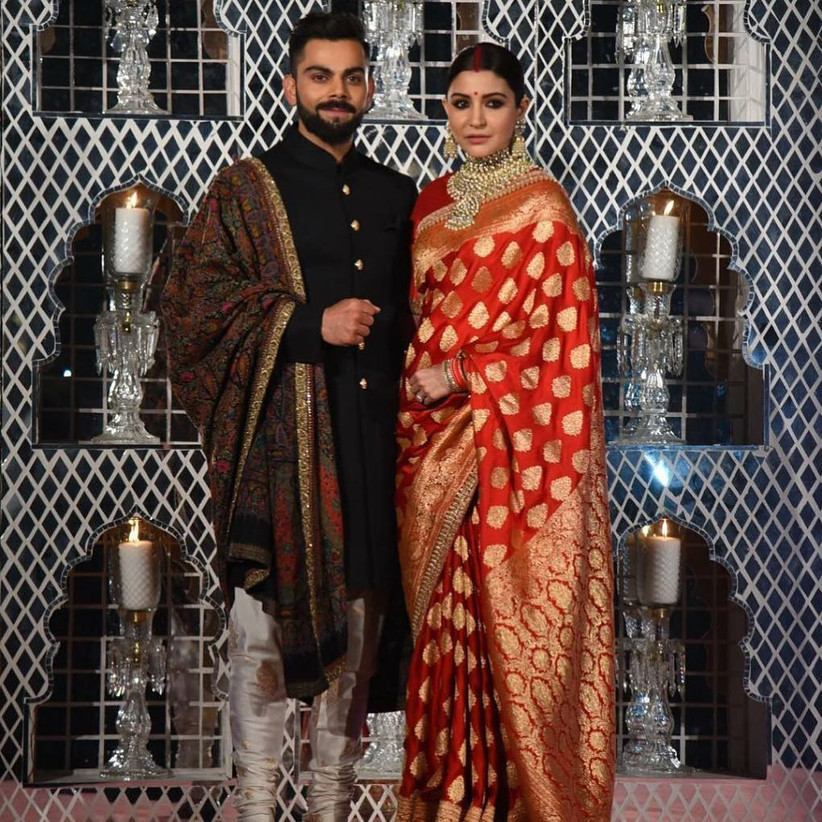 Image Courtesy: Sabyasachi's Official Instagram
For the next image in this list of red bridal saree options, we feature Anushka Sharma wearing a traditional bridal silk saree from Sabyasachi and slaying her Reception look. The brocade silk saree is a classic style that's usually associated with the Banarasi saree, making this a lovely traditional ensemble to have in your trousseau!
This light red bridal saree with a sleeveless blouse
This light red bridal saree can be a fine choice for the bride to wear during a summer wedding or for an outdoor function during the daytime. It makes for a great choice if you want to stay comfortable and go for a subtle design.
This traditional silk saree with a splash of purple and gold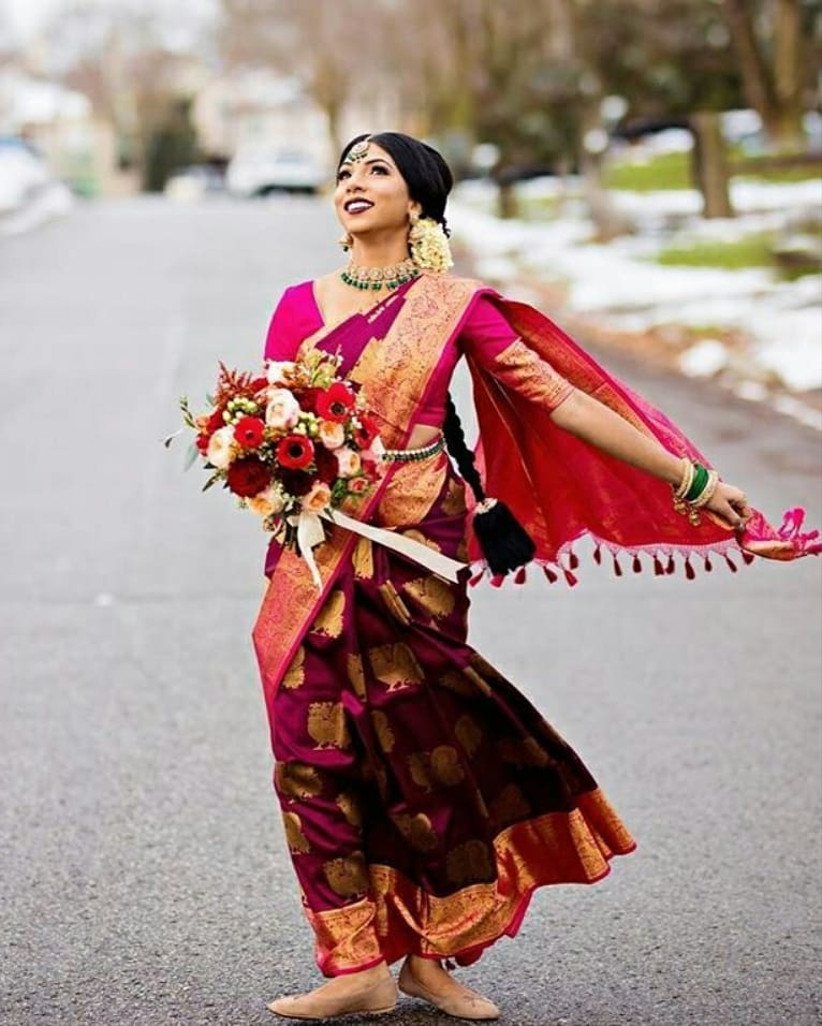 Image Courtesy: Treasured Photography
Here, we have another traditional silk saree with splashes of purple and gold, making it a fine outfit for a bride who wants to go for an elegant look on her wedding!
Another classic silk saree with a fine design and a thick border
For a bride who wants to stick to the basics and doesn't want to experiment too much with her outfit, this gorgeous red bridal saree with its fine embroidery work and the thick borders makes for a great source of inspiration!
This shimmery red bridal saree for the bride who wants to shine on her big day
Concluding this list of red bridal saree, we feature this shimmery red saree ideal for the bride who likes her outfits to pop and loves a bit of shine. You can pair your saree with some interesting accessories to add to the wow factor of your bridal look.
It is not every day that you get to be a bride and wear the most extravagant of traditional outfits, so take this opportunity with both hands and make sure you slay with your looks in front of all the guests. We hope that this list of red bridal sarees helps you get inspired to pick some classic designs that you can go for on your big day!
Check out these stores near you that offer stunning bridal outfits for your big day!