Pick These OTT Sabyasachi Bridal Lehenga From Our Top Selection
A Sabyasachi bridal lehenga is a dream come true for every bride. Our top picks of the Sabyasachi bridal lehengas will make you feel like royalty.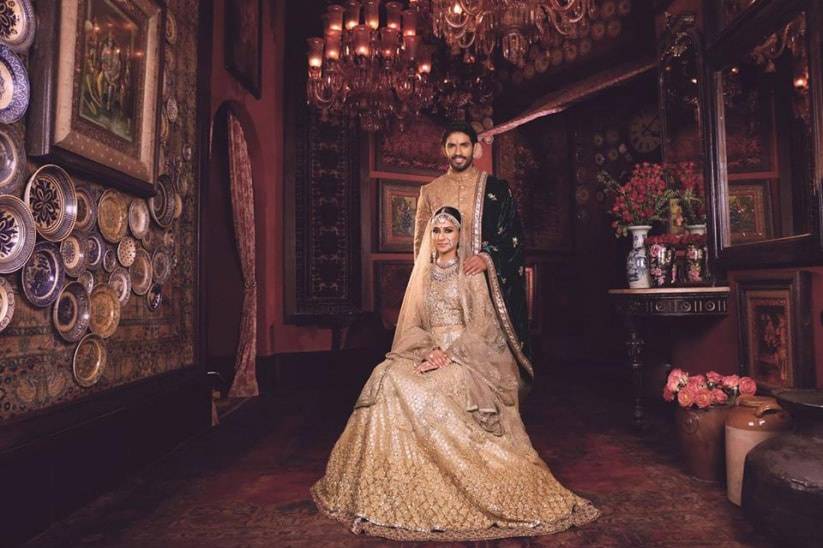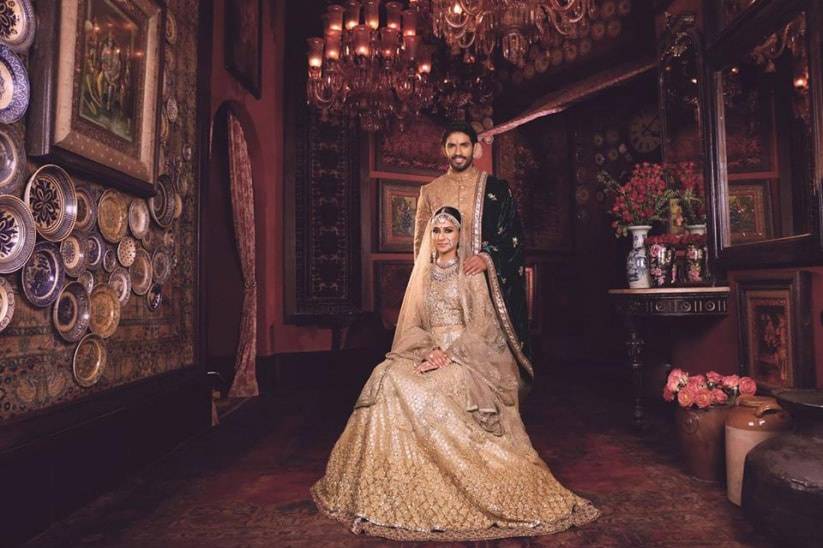 Image courtesy: Sabyasachi Mukherjee Facebook Official page
Every bride dreams of having the perfect wedding outfit and puts a lot of thought into it. The one man who makes these dreams come true every day is fashion designer Sabyasachi Mukherjee. Sabyasachi bridal lehengas are the envy of the world and every bride wants one for her wedding day as these lehengas are a statement piece, each one being unique. One can always tell that the lehenga is a Sabyasachi just by looking at the intricate work and the detailed design that is the USP of his brand.
Sabyasachi Mukherjee is a fashion designer who owns the ultimate house of high-end fashion designs for Indian traditional attires. If a bride has ever imagined herself walking down the aisle with a beautiful number as the background music to her bridal entry, 80 out of 100 times she imagines herself in a regal Sabyasachi lehenga.
The reason behind this is he is one in a million and so are his designs. Each design speaks of a story and the royalty that is always related to his pieces makes it all the more special. If you are one of the brides who wish to flaunt a Sabyasachi piece and twirl your way into the mandap and leave the guests gaping in awe, then we would want to be of some help with this guide of some of our top favourites.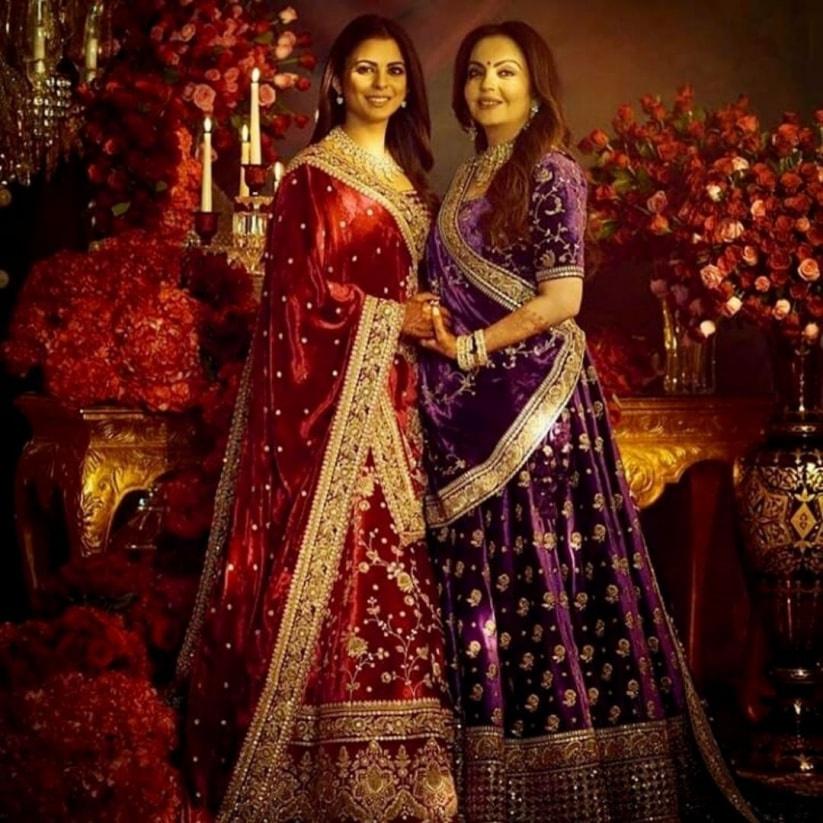 Image courtesy: Sabyasachi Mukherjee Facebook Official page
While looking for the perfect Sabyasachi bridal lehenga, you will find that you have a lot to choose from. Then you have to pick the bridal makeup and hairstyle to go with it, all of which can get pretty confusing. However, makeup and hairstyling all depend on the lehenga and the colour palette you decide to go ahead with. It is one of the most important decisions that are to be made being the lady of the hour and Sabyasachi's drop-dead gorgeous collections only make this decision harder.
To help you choose the perfect bridal lehenga, we've picked some of our favourites from his collections. Check out these stunning looking Sabyasachi bridal lehenga from this OTT listicle and get ready to serve some look son your wedding day!
1. The magic of florals in this OTT bridal lehenga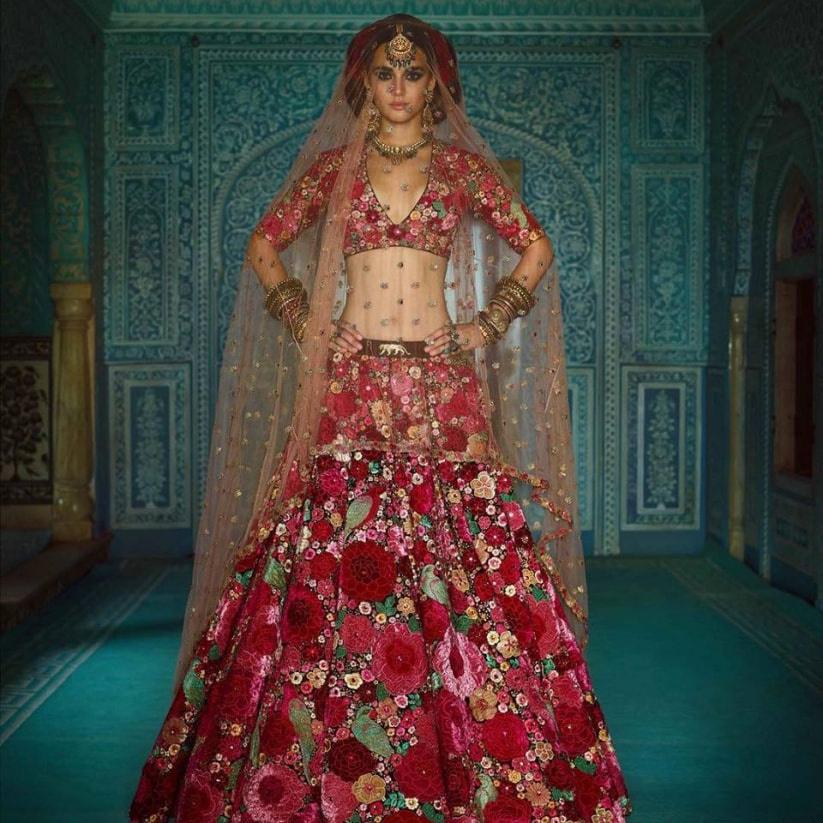 Image courtesy: Sabyasachi Mukherjee Facebook Official page
If you've been anywhere near social media during any time in the past one year, you would know about the insanely viral trend that is #Virushka. Their wedding pictures have been flooding timelines and by now, everyone has been amazed at the gorgeous setting and the bride's gorgeous wedding attire.
Florals have also evaded Sabyasachi's collections and wardrobes for quite some time now and the colours of these range from gorgeous reds to subtle palettes. The wide range is a playground for you to choose from. From floral patchwork designs to hand-sewn embroidery featuring some florals and vines - this collection is all about the floral magic and we certainly cannot get enough of them!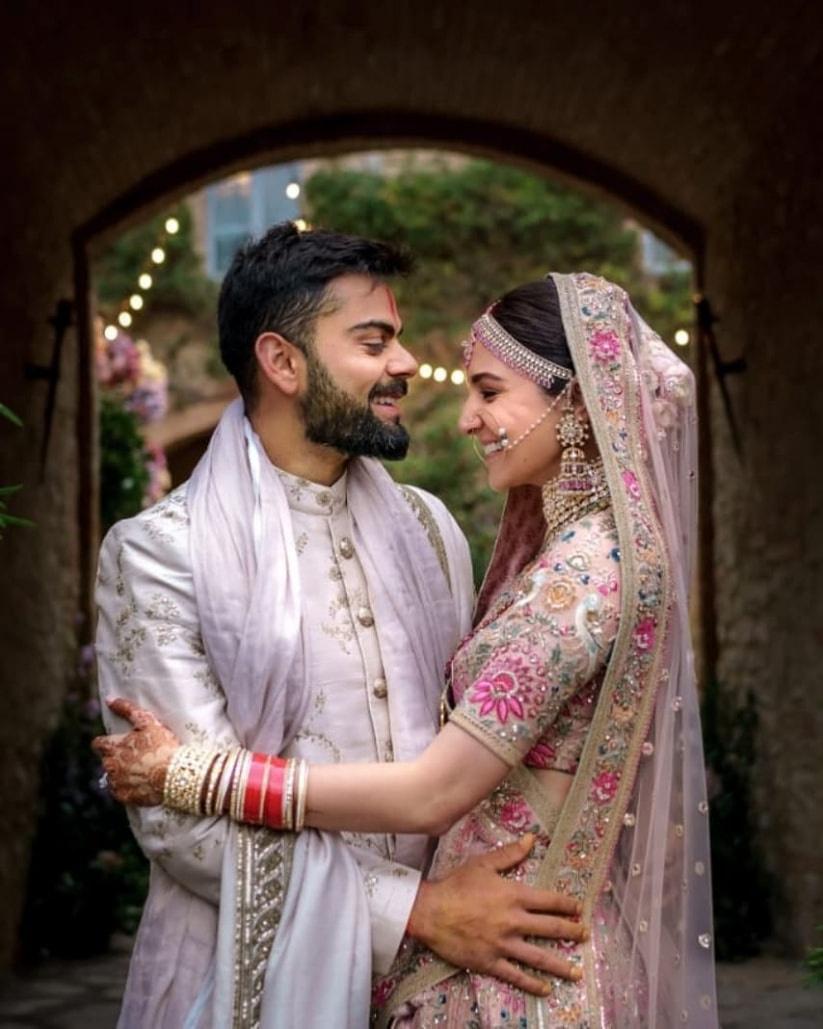 Image courtesy: Sabyasachi Mukherjee Facebook Official page
Anushka Sharma wore a floral Sabyasachi bridal lehenga for her wedding day, matching the light and sunny feel of Tuscany. Her lehenga proved that bridal lehenga designs can be spectacular even without the bling.
A floral Sabyasachi bridal lehenga is perfect for day-time weddings, especially for brides who want to look like queens lounging in their palace's gardens. Also, seeing our dearest Anushka flaunt this pastel beauty was just the cherry on the cake and therefore let us just leave it at the point where we are totally in love with this floral trend!
2. Glow in pastels with these OTT lehenga designs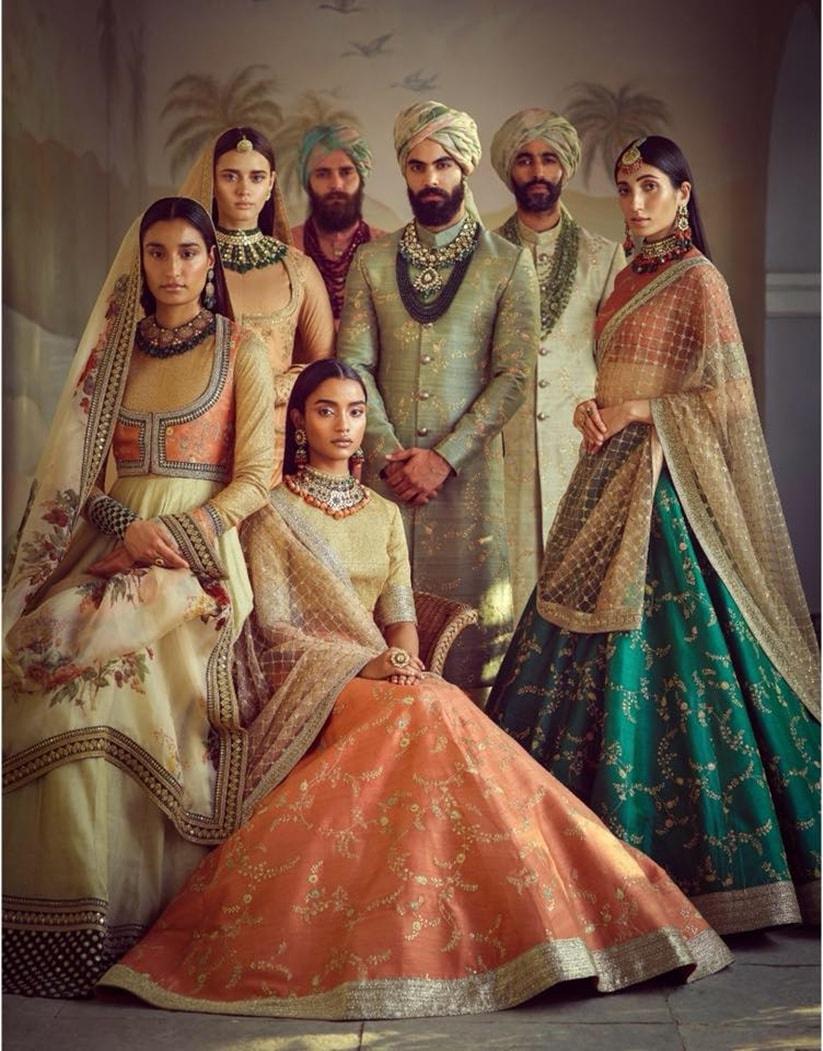 Image courtesy: Sabyasachi Mukherjee Facebook Official page
More and more brides are opting for combinations of pastel shades in their bridal lehenga designs. While the colour white used to be frowned upon for weddings but people are now steering away from superstition to make way for a classy wedding outfit that stands out in a crowd of tradition. Even Soha Ali Khan who wore a beautiful Sabyasachi bridal lehenga in gold for her wedding paired with a contrasting dupatta.
She chose jewellery in tones of green to give her lehenga a hint of colour. The off-beat colours in pastels are a treat even to the sore eyes to behold and minimal makeup with heavy jewellery set to accessorise it is everything that can never go wrong for your D-day.
3. Stay traditional with these royal looking bridal lehengas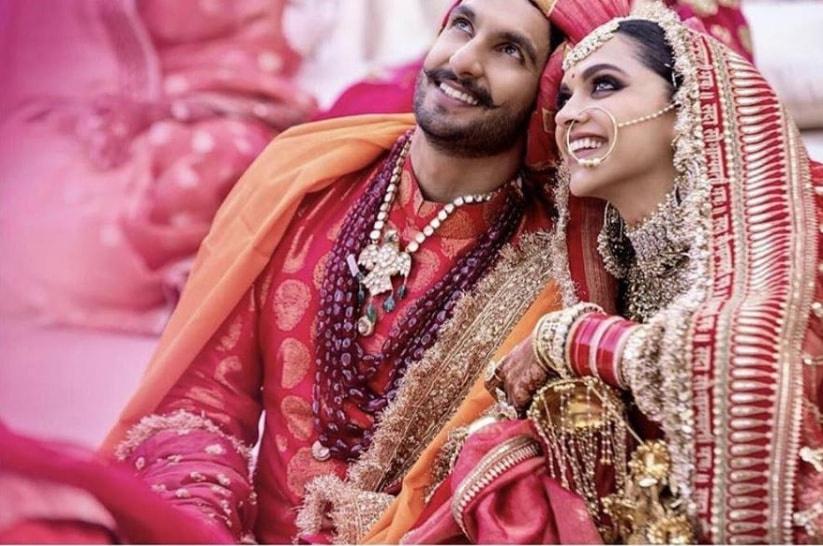 Image courtesy: Sabyasachi Mukherjee Facebook Official page
Being unconventional is great, but if tradition is your thing, a red Sabyasachi bridal lehenga is just the thing for you. A gorgeous red bridal lehenga with the right embroidery is what you will find with Sabyasachi. Nothing looks more regal than a deep red lehenga paired with exquisite jewellery. Not only will you feel like a queen, but the lehenga will also be a fabulous keepsake for decades to come.
The wedding is obviously all about going over the top and a heavily embroidered red Sabyasachi bridal lehenga is everything that needs to make the wedding ceremony an unforgettable affair and also the epitome of traditional celebrations.
4. Unconventional colours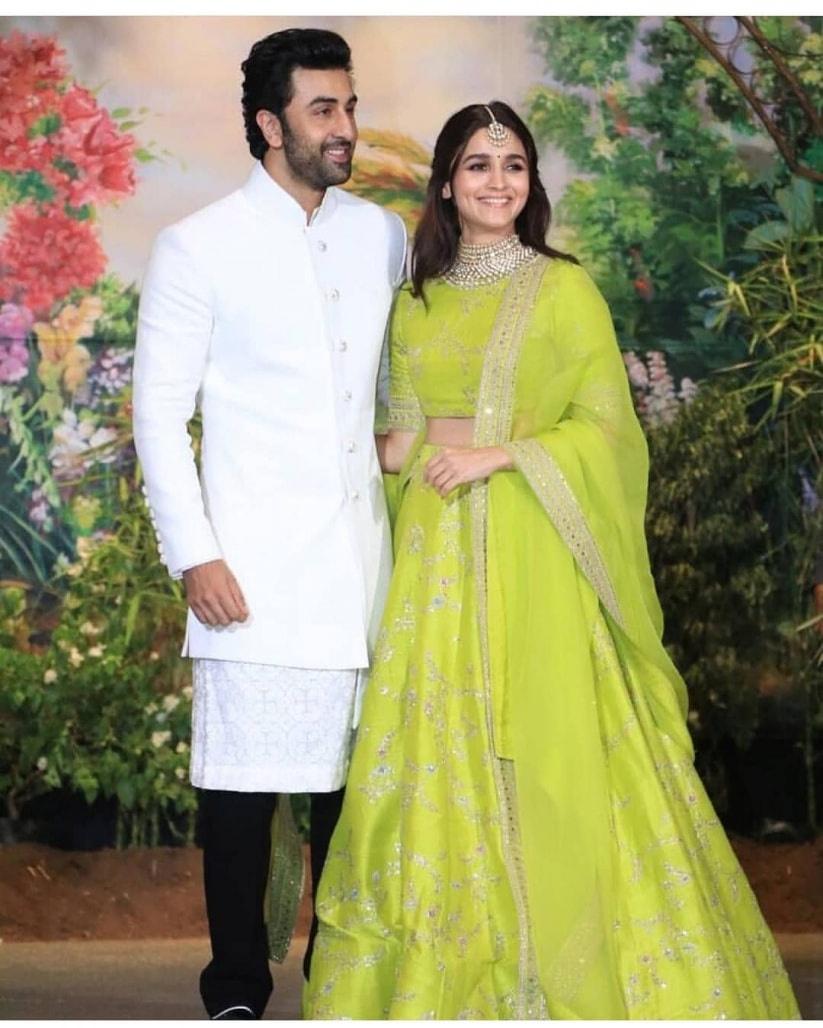 Image courtesy: Sabyasachi Mukherjee Facebook Official page
Not a lot of brides wear blues, greens, or yellows for their wedding but these colours, too, can be stunning. This type of wedding lehenga is bound to be remembered for its unique blend of fashion trends with tradition. A light green lehenga with gold or silver work and embroidery will look gorgeous for a day wedding, while a dark blue lehenga will stand out during an evening wedding. These are also a gorgeous choice for the engagement ceremonies and so on.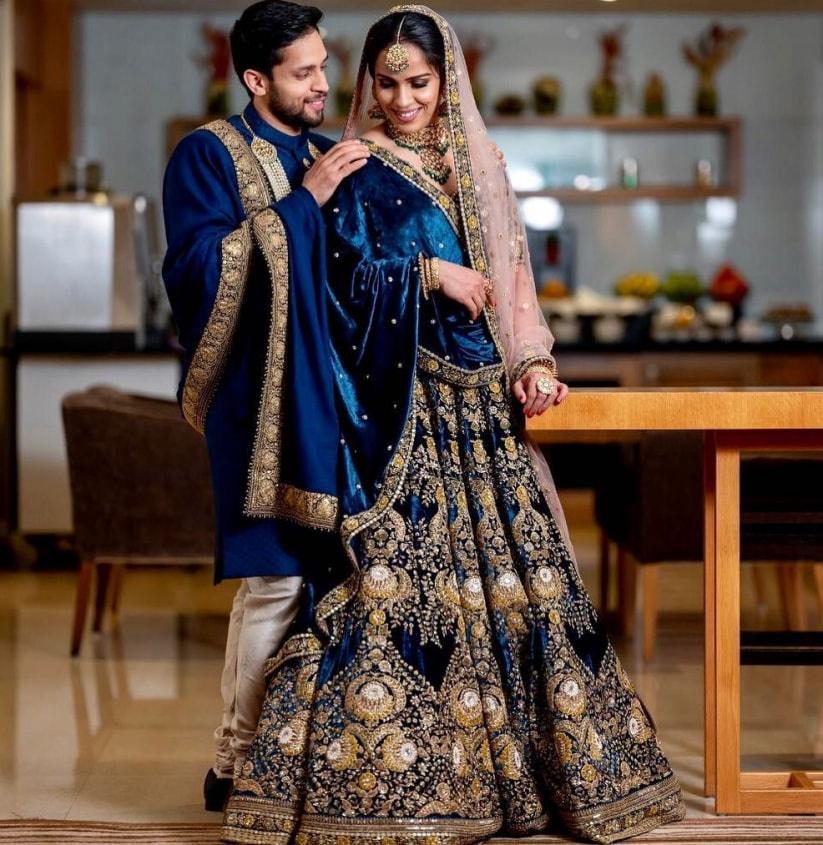 Image courtesy: Sabyasachi Mukherjee Facebook Official page
While choosing your own Sabyasachi bridal lehenga, keep your own style statement in mind. The most beautiful brides are those who make the wedding outfit work for them rather than the other way around. Also, give yourself enough time to make a choice. Start browsing a year before your big day so that you have time to be thorough in choosing your wedding lehenga. Go to a Sabyasachi store and keep your mind open, you might even get a wedding saree or the groom's sherwani along with the lehenga. You'll be surprised by the treasures you will find.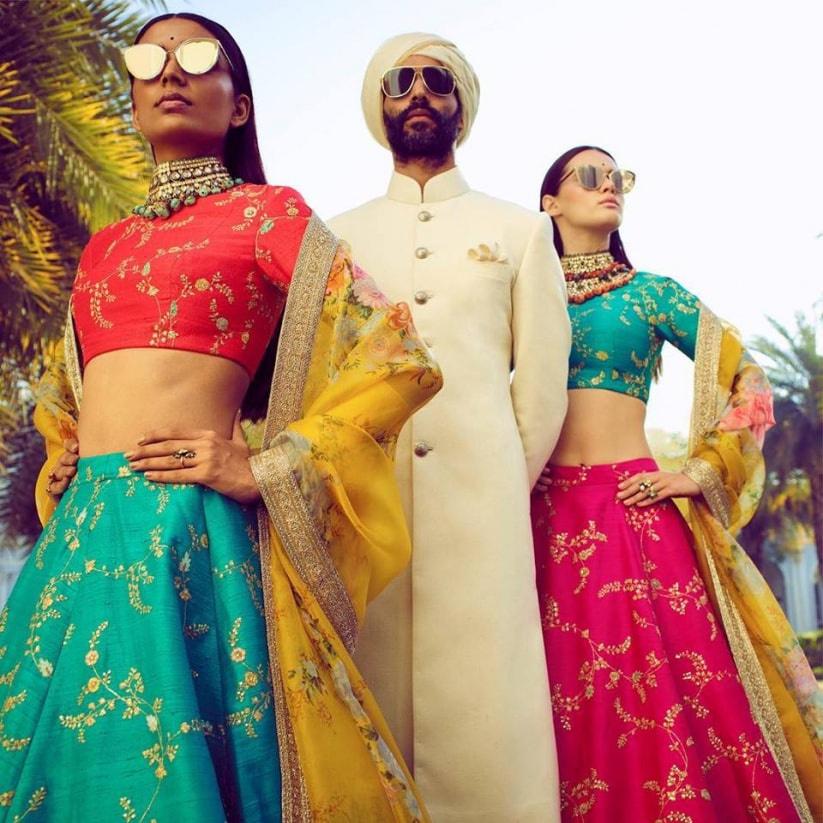 Image courtesy: Sabyasachi Mukherjee Facebook Official page
Now that you have seen these stunning designs, stop at nothing to make your bridal avatar the best one ever! Fix your hair and call a makeup artist and bring your A-game just in time for your wedding day!
Tell us which Sabyasachi creation and which Sabyasachi bridal lehenga do you love the most in the comments below.
Photo credits: All images were taken from Sabyasachi's Official Facebook Page