Vibrant Navari Look Images That Can Take Your Breath Away
What makes a Marathi Mulgi look so radiant? Check out some super gorgeous Navari Look images sported by beautiful Maharashtrian brides and get inspired.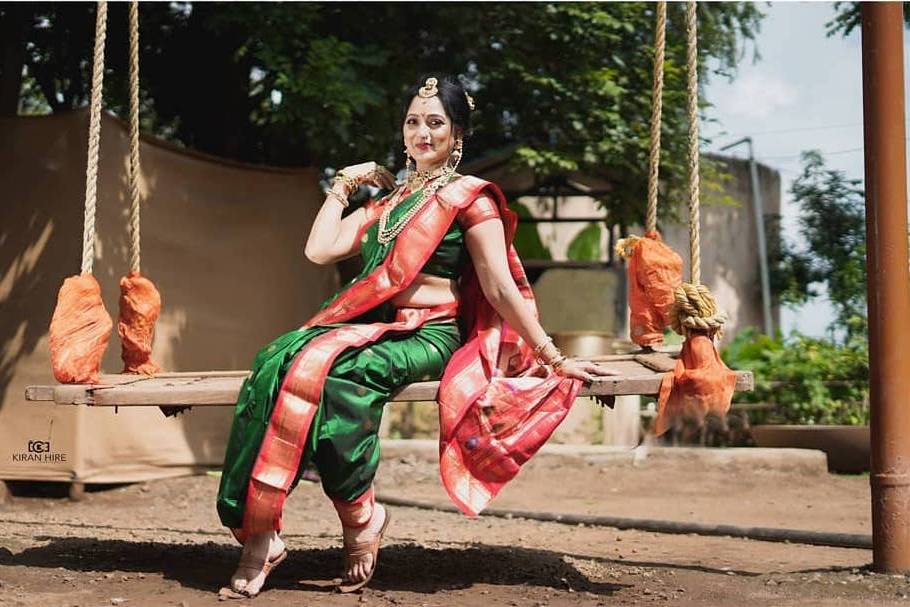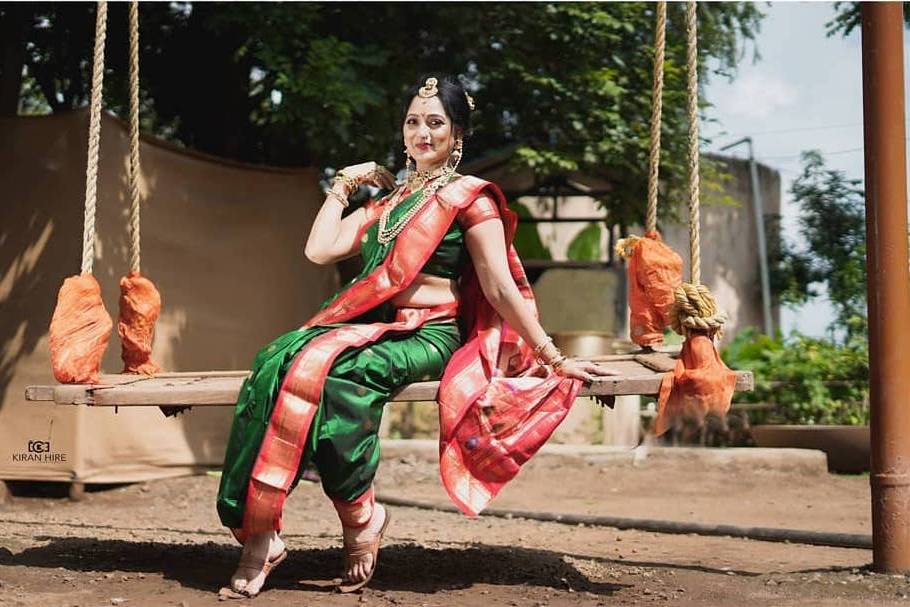 What's the first thing you notice when you attend a Maharashtrian wedding? The fascinating bridal sarees! Everything about Marathi wedding rituals is subtle, elegant, and low key. However, the whole bridal look of a Marathi Mulgi totally takes the centre stage at a wedding. The spectacular Navari and Paithani sarees draped smartly in a Dhoti style, the sparkling pearl Nathni, the Mangalsutra, and the Mudavalya- you simply can't take your eyes off the bride!
Let's show you some of the most breathtaking Navari Look images that might just inspire you to plan your own bridal look. Check out the photos and draw some major fashion inspo!
Indigo & Red Navari Saree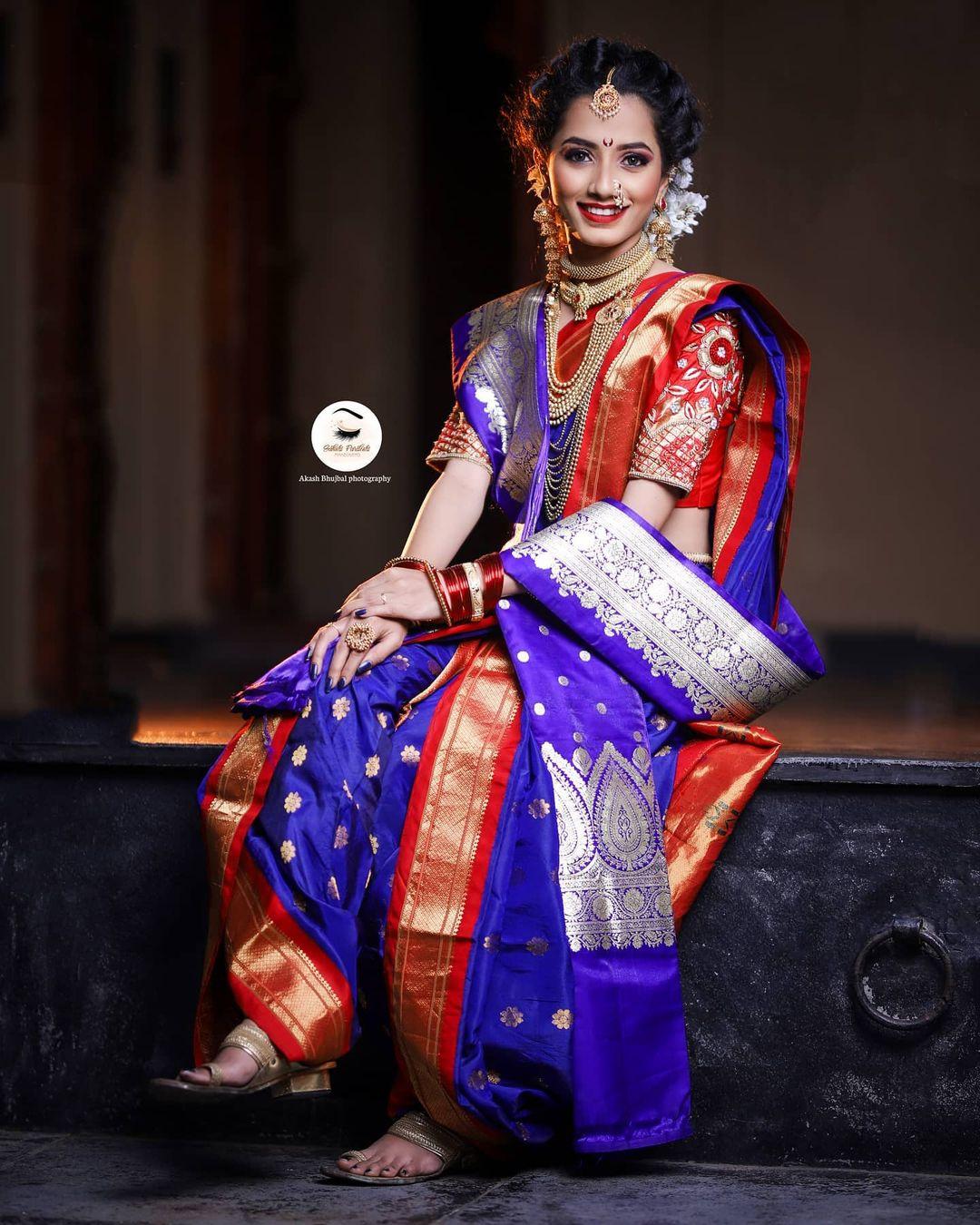 Image Courtesy: Makeover by Sakshi
Fan of bright contrasts? Then this combination of Indigo with blood red would be perfect for your Navari look. Pair up this Navari saree with a matching red blouse with Maggam work for extra sparkle. The bold silver Zari embroidery further adds oodles of glam to this outfit. You could choose a silk Shela in indigo or red or a combination of both to wrap around the arms. Wear traditional gold jewellery including a gold Maang tikka.
All Purple Navari Look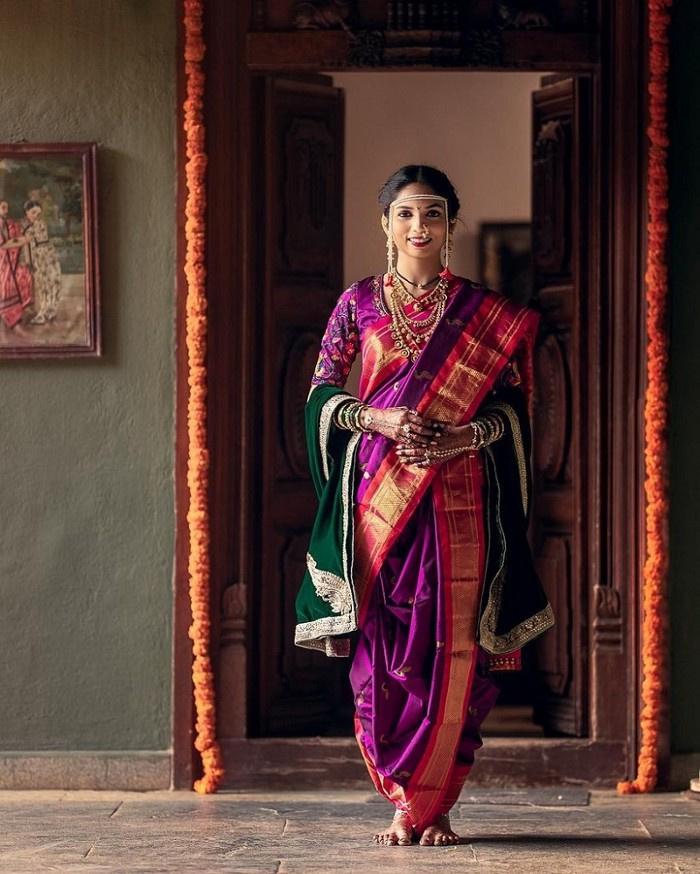 A typical Navari saree looks best if draped in a typical Marathi Dhoti style. And a purple Navari is one of the most popular colour choices. The broad border in pale red and golden gives this saree a subtle yet edgy contrast. Wrap a Shela or a Marathi silk dupatta in bottle green with golden embroidered borders around your arms for the perfect touch.
Navy Blue Navari Saree with White Blouse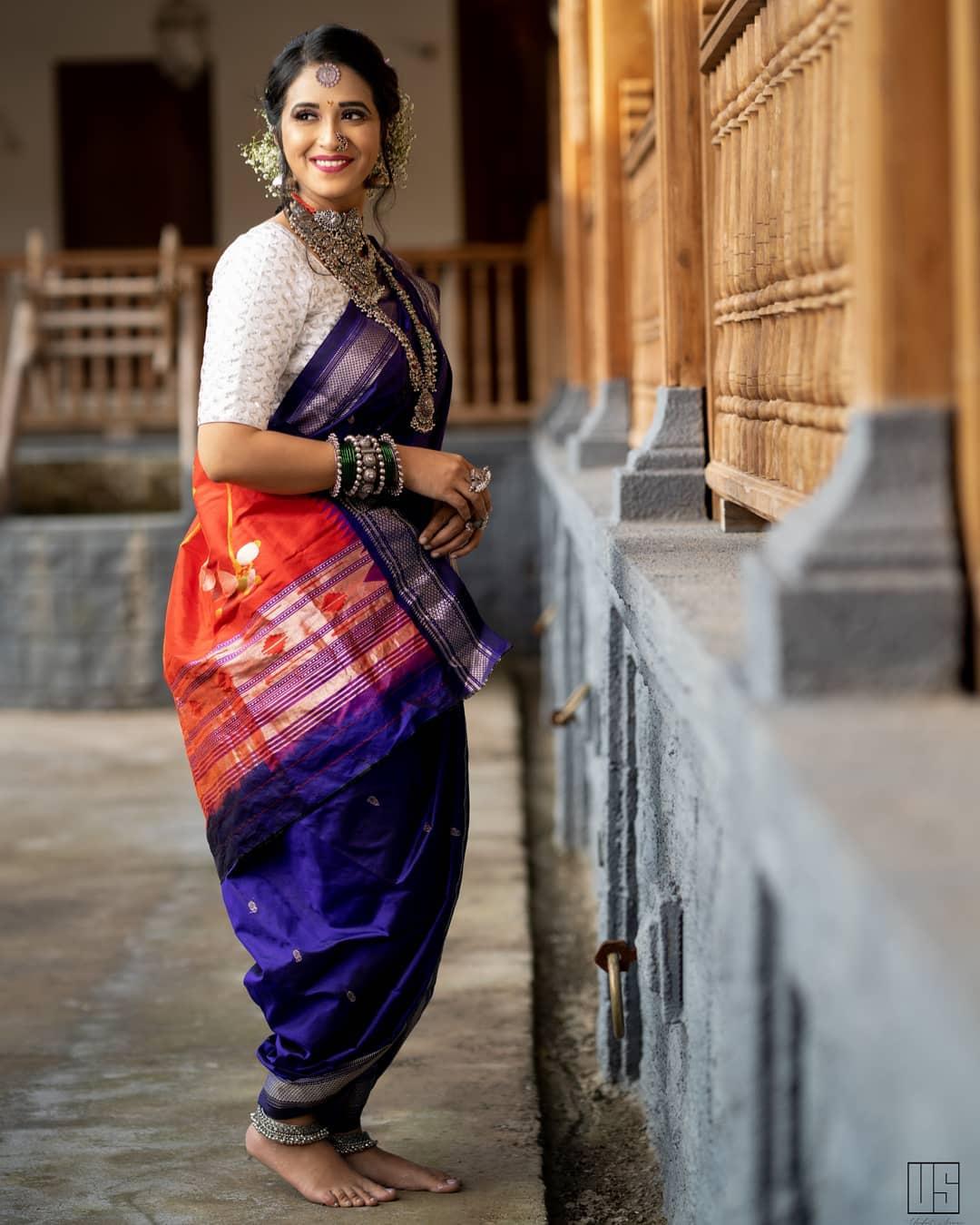 Image Courtesy: A Peacock Studio
When you combine a dazzling Navari saree in navy blue with a delicate white blouse it creates a magical effect for you! The hint of orange along the Pallu brings out the colours even more vividly. The sleek silver threadwork on the borders goes brilliantly with the graceful silver jewellery that this bride opted for. Especially the silver Payal, the elaborate silver long necklaces and silver bangles. Decorate your hair bun with white flowers for the complete Navari look!
Mustard & Green Navari Saree

If you're looking for a traditional Navari look in Maharashtrian style, you must have a mustard and green saree! This colour combo is one of the signature styles of Marathi bridal fashion. The fiery mustard and the deep green make this the ideal choice for your wedding day. Sport a heavily embroidered blouse in green with golden stonework would enhance your look. Don't forget the Mudavalya, the Nathni, gold Jhumka earrings and gold & green bangles. Carry a hot pink Shela with gold embroidery and go for a typical Marathi makeup for the complete deal!
Royal Blue & Magenta Navari Saree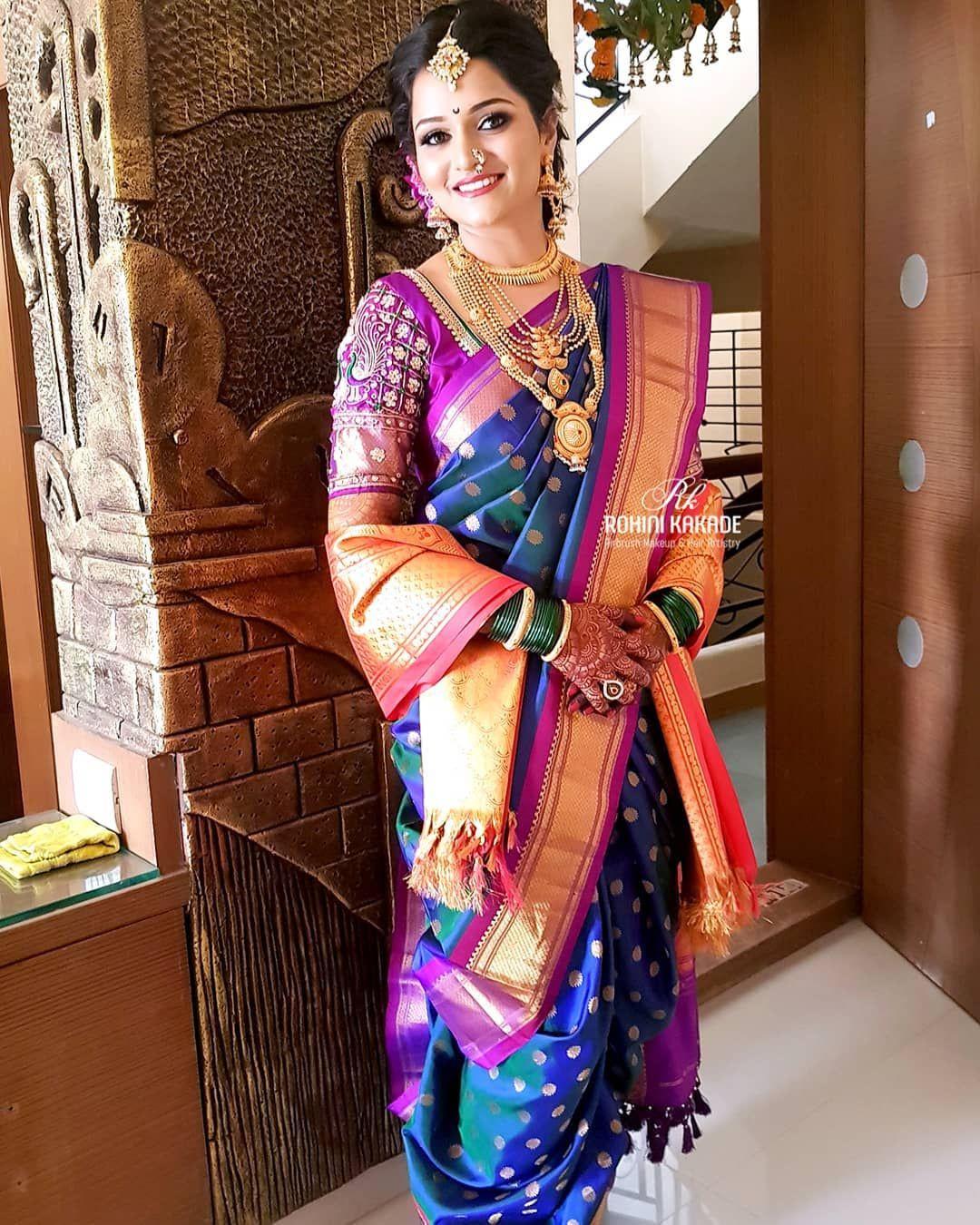 Image Courtesy: Rohini Kankade
Up the grace factor in your Navari look with this spectacular combination. The soft contrast of navy blue and magenta works perfectly for brides who like to make a statement without saying much! The elegance of blue and the vibrancy of magenta create a pleasing balance of colours. If you like subtlety, opt for a golden Shela which would match with your golden border of the saree. Gold Rani haar, large Maang tikka without chain and purple lips would make you look like a dream!
Mustard & Gold Navari Saree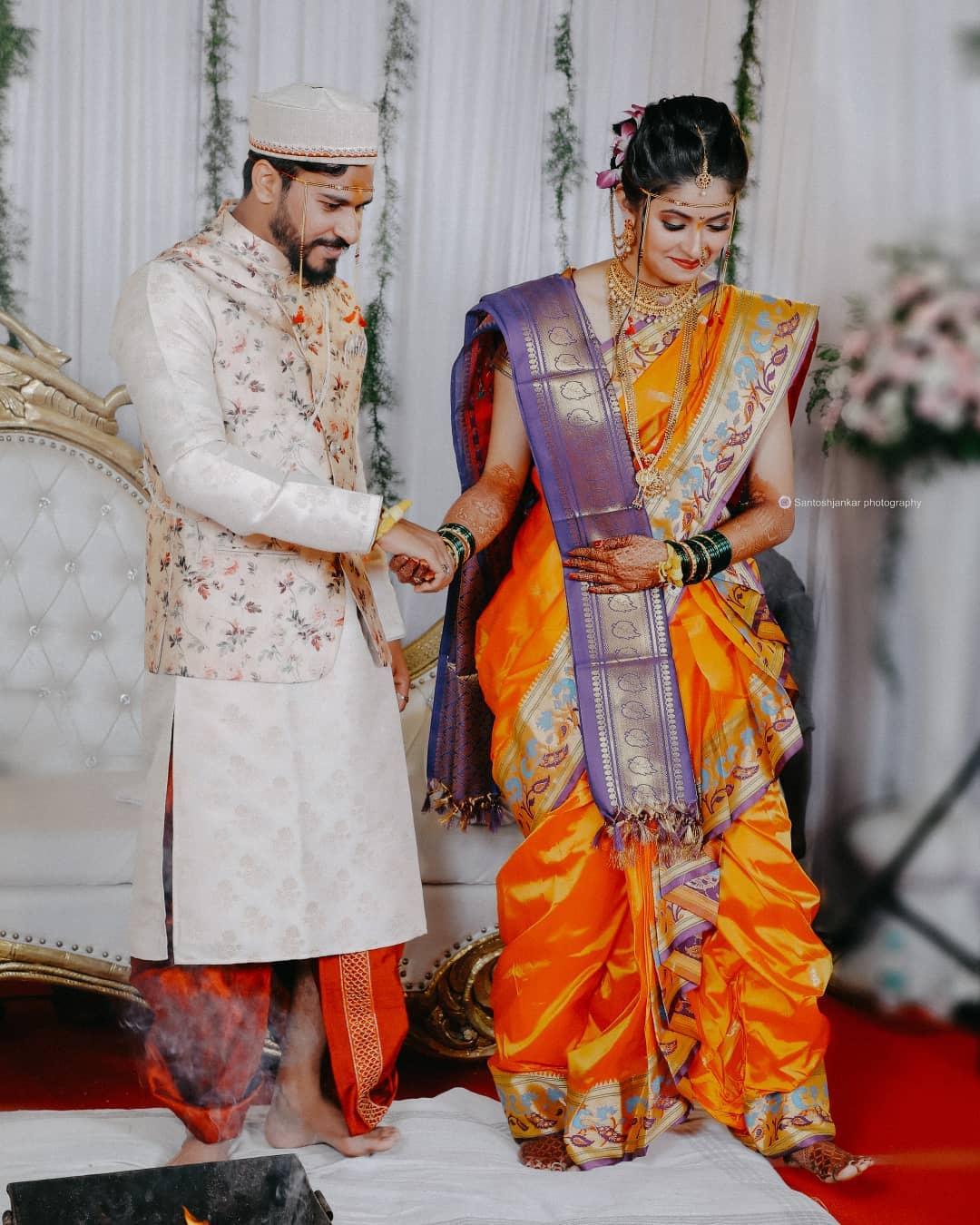 Image Courtesy: Santosh Jankar
A mustard Navari is always a popular choice, and you could never go wrong with it. The fiery mustard colour screams cheerfulness and celebration! The slight hint of mauve along the border with silver thread embroidery work gives an extra edge to the look. Choose a coordinated Shela in mauve and carry it on one shoulder, well-pleated. Keep your jewellery to the lighter side so as not to clash with the gorgeous saree colour- light Maang tikka and a gold collar or choker necklace along with Jhumkas.
Red & Black Saree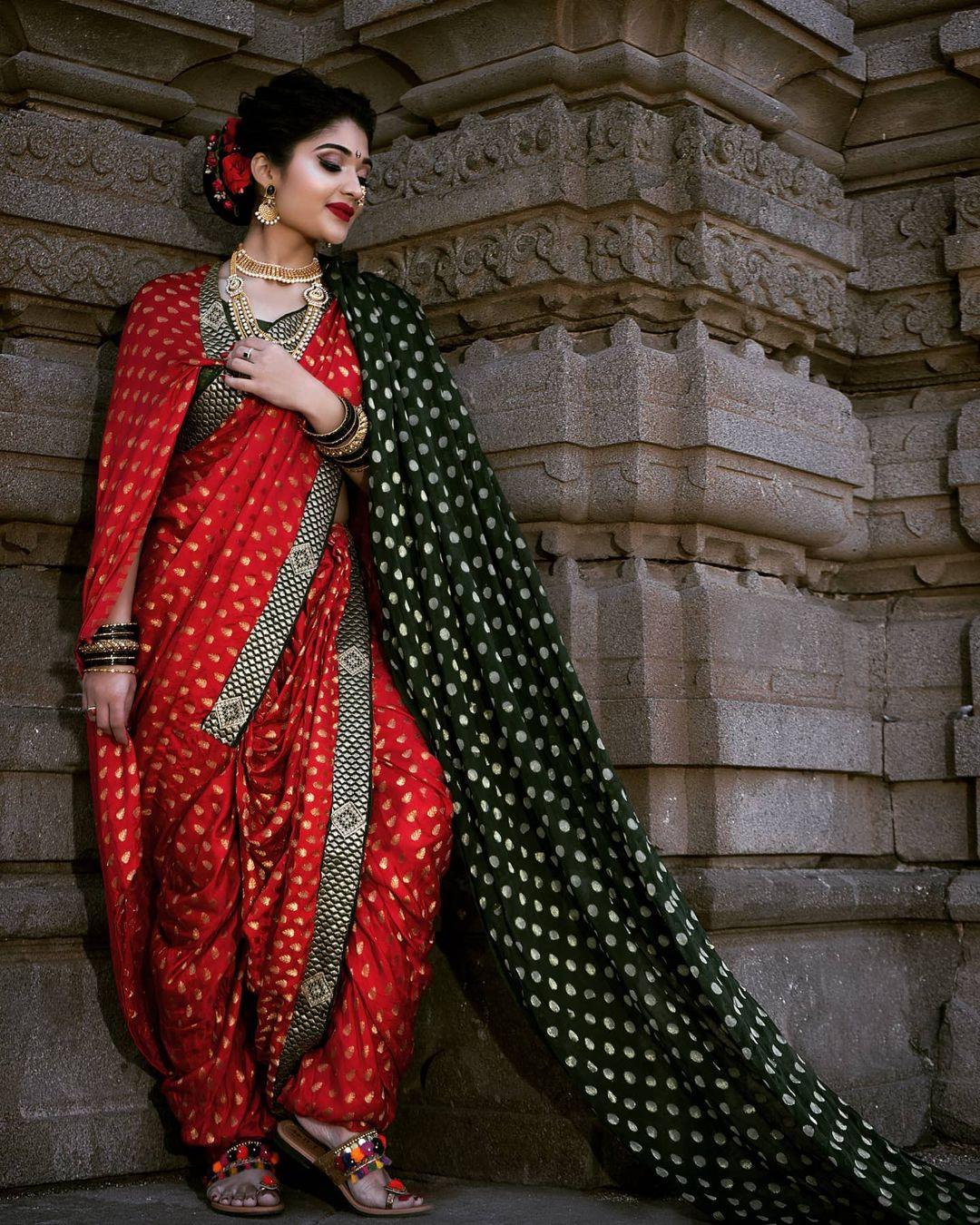 Image Courtesy: Vaishnavi Pranjale
If you're aiming for a Navari look that would steal every show, we suggest this smashing combo! The light gold jewellery. Pick this saree if you're open to trying some unconventional Navari saree colours!
Confine your Navari look to the traditional colours like mustard, green, purple or go for a little contemporary combination like black, mauve and blue-white! In any case, the sheer grandeur of the Navari saree would do half the job done for you. Look for stunning blouse designs to go with your drape. Learn new draping styles while maintaining the Marathi Dhoti style intact. Incorporate the best of both worlds by creating a blended balance of traditions and modern fashion choices.
Need help with the draping? Check out some helpful tips on how to wear a Navari saree.