Want The Marathi Bridal Makeup Look? Here's How To Achieve That
Getting that bridal glow entails having the right makeup products in your beauty bag. Stock up on these must-have cosmetics for your Marathi bridal makeup look.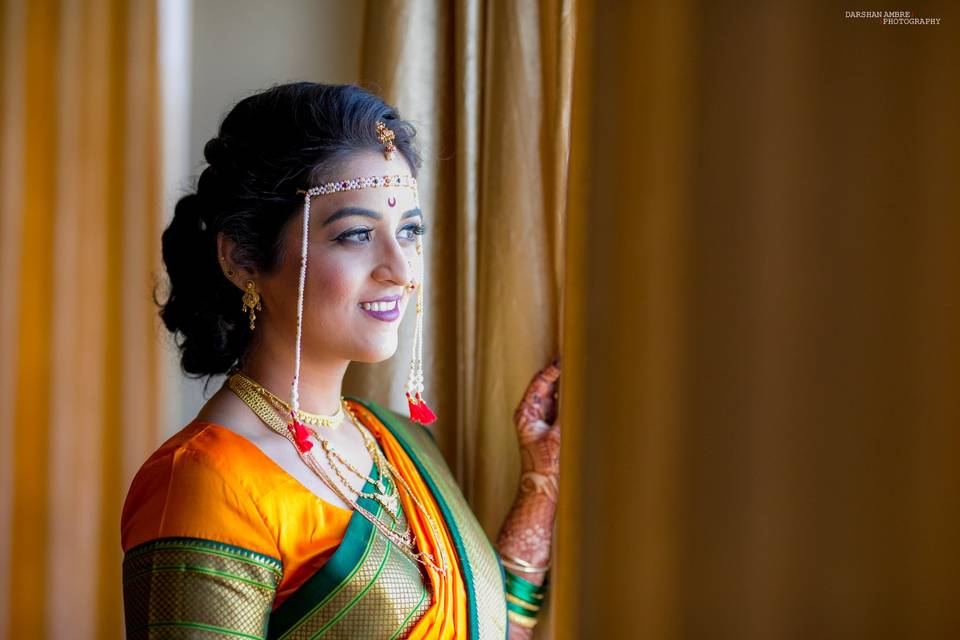 If you are a Maharashtrian bride getting hitched this wedding season, you're likely to have a lot to get done before the big day. While the wedding venue, the catering and venue décor are no doubt on top of your list, you need to take some time to finalise the wedding glam-look. After all, you want to look like a million bucks on one of the most important days in your life.
The classic Maharashtrian bridal look is defined by her nose ring and a half-moon bindi that is accentuated with some illuminating makeup. To help you with your wedding glam, we bring you a list of the major makeup products you need for the perfect Marathi bridal makeup.
Primer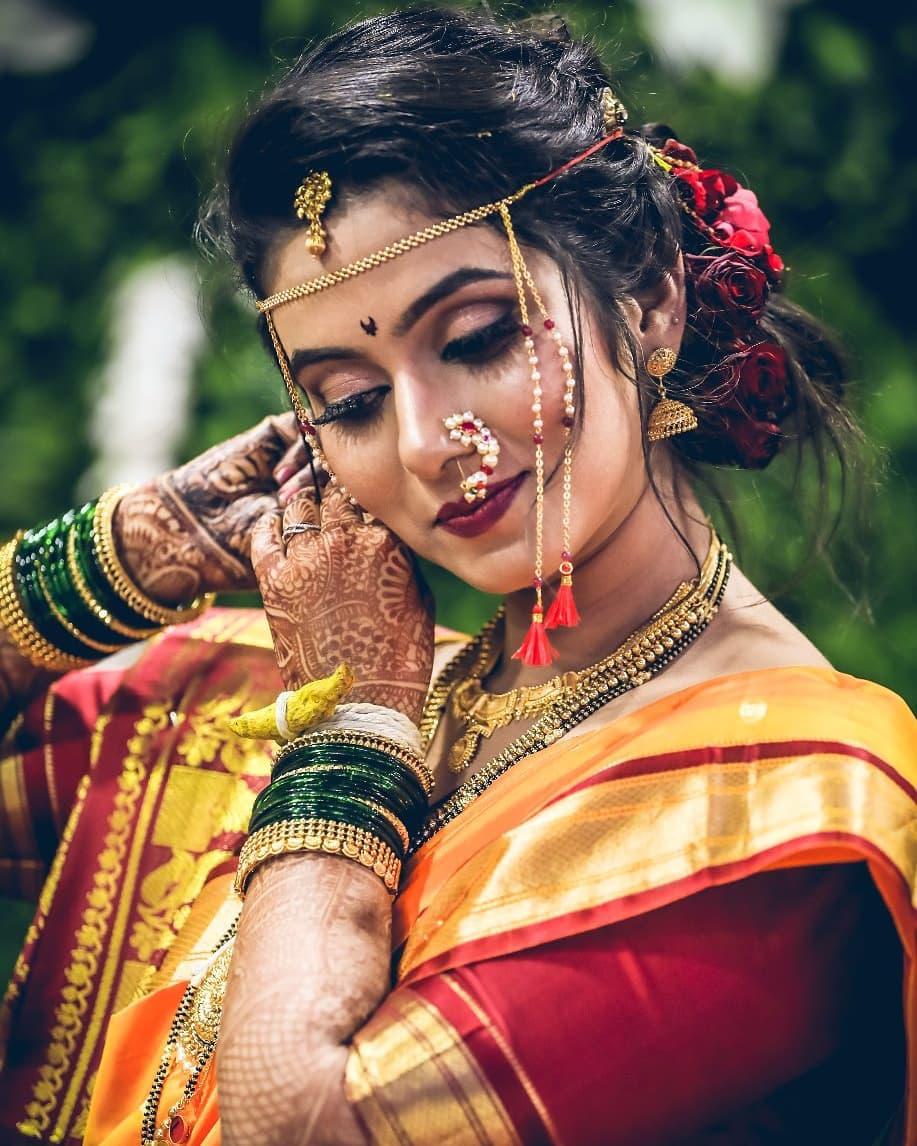 While the right makeup products can give you that illuminated complexion, you need to perfect the base of your skin before you begin to layer on the products. Hence, the first step in your Marathi bridal makeup look is the primer. This soft serum can ensure that your makeup stays in place all night.
Moreover, if you have dry skin, a primer can moisturise your skin and correct any discolouration you may have. A primer is a must-have in any bridal beauty box.
Foundation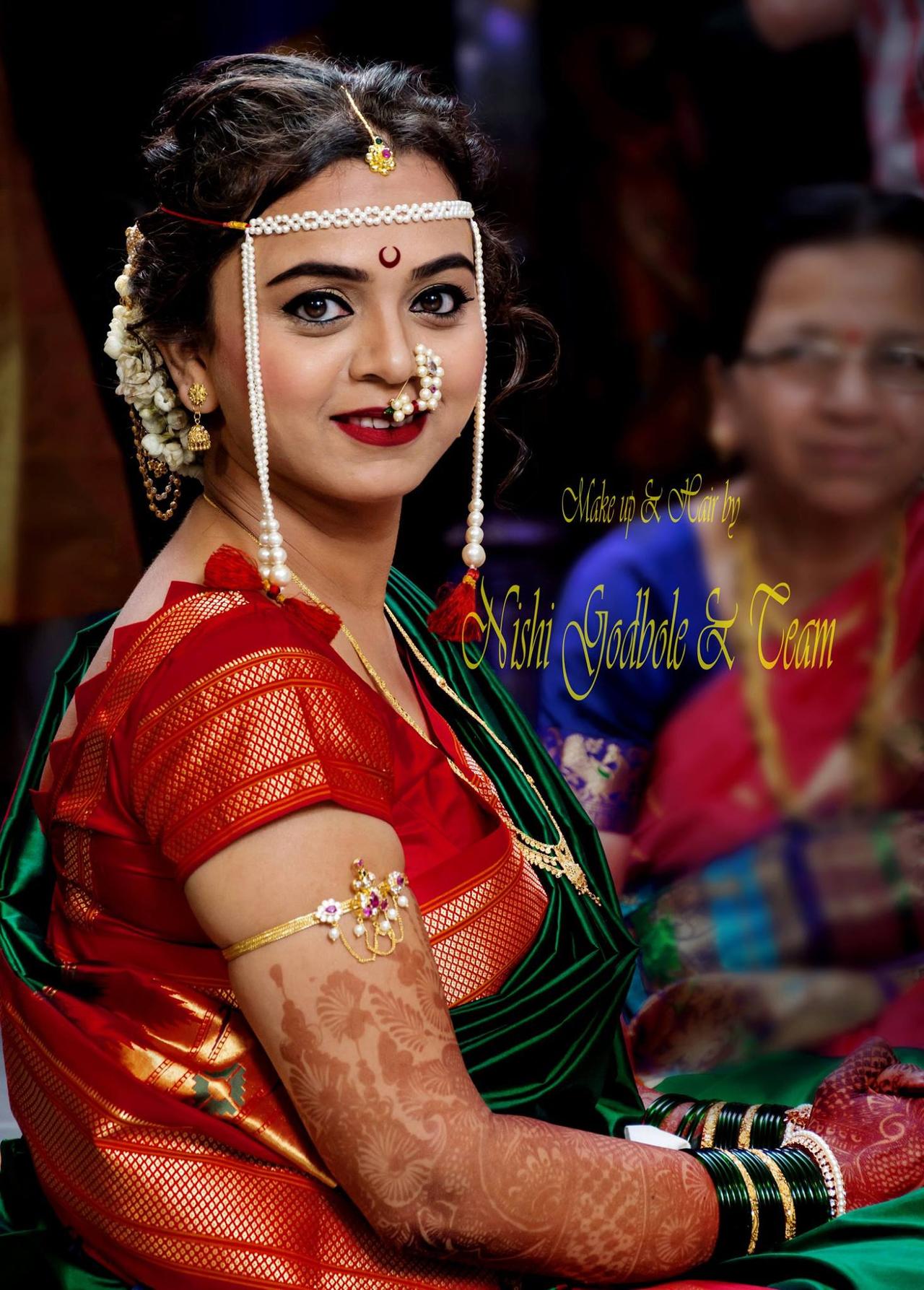 Once the base of your skin is moisturised and textured, it's on to the next step- the foundation. Your foundation needs to suit your skin type, be it, oily or dry and not dry out your skin. In addition to this, the foundation also needs to be colour-matched to your skin, you don't want it to look to light or too dark.
If you are looking for a natural finish, you can opt for a liquid foundation as the powder one tends to give you a cakey complexion. In addition to the primer, your foundation acts a second base to the makeup so it needs to suit your skin-tone to let the natural beauty shine through in your Marathi bridal makeup.
Concealer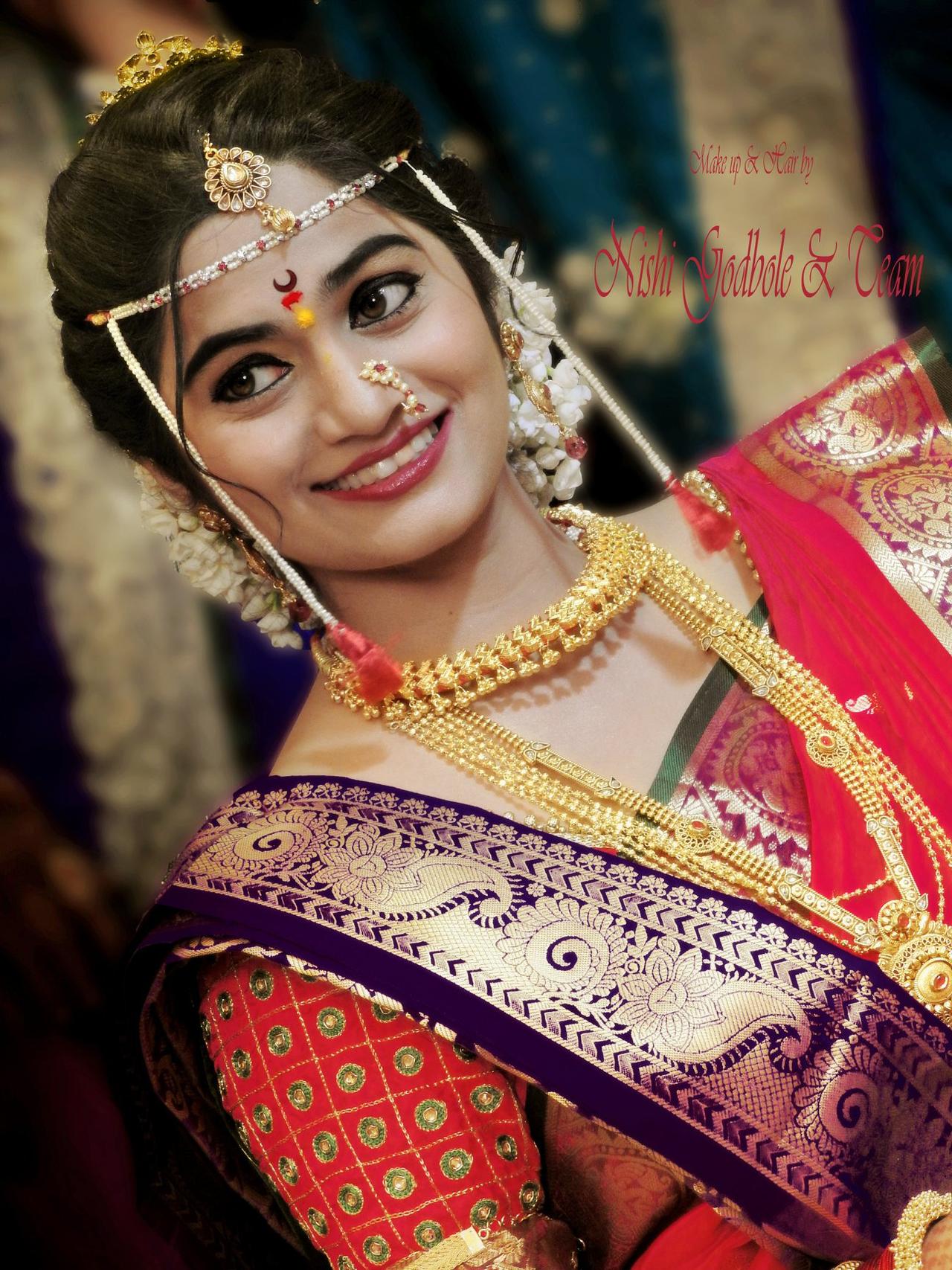 The concealer comes over the foundation and serves the dual purpose of covering up any dark spots and give your face a smooth finish. If you are looking to add some colour to give your features more definition, you can go lighter or darker on different parts of your face.
When picking a concealer for the big day make sure it is heavy-duty and can do a good job of providing great coverage throughout the wedding festivities. Your concealer can accentuate your Marathi bridal makeup.
Bronzer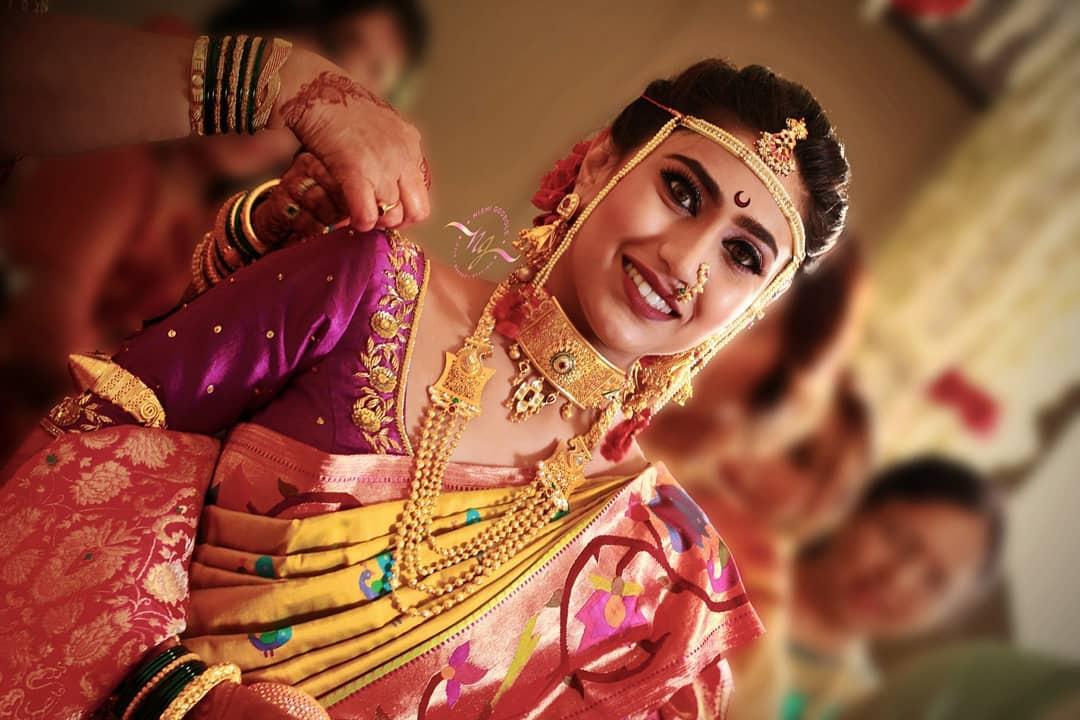 Once you've given the base of your skin enough coverage, it's time to start focusing on specific features. The best way to accentuate your nose or chin is with a contour palette and a bronzer. This palette covers a range of colours in your skin colour spectrum and can be used to highlight and illuminate your makeup.
Getting that perfect contour for your Marathi bridal makeup requires time and effort so make sure to consult your makeup-artist and a do a trial at least 2 weeks before the wedding. A shiny bronzer can add the finishing touch to your makeup.
Blush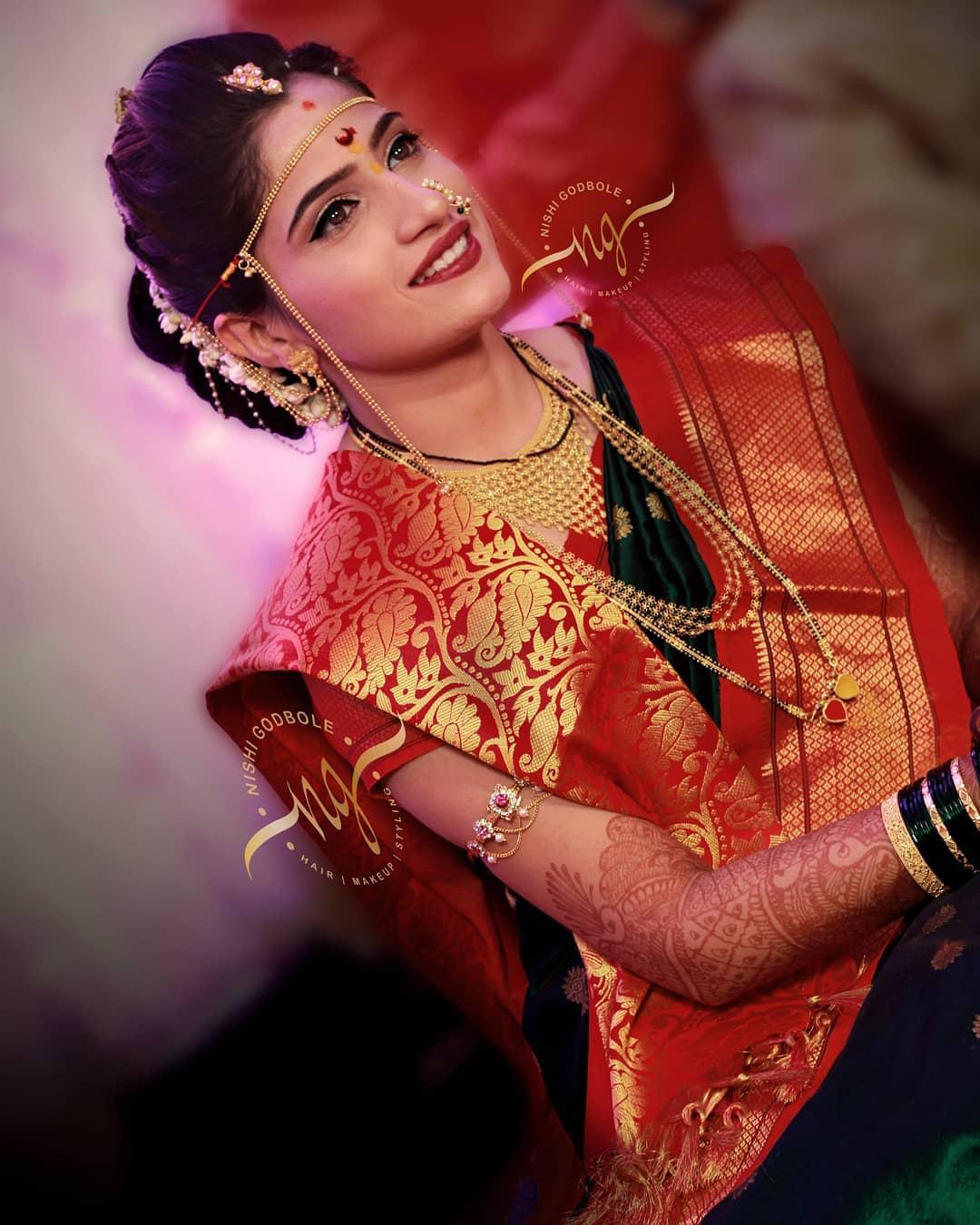 While you'll be glowing from the inside on your wedding day, a pop of pink can add a glow on the outside as well. After applying all the makeup products that give your face a matte finish, a beautiful blush can add the finishing touch.
Depending on what your Marathi bridal makeup looks like, you can either go with a natural tone or a bolder one. Make sure the blush suits the colour of your skin. Colours like coral or deep pink with a subtle shimmer are popular among brides.
Mascara And Eyeliner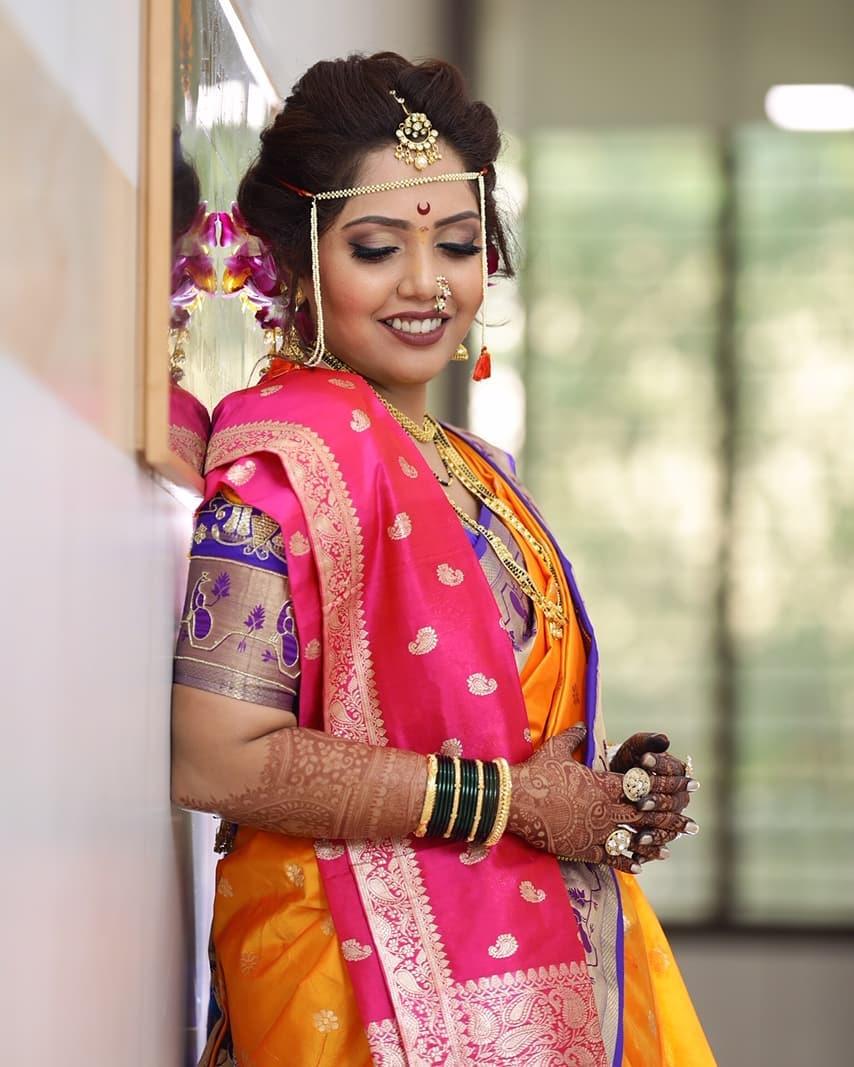 Mascara is the perfect way to accentuate your eyes and give your lashes some extra volume and length. Before you apply the fake lashes, swipe some mascara on to give your eyes some definition. You can also keep it in your bag for touch-ups throughout the day. It is recommended that you use a formula that is water-resistant so that it doesn't smudge or wear off through the day.
Along with the mascara, make sure to line your eyes with a waterproof and smudge-proof eye-liner. Marathi bridal makeup is defined by its bold strokes and undertones and your eyeliner can help accentuate your look. If you are using lighter shades like coral and beige in your makeup, consider opting for a brown eyeliner in favour of a black one.
Eye Palette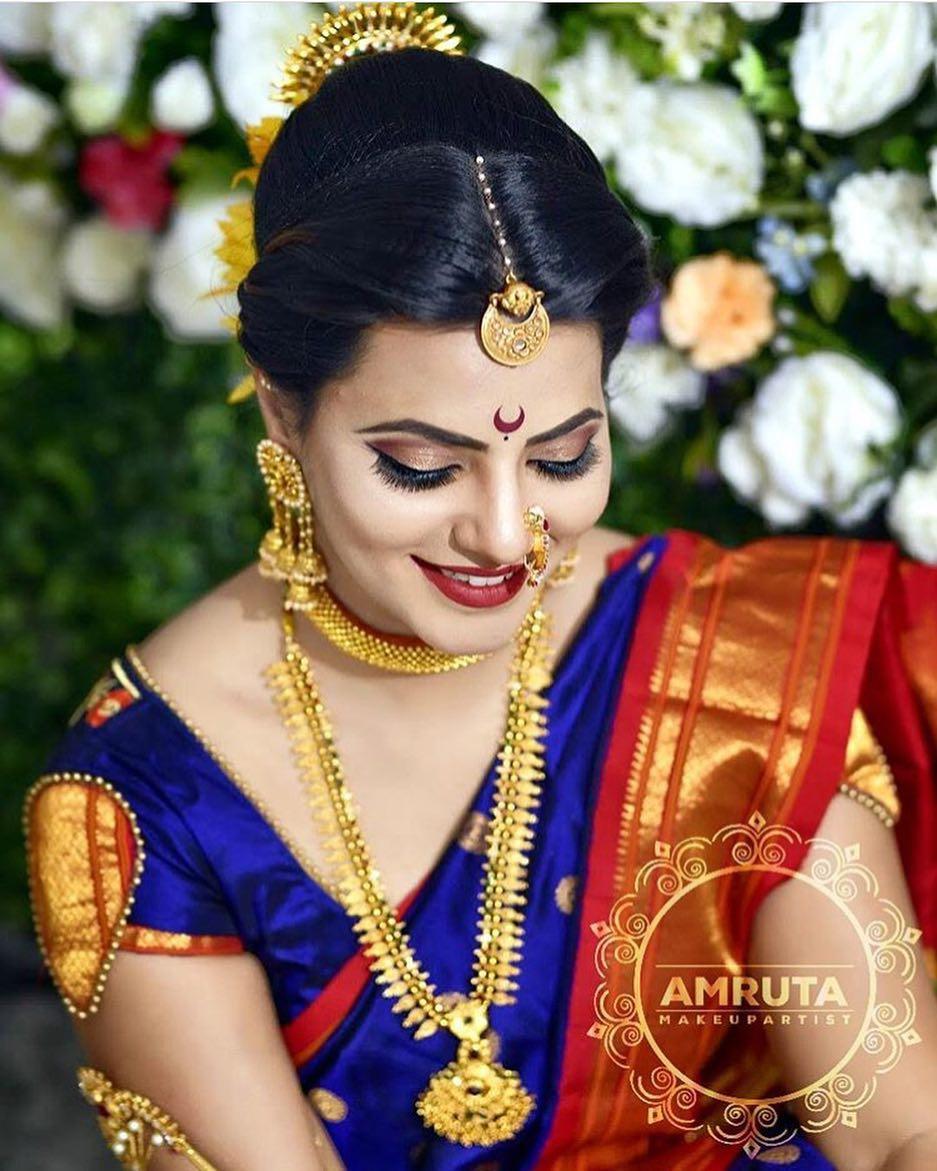 Image Courtesy: Amruta Makeup Artist on Instagram
They say ' the eyes are the windows to the soul' making your eye makeup one of the most important aspects of your bridal look. Whatever your eye makeup may be, the eye-shadow palette is a must-have in your bridal beauty bag.
You are likely to use different colours for the various wedding parties, so make sure to buy a palette that covers a wide range of basic colours. You can mix and match different colours to highlight the beauty of your Marathi bridal makeup.
Lipstick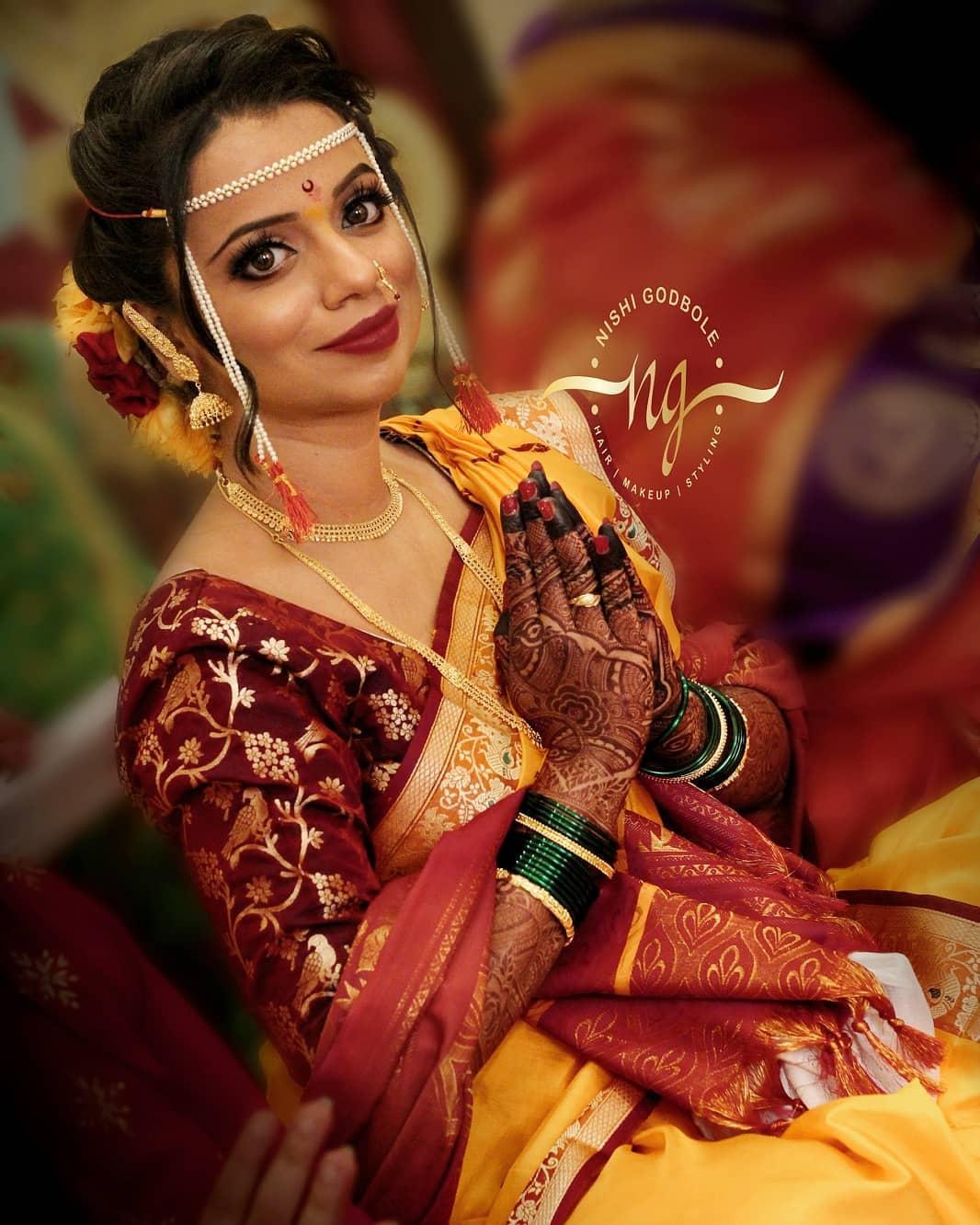 No makeup look is complete without the lipstick and a good lip is a must-have in every Marathi bridal makeup look. Marathi brides usually opt for a deeper lipstick tone like maroon and dark red. However, once you have the lip colour in mind, you need to decide the type of formula you want to go for. If you prefer a matte finish, opt for a matte or satin lipstick but to add some shimmer to your makeup a red lip gloss can do the trick.
The flawless bridal look comes down to the type of products you have in your makeup kit. In order to get the perfect Marathi bridal makeup look on your big day, it is essential that you consult your makeup artists to finalise the tones and products you want to use. Sometimes, the season also plays a big role in the makeup tones, so a fall wedding calls for deeper red and orange shades. We hope this list of makeup products to add to your beauty bag can help you find the right cosmetics for the wedding festivities.
Ready to finalise your wedding makeup? Get in touch with our bridal beauty vendors to find the right makeup products for your Marathi bridal makeup.