Here's Why A Light Weight Gold Necklace Is The Best Kind Of Bling
Try these light weight gold necklace options as they are sure to cater to all your needs while looking extravagant too.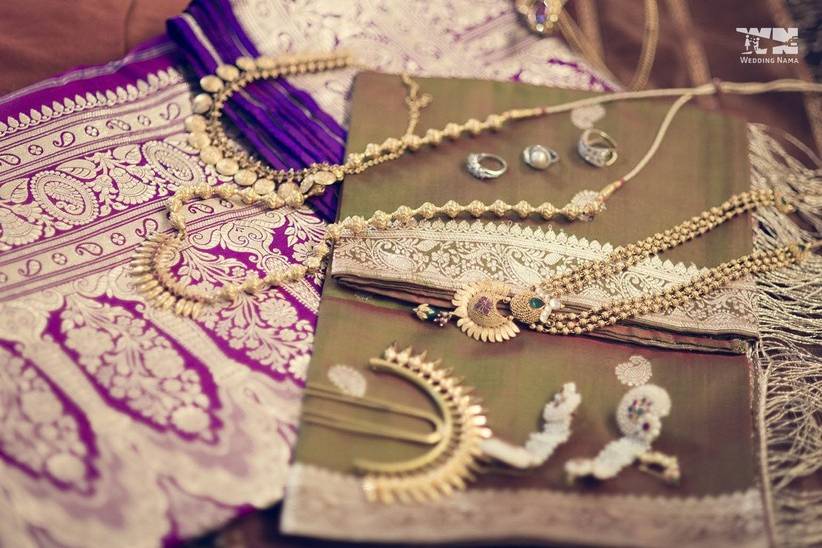 Jewellery is such an important part of every bride's trousseau that it is almost impossible for brides to not worry about making the right decision. From complementing your outfit to being perfect for its necklines and borders, jewellery has too many roles to play for a bride.
While real jewellery and artificial jewellery isn't that much of a debate these days, there always are a few real jewellery pieces that you invest in and feel are the classic choices that will remain with your forever. They are also choices that must add to the entire look as that's what holds key importance in the current times.
While every bride wishes to opt for necklaces that are either a statement piece or the traditional attraction to their look, what they do not realise is that there are way too many factors that must be considered apart from the look of the bridal jewellery.
It is about time brides realise that light weight gold necklace is a boon that they have been avoiding. Even jewellers in today's day and age realise the importance of these classics and are therefore ensuring to cater to all that a bride's trousseau jewellery needs to have while also keeping it light and comfortable.
If you're still not convinced why picking this particular trinket is the way to keep yourself comfortable and happy along with being trendy and gorgeous, don't worry we've got you covered. We've listed some of the most important reasons that brides must think over before choosing their trousseau necklaces this wedding season.
Follow the Latest Trends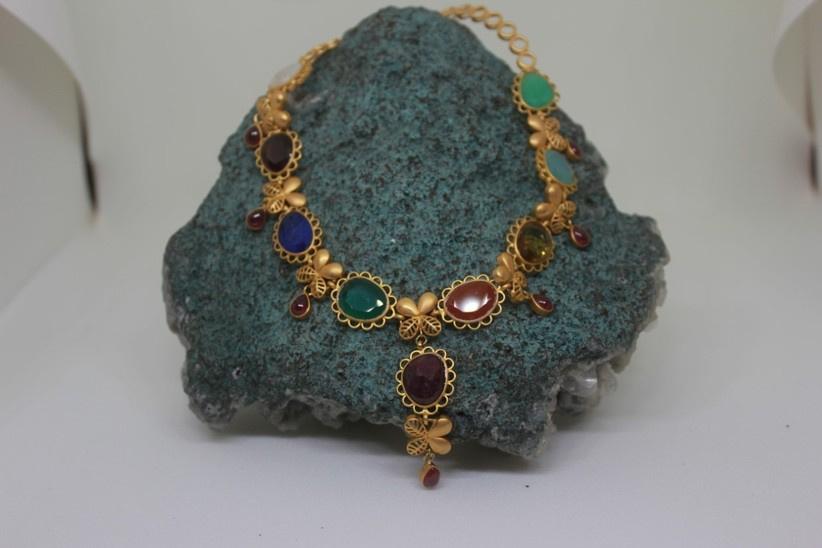 With the millennials keeping it stylish and chic always, there has been a great change in the purchase of gold necklaces before the wedding in the last few years. When putting their bridal look together is the main focus, brides are not looking to buy a lot of heavy gold jewellery or gold necklaces for their trousseau.
This downsizing on the purchase of gold necklaces in the wedding trousseau has also lead to jewellers now designing trendy light weight gold necklace that cater to the needs of the brides-to-be while keeping it stylish, light in weight as well as light on the pockets.
So if you're someone that is looking to keep their jewellery trousseau stylish, this is the latest fad that every millennial bride is following.
Contemporary Designs Are The Way Forward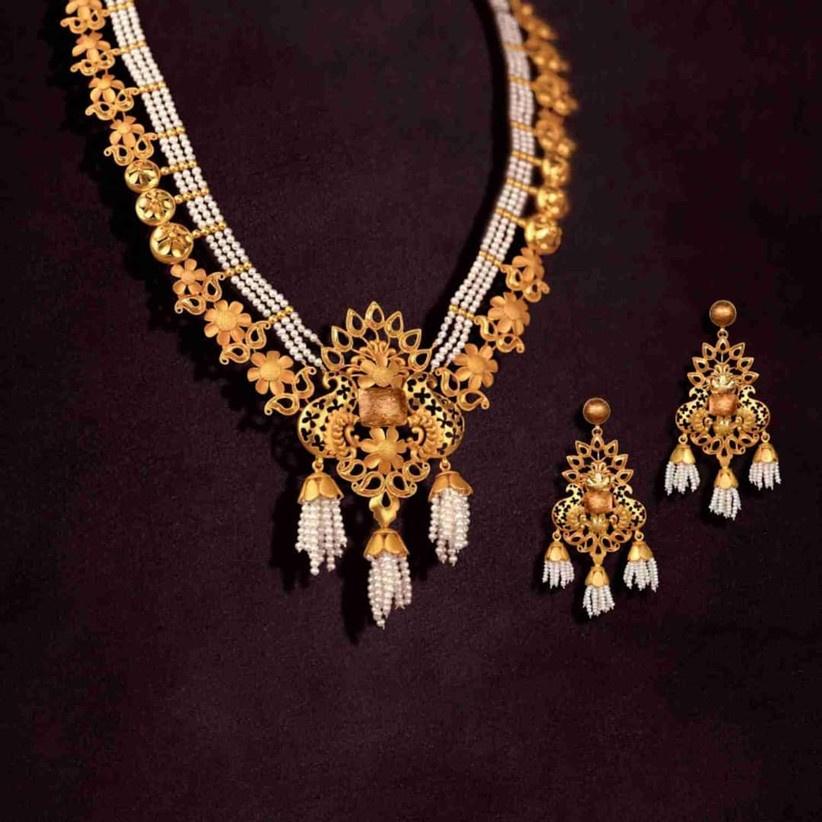 Gone are the days when brides chose to wear traditional pendants or traditional jewellery after their wedding. With the trousseau outfits becoming trendy and indo-western, the traditional jewellery doesn't go with the look and neither does it create the impact that brides want it to.
So why invest in jewellery that you wouldn't wear as often or that wouldn't be as impactful. In the current times, contemporary designs in light weight gold necklace are every brides-to-be's best friend. From looking uber stylish and matching every attire, whether Indian or western or a combination, light weight gold necklace in contemporary designs are for every millennial bride that wants to look youthful and elegant at the same time.
Acts as the Best Investment for Your Wedding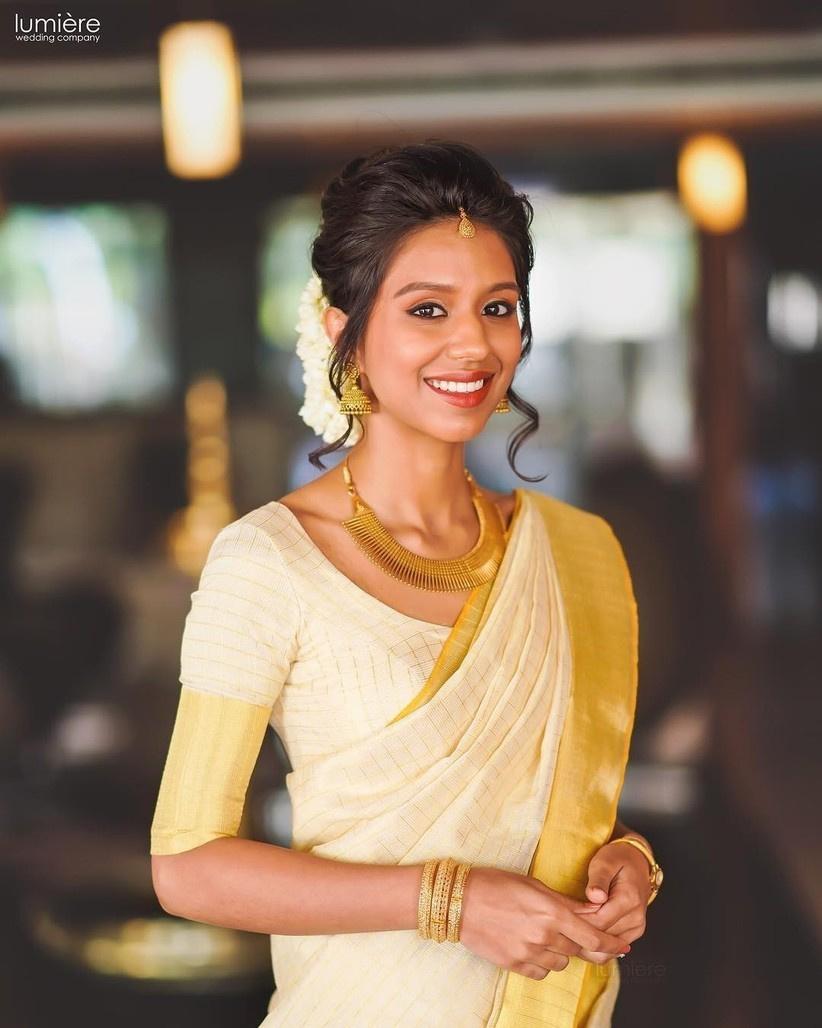 Unlike older times, brides of today carry selective jewellery items as a part of their wedding jewellery collection. They do not prefer taking very heavy jewellery along that has lesser use for them in the future. However, gold and diamonds are considered great investments at the time of the wedding because of their resale value.
So for brides-to-be that do not want this investment to go waste, choose modern light weight gold necklace designs that have a higher re-wear as well as re-sale value.
Light Weight Gold Necklace Isn't Too Much as Office Wear Too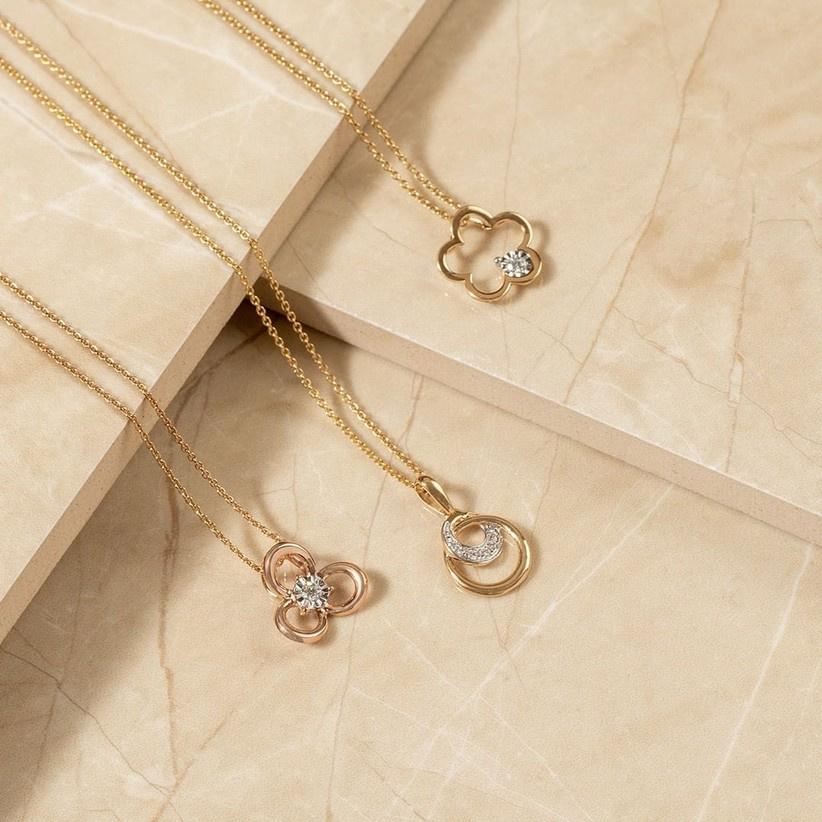 With most millennial brides getting back to work after their wedding, their choice of jewellery needs to be something that is wearable to work as well. You wouldn't want to invest in heavy bridal jewellery pieces that you cannot pair with your contemporary everyday office outfits.
Therefore, light weight gold necklace is a saviour for our modern brides as they can be worn everywhere from their own office, to a client meeting, as well as the market. The added advantage for our brides-to-be being them not having to dress too much as the jewellery would make up for it anyway.
Diamonds Are Every Woman's Best Friend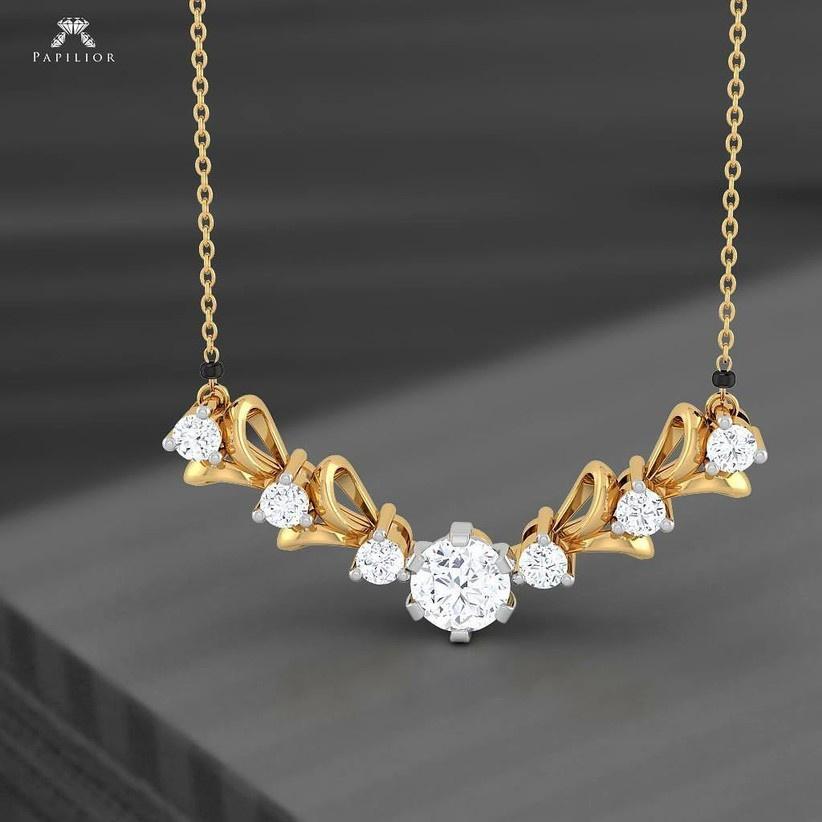 Image Courtesy: Papilior
There is no denying the fact that diamonds can do what nothing else can for women. The benefit of choosing light weight gold necklace for your wedding trousseau is that you can go for contemporary designs with diamonds and pair them with any and every outfit of your choice. There is nothing about a minimalist necklace with diamonds that can go wrong with any outfit of your choice.
For the brides that have a lower budget than diamonds, pearls and other gemstones look equally graceful and gorgeous for every occasion too. Just make sure that you pick modern chic designs as traditional jewellery for everyday wear is way too passé.
Going Minimalist is a Popular Trend These Days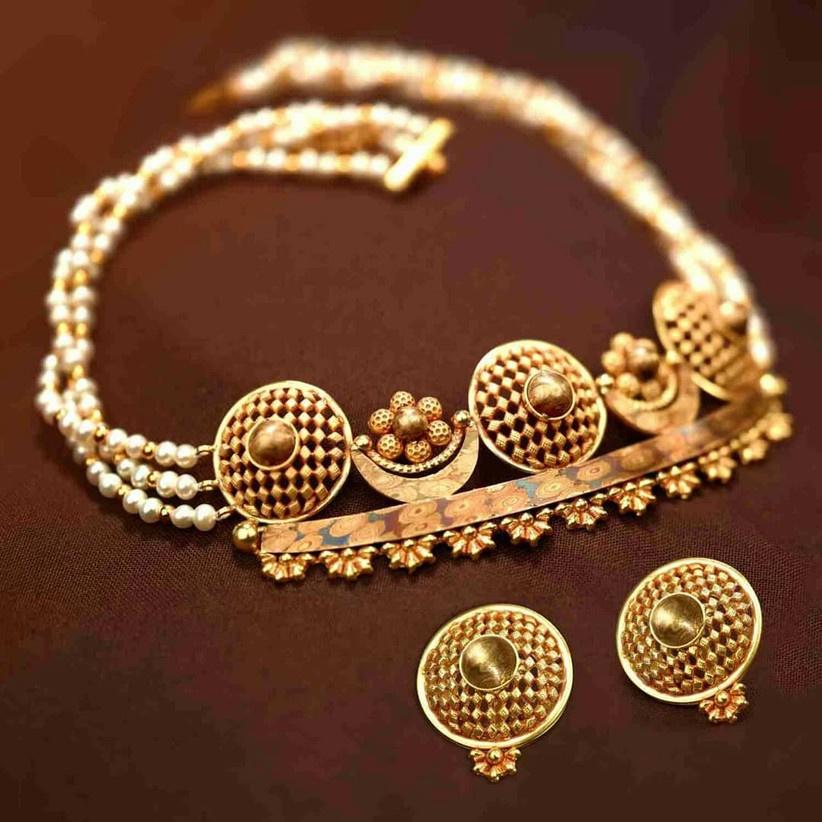 Indian jewellery trends for newlywed brides has seen major shifts, from heavy everyday jewellery to traditional everyday wear, and now to minimalistic everyday style. Contemporary and chic are two 'c' words that define the jewellery trends of today.
So brides looking to buy their wedding jewellery trousseau, do not let too much jewellery take the focus off your look. Let one item be the statement jewellery piece that catches everyone's attention while complementing your outfit beautifully. And if you ask us, no piece of jewellery can do what a minimalist light weight gold necklace can do for your look.
A Popular Trend that's Easy on the Pocket- What Else Do You Need?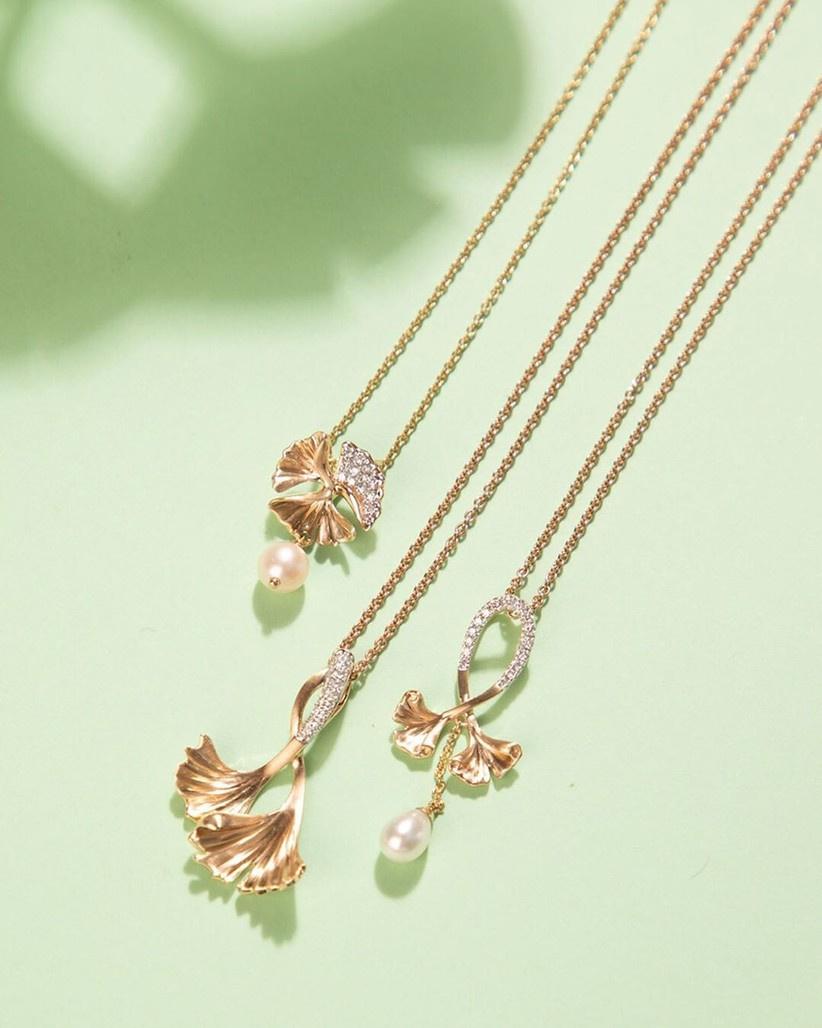 Apart from being the latest trend, great investment, user-friendly, one of the key reasons why light weight gold necklace is a boon in today's times is the fact that they are cost-effective. With fashion changing overnight, trends becoming the dictator of every wardrobe, and style being key to every millennial, it is important that the wedding trousseau has wedding jewellery that is affordable and yet very stylish.
Light weight gold necklace that is easy on your pocket isn't just the best investment but also one that you wouldn't regret when new styles come in. So think no more and choose light weight contemporary jewellery over your traditional heavy ones without a second thought and we bet you'll thank us a few years later for it.
For the brides that are eyeing their mom's jewellery to be passed on to them for their wedding have an even greater advantage over the others. They can restyle the old traditional pieces to get a contemporary gold necklace designed without having to spend much extra money. This way you can use her jewellery in more than one way and also get to keep a piece that is truly according to your taste and style.
So have we been able to convince you that light weight gold necklace is what your jewellery trousseau needs the most? Well, we are pretty sure that we have because there is absolutely nothing about it that doesn't work the brides of today. So hurry up and go around looking for designs that suit your taste and styles that match your wardrobe.
Tell us in comments what your reasons are to choose this neckpiece for your wedding trousseau.