Our Top Picks: 6 Paithani Saree Images for the Brides-To-Be
The D-Day calls for all things at their finest which means the finest silk sarees too. And our list of Paithani saree images has the best of it all.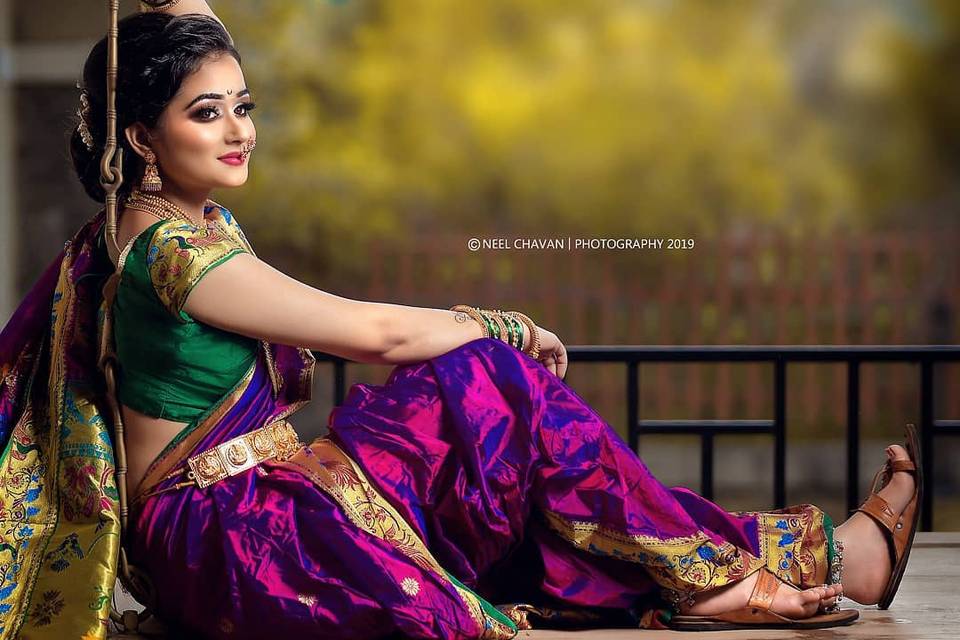 It is a well-known fact that Paithani sarees are one of the most expensive handwoven sarees made with the finest silk in India. The rich heritage and cultural significance of these exquisite sarees are the reason why they are quite popular among the elite class for it is considered a prized possession of people of status.
A go-to choice for the brides, especially in the Maharashtrian traditions, the creation of this magnificent piece of clothing requires an exceptional eye, hand, and foot coordination. So it is only fair that a bride-to-be would want to flaunt such a beautiful and elegant outfit on her big day.
Our list of Paithani saree images features some of the most breathtaking pieces. Read on and find out more about how to style these graceful sarees.
Look Graceful And Royal In This Off-White And Red Paithani Saree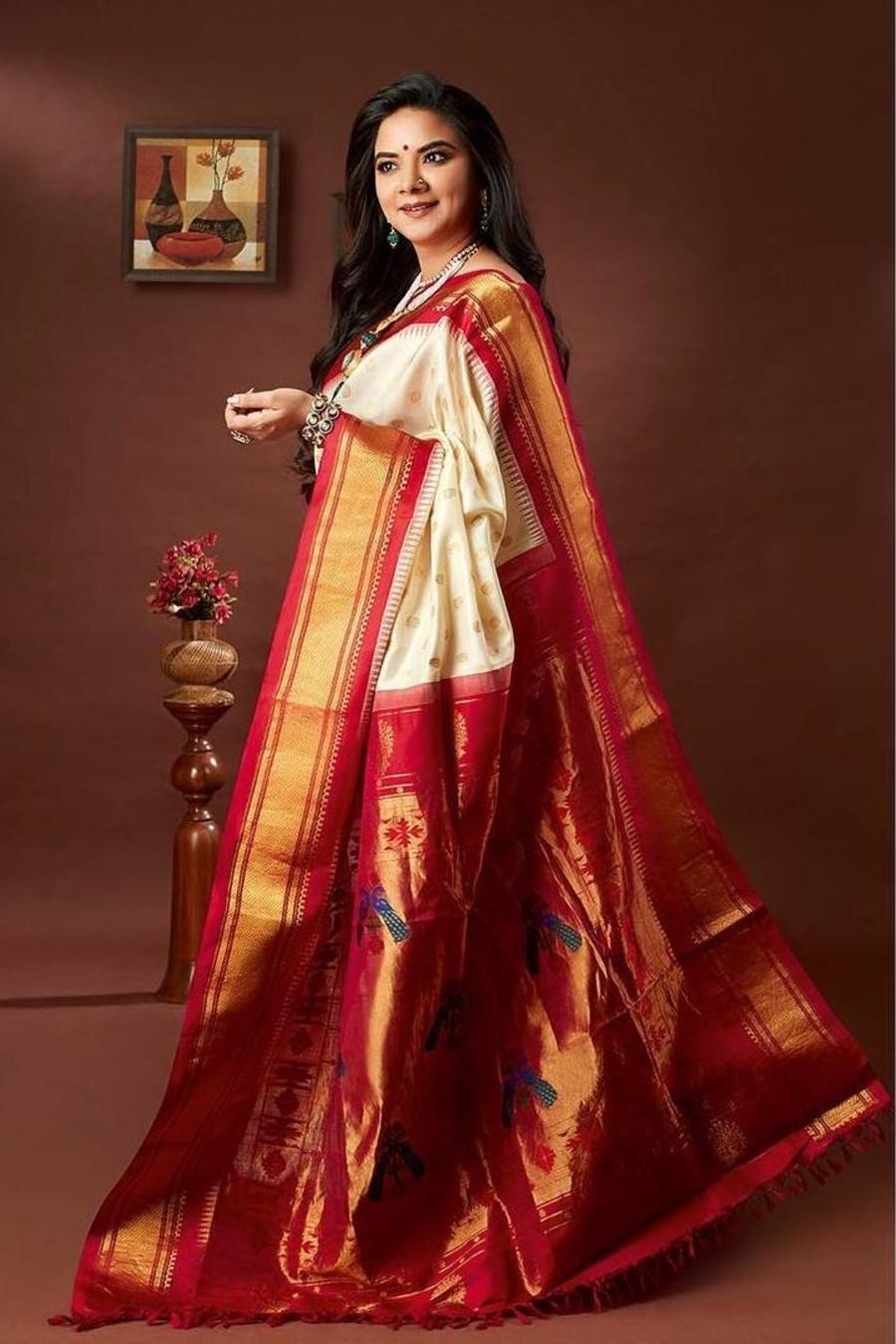 Image Courtesy: Mamata Patil
The stunning colour combination of off-white and red with golden zari work on the pallu of this saree makes it an ideal pick for the bride-to-be who is a sucker for all things traditional and culturally significant.
Paithani saree images like this one are the perfect depiction of the kind of delicate and intricate work that goes into weaving every thread of this graceful masterpiece. The motifs on the pallu are made with colourful silk threads and thus add a pop of colour to the saree.
Pair it with an intricate gold jewellery set and some pretty bangles, and you are ready to win hearts with your elegance.
A Gorgeous Blue Paithani Saree To Beat All Kinds Of Blues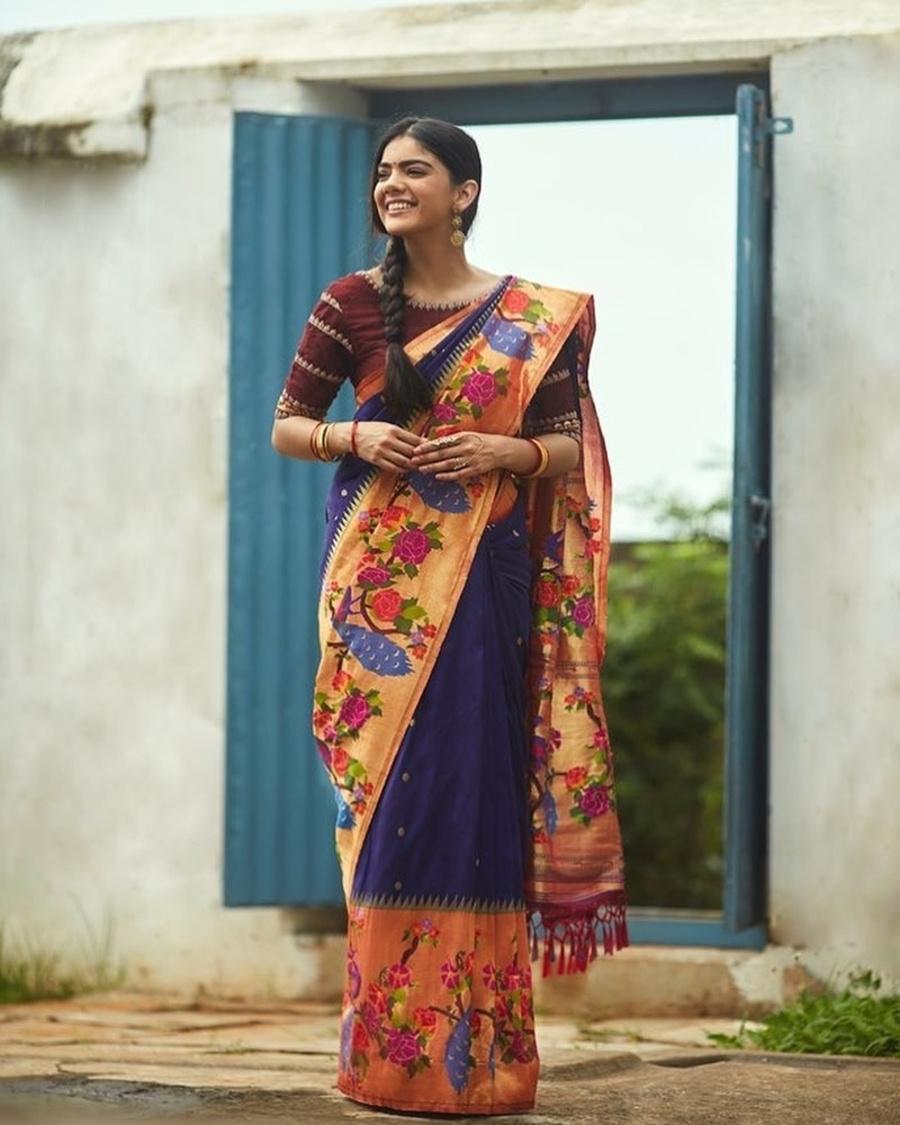 Image Courtesy: Kankatala Sarees
Paithani sarees get their name from Paithan, a town in Maharashtra, where skilled weavers spend months to weave these one-of-a-kind sarees. This gorgeous blue Paithani saree looks exceptional not just for how beautifully woven it is, but also because of the vibrant coloured motifs of big floral vines and beautiful peacocks on the gold tissue pallu.
Paithani saree images that focus on gold tissue temple borders have our heart (and our money!). You can either pair a royal blue blouse with this blue beauty or choose to play around with colours and pick a contrasting shade, which will complement the saree and add to its perfection.
Magic Happens When Bright Colours Come Together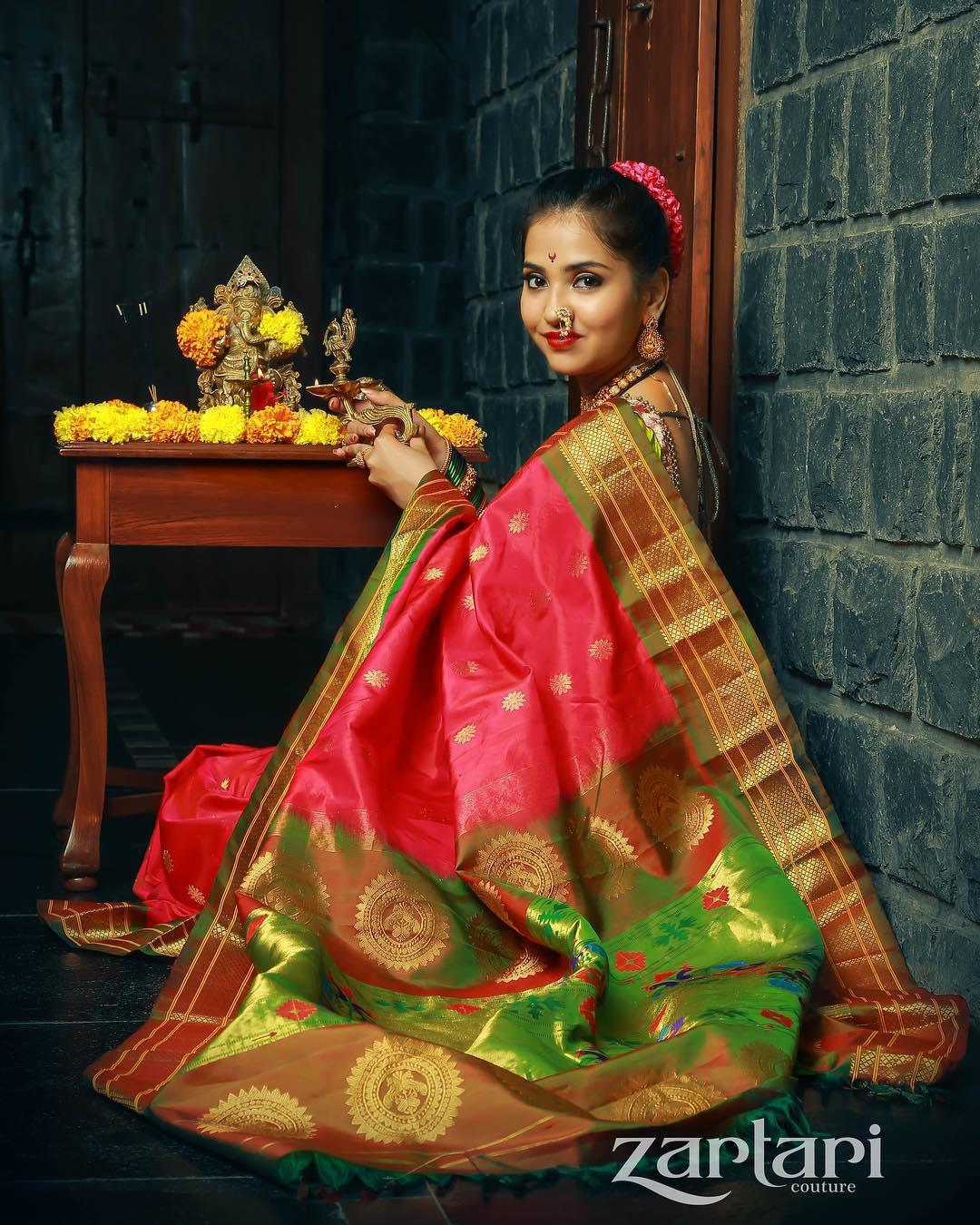 Get wedding and festive season ready by taking inspiration from vibrant and classic Paithani saree images like this one. The bright colours - pink and green - come together to create a magical ensemble that has elaborate motif designs on the pallu, a gold tissue border, and golden zari detailing all over.
You can style this graceful saree with some ornate jewellery pieces. And if you are looking for an occasion appropriate hairstyle, then you can get a bun hairdo done and adorn it with a Gajra made out of your favourite flowers. It will give you a more classy and traditional look.
A Breathtakingly Beautiful Paithani Saree For The Bride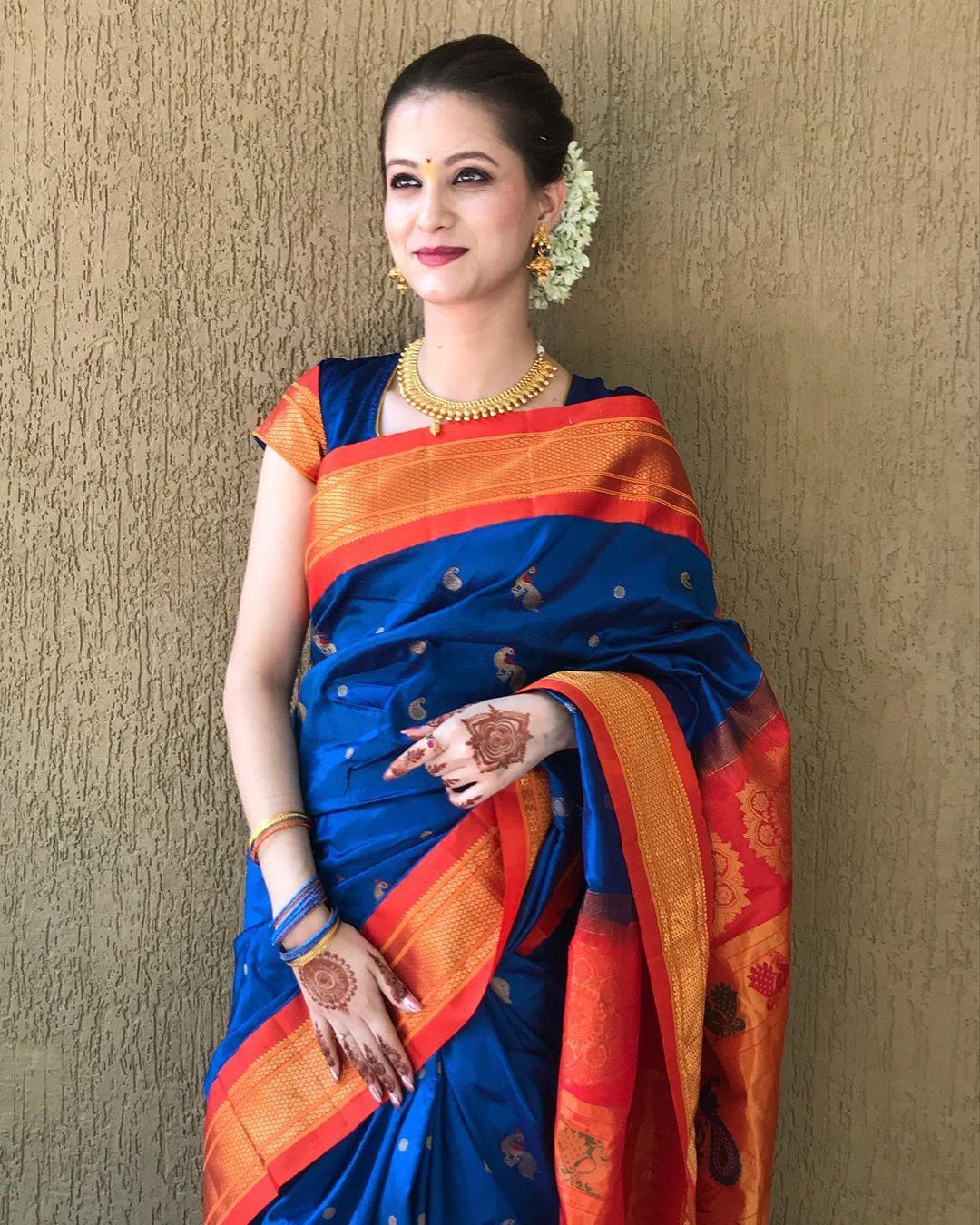 Image Courtesy: Revati Lele
Your search for breathtakingly beautiful Paithani saree images will end with this bright blue and orange coloured beauty. With tiny yet majestic peacock motifs on the pleats and fairly larger ones on the pallu, this intricately handwoven saree makes for the perfect choice for a bride-to-be who wants to pick a vibrant outfit and go easy on the jewellery.
Paithani saree images like this one are an example of such outfits that can add to the bridal glow and make the bride look like a million bucks all by themselves. With a heritage beauty like this, you don't have to rely on fancy makeup and elaborate jewellery designs to make you look exceptional for these sarees alone will do that job for you.
Pair A Hot Pink Blouse With Your Vibrant Yellow Coloured Saree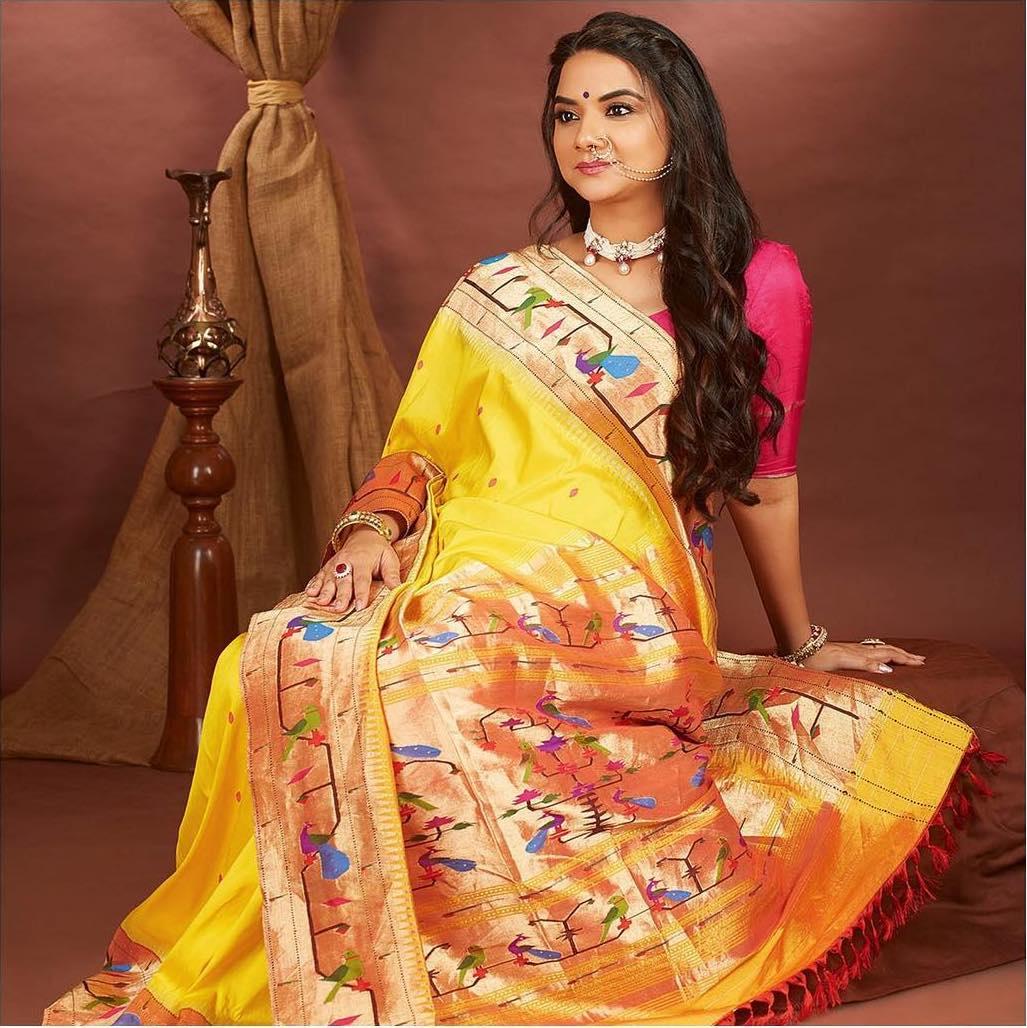 Image Courtesy: Mamata Patil
A vibrant yellow coloured saree with gold zari buttas, a yellow pallu with gold tissue work, and bright coloured parrot and peacock motifs are what our favourite Paithani saree images look like.
It is said that these sarees are the most difficult style of sarees to weave and it shows in Paithani sarees images like these. The precision of working the thread and the finishing of this timeless piece of beauty makes it so worth the efforts and time of the skilled labours.
Pair this gorgeous yellow saree with a hot pink blouse to create a striking and eye-catching ensemble. And you can accessorise it with a Nath and a beautiful silk thread necklace.
Drape This Stunning Saree In A Fusion Style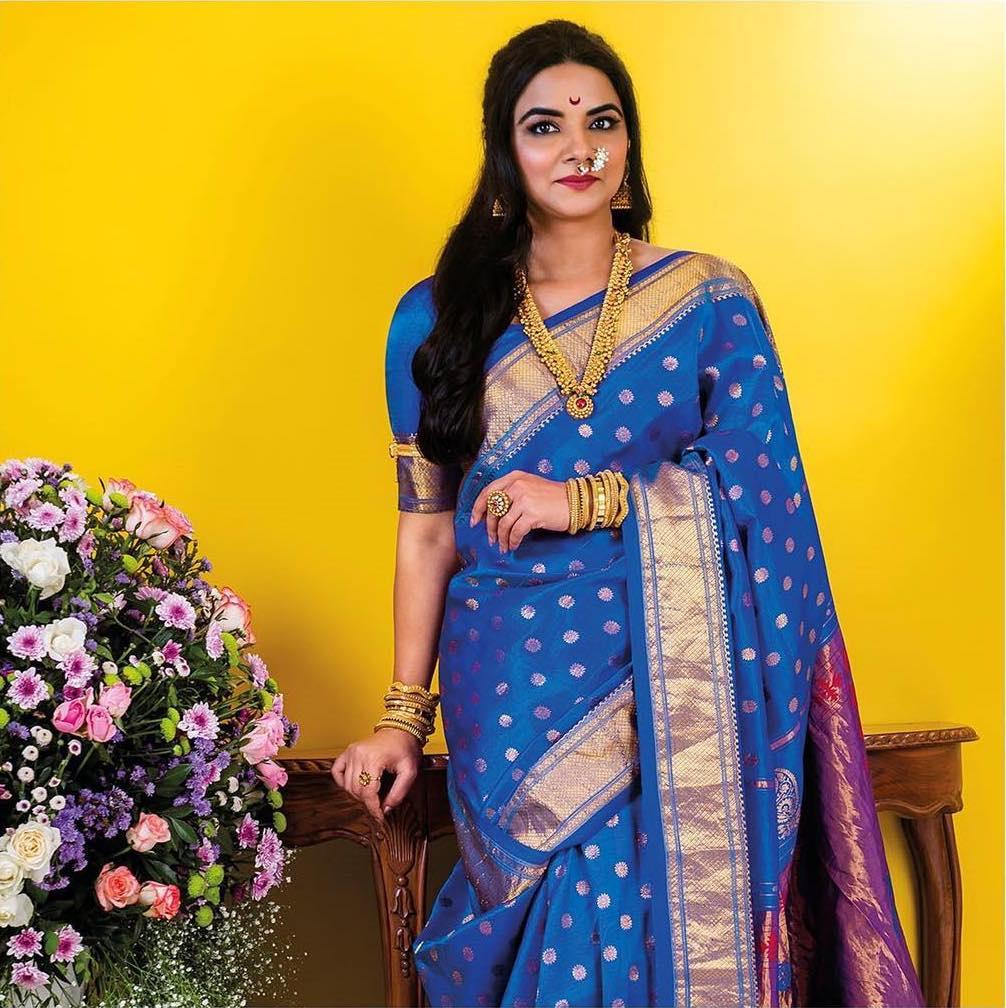 Image Courtesy: Mamata Patil
Paithani saree images like this sapphire blue coloured saree with golden tissue border and vibrant purple pallu are beautiful, to say the least. But when you experiment with the draping styles to create a blend between two or more cultures, that is when you know that you are taking it to the next level.
So try styling the pallu in the typical Maharashtrian way and as for the pleats of the saree, do them just like they do it in Gujarat. This creates the perfect amalgamation of two styles from different parts of the country.
Oh, and for the jewellery, go all out with the Maharashtrian Nath and an intricate gold jewellery set. And while you are at it, don't forget to wear the Chandra Bindi (the crescent moon style bindi).
Rightly called the 'Queen of Silks', Paithani sarees are a symbol of royalty and a larger than life lifestyle. These alluring sarees have always managed to find their way into a Maharashtrian bride's wedding trousseau and are usually considered a treasured piece of clothing.
And while all these sarees are different from each other, there is something common between all the Paithani saree images that you saw - the borders and pallus of the saree. These are considered to be the distinguishing features of these magnificent sarees.
Pro-tip: We understand that purchasing any design from the listed Paithani saree images is a huge investment as these are one of the most expensive silk sarees in the country, you must ensure that you are buying an original piece of this timeless beauty.
Always remember that no two sarees, even of the same designs, can ever be an exact copy of each other. These exquisite pieces are handwoven and sometimes can even take up to 15 to 20 months, so it is not possible to have two identical Paithani sarees.
Of all the Paithani saree images, which style and designs did you like the most? Tell us how you will style it in the comments below.