Amidst all the chaos and preparations, a bride is silently only waiting to figure her bridal lehenga and the gold jewellery set to go with it. While it may not be the only big decision that she has to take, it surely is one of the main ones. Whatever said and done, it is the wedding jewellery that adds value to her bridal look and completes it.
Therefore, it is important that every bride makes a more informed decision and know a little about wedding gold jewellery sets with price beforehand. For those looking to wear their mom's gold jewellery sets may also get some ideas to what is the best way to pair it to create a look that is unforgettable by each and every guest at your wedding.
Considering jewellery isn't usually the most read about topic by most young brides, we'd love for them to learn a little about the different types of sets that brides choose to wear instead of only listing out the wedding gold jewellery sets with price.
1. The Intricate Maharani Haar
An extremely delicate and detailed looking Maharani Haar, this one is for the brides that are looking to go for a more royal yet classy look. A set with just earrings, necklace, and a maang tikka is also enough to give you the quintessential traditional look with a more graceful and royal feel to your attire.
Pair it with your traditional red or pink coloured bridal lehengas or sarees and you will not need anything else to go with it. Maharani Haar is also known to be one of the traditional wedding gold jewellery sets with price varying from style to style.
Estimated Starting Price Range: The Maharani Haar is known to be the ultimate choice for wedding gold jewellery sets with price starting from ₹3,50,000.
2. Jadau with Pearl and Ruby
One of the most widely opted choice of wedding gold jewellery sets with price that may shock you a little are the Jadau jewellery sets. Apart from the fact that they go well with any and every type of bridal lehenga, it is also one that looks the most stunning as well. For brides looking for Jadau designs that are different from what every bride chooses, this could be the right pick for you.
With a design unlike anything we've seen before and pearl and ruby hangings that we love, this one makes for one of the most stylish choices that any bride can make when it comes to Jadau jewellery sets. Add a delicate Matha Patti or hair accessory to you set and make it stand out.
Estimated Starting Price Range: With a wide variety of options, Jadau jewellery sets start from a starting range of ₹7,00,000.
3. Kundan Set with Portrait
Kundan, as we all know, is one of the first choices of every bride-to-be. But the catch is how to make it different and eye-catching. Well, this is what you need to do.
For brides that are not stuck up on the idea of choosing traditional wedding gold jewellery sets with price touching the roof, then opt for a Kundan set with portrait hangings that don't just add colour to the set but also makes it more contemporary. Go for a pastel shade bridal lehenga for your colourful portraits in the jewellery set to truly shine.
Estimated Starting Price Range: Kundan is one of the most commonly seen and worn wedding gold jewellery sets with price starting from ₹ 1,50,000 to fit everyone's budget .
4. The Oh-So Gorgeous Aadh Necklace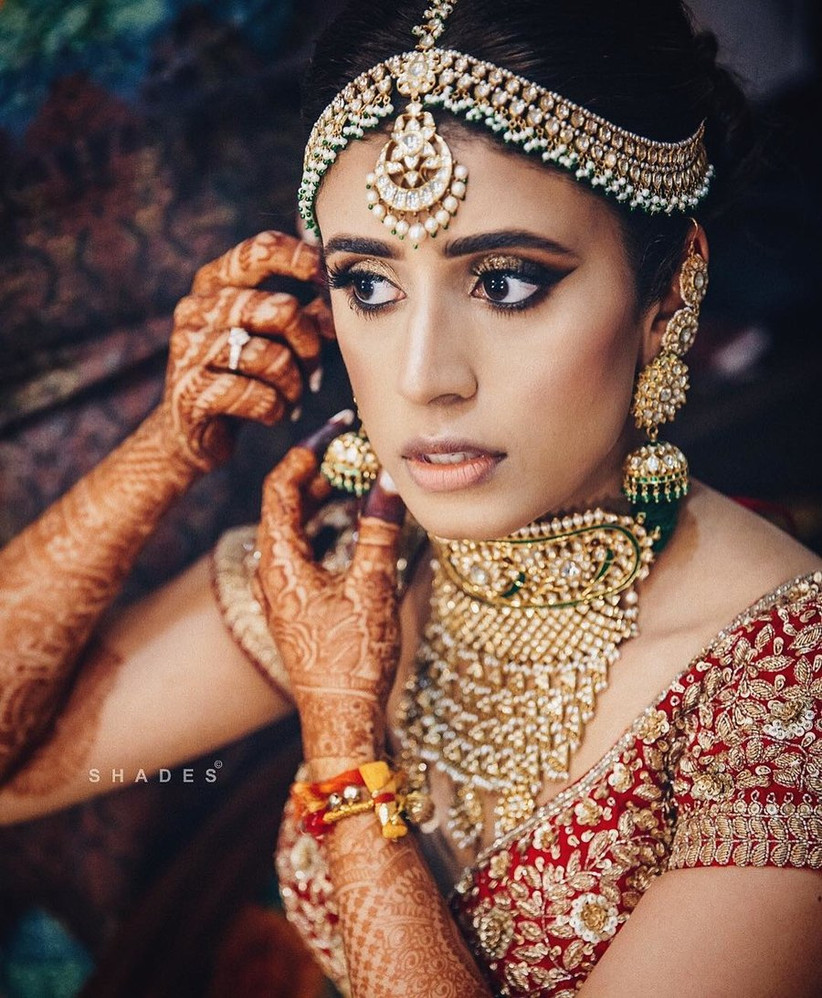 Image Courtesy: Shades Photography
The Aadh is a signature style of jewellery seen on Rajasthani brides covering almost their entire neckline area. It starts with a choker and is then followed with strings of triangles. This gorgeous traditional design is made up of spectacular white stones paired with the enamelling of emerald green colour that makes it look even more amazing.
The Aadh necklace looks best with deep neck blouses. Just add a pair of chunky earrings and matha patti to let you show off the intricate design rather beautifully. If traditional jewellery set is what you're looking for, then Aadh is what can work miraculously for your look.
Estimated Starting Price Range: Depending on how long you choose yours to be and what all you choose to have in the set, the Aadh wedding gold jewellery sets with price ₹2,00,000 is said to be a good deal.
5. The Evergreen Navratna Jewellery Set
The Navratna set as the name suggests constitutes of 9 different coloured gemstones with ruby always being in the centre of the design. The millennial brides might recognise this after Mira Rajput wore it on her wedding day. Well, we won't lie that has changed the game for Navratna jewellery sets and the new age brides are now discovering ways to incorporate it to their look.
Pair these with any coloured lehenga and they are sure to still hold their own because of the multi-coloured gemstones that make it stand out.
Estimated Starting Price Range: Keeping it as simple or as detailed as you like, these wedding gold jewellery sets with price ₹2,75,000 and above also depend on the quality of gemstones you choose to go forward with.
6. The Super Heavy Satlada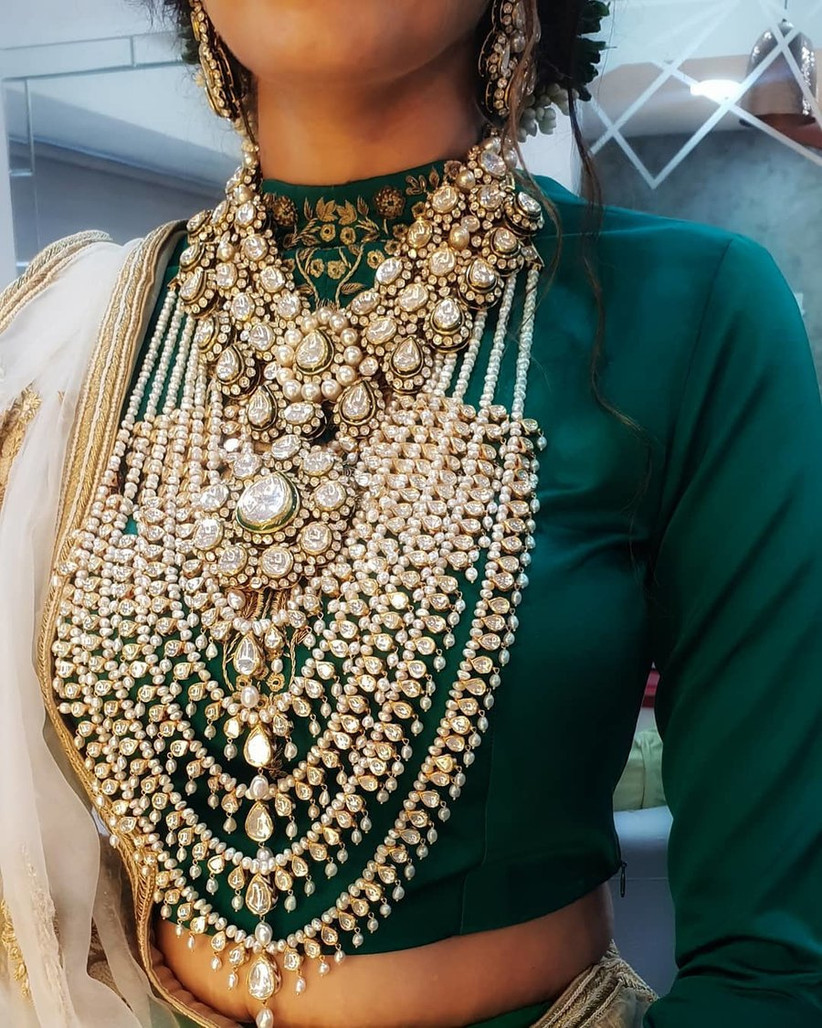 Image Courtesy: Orange The Salon
Satlada Haar is a layered piece of bridal jewellery that is every millennial bride's dream. It is intricate and yet heavy and goes up till your wait. This seven-stringed pearl necklace can be made heavier or lighter by adding Kundan or Jadau hangings to it. This way a bride can get everything that she wants in one bridal jewellery set.
You can also pair with another choker necklace if you want to go for a super heavy look. Bridal lehengas with colourful embroidery go best with Satladas. The use of pearls makes this one cost much lesser than any other wedding gold jewellery sets with price costing you an arm and a leg.
Estimated Starting Price Range: You can get a Satlada set made for your big day in as little as ₹50,000 as well.
7. The Super Modern Collar Piece Set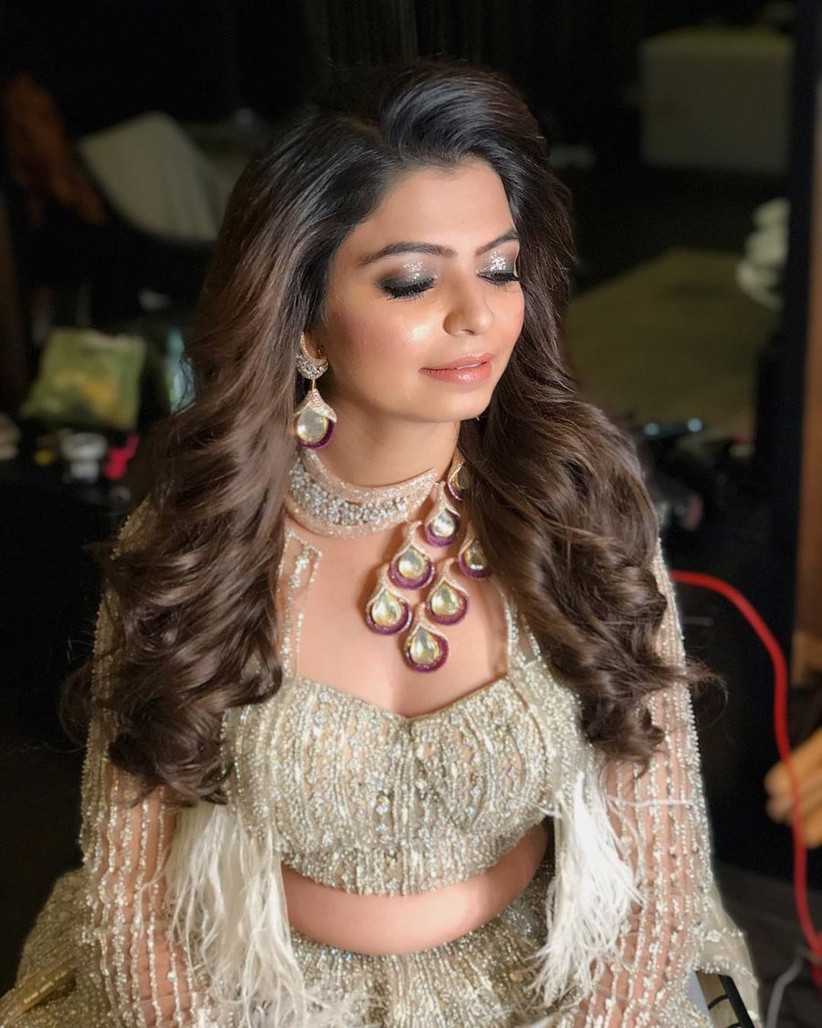 Image Courtesy: Lekha- The Cut Collective
Enough of the classic choices, let's look at the modern ones now. If you're looking for a stunning collar piece and a pair of statement designs of earrings, then this is the kind of wedding gold jewellery sets you should go for. With intricate gold flowers around the neck followed by the Kundan Polkis one side, this one is truly a masterpiece.
Pair them with your indo-western outfits or outfits you're wearing on the Reception or Cocktail night and look no less than a princess. While people say everything unique costs you a little more, but in statement collar piece sets with earrings, it really depends on how smartly you choose the design.
Estimated Starting Price Range: These millennial wedding gold jewellery sets with price starting from ₹1,00,000 is something you definitely need in your trousseau.
Before going forward with a final choice we suggest every bride to sit down with the best available options of wedding gold jewellery sets with price that is within their range. It is important for brides to look beyond the wedding day and see what value they hold for them. Wedding Gold Jewellery sets are a big investment but we are hoping reading this will make the choice easier for you. If no, the stick to your mom's instincts as she is sure to see it through better than you ever will. After all, every bride's taste in jewellery is what she's picked up from her mom first at a very young age and later from their own experiences.
We'd love to know if our wedding gold jewellery sets with price helped you in your hunt for the best bridal jewellery.