Essentials of the Maharashtrian Paithani Saree With 5 Stores: the Perfect Guide a Marathi Bride Needs for Her D-day
A Maharashtrian Paithani Saree is traditional, regal and elegant. To get the right look with it, it's important to pick a classic piece that you will be proud of for years to come. Here's all you need to know on where to buy it and how to style it.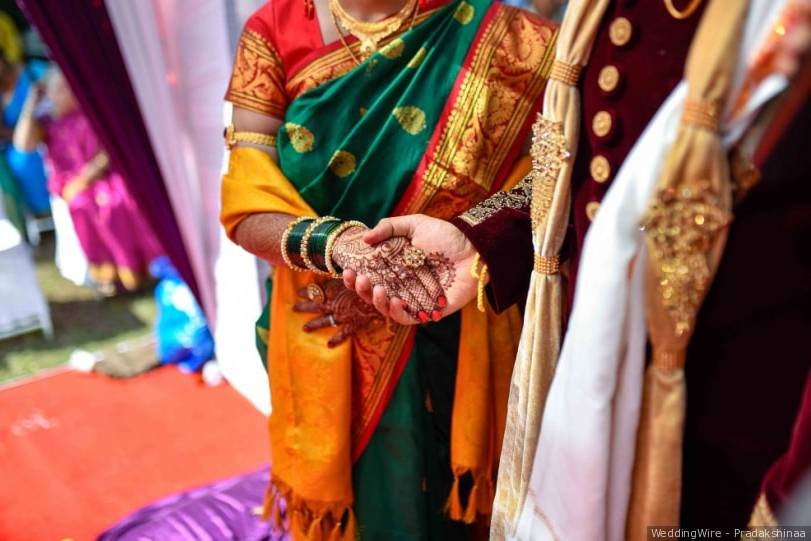 India is known for its traditional weaves and artwork. Every state and every tribe has their own unique style of blending traditional weaving styles with different fabrics, artwork and crafts. A Maharashtrian Paithani saree is a beautiful example of traditional weaving styles that to date remain popular, in demand and truly ethereal.
A silk saree, the Maharashtrian Paithani saree is named after the town of Paithan in Maharashtra. Handwoven from the finest silks, it's easy to identify one with its peacock motifs on the saree pallu and oblique square border designs. Nowadays, however, you can find even multi-coloured sarees that have a kaleidoscopic effect and spotted designs. A Maharashtrian Paithani saree also uses Zari to create the motifs or enhance them.
A traditional Maharashtrian Paithani Saree is found in bright and bold colours like shades of red, purple, magenta, peacock blue or green, or a combination of two of these bold colours.
Where to buy your Paithani:

Would you want to add a beautiful Maharashtrian Paithani Saree to your trousseau too? Here are 5 places that are sure to give you your dream Paithani:
1. Gaurang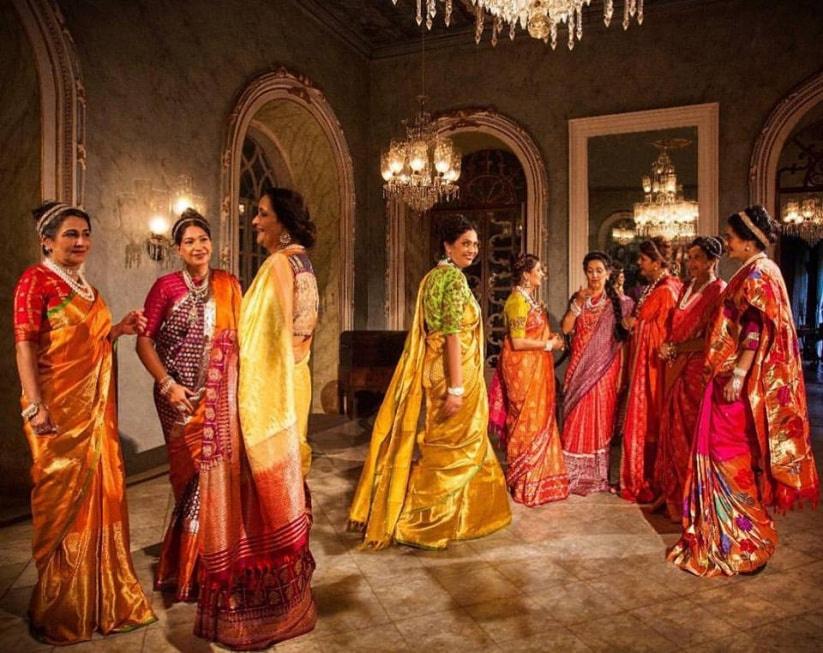 Gaurang is a one-stop shop for all traditional and ethereal Indian ethnic fashion. A Maharashtrian Paithani saree from Gaurang will be nothing less than a divine saree that has all the traditional motifs and you'll be spoilt for choice with so many great pieces to choose from. You can be completely sure that the saree will be of the highest quality; one that can be passed on from one generation to another.
Cost: ₹10,000
Also available: Bridal lehengas, sarees, indo-western outfits, gowns, Anarkalis
2. Sailesh Singhania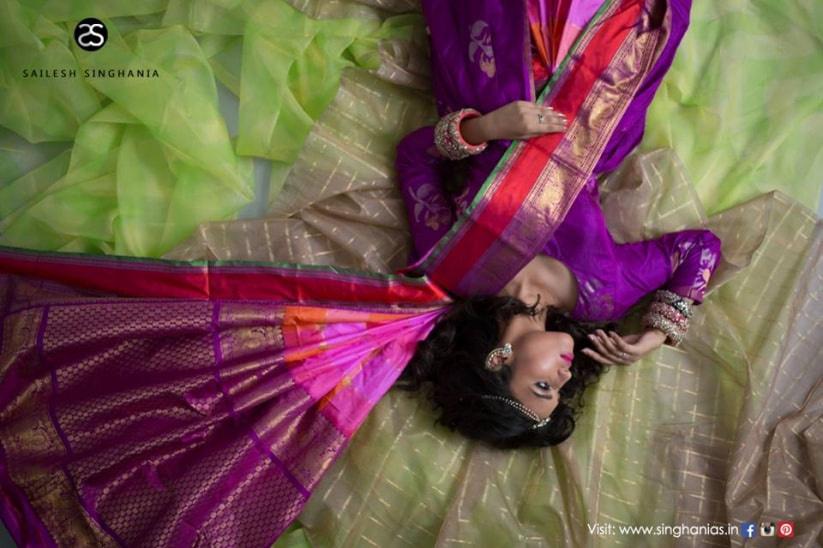 Best known for Banarasi outfits like sarees and Kanjivaram silks, this Hyderabad-based designer also offers a large and beautiful collection of traditional Paithani sarees. Sailesh Singhania as a designer brand that is renowned for the finesse, quality and intricate craftsmanship and a Maharashtrian Paithani saree from here will be nothing less than perfection. The designs are intricate and they have an aura of the conventional Paithani sarees that will be perfect for your traditional Marathi sarees and you will be impressed by the colour palette that he has to offer to his customers.
Cost: ₹70,000
Also available: Bridal lehengas, sarees, indo-western outfits, gowns, Anarkalis and bridal jewellery
3. Meena Bazaar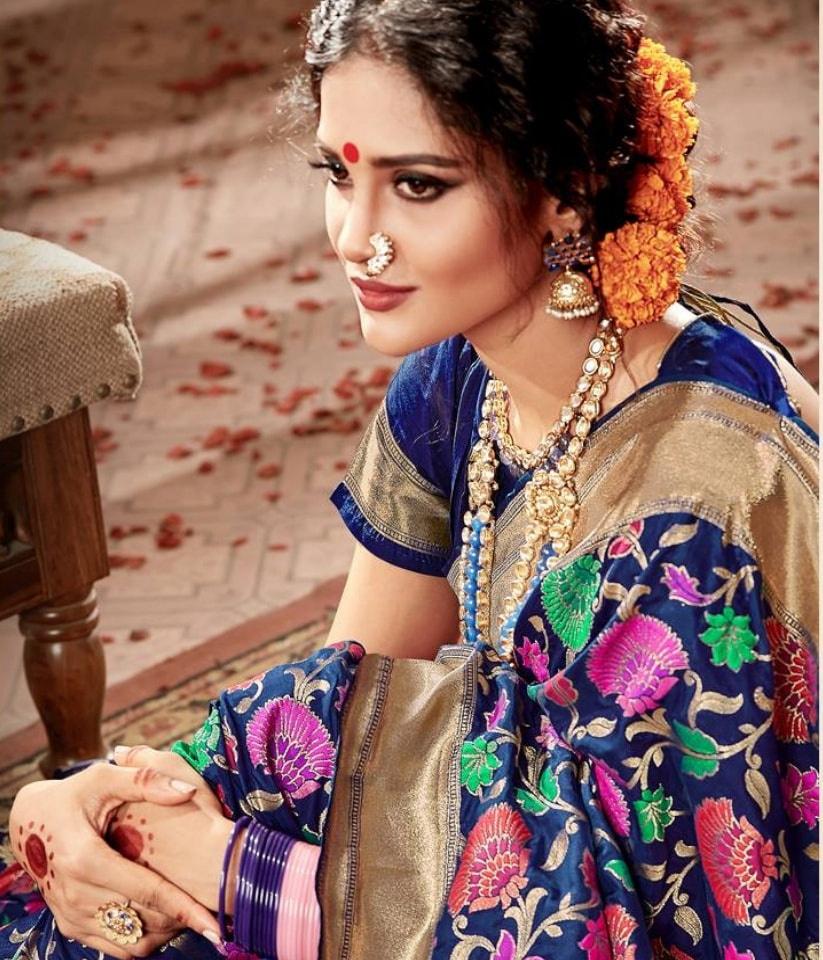 Think of Indian ethnic fashion, think Meena Bazaar. The brand offers all traditional weaves and styles of different states and you are sure to find your dream Maharashtrian Paithani saree here. Affordability without compromising on choices, quality and styles is what makes Meena Bazaar a must-visit store for your Paithani and trousseau shopping. The bold prints of flowers and the bright colour combinations that they choose for their sarees are a must have for your D-day. They are also a good choice to go with for your engagement and sangeet night ceremonies that happens with a lot of light around.
Cost: ₹30,980
Also available: Bridal sarees, suits and Anarkalis, bridal lehengas, bridal trousseau, gowns
4. Wrap 'n' Weft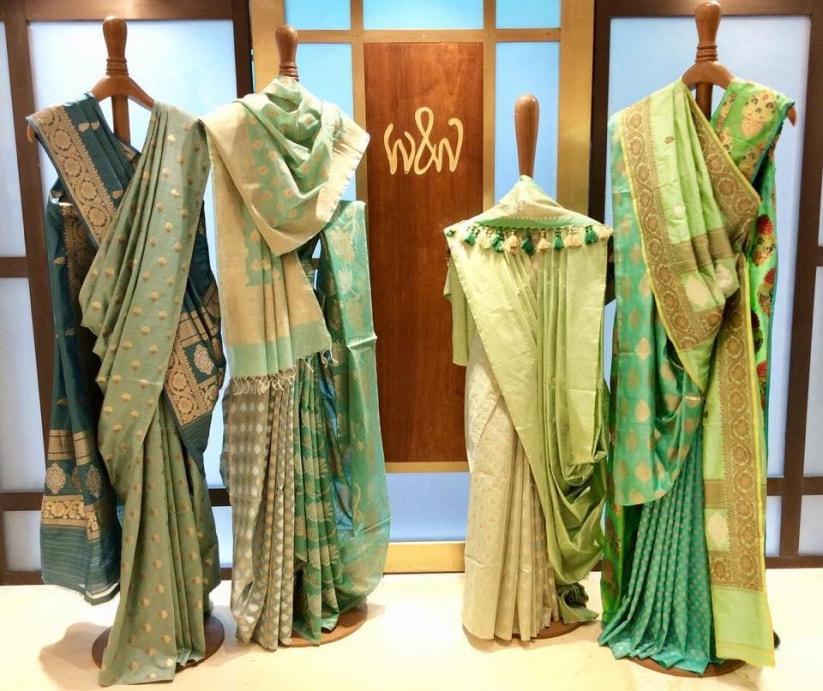 This Mumbai-based contemporary ethnic fashion store has made its way to the wardrobes of many famous celebrities and well-known media artists. A Maharashtrian Paithani saree from here can be a classic and traditional one, or more modern design. The brand has made a mark for itself in the Indian ethnic fashion world. They choose to use subtle shades and the prints on them are a treat to the eye of the beholder. Their Maharashtrian Paithani saree designs are fit to be worn even during the daytime functions.
Cost: ₹50,000
Also available: Lehengas, sarees, Indo-western outfits, Shararas, fabrics
5. Man Mandir Silks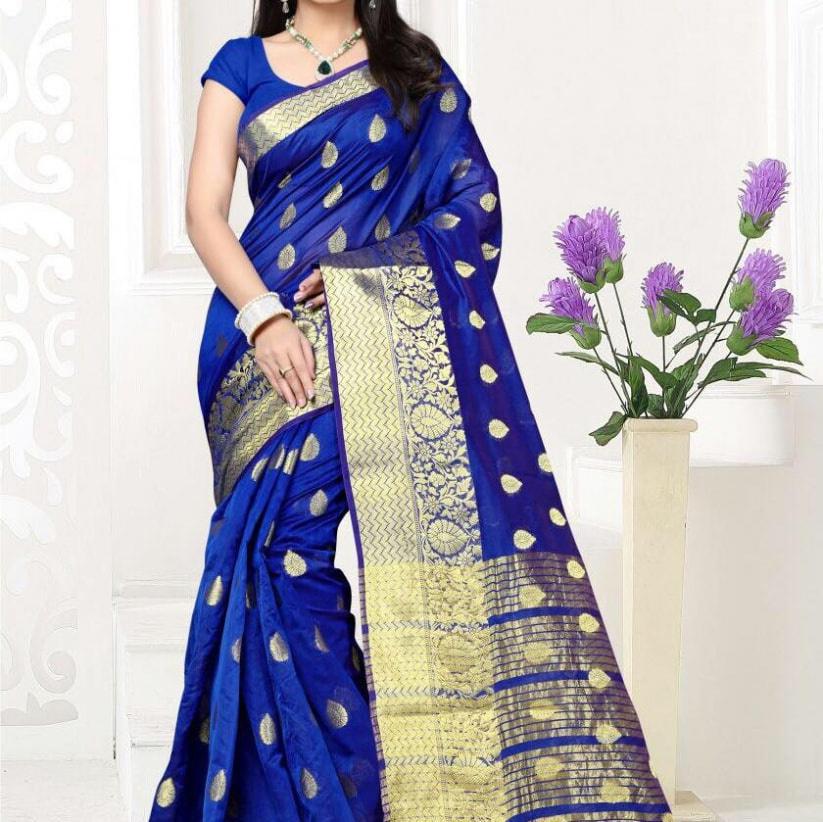 A decades-old store for all kinds of silk Sarees, Man Mandir Silks is a Mumbai-based shop, known for quality and variety. You will definitely get a beautiful Maharashtrian Paithani saree here that is true to traditions and worth every penny you spend. Through the developments of time and fashion, they have evolved their designs and despite the evolution of fashion their Paithani sarees still have the authenticity of the traditional prints and the quality of them has only got better.
Cost: ₹15,000
Also available: Bridal lehengas, sarees, Indo-western outfits, gowns, Anarkalis, Shararas, Light and heavy trousseau
How to style a Maharashtrian Paithani Saree?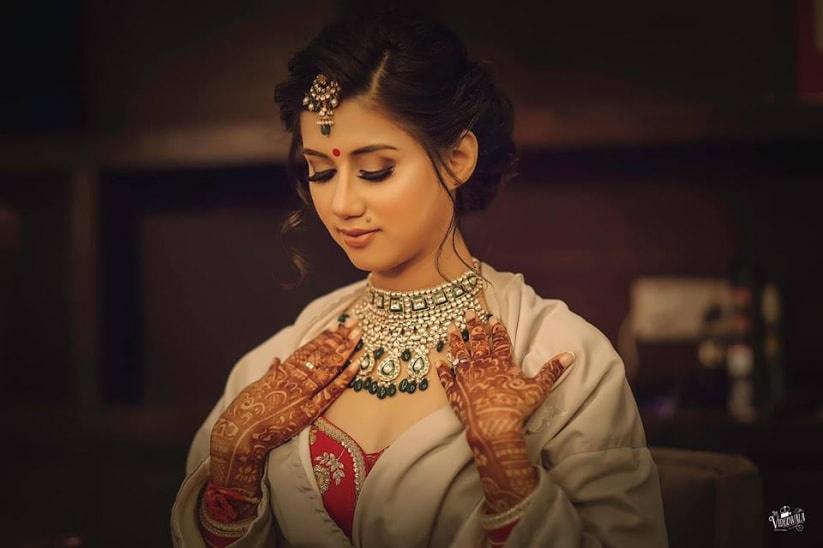 While an attire plays an important role in the style you want to create, it is the styling that truly enhances your overall look. The right styling can absolutely transform your look from good to gorgeous. Here are some elements to consider when styling your Maharashtrian Paithani saree:
1. Bridal jewellery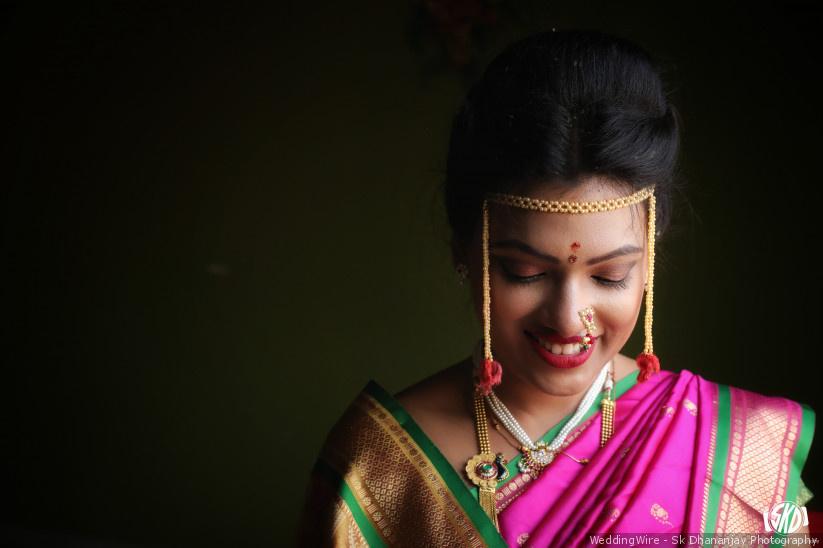 Opt for more traditional jewellery styles to compliment the traditional Paithani. A gold choker necklace with Jhumka-style earrings and a traditional Marathi nose ring will beautifully complement your look. Marathi ladies in their nose rings are everything that the eyes of the beholder can appreciate in the Maharashtrian wedding ceremony. Add lots of coloured glass bangles to complete your style.
2. Bridal makeup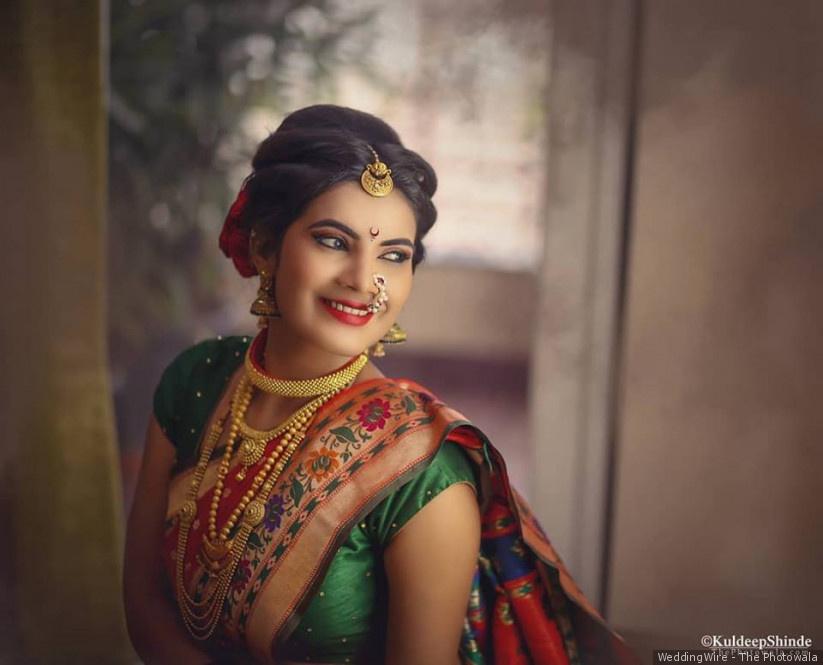 For a daytime look, opt dark Kohl eyes and a bold red lipstick with a red Bindi. Keep the eyeshadow light and subtle. For an evening Marathi bridal look, you can opt for glitter eyes and bold lips.
3. Hairstyle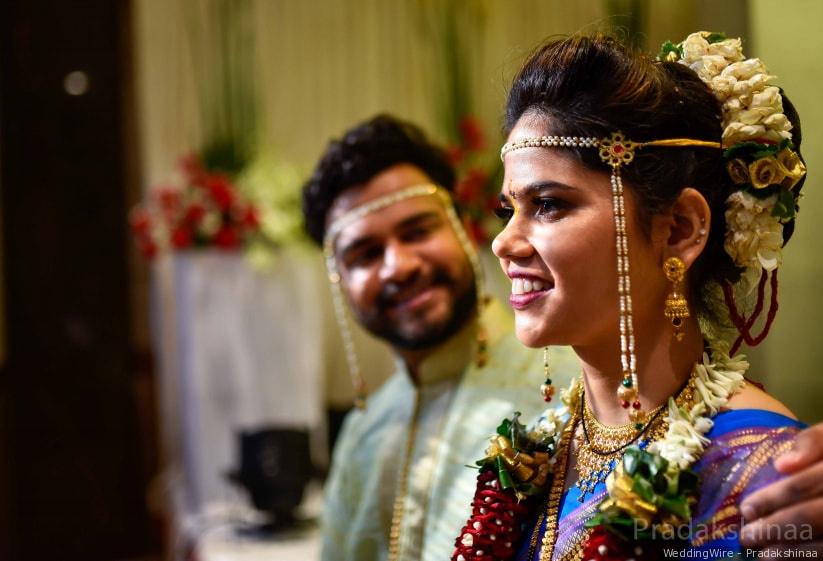 A classic bun with floral metallic accessories or fresh flowers is the perfect way to look beautiful and let your Saree be the centre of attention. You can also opt for a messy side bun with fresh flowers. A bun, however, is not a must, but a suitable choice of hairstyle that will let your Maharashtrian Paithani saree glow perfectly.
4. Bridal accessories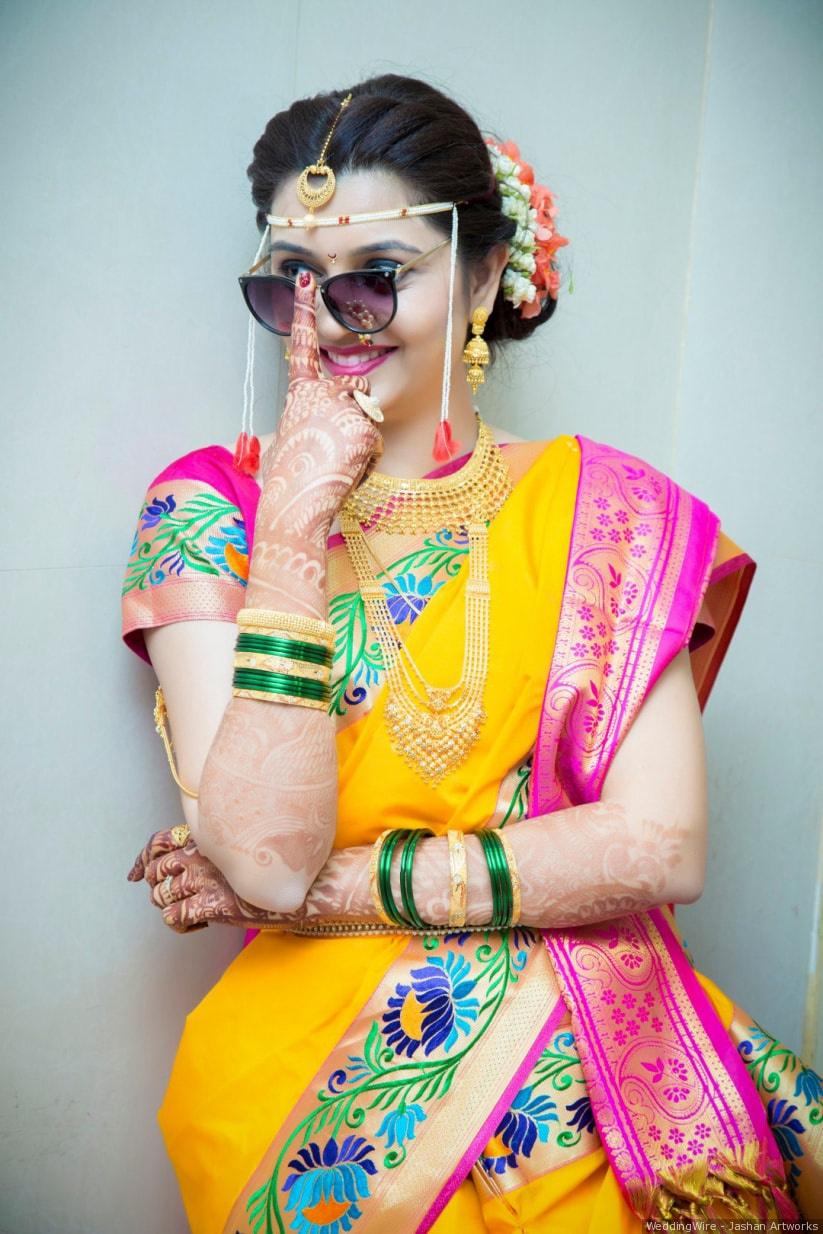 Team up your Maharashtrian Paithani saree with golden stilettoes or sandals that have traditional designs. Carry an embellished Potli or clutch bag to complete the look. However, if you are the millennial Cinderella then congratulations because the array of shoes that you can pick for your wedding range from sneakers to flats to Kolhapuris and even stilletos.
A Maharashtrian Paithani saree is truly divine and exceptionally stunning. The bold colours, the large gold Zari motifs and a defining Zari border make it a work of true craftsmanship. Whether you are a soon-to-be bride, a newlywed, a bridesmaid or just another woman who appreciates art and artwork; this is a saree you need in your wardrobe.
How will you style your Maharashtrian Paithani saree?