The Paithani Saree & 7 Ways to Style It for the D-day
Paithani sarees are the essence of every Maharashtrian bridal trousseau. These styling tips are the keys to bring out the bridal royalty and flaunt them right!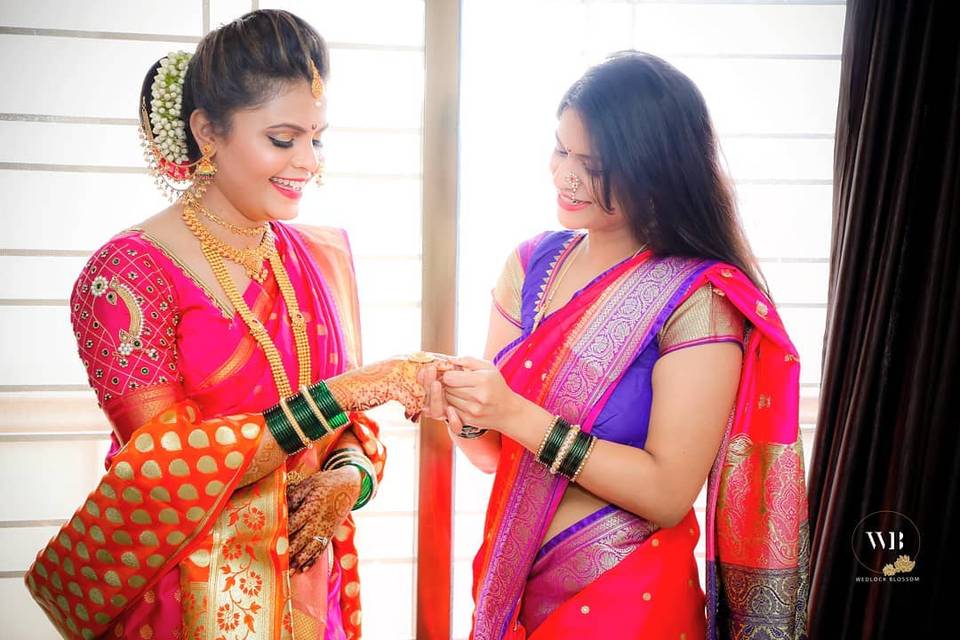 Now known as the Queen of Silks, these sarees were once synonymous with queenliness and regality. Paithani saree and blouse creations come in six and nine yards variants but what makes them exceptional is their weaving techniques.
Thanks to the clever craftsmanship, this saree looks exactly the same from both sides. Unlike other silk sarees, this one does not lose its silky texture even after years of wear and tear. Created with naturally dyed threads, these sarees come in a range of beautiful colours, like red, yellow, sky blue and peach, to enhance the beauty of Maratha brides.
They feature paisley motifs throughout the body and special attention to detail is paid to the border and pallu. On one of these typical saree, you can observe motifs such as peacocks, lotus, parrots and vines. Other common motifs include traditional Indian musical instruments such as tabla, shehnai etc. Paithani sarees are precious heirloom pieces that are passed down from one generation to another.
So, it goes without saying, they are often highly-priced, based on the precision and richness of each saree. When it comes to bridal Paithani sarees, each one is handcrafted to perfection with gems and threads made of real silver and gold.
If you've also invested in this saree as a part of your trousseau or are excited to wear it on your wedding, don't miss out on these styling tips.
Draping Styles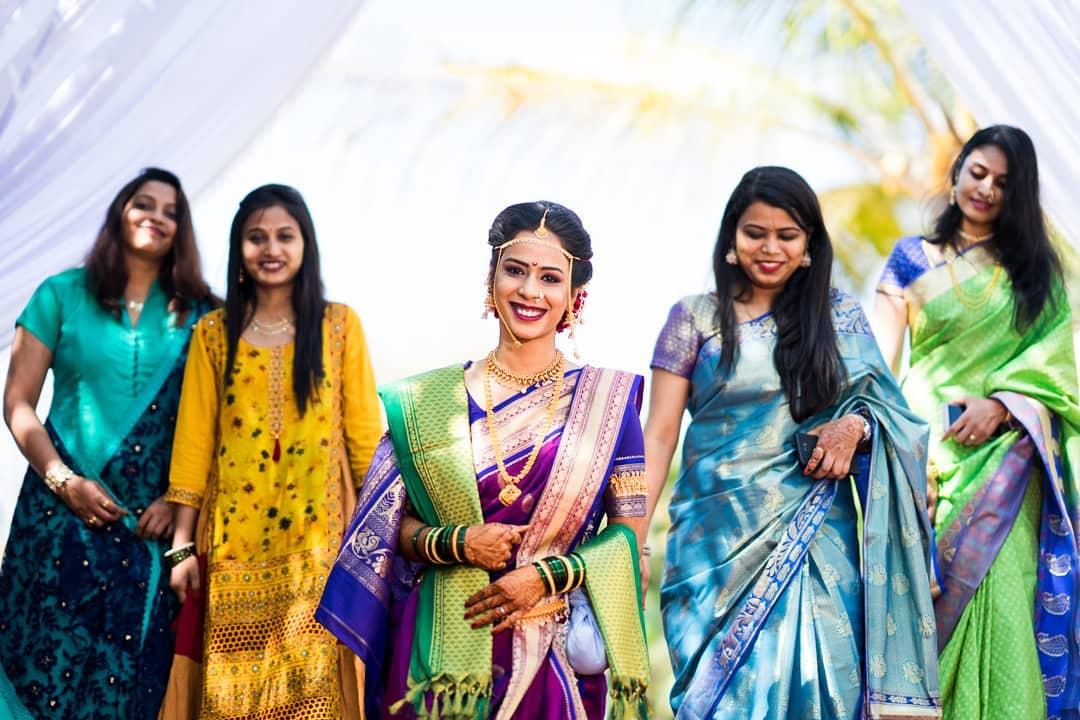 As with any saree, draping can make or break the look of a Paithani too. When it comes to a Paithani saree, especially a bridal one, you have a selection of draping styles. The most common draping styles are:
Of course, you can drape these sarees in the classic styles of the open pallu and pleated pallus too. These sarees are now available in ready-to-wear designer concepts too.
Blouse Designs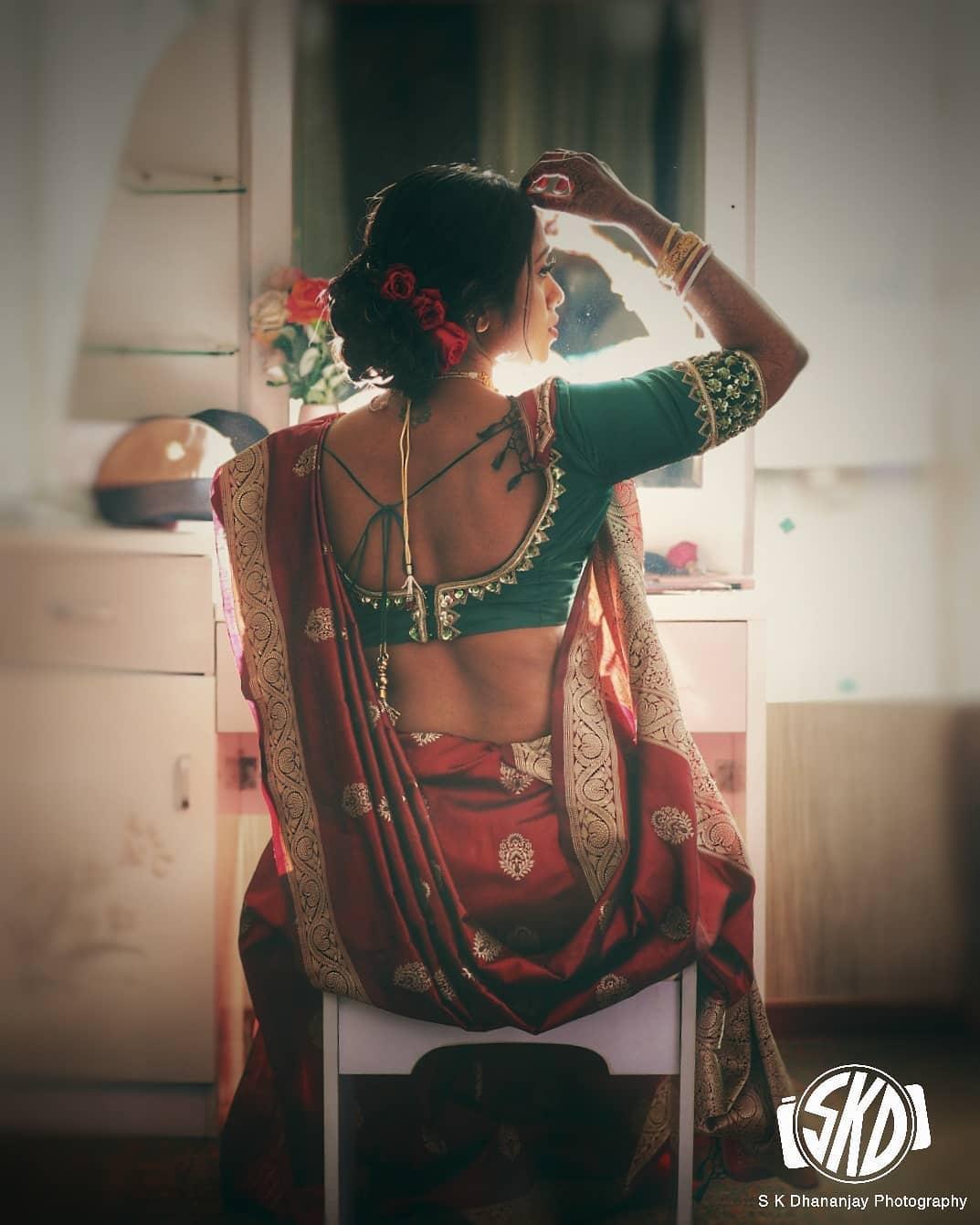 The selection of blouse is the ultimate way to glam up or down your sarees. While picking the blouse design for your Paithani saree, focus on elements such as the back of the blouse and the sleeves the most.
While the matching blouse fabric that comes with the saree will give you an ethnic look, you can also go for modern fabrics, such as net or georgette. You can also experiment with your necklines by first analyzing how you intend to drape your saree and then figuring out which neck would best accentuate it.
Modern Twist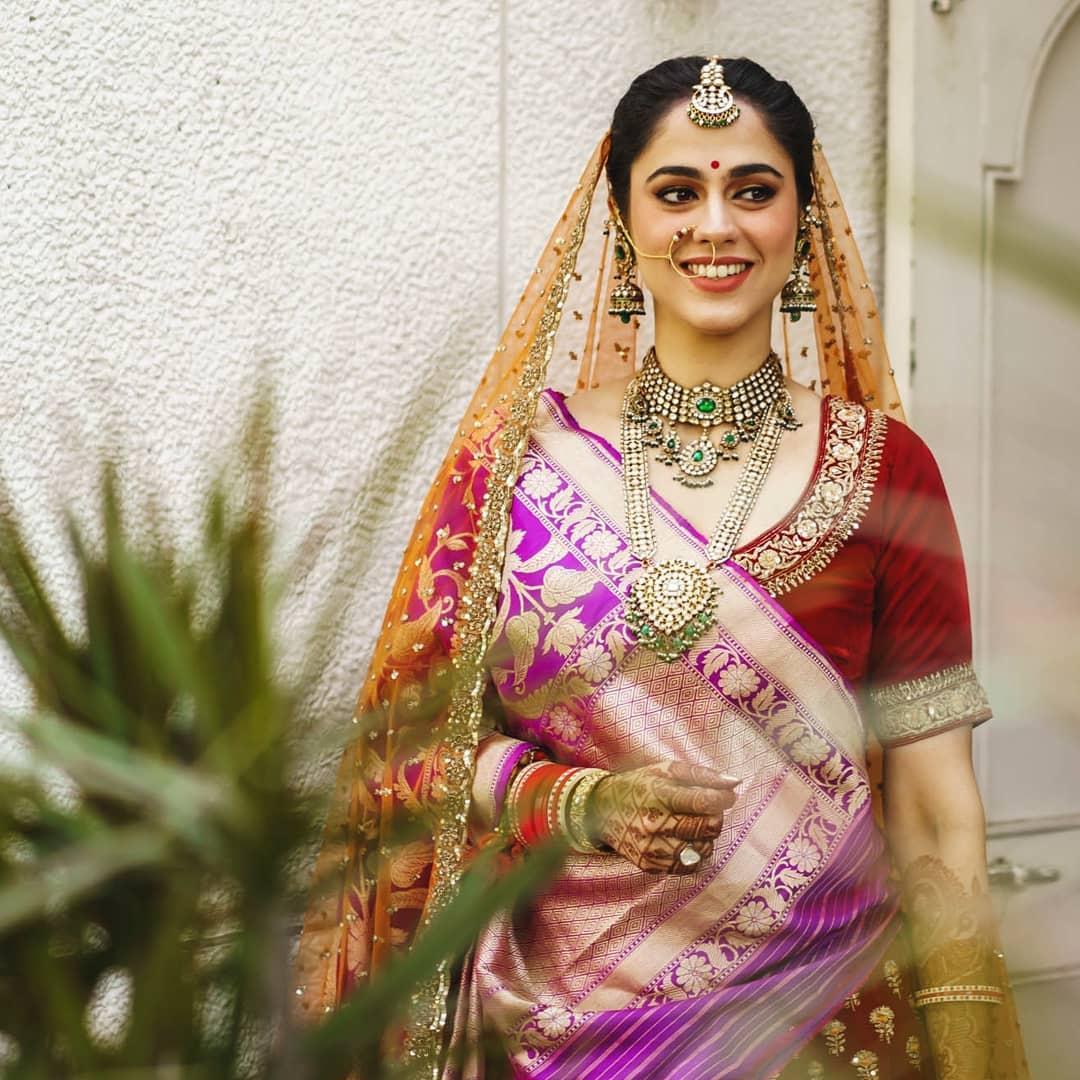 A modern element not only adds a surprise detail to your look but resonates better with new-age brides. The best part is that you barely have to put in any efforts in this regard. Modern fabrics, such as lace, net, georgette and contemporary necklines, such as cold shoulder or off-shoulder can give your saree a modern look in an instant.
Other ways to add a modern element to your overall Paithani saree look are: adding a metallic belt or taking a net dupatta on your head.
Makeup Matters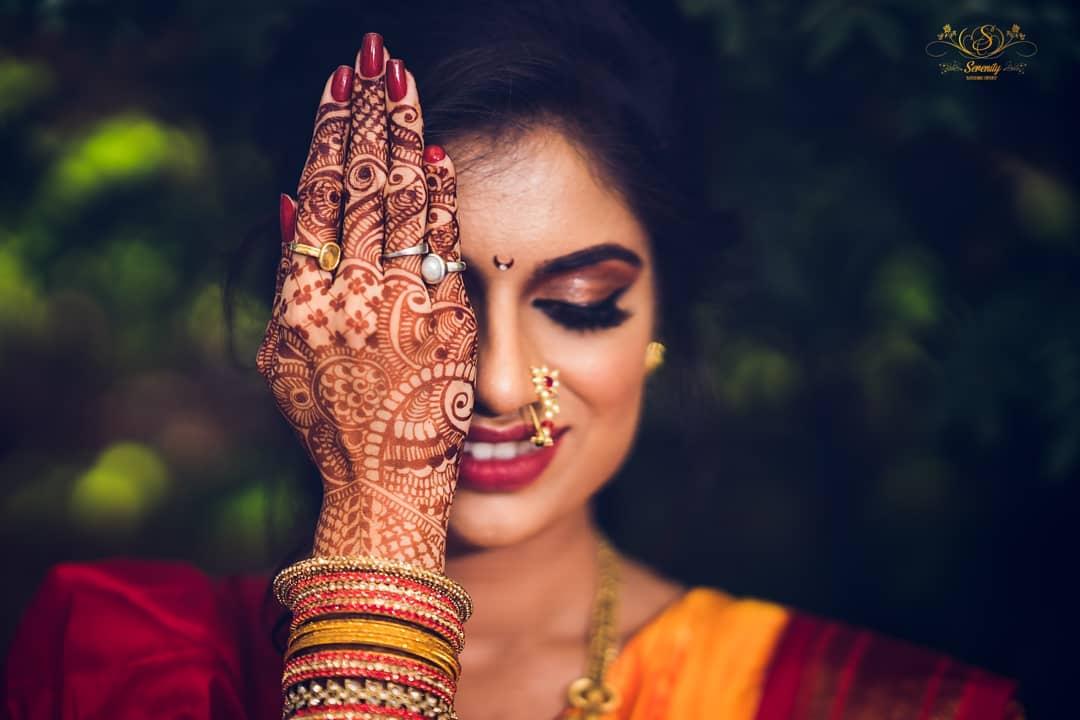 Weddings and makeup have become synonymous throughout India. Makeup has the power to enhance your features, making the outfit appear more complementary. To enhance the features of your rich, luxurious silk saree, go for makeup looks that are understated. Since these sarees are heavy and lustrous, keep a few tips in mind.
Bold eyes and bright lips, simple base makeup with bright red lips, glittery eyes and rosy cheeks are some combinations that work for everyone. However, ensure that your makeup is not way too muted or nude else it won't match up with the opulence of your bridal saree.
Hairstyling and Accessories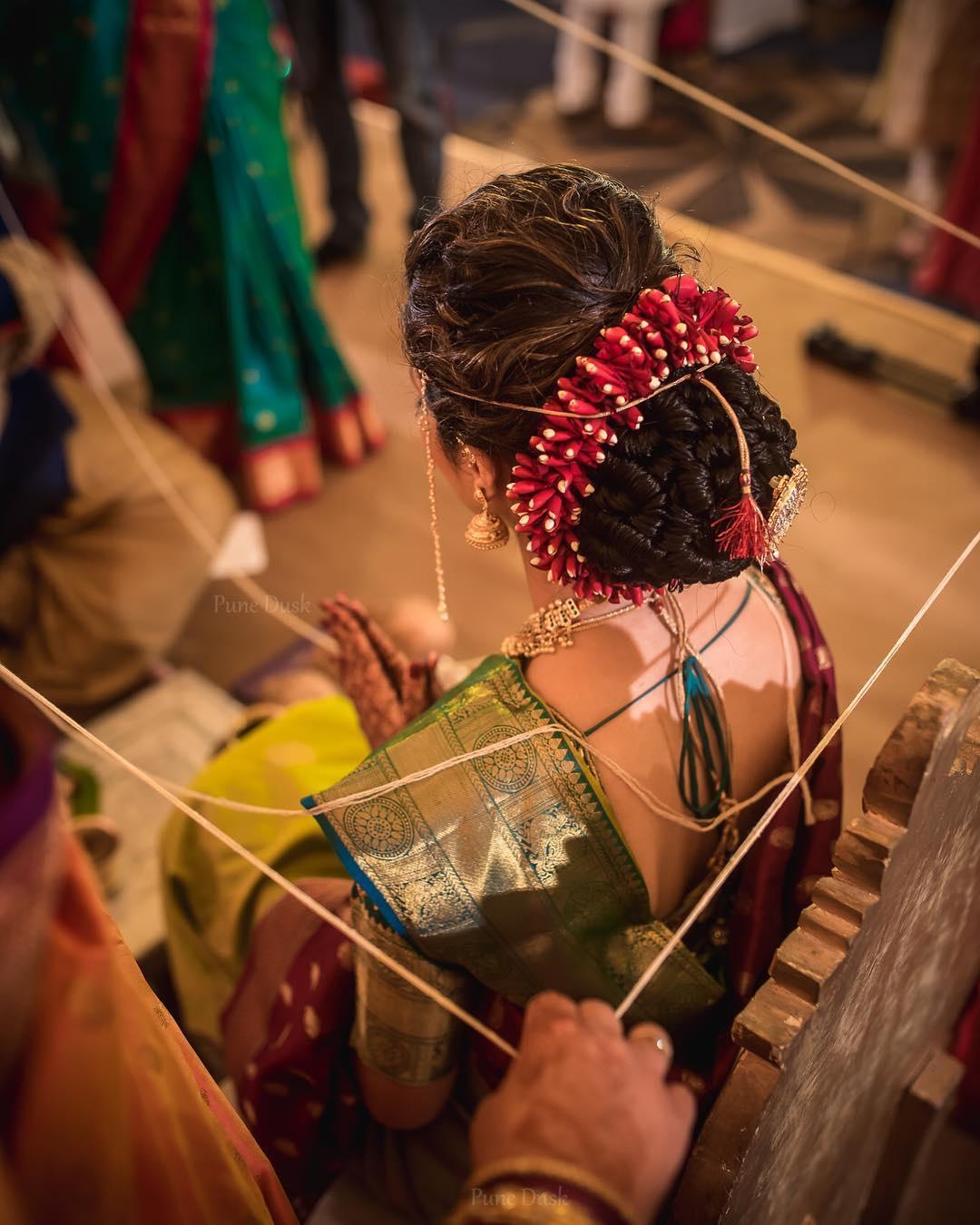 Hairstyling is a huge part of the bridal look and the overall saree styling and a great way to bind your whole look together. While picking a hairstyle for a Paithani saree keep in mind its richness and grace.
Apart from various classy buns, you can pick hairstyles like intricate braids and open hairstyles with extra volume. Accessories also enhance the beauty of these sarees, so you may pick from a variety of real flowers, ornamental hair gems, golden jewellery etc.
Right Footwear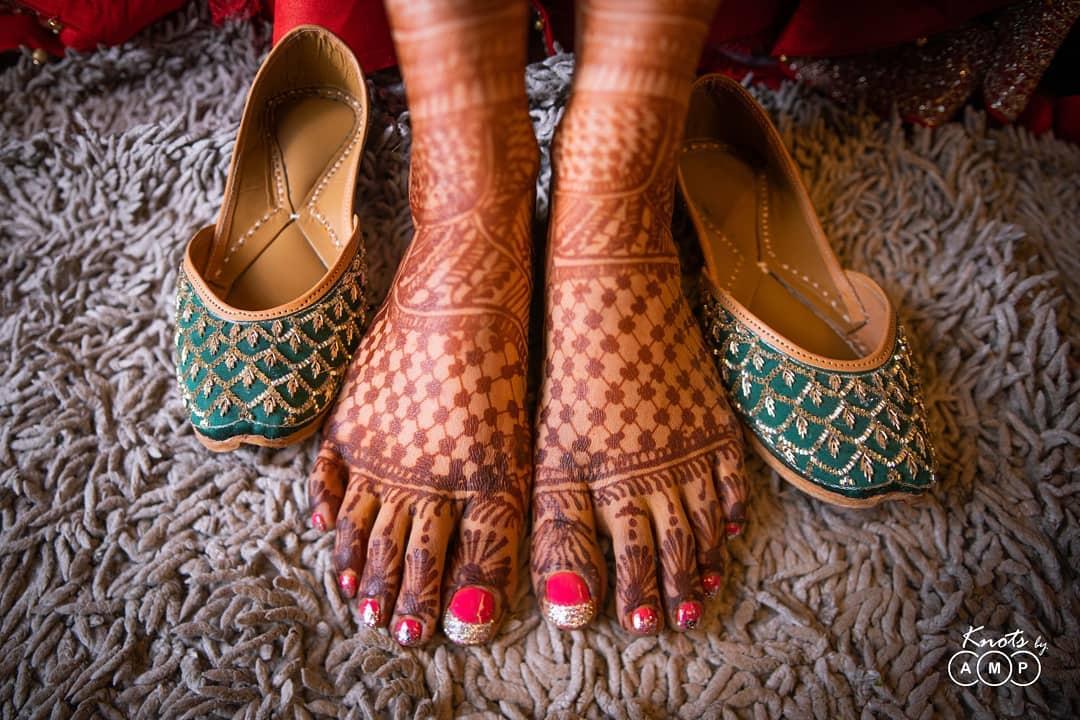 The right pair of footwear not only keep your feet comfortable for long but also helps your saree drape more alluringly. First of all, make sure you pick your footwear keeping the draping style of the saree in mind.
Second, wear the exact footwear when getting your saree draped on the big day to analyse factors such as the length of your saree or its pallu. The most common and suitable picks for Paithani sarees are strappy sandals, glittery wedge heels and metallic stilettos.
You can also go for a pair of bridal or decorative Mojaris if you do not mind wearing flat footwear at your wedding.
Jewellery Picks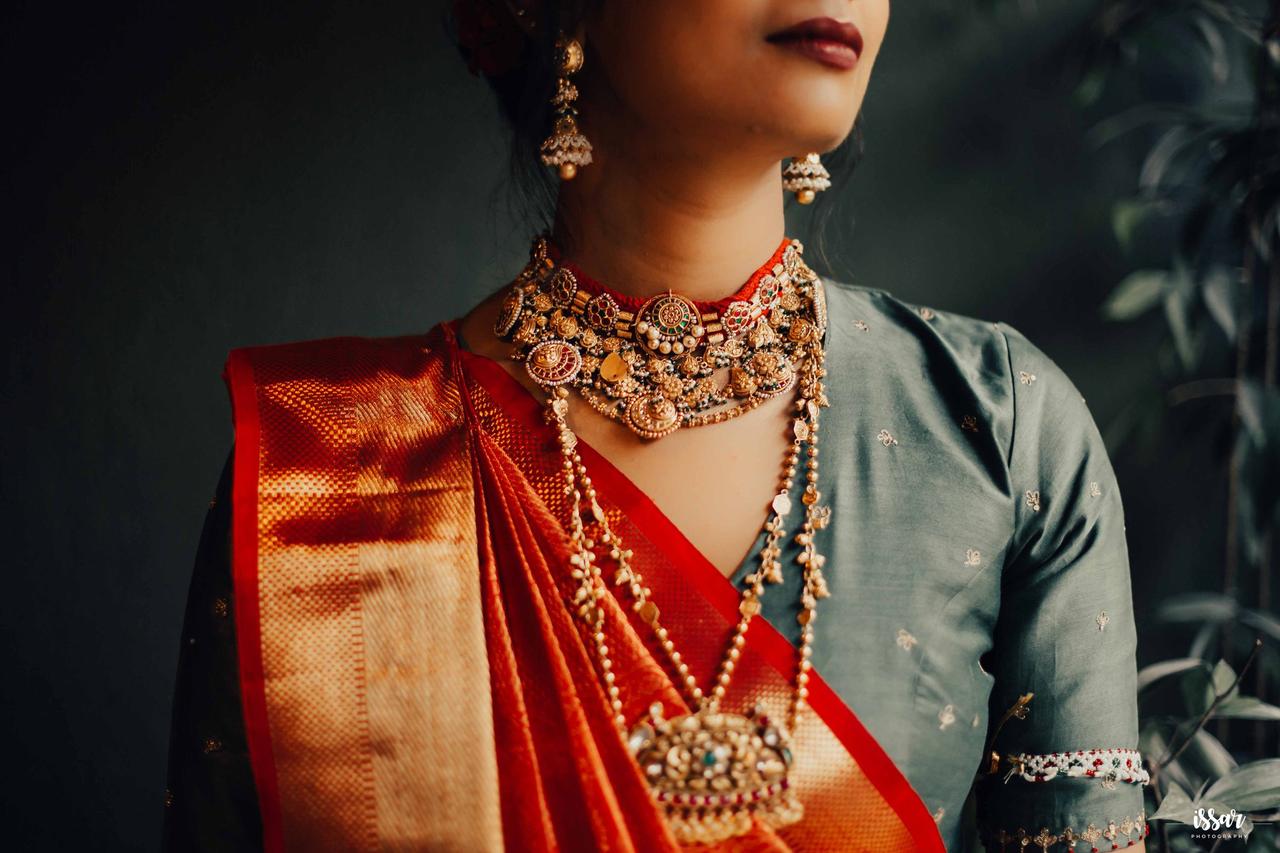 Image Courtesy: Shashank Issar Photography
They are so stunning that finding the perfect jewellery that matches their appeal can be a task. But, make sure you focus on this aspect. Traditional Marathi mulgis like to pick pieces in gold or pearl to go with their Paithanis. Pieces such as the Nath, Lakshmi haar and green bangles are the most essential jewellery. If you desire you may pick uncut diamond jewellery or mix and match for an ultra-modern bridal look.
Other essentials include Mundavlya (pearl strands for the forehead) and Vaki (armlet). Most Marathi brides prefer to doll up in this traditional nine yards of elegance on their wedding day to show respect and admiration for their traditional values.
Simple and yet royal, these sarees are versatile in terms of draping and styling and that's why still prefered by modern brides too. If you are also on the hunt to pick the prettiest Paithani saree for your bridal trousseau, especially to wear on your wedding ceremony, keep these tips bookmarked for a memorable bridal look.
Did you also wear a Paithani saree at your wedding? Reveal your tips in the comments section!