8 Stellar Lehenga Skirt Styles Ideas For The Brides Of Today
Here are the best styles to help you pick the perfect bridal outfit! Keep up with the latest trend in wedding fashion and keep your best foot forward.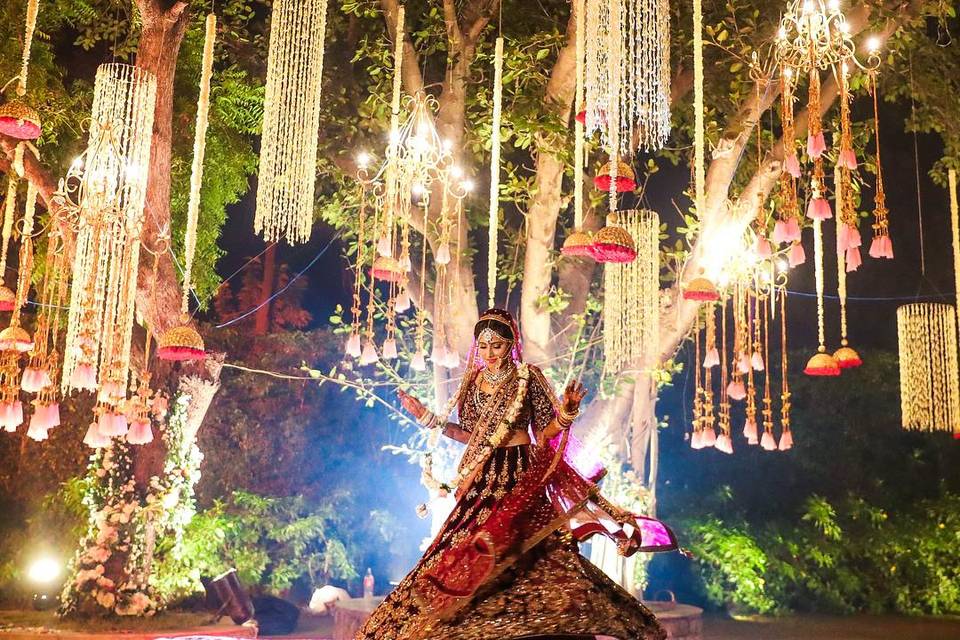 Red lehengas have been a norm at Indian weddings for many years but modern brides have strayed away from tradition in favour of a more fashion-forward look when it comes to lehengas. From A-line to printed lehenga skirt styles, brides are showcasing their individuality and creativity through their outfits. After all, it is your wedding day so it's important that you look and feel like a million dollars.
Picking the perfect lehenga skirt is key to nailing your bridal look but the number of styles to choose from can get overwhelming. Here's a list of the top 8 lehenga skirt styles you need to keep in mind when choosing your outfit for your big day!
1. A-line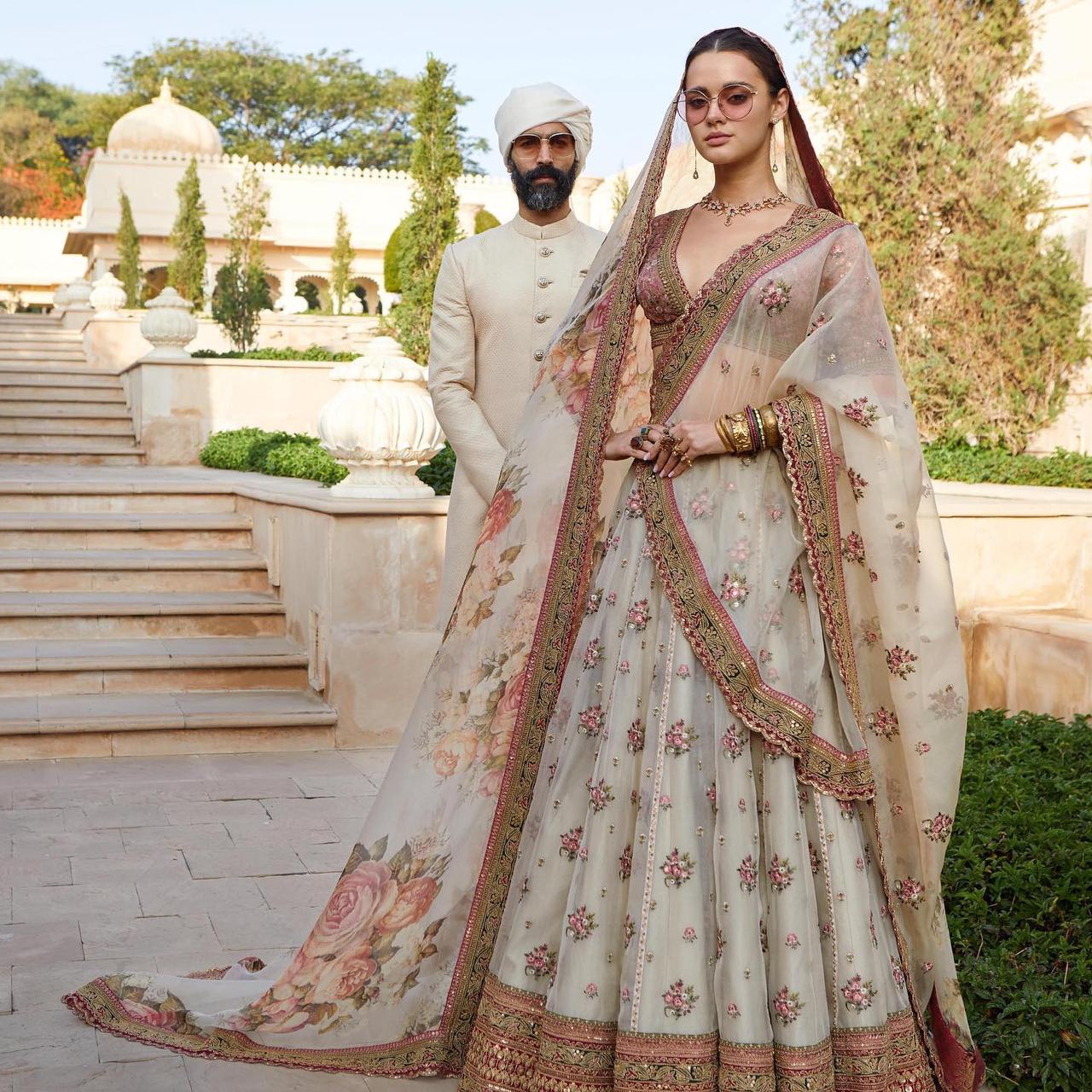 Image Courtesy: Sabyasachi's Instagram
Let's begin the list with a classic A-line lehenga skirt that has dominated the bridal fashion scene for many years. As the name suggests, this skirt resembles an A as it flares from the hem at the hip. Many brides opt for an A-line skirt for its versatile look that can be dressed up or dressed down to match your personal style.
This stunning Sabyasachi net lehenga skirt is embedded with embroidered flowers and enhanced with a beautiful Zari border. An A-line lehenga skirt like this one is perfect for pear-shaped or hourglass body types.
2. Banarasi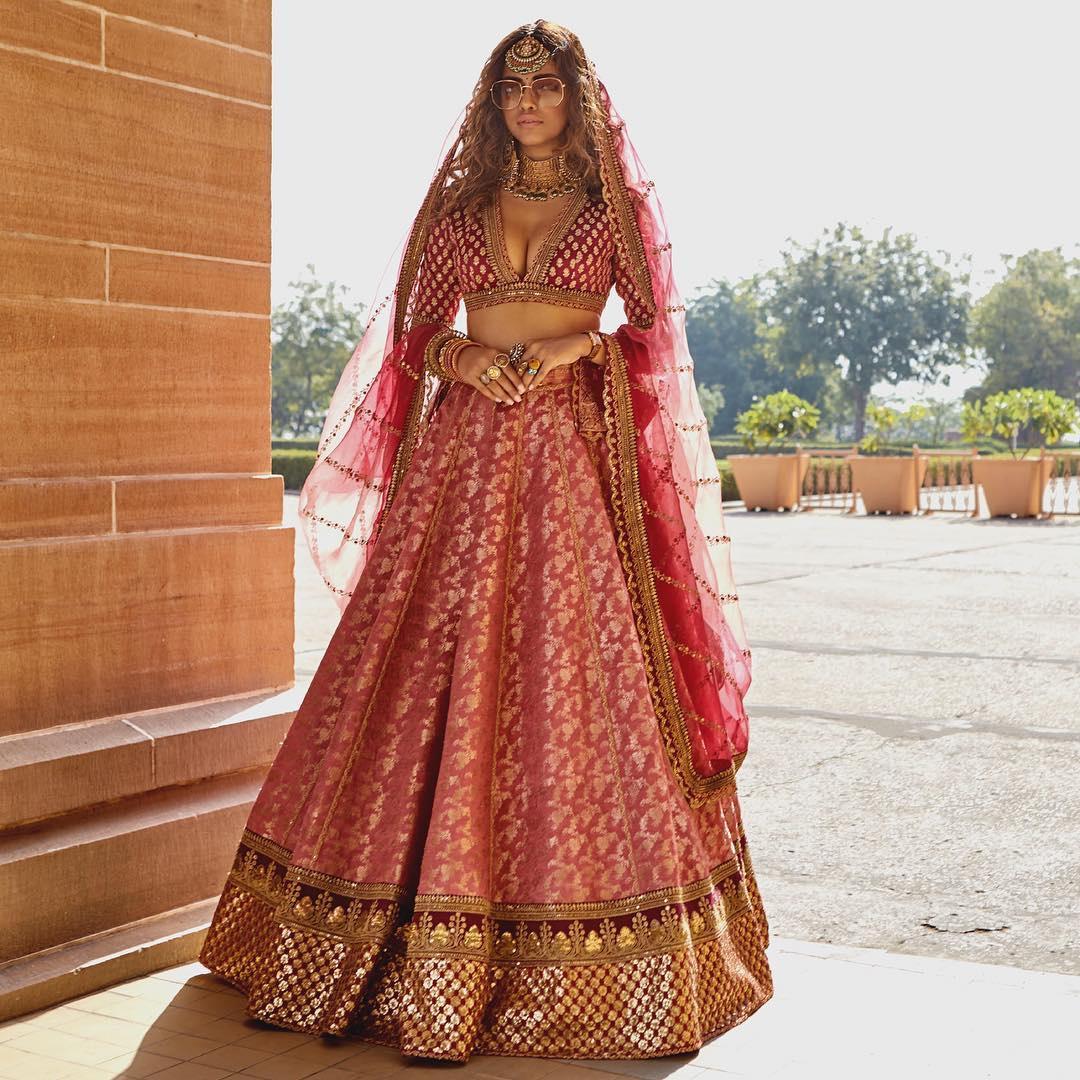 Image Courtesy: Sabyasachi's Instagram
Banarasi print is usually associated with traditional attire but if you want to merge the old with the new, you can incorporate it in your lehenga skirt as well. The Banarasi lehenga usually comes in a classic gold print that gives the lehenga skirt a royal and enchanting look. But what makes this style a favourite among many brides is its ability to suit all body types while providing the opulence and grandeur that is unmatched by other lehenga skirts.
Another Sabyasachi classic, this skirt features a Banarasi print against a deep pink fabric. The base of the skirt comes with a deep maroon border enhanced with gold sequins and embroidery work. Amaze all your guest with this beautiful bridal look!
3. Printed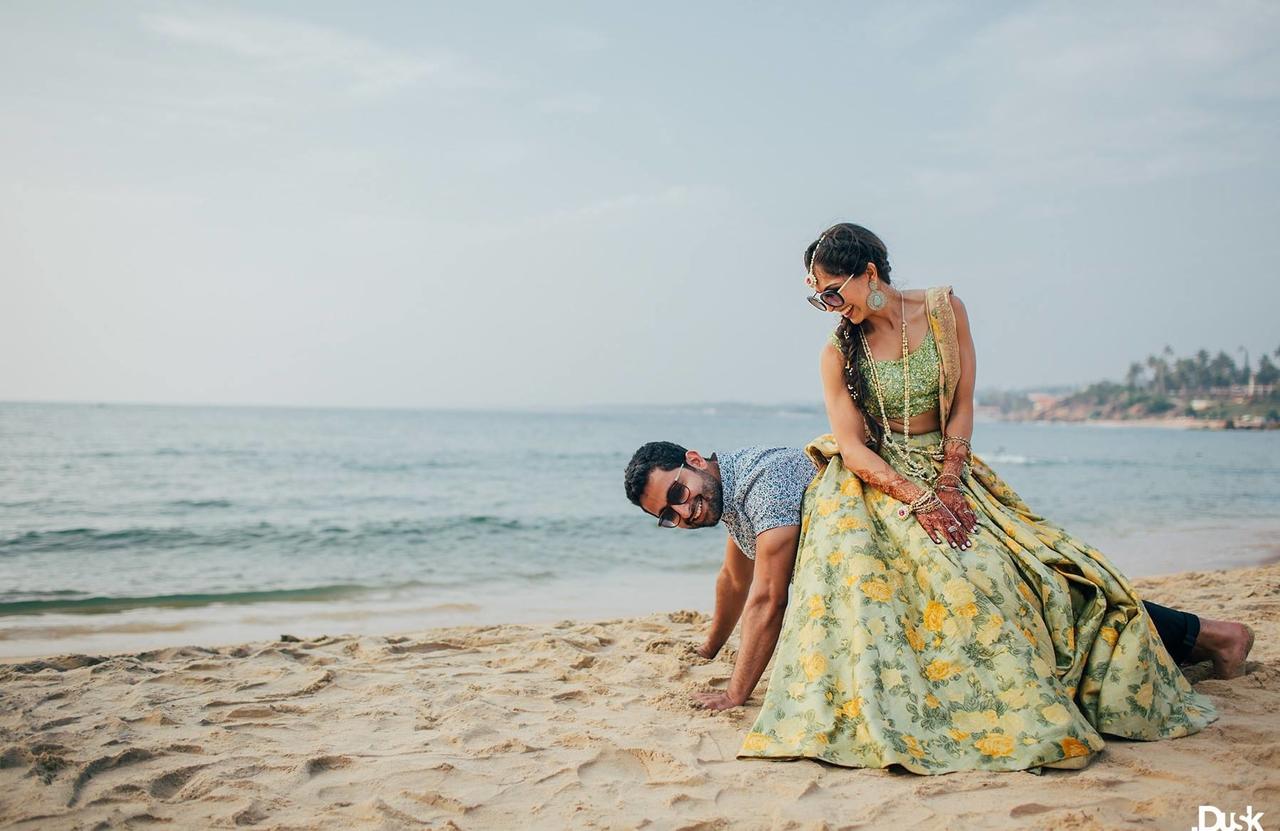 If you are going for that effortless, summer bridal look, this printed lehenga skirt is just what you need. Printed lehenga gives you the freedom to play with different patterns and colour hues to give your lehenga a contemporary feel. This lightweight skirt is suited for all body types and the flowy effect provides the picture-perfect look!
This beautiful lehenga skirt is a pretty pastel green complete with yellow and green roses. The flowers on the skirt are balanced out by the sleeveless green sequined blouse. This ensemble is the perfect beachy bridal attire.
4. Panelled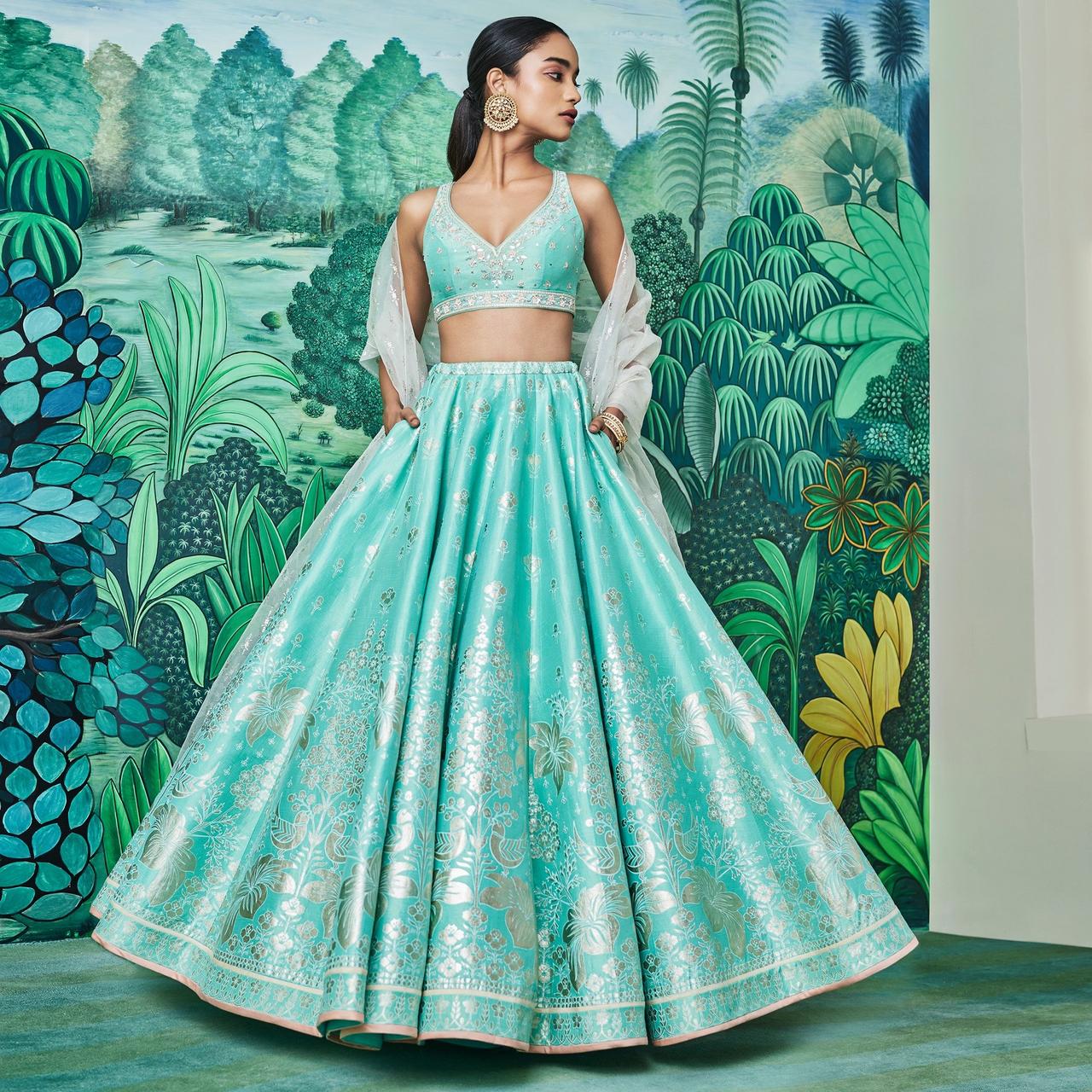 If you are looking for a skirt to show off the patterns and motifs on your skirt, you can't go wrong with a panelled skirt. This lehenga skirt features an intricate stitching pattern along the hem of the skirt that creates different panels along with the skirt and a wide base. This lehenga skirt is popular among many brides as it provides that ball-gown effect.
This stunning silk panelled lehenga comes with a beautiful silver floral print that enhances the look of the bright green skirt. You can pair this magnificent skirt with a short crop blouse to complete your bridal look.
5. Cancan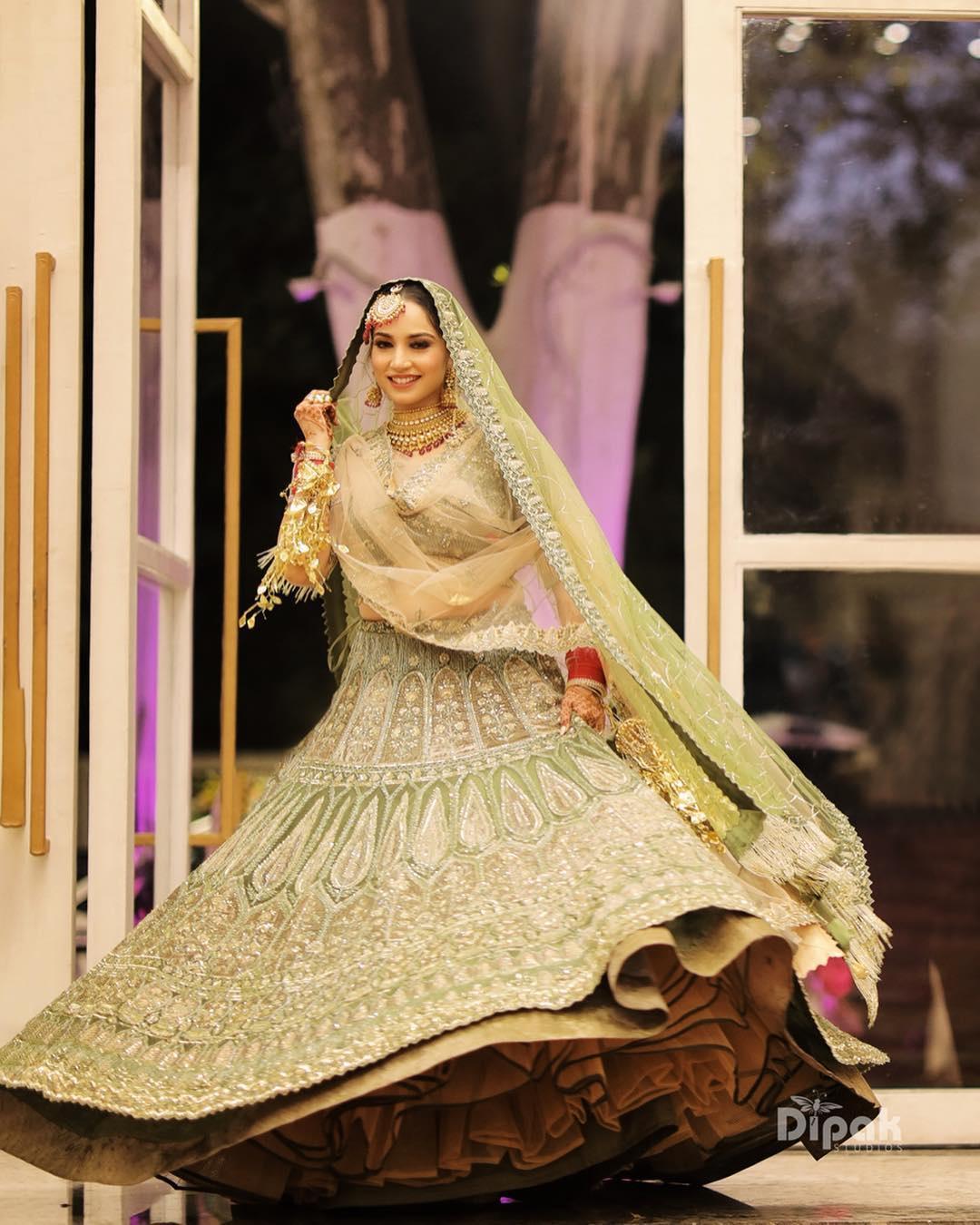 If you want to add that volume and flair to your bridal lehenga skirt, do it right with a Cancan lehenga. Cancan is layers of mesh attached under your skirt to give your lehenga skirt a princess bridal look. You can add multiple layers of Cancan until you get the desired amount of volume in your skirt. This can be done with hard mesh-like material or a soft-net material. We recommend you go with a soft net Cancan so that you are as comfortable as possible in your lehenga.
This stunning pastel green with its multiple layers of Cancan makes this bride look like she just stepped out of fairy-tale!
6. Multi-layers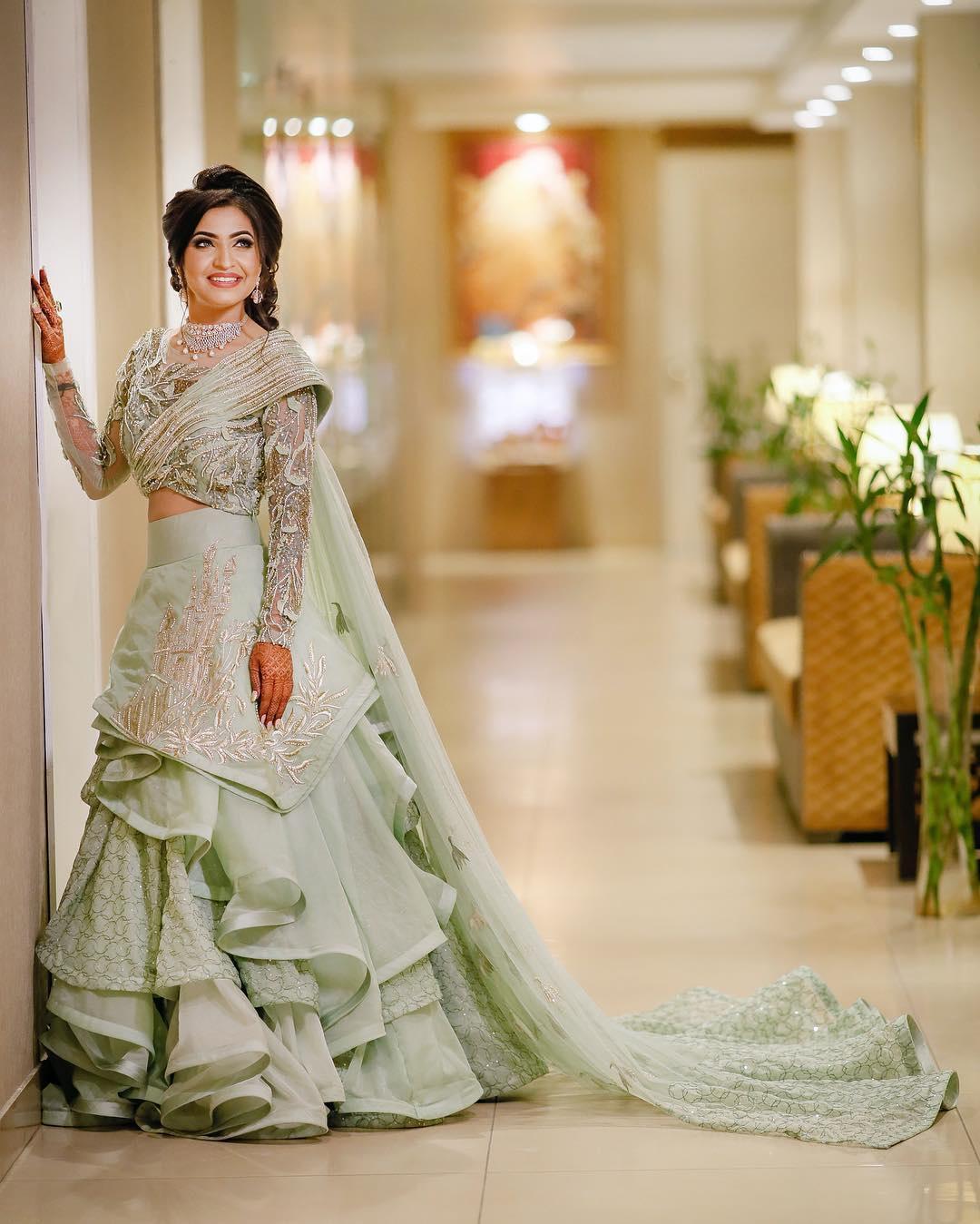 When it comes to your bridal lehenga it's all about achieving the perfect amount of flair and volume to get that perfect look. One way to do this is with a Cancan, that comes under the lehenga, but you can also opt for a multi-layered lehenga.
This beautiful bride is wearing a stunning mint green lehenga that is truly fit for a queen. The lehenga skirt has layers of material in different lengths and each layer features its own unique design, giving this skirt a funky edge. To complete this glamorous look, the bride is wearing a sheer green blouse with embroidery. This is the perfect outfit for an evening reception.
7. Umbrella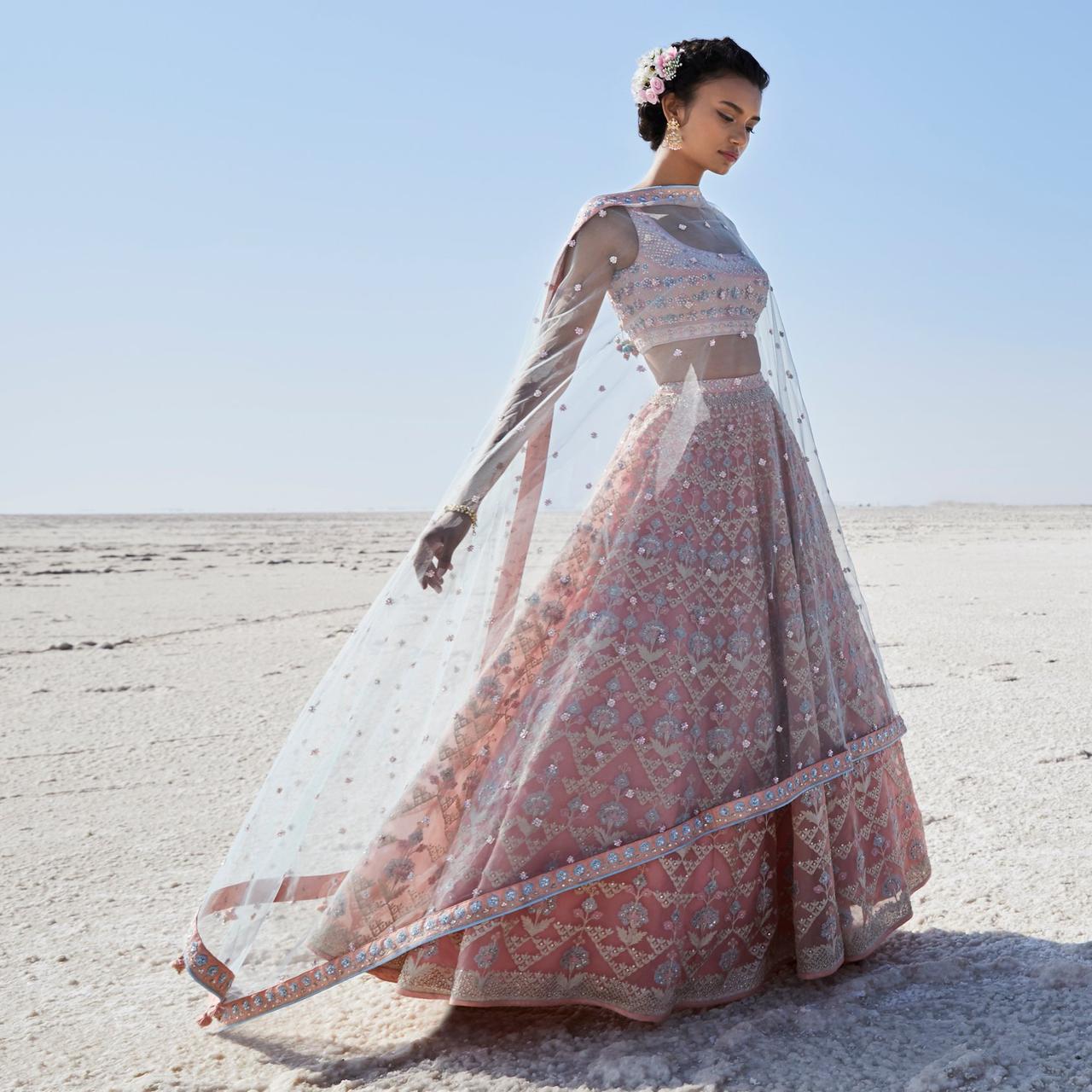 A traditional lehenga skirt style that is making a major comeback is the umbrella style. The lehenga is narrow at the waist and flares out, forming a beautiful circle at the base- like an umbrella! Umbrella lehengas come with unique designs and patterns that can be seen as the skirt fans out beautifully.
This umbrella style skirt by Anita Dongre is sure to steal hearts at the wedding. The gorgeous baby pink skirt comes with triangle shaped motifs and floral embroidery, embedded with sequins. A matching sleeveless blouse and a netted dupatta add the finishing touch to this look.
8. Short lehenga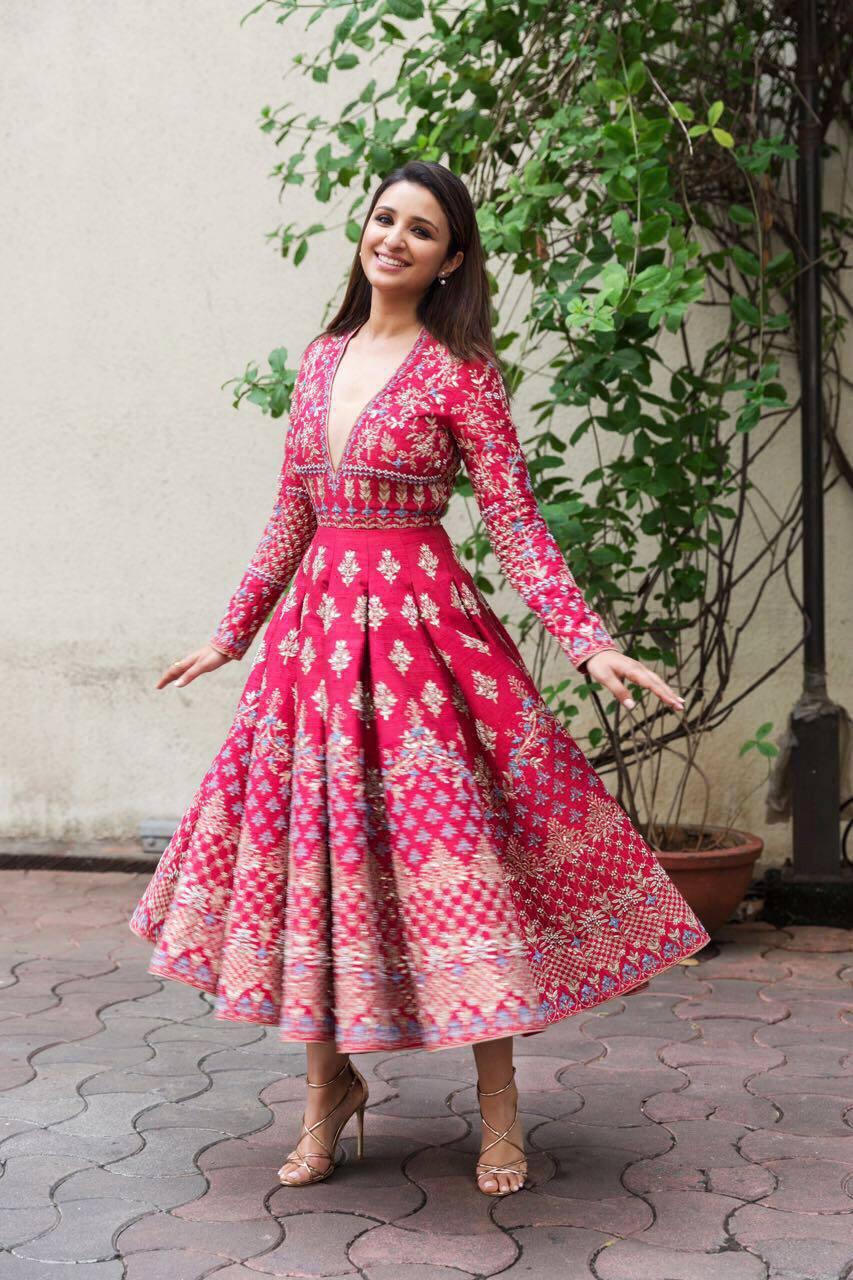 Lehengas are known for their long skirts and pretty blouses but if you consider yourself an eclectic bride and want to add a unique twist to this classic outfit, a short lehenga is the way to go. This gorgeous bright pink lehenga comes with a flared panelled skirt that is enhanced with beautiful embroidery work across the blouse and skirt. The outfit is perfect for that daytime wedding look and you can pair it with modern jewellery and stilettoes to complete your look.
One of the most important parts of planning your wedding is getting the perfect bridal lehenga. While there are numerous options to choose from, like an A-line lehenga or umbrella style, your wedding day is all about celebrating your forever with 'the one' so it is essential that you pick the lehenga skirt that you feel most comfortable in. The lehenga skirt is a quintessential part of the wedding attire so we hope the styles listed above inspire you to choose the outfit that suits you best!
Love these lehenga skirt styles? Get in touch with our bridal lehenga vendors to find the perfect look!