5 Printed Lehenga Styles That Will Make You Want To Ditch The Embroidery And Embrace The Prints
The printed lehenga is back with a bang and is becoming a new fashion statement for brides these days. With a number of designs available in the market, let's have a look at the different types of printed lehengas!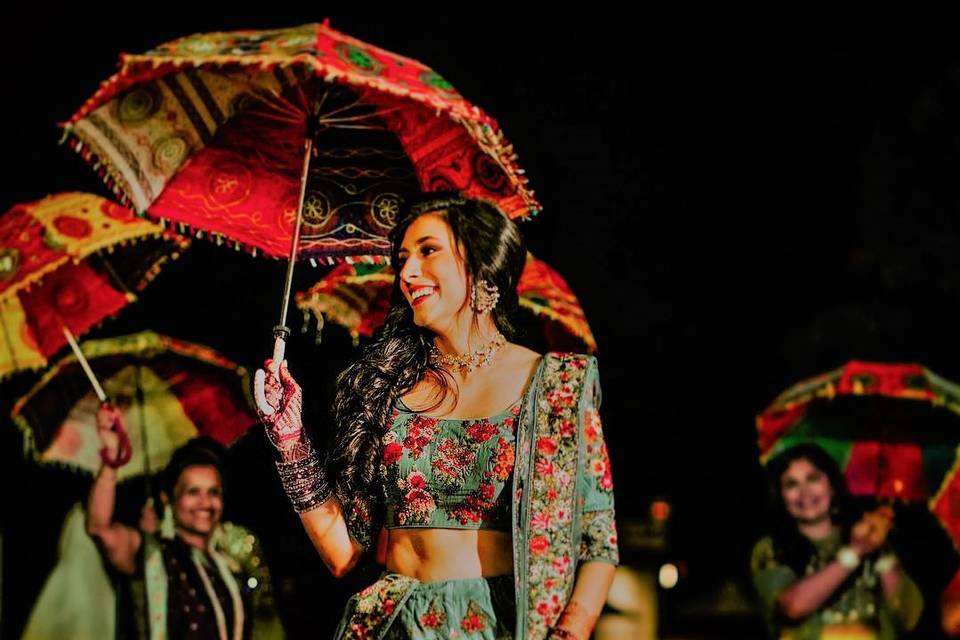 Bridal lehengas are usually crafted with zari or Chikankari embroidery all over the ensemble, making it a piece worth staring at. With the bride looking so impressive in her bridal makeup and attire, it's hard to get your eyes off her. However, in recent times, there have been certain changes in bridal fashion that are inspiring brides to think outside the box.
Instead of the usual embellished and embroidered bridal lehenga, brides are choosing a printed lehenga with different types of unusual designs. So, it's safe to say that for many people who love the subtle look, embroideries are out and the printed lehenga is in when it comes to wedding fashion! Let's have a look at these printed lehengas one by one to help you gain some inspiration for your own personal style!
1. Geometric lehengas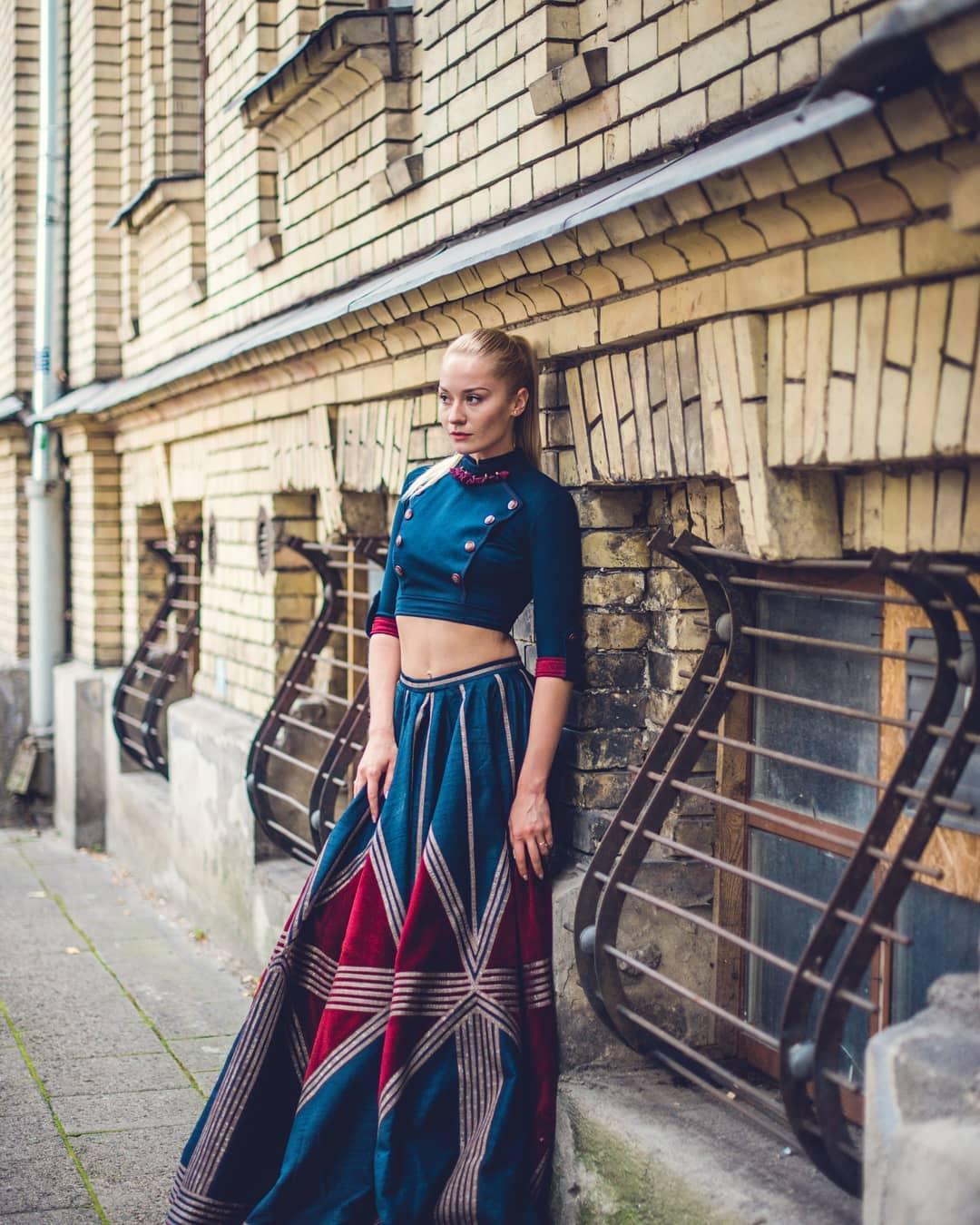 Highlighting two colours, blue and red, this lehenga's skirt has been designed with triangles that are bordered with cream lines while the rest of the skirt is filled with blue in the background. This creamy blue shade gives a beautiful texture to the printed lehenga and has also lent its hue to the high neck blouse of the lehenga.
Embellished with a beautiful silver button on each side of the chest, the cream shade joins the blouse on its right shoulder. With a quarter length sleeves, this elegant printed lehenga is perfect for any wedding occasion like Sangeet and Mehndi ceremony.
2. Green Lehenga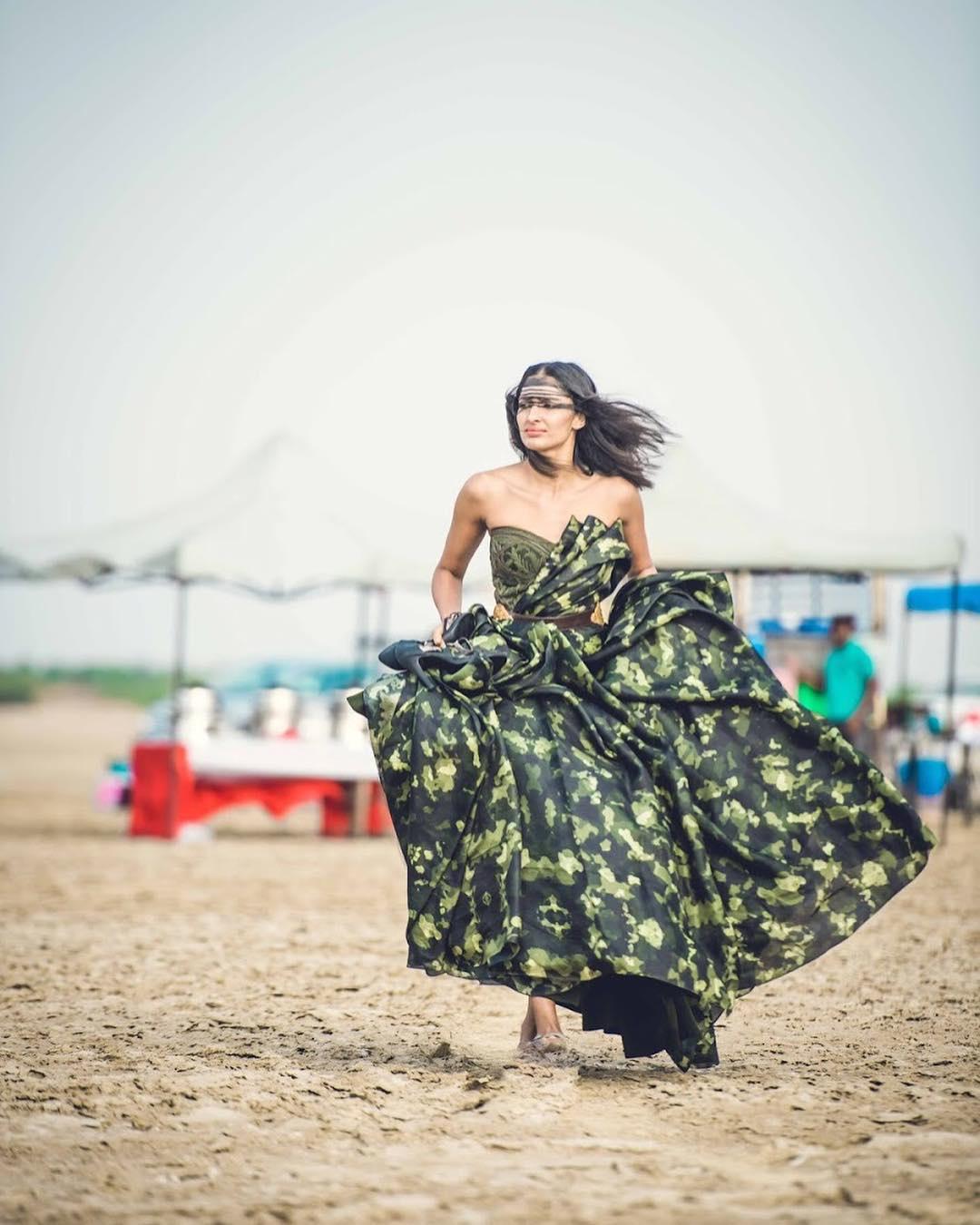 Along with an off-shoulder green blouse, this flaring green lehenga is the perfect ensemble for your Mehndi ceremony. Based on a dark green shade, it has light green prints on all over its printed lehenga skirt and the whole thing almost looks like a camo print. Apart from its V-neck blouse, you can also choose other neck styles, like the round neck style, backless design, square neck style and many more.
As it's your Mehndi, you can make it a high waist printed lehenga to go through the ceremony comfortably.
3. Floral Lehenga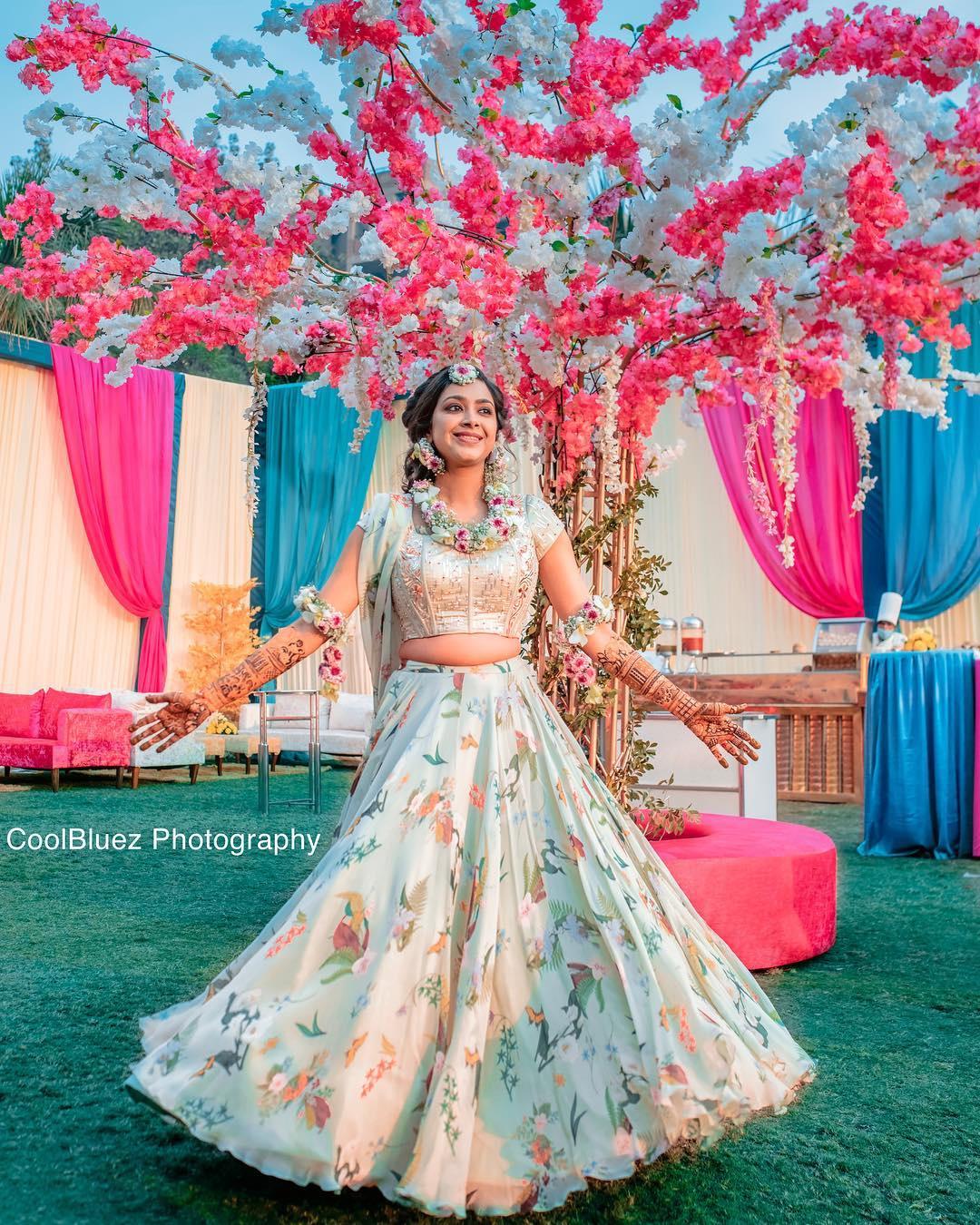 Floral lehengas have been in fashion for a long time, especially when it comes to a printed lehenga. Exotic floral patterns have always been printed on lehenga skirts and blouses in different mannerisms, making them exquisite and lovely when worn for different wedding occasions. Be it a Sangeet, Mehndi, or Haldi, all these occasions only require a bride in an ensemble of a floral printed lehenga.
These floral designs are based on light colours like ivory or pale pink with a pattern like leaves, flowers, peacocks and more. The more, the merrier. You can also pair them up with some floral jewellery for Haldi ceremony!
4. Grey Blue Lehenga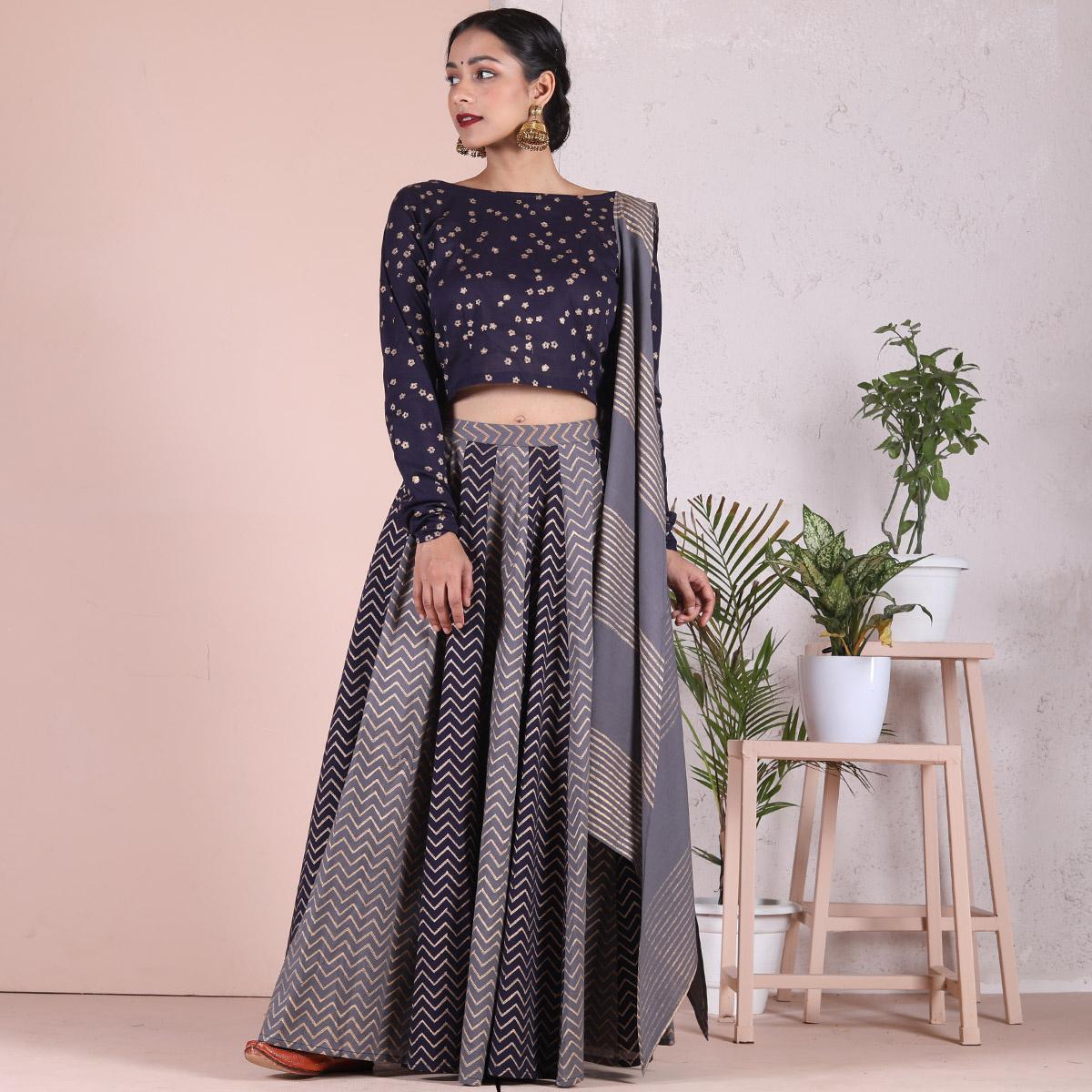 Image Courtesy: Rust Orange
A contemporary styled lehenga for weddings, this is the perfect ensemble for you to wear on your Sangeet to make a bold fashion statement. With boat neck blouse design, the blouse is a blue coloured attire with golden stars printed on it. In contrast, the grey and black coloured skirt have been designed with a white pattern all over it.
The dupatta of the printed lehenga, which has been draped over the shoulder in pleats, has the same pattern as that on the skirt. You can drape it over like as a lehenga saree or wear it loosely over your shoulder. Pair it with some gold earrings and your Sangeet look will be complete.
5. Colourful Lehenga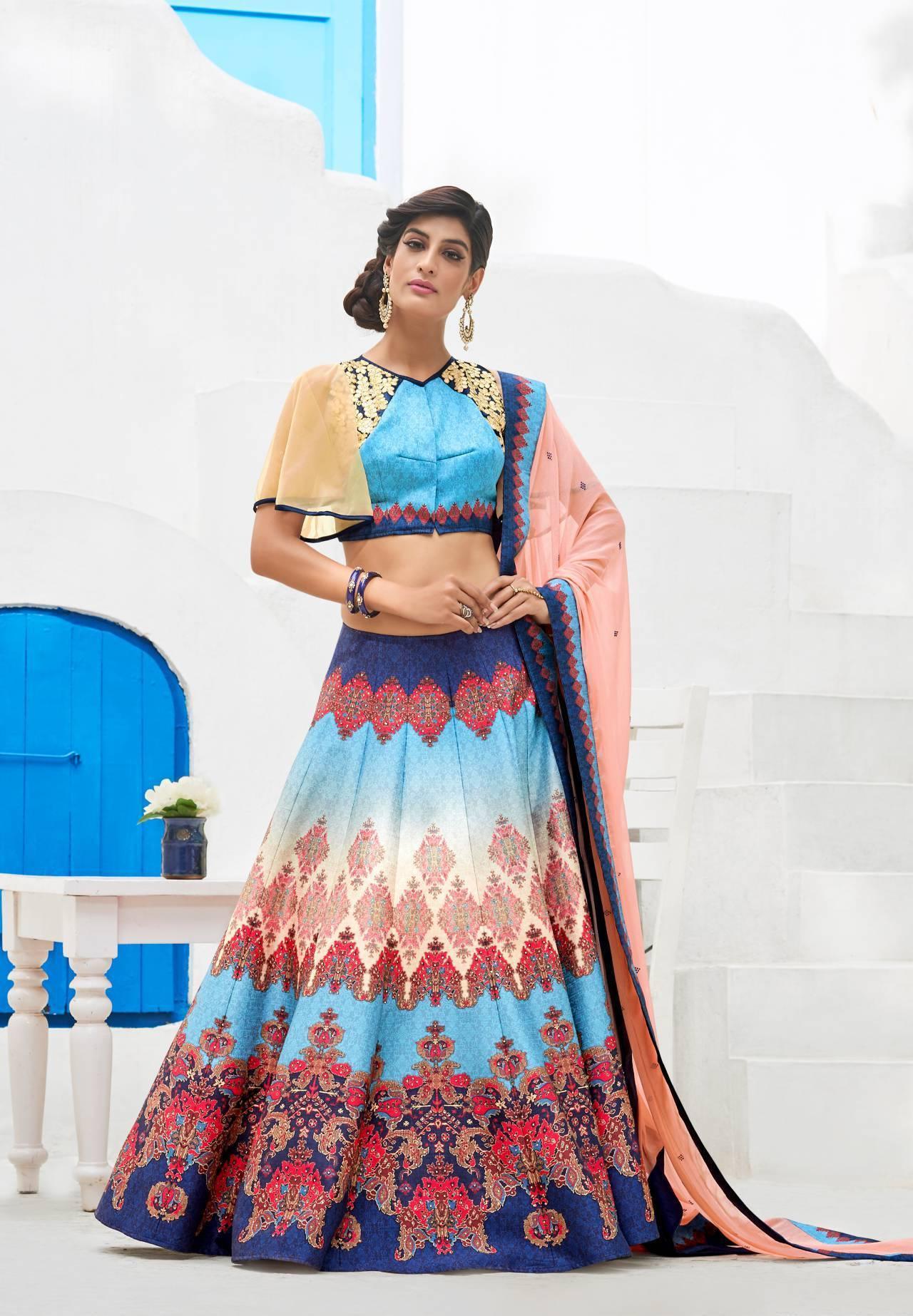 Image Courtesy: Brij Raj Fashion
This printed lehenga can be donned even by a bride on her wedding as it is a contemporary style traditional lehenga and its prints are really beautiful. With a light dupatta and loose blouse sleeves, this lehenga's skirt has colourful traditional prints that look exquisite as they blend with each other.
With most of the design highlighting the blue colour, light as well as dark, it has cream coloured sleeves along with a blue coloured blouse which looks perfect with each other. The baby pink coloured pink dupatta can be draped around in the style of a Gujarati saree and the double dupatta style can be applied here in order to wear this printed lehenga as a bridal lehenga. The second dupatta will be worn over the head, covering it.
Printed lehengas have become a fad amongst the brides and soon, instead of the gold embroidered lehengas, they will be opting for a gold printed lehenga. The above-given designs are just a few of the popular designs and patterns that are being chosen over Zardosi work lehengas these days. There are many more types of intricate prints of lehengas that you may find capturing your imagination. If you find them, then make sure that you don't leave them! Such designs are hard to find but are always keepers. Evolve with the bridal fashion and do yourself a favour by getting a printed lehenga.
Make sure that your makeup is as trendy as your lehenga. Get in touch with our makeup artists for more!